Whether you intend on building a fully functioning online store or want to add eCommerce functionality to an existing website, there are a number of solutions available. However, like many site owners, you might be struggling to decide whether WooCommerce vs Shopify is the better eCommerce platform.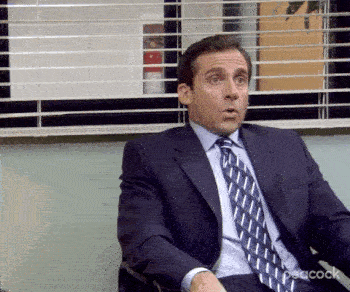 Both Shopify and WooCommerce are powerful options. However, there are some major differences that are important to consider before making your choice.
In the following post, we'll discuss some essential things to look for in an eCommerce platform. Then we'll introduce you to WooCommerce and Shopify, and show you how they stack up against each other in 16 critical areas. Let's get started!
Our team at WP Buffs is dedicated to helping
website owners
,
agency partners
, and
freelancer partners
establish and maintain eCommerce sites 24/7. Whether you need us to manage one website or support 1,000 client sites, we've got your back.
What to Look for in an eCommerce Platform 🧐
There are a wide variety of factors to take into consideration when searching for an eCommerce platform. As the owner of an online store, there are some unique challenges and demands facing your site that are essential to pay attention to.
The technologies and features used to power an eCommerce platform, such as caching and security, directly influence its speed and overall performance. Therefore, it's crucial to conduct thorough research before deciding which online store solution to go with.
If you're wondering, "What's the best eCommerce platform?", there is no single or simple answer. Ultimately, it depends on your specific needs, type of business, level of experience, and budget. That said, there are some common features and elements to be on the lookout for when vetting and comparing platforms:
Features
Ease of use
Pricing and payment options
Customizations and flexibility
Level of support
Performance and scalability
Inventory management and dropshipping
This is just to name a few. Of course, there are some factors that might be more important to you than others. For example, if you're a developer, the level of support provided by a platform may be less of a priority than it would for a beginner with little to no technical experience.
Once you decide which aspects of an eCommerce platform are most critical for you, you will be better positioned to begin researching and comparing possible solutions. If you've already boiled your options down to two of the most popular options, WooCommerce and Shopify, keep reading!
An Overview of WooCommerce and Shopify ✍️
You may have heard people say that WooCommerce is the best platform for eCommerce, but does that automatically make it so? As we compare WooCommerce vs. Shopify, you're going to find that each solution has its own unique strengths (and weaknesses).
Before we dig into the details, we want to take a moment to introduce each platform on its own, starting with WooCommerce.


WooCommerce* is a plugin that you can download from the WordPress Plugin Directory, or from the WooCommerce website. This means you cannot use WooCommerce on its own; you must have hosting as well as a WordPress installation in order to use it.
It's a powerful plugin that is easy for even beginners to use. Of course, if you have an existing WordPress site, WooCommerce is a solid eCommerce solution.
According to Built With, WooCommerce has edged out all the competition to take the number one spot for most popular eCommerce solution among the top 1 million websites: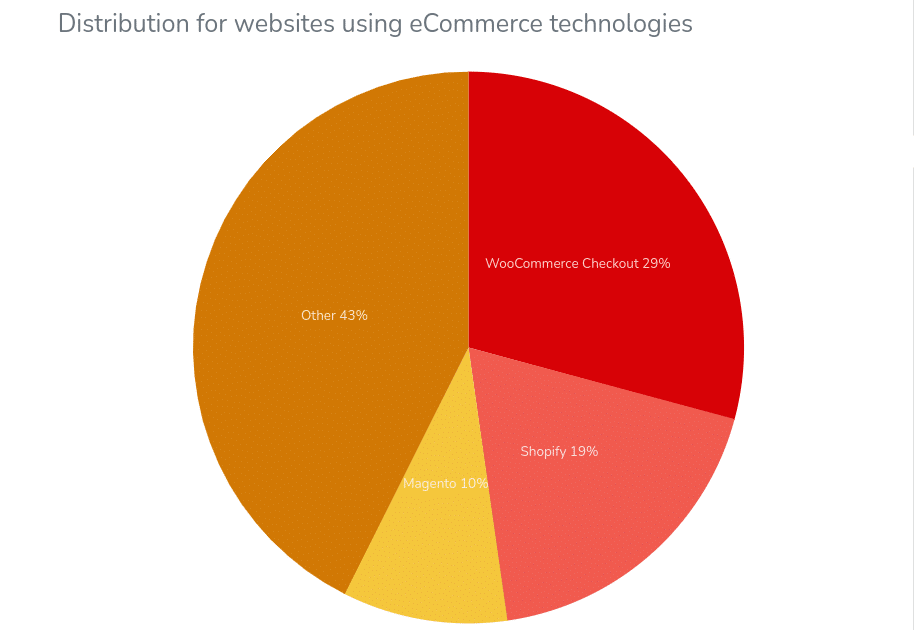 The plethora of positive WooCommerce reviews available online are a testament to how powerful and user-friendly the eCommerce platform is. Currently, it holds a whopping 29 percent market share. Coming in right behind WooCommerce is Shopify, with 19 percent market share.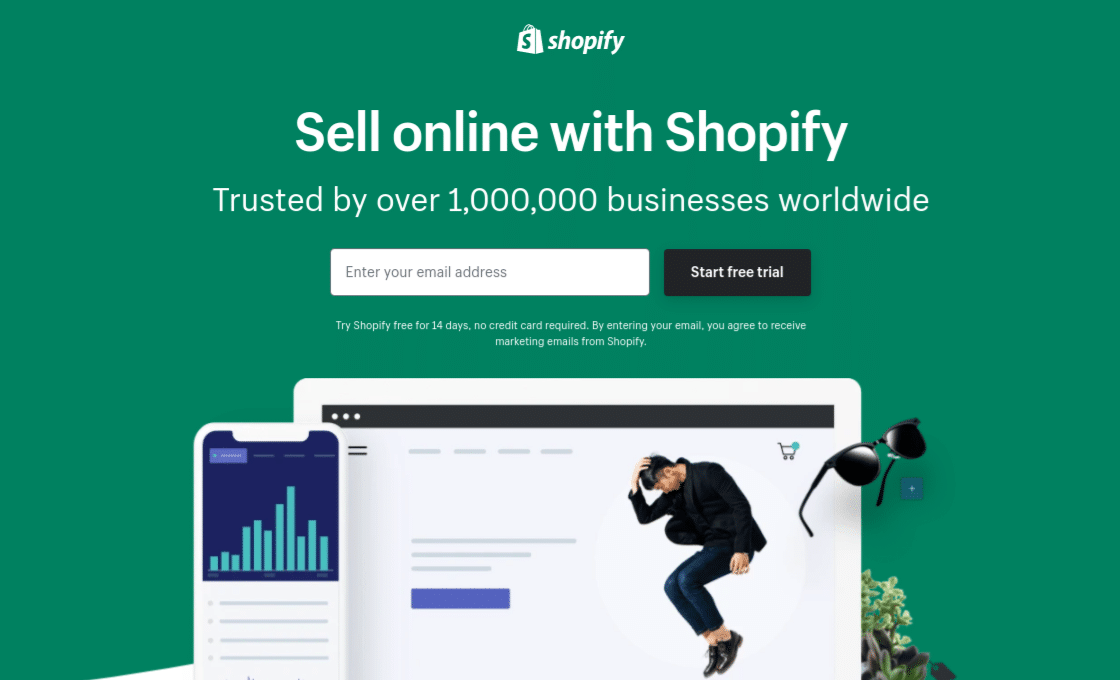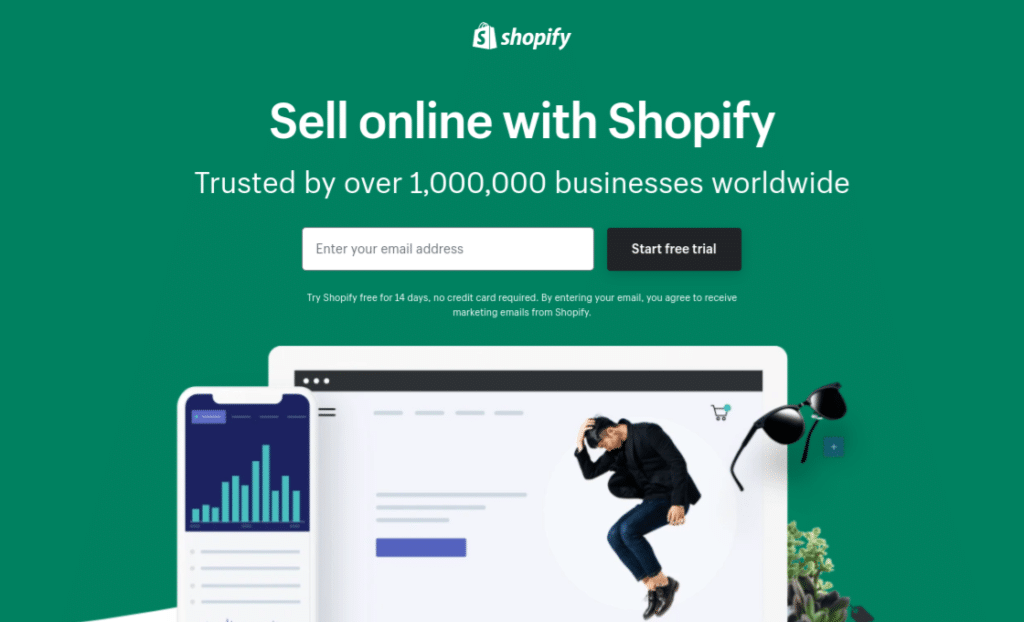 Shopify* is an eCommerce software that first launched in 2006. Although it's been entirely independent of WordPress since the beginning, Shopify did attempt to help its users integrate their stores with WordPress a couple years back with a Shopify plugin. However, the platform has pivoted recently and now only offers Shopify button integration for WordPress.
It's also interesting to note the growth of these two popular solutions relative to each other. Joost de Valk of Yoast crunched his own numbers and found that, although WordPress owns the biggest market share of online eCommerce stores, Shopify continues to grow rapidly.
Joost has also been a guest on the WPMRR WordPress podcast! We talked about WordPress – what it is, how it got so big, and our projections for the future of the platform, as well as some tips for new businesses, such as prioritizing design and the power of branding early on.
That said, if you find that you're on the fence about moving to Shopify, searching for alternatives to Shopify, or you don't want to abandon WordPress, know that there are ways to bring the two experiences together. We'll talk about this a bit more later in this post.
If you enjoyed this article, then you'll really enjoy the 24/7 WordPress website management and support services WP Buffs' has to offer! Partner with the team that offers every aspect of premium WordPress support services.
From speed optimization services, to unlimited website edits, security, 24/7 support, or even white-label site management for agencies and freelancers, our expert engineers have your back. Bring us in as part of your team to make your site Bufftastic! Check out our plans