Have you heard the saying, "There's no such thing as a free kitten?"
If you haven't, you likely will. It's commonly used in WordPress, often with a knowing look and a chuckle.
Why?
Because just like that kitten your neighbor convinced you to take home, your free WordPress website needs food, a place to sleep, regular grooming, and wellness trips to the vet. Of course, for your website it's regular content, a host, updates, and security solutions to keep it safe.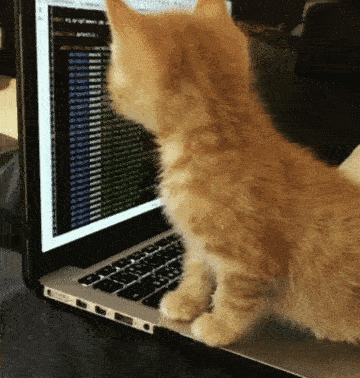 And just like holding a kitten doesn't make you an immediate expert, neither does downloading and installing WordPress.
But fortunately, you don't have to be! With this extensive group of resources, you'll find places to ask the questions you have and get the answers you need to enjoy a long and happy relationship with your WordPress website.
In This Article 📝
Tips for Using WordPress Support Forums ✏️
Before we look at WHERE to find the answers to your website questions, let's quickly discuss a few important tips for HOW to get the most out of your time spent asking them.
Evaluate what's wrong. This might seem straightforward, but when you're feeling frustrated it can be really easy to rush to ask questions before you're prepared. Don't worry, you don't have to know everything, just gather as many details as you can.
Do some research on your own before asking. Don't be too hasty to throw a question into a WordPress support forum. Check the internet and see if there's an answer that already exists. If you haven't taken the time to troubleshoot the issue on your own, community members might not be so willing to help, particularly if the answer is painfully obvious.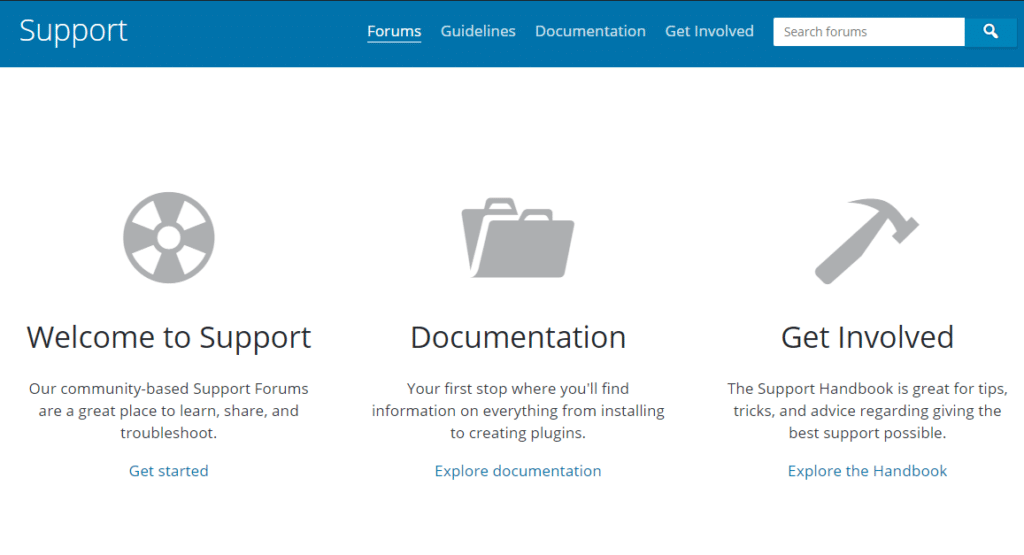 Have a clear question, notes about the problem, and when possible, reference materials. When you do have a question that you can't find an existing answer for, make sure you have a complete description of what is happening so you can present full details. Screenshots or videos are also helpful if you're not sure how to describe the problem properly.
Check in this specific resource to see if your question has already been answered. As noted previously, many of the questions or issues you need to raise in forums have already been answered. Before you ask for assistance in this particular space, search through previous conversations and responses to make sure your question hasn't already been answered.
Keep the topic relevant to the group. As you'll see below, some of these help resources focus on specific areas of interest, and just because you can ask a question doesn't mean you should. Be a quality community member and don't deviate from the focus with irrelevant questions.
Mind your manners. Be polite and show gratitude when someone has taken their own time to answer your question. If you receive an impolite response, keep it civil. This is the place to contact support, not get into a fight. And always make sure to review the posting rules and code of conduct in the forum before you post a message to it.
Now, let's look at which of these trusted WordPress resources are right for you.
Free WordPress Support Forums and Resources 💻
Why is there such an extensive collection of WordPress support forums and resources? Because WordPress.org and other users who came before you know you're going to need it.
WordPress is complex. It's the nature of open source projects, particularly ones that have been under development as long as WordPress has been. To help balance that, WordPress.org has a team actively working to produce the best, most up-to-date collection of free support resources possible.
And it's not just WordPress.org. Developers and users are constantly keeping track of common questions and new, free WordPress support forums and resources are being created all the time for people looking to build and maintain their WordPress websites themselves.
WordPress.org Support: the Original WP Help

Here you can find guides for getting started with WordPress as well as gain free access to a forum system with millions of previous posts.
Under Support you'll find two different options: documentation and forums.
Documentation is the ideal place to begin your search. Since we know the best practice is to see if an answer to your question already exists. The most frequently asked categories are grouped on the main page. If that doesn't help, there's a search box front and center for you to type in your own question.
Forums are the next best place to look as they have a variety of resources to help you get the most out of WordPress, with options for both general questions and developer forums. Again, as we mentioned in the tips above, make sure to check through the forums to see if your question has already been answered before posting.
Developer Resources

Tucked down in the footer under Developer, you'll find what was formerly the WordPress Codex has become part of Developer Resources.
This is the official WordPress developer forum and knowledge center for everything technical as it relates to WordPress.
Because WordPress is open source and anybody can have access to the core code as well as suggest changes and improvements, this vast resource allows for a cohesive development experience. So if your question is development-related, this should be your go-to. Among many other resources you'll find the Code Reference, the Coding Standards, information about making applications with the REST-API, and commands for using WP-CLI, all things many developers rely on every day.
Additional WordPress.org Resources
When it comes to what WordPress.org has to offer, this really is only the tip of the iceberg. You'll see in the main navigation separate sections dedicated to Plugins and Themes. Although not specifically help-related, they do give you a look at what's new, what's being developed, and information on tools you may want to use. While you're there, take a few minutes to familiarize yourself with it. If you don't need it now, you likely will before long.
Enjoy a good workshop? Whether you're a first-time blogger or seasoned developer, there's always more to learn. Check under the Learn menu to find these brand new resources from community members all over the world that will help you grow your skills, and share them with others.
If you're working with WordPress, WordPress.org is definitely one place you want to be familiar with and comfortable navigating. After all, it's an entire site dedicated to helping people find success with WordPress, and who doesn't need that?
Stack Exchange

If the official resources didn't have what you needed, Stack Exchange is a go-to WordPress developer forum users turn to.
Stack Exchange is a question and answer forum for WordPress administrators and developers. Anybody can ask or answer questions and the best, most helpful responses are upvoted to the top so they're easily found by those who have questions.
Technical WordPress help forums at their finest!
And being a more technical resource than some of the others, this would be a good place to come if you have a difficult question that would require the opinion of a WordPress developer. If you're accessing the source code of your WordPress site, ask questions here first.
One advantage of using this forum is that it has some really experienced WordPress users. They'll most likely be able to get you the answer you need before you make a mess of your WordPress website. Or help you get out of the mess you may have already made.
Slack

Many businesses today use Slack for internal company and external client communications. The same goes for web developers and agencies that want to centralize all communications in a single platform and establish dedicated channels for the things they discuss most.
It's not surprising then that WordPress.org has its own Slack channel called Making WordPress.
However, this is a Slack channel for WordPress core development and community projects, not a place for answering general WordPress questions. If you'd like to learn more about donating your time to the future of WordPress, please check out the Get Involved section on WordPress.org and see if there's a good fit for you.
That said, while there isn't an official Slack channel for WordPress questions, there are other private options, and as you get to know others in the community, you may be invited to join unpublicized ones. Or even start your own.
Two to check existing channels to check out are:
Facebook

If you're looking for free WP help and resources but like a more conversational approach than a traditional WordPress support forum, Facebook groups might be just what you need. Beginners and advanced users alike can ask questions and get help from all over the world at any time of day or night.
Follow each group's rules, which you can usually find in a pinned post or the group's description. Administrators are tough on self-promotion and spammy activity and you don't want to get banned! Many have a one offence and your out rule, so absolutely make sure you read the group rules on posting and interacting. Let's make their lives' easier by honoring their process and being a positive part of the group.
Check the group's activity level. At the bottom of each group's About section you'll see an Activity box that quickly tells you how many posts were made today, in the last month, and how many members are in the group. How you choose your group is entirely up to you, but if you have a question that you need a quick answer on, you'll want to choose a more active group.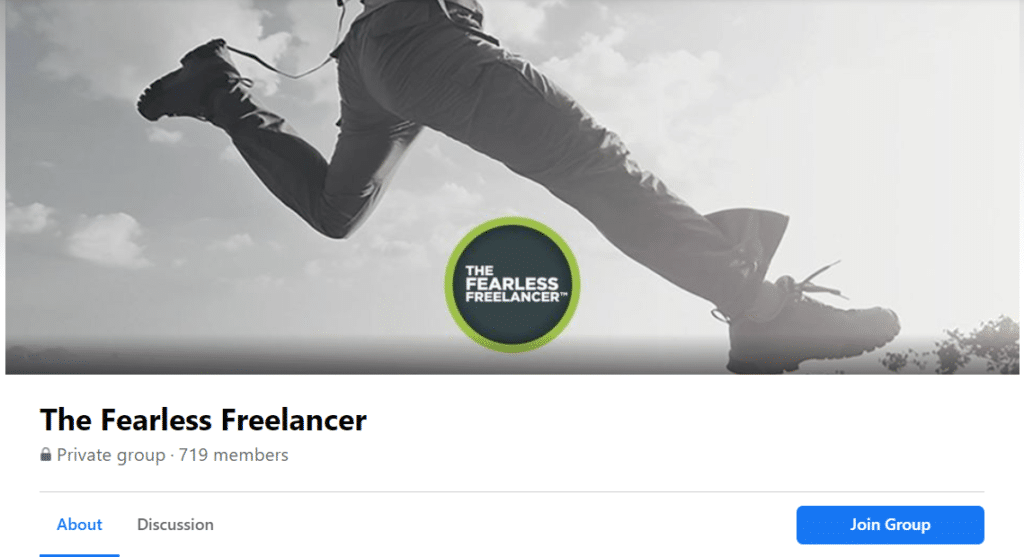 Speaking of the Fearless Freelancer – meet Carrie Dils (Princess Leia) on the WPMRR WordPress podcast.
Carrie spills the beans on everything from why you feel like you're not being paid enough, why not knowing what to do is okay as long as you're persistent, how to network with like-minded people, and much more! She's a teacher at heart so have your notebooks ready and enjoy.
E22 – Princess Leia on developing fearless freelancers (Carrie Dils, Fearless Freelancer
And if you're using specific plugins, themes or page-builders, there are some fantastic Facebook groups and communities specifically for many of those, too.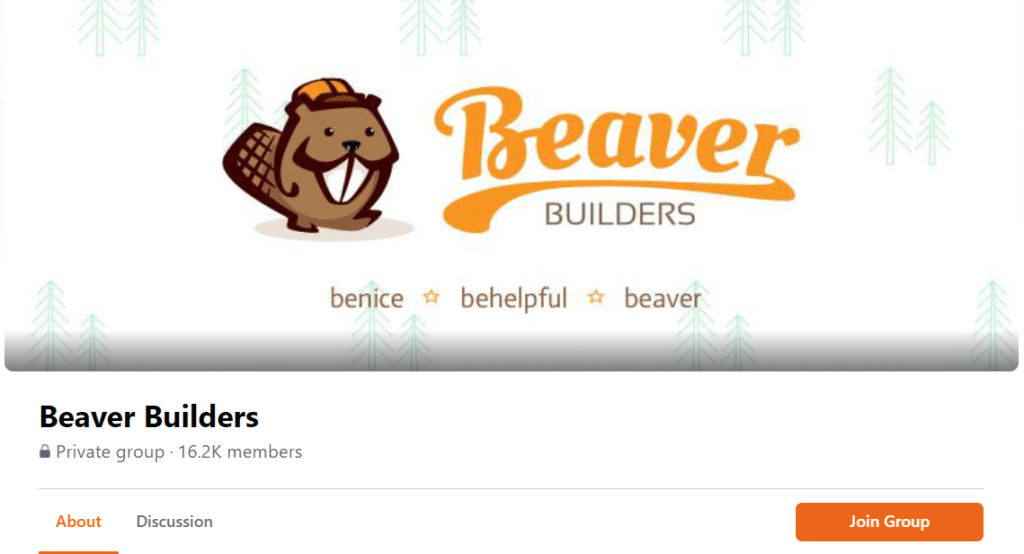 Podcasts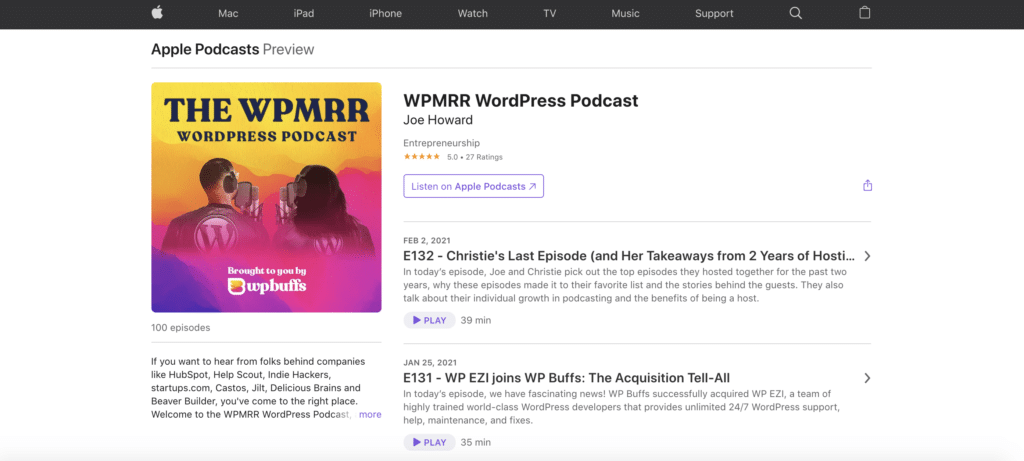 WordPress podcasts are a great way to stay up-to-date with what's happening in WordPress, web design, and marketing. Virtually whatever you're interested in.
It's true that you can't ask questions during a podcast — unless it's presented live — so these aren't like traditional WordPress forums where you submit and wait for a response. All the same, WordPress podcasts can be helpful resources in answering questions that arise during your workday.
The WPMRR WordPress podcast is WP Buffs' contribution to the fray and a way for our Head Buff, Joe, to give out WP help for free every week!
All in all, the WPMRR podcast is our way to respond to our customers' common questions related to increasing monthly recurring revenue (or MRR, for short). Productivity hacks. Networking tips. Business-building tricks. Plus, we do some fun, spontaneous IRL episodes every once in a while!
And with guests like Chris Lema, Brad Touesnard, Rachel Cherry, and people from companies like HubSpot, GoDaddy, and startups.com, it's easy to see why it's one of the top podcasts people tune into to get help making WordPress businesses work!
We understand where WordPress users are coming from, so we've crafted each episode to tackle questions and issues that inevitably arise as you're trying to grow your business.
LinkedIn

Did you know that LinkedIn has groups similar to Facebook? If you're looking for a WordPress help forum from other businesses-minded individuals, this could be the place for you.
Not only can you connect with other WordPress professionals and start building useful long term relationships, you can also find job opportunities and places to post your own relevant content once you begin creating it. These groups can be ideal for busy people looking for a less cluttered environment to get the help they need. After all, that's what LinkedIn is all about.
A quick search on the platform shows 2,200 results to choose from ranging from general WordPress to those dedicated to specific WordPress positions, as well as language and location-based options. Here are a few to consider:
Want to grow your skills in a different way? LinkedIn Learning has a vast selection of courses to choose from, though many of these are not free.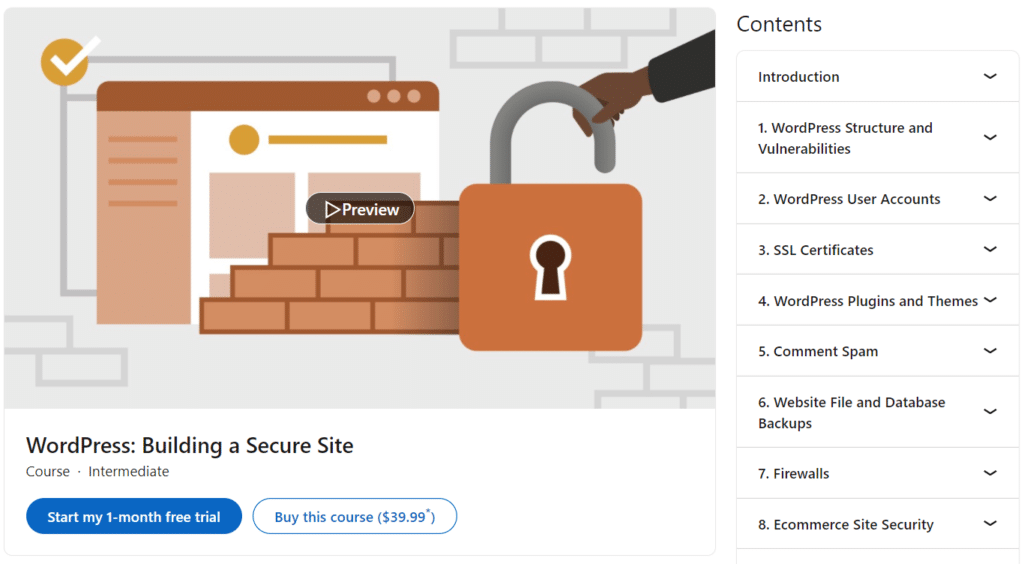 A few courses we like include:
Note: these are premium courses that you can purchase individually or access with a LinkedIn Learning Subscription (free trail is available).
Reddit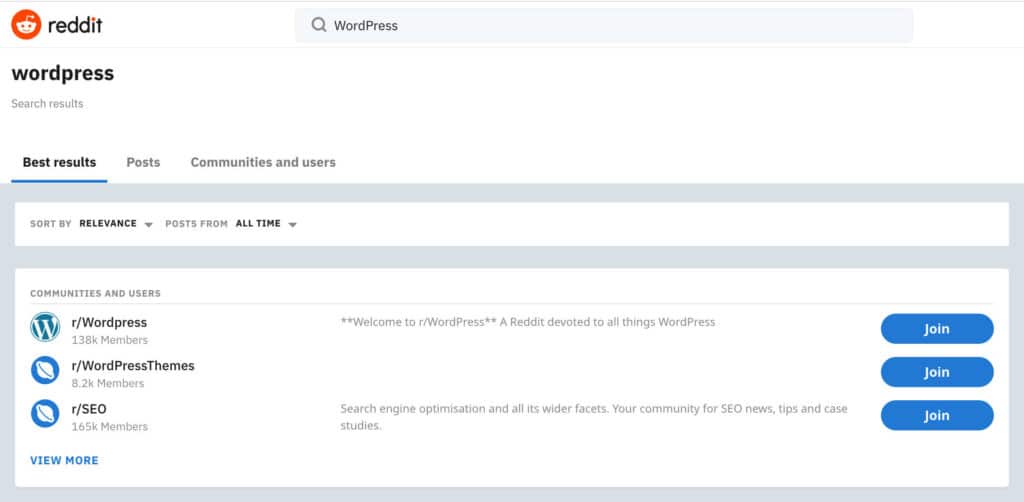 Reddit is a vast forum of infinite possibilities, and as such should be approached with caution and restrictions in mind. It is a place you can easily rabbit trail in a direction you never intended to go and lose hours of your time.
That said, it is also another place where you can find people who can answer your questions.
If you're going to use Reddit, I suggest that you immediately search for WordPress to remove some of the potential distractions and then navigate within the results. You'll find current questions and active communities, developer forums, and general WP help, all of the things you need to get from a free WordPress support forum.
Quora

Quora is another general WordPress support forum that can be useful for free help. Choosing WordPress as your topic again narrows distractions to make the best use of your time.
Once you're in their general WordPress discussion board, you'll see an entire column of options on the right hand side that gives you additional ways to narrow your focus even further.
And while this isn't an official WordPress support forum, industry developers and other professionals are around answering questions.
Twitter, YouTube, and Search Engines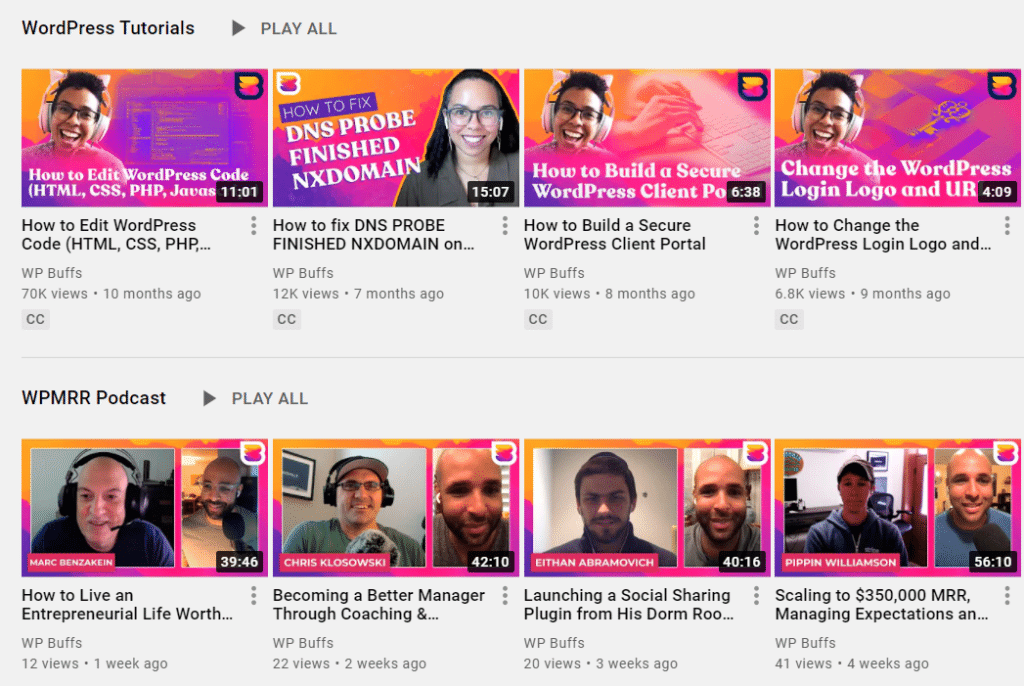 Why are these common? Because they're universally useful.
YouTube: Most places creating content have added in a YouTube channel; WP Buffs certainly has. But we're definitely not the only ones. Do a search. Watch a few. Find the style that best fits you.
Twitter: As you build relationships in WordPress, Twitter can become a great way to ask friends a question without being disruptive. Simply send out the question and they'll answer when they can. An added bonus here is the greater possibility of reach.
Retweeted questions open the door for them to land in front of the right set of eyes that can help.
Search Engines: Whether you Google, Bing, or Yandex, this can be an ideal source of the answer you're looking for, and you'll be hard pressed to find a WordPresser who doesn't rely on it nearly daily. As with any answer, consider the authenticity of the source, the age of the answer, and if it can be verified by other sources.
However, depending on the question, age and verification may not matter.
For all that WordPress is ever-changing, there are some elements that are fairly static so the answers may not have changed with time, and some questions may be so obscure that there will be only one source for the answer.
Premium WordPress Help 👨‍💻
While using free WordPress support forums and help can seem easy on the budget, the reality is that it isn't actually free.
You certainly aren't spending money on it, but you are spending your time. And not just your time posting the question, but also the time researching the initial problem, getting your resources together to share, finding the right place to post it, implementing the answers you get, and then going through all of that again if the answer didn't work.
So while free WordPress help can be appealing, and certainly at times the correct or necessary direction to go, there is also a place for paid WordPress support.
WordPress Learning with WPCrafter

Maybe you're still interested in the DIY route, but need a little help upping your skills. If so, WPCrafer is a great place to look.
From beginner to beyond, they have courses and tutorials that can help you make a website in 10 minutes, build a sales funnel website, teach you to use Beaver Builder and Divi, and the essentials of speed optimization, security, and maintenance. And that's just the tip of it. As your WordPress needs grow, they offer resources that grow with you.
This is definitely a place where investing a little money can go a long way.
Turn to WP Buffs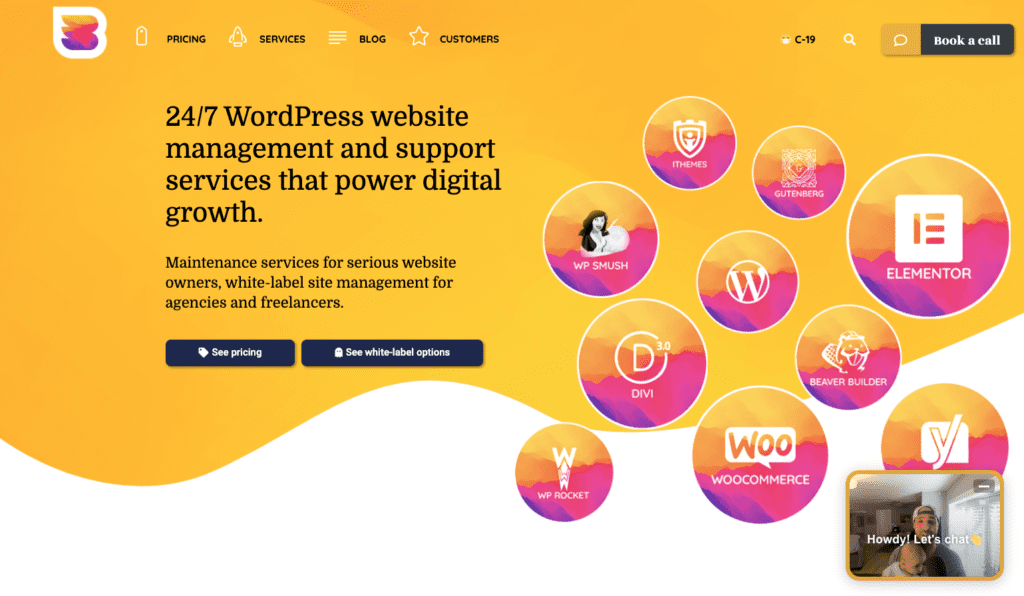 If you're having a serious issue with your website or would like to be investing your time elsewhere, sometimes paying the experts to fix and maintain everything can be the most productive solution.
WP Buffs fully manages websites for small business owners and white-label partners so you never have to use another WordPress support forum or Facebook group again to find help. We handle speed optimization, security management, plugin, theme and core file updates, emergency WordPress support, 24/7 unlimited website edits, and much more.
Ready to let us take care of the headaches for you? Simply pick the care plan that's right for you and leave the rest in our experts' capable hands.
Along with our expert services, we also have a range of free resources including ebooks!
Themeco One: Personal Attention to Your Questions

Sometimes the most reassuring help is having someone dedicated to answering your questions as they arise, no matter when that is. If you feel that way too, then check out Themeco One.
Themeco One is available 24/7/365 to answer whatever questions you encounter whenever they arise.
For one flat monthly fee you can get all of the answers you need about a single platform, like WordPress, in a timeliness that fits your schedule. What's more, as your skills grow and you branch out into other platforms, Themeco One can grow with you. Day or night, whatever the weather, they're there to keep your project moving smoothly along.
Hire a WordPress Pro for One-Time Help
Speaking of moving projects along… While it's true that not every website needs to be professionally developed, there is a reason people make a living doing just that.
Depending on how you're stuck, you could hire them by the hour to review your code, help you strategize, teach you a particular tool, help you adjust a theme or plugin to fit your own needs, or simply hire them to do the entire build.
Regardless of why you do it, building a relationship with a developer adds another resource to your WordPress build process that helps you with your current challenges while having someone in place if you need more help down the road.
So, where do you find a reputable developer to work with?

Three common places are services like WP EZI's simple once off fix, as well as meeting someone in-person (or over Zoom) at your local WordPress meetups and WordCamps.
The People Behind the Answers 👥
Now that you have resources to dive into, let's take a minute to remember that there are people behind the answers you are getting. One of the reasons WordPress is available for free is because there are volunteers willing to give their time to help you, both in these community resources and in the official WordPress resources mentioned above.
Getting stuck is really frustrating. The struggle is real. And getting help can be difficult, particularly when you're new to the process and still learning how to present your questions.
So, take a breath before you ask your question or respond to someone else.
Taking a minute to approach and respond to others with respect, will give you and everyone involved a much better experience. Does that mean you'll always get your answers as quickly or thoroughly as you'd like? No. But every answer is a start that can lead to what you need.
Remember: It's a community and we're all in this together.
Frequently Asked Questions (FAQ) ❓
How do I start working on WordPress?
WordPress.org has you covered. Their blue Get WordPress button on the top right of the page will lead you to where you can download the platform and get started. They also have modules for learning WordPress.
One thing to remember, you will need a host. If you don't have one that you're already working with, consider one of these recommended hosts that will manage the WordPress installation process for you.
Is WordPress good for beginners?
Yes, it really is. Because WordPress is free and has so many options for growth, it's a great option for anyone looking to build a website. But, that doesn't mean it's easy. The build process involves trial and error until you find what works best for you.
However, you're not alone. Plan to use the help resources available and embrace the adventure of the process.
How do I contact WordPress support?
WordPress itself does not have traditional support.
WordPress.org is the first place to look for general WP help. Their documentation offers solutions for most new users and the general forums and developer forums enable you to ask additional questions that aren't covered.
If you need support for a plugin or theme, you'll want to contact the developer or business who built it. For paid products, that information will be available on the developer or business's website. For free products, it can be found in the Theme Repository or Plugin Repository at WordPress.org.
How do I access WordPress live chat?
WordPress does not have live chat. Different companies may offer it for their individual WordPress product or service, but since WordPress itself is not a product or service owned by any one company, support resources are handled differently.
Wrapping Up 📕
Whether you're a WordPress do-it-yourselfer or someone who likes to leave it to the experienced professionals, there is a vast collection of resources at your fingertips that are always growing and changing.
Best places to start: documentation and groups
Growing your knowledge: podcasts and courses
Moving into development: WordPress.org's Developer Resources and Stack Exchange
Time for a professional: WP Buffs
Any time day or night you can read a document, take a course, listen to a podcast, or chat with someone in a Facebook group on the other side of the globe. WordPress, it's community members, and businesses are there 24/7 to help give your website all of the care and feeding it needs!
Want to give your feedback or join the conversation? Add your comments 🐦 on Twitter!