To stand out from the competition, your business needs to attract a global audience. Creating quality and high-ranking content is a great way to get potential clients to notice you, but it can only get you so far. To establish a strong online presence, you need to consider the importance of language.
According to a survey conducted by CSA Research, 40% of online consumers won't even consider completing a purchase in a language other than their native one. In Europe alone, 90% of internet users prefer to browse the web in their own language.
If you want to attract global consumers, developing a multilingual website should be at the top of your priority list.
And since most consumers use websites as the first point of contact with your business, it's important you give your users a consistent multilingual experience. This means finding a flexible, quality translation solution that is simple to set up and manage.
In this article, we'll walk you through some factors you should consider before you start building your multilingual WordPress website. Then, we'll show you why WPML is the right multilingual plugin for your WordPress site.
Why Consider Going Multilingual
No matter the type of WordPress website you have, multilingual content can maximize your chances of succeeding in the global marketplace. Let's explore the main benefits of website translation.
Tap into new marketplaces
If you want to break into new markets or do business globally, a multilingual website is the way to go. By providing your website's content in multiple languages, you can break language barriers and reach new audiences interested in your products and services.
Build consumer trust
Consumers who can see you've taken the time to tailor your products or services to their needs are more likely to stay loyal to your brand, recommend your business to others, and leave positive reviews.
Increase online sales
A translated website doesn't just let you reach a global audience – it also lets you convert them into customers. In turn, you can expect a significant increase in sales. It's not only online stores that can benefit from going multilingual, though. A translated blog, for example, has the potential to gain new followers and generate more revenue from ads.
Choosing the Right WordPress Multilingual Plugin
Translation is only a part of the multilingual journey. If you want your multilingual website to be successful, you need to go with a multilingual solution that is as easy to maintain as it is to use.
As a WordPress user, you have a major advantage – plugins. You can choose from a number of multilingual plugins, most of which come with similar features. This includes the option to add multiple languages to your website and the ability to translate posts and pages.
Premium translation plugins such as WPML come with additional benefits, like different translation methods, full control over the translation process, and the option to integrate with leading automatic translation engines.
Here are a few other factors to consider during the WordPress translation plugin selection process.
Running a Woo store? You'll want to translate it too
A multilingual WooCommerce store can help you showcase your products globally and reach new audiences in their native languages. But from a business perspective, there's a lot more you can do than just translate your products.
With the right WordPress multilingual plugin, you can:
Rank higher on various search engine platforms and in different languages
Offer localized shipping methods
Allow customers to pay in their own currencies
Translate Cart and Checkout pages
Automatically translate every element of your WooCommerce store as you add or edit it
Ideally, all these features should be available within one plugin.
Automatic translation: A quick and budget-friendly translation option
Before you decide on a translation tool, consider how you'll go about maintaining your multilingual website.
Once in a while, websites require a content refresh. After taking the time to create a multilingual website, it's only natural you'd expect the content across all your languages to be up-to-date.
Outsourcing the translations to a professional translator is an option, and in some cases, the best choice. If you have a website with industry-specific terminology, you want to go with a professional translator who understands the nuances of your business.
However, there's no hiding how time-consuming human translation is. It can take weeks before your translations are ready. Not to mention the impact of professional translations on your budget. Depending on the type of website you have, you can consider using a second option – automatic translation.
With automatic translation, you can have your WordPress site's content translated in minutes – and at a friendly cost. Certain WordPress translation plugins, like WPML, also let you review the automatic translations after they're generated. If you're not fluent in all the languages on your site, you can hire a professional automatic translation reviewer. This way, you can enjoy high-quality translations at a lower cost than human translations from scratch.
The benefits of a powerful translation management system
Ultimately, the plugin you choose shouldn't just translate your content. It should also simplify the translation process, enhance the quality of your translations, and make it easy to maintain your multilingual content.
Some WordPress multilingual plugins come with more efficient translation management systems than others. Key factors that can help you manage the translation process include:
Translation memory, which speeds up the translation process and helps keep costs down
Automated workflows that eliminate the need to import and export content for translation
Centralized project management, making it easier to monitor the progress of translations
Term bases, which provide translators with guidelines on the best words and phrases to use for specific types of content
Why WPML is the Right Multilingual Plugin for WordPress Websites
WPML is the market-leading multilingual plugin for WordPress. It comes with all the features and tools you need to create and maintain a fully-functioning multilingual website. WPML is an equally great solution for freelancers or agencies creating multilingual websites for clients and WordPress users building sites for themselves.
To illustrate the point, we'll go over 6 key features that make WPML stand out amongst other WordPress translation plugins.
Flexible Automatic Translation Methods
Translating your whole WordPress site automatically is a breeze with WPML. The multilingual plugin is integrated with DeepL, Google, and Microsoft, allowing you to translate your site with only the best and most accurate machine translation engines. You can choose from two different translation methods, depending on which one best fits your needs.
WPML's Translate Everything mode handles the translation of your content on the fly. After you create a new post or page, all you need to do is hit the "Publish" button. WPML then automatically translates the content into your site's secondary languages in the background. The same goes for any existing posts or pages you update. This mode is optimal if you're looking for a cost-effective and simple solution for maintaining and updating multilingual content as it is added or changed over time.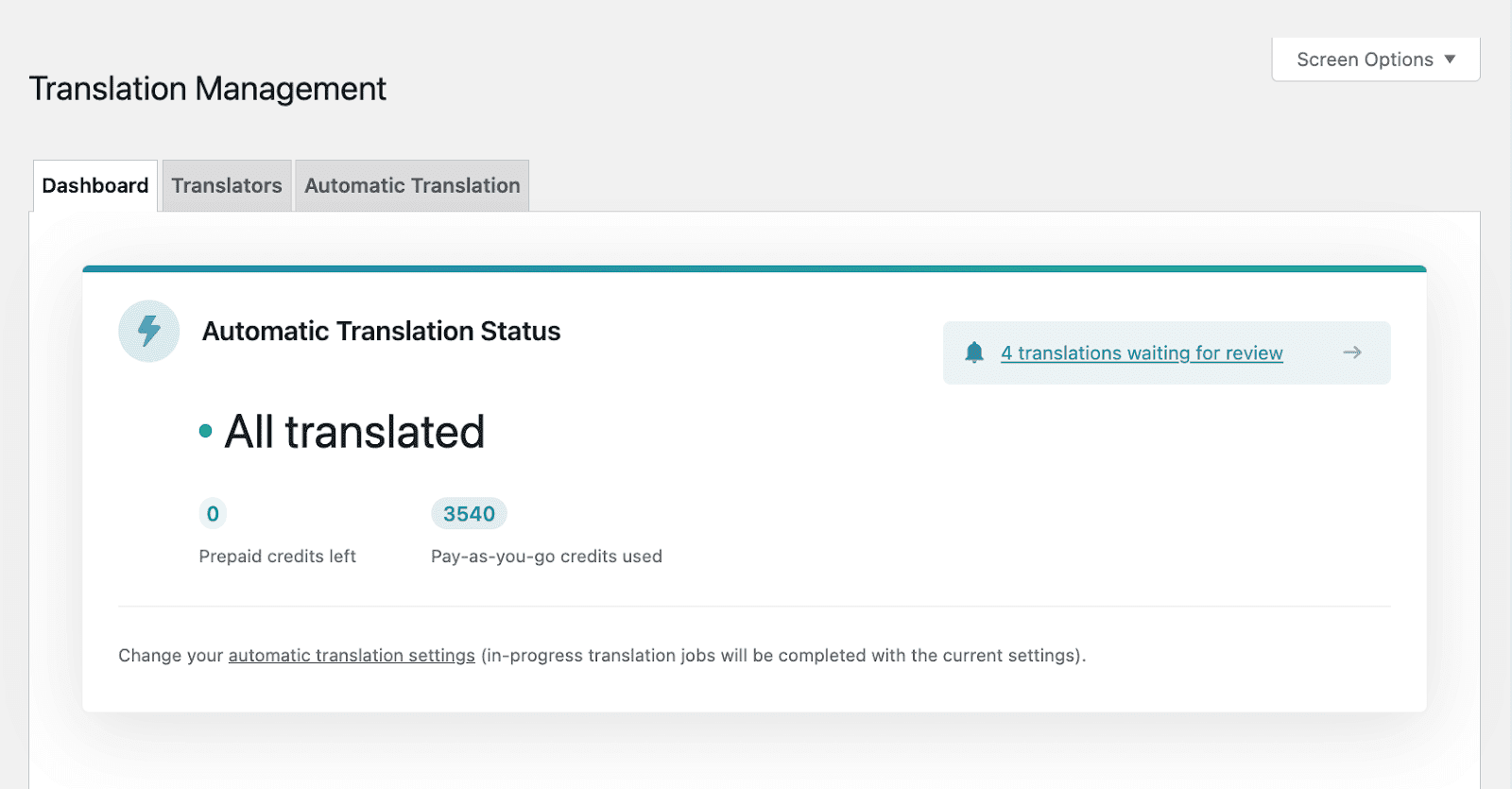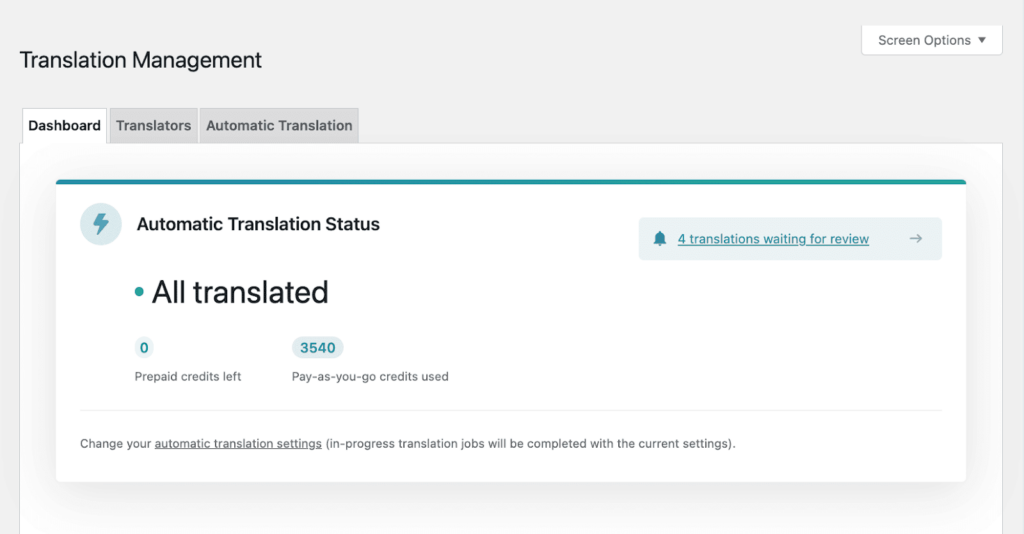 With the Translate Some mode, you can combine human and machine translation and have full control over what you translate, and how you translate it. Translate content by yourself, enlist the help of local translators, or work with a professional translation agency – the choice is yours. This mode is a great solution if you want the best of both worlds – the efficiency of automatic translation and the accuracy of human review.
2. WPML's Advanced Translation Editor
You or your translators can translate posts and pages using WPML's built-in CAT (Computer-aided Translation) tool, the Advanced Translation Editor.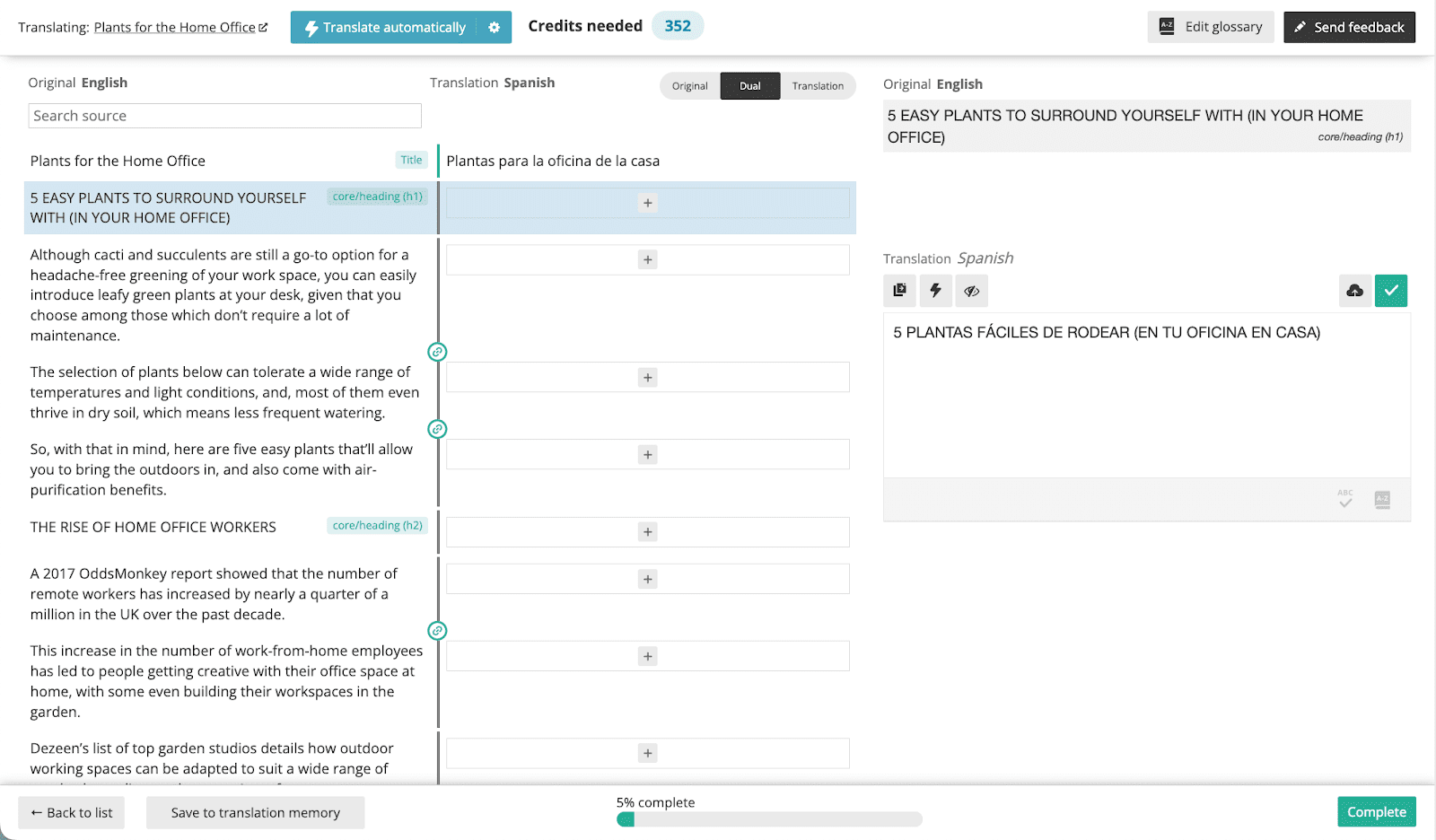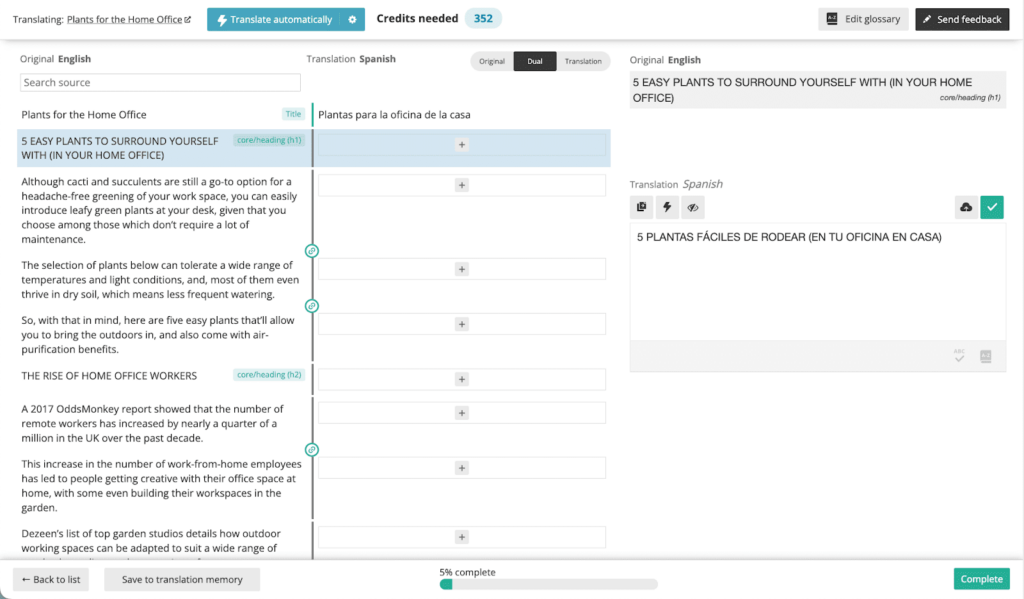 Apart from providing you with a side-by-side look that makes translation easy, the Advanced Translation Editor lets you:
Automatically translate posts, pages, or specific sentences on a case-to-case basis
Increase the speed of translations and cut costs thanks to translation memory
Save terms and phrases in the glossary so you and your translators can produce consistent translations
3. An All-In-One Translation Management System
To help you manage all your site's translations, WPML's Translation Management brings all the tools and features together in one place.
From the Translation Management Dashboard, you can:
Select which content you want to translate
Add individual translators and assign language pairs
Outsource the translations to professional translation agencies
Leave notes for translators and track the progress of translation jobs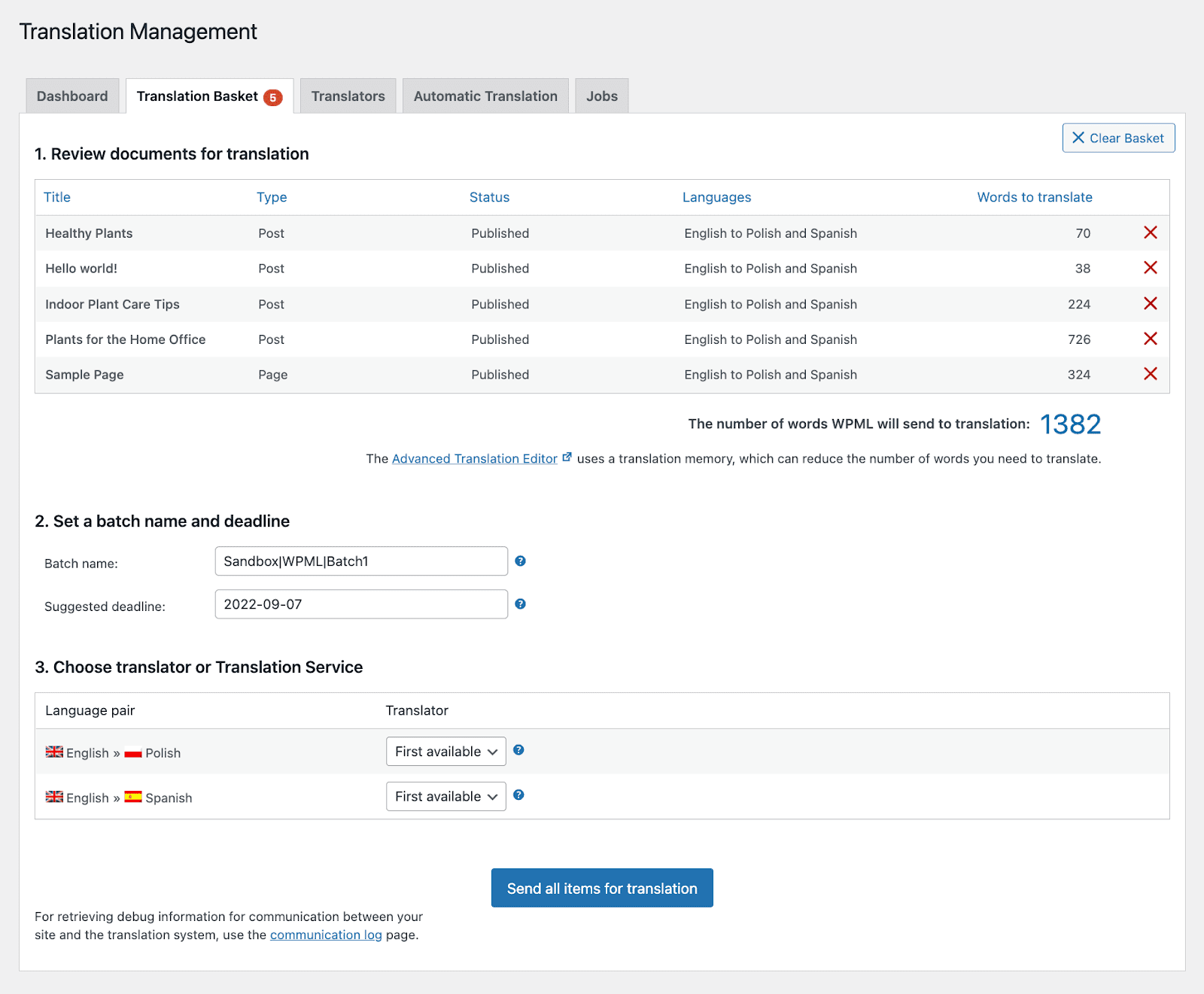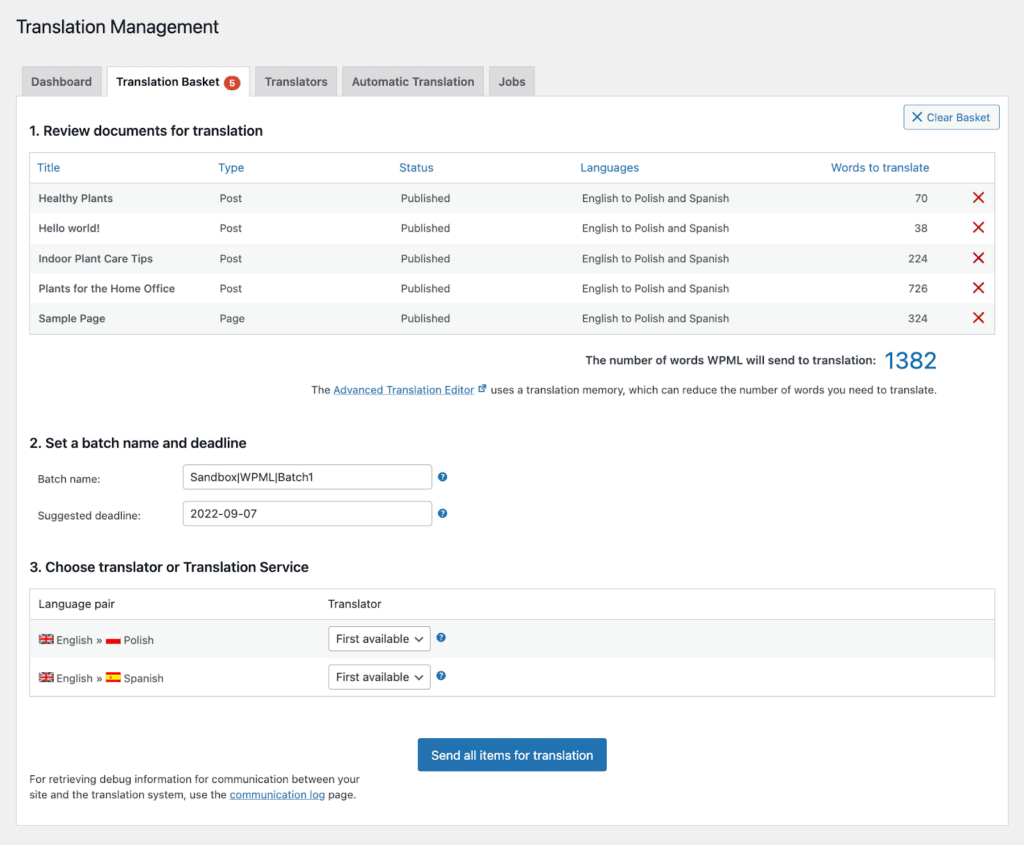 Additionally, WPML lets you create dedicated translator accounts. You can then send content to your translators directly from your WordPress dashboard. This way, you don't need to waste time and resources creating PO files, spreadsheets, or switching between different interfaces.
It's also worth noting that while your translators can edit your site's translations, they won't be able to access or make changes to any other parts of your WordPress website.
Once a translator completes the job, the translations are automatically imported to your site. So, you don't have to worry about manually uploading translations and making a mistake that could break your website.
4. WooCommerce Multilingual: A Comprehensive E-Commerce Translation Solution
WooCommerce Multilingual & Multicurrency (WCML) is a free add-on plugin that comes with the WPML CMS and Agency account types. It comes with all the features you need to start selling internationally.
With WooCommerce Multilingual, you can:
Automatically translate your entire WooCommerce site
Translate products, product variations, and product attributes
Translate Cart and Checkout pages as well as store emails
Translate URLs and endpoints
Set prices and collect payments in different currencies depending on the location or language of your clients
Set up automatic exchange rates
More importantly, getting started with WooCommerce Multilingual is easy and intuitive. Once you install and activate the plugin, you simply need to follow the steps in the setup wizard.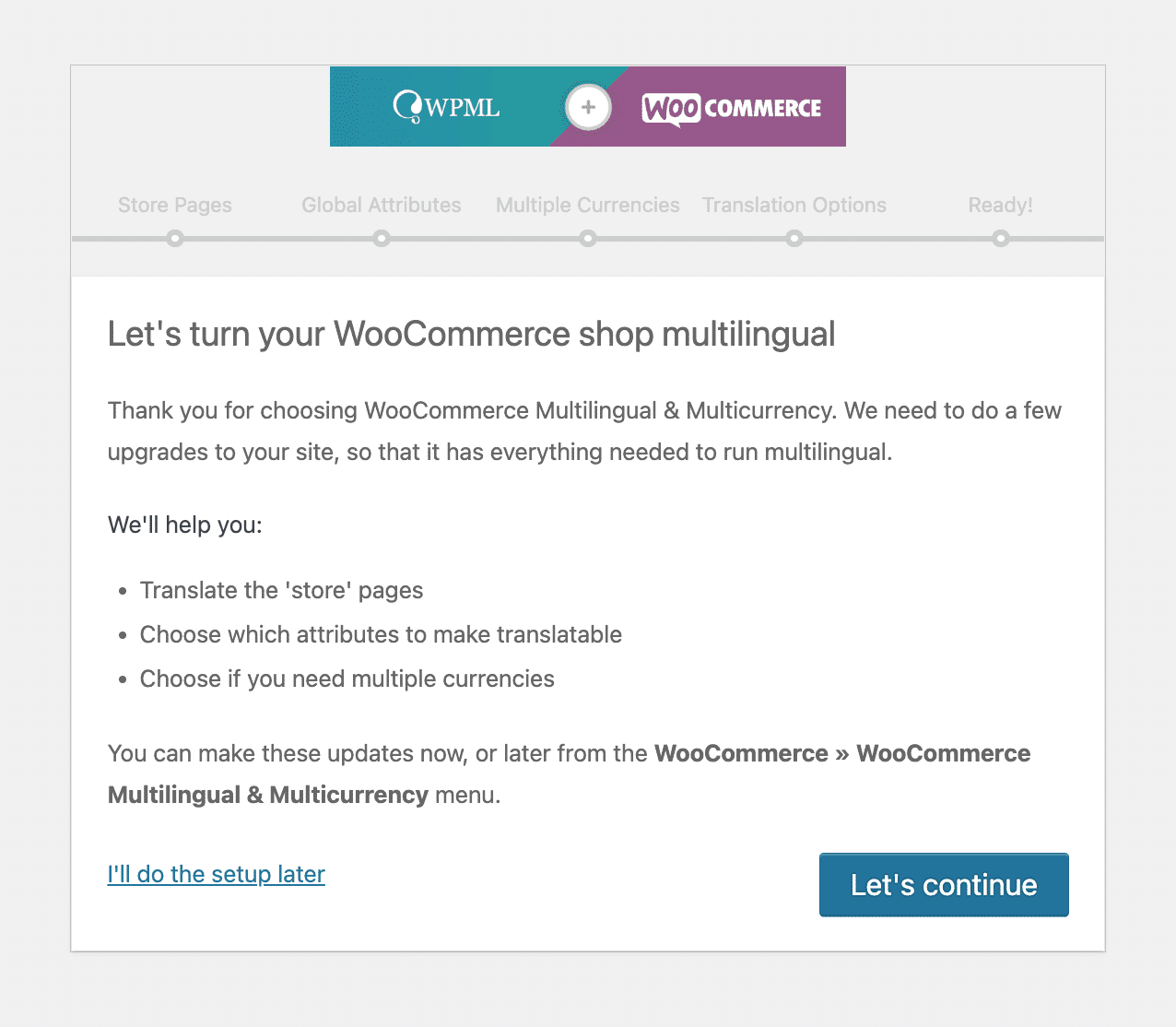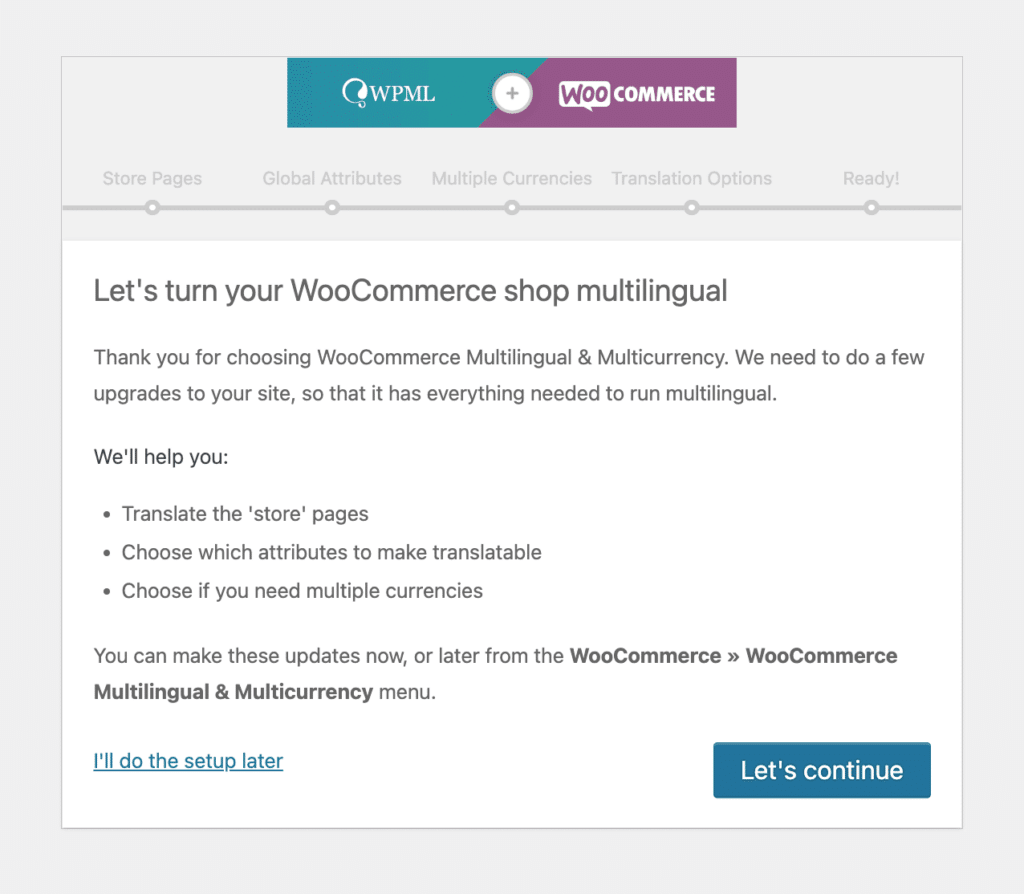 You can then create and edit the translations of products, categories, store URLs, and even set up the multicurrency features from one intuitive interface. Of course, the WooCommerce Multilingual plugin also lets you automatically translate your WooCommerce site. You can then quickly fine tune the translations and have your store taking global orders in no time.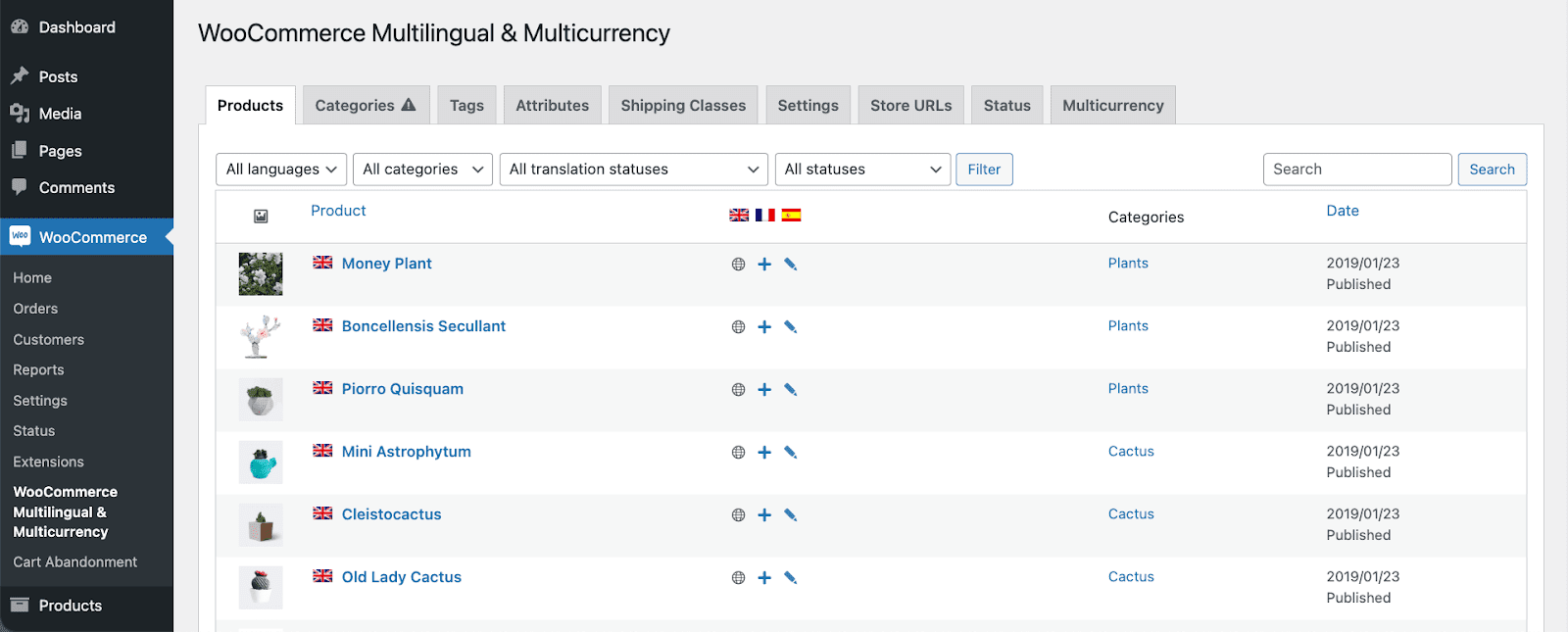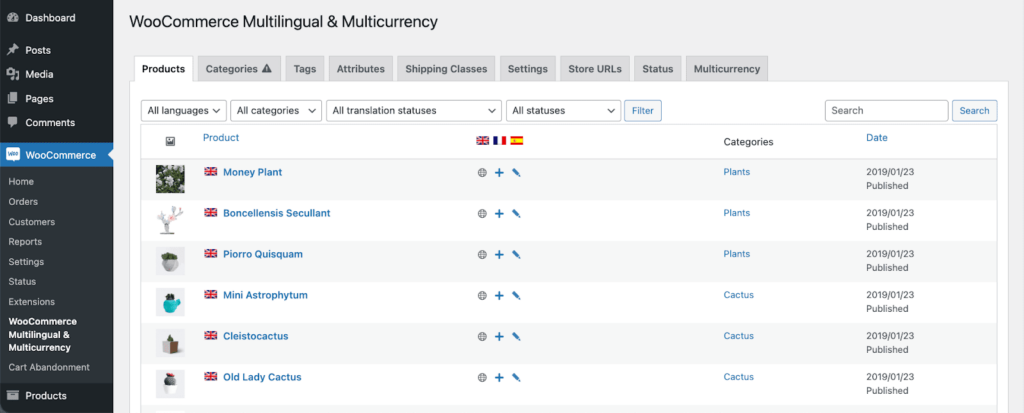 5. Transparent Automatic Translation Pricing
You already know that automatic translation is the most cost-efficient way to translate your website, but the question remains – how much does it actually cost?
With WPML, there are no hidden costs. You can choose between two automatic translation pricing options: pay-as-you-go and prepaid credit packages.
With pay-as-you-go, you get 2,000 free translation credits every month. If you use more than that, you pay for exactly what you used at the end of the month. And if you're not quite sure how many credits you need to translate your site's content, you can use WPML's automatic translation pricing calculator to estimate the costs.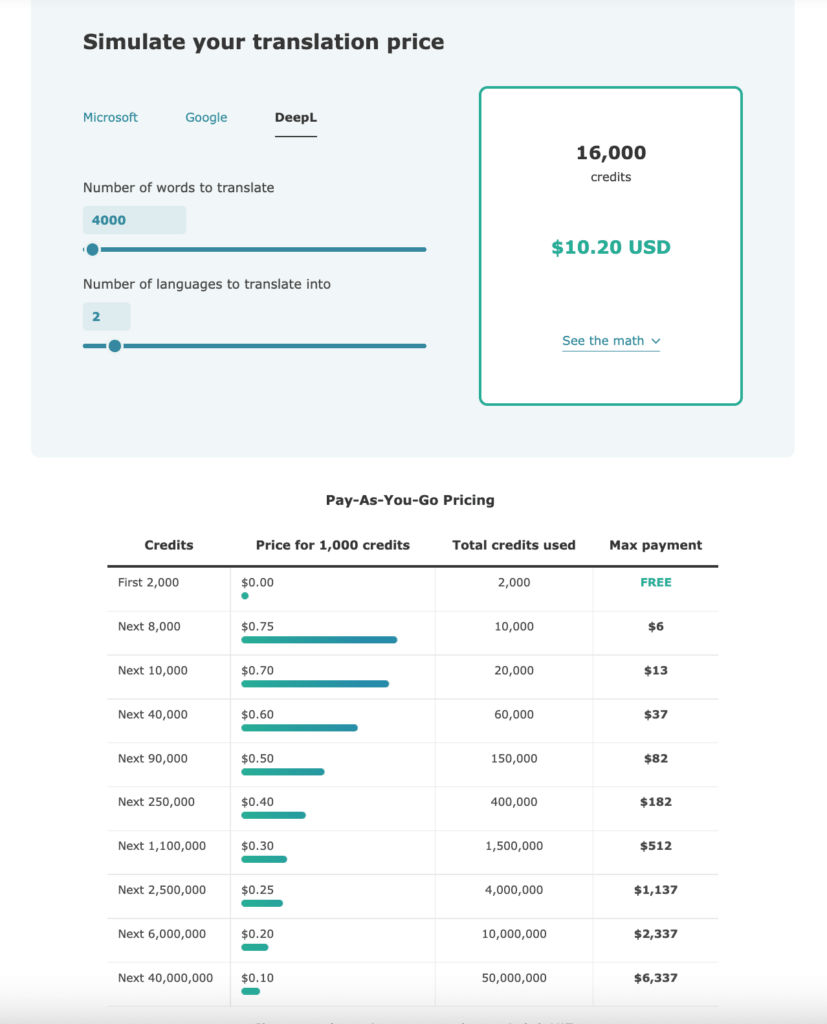 Setting up multilingual sites for clients? You may prefer to go with prepaid credit packages. This option allows you to buy credits and manually assign a specific number of them to any of your registered sites. The credits never expire, so you don't have to worry about using them in a specific timeframe.
6. Easily Transfer Account Renewals to Clients
If you build multilingual sites for clients, you know how big of a challenge the account renewal process can pose. Without the right renewal strategy, you may find yourself paying for the maintenance of a client's multilingual website, but not getting reimbursed for it by your client.
The costs can add up, but abandoning the multilingual sites you built isn't exactly an option. After all, you want to remain credible and maintain strong relationships with your customers.
Account renewals should be a transparent process for both you and your clients. That's why with WPML, you don't have to deal with the headache of managing renewal fees and sending invoices to your clients. Instead, you can transfer renewal payments directly to your clients.
This solution comes with a number of benefits for both sides:
Your clients will receive updates to the WPML plugin, even if your account is no longer valid or has expired
Your clients will have full access to WPML's downloads and support
Once your clients follow your invitation to take over renewal payments, WPML credits you $20 per renewal and adds one bonus site to your account
Find WPML in the WP Buffs Partners Hub
WPML features in the public WP Buffs White Label Preparation Hub. If you are an Agency client, you can find WPML in your exclusive Partners Hub too! This shows the trust that WP Buffs have put into using WPML on various projects for a wide range of clients. For easy access to a wide range of useful WPML information and documentation, check out the 'Translate With WPML' section in your hub.
Wrapping Up
A multilingual website is the best way to reach audiences across the globe. However, to create a successful multilingual website, you need to choose the right WordPress translation plugin. Factors such as the type of website you have, the way you want to translate it, and your budget may play a part in the decision.
WPML comes with all the features and tools you need to both create and maintain any type of multilingual website. It's straightforward to set up and lets you translate your site's content using automatic translation, human translation, or a combination of both.
What's more, WPML centralizes the translation process in one place, making it possible for you to create, send, and receive translations directly from your WordPress site's dashboard.
Best of all, it's a friendly solution for everyone. No matter if you're building a multilingual WordPress website by yourself or setting one up for a client, WPML makes it possible for you to have a multi-language website up and running in just a few steps.
Get Started with WPML Today
Join over a million WPML-powered WordPress sites and start using WPML to meet your multilingual needs. You can learn everything there is to know about the plugin by checking out the comprehensive guide to getting started with WPML.
In case you're not 100% happy with the WordPress multilingual plugin, WPML offers a no-hassle, 30 day money-back guarantee.
This article was produced by Kathy Banach. She is a Writer for OnTheGoSystems, the company behind the popular WPML and Toolset plugins for WordPress. She has a strong interest in cross-cultural communication and improving user experience with well-crafted content.