With WordPress making the permanent switch to the Gutenberg editor, there's no doubt about it: page builders are no longer the future of web design and content creation. They're the present.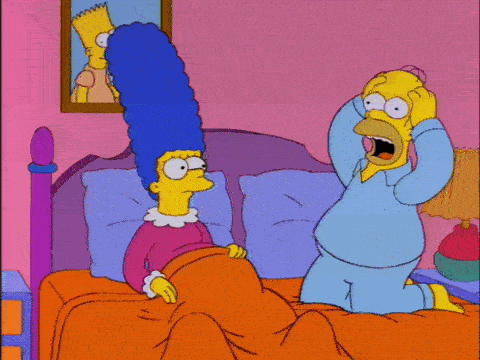 For many of you, this isn't news. WordPress page builders have been around for years. That said, you and your clients might not have given serious thought in adopting them when they were just an alternative option for building websites.
Considering where we are today with the page builder serving as the primary means for creating content in WordPress, all of that has changed.
If you or your clients haven't found the new WordPress editor to be a help in your workflow, it may be time to consider installing one of these page builder plugins. You could, of course, always return to the classic editor, but that would put you and your clients at a disadvantage by taking a step backward instead of forwards.
Consider your page builder options and find one that makes your life easier.
That's why we're going to focus our attention on Beaver Builder and Elementor today. There are other page builder plugins available — as this review from WP Shout demonstrates — but we want to present you with the best options for web designers and clients today.
In terms of Beaver Builder vs. Elementor, the following guide will provide you with a side-by-side comparison of:
Beaver Builder vs. Elementor
These introductions will give you a good idea of why these plugins continue to dominate the list of WordPress page builders today.
An Introduction to Beaver Builder
Beaver Builder* was first introduced to the WordPress ecosystem in 2014.
The Beaver Builder Lite (free) plugin currently sits in the WordPress repository with over 500,000 downloads and a nearly five-star rating.

The origin story behind Beaver Builder is one that designers and agencies alike can relate to. As Robby McCullough, the co-founder of Beaver Builder, recounted this in a blog post from early 2015:
His web agency was offering a budget web design service, wherein they would ask clients to choose a pre-made template developed from a set of themes the agency worked with. However, whenever a new theme was introduced to the fold, it created a real snag in what should have been a streamlined and shorter workflow:
"Just like people, many gorgeous WordPress templates are a real mess on the inside! Spaghetti code, bad practices, confusing structure, overwhelming theme options, etc., etc. The speed at which we could finish a site was largely dependent on the usability of the theme our client chose. This inconsistency was frustrating. We always wished we had a single template/framework, that we knew inside and out, that was flexible enough to recreate the en vogue designs our clients wanted."
McCullough's agency started to receive more requests from clients to build custom websites that they could then edit themselves.
As this new complexity was introduced, the agency turned to a combination of Advanced Custom Fields and page templates to develop their websites. This solved one part of the problem — the time commitment — but not the client usability piece.
What they needed was one framework they could build every site from and that clients would have no problem adopting.
This is where Beaver Builder, formerly FastLine Page Builder, entered the fray.
What began as a premium page builder plugin, eventually went the freemium model so that users could use the free version from the repository. In addition, they converted to GPL so that other developers could extend the capabilities of what it could do. A beautiful example of this is Themer Pro*, produced by Eric Hamm and Cobalt Apps* which extends the capabilities of Beaver Themer.
Check out their great read on WordPress maintenance too!
It helps the the team behind Beaver Builder seems genuinely cool, too. Robby and Joe, our Head Buff, went to BeachPress together! According to Joe, Robby is an awesome person, which bodes well for the quality of the page builder as well.
Robby even came on the WPMRR WordPress podcast once and chatted with Joe for all to hear. It was a great convo and in it, Robby discusses how he is preparing to travel the world for a year while still helping run Beaver Builder. Truly inspiring stuff.
The Beaver Builder community is pretty fantastic, too. They have a great Facebook group with over 13,000 members that's there to help answer any question you may have.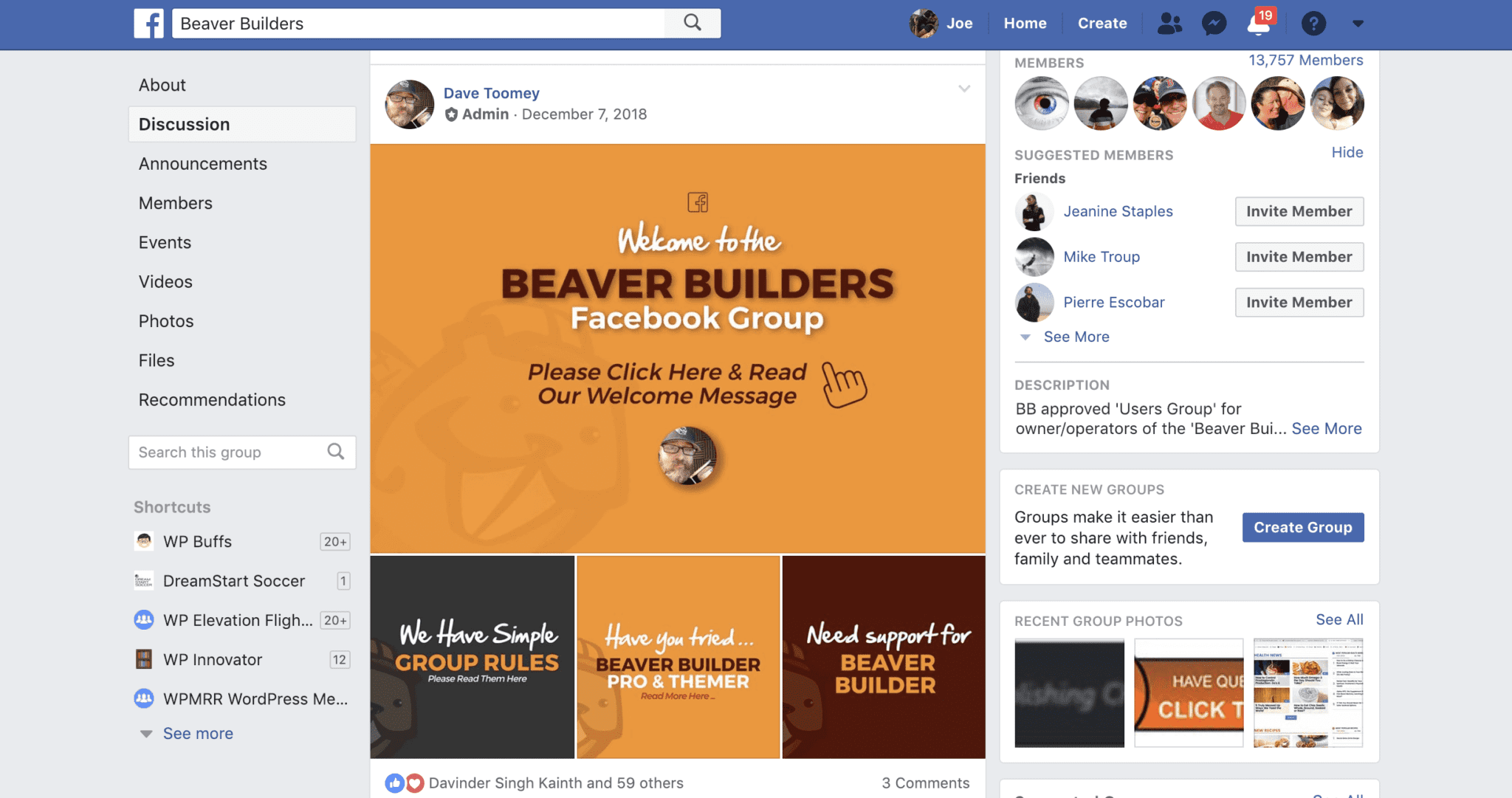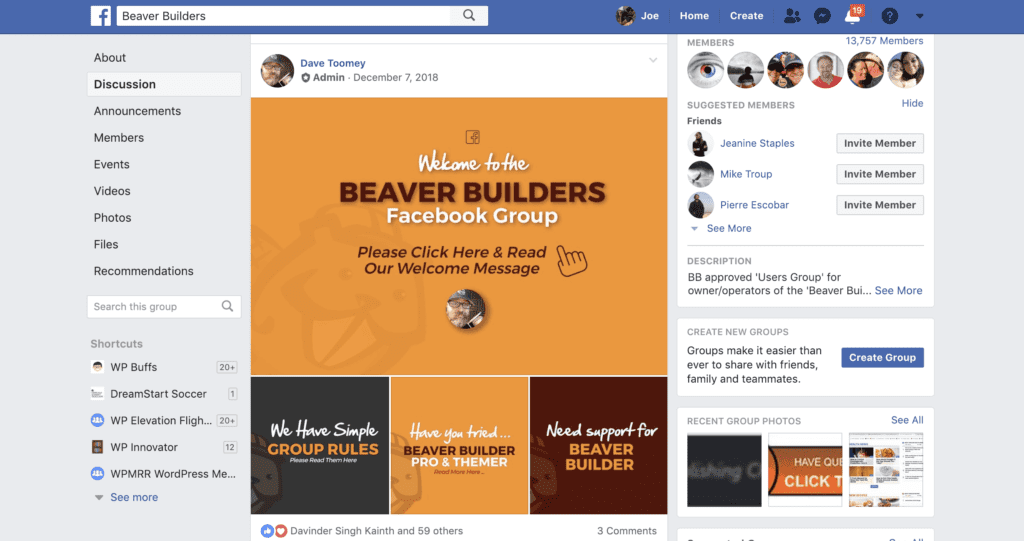 An Introduction to Elementor
Elementor* was introduced two years after Beaver Builder in 2016.
The free Elementor plugin currently sits in the WordPress repository with over a million downloads and a nearly five-star rating.

In terms of Elementor's origin story, you can read all about it from CMO Ben Pines. In the meantime, let me give you a quick play-by-play of how this page builder came into being.
Back in 2015, the founders of Elementor were running a WordPress theme company. While surveying the CMS landscape, they were perplexed to see solutions like Wix and Weebly with awesome page builder tools while WordPress appeared to be lagging behind. They knew there was a need for it in this space, but they were torn on how to approach it what with there being so many different types of end users:
The designer – They don't want to code, but they want control over every aspect of the design.
The developer – They want to hard-code everything into the page, which means working in a minimal interface.
The client – They don't want to code and they don't want to control everything. They just want a simple way to build or manage their website.
As you can imagine, this makes the process of building a piece of software a lot more difficult as you have to be able to strike a balance without compromising on one user's experience much more than another. The approach the Elementor team took was less than conventional:
"So, how would go about building a solution that would cater to at least two of these ever so different personas? Our answer was to handle it one decision at a time, and for each decision have an old fashion fight out. If the designer was more determined and strong willed, then the designer side won. If the developer's side was more resolute, his side wins. Each side has the right to veto a decision, if the issue seemed important enough."
The Elementor team is fantastic, too, filled with innovative and inventive people.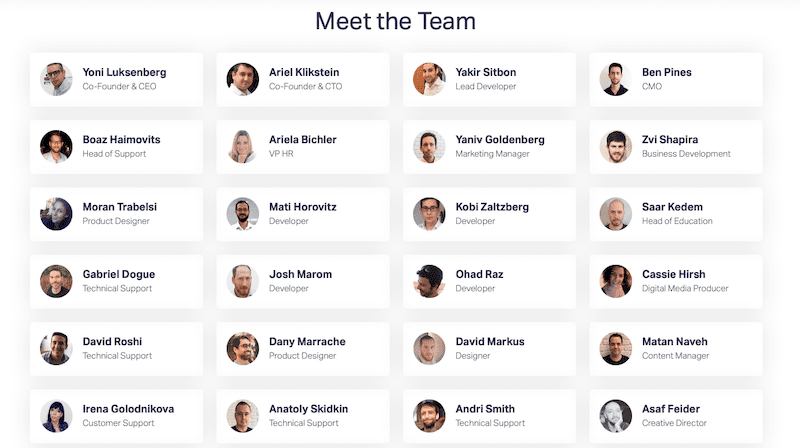 In the end, Elementor created a much loved and widely adopted page builder tool that could aptly serve as an alternative to the original innovator in the space: Beaver Builder. And it continues to expand features as well. In fact, just recently, Elementor launched a visual popup builder, which makes it easy to create custom popups quickly and easily, all from within a familiar interface.
Beaver Builder vs. Elementor Pricing
Let's look at pricing for Beaver Builder vs. Elementor as it stands today. Then, break down what you can reasonably expect from the free vs. premium versions of each.
Beaver Builder Pricing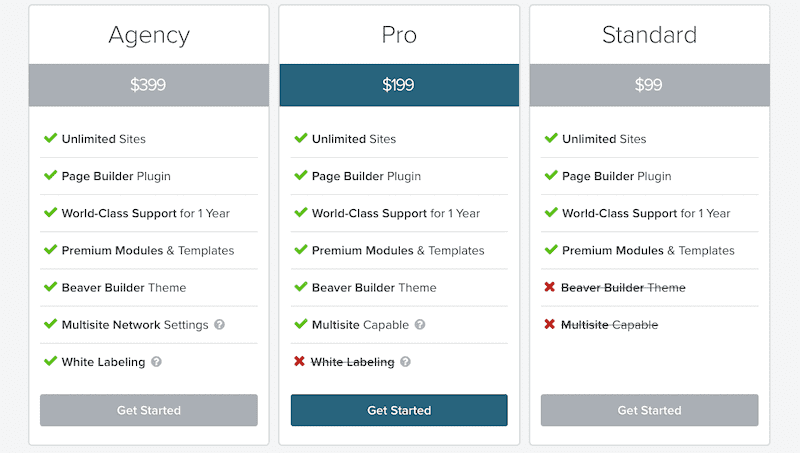 Beaver Builder makes no secret about the limitations on the free version of its plugin. That's why it's called "Lite". However, if you only intend on building one website or you're brand new to page builders altogether, Beaver Builder Lite isn't a bad choice to start with.
Free – Here is what you can expect:
Drag-and-drop builder on the frontend.
Responsive web design capabilities.
Basic "modules" (elements for building a page) that include text, HTML, image, video, audio, and sidebar blocks.
WordPress-specific modules for integrating typical features from WordPress into the builder.
Manipulation of rows and a variety of column choices within each.
Color, image, or video background options.
Customize elements with custom CSS.
Premium – Beaver Builder has three premium plans, meant to align with your WordPress business growth. Here is what you can expect:
Use with unlimited websites.
All of the free Beaver Builder and WordPress modules; plus, other standard elements that are missing from Lite like contact forms, image sliders, maps, blog post add-ons, and social media icons.
Pre-made templates for pages and sections that shorten the time it takes to create pages from-scratch. You can get a glimpse of these templates over at Is It WP.
Save your own page layout and row element templates and easily add to other pages.
Export your own templates for commonly used elements or pages to include on other client sites.
Build your own modules and save and export them, too.
Premium support from the Beaver Builder team so you're never left hanging.
In addition, agencies can tap into features like:
Beaver Themer – to help them build and customize their own WordPress themes.
White-labeling so they can do more than just build websites; they can host and manage them from one tool, too. (More on that below.)
Elementor Pricing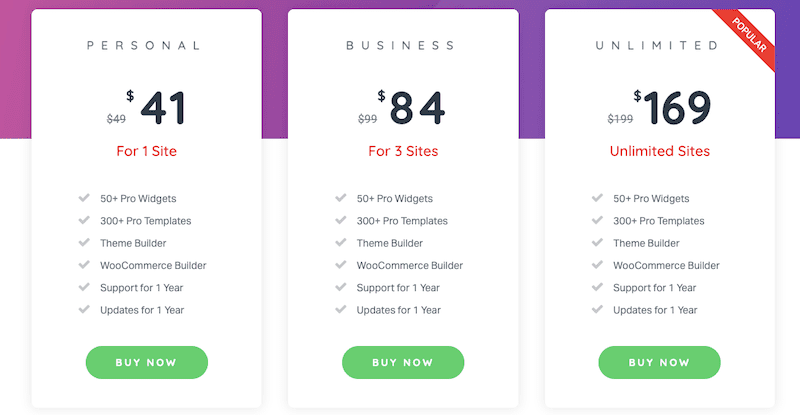 For websites your client will go on to manage on their own, the free Elementor plugin will suffice. For your own business purposes, you'll want the premium version.
Free – Here is what you can expect:
Drag-and-drop live page builder on the frontend.
Fully responsive web design capabilities, which you can also test in mobile and tablet views.
About 30-page "widgets" (elements for building a page) that cover a wide gamut of purposes.
Additionally, you can control a number of settings for each widget, including font choice, background overlays, gradient backgrounds, animations, color selection, sizing and spacing, and so on.
Page and block template library to pull pre-designed elements from and save yourself time building websites from scratch.
Create and save your own page and block templates for repurposing on this site or to export and use on others.
Instantly put your website into Maintenance mode if it's not ready to go live.
Premium – The premium Elementor plugin offers users three different plans. These would be best for a client with a complex website (Personal), a freelance developer (Business), and an agency (Unlimited):
Only one of the premium plans allows for an unlimited number of websites. This is the only differentiator between the plans, so pay close attention when choosing one.
All premium plans include over 50 pro widgets, including ones for e-commerce, image and video sliders, marketing automation, and CRM integration.
Widgets can be set to "global" so you only have to configure them once and then apply the exact configuration site-wide.
Custom CSS is enabled.
Users get access to over 300 pro templates, which will expand the complexity and diversity of your site-building capabilities.
Theme Builder and WooCommerce Builder allow you to customize more of your web design elements, like headers, footers, blog layouts, and more.
Support and updates are included for free for one year.
If the price is a deciding factor for you, make sure to do a side-by-side comparison between Beaver Builder and Elementor pricing and features. Although Beaver Builder's prices may appear higher at first glance, you do get many more developer-friendly features. So, focus on the value instead of the actual price tag when making that call.
Beaver Builder vs. Elementor Usability
Now it's time to dig into the interface and usability of Beaver Builder and Elementor. While both are frontend builders that enable you to create and edit pages in a visual editor interface, there are major differences between the two.
Beaver Builder Usability
Once Beaver Builder is installed in WordPress, you can configure settings for it under the Settings tab. Though, to be honest, there isn't much reason to do this unless you want to restrict the page builder to certain parts of the website (like pages only) or if you want to remove certain modules from view.
Enter the Builder
To use the builder itself, step inside one of your pages or posts. Here is what you'll see: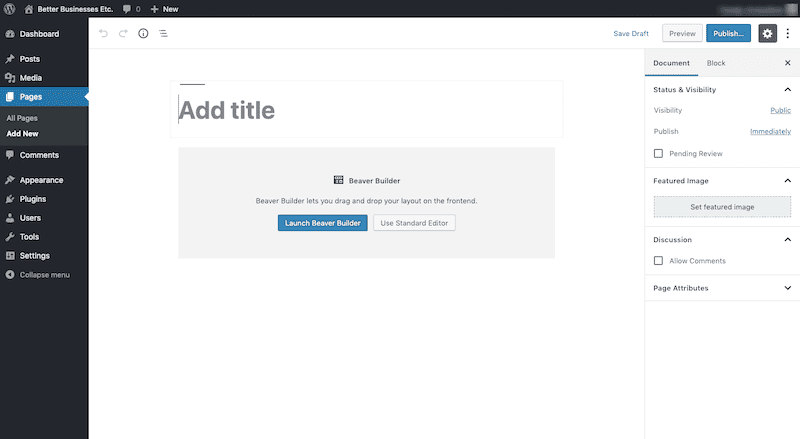 You can stick with the standard Gutenberg editor or you can move into the frontend Beaver Builder.
Beaver Builder will open and then display a panel where you can choose next steps.
The Interface
Before we peek inside this main panel, let me introduce you to the three key areas of the Beaver Builder interface:
This is the main editor: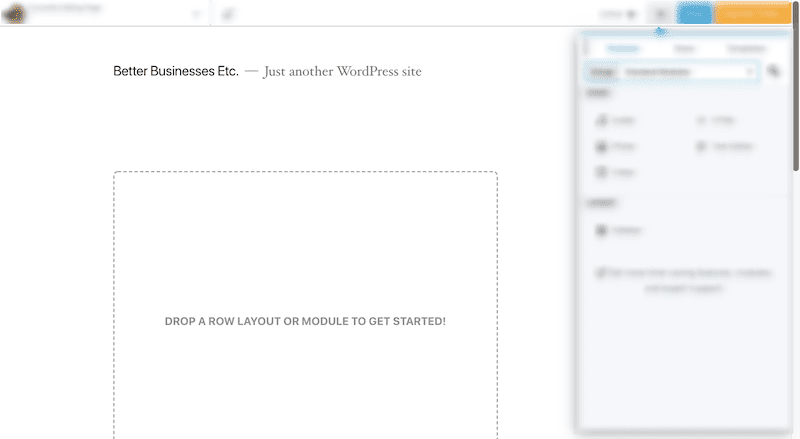 It fills in the page or post title you set inside the WordPress editor but then prompts you to add more content.
Next, we have the settings bar along the top of the screen:
The main drop-down on the left contains many options, so acquaint yourself with it first thing if you're interested in quickly duplicating layouts, using code, or exiting out the builder safely. The notifications ringer doesn't have much point, so you can disregard that.
The +/x button on the right side is where you open the modules panel. The "Done" button will reveal additional options for "Discard", "Save Draft", and "Publish". And you'll see the orange "Upgrade Today" button if you're using Lite.
Finally, we have the modules panel: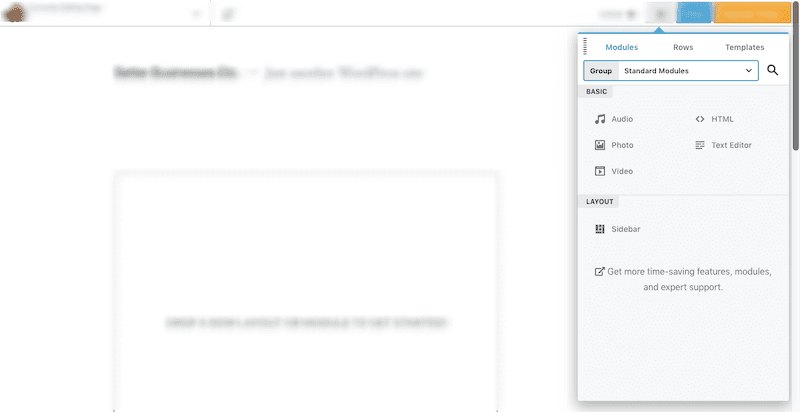 This panel is split into three key areas.
The first is "Modules". When "Standard Modules" is selected under "Group", this is where you'll see all available modules from Beaver Builder.
If you click the dropdown next to "Group", you can toggle to "WordPress Widgets" where you'll see the following: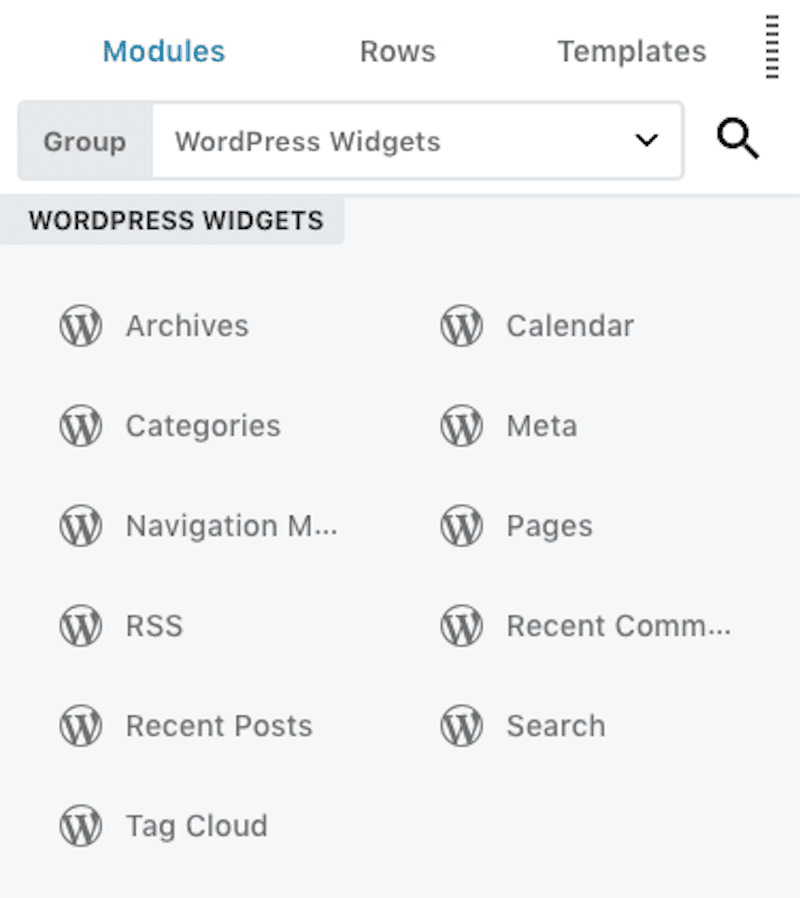 The next tab is for "Rows". This is where you choose how many columns you want to appear within the row as well as what percentage of the row they should take up.
In Lite, you won't find anything under "Templates" with the exception of a button asking you to upgrade. Once you have paid for premium, you'll tap into all of the page and section templates Beaver Builder has created for its users. You can also start to save your own here. Until then, you'll have to build everything from scratch.
One neat thing to note is this:
Beaver Builder allows you to work with the panel wherever you feel most comfortable with it. So, if you're unhappy with it as a dropdown or with it on the right side of the page (which makes it feel a little like Photoshop), go ahead and pop it over to the left sidebar.
Build Your Page
Finally, let's look at how to build a page with drag-and-drop modules.
Let's start with how to add widgets to a page:
First, add a new row and column configuration. Then, drag the preferred modules or WordPress widgets into their places.
If you don't like the particular way you laid them out, it's easy to move them around:
Simply grab ahold of the three dots that appear when you hover over a block and then move the module or row into its new place.
You can also configure settings on a row level as well as a module level. Simply click the element you want to edit and individual settings will appear in the panel:
Configure them to your liking and then save changes in the top admin panel.
The Verdict
🔨 Shout out to @BeaverBuilder – a user-friendly interface, nice style, and premium features are on point! Who doesn't want to be premium, anyway? #WordPress
Click To Tweet
Beaver Builder is an all-around solid option. Great features, a user-friendly interface, and total flexibility makes it a great choice for a wide range of developers.
Elementor Usability
Upon installation, a new Elementor menu will appear on the sidebar of WordPress. Take a moment to familiarize yourself with the options for customization that are available there.
Enter the Builder
When you're ready to start working with Elementor, open a new page or post. Elementor is kind enough to add a sample page to its users' websites, so we'll use this as our example today: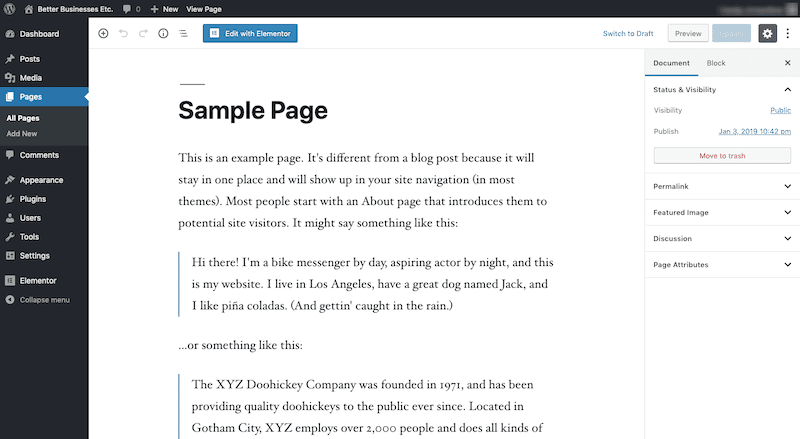 Click on the blue button to switch from the standard WordPress editor to Elementor.
The Interface
The interface may look greatly simplified at first, with two main pieces to engage with.
The first is the main editor interface where you drag widgets into place and build your page: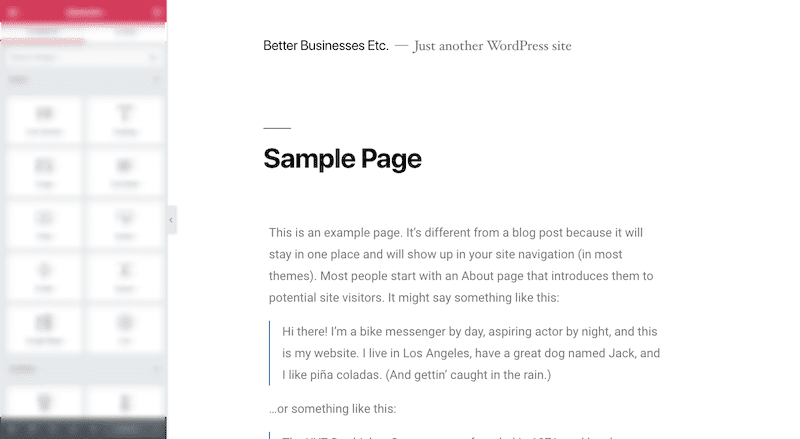 The second is the settings panel: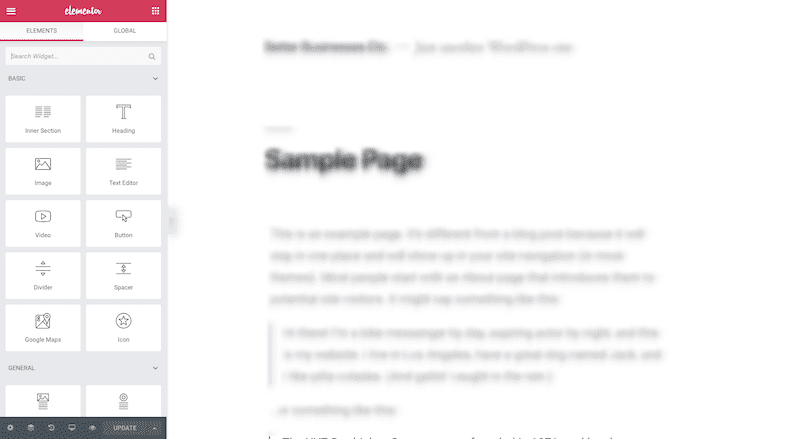 Here's the thing though: this panel isn't just where you drag elements out of.
There are a number of page settings available in the bottom bar:
Elementor actively enables you to switch between the views as you build your page.
There are other settings you can find in the top-left corner: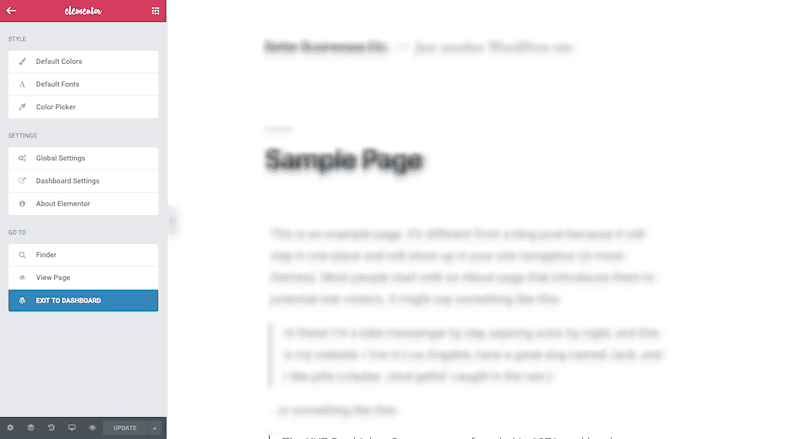 These pertain to default and global settings for the page.
Build Your Page
As for building your page, Elementor works much like how other page builders work. You locate the widget you want to add to the page, click on it, and drag it to the editor.
If you're unsatisfied with where an element ended up or you want to experiment with different layouts, it's easy to drag-and-drop your elements all around the page.
What sets Elementor apart from page builders like Beaver Builder is the consistency in the editing panel: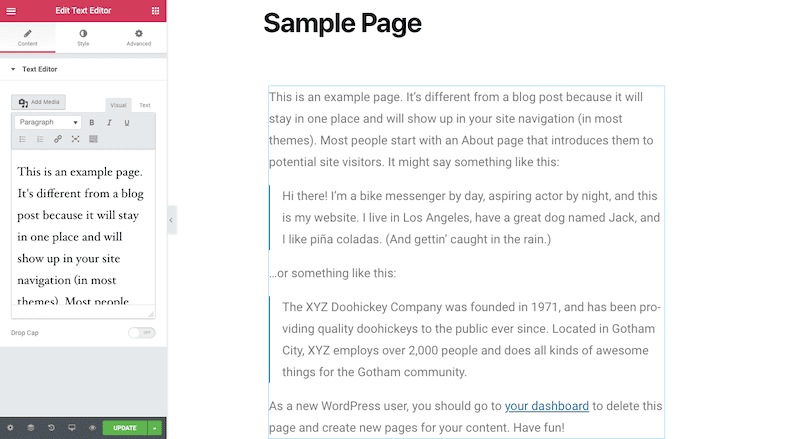 Whether the element selected on the page is text, visual content, a divider, or any other type of element, settings will always be divided into three categories:
This makes navigation of the page builder an easy one to pick up.
😎Lifehack in Elementor! They make any job easier with their templatization capabilities in the free AND premium versions. Templates on point! @elemntor #WordPress #Shoutout
Click To Tweet
You can create your own templates and save them for use on this website or on others: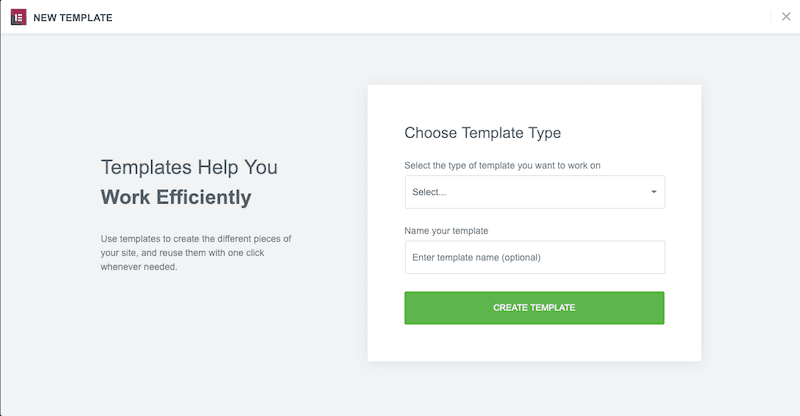 You can adopt one of the many block templates Elementor has provided: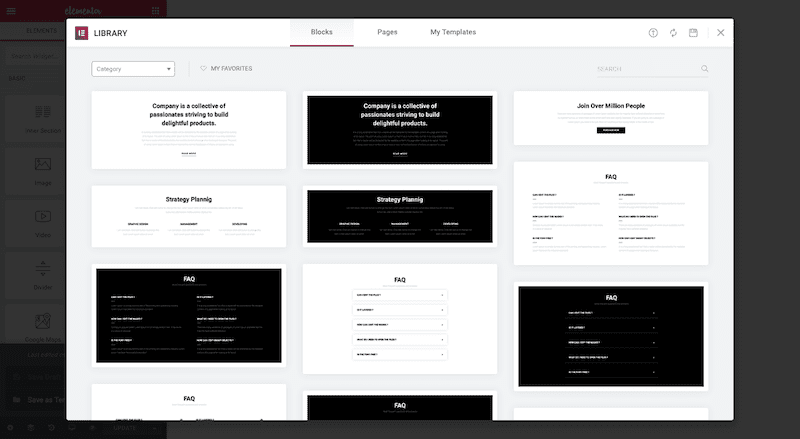 Or you can import whole page templates: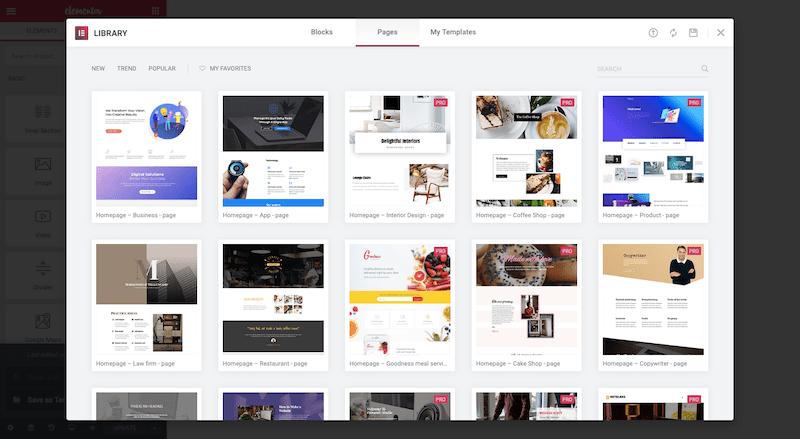 The Verdict
In terms of what you can accomplish within the Elementor interface, it's one of the best out there. The free version alone comes chock full of features and templating which will make your job a significantly easier one.
Just bear in mind that this type of interface isn't for everyone. Because there are so many features available and abundant settings to control for each element, this may prove overwhelming for clients. It might also prove to be an impediment to your productivity.
Beaver Builder vs. Elementor Reviews
Elementor has twice as many users as Beaver Builder and accumulated them in half the time, too. There are two reasons for this.
One of which is more aggressive marketing on the part of Elementor. Beaver Builder played it very conservative in its first year of business, which is understandable as it was the one that paved the way for page builder plugins that came after it.
After spending time in both, it's apparent the target user has something to do with it as well.
If you spend a good amount of time sifting through WordPress plugin reviews, you can quickly get a sense for a few things:
What its high points are.
What its major weaknesses are.
What type of user most commonly uses it.
How responsive the company is in providing support
How responsive the company is in protecting its brand identity.
Here is what we found while poking around inside the reviews of both plugins, which sums up nicely everything we've seen here today:
Beaver Builder Reviews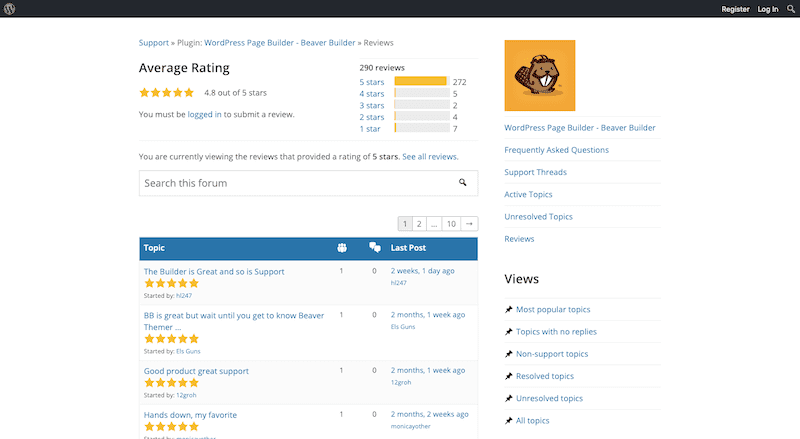 Less than 1% of Beaver Builder users have left reviews for the plugin in the WordPress repository. That said, the overwhelming majority of them are positive.
The most common accolades are:
Clean Coding – Many users tout the plugin as a solid product. Overall, there seem to be very few things to complain about when it comes to bugs or usability issues.
Amazing Support – For the users that have reported running into hiccups, most of them say the support team has been helpful*. Even if you look at the one-star complaints about support, they're either unsubstantiated or they're about a related Beaver Builder plugin.
Dedicated Beaver Builder resources like Pro Beaver make the support even better as it offers a self-support option for developers who want to better understand the ins and outs of the plugin.
Developer-Friendly – If you look at the reviews, many developers talk about how they've built dozens of websites over the years with Beaver Builder. Or about how it decreases the amount of time they spend building client websites.
While novice users could certainly use Beaver Builder, it appears to be a massive success with developers — especially ones who are thinking about expanding their business to build themes, sell managed hosting, or provide ongoing site maintenance.
Reviewers have some negative feedback to share as well:
High Cost – Out of the box, Beaver Builder would be a sufficient tool for someone building a personal website. But for web developers — who seem to comprise a good chunk of users — an upgrade to premium is required, which is why you'll often hear this complaint.
As Reginald Chan explains, though, it's well worth its weight in gold. Speaking about the Pro Plan, he says:
"The biggest difference between Pro and Standard plan is of course, the Beaver builder Theme and multisite capabilities. The main selling point of the Pro plan is the Beaver Builder Theme. If you are serious in starting a web designing business, Beaver Builder Theme is going to help you build websites from ground up really, really fast."
He also throws in a tip for anyone thinking about the Agency Plan:
"[T]he Agency plan is best when you managed dozens of websites and have a thriving web design business."
Limited Features – Again, this issue isn't really an issue for people that can afford to upgrade to premium as its jam-packed with all the page builder features anyone could need. But the free version is seriously limited.
Elementor Reviews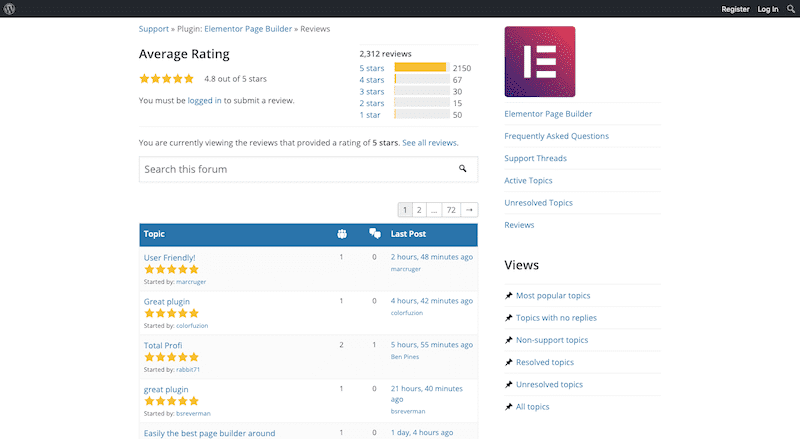 Similar to Beaver Builder, less than 1% of users have left a review for Elementor, but the majority of them are overwhelmingly in favor of the plugin.
The most common accolades are:
Beginner-Friendly – Elementor is heralded by a lot of novice WordPress users. Some of them proclaim their "noob" status, while it's clear with others that they're really only using it to build and manage their own website.
Ease of Use – One of the main reasons why users are so fond of Elementor is because of how much more they can accomplish — and easily — with the extensive amount of add-ons created for it. One such example is WPDeveloper, who's developed the Essential Addons for Elementor plugin.

Even without plugin extensions, Elementor has a lot to offer developers and agencies who are tired of wasting time in the web design workflow. Take WP Elevation, for instance, who recently moved away from a custom theme to Elementor.
"As WP Elevation grows, and our team becomes busier with each passing month, we found the task of updating and maintaining our custom website to be tedious, time-consuming, and cost-ineffective. Just as we teach Elevators how to scale their businesses, we have goals to do the same internally. But the custom WordPress theme was standing in our way."
Catch Troy Dean of WP Elevation on the WPMRR WordPress podcast as he chats more about scaling their business, standard operations procedures and gratitude!
Great Features – The free version of Elementor comes with a wide variety of page widgets, which makes it a more robust tool to build websites with out of the box.
---
---
As explained by Megan Jones on the WP Explorer blog, the incredible set of free features don't just come from inside the plugin either:
"Elementor also provides a complete package of widgets for free. These widgets work inside the live page builder, allowing you to add endless design possibilities to your pages… Third party widgets and plugins can also be embedded inside the Elementor page builder. Therefore, you can surround yourself with all your favorite design elements."
There are, of course, a couple noted drawbacks about Elementor:
Poor Support – Just looking at one-star reviews, this appears to be the #1 complaint among Elementor users — this applies both to free users as well as those who pay for premium support. The biggest problem is that they have someone answering all of the reviews in the WordPress repository. However, the response is usually: "Sorry, you're having trouble. But you should've read our website's FAQs."
Theme and Plugin Incompatibility – In a number of those cases when users complained, the team member who responded often attributed the issue to a theme or plugin update. This appears to be another common issue.
If you're building websites that have to integrate with other tools, there's a chance this page builder may be incompatible, so you have to be careful before purchasing the premium version of this or another tool on your site. Specifically, if you're planning to use a theme in conjunction with Elementor, try to find one that comes bundled with it as Jupiter X does.
Beaver Builder vs. Elementor Maintenance
One last point of note is about maintaining a WordPress website that's been built with Beaver Builder or Elementor.
Security
As Abhijit Rawool points out, Beaver Builder hasn't had any major security issues. That doesn't mean that they're non-existent as this vulnerability from 2016 demonstrates, but there doesn't seem to be anything of serious concern when it comes to the security of this plugin.
Elementor, on the other hand, has had major issues in its few years of existence as Rawool points out. Jetpack echoes this sentiment:

Elementor receives a "Good" rating because the current version is the only one Jetpack deems safe enough to use.
Performance
There's a proven contrast between the way Beaver Builder and Elementor affect the speed of a web page built with them. Thanks to Pagely, we have side-by-side speed tests to demonstrate this point.
This is the page built in Elementor:

It loaded in 489 ms.
This is the same page built in Beaver Builder:

It loaded in 655 ms.
That's a big difference in terms of loading speeds, though it's important to take note of how many HTTPS requests were made by Elementor as well as database queries. Although Beaver Builder loaded more slowly, Elementor was more taxing on the server.
Wrapping Up
You have a lot of information to work with when attempting to make the choice between Beaver Builder and Elementor. It's clear that Beaver Builder is a more developer-friendly plugin, but that doesn't mean that Elementor can't be used by developers — especially if clients find it more usable. You really have to look at the big picture and determine what's best for your workflow as well as for your clients' management of their own content. And if you need additional help, you can always check out our care plans for hands-on support with your websites.
Want to give your feedback or join the conversation? Add your comments 🐦 on Twitter.