The one thing that any business can benefit from is more customers. It's the dream of any business or website owner: to have a constant and steady stream of customers at all times that will help you scale your small business into a mega-successful company.
Unfortunately, customers don't magically appear all on their own. You have to do a little work to generate leads.
Generating leads that will boost your conversions can be a tough job and the task of turning "browsers" into buyers is no easy feat. In fact, 53% of marketers say that half or more of their budget is allocated to lead generation.
But for a lot of newer website and business owners who are just starting out, lead generation is even harder. If you haven't got a big budget, you might be scrambling to figure out how to generate leads online, and turn those leads into customers.
Surely you can't spend all of your time and energy begging each website visitor to give up their email address to you.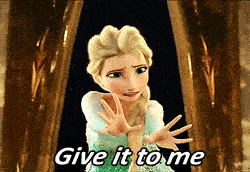 Begging your audience to become customers is not only annoying to them, it also makes you look desperate.
Luckily, there are some strategies you can use on your website and in your marketing that can generate quality leads and boost conversions for you. The ultimate goal is to build a lead generation machine that will work for you 24/7 so that even when you're sleeping, these tactics will be generating qualified leads for you and converting them for you, too.
With these strategies, your audience will easily and happily comply, and you can sit back and wait for the conversions to start rolling in. Plus, many of these strategies are super low-cost or totally free.
Just set up your lead generation game plan and watch the magic happen.
So, let's dive into our guide on how to generate leads with 16 strategies to boost conversions that you can start using today.
1. Use Exit-Intent Popups
Did you know that over 70% of people who visit your website will never return? That's a lot of missed opportunities for conversion. But luckily, by using an Exit-Intent popup you can stop those visitors before they leave your site forever and turn them into subscribers and customers.
With a lead generation tool like OptinMonster*, you can easily create stunning Exit-Intent popups for your website. OptinMonster's exit-intent technology is able to track when a user is about to leave your site and send them a targeted campaign at exactly the right time.
This can convince the user to stay and become a subscriber, offer a discount for an on-the-spot purchase, encourage them to book an appointment, or whatever other action you want the user to take in order to convert them.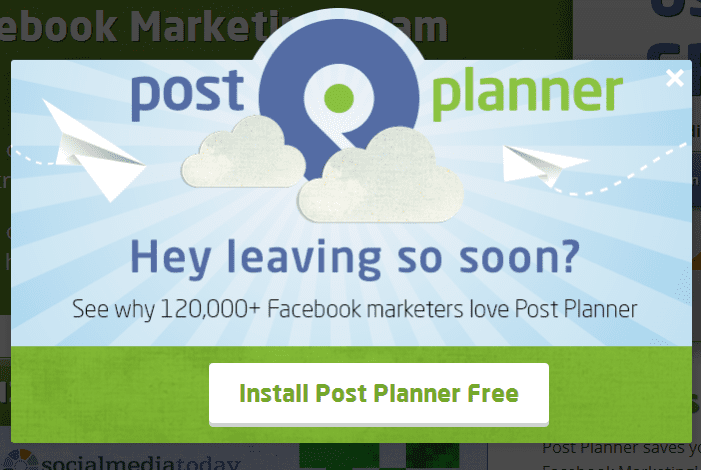 For instance, Chamaileon.io, an email builder and content management platform, increased conversions by 220%* by using a single Exit-Intent popup on their website. Instead of losing website visitors, they were able to turn them into application users.
Besides an Exit-Intent popup, you can try out a number of other effective popup campaign types to boost conversions on your website including:
Fullscreen Welcome Mat
Lightbox Popup
Slide-in Scroll Box
Floating Bar
Countdown Timer
So, stop losing website visitors! Use a popup to stop them in their tracks, grab their attention, and convert them.
2. Create Lead Magnets
People love a free gift, which is why you should be creating lead magnets to generate leads and boost conversions.
🧲 A lead magnet is essentially a free gift you offer to your website visitors in exchange for their email. But BE a magnet, not a repellant! #WordPress
Click To Tweet
It's a super simple way to grab the attention of users who are browsing your website and turn those visitors into email subscribers that you can eventually convert. The simple fact that you know they're interested in your free product can help you quickly turn them into a paying customer in the near future.
There are a ton of lead magnets that you can easily create in no time at all using a free tool like Canva, such as:
Ebooks
PDF Guides
Checklists
Templates
Worksheets
Calendars
Resources List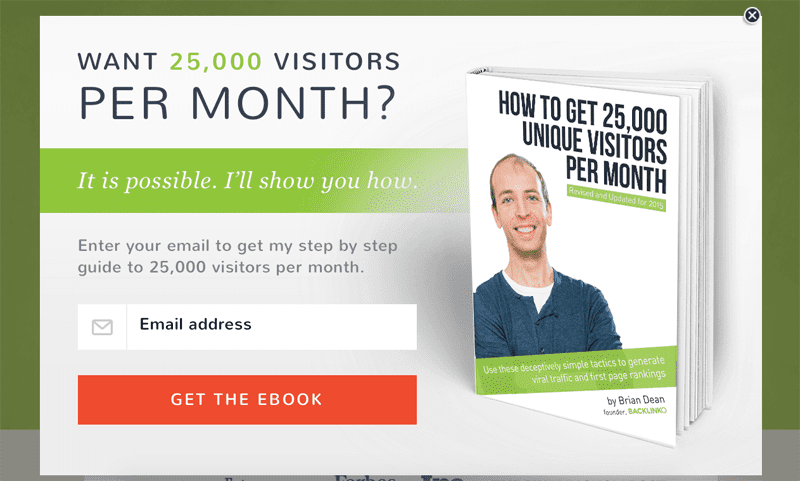 Make sure that the lead magnet you create is relevant to your business and is something your visitors will want to get their hands on. In fact, we recommend you create a lead magnet by repurposing your most popular content.
For example, if your most popular blog post is "How to Write a Blog Post 101," you can turn that post into a lead magnet of a checklist of tips for blogging beginners. Be sure to offer the lead magnet within the related blog post, so that readers interested in that particular topic are sure to see your offer.
You can even use lead magnets to segment your website visitors. If you offer 2 different products on your website, for instance, one geared towards graphic designers and the other for developers, create a lead magnet for each. Then once a user opts in for a lead magnet, you'll know exactly what they're interested in and be able to better target your messaging to make the sale.
3. Add Online Forms to Your Site
Adding online forms to your website is another great lead generation strategy to boost conversions. First of all, you need a contact form on your website for visitors to get in touch with you. Any time a user has a question for you or just something they want to say, they'll be able to conveniently message you through a contact form. Add an email form field that they're required to fill in before submitting the form and you'll get their email to add to your email list.
Aside from a simple contact form, you can also add other types of online forms to your site like surveys, polls, event registration forms, newsletter signup forms, and more. A survey is an especially awesome online form to implement because not only will you get the email address of your website visitors, but you'll also learn more about them.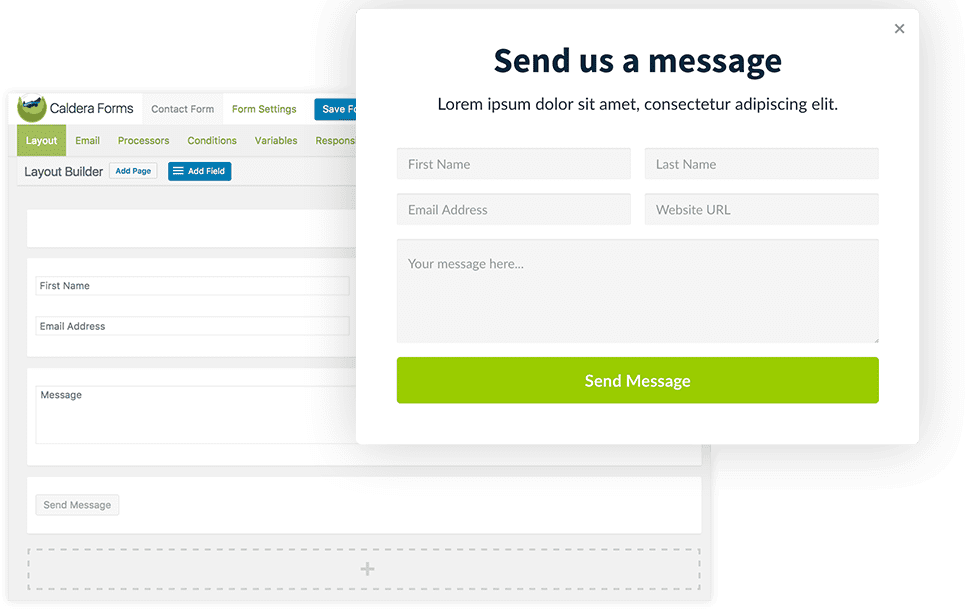 You can use a tool like Caldera Forms* to easily create any type of form for your WordPress website. Caldera was developed to be responsive, intuitive, and meet the needs of the modern WordPress site builder.
A drag-and-drop, column-based builder makes all of your forms mobile responsive and it feels like a page builder but works like a lead generation conversion master.
You can also manage customers and visitors more readily, including the forms they fill out, using the HubSpot for WordPress plugin*.
Note: Caldera Forms will be retired on March 2022, as its creators move on to Ninja Forms instead.
4. Craft Engaging and Useful Content
Blogging is one of the best and most cost-effective ways to drive traffic to your site, generate leads, and increase conversions. In fact, blogging businesses experience 126% higher lead growth than non-blogging businesses.
Blogging will not only help get more eyes on your website and improve your SEO (search engine optimization), but it will also present you as a thought leader in your industry. When you create engaging and useful content, readers will trust what you have to say, they'll return to your site again and again to see what amazing advice you have next, and they'll be more likely to become paying customers.
So, if you're not blogging yet, start today. Starting a blog is super simple on your WordPress website so you've got no excuse for not using this simple and effective lead generation strategy.
5. Create an Email Marketing Strategy
Email marketing* is important to staying connected to your audience, building stronger relationships, and generating more sales. So, we hope you've started building an email list. But sometimes it's difficult to know what emails to send to your audience that will boost conversions aside from promoting a sale or offering a coupon.
What you need to be doing though, is coming up with an email marketing strategy to nurture your leads. Many of your email subscribers and leads won't be ready to buy right away, but you can use email marketing to get them there faster.
Your email marketing strategy for lead nurturing should include:
Segmenting Your Leads
Use your email campaigns to segment your leads into age, gender, location, interest, whatever makes sense for your company. For instance, an eCommerce business can send an email showcasing men's and women's styles. Depending on what your lead clicks on, you can find out exactly what they're most interested in buying.
Personalizing Your Campaigns
Users won't enjoying reading the same email you've sent to everyone else, you need to personalize your campaigns. For example, you can send emails to leads based on their activity on your site. If a user browses the kitchenware section on your site, send them an email featuring your best kitchenware picks.
Automating Your Campaigns
Automating your email campaigns will allow you to make sure you never miss an opportunity for conversion. For instance, if a holiday is coming up, schedule your emails ahead of time or automatically send an email to a user every time they abandon their cart.
6. Optimize Your Website Homepage
Your website's homepage is like a welcome sign to your visitors; it's where you introduce yourself and let visitors know who you are. But, your homepage also needs to be optimized to generate leads.
Take a look at Neil Patel's website. The above-the-fold content on his homepage is dedicated entirely to generating leads that will boost conversions. He invites users to enter their website URL to get an analysis of their website. But if they want the full results and tips to grow their traffic, they've got to submit their information.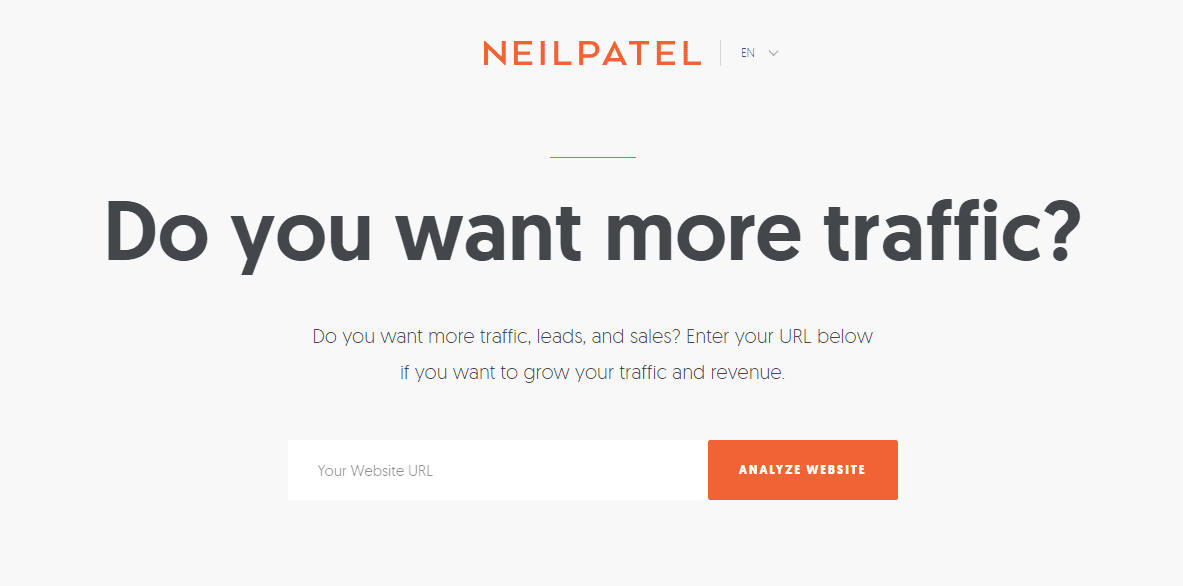 Consider adding a popup or another type of optin to your homepage — front and center — to convert visitors into leads from the very first time you meet each other.
Even if your website isn't live yet, you can still start collecting leads for your business right away. Use a tool like SeedProd's Coming Soon Page* WordPress plugin to easily build a beautiful Coming Soon page for your site that you can collect emails with. That way when your website launches, you'll already have tons of traffic and leads.
We actually chatted with John Turner of SeedProd on the WPMRR WordPress podcast about how he started in business in general, dealing with imposter syndrome, and diving deep into the moment he knew the 9-5 lifestyle wasn't for him, as well as all the struggles and triumphs in between.
7. Create a Landing Page
Another great lead generation strategy to boost conversions is to create a dedicated landing page. A landing page that's dedicated to one single call-to-action, like an email list optin, works so well because there's nothing else on the page to distract the user, making it more likely they'll take your desired action.
For instance, Digital Marketer built this dedicated landing page to deliver their lead magnet. When a user lands on this page, giving up their email address is the obvious next step, rather than ignoring the option and navigating to another page.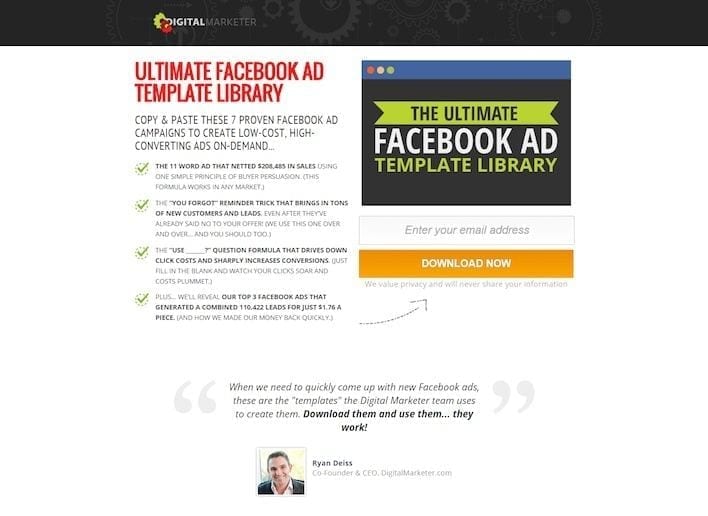 So, if you want to generate more leads, be sure to send your website visitors to a dedicated landing page.
Creating a landing page isn't difficult either. To easily create a great-looking landing page that boosts conversions, you can use a tool like Beaver Builder* or LeadPages.
8. Guest Post on High-Quality Publications
Don't just blog on your own website, broaden your reach by guest posting on high-quality publications. Guest blogging is a great way to get you and your business in front of a new audience which can bring you a ton of new leads.
Make sure when you're searching for guest posting opportunities, look for well-established blogs that have a high volume of traffic and cover topics that relate to your business and industry. When you guest post on a high-traffic blog that has a similar reader base as your target audience, you'll have a better chance of attracting new leads.
Write an engaging author bio that includes a link back to your website so that when your new audience reads your awesome article, they'll head straight to your website to check you out.
9. Develop a Social Media Marketing Strategy
Don't forget that you can use social media to generate leads too, it's not just for sharing memes and pics of your cat. Your audience is hanging out on social media all day anyway, so why wouldn't your business hang out there and make some sales?
Start to develop a social media marketing strategy in order to reach a lot of potential leads. After all, there are 3.725 billion active social media users out there. First, decide which social media platforms are the best for your company to be on whether it's Facebook, Instagram, Twitter, Pinterest, LinkedIn, etc. You don't need to be on all of them, and not all of them are the right fit for your business.
There are a number of simple things you can do on social media to generate leads and boost conversions, such as:
Promote your lead magnets
Share your popular blog content
Create pins for Pinterest of your content
Pin important content to the top of your profile
Optimize your Twitter header photo or Facebook cover photo
Add a signup form to your Facebook page
Add links in your profile/bio
Use paid ads
Use Facebook retargeting

But you can't just start posting on social media and expect to boost conversions right away, you've got to build up engagement too. That means when a user comments on your post, reply to them and if they spend the time to compliment you or share their opinion, say thank you.
If you want to generate leads and make more sales on social media, it can't be a one-sided relationship. Your audience will appreciate that you're interacting with them on a personal, human level — and that will increase trust and they'll be more willing to open their wallets.
If all of this is overwhelming you, hire an expert — we know a girl.  Her name is Sarah and she is ready to rock out your Social Media, now.
10. Host a Webinar
Hosting a webinar is the perfect opportunity to show off your expertise, generate leads, and boost conversions. You can present yourself as a leader in the industry by sharing your knowledge with your audience through a webinar and it's really easy to host one too. You can host a webinar for free using Facebook Live or Google Hangouts.
Start promoting your webinar and place an online form on your website where users can sign up to attend. This will provide you with the contact information for a ton of potential leads; if they're interested in what you have to say in your webinar, you can guess that they'll be interested in your paid products/services too.
Don't forget to post the webinar video on YouTube and elsewhere after your live webinar is over so that people who missed out have a chance to watch the recording. The more people that see your webinar, the better it will be for your website traffic, leads, and conversions.
11. Add Live Chat to Your Site
Imagine this scenario: A user visits your website, can't find the answer to a question they have, and figure that they won't receive an email back from you for hours — you risk losing them as a future customer because they'll lose interest and move on to something else.
Consumers today like to get answers to their questions and solutions to their problems immediately, which is why you need to add a live chat feature to your website.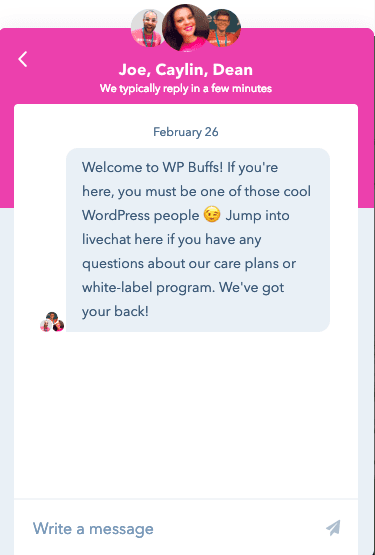 With a live chat plugin, your potential leads and customers can quickly get the answers and solutions that may be holding them back from making a purchase — that's a priceless opportunity for your business. In fact, according to Invesp, 77% of customers won't make a purchase if there's no live chat support software.
You can also use live chat to qualify leads as well. As you're chatting with your site visitor, you can find out what they're looking for, what their budget is, and so on, in order to determine if they're a worthwhile lead for you to pursue.
12. Start an Online Community
Starting an online community for your business is another awesome way to generate leads. People love being a part of something special like an exclusive club, so start building one for your future leads.
A bustling online community that's filled with your target audience is the perfect place to share your thoughts and advice as well as interact directly with potential customers, not to mention promote your products/services.
For instance, if you coach people on how to start their own businesses, your audience will rush to join your group where they can participate in conversations with you and get access to your priceless tips and advice.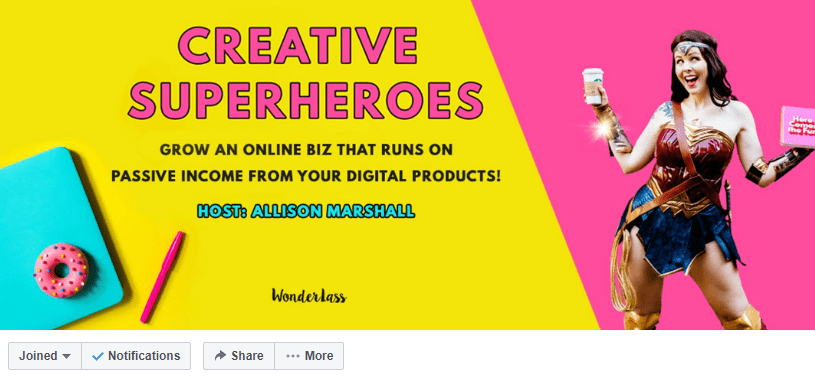 The people in your online community will be your biggest fans and have the potential to become your best customers too.
You can start an online community for free with Facebook Groups. You can leave your group open for anyone to join or you can make it even more exclusive by requiring users to sign up to become a member. Another option is to turn your website into a membership site.
And while your audience will be rushing to join your group to learn from you, you'll also be learning from them. In your group, you'll be able to see exactly what your audience is talking about; they'll talk about their goals, their pain points, what they're interested in. All of this valuable information will help you give them exactly what they want, which in turn, will grow your business like wildfire.
13. Run a Contest
Contests are not only fun for your audience, but a great strategy to generate leads. People love entering contests for the chance of winning a prize so running a raffle is an easy way to get folks to give up their contact information to you. But since this is all about generating leads, you don't want just anyone to enter your contest.
For example, if you own a business consulting company and the prize for your contest or giveaway is a $100 gift card to Amazon, just about anyone will enter, whether they have their own business or not. All of those people who are entering just for the prize will not become your customers.
MVMT does it best with their killer contests and even more killer watches.  If you haven't seen their customer-centric, contest driven attitude, you must!

So, instead, make your prize related to your target audience and your business.
Offer a freebie or a gift pack that's geared towards your target market, that way you can ensure that most of the contest entries will be from qualified leads for your business.
Contests = Fun = Engagement.
14. Use Social Proof
If you've got glowing reviews and success stories from customers, put them in the spotlight to get more leads and a boost in conversions. 61% of customers read online reviews before making an online purchase; they're becoming essential for selling online.
So, if you put some social proof on your website and in your marketing, in the form of online reviews, user-generated content, testimonials, etc., you can convince your audience to become customers too.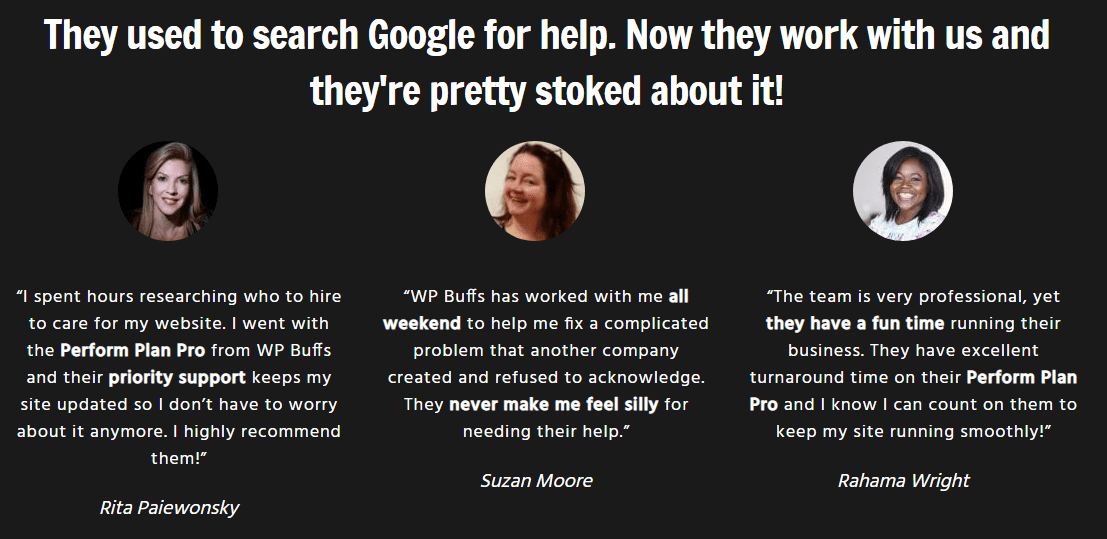 There are a number of forms of social proof that you can utilize, such as:
Online reviews
Testimonials
User-generated content (like social media images of your product)
Real-time stats (the number of people who have viewed or purchase a product for example)
Case studies
Media mentions
Celebrity endorsements
Social share count
Certifications and badges
Best selling lists (show the top selling/most popular products on your site)
"People who bought this also bought that" section (like Amazon)
Consumers are less often swayed by product descriptions and company claims, what they really trust is the opinion of their peers, so use social proof wherever you can to increase conversions.
15. Create Engaging Video Content
Video is probably the hottest content format today. In fact, 78% of people watch online videos every week, and 55% view online videos every day.
📹 If you want to capture more leads for your business, then you need to start being human. It's okay to be real and show your faults. #WordPress
Click To Tweet
Speaking of "faults",  here's a very Buff Blooper from the very own secret archives of WP Buffs starring Caylin White, Head Marketing Buff! #haha
Instead of trying to create a big budget video that you hope goes viral, spend time creating useful video content for your audience like how-to's, tutorials, product demonstrations, and behind-the-scenes videos. (Not like that blooper, lol)
By providing these types of helpful videos to your audience, viewers will be able to see your product in action or learn how to use the product before they even buy it, which makes them a bit more comfortable with making a purchase.
For instance, buying Adobe Creative Cloud software is an investment, but with these educational and entertaining tutorials online, consumers can rest assured they'll have access to all the knowledge they need to use the product.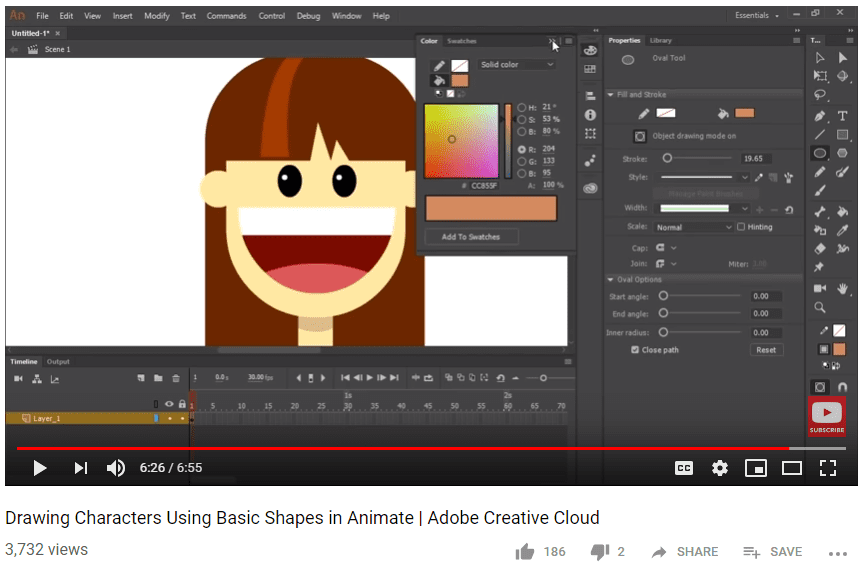 Another even easier way to use video in your marketing is to start doing live video. With Facebook, YouTube, or Instagram, you can use live video to interact with your audience in real-time which adds an extra level of engagement to your video content.
16. Redirect Blog Commenters
Many people might discover your website by a blog post. They might find your content interesting and leave a comment but they may not wander over to the rest of your website to look at your products or see what your business is all about. That's why you need to redirect blog commenters so that you can turn them into leads and ultimately into customers.
You can use a WordPress comment plugin like Yoast Comment Hacks to redirect first-time commenters to another page that thanks them for commenting and encourages them to sign up for your email list. When a user comments on your blog, you have their full attention at that moment, so take advantage of it to turn them into a lead.
Wrapping Up ➡️
Now that you've got some new lead generation strategies to boost conversions in your toolbox, you won't have to waste your time chasing after your target audience. They'll come to you and be more than willing to give up their contact information — and even their credit card info. So, start implementing these strategies today and watch your conversions soar.  The WP Buffs and OptinMonster* believe in you!
And if you need a bit more to read, check out The Definitive Guide to Lead Generation: 6-Steps to a Winning Lead-Gen Process
Want to give your feedback or join the conversation? Add your comments 🐦 on Twitter.