As you might have heard, the average customer needs an average of 7 interactions with your brand before making the first purchase.
How do you assure your company's website content is making the seven interactions with customers it truly deserves? Get the best social media plugin for WordPress to share content with potential clients around the world, simply and effectively!
One of the best ways to spotlight your business in multiple touch points is by using a plugin. Choosing the option, however, can feel like picking out a new car at the dealership. There are countless bells and whistles to consider, and sometimes, choosing the one you want boils down to deciding what you actually need.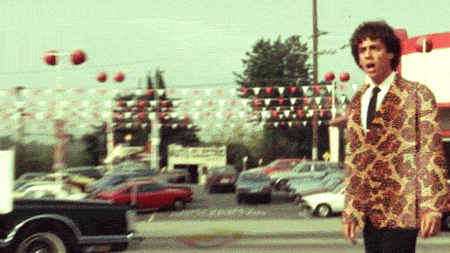 Let's help you walk away with a steal by taking a glance around the lot! We've done our homework and believe the following 12 free and premium WordPress social plugins are some of the best on the market! Buckle up, buttercup!
In this Article 🧐
Why do I need a WordPress social media plugin?
What should I look for when choosing the best social media plugin for WordPress?
Best Premium Social Sharing Plugins for WordPress
Free WordPress Social Share Plugins
As a WordPress company, we could easily point you to the plugins we use and recommend only. However, at WP Buffs, we believe you deserve evergreen advice, no matter what plugin comes and goes. The latter takes a bit of homework, and we've accepted the challenge!
We also believe you should be able to make bold decisions about your website without feeling overwhelmed by technical restraints or lack of knowledge about WordPress. Whether you are a tried and true expert, or on your first day and learning the ropes, here are a few things that may help you narrow down to the best social media plugins for WordPress websites like your own.
(However, if you are seasoned in WordPress, skip to our list, below!)
Why do I need a WordPress social media plugin? 🤔
Let's keep it simple, first.
Simply put- WordPress social share plugins give extra leverage to quality content from your business' site. For example, let's say you've got great content, resources and products to share with a given audience. Why not add endless opportunities for others to share it, too?
Additionally, you may want to consider things from your audience's perspective. As the owner, you've stayed up all night working on a new blog post you can't wait to share with the world. As the reader, once the article goes live, it's much easier for customers, users, and brand loyalists alike via Twitter, Facebook, LinkedIn, or any major channel of their choosing.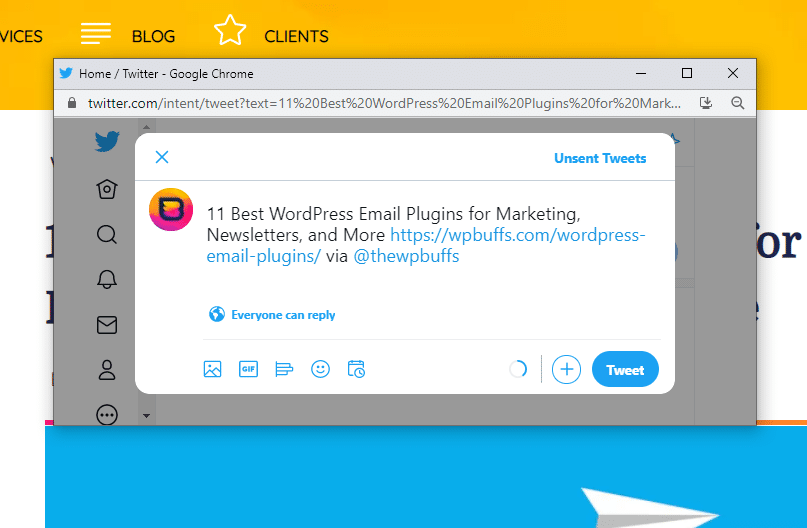 Now, let's consider the same process for your brand's biggest fans, this time without a social media plugin. If a WordPress social share plugin is not installed, the user is forced to
Copy the URL,
Click over to the social media platform of their choice
Paste the URL into the post/tweet bar
Cross their fingers that the preview open graph image and title tell the best story about your brand.
That would be a horrible experience for your blog's fans! Using a reliable plugin would give the user full control over the post and how it is received to its audience, all without leaving your website in the first place.
What should I look for when choosing the best social media plugin for WordPress? ✍️
There are a few bare minimum things to know and expect from a plugin. Knowing the main characteristics of a good one can help you find the best WordPress sharing plugin in no time.
Choose the right features: Inline, Floating and Sticky Plugins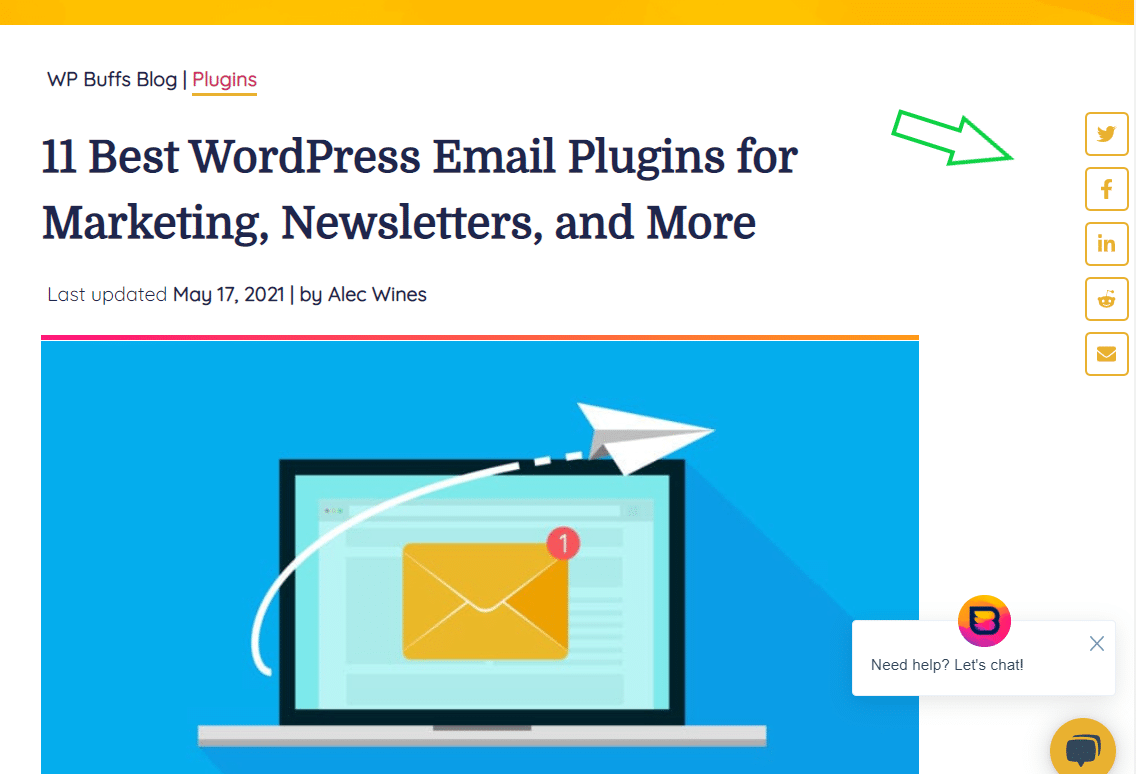 For most websites, there are three types of plugins to look for: in-line, floating or sticky button options. In-line plugins can disappear as you scroll, floating buttons will remain, and sticky side buttons will appear on the left or right side of the screen as you choose.
Decide between Native page builders vs. dedicated plugins
It's also worth mentioning that some page builders include native social features, which do not require the use of a dedicated WordPress social share plugin. The Elementor native element, for instance, is an easy way to use what already exists for the everyday, on-the-go user through a WordPress interface.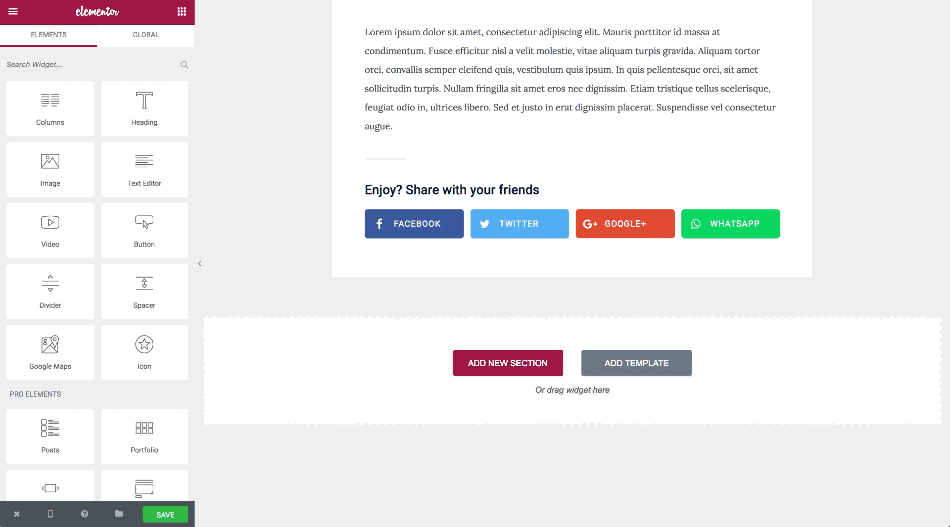 On the other hand, if you are looking for a dedicated plugin with bells and whistles, it is certainly possible to find a great, free (or cost efficient) option with good support, GDPR compliance, custom features, and easy to navigate features to name a few!
Confirm Compatibility with Existing Features
Using WooCommerce or Google Analytics? The best WordPress social media plugins allow integration of social shares to other analytics platforms, making it easier to track referrals and leads to and from your site. More often than not, many premium options include this, so it's safe to make this one a minimum requirement if you're putting money behind a good plugin.
Support
Maybe you are a WordPress user with multiple sites to manage or many plugins to juggle. Having a readily available support team behind your social media plugin can give peace of mind and updates on key release features that may or may not affect your existing site (and again, if paying for a good plugin, make sure it's got the support you'd like to have, too).
Pricing
Though options are endless and costs may vary, we recommend choosing a plugin based on how high social media sharing is as a priority for your WordPress site. Maybe the numbers/ROI is important to you; if garnering web traffic from social is extremely important to your business, splurging a bit on a premium WordPress social media plugin can be worth every penny.
User Interface
How comfortable are you with WordPress front and backend configuration? Considering your experience with general backend functionality is important in choosing the right social media plugins for WordPress, as some can require a bit of custom work to fit your needs.
Site speed
The right plugin can share your business with the world. The wrong plugin, however, can slow down your website with bloat and kill traffic before users have a chance to view it. Testing site speed before and after setting up a site is critical to ensuring your site isn't locked down by the new plugin.
Best Premium Social Sharing Plugins for WordPress
From here, we'll go in depth to discuss each plugin, based on their support, site speed, user interface, features, compatibility and pricing to name a few.
Novashare: $29+ annual contract
For those with a need for speed (but also, support and regular bug fixes)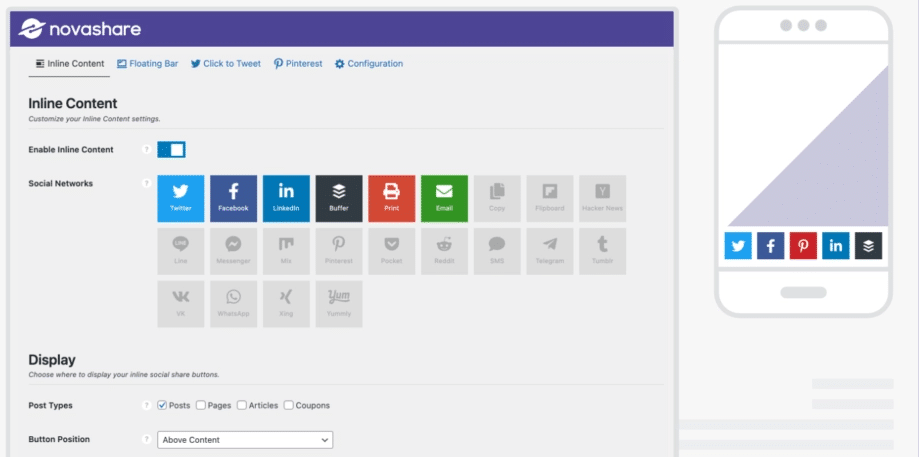 Novashare is a lightweight sharing plugin that adds share counters, click to tweet and image hover pin options to your site (if you read our note about types of plugins above, know that Novashare.IO offers the major button types- inline, floating and sticky buttons, oh-my!). Optimized for speed, this small-but-mighty plugin was built for keeping site speeds down and social shares high for your WordPress site.
A common feature in premium WordPress social share plugins, Novashare maintains share count for any website domain or URL changes you may experience (we've all been there). Changed your website URL? No worries. NovaShare offers auto recovery of previous social share data, as if nothing ever happened!
The premium plugin boasts four customizable options within its easy to maneuver interface: standard social sharing buttons, Click to Tweet and Pinterest hover options for pinning content from any page on your site.
(In case you're Wondering, the WP Buffs team recently moved to Novashare.IO in support of its Click to Tweet option and speed enhancement for our developmental tasks and user experience needs.)
Features: More than 17 network sharing options, color/size/shape customizations, Click to Tweet, Inline, Floating button options available
Compatibility: Allows for multisite setup, Google Analytics configuration
Support: Developer Support available, and regular new releases/bug fixes
Size: 5KB
Site Speed: Optimized to help decrease site speeds (meaning, this plugin is super small and won't bog down your site)!
User interface: Uses native WordPress styling for fast configuration; easy to navigate with beginner to moderate WordPress experience
Pricing: $29 and up for 1 year of premium support and updates, with 30 day money back guarantee
Ideal Use Case: A WordPress site with routinely added blog or routinely added resources; websites in between domain changes, beginner to intermediate WordPress user experience
Things to Consider: This plugin may not be ideal for sites with multilingual social network needs, or WooCommerce web pages
Monarch: $89 + annual contract
For around the clock support and service!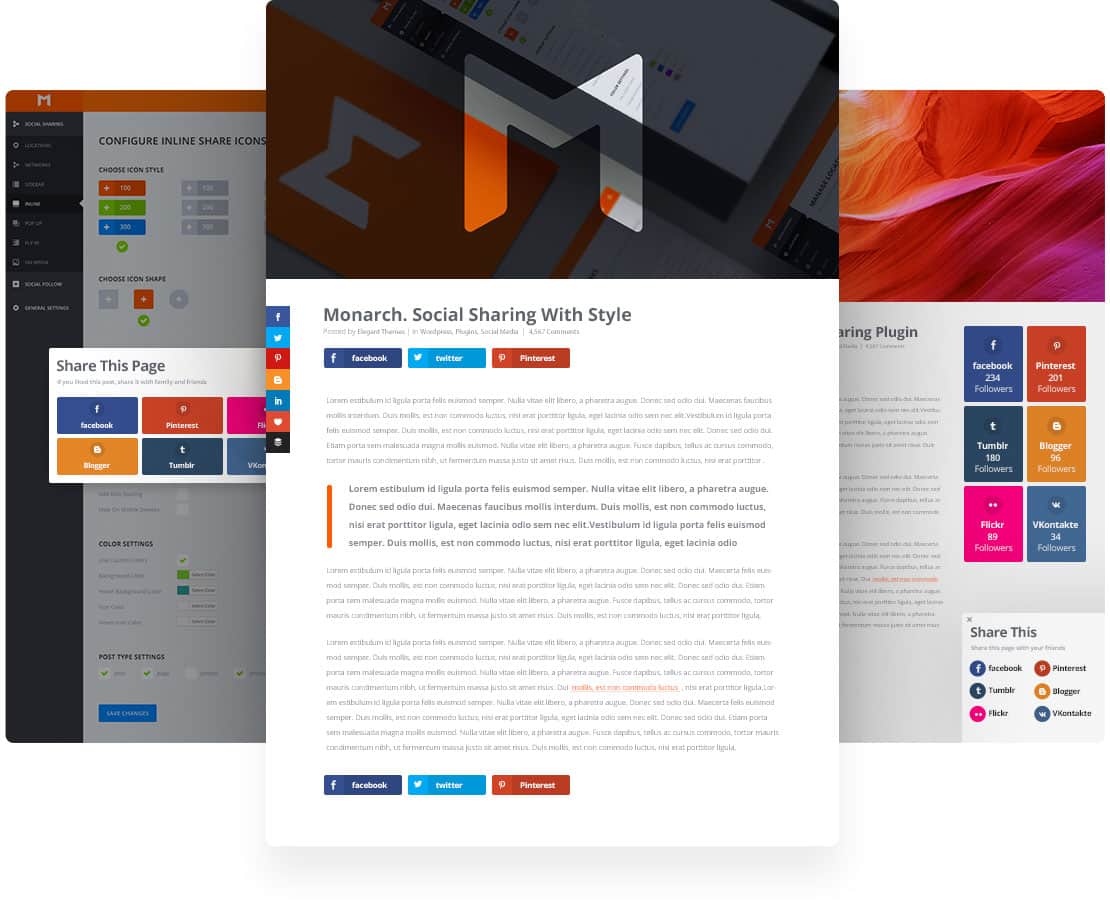 As part of the Elegant Themes brand, the Monarch WordPress social media plugin provides offers more than 20 social networks to choose from.
Not only does Monarch offer the basic inline, floating and sticky button options, the plugin allows for automatic popups and hovers on visual content, too! Monarch is one of the best social media plugins for WordPress websites with videos, vlogs or websites with imagery as its key focus.
This plugin is ideal for websites with aesthetics and branding styles to maintain, as its customizable design offers many transition and orientation options for your WordPress website.
Features: Popup and media elements, 20+ social network sharing options, pop-up triggers to opt readers into sharing after commenting on posts
Compatibility: Mobile and desktop friendly design
Support: Developer Support available, and regular new releases/bug fixes
User interface: Ideal for beginner WordPress users, includes Divi Support Center interface for direct access to dev team
Ideal Use Case: Vloggers, Photographers and Media based WordPress website users
Things to Consider: Strong support team and highly reviewed by customers; Minimal options (+20) for social sharing in comparison
Social Snap: $27+ annual contract
Bright eyed and bushy tailed, but a solid contender as one of the best social media plugins for WordPress websites!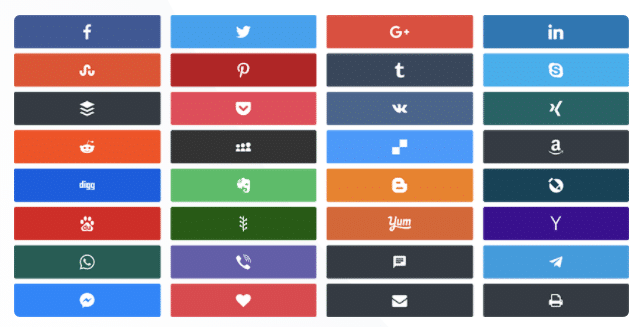 If you are looking for a jack-of-all-trades in a WordPress social media plugin, Social Snap offers a ton of features and options for the budding WordPress website owner.
This social sharing tool is a fairly new kid on the block, priding itself in four key, WordPress sharing elements: robust analytics and tracking, 100% customizable button placement, open graph support and boosting of old posts on social networks.
In addition to its major features, the plugin integrates with Bitly for URL link shortening. Got Gutenberg? Its short codes and widget control options help the plugin stand out among the rest.
Social Snap offers three plans with a 30 day money back guarantee, all ranging between $27-$209 per year. Its smallest package, Snap Plus includes plugin use usage for one site, with more than 30 social media sharing options. Not to mention, Social Snap offers support ticket creation and around the clock help desk support.
Features: More than 30 network sharing options (wow!), Click to Tweet, Boosts for Old Posts, Social Content Locker (coming soon!), Sticky Bar option for mobile and tablet
Compatibility: Allows for high level integration with Bitly and reporting platforms
Support: Developer Support available all package plans
Size: Unknown
Site Speed: Optimized to help decrease site speeds (meaning, this social media plugin is super small and won't bog down your site)!
User interface: Clean, easy to use interface
Pricing: $27+ for 1 year of premium support and updates, with 30 day money back guarantee
Ideal Use Case: A WordPress site looking multilingual functionality and newer, trending social plugin
Things to Consider: The plugin is newer to the market, but largely remains positively reviewed by customers.
Social Warfare: +$29 1 year licensing
A familiar, trusted resource with more than 5000 customizations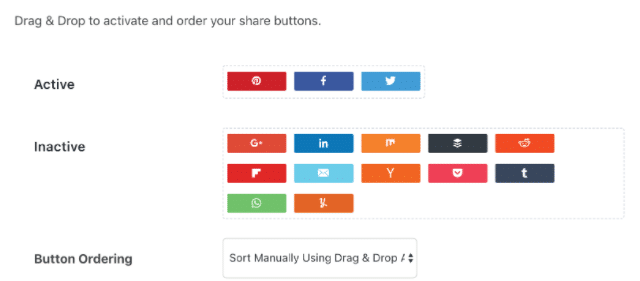 Social Warfare is a tried and true veteran in the WordPress sharing plugin space and offers simple, integrated, and customizable features into any WordPress website.
Though its options range between $29 and up for premium access, Social Warfare does include a free option. Its key features, like the Popular Post option, allow for highlighting content with higher views on any page, from any date range or theme.
Not to mention, the plugin also allows for content protection to keep your site from hijackers. When this often occurs, users embed their own advertisements into shared content from your page. Yikes!
What largely makes Social Warfare stand out is its Visual Options area, with more than 5,000 options for website style.
Features: Social Share Inline Buttons, Click to Tweet, Popular Posts Widget (Hover to Pin, analytics and click tracking available in pro versions of the app)
Compatibility: Unknown
Support: Developer Support and bug fixes are only available in premium versions of the plugin
Pricing: Free for basic use of the plugin, $29+ for annual use, support and updates
Ideal Use Case: Gutenberg users, Sites with international audiences, sites with hacking concerns, beginner level WordPress experience required
Things to Consider: Social Warfare support is not available to free download customers
Shareaholic
Lightweight but fierce tool with multi-lingual social sharing capabilities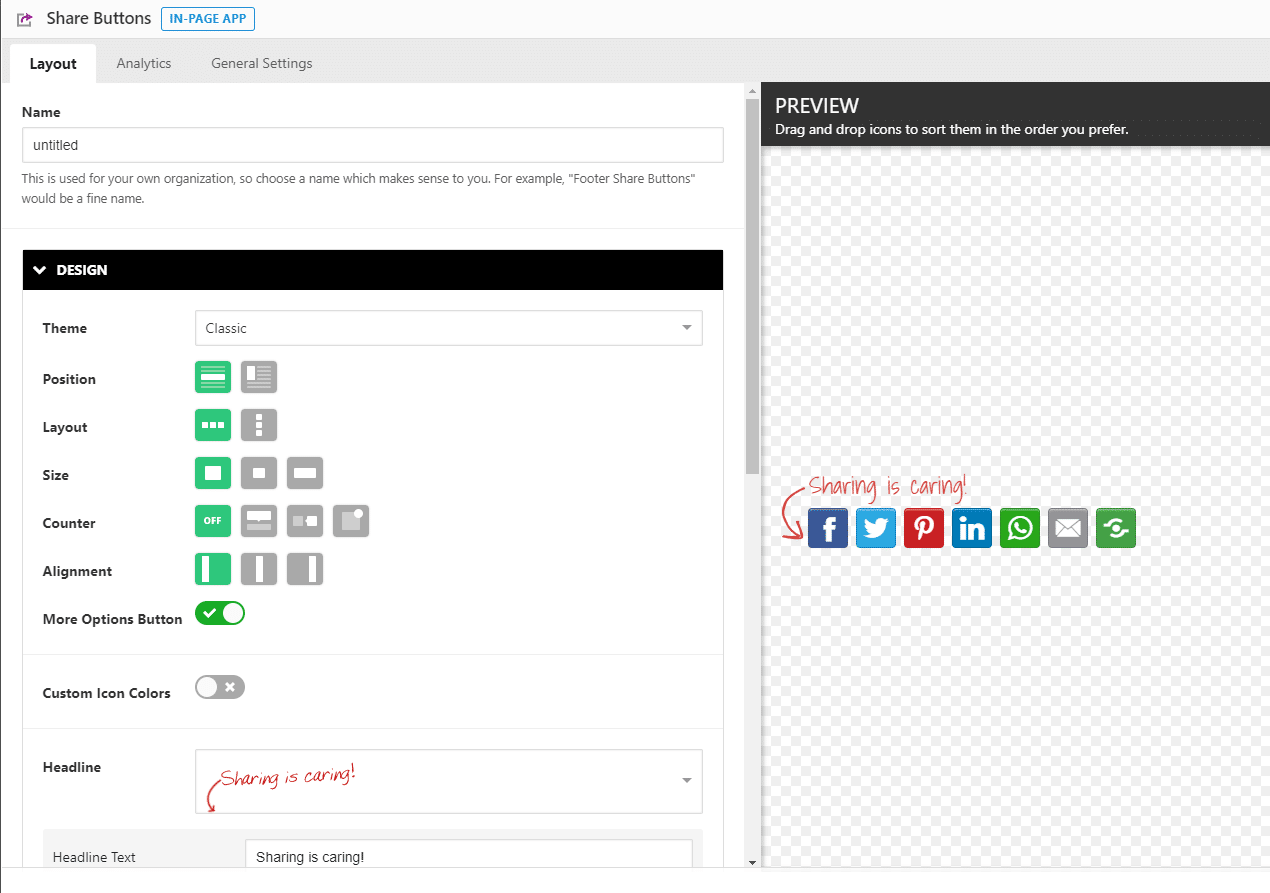 Though Shareaholic provides several content marketing tools and data solutions, its social share and follow button are recommended by some of the biggest names in text such as Google and our partners, SiteGround.
Shareaholic's marketing automation tool offers a collection of more than 100 social media share buttons to choose from and is optimized to comply with WCAG 2.0 AA Accessibility standards.
Shareaholic offers free social share follow buttons and counters, but also includes additional ad monetization functionality, branded URL options and additional extension under a low cost, easy to manage care plan.
Features: Social Share Inline Buttons,
Compatibility: Sharing options available for more than 100+ social media platforms
Support: FAQ and help desk available to paid customers
Pricing: $8-$31 per month for Professional and Team packages
Ideal Use Case: Sites with international audiences, sites with analytics and/or ad control as a priority, beginner level WordPress experience required
Things to Consider: free version does not include support
Revive Social Automation
Social sharing plugin with a knack for audience targeting and tagging
Revive Old Post is a useful social plugin since it can help you be more active on social media as well as keep your content relevant. With this plugin you can share your content to Twitter, Facebook, LinkedIn, and Tumblr automatically.
What revive social automation appears to provide that sets it apart from other social WordPress sharing plugins is the ability to add optimized hashtags directly from the content you've created and embed them directly into the social platform of your choosing.
Features: Social Share Inline Buttons, Click to Tweet, instant social media sharing
Compatibility: Compatible with WooCommerce, BigCommerce Products
Support: 30-day money back guarantee, and plans can be changed or cancelled at any time
Pricing: $75 for base contract, annually
Ideal Use Case: Sites with international audiences, WooCommerce/BigCommerce users
Things to Consider: May not be an ideal social media plugin for WordPress websites needing multilingual site support
Revive Social's free version, or premium for $75 annually
Free WordPress Social Share Plugins
Free plugin options are a dime a dozen, but may require you to install various options from developer teams with and without support. That may leave you wondering, 'What is the best free social media plugin for WordPress?' We've got your back on the ins and outs of each below.
Sassy Social Share
For WooCommerce users, and those who like a little support along the way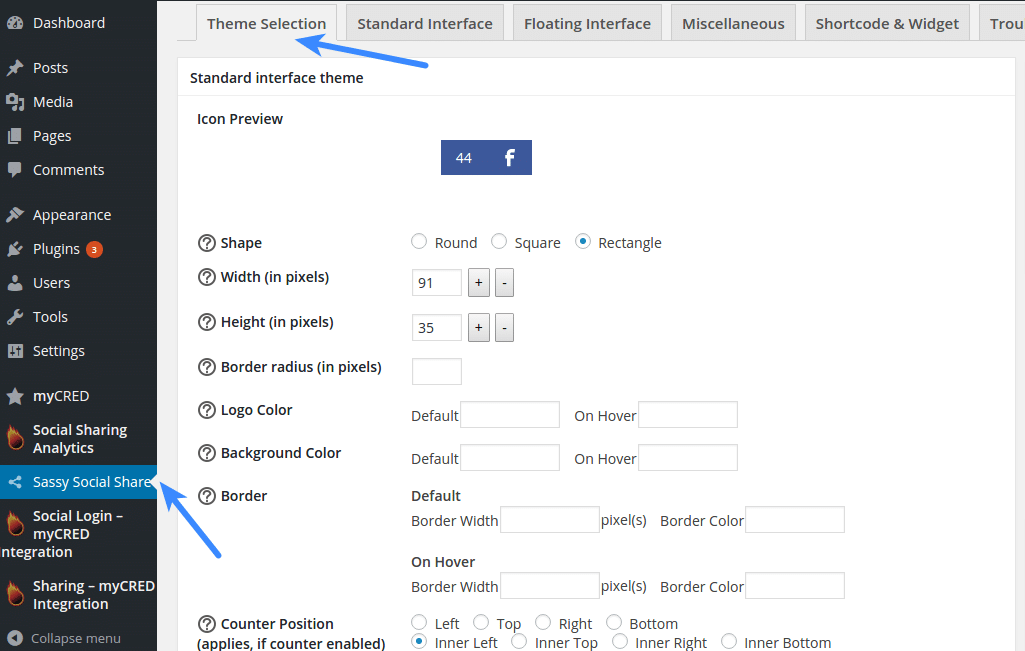 Whether you're on day ten or 10,000 of your journey with WordPress social media plugins, Sassy Social Share meets any user with its both easy to use and equally customizable interface.
(We're collectively renaming this one, "We Can't Believe it's Not Premium ™️.")
With more than 90 social sharing and bookmarking services, the in-line and floating styles option through sassy social Shear are a quick and simple setup and additionally are compatible with Gutenberg editor.
Both BuddyPress and Woocommerce users will enjoy its mobile responsiveness, multisite and 24 hour support.
Jetpack
A familiar friend in the WordPress space, perfect for multilingual and virtual event needs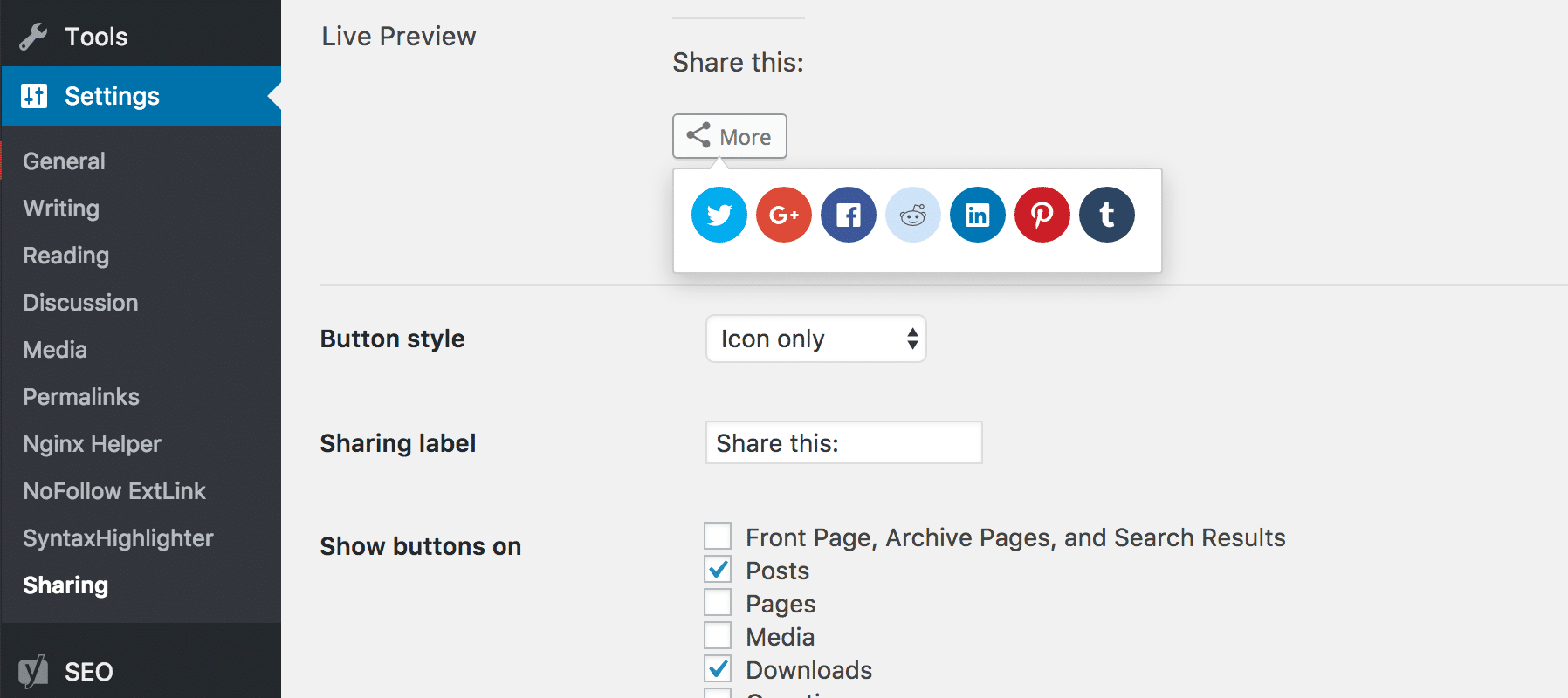 Known largely for security, performance, and marketing solutions, Jetpack is a trusted resource in the WordPress community created by Automattic. Its social share option is an easy-to-use solution for any website owner.
Jetpack not only offers a social preview extension, it also includes various WordPress social media widgets optimized for Instagram, WhatsApp and EventBrite, making it an ideal solution for websites with key imagery, events and content to share around the globe.
Simple Share Buttons Adder
Keeping it simple for mobile friendly needs

Backed by USA Today Sports, Privy and other major brands, Simple Share could be the best free social media plugin for WordPress websites like your own. It makes adding inline buttons to your site a breeze!
Its Modern Share Buttons allow for a customizable CSS based control over button shape, color and hover.
Additionally, this easy to use plugin prioritizes mobile optimizations, meaning its buttons will adjust and align to any screen resolution whether desktop, tablet or mobile.
Social Media Share Buttons Popup & Pop Up Social Sharing Icons
For aesthetic inclined, blogging enthusiasts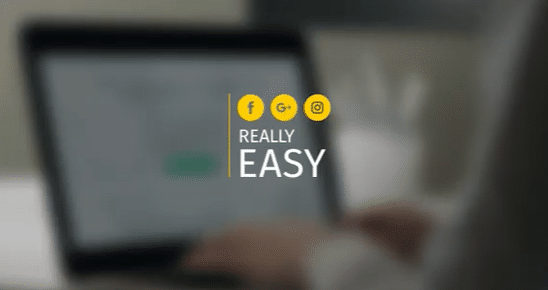 Though many of Social Media Share Buttons Popup's most robust features are in the premium, paid package, this plugin allows for 16 floating and sticky social media share icons for major platforms on the web. Unlike other free plugins, the animation feature (automatic shuffling, mouse-over effects) help call attention to other platforms, too!
We recommend the plugin to businesses and WordPress users where a newsletter or major blog may be present; its subscription toggle allows for sign-up in one click for anyone browsing your website.
If you are already interested, the premium plugin- available through Ultimately Social- Offers compatibility with popular themes and Page builders, such as beaver builder and Elementorand other common to WordPress brands.
AddToAny Share Buttons
For WooCommerce and ROI hunters alike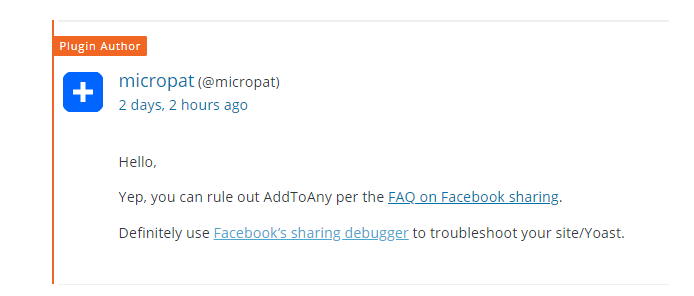 A competitor in the wordpress social media plugin game since 2006, AddToAny plugin offers floating in line Sharing capability with easy to set up Bitly and Google analytics Integration capability.
Add to Any supports commerce, multilingual sites, and does not require sign up or login to manage. While lack of login may lend itself to administrative issues-, we've done our homework- The plugin's creator still troubleshoots via its WordPress support channel!
Better Click to Tweet
Simple, easy to follow interface for businesses with devoted Twitter following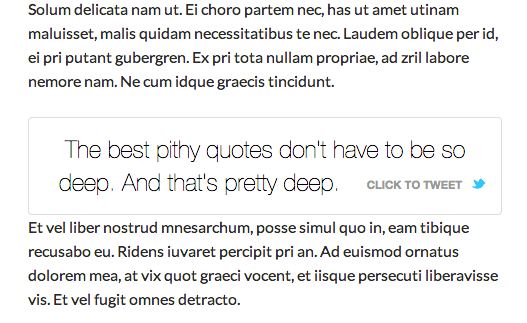 The Better Click to Tweet WordPress social sharing plugin allows key blog post snippets to be readily shared to Twitter! The plugin is built for multilingual support and can translate in up to 12 languages.
Regular updates are made to the plugin, but issues and bug fixes can be requested via a GitHub support page for the tool.
Frequently Asked Questions
How can I add social media links to a website without a WordPress social media plugin?
Social links may be added by embedding the coding snippet of an image into the site's navigation. Platforms such as HubSpot allow for Follow Me or Social Sharing through manual coding, which can be ideal if you prefer full control over how the share options display.
What if I'd like to consider more than one WordPress social media plugin?
It's possible to opt for a mix of social sharing plugins indefinitely or until you are ready to consolidate them into one. Perhaps Better Click to Tweet and AddtoAny cover your blog's need for Twitter shares while also targeting Facebook or Pinterest users- sometimes, two can be better than one.
Bringing it All Home 🏠
If a more budget-friendly, free social media plugin option is priority for your business or growing website, we recommend AddtoAny and Sassy Social Share as free, straight to the point solutions. Its multilingual capabilities, WooCommerce integration, and general ease of access allow for fast and easy setup.
Wait Buffs, I need something with more bells and whistles. Okay, we hear you loud and clear! WP Buffs recommends Novashare.io, Monarch, and Social Snap as the best social media plugins for WordPress websites. Their well-rounded options offer site speed optimizations, support and easy to use interfaces as key priorities.
You've chosen your WordPress social media plugin, now what? We have some other useful resources to help you find a good chatbot for your website, or a helpful email newsletter plugin option.
Need to delegate these tasks to someone else? Leave it all up to the pros at WP Buffs! As part of our edits service, the WP Buffs team can provide around the clock assistance to your WordPress website, such as installing and configuring a social media plugin or providing optimization services as needed.
No matter the final call you make, be sure to look for updates on your WordPress social media plugin to ensure it is receiving bug fixes, and not impacting your site security, speed or general functionality.