If someone were to ask you what the top five essential features of every website were, would contact forms make the list? Of course, they would!
As Holly Pryce wrote:
"Contact forms provide a simple and convenient way for people to get in contact with you. It is more secure to use a form than to just have your email address on your website as it can help to reduce unwanted spammy messages."
Contact forms do more than that, too. Thanks to WordPress's ability to integrate with pretty much everything, WordPress contact form plugins become an essential tool in streamlining lead generation and other registration processes.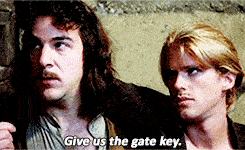 Now, because WordPress does not come with a contact form builder out of the box, it's up to you to find the best WordPress contact form plugin for your client's website. While it might seem like a simple enough decision to make, you'll quickly learn that's not the case once you start to test some of the plugins available.
Don't fret! Below, you will find a breakdown of the 7 best WordPress contact form plugins. You'll get a glimpse at:
What it takes to set them up
How their forms end up looking on the frontend
How easy it is to manage entries
And more
But first, let's have a look at why the choice of a contact form for WordPress isn't necessarily an easy one to make.
WordPress Contact Form Considerations 📇
When you think about it, WordPress is a really simple content management system. Once installed on your server, you can immediately get to work on designing and writing content for it.
That said, this level of simplicity comes at a price. Essential website features like contact forms, for instance, are not an inherent part of the WordPress CMS. This means you have to look to a plugin to fill in the gap — which can be tricky.
🔑 Contact forms are the gateway for conversion. Does your contact form have the right gate key? #WordPress
Click To Tweet
Before you weigh your options, you'll want to think about what you want from each of the following aspects of the WordPress contact form:
Design
Just like most elements on a website, a contact form has a variety of ways in which it can be designed. While this element isn't really one that requires much of a designer's touch, it's the small details that matter. The layout of the fields is a big one. The button design is another. And spacing yet one more.
Depending on which plugin you choose, you might not have much of a say in the matter. Would you be okay with that? Will any contact form suffice so long as it captures inputted information? Or do you want to be able to customize the layout and design?
Have a look around at other websites and find forms you like the design of, like this clean and simple example from Jennifer Bourne's website: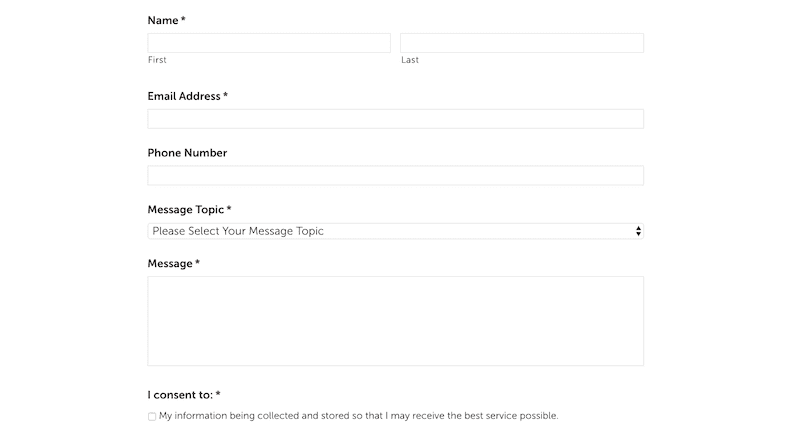 Figure out what an ideal contact form looks like and find a plugin that'll help you design it.
Device
As more and more visitors demand a seamless omnichannel experience between mobile and desktop, does your contact form cater to this? WordPress on its own doesn't allow you to design for device-specific experiences. Certain WordPress plugins, however, do.
If you want to create versions of the contact form to display on certain devices, you'll need to find a plugin that will accommodate that.
Fields
If you're here, then you already understand how important it is to get a website loaded and in front of visitors without delay. No one has the patience to wait for a site to load and they're certainly not going to have the patience to fill in a contact form with too many fields.
As you can see here, Jilt only displays the required fields to its users: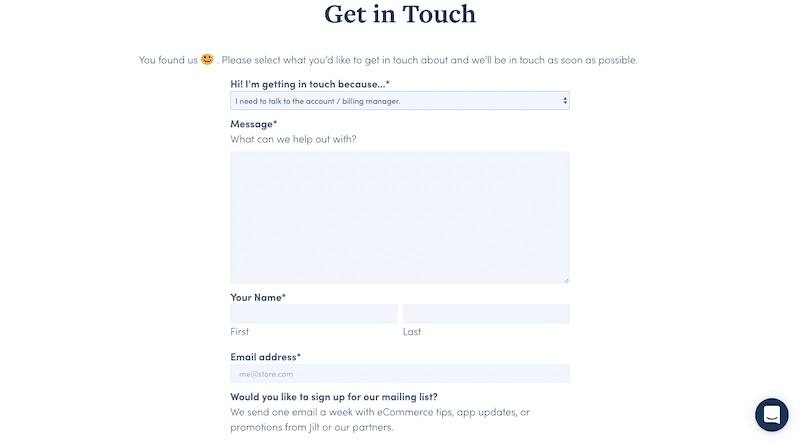 This cuts down on time wasted on fields that don't matter or are irrelevant and may possibly cause confusion.
When it comes to appealing to consumers in this day and age, brevity is key. So be careful with which plugins you use — not just in terms of default fields included in their forms, but also in terms of which kinds of fields you can use. Contact forms need to be as easy to get through as possible.
Labels
Minimalism is definitely a good practice when it comes to web design… but it's not always the smartest choice when designing contact forms. Specifically, you never want to truncate space in your form at the expense of the labels.
If your contact form plugin places labels inside the fields, you should look for another solution. It might save you space on the page, but it'll hurt the speed with which visitors get through the form as they get distracted or lose their place and then forget what kind of information needs to go in the field.
The same kind of consideration must be made for descriptor/helper text as well as error messages. If they're hidden or hard-to-find, users will struggle to complete the form.
Here's a good example from Printful* of what to do:
Conditional Logic
In many cases, contact forms are simple enough where hidden fields aren't a necessity.
That said, you may encounter instances where certain fields only need to be displayed based on answers populated in other fields. Conditional logic is the form setting you'd use to hide fields until they become relevant or necessary.
Here's an example of how this works from StudioPress*. This is the form when a user selects Pre-Sales: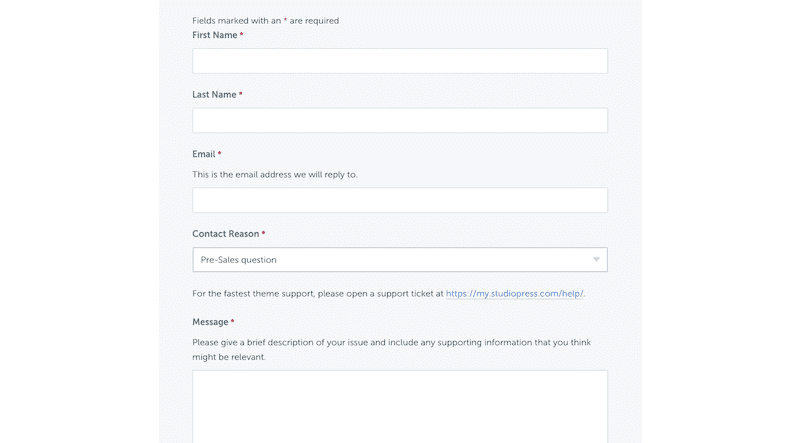 And this is what happens when the user selects Affiliate: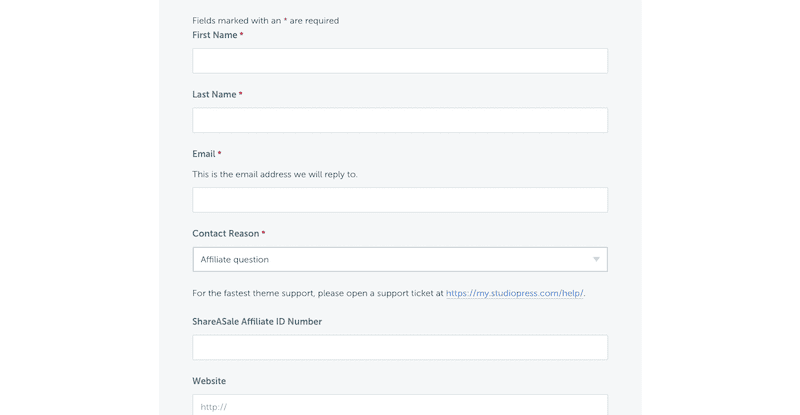 Conditional logic is a great way to keep a form looking trim while also only displaying relevant information to users as needed.
Spam Blocker
Spam doesn't just go after blog comments. If you want to ensure that all responses captured by the contact form are legit, a spam blocker like Recaptcha or a honeypot is necessary (that is, if your anti-spam plugin doesn't take care of it already).
It can be as simple as this anti-spam blocker that Smash Balloon uses: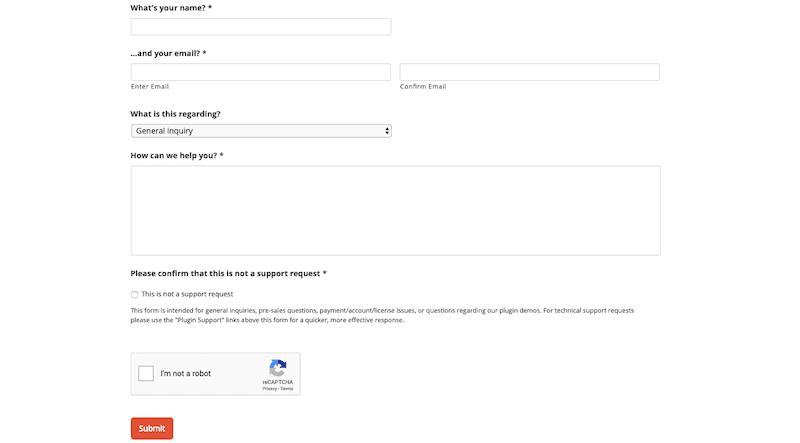 GDPR Compliance
As WPBeginner points out, GDPR compliance is something web designers must think about before publishing contact forms to their WordPress websites. Even if your target audience doesn't reside in the EU, it's still a good idea to have privacy protection measures in place and to let users know you've got them covered.
SEMrush* makes sure to include its privacy notice and get user acceptance of it before form submission: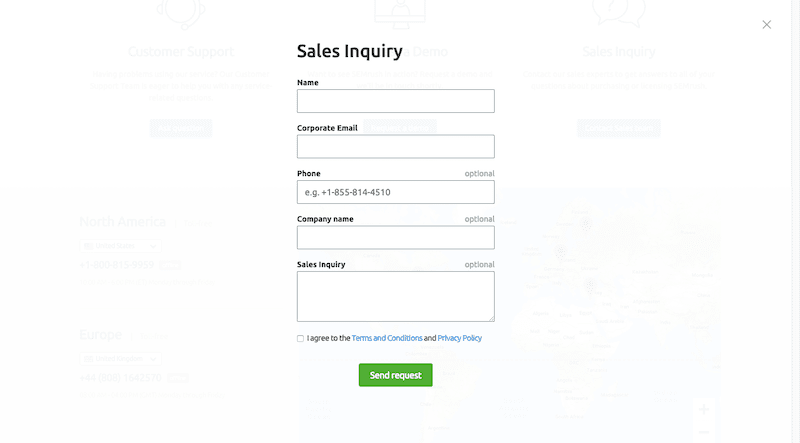 You can also be more explicit about this as WP Rocket* does: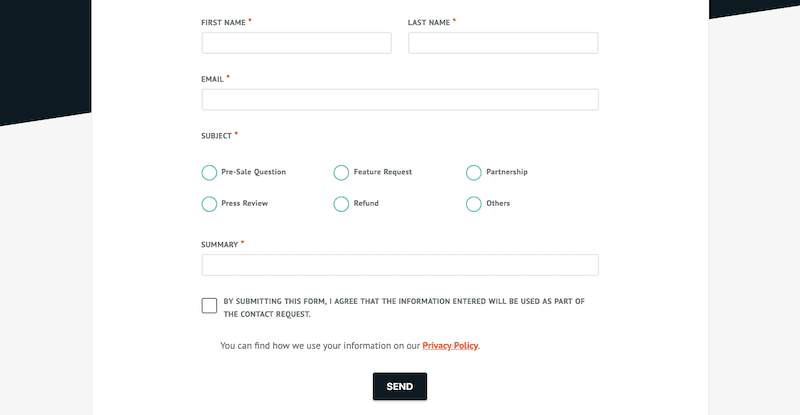 Builder Type
Like WordPress itself, there are a number of ways to build a contact form. Based on what role you play with respect to the website, as well as if non-tech-savvy clients will take over management of it, you may prefer a certain type of builder over another.
For instance, a simple drag-and-drop builder probably makes more sense if you plan on handing a website over to your client when it's done. On the other hand, if you intend on using the form to create advanced configurations, you may prefer something that allows for custom coding or conditional logic.
Ease of Embedding
Now that the new Gutenberg editor is here, you have to think about how your plugins are going to work with it. While you can certainly still use embed codes to place a contact form on a page, would it be easier to use a plugin that has direct integration with Gutenberg blocks?
Templates
For some of you, finding design shortcuts is a necessity. If you want a contact form plugin to take some of the load off of your shoulders, you should look for one that has templates that cater to your unique purposes.
Marketing Integration
Your contact form might not be there for the purposes of explicit lead generation, but that's certainly what it is going to do if you set it up right.
As HubSpot mentioned:
"Depending on what software you use, you can integrate with email and marketing automation software, automatically enrich lead data with more contact properties, automatically sync touch points to your CRM, and even personalize form fields and placement based on website behavior."
Some of these WordPress form builder plugins will automatically come with third-party integrations to streamline the process. Others will not. If lead generation is at all important to your client, make sure you keep this in mind when reviewing the options.
You can bet a lead generation company like OptinMonster* integrates their contact form with marketing software: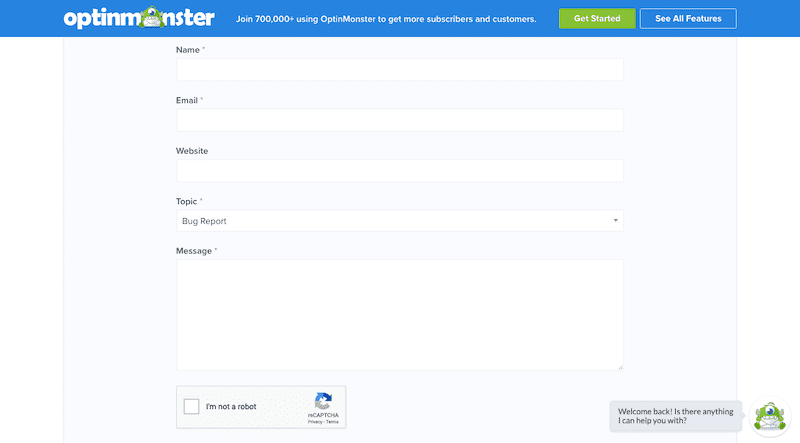 Best WordPress Form Builder Plugins 🔌
OptinMonster makes a good case for using a plugin to build your contact form:
"Adding a contact form doesn't have to be complicated. There are more than a thousand form builder plugins out there for WordPress making it very easy to create a custom form that matches your brand."
That said, the fact that there are that many form builder plugins can make just finding the right plugin a daunting task alone. That said, the following list will effectively narrow your choices down to 7, which should give you a better shot at quickly picking the right contact form plugin for your needs:
1. Ninja Forms

Ninja Forms* is a free WordPress form builder plugin with over 1 million installs. In addition to being one of the most popular form builder solutions for WordPress right now, its list of reputable partners continues to grow as well (like Pagely, GoDaddy, and Chris Lema). If you're looking for a plugin that's well-support and well-connected, Ninja Forms might be the perfect solution for your needs.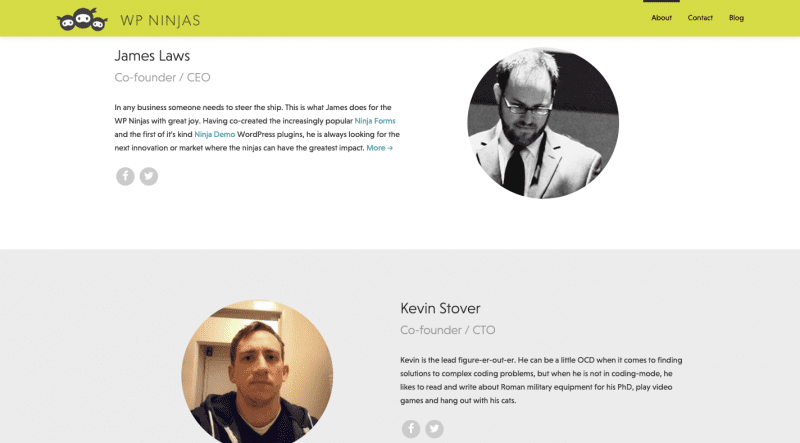 It's also worth noting the the founders of Ninja Forms really know their stuff — not just when it comes to building a solid contact form solution, but also when it comes to building a business with WordPress. Partner and CFO Jeremy Moore recently sat down for the WPMRR podcast to discuss the numbers piece of scaling a WordPress business. It's definitely worth a listen!
Here are some of the highlights of this contact form plugin: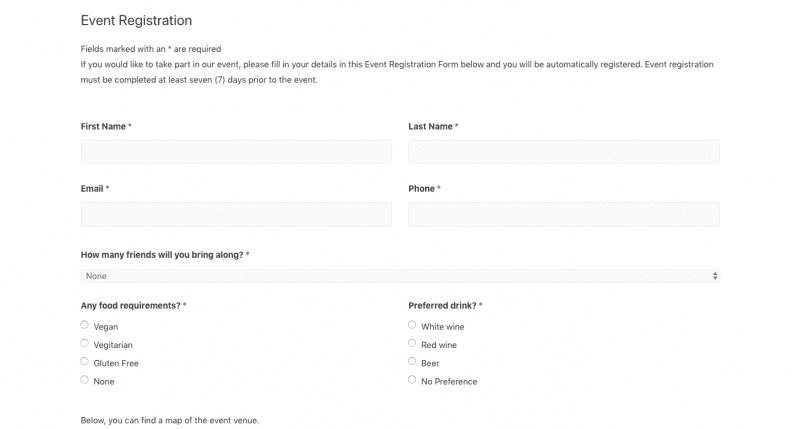 Add-ons
Although you can use the free plugin to design modern-looking forms on all of your clients' websites, the upgrade offered through the Ninja Forms website* is certainly one worth looking at.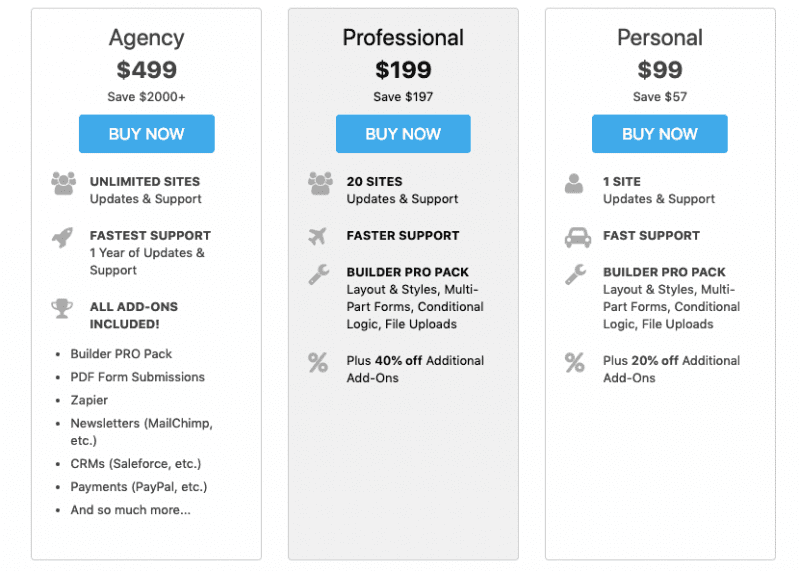 In addition to offering developer-friendly plans*, each comes with a robust set of add-ons you'll want to take advantage of if you build websites with diverse contact form needs.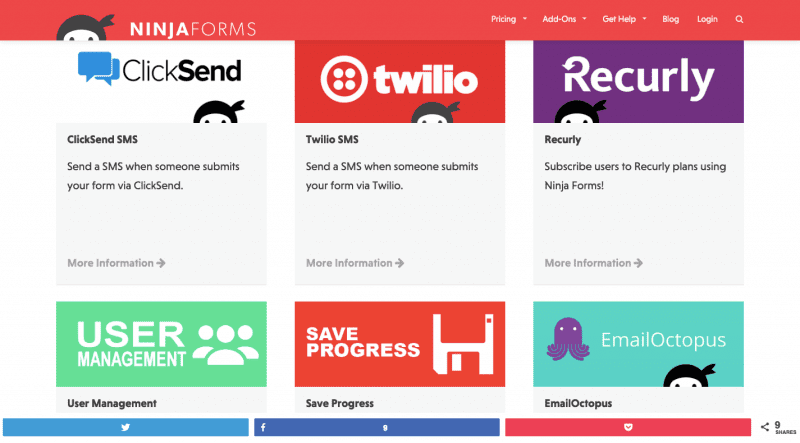 Unlike other plugins that might force you to dig around the WordPress repository to find the perfect integration, Ninja Forms offers a more convenient and cost-affordable solution.
Modern Builder
As soon as you enter the Ninja Forms builder*, you'll see what an impressive tool it really is.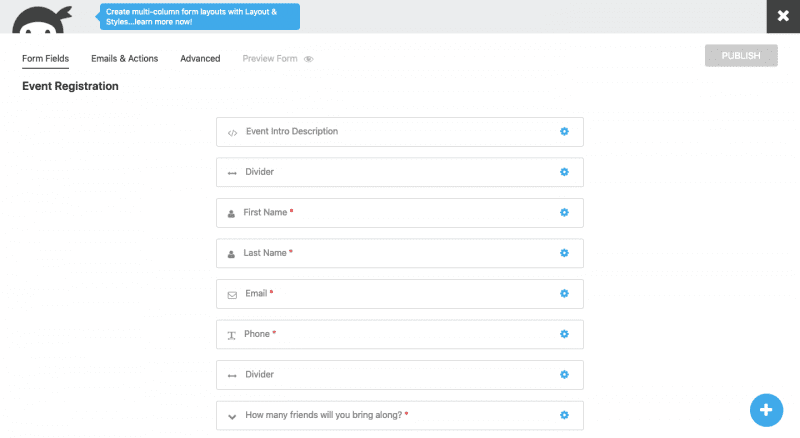 While Ninja Forms does offer a wide array of templates you can use to get started: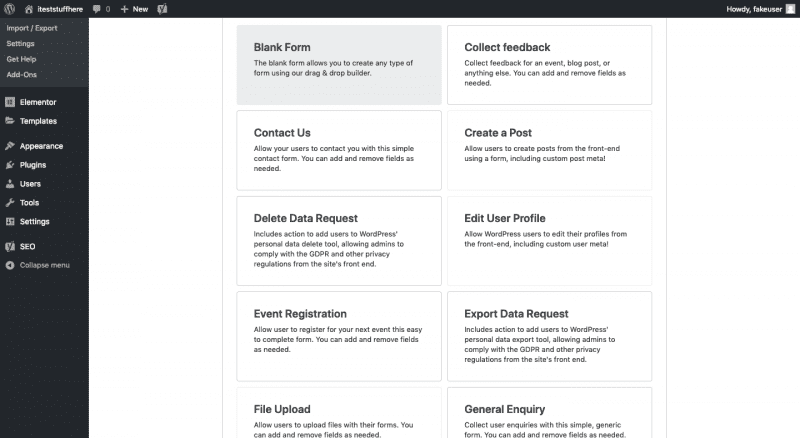 It also makes the process of adding new fields a cinch: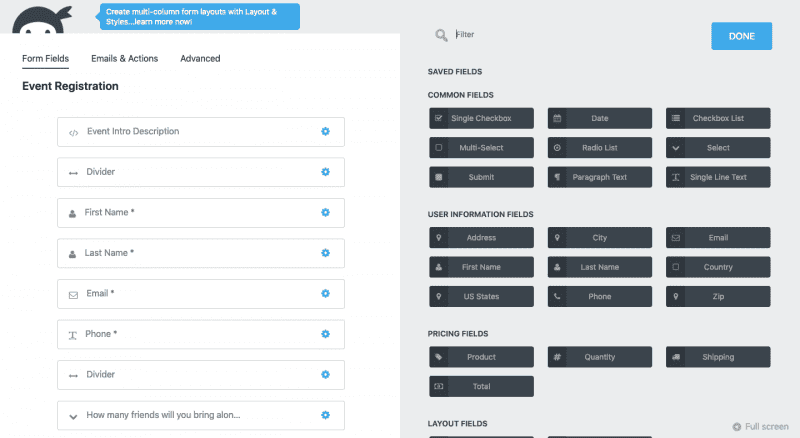 You should also take note of editing controls in the builder: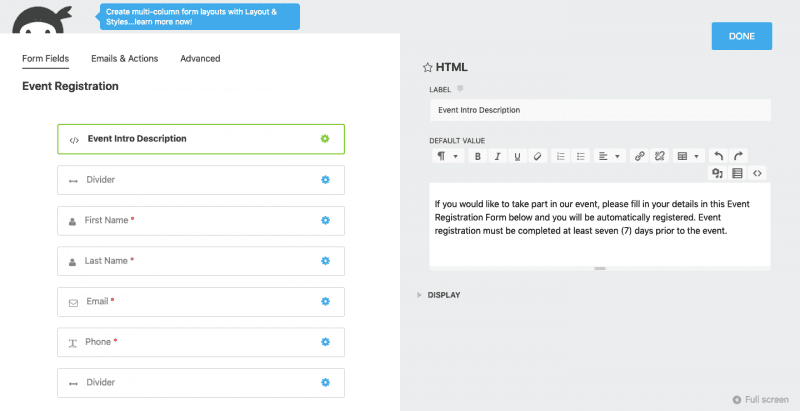 Ninja Forms keeps it simple, so you can focus on creating forms that say and do exactly what you want them to.
Advanced Controls
Another feature that stands out is the Advanced controls. Again, like the basic functionality and settings of the form builder plugin, Advanced Settings are greatly simplified. However, you don't lose the ability to set rules for when and how a form is displayed to users; it's just that Ninja Forms takes a lot of the work out of it.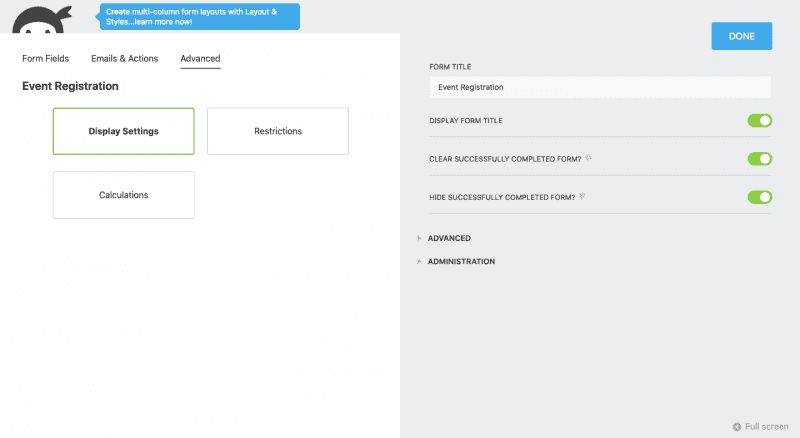 Support
Ninja Forms support options* are top-notch.

Paying customers are guaranteed a response time of under eight hours when they reach out to the Ninja Forms support team. Non-paying users have a guarantee of 24 hours or less. Regardless of who the end user is, anyone looking for information about or assistance with Ninja Forms will get a speedy resolution.
Documentation
On a related note, self-support options are on point, too. In addition to covering the basics, Ninja Forms' documentation includes documentation for everything, right down to each of the add-ons it comes with.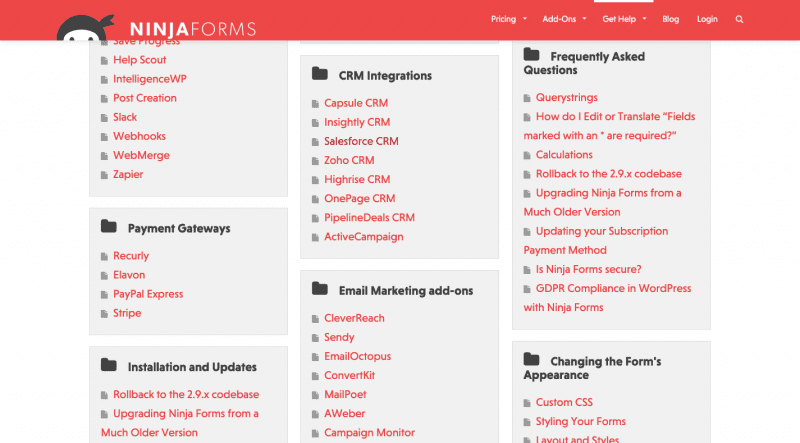 Blog
The blog is yet another way in which Ninja Forms goes above and beyond in terms of helping users get the most out of their form builder plugin. Blog posts are crafted in a way that both promotes the plugin while also teaching developers how to do more with it (or with contact forms, in general).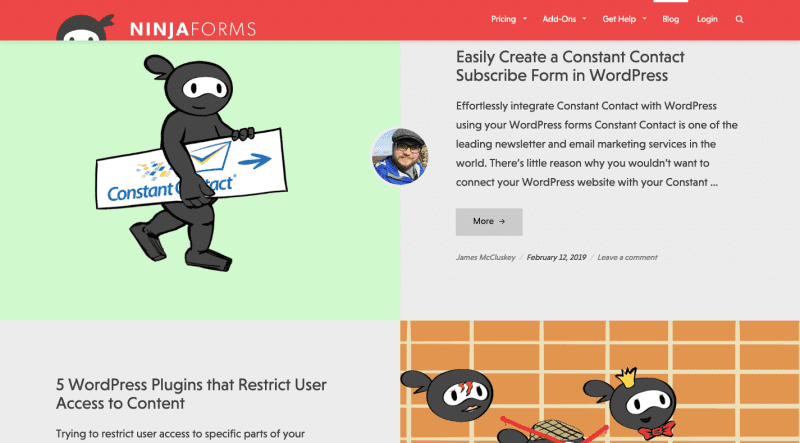 It's a great resource if you want to take your form design skills to the next level.
We chatted with Jeremy Moore of Ninja Forms on the WPMRR WordPress Podcast about MRR vs ARR, price elasticity, why employees may have to wear multiple hats and when that's appropriate, and much, much more.
Interestingly, Ninja Forms recently acquired Caldera Forms (the second plugin on this list), but Caldera Forms still stands alone and is awesome in its own right.
2. Caldera Forms

Caldera Forms* is a freemium WordPress form builder plugin you can use to create as simple or complex contact forms as you'd like. In addition, you can use Caldera Forms to design advanced search forms!
Here are some of the highlights of this contact form plugin: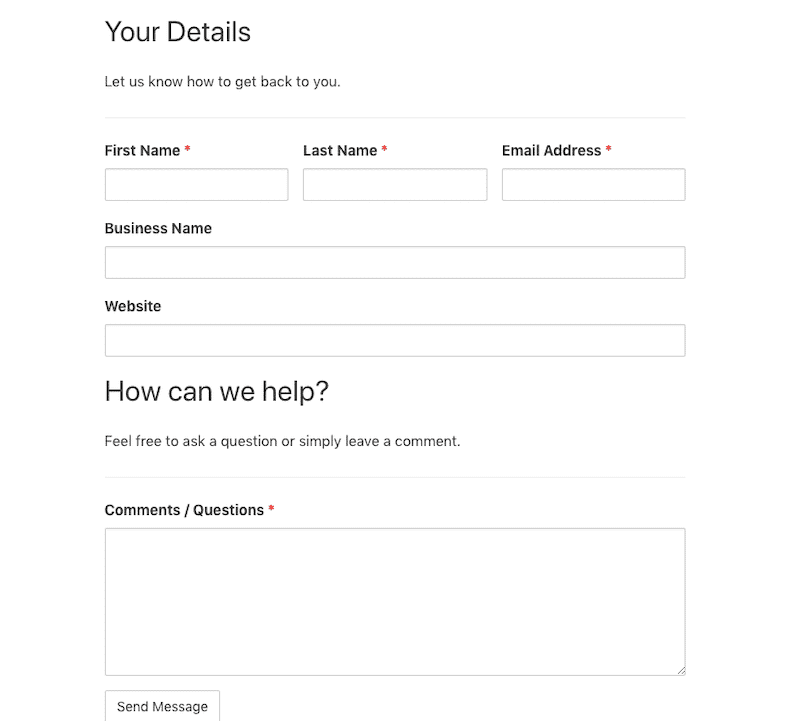 Intuitive
It works beautifully with page builders like Gutenberg and Elementor because it, in and of itself, is an intuitive builder tool.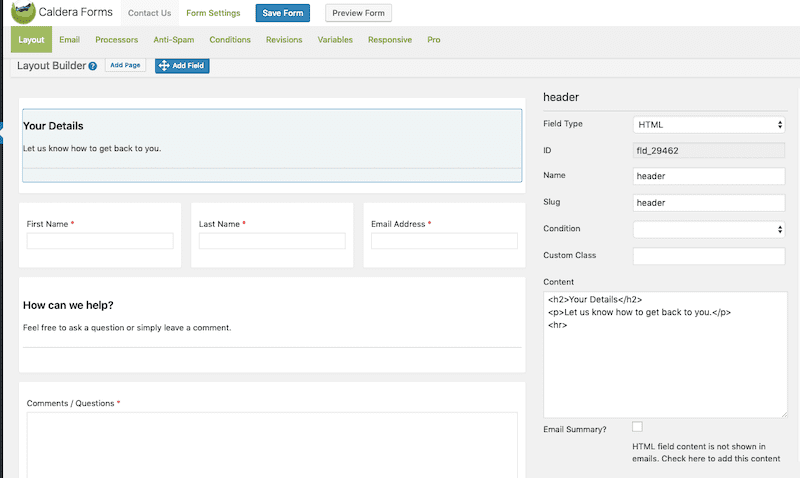 Form Elements
Each element of the form receives its own dedicated block that can be populated with content, styled in HTML, and dragged into place. And there are lots of form elements to work with out of the box*.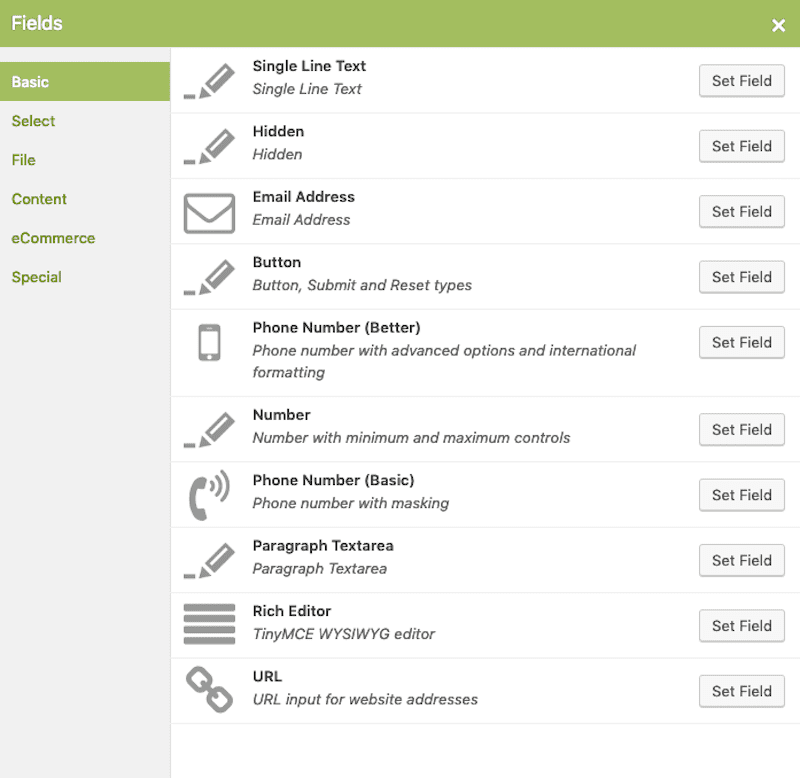 Advanced Configurations
Because this is a true block builder, you can add multiple columns to your design and never have to worry about whether it will be responsive in design. You can easily design other advanced configurations* like multi-page forms as well as apply conditional logic to certain fields.

Support
It comes chock full of documentation and tooltips for novice users; premium users get priority support.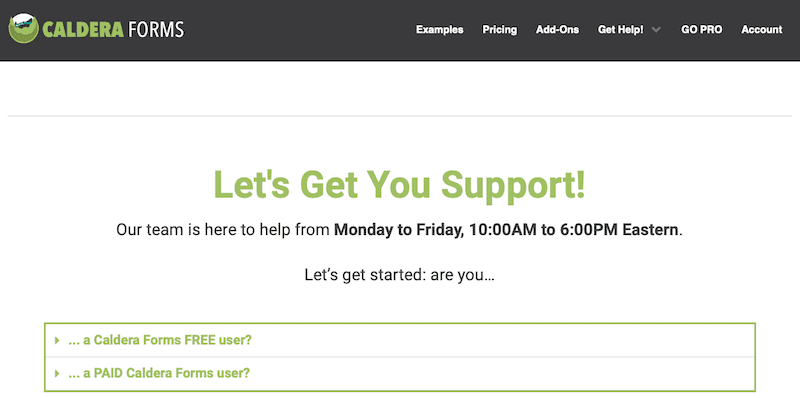 Form Templates
It includes templates for simple form designs as well as more specific and complex purposes, like job applications.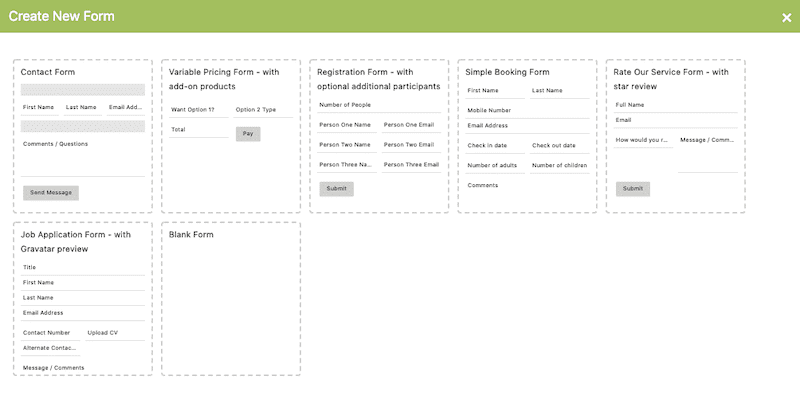 Privacy Settings
There's an entire section dedicated to Privacy Settings and GDPR if you plan to correspond with visitors from the EU.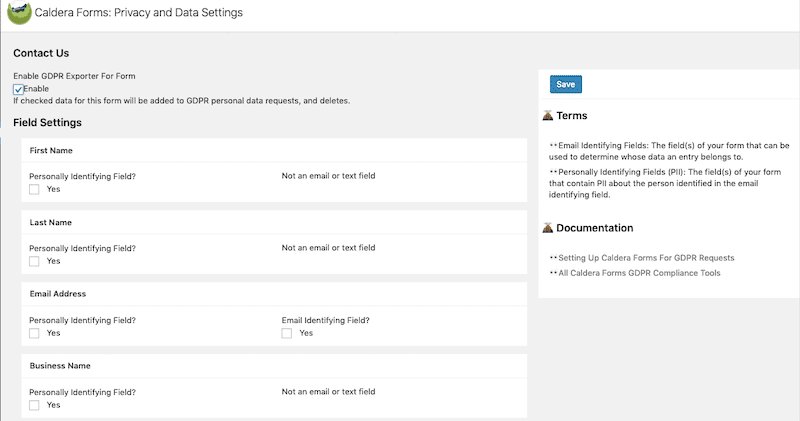 Form Processing
Once you start getting entries on the form, note that you have a choice of what happens with them. They won't just go to the admin's email address and potentially get lost or forgotten. With Caldera's form processing options, you can configure a number of resulting actions to ensure the process goes just as smoothly post-submission.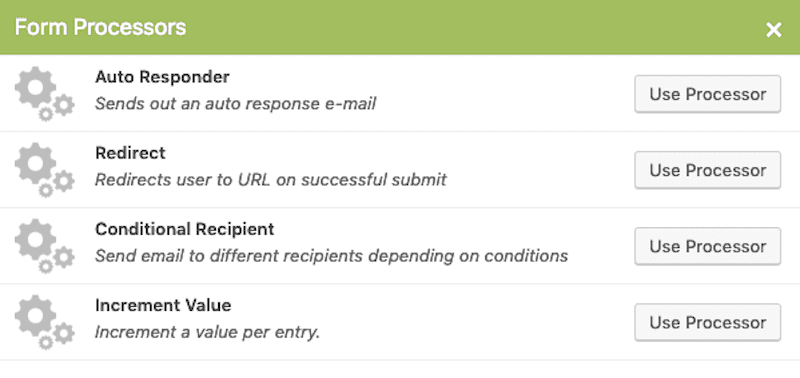 Add-ons
What's more, Pro users of Caldera Forms get access to a huge inventory of add-ons.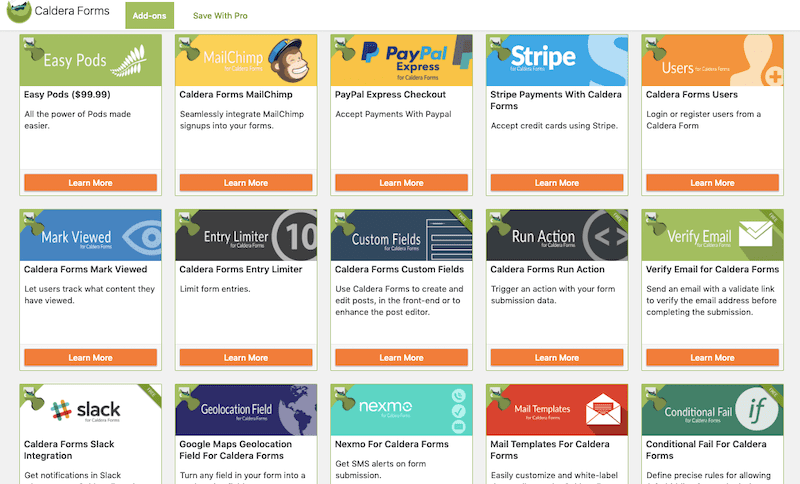 This way, your communications and sales workflows don't just have to stop when a submission reaches your inbox. You can send notifications to a Slack channel, request a deposit, or apply further marketing automation.
The WP Buffs Connection
WP Buffs has a close relationship with the team at Caldera Forms. We work closely with their team and WP Buffs even helps handle their plugin support.
We always like to disclose when we have relationships with the people and companies we feature in our blog, but our friendship stems from the fact that we're so impressed at the incredible plugin they created, we just had to befriend them!
Co-founder Christie Chirinos is the cohost of the WPMRR WordPress podcast, so you may already be familiar with this form builder plugin. In addition, WP Buffs supports customers that want to use this plugin, helping them set up their Caldera Forms.
Catch Christie (and Joe) here at various WPMRR WordPress podcasts talking all things business, entrepreneur-isms, WordPress and life.
3. Kali Forms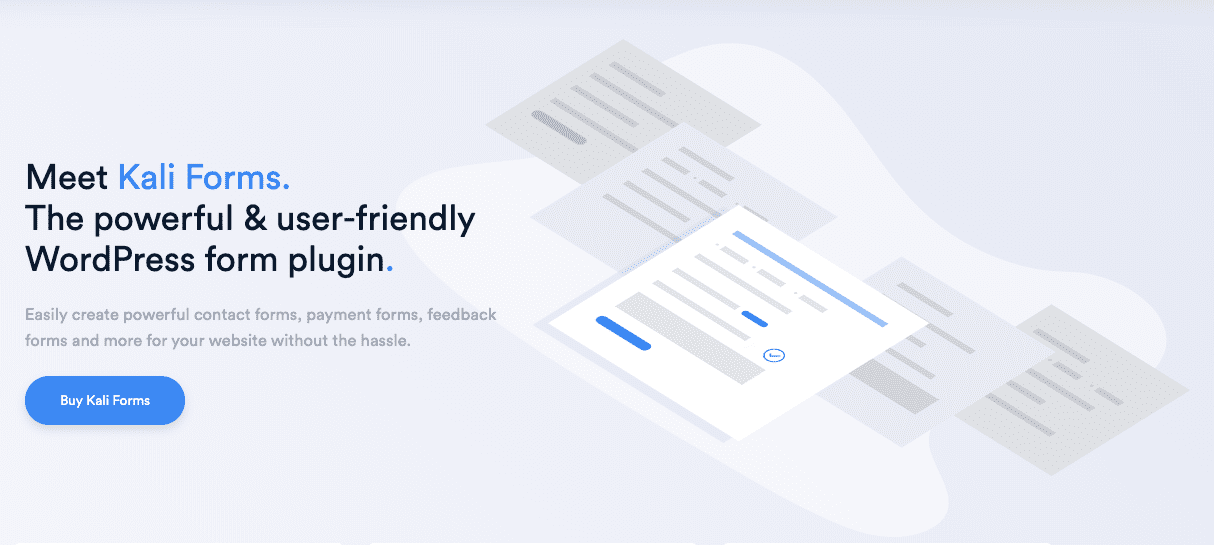 Kali Forms is a freemium WordPress form plugin that you can use to easily add powerful and customizable forms to your websites in minutes.
Starting from scratch is time-consuming and doesn't always make sense so Kali Forms doesn't force you to.
Although you can also easily create a contact form manually, Kali Forms includes a selection of predesigned form templates that you can use to get a form up and running in just a few clicks. This makes it perfect for people who just want a simple contact form that lets their website visitors get in touch with them as well as people who want to create a powerful form that makes use of the built-in conditional logic functionality.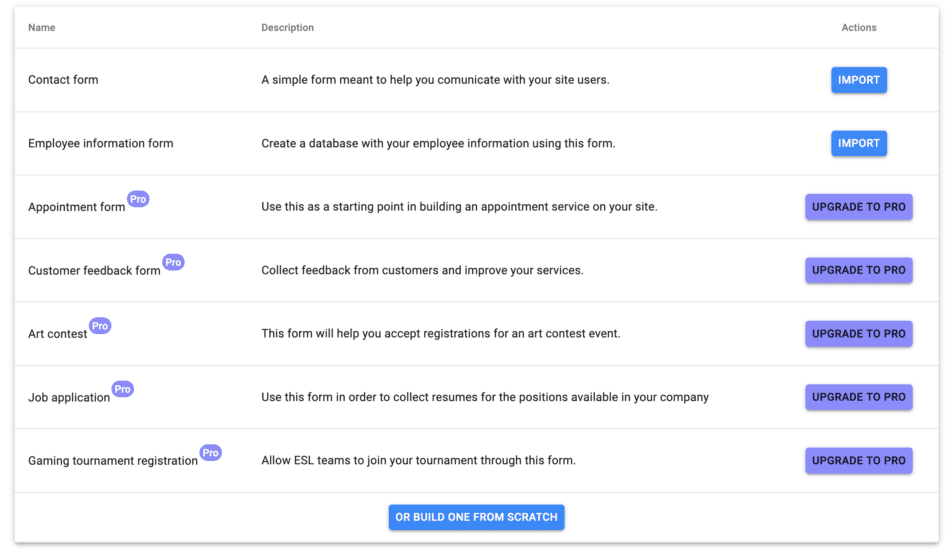 Notice how when I select "Tech Support" from the dropdown below, the checkbox at the bottom of the form disappears. This is just the beginning and just a single example of what can be done with the conditional logic in Kali Forms.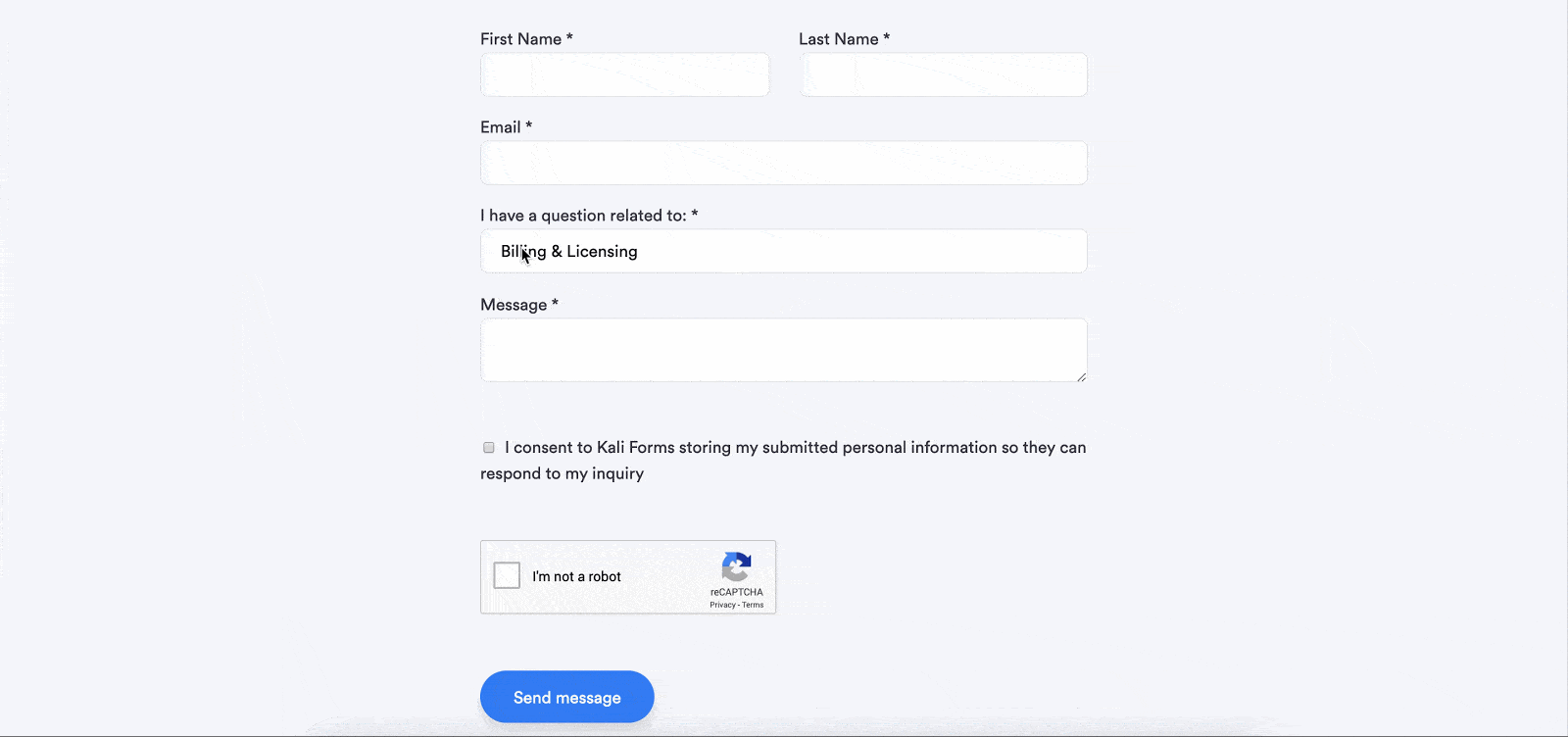 As you've probably come to expect from Kali Forms already, you'll be happy to hear that they've also made this conditional logic extremely easy-to-use.

Not everyone wants to use it so it's both out of the way but also easily accessible if you've decided to take your form to the next level with conditional logic.
Kali Forms also makes it easy to trigger multiple form notification emails once a form has been submitted so you can make sure that proper record is kept of every request that is submitted through the contact forms on your website and no question is left unanswered.
In addition to this, the submission handling add-on which is available to Kali Forms Pro users also makes it easy to save any form submissions directly to the WordPress database making it simple to store and keep track of customer requests.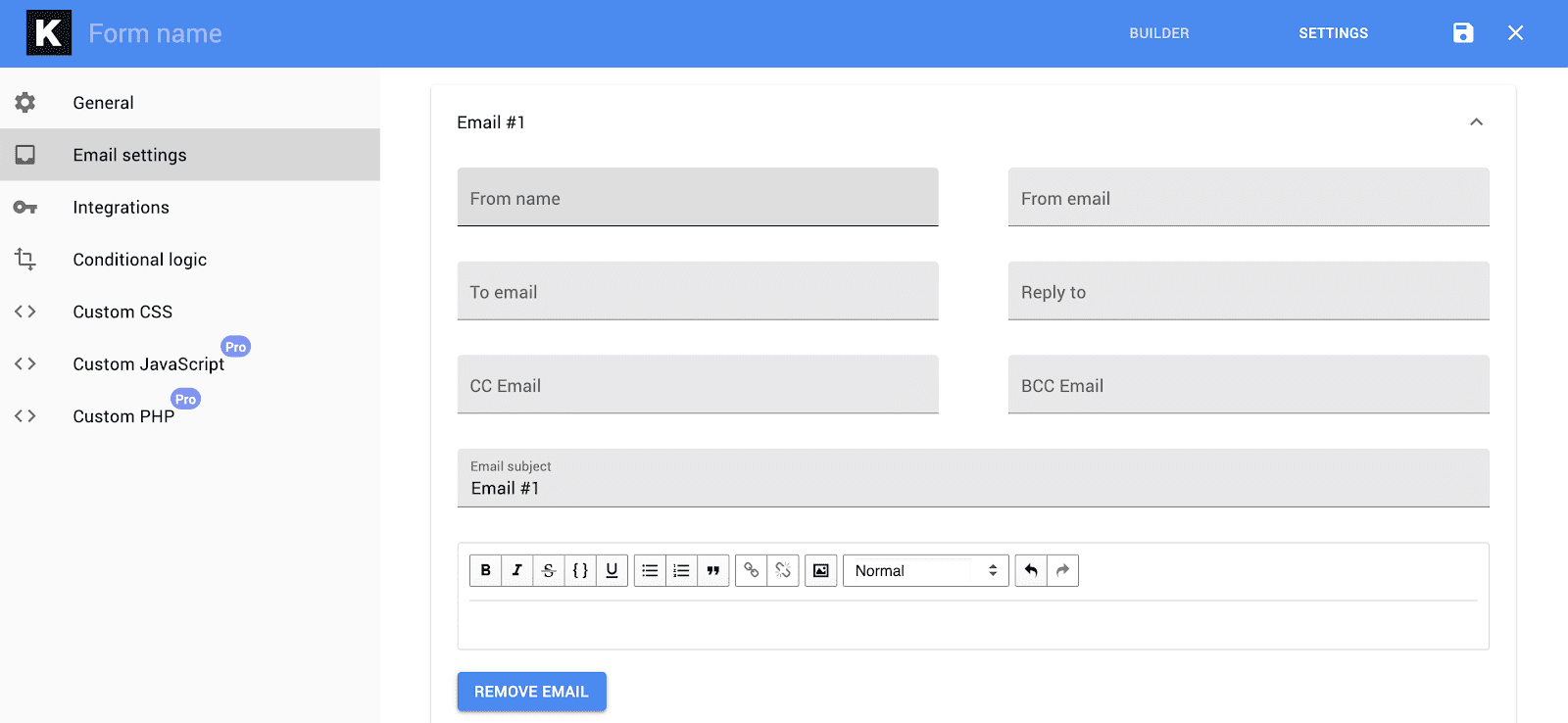 Notable Kali Forms Pro Features Include:
A Powerful & Easy-to-Use Visual Form Builder
Conditional Form Logic
The ability to create multi-page forms
1-Click Install Form Templates
The ability to accept payments
4. Formidable Forms
Although Formidable Forms* is a freemium WordPress plugin, it's best used in its premium state. More specifically, this is a form builder plugin for WordPress developers who want more control over their contact forms — and not just in terms of fields or layout.
If you've ever wished there were a way to dictate the styling of your form elements and to create more diverse forms for your clients' sites, Formidable Forms is a great choice.
Here are some of the highlights of this contact form plugin: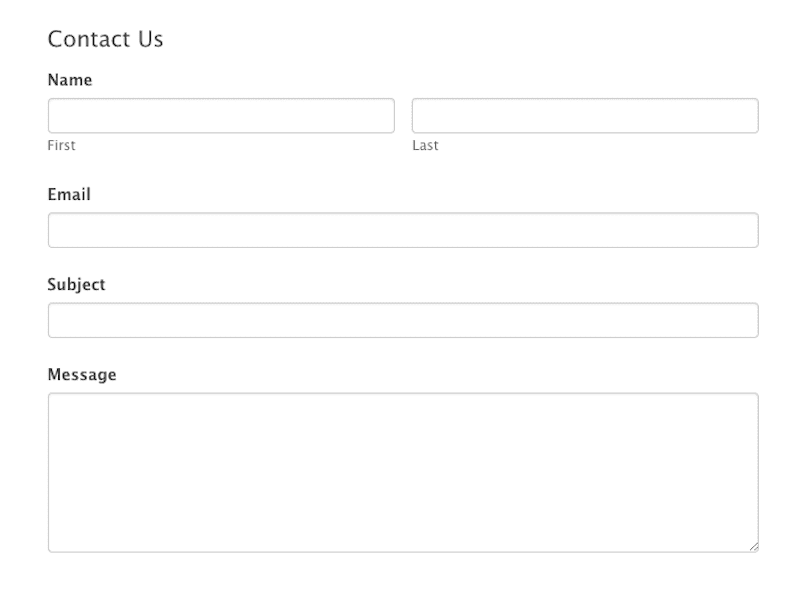 Getting Started
When creating new forms in Formidable Forms, you're going to be asked if you want to start with:
Diverse Templates
If you decide to use one of Formidable Forms templates*, you'll find form solutions for pretty much every situation. Contact forms. Surveys. Quizzes. Registration forms. Calculators. And so on.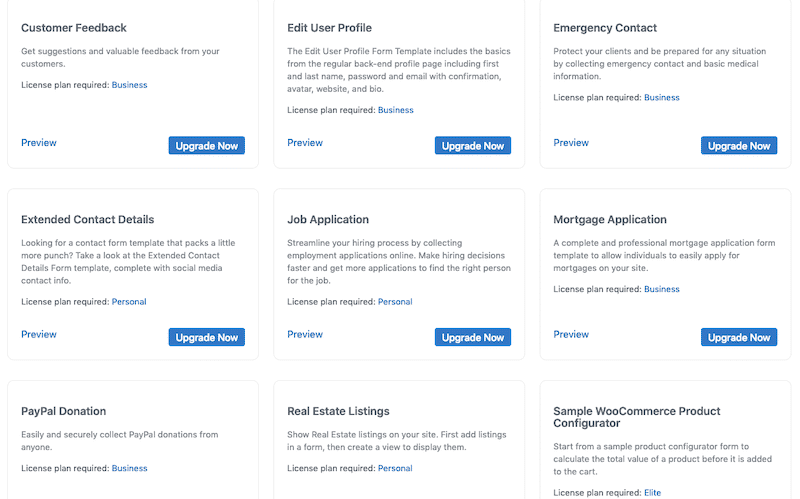 Needless to say, this is an incredibly powerful tool to use if you plan to design a wide variety of forms for your client base.
Form Styling
Every aspect of your Formidable Forms can be styled with this plugin if you prefer. Use the styles settings* the same way you would the Theme Customizer in WordPress.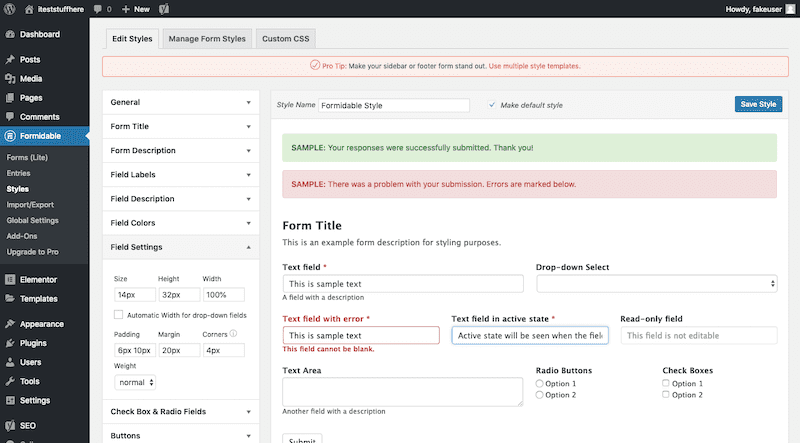 Dig into every nook and cranny and refine the design so it best matches your website's brand. Then, define global form styles so you won't have to spend as much time customizing each new form you create.
Advanced Fields
Formidable Forms Lite includes all the form fields you'll need* to create standard contact forms.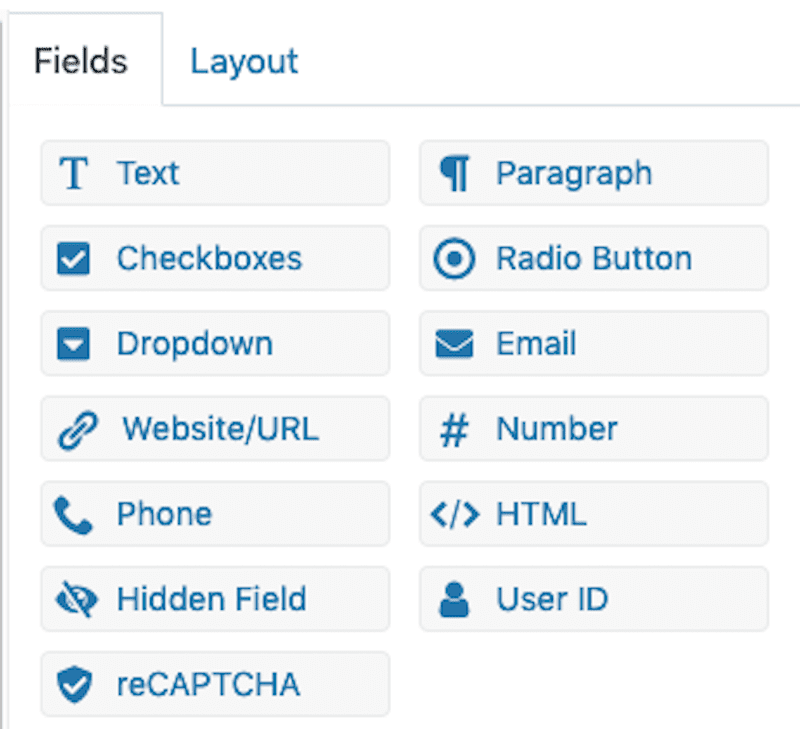 If you want to go beyond that, though, a premium subscription* opens you up to a much wider range of fields.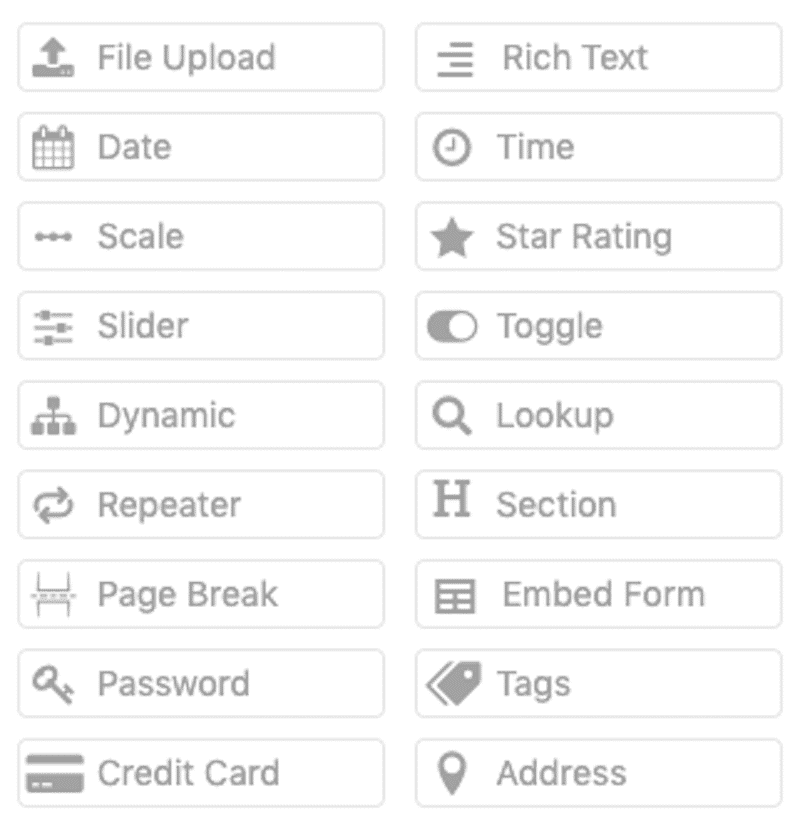 It doesn't stop with specialized fields either. You can add unique form elements to enhance and streamline the experience for visitors filling out your forms. For instance:
Datepicker fields with inline calendars and blackout dates
Dynamic fields* that get imported from other forms the user filled out
Fields that require personalized input using sliders, toggles, and star ratings
You really can style these forms however you want.
Time-Saving Features
If you're using this plugin for your WordPress agency, note that it has a number of time-saving features that would be valuable to your team. For example, you can create groups of fields that always go together, cutting down on having to add and configure each one on its own.
You can also use Formidable Forms to reduce how much time your project and content managers spend collecting content from forms and posting to the website. With advanced fields, you can develop forms that allow users to submit their content in full and let your team focus on more pertinent matters.
Visitor-Friendly
It's not just important for your contact form plugin to work well for you. It needs to work well for visitors on your website. Formidable Forms includes a number of visitor-friendly features that encourage more people to fill out your forms (and boost your lead generation efforts in the process).
Including:
Add-ons
Formidable Forms has a vast set of styling add-ons and third-party integrations* for its plugin.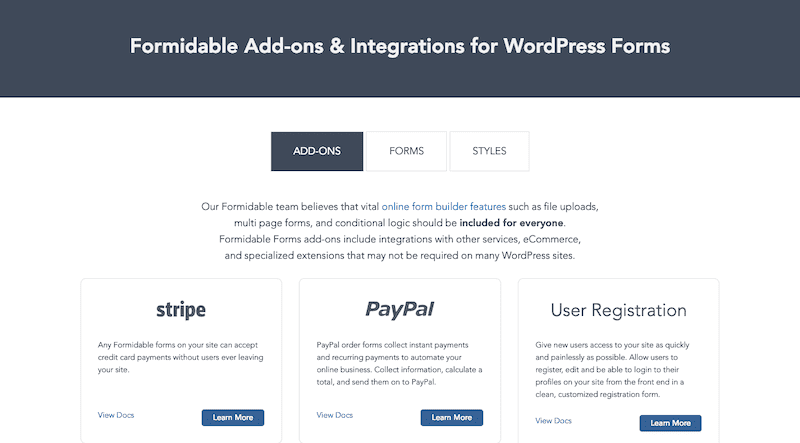 If you build WooCommerce websites, pay close attention to what's available to you. You can build product customization forms, pricing calculators, and pull data into customer receipts to enhance the e-commerce sales process.
5. Gravity Forms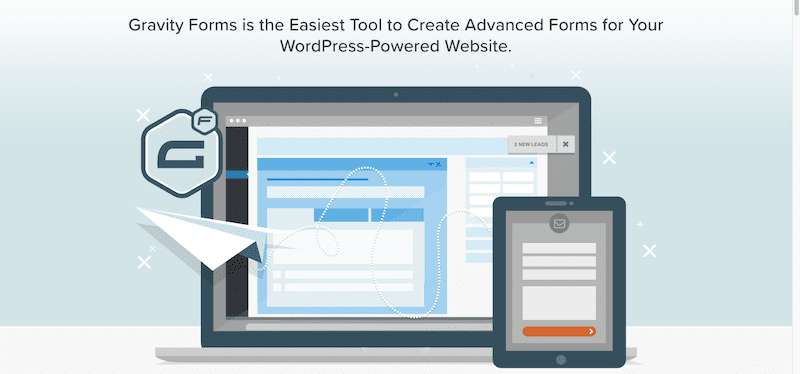 Gravity Forms is a premium form builder plugin for WordPress. Although it does have some free companion plugins available in the WordPress repository, this is a plugin you'll want to pay to use — and with good reason.
Here are some of the highlights of this contact form plugin: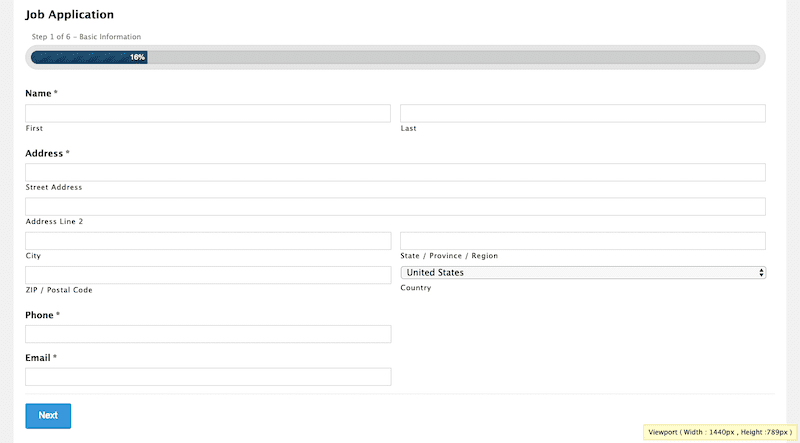 Form Fields
Gravity Forms comes with over 30 pre-built form fields, making it significantly easier to get a contact form up and running on your website since little customization is required.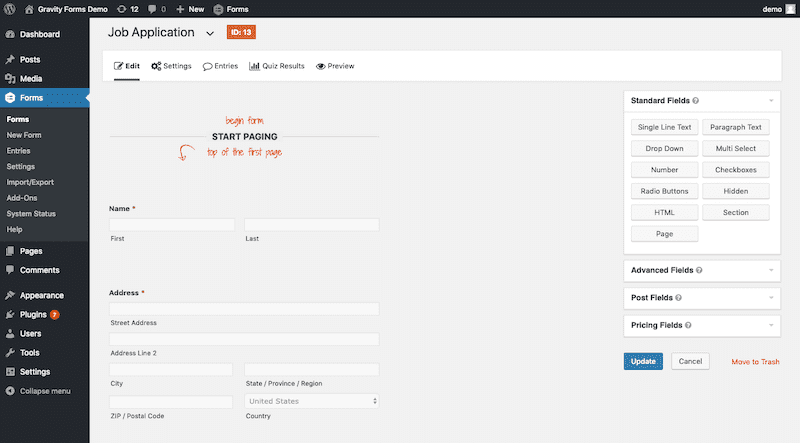 Complex Configurations
As you can imagine, dozens of field options mean there's a lot more you can create with Gravity Forms. For instance, you can accept file uploads from users or entire posts for submission to your blog. You can also perform frontend calculations.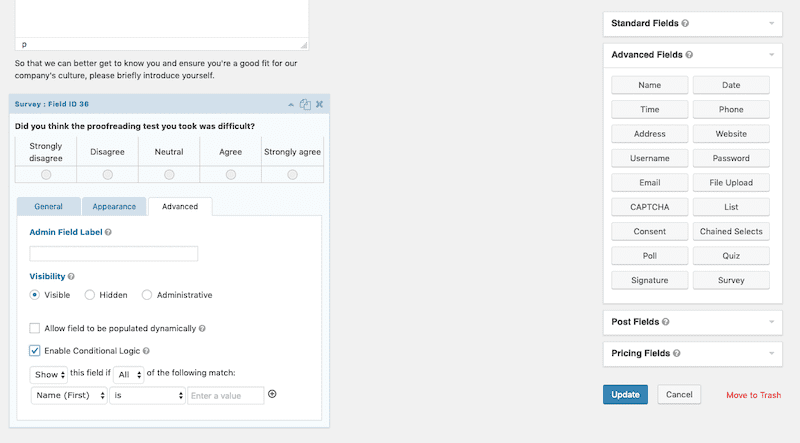 Conditional logic also enhances what you can do with your forms.
Templates
Although Gravity Forms indeed allows users to do more with their contact forms, it actually decreases the amount of time they have to spend building them with an incredible set of templates to start from.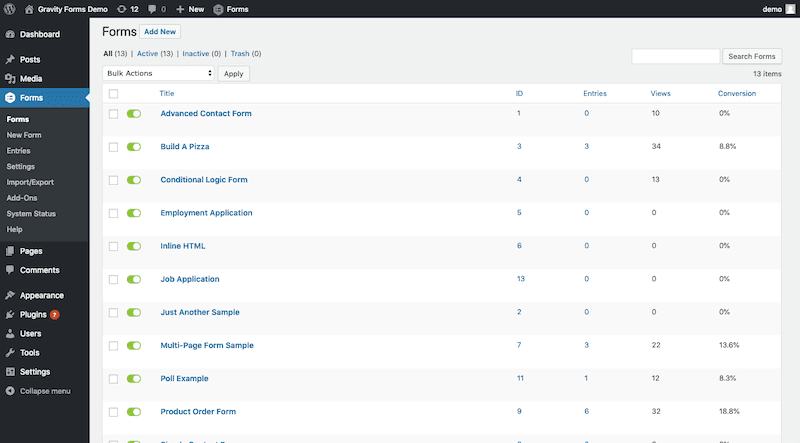 Entry Database
With all entries (or results) displayed right within the plugin, there's no losing time tracking down information sent through your forms.
Restrictions
Something you don't usually see with a WordPress form builder plugin but that you get with Gravity Forms is a set of restrictions. Use this when you want your contact form to only be available at certain times or to a specific number (or type) of users.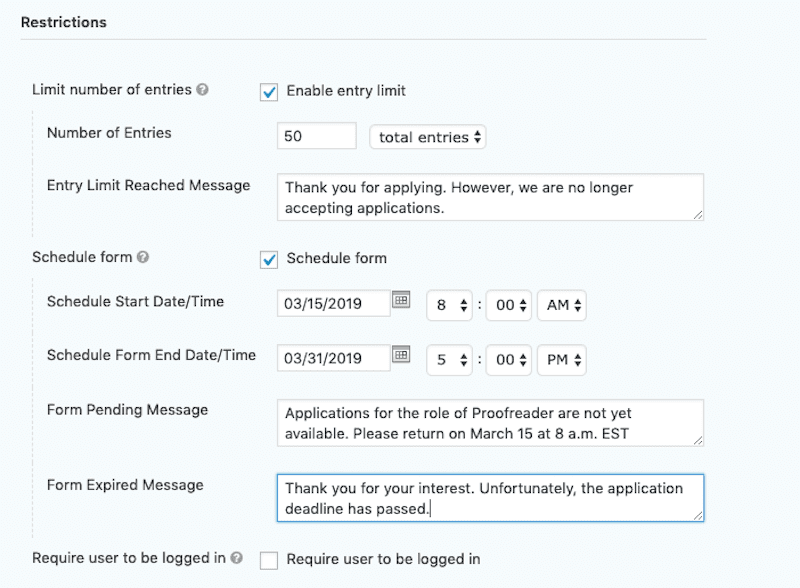 Support
Self-service support for Gravity Forms is comprehensive, with a wealth of information and documentation available on their website. That said, the Gravity Forms team does publish its hours of availability in case the issue cannot be resolved on your own and has a robust support system.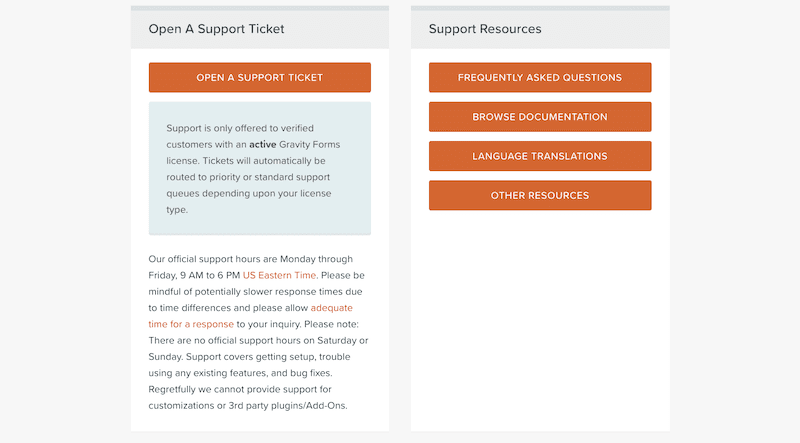 Add-ons
Because Gravity Forms is straight premium, you don't have to look on longingly at all of its add-ons. While each plan allows for greater access to third-party integrations, there is a lot to take advantage of with even the cheapest of plans.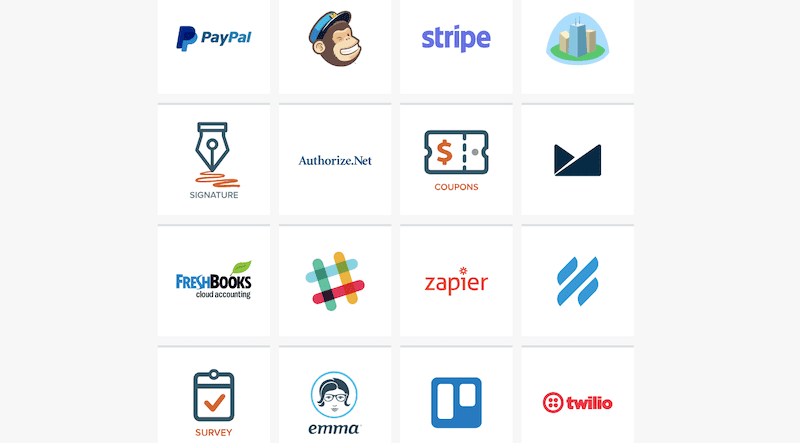 You can also integrate payment options with your forms in case you want to charge your visitors. Gravity Forms has a robust community of integrations and add-ons for Stripe and PayPal so you can easily set up a payment gateway through your Gravity Form.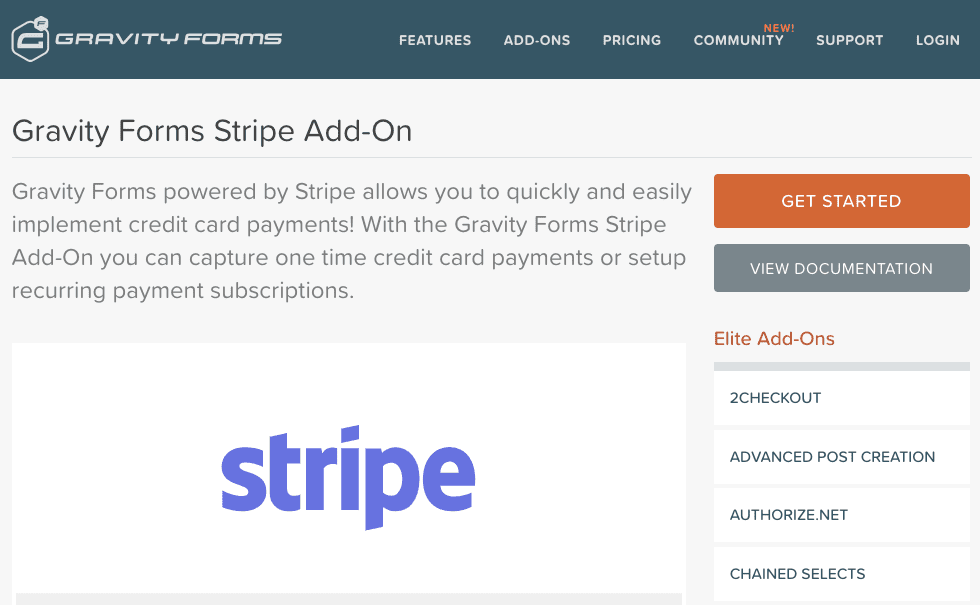 And then there are the ridiculous number of awesome testimonials they've collected. It seems like people just plain love Gravity Forms!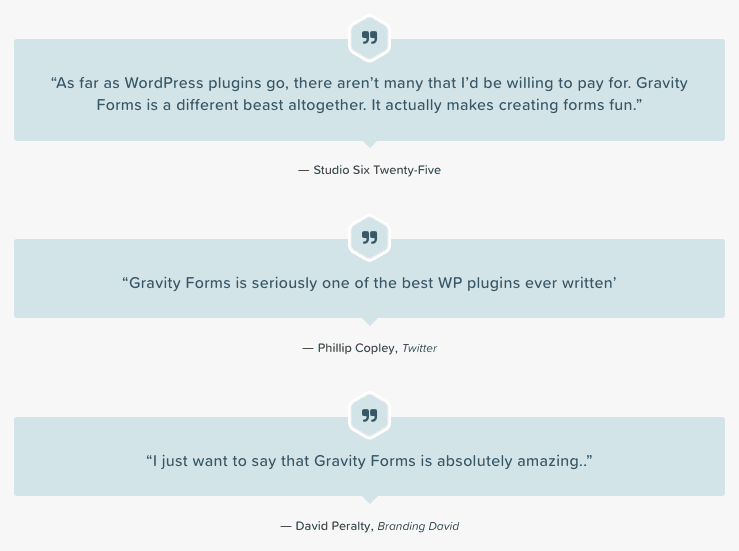 GravityView
Another Gravity Forms integration that may be of interest to you and your clients is called GravityView*.

If you need to publish entries submitted to your forms on the frontend of your website*, this is the plugin to do it. Paid directory websites would greatly benefit from this add-on (think of real estate listings sites or the Craigslists of the world).
Zack Katz is the founder of Gravity Forms and all around great guy.  Follow along with the Gravity Forms adventures and read some of his tweets at @ZackKatz.
6. WPForms

WPForms* is a freemium WordPress plugin with over 1 million installs in the WordPress repository and a 4.9-star approval rating. Needless to say, this is an awesome form builder plugin for everyone.
Let's consider the team behind WPForms!* Jared Atchison and Syed Balkhi are two of the most talented entrepreneurs you'll find and both care deeply about customer experience.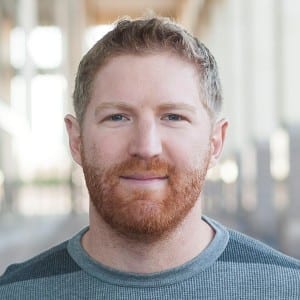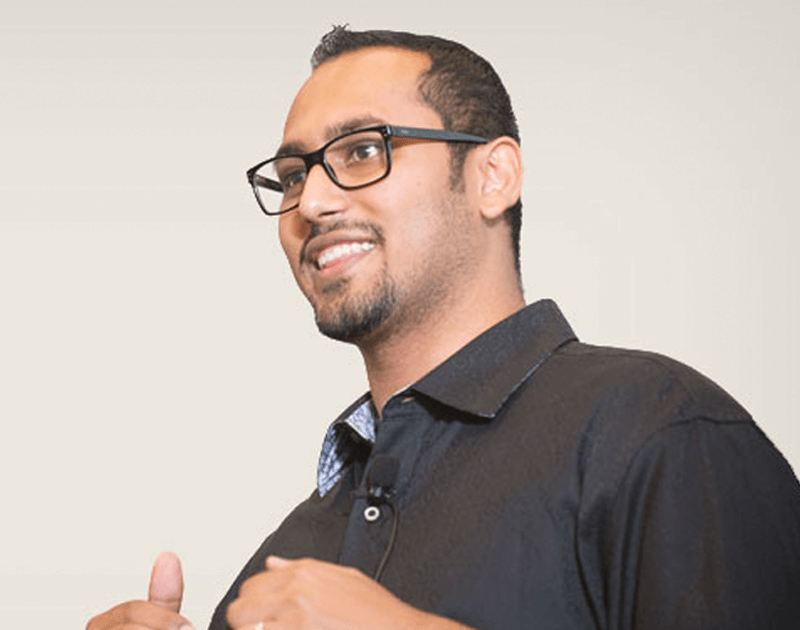 ---
The co-founder and CEO of WPForms is Syed Balkhi*, the mastermind behind WPBeginner and OptinMonster. He's been entrenched in both the WordPress and lead generation space for a long time, so he knows his stuff.
Joe, our Head Buff, knows Syed and Jared well. They've spent a lot of time together at WordCamp Orlando, WordCamp US and beyond. This is another reason we love the team behind WPForms.
Here are some of the highlights of this contact form plugin: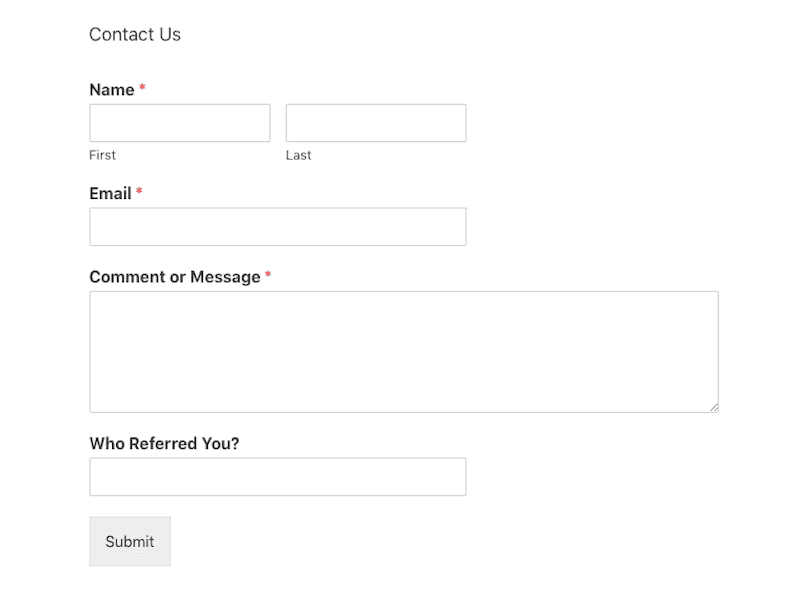 User-Friendly
As Online Decoded suggests, WPForms may indeed be best for WordPress creatives (like writers and marketers) as well as business owners that want an easy-to-use plugin that still allows for impressive results. With an immediate gamification challenge like the following, it's easy to see why WPForms is such a well-loved plugin.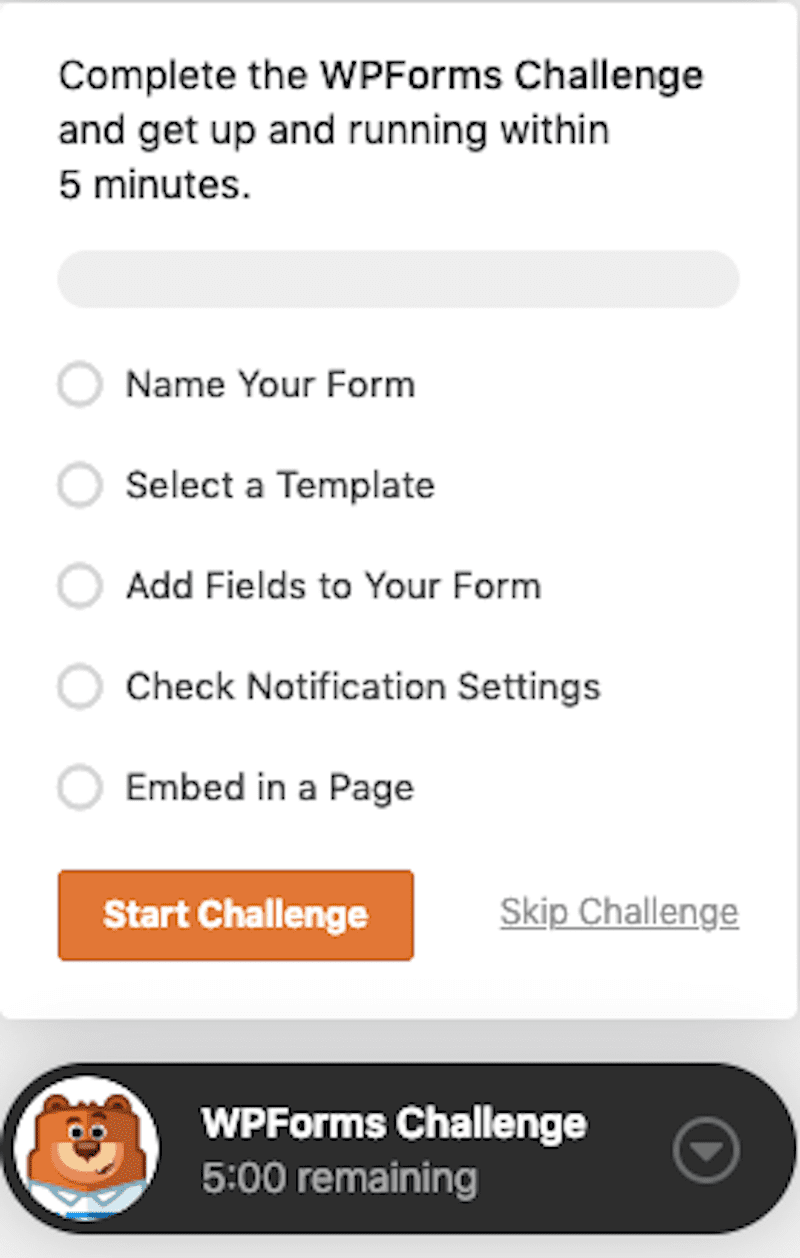 Support
Because it's so easy to get started, there probably won't be much need for documentation. Just know that if you or your client run into trouble, there's extensive documentation available*. Plus, most premium plans include priority support*.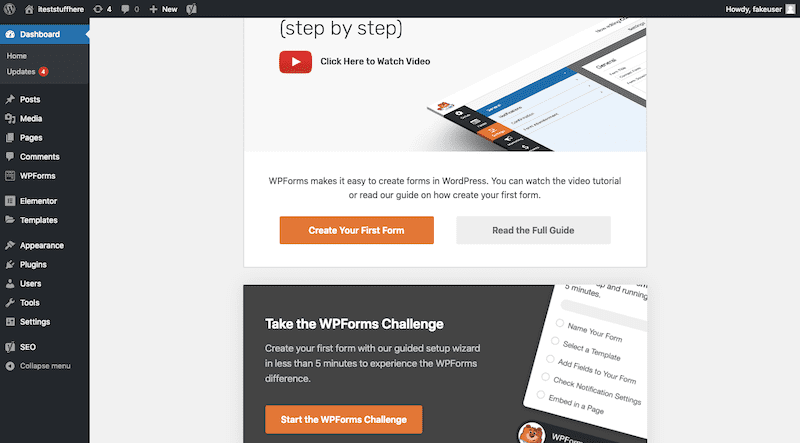 Form Builder
Once you get inside the builder, you'll see even more reasons to love this plugin. For instance, have a gander at the dedicated WPForms builder space that opens when you work on a contact form.*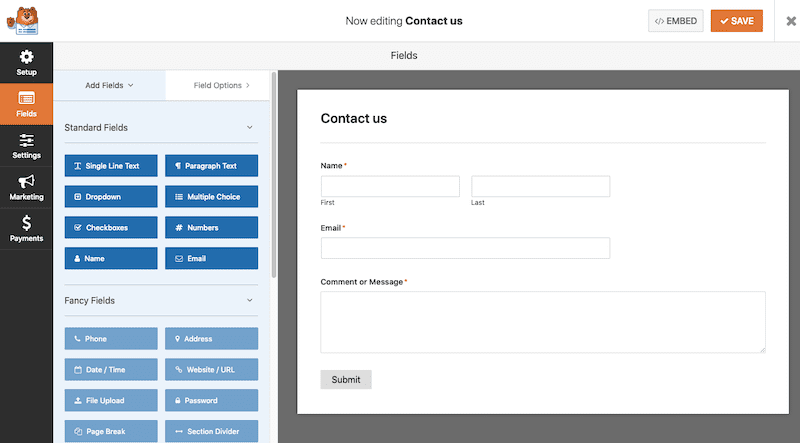 That's a great touch as you won't have to leave WordPress to use it, but it also encourages distraction-free form design.
Premade Templates
Customization of your WPForms is easy too. Just remember to start with one of the premade templates*. The free ones are simple but well-designed and should give you a good base to start from. When you upgrade to the premium plugin, you'll have access to much more.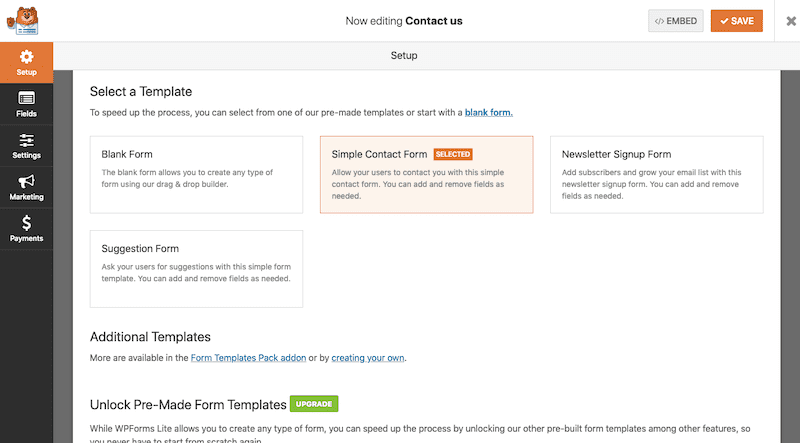 Customization
In terms of customizing forms, you'll see that it can be as basic or advanced as you prefer. Fields are well-labeled and the editor tool minimizes Advanced Options* so you can focus on the essentials while you work.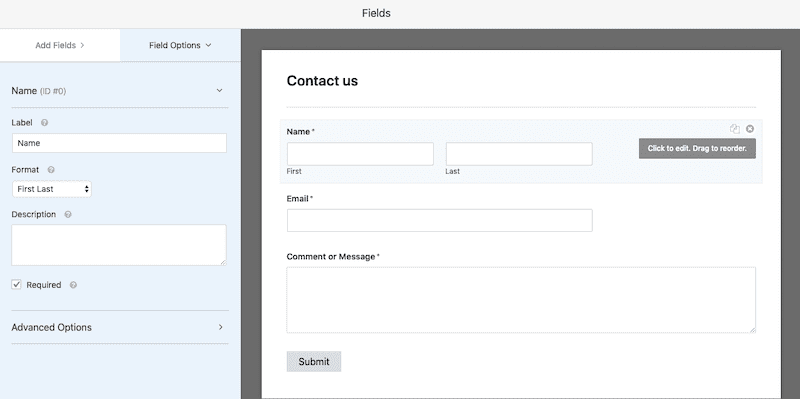 Form Fields
One thing to note, however, is that the availability of fields is greatly limited when you work out of the free plugin. If you want to do anything beyond letting visitors or customers get in touch (like provide support, gather personal information, or collect payment), it requires an upgrade.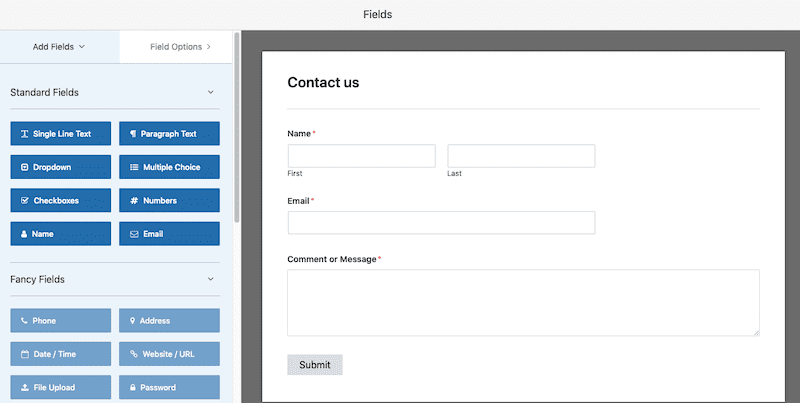 Add-ons
Speaking of an upgrade, the premium version of this plugin is worth it. In addition to unlocking many valuable templates and fields, you gain access to really cool add-ons*, like contact form abandonment, offline form access, conversational-styled forms, drip campaigns, signature gathering, and more.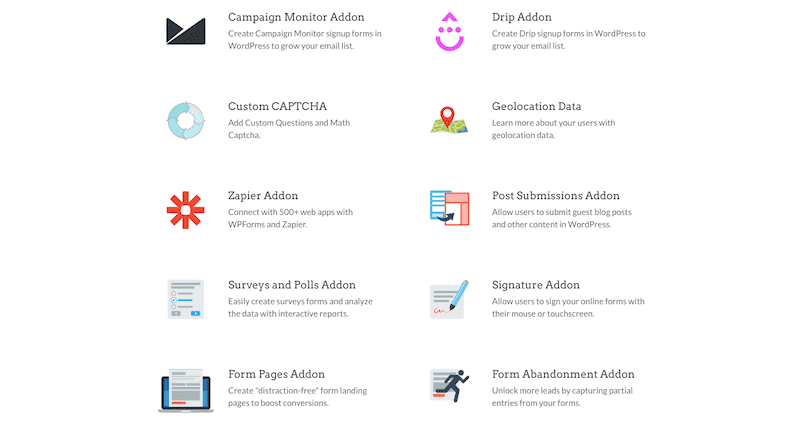 This, in turn, helps you developer smarter workflows for your marketing and sales pipeline.
7. Everest Forms

Everest Forms plugin is free for download from the WordPress repository. While there is a premium upgrade available, the free version is a fantastic option for websites that need something super lightweight and intuitive.
Here are some of the highlights of this contact form plugin: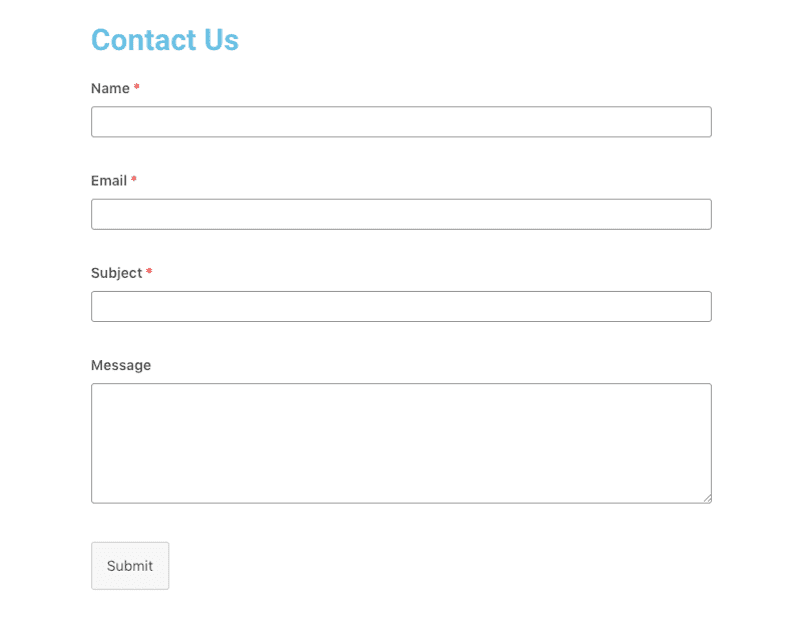 Intuitive Builder
If you want to keep from getting bogged down with extraneous settings and complicated field configurations, Everest Forms is the perfect solution. The builder is one of the most attractive ones, too, so it'll make the experience of creating forms all the nicer.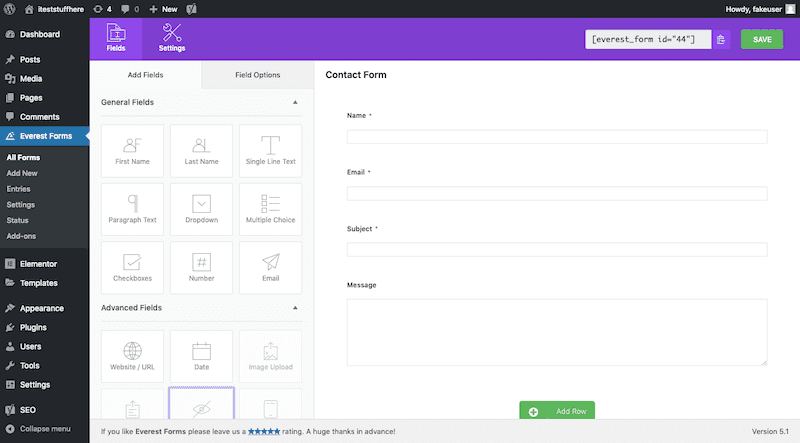 Form Template
Everything within Everest Forms seems to be aimed at simplifying the contact form building workflow. A single template is available for a basic contact form, for instance. Editing the fields of your form (whether you start with the template or make your own) is a breeze as well.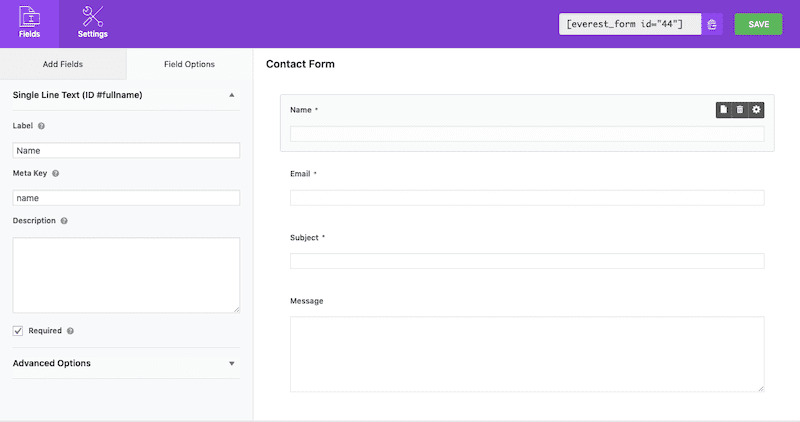 Advanced options do allow for customization with CSS classes. Otherwise, what you see is what you get.
Settings Management
Settings management is also kept to a minimum, with just two tabs for general form settings as well as setup of email notifications for your team as well as those who filled out the form.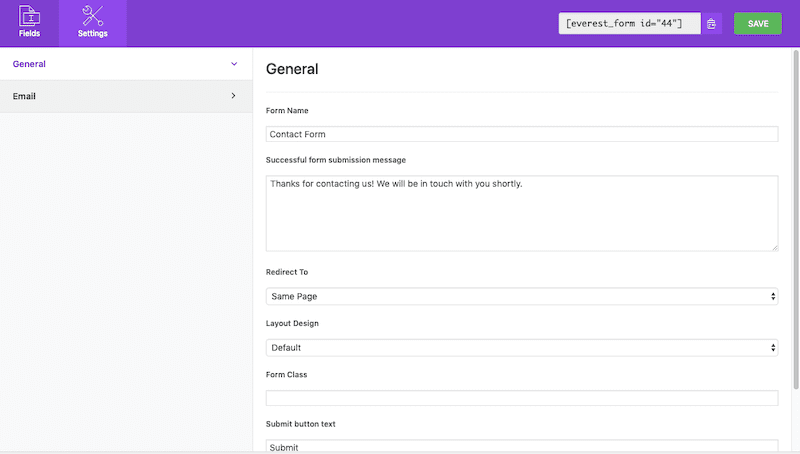 General plugin settings do much of the same, giving you only the options you need to get a form online in no time at all. What's nice about these general settings, however, is that privacy and security are prioritized.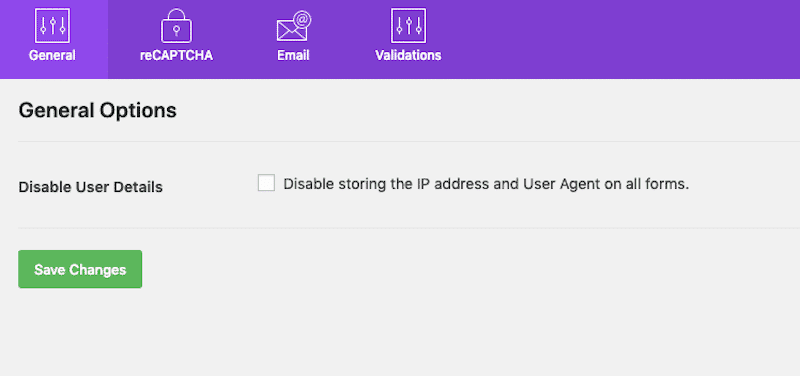 Premium Plugin
Now, Everest Forms does have a premium counterpart. When you upgrade, you get access to additional fields for more creative form building as well as a whole host of add-ons.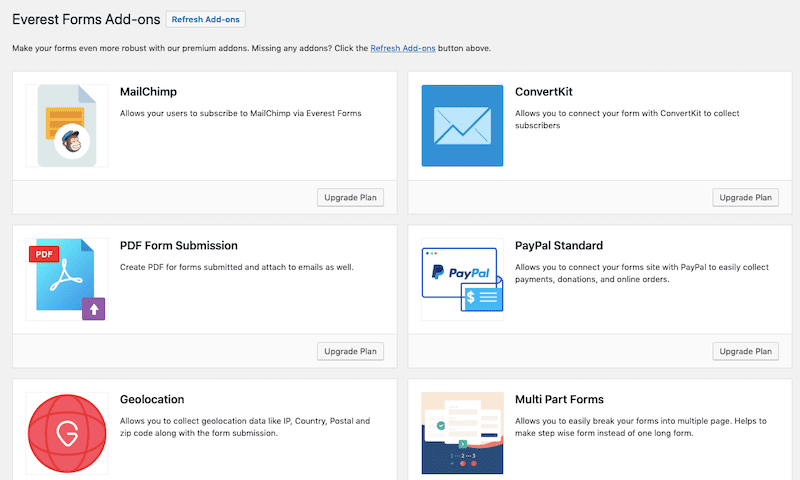 Still, Everest Forms is one of the most user-friendly form builder plugins available right now. If your client's business is brand new and you want to give them the option to scale their contact efforts with customers in the future, this might be your best option. Keep it simple from the start and then expand when needed.
8. Quform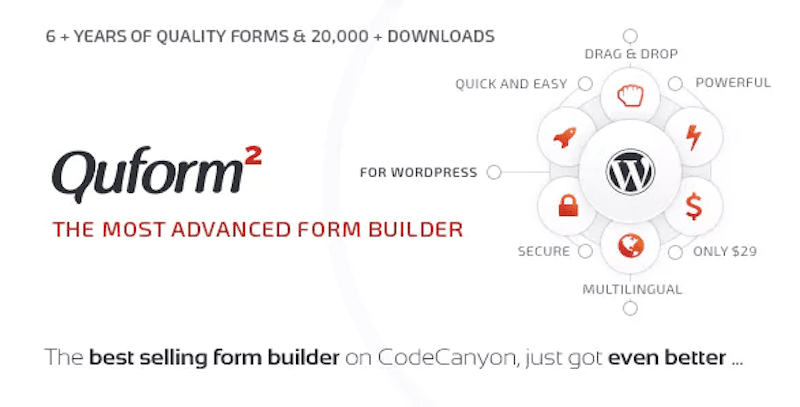 Quform is a premium form builder plugin for WordPress. It gets a strong recommendation from Tuts+ for being "one of most the feature-rich and easy-to-use WordPress form plugins available today".
Here are some of the highlights of this contact form plugin: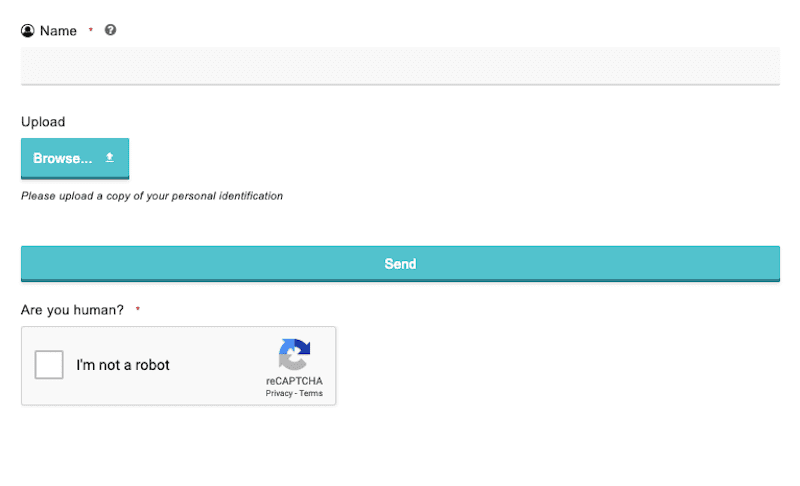 Templates
This is perhaps the only WordPress contact form plugin you'll encounter that does not come with its own templates. That doesn't mean you'll be restricted in terms of the kinds of contact forms you can build — there's a lot here to work with. However, just note that this builder is ideal for WordPress developers that want to craft something from scratch (and with ease in doing so).
Form Builder
Upon creating a new form in Quforms, you'll encounter this simple builder tool. It's like a mix between the TinyMCE toolbar and a drag-and-drop visual builder.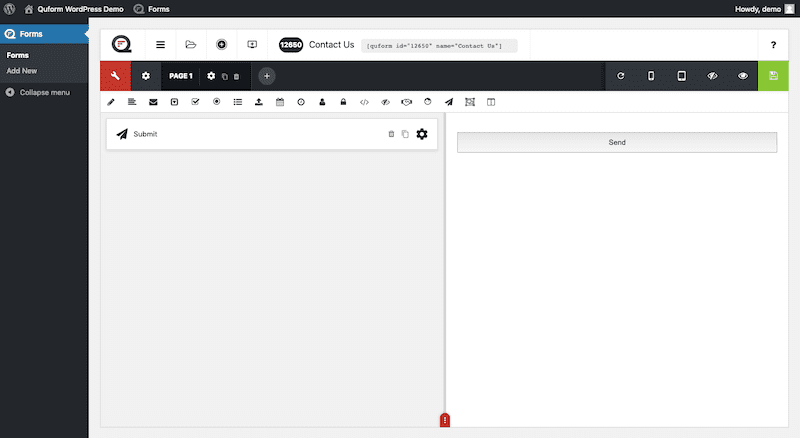 Building is easy once you get acquainted with where the key elements are.
The toolbar contains all of your building blocks as well as options for creating complex, multi-column or grouped layouts.
The module on the left is your drag-and-drop builder. When you click on form elements in the toolbar, they'll appear at the bottom of this screen. You can then move them into place.
The gear widget allows you to configure settings for each element. Open it up, make your changes, and watch as your form updates in real-time on the right.
Mobile Testing
What's quite unique about this plugin is it allows you to build a truly mobile-first contact form for your site. If you look at the top-right of the toolbar, you'll see icons for mobile and tablet. Use these to view your form on smaller screens as you build it out on the left. Or, if you want, use the tiny red slider that sits in between the builder and preview screen to increase or decrease the size of the form preview.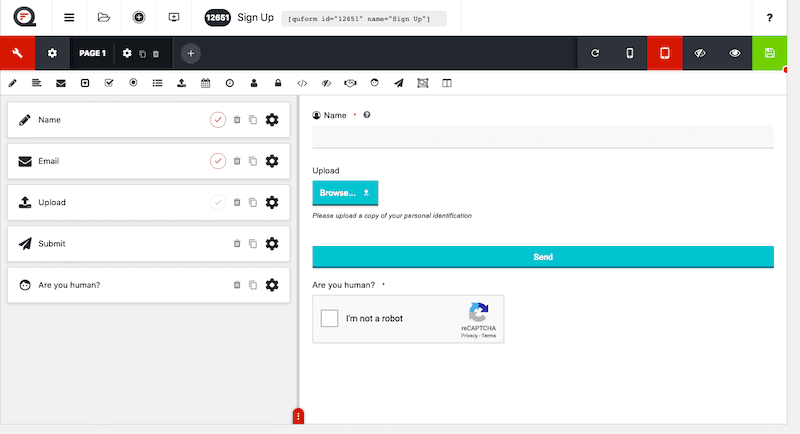 Form Settings
Your forms can be edited on two levels. The first is the overall form settings, which you'll find inside the gear widget in the top-left corner.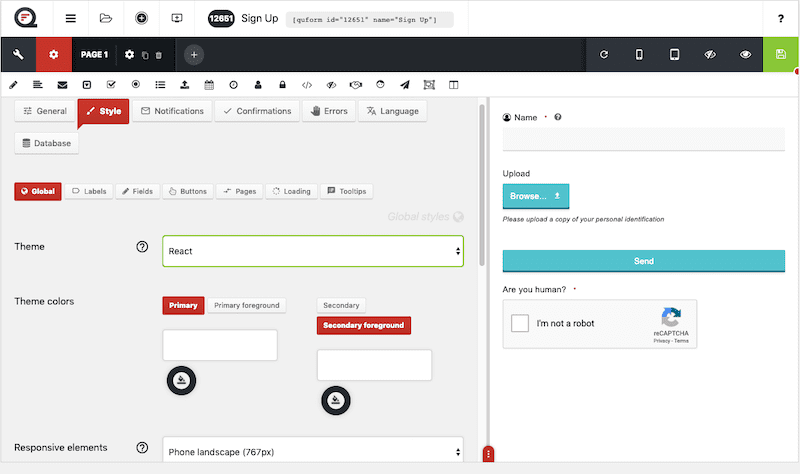 These settings enable you to configure things like GDPR privacy, confirmation messages, localization, as well as the style of each element on your form. You can use premade themes for these elements or customize them yourself.
There's a lot to unpack here, so take some time to go through all of it so you're familiar with what the options are.
Field Settings
As you start to fill your form with fields, you can adjust the settings for each of them as well using the corresponding gear widget.
You may adjust things like:
The style of the element (if you don't want to use global settings):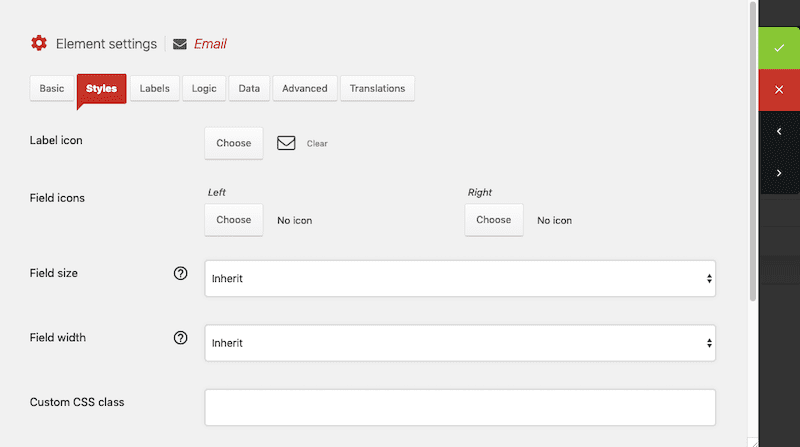 The labels and surrounding text: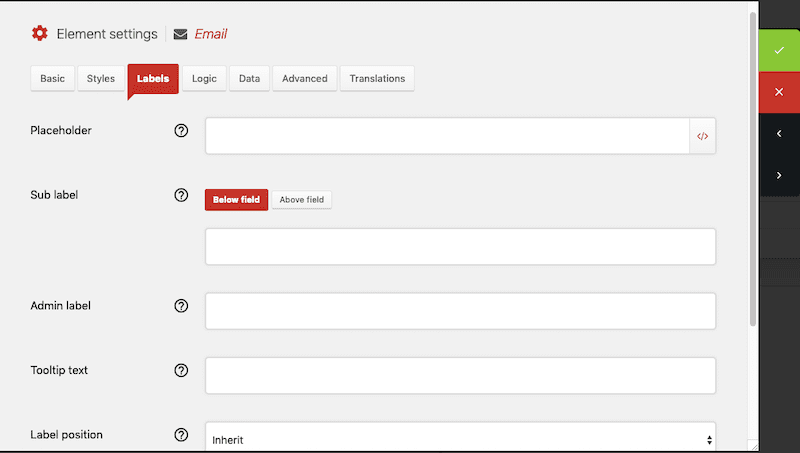 Conditional logic: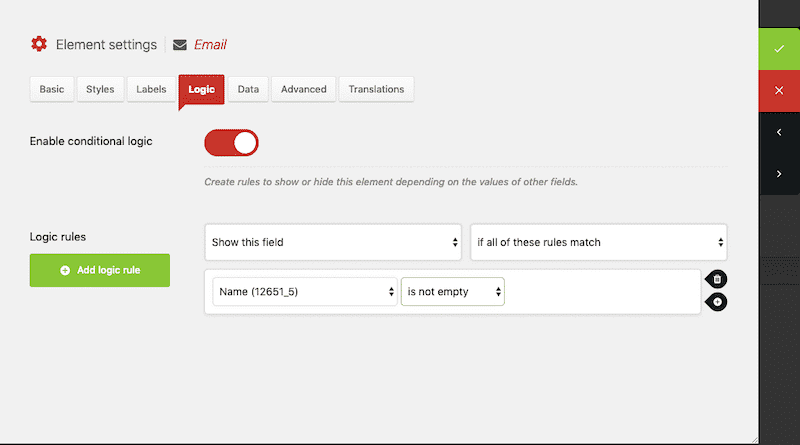 Advanced settings like field visibility and preventing duplicate entries: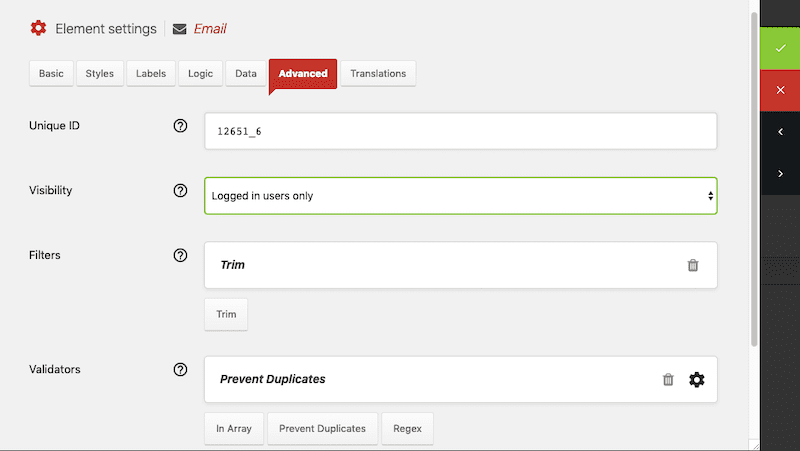 And because there's a great degree of what each field can do — on its own or in relation to others — you could end up with a form that contains elements handled uniquely but that still fit well enough together: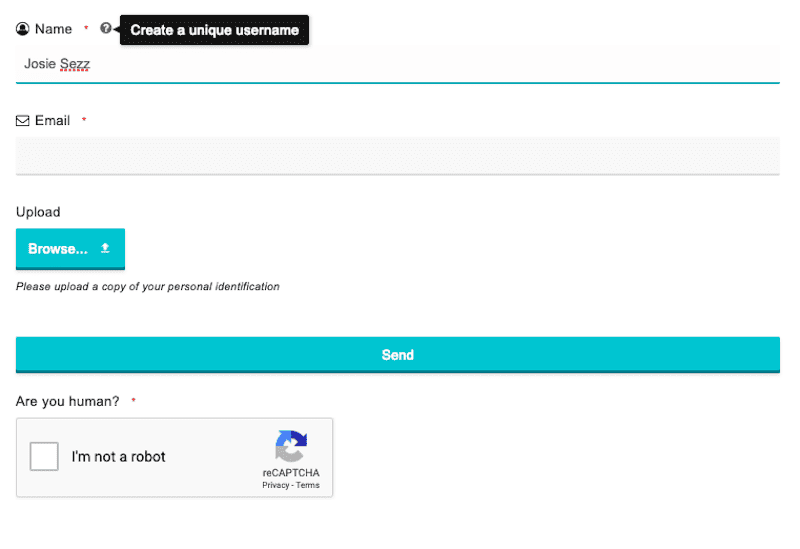 Embedding
Most form builders will give you a shortcode to embed on any page of your website. Some of them are now have dedicated Gutenberg blocks that pull them in. Quform, of course, handles this a bit differently: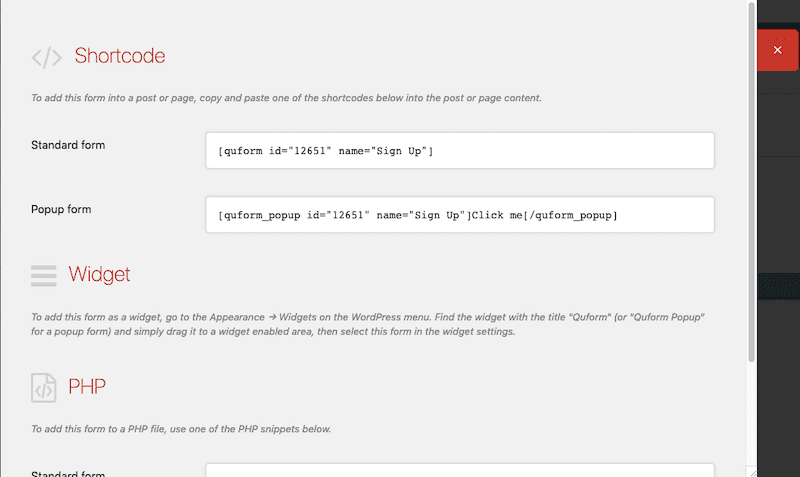 You can use the traditional shortcode to embed on a page, but you have additional options as well:
Add the shortcode to a popup.
Use your WordPress widgets to place it in a widgetized area.
Code it in with PHP.
Free Trial
If you're nervous about pulling the trigger on a premium form builder plugin without a free counterpart in the WordPress repository, don't be. Quform allows users to give its plugin a test run for up to seven days for free.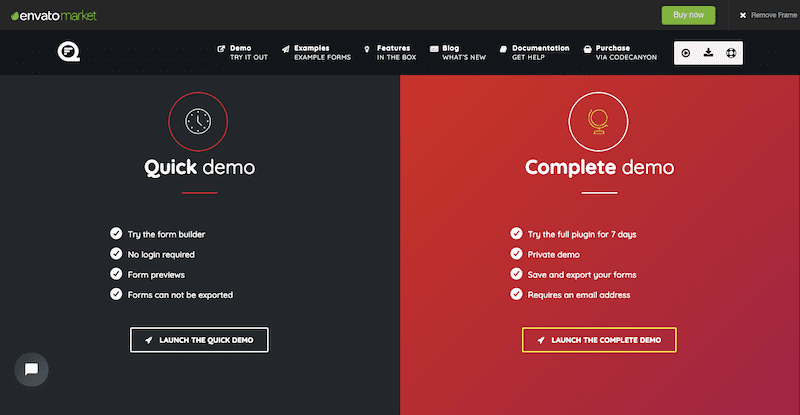 So, if you want to see what a premium experience is like without having to open your wallet, give this a go.
Wrapping Up 🎁
Now that you've seen what the best of the best contact form builders are, which one will you choose?
Caldera Forms is best for:
Clients that need advanced forms that are easy to build and manage.
A plugin that's well-supported by the plugin developer and by WP Buffs.
Gravity Forms is best for:
Websites that use forms for more complex purposes.
Mid-sized businesses and enterprises with money to spend on streamlining marketing and sales processes with premium integrations.
WPForms is best for:
Content creators like web designers, writers, and marketing managers that handle websites.
Websites that would benefit from a stronger lead generation process — all managed from a single tool.
Ninja Forms is best for:
Web developers that want premium plans built and priced specifically for their needs.
Developers that build a wide variety of websites and would get a lot of value out of how versatile the add-ons are for the form builder.
Everest Forms is best for:
Small businesses, freelancer sites, and others that need nothing more than the basics.
Clients that are nervous to spend money, but know they'll eventually be ready to scale.
Formidable Forms is best for:
Developers that want total control over every element of their forms while also still being able to leverage high-quality templates from the plugin.
Anyone who wants a better user experience developer-side, client-side, and end user-side.
Quforms is best for:
Web developers that want to build beautiful looking contact forms from-scratch.
Businesses that have a strong presence and need the ability to build contact forms in a mobile preview.
Each of these plugins checks off the basics of what you'd need in terms of design capabilities, customization, and entry management. It's these noted differentiators that will help you decide on a clear winner.
Don't forget, the WP Buffs got your back when it comes to plugin updates!
Want to give your feedback or join the conversation? Add your comments 🐦 on Twitter.