You probably found this post because you love the functionality offered by Hello Bar. A cool notification bar plugin that you can use to push visitors towards a variety of actions? That's a winner! But when you saw the pricing, you went running for the hills. Am I right?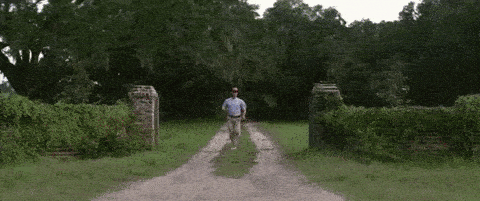 Or maybe you just don't like being forced to give up your valuable Google Analytics data just to sign up with Hello Bar. No matter what your reasons are, you've got plenty of choices when it comes to Hello Bar alternatives.
In this post, I'll lay out some of your best options. And because I know the price is probably a factor, I'll try to stick with mostly free alternatives (though I will still toss in a couple paid ones for objectivity!). Even for the premium options, you'll only need to pay a one-time fee, which is much more palatable than Hello Bar's monthly charge.
Ok, I think that's enough intro, don't you? Let's dive into your best options for a Hello Bar alternative.
1. HubSpot

The HubSpot* WordPress plugin is a free all-in-one marketing tool that brings the power of the HubSpot Growth Platform to your WordPress website.
Its main features are forms, live chat, and email marketing. The popup builder allows you to add beautiful modal boxes, banners, or slide-ins to your website pages. You also have customization options to add an image, several form fields, and choose a color theme that matches the look and feel of your brand.
You can then design your own thank-you message at the end and add a CTA button that can push your visitors to take any action that you'd like.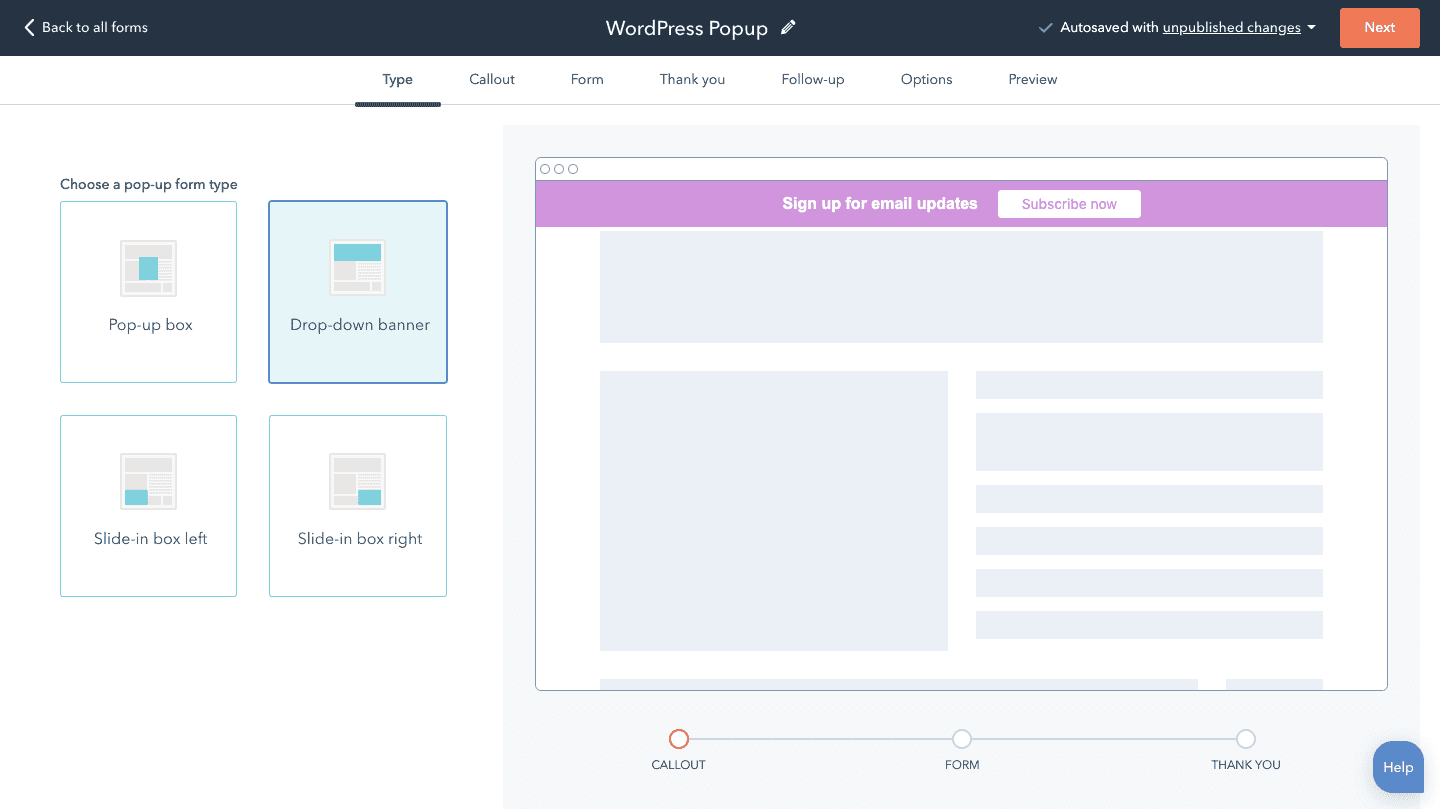 Every contact you capture is automatically added to your free HubSpot CRM, where you can track and manage all of your contact's information and interactions with your website, whether it be emails sent, pages visited, chat conversations, or form submissions.
2. Sumo Smart Bar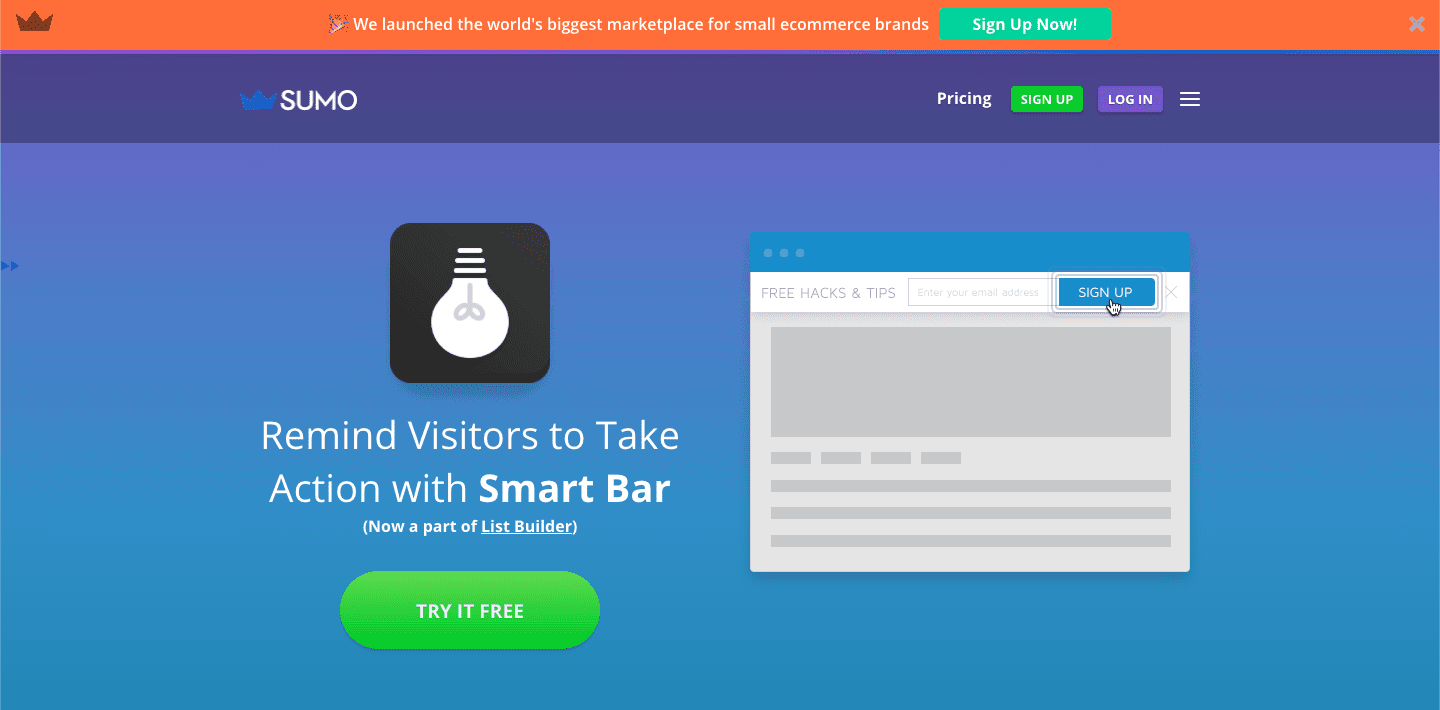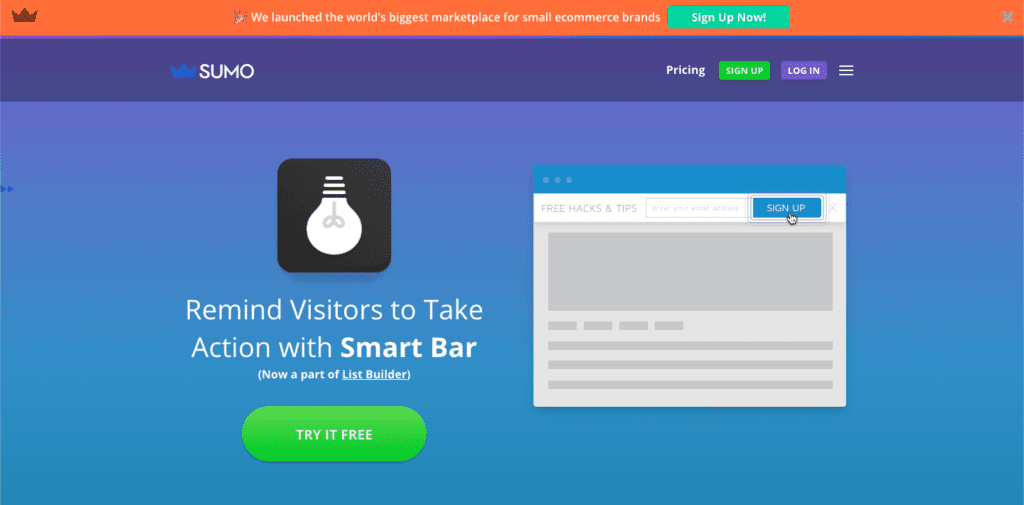 Sumo Smart Bar is #1 on this list because it's what we use here at WP Buffs. Smart Bar comes in two flavors:
In the free version, you can add a bar to the top of your visitors' screens that encourages them to:
Sign up to your email list
Follow you on social media
Read your latest blog post
Or any other normal call to action!
One nice thing about Smart Bar is that these notifications are also optimized to work well on mobile. And you're even flexible in how they display – you can have your bars display all the time or only when a visitor scrolls up.
If you go pro, you'll also get:
A/B testing just like Hello Bar
15+ templates
Advanced display rules to choose when your bars show up – e.g. show different bars depending on if someone came from Facebook or Twitter
No Sumo branding
3. WP Notification Bars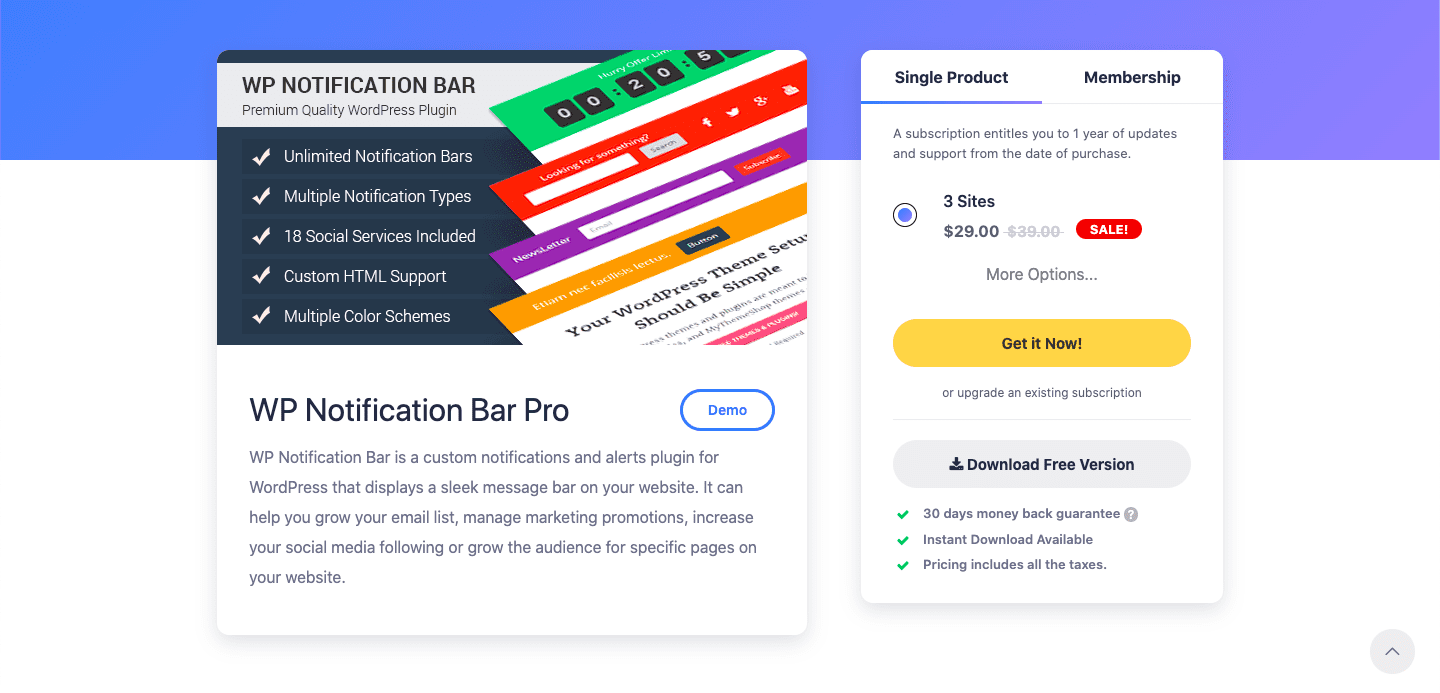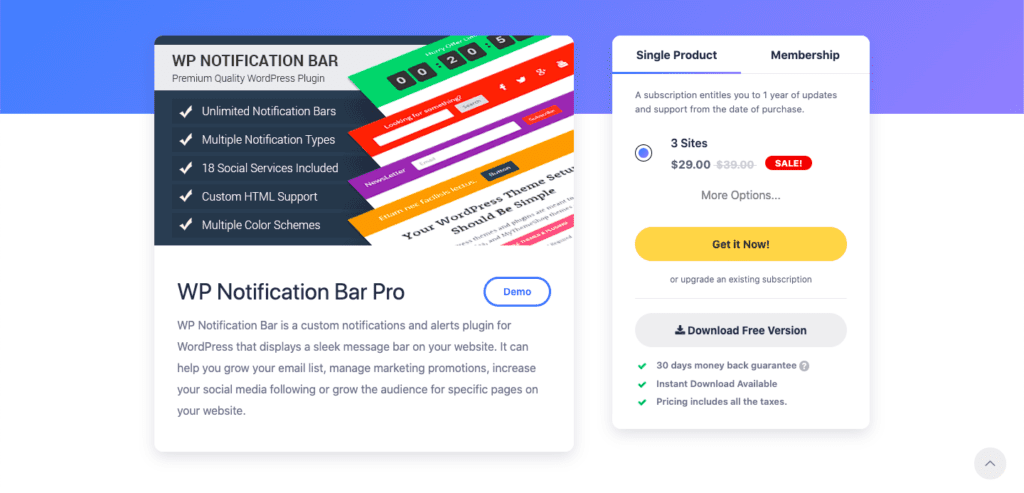 WP Notification Bars is a freemium notification bar plugin from popular developer MyThemeShop. The free version doesn't quite match the feature set offered by Hello Bar, but if you go with the pro version, you can get pretty close for just a one-time fee.
In the free version of the plugin, you can create unlimited notification bars with unlimited colors. However, you can only really use the free version to create CTAs. No email opt-ins or social sharing like you can do with Hello Bar.
The free version does have one neat feature, though – you can target your notification bars to specific pages or traffic sources for better personalization.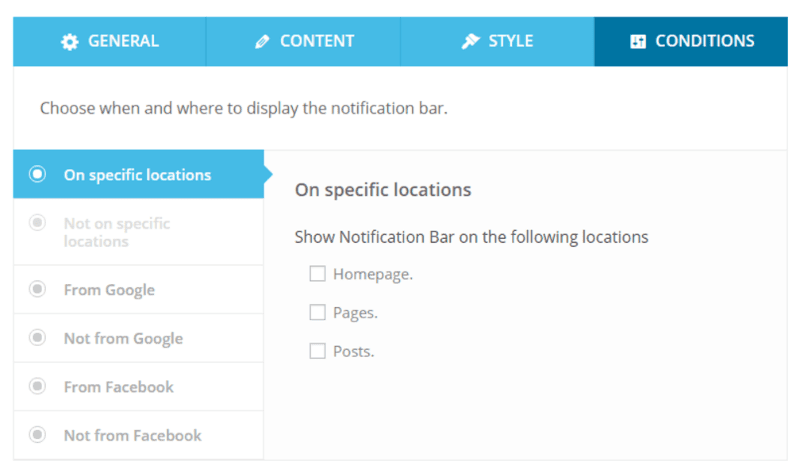 If you go with the pro version for $29, you'll get access to email opt-ins, social buttons, countdown timers, search bars, and more. You'll also get even more detailed targeting options.
The only core feature that the pro version is missing when compared to Hello Bar is easy A/B testing.
Go to WP Notification Bars Free | Go to WP Notification Bars Pro
4. Notification Bar for WordPress


Notification Bar for WordPress is another freemium option that lets you create beautifully styled notification bars.
In addition to the beautiful styles, it also sets you up with a variety of notification types. You can add:
Email opt-ins
Social buttons
Standard text
A ticker of your latest posts
And you can even add animation to your notification bars.
There's also a premium version that adds more styles, detailed targeting options, and a few other useful features for $17.
Unfortunately, though, you still don't get A/B testing like you would with Hello Bar. As you'll see throughout this list, lack of A/B testing is a commonality among most of the free Hello Bar alternatives.
Go to Notification Bar for WordPress
5. WordPress Notification Bar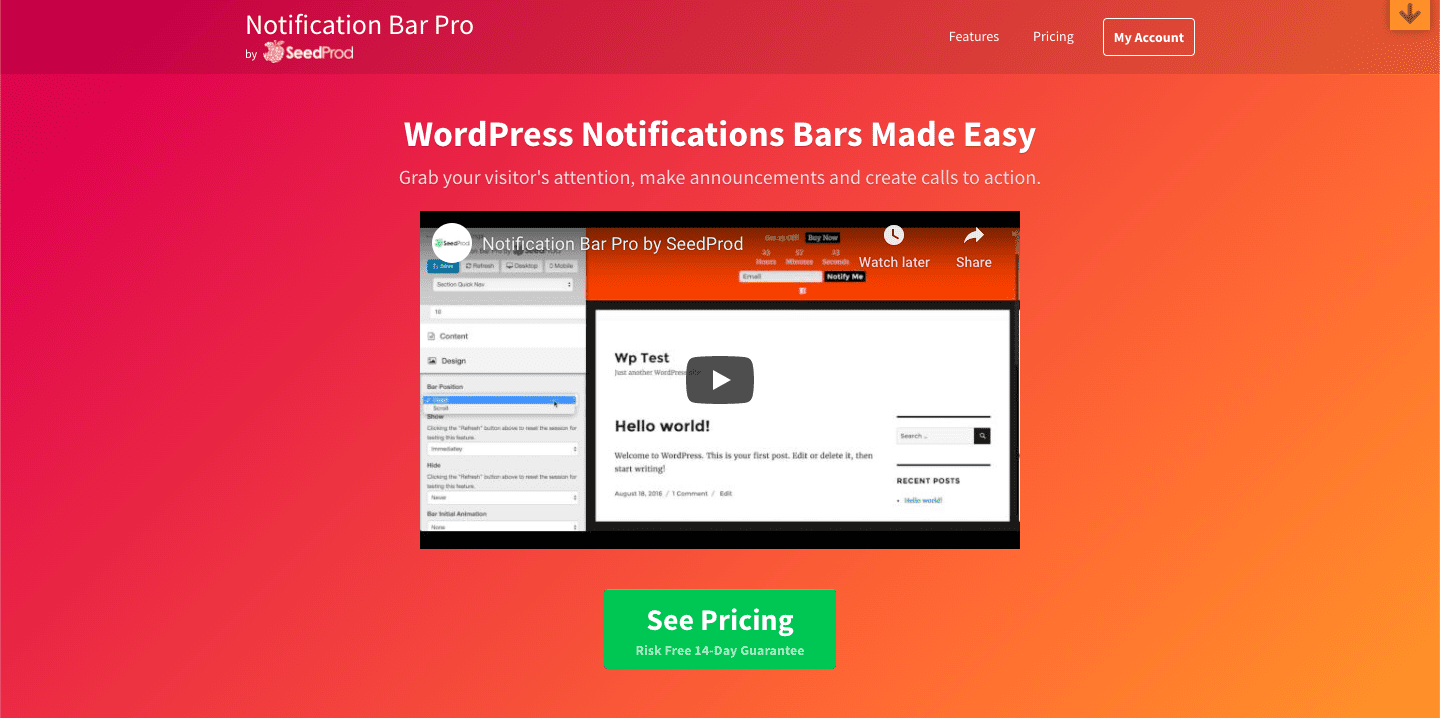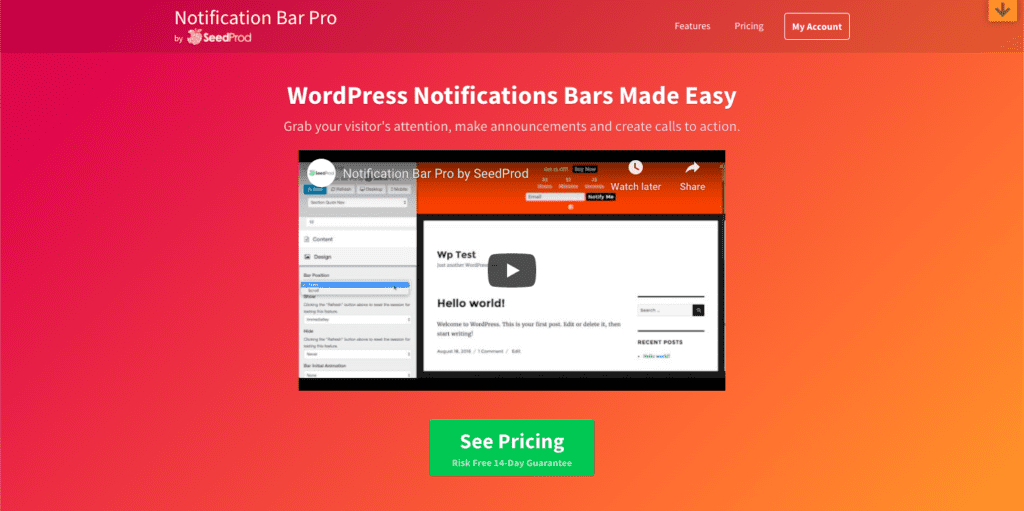 Let's add another freemium option to the list! WordPress Notification Bar allows you to add a few different types of notification bars depending on whether you've got the free or the pro version.
In the free version, you can set up a basic CTA notification bar and customize its color to match your site.
Unfortunately, that doesn't get you very near to the functionality of Hello Bar (unless all you need is a CTA).
But if you upgrade to the $29 pro version, you'll get access to more notification bar types including:
Email opt-ins
Social buttons
Countdown timers
You'll also get more detailed targeting options as well as a really nifty real-time customizer that lets you see a live preview as you build your notification bar.
But as is the trend…there's still no A/B testing.
Go to WordPress Notification Bar
6. Top Bar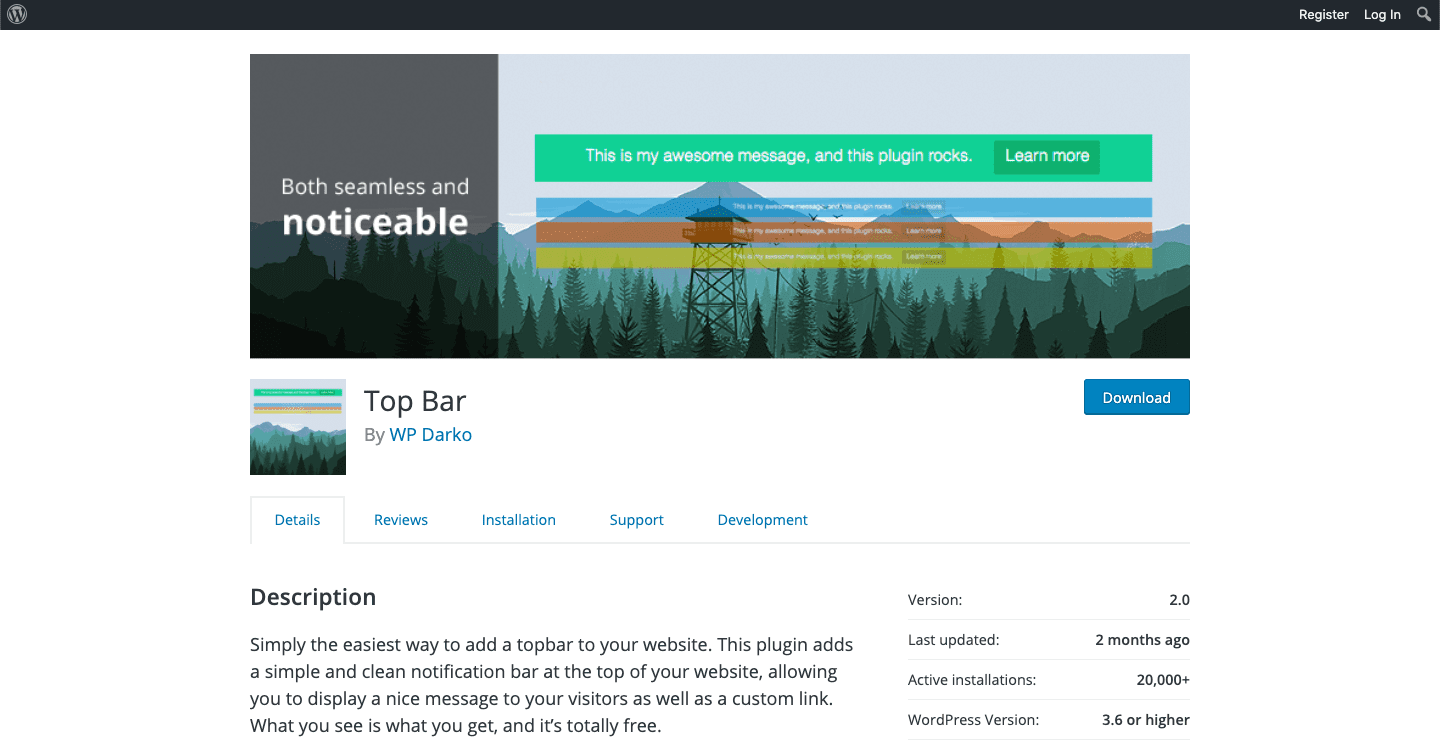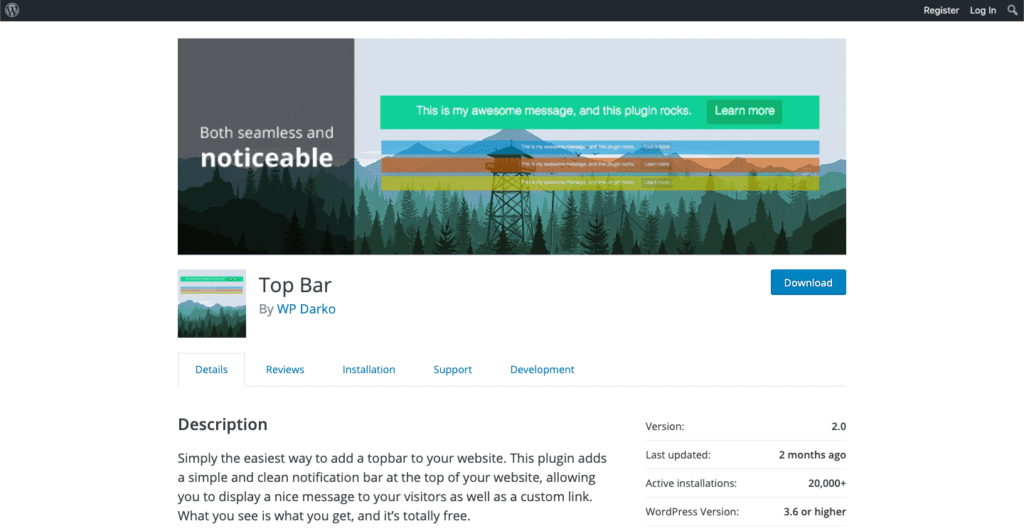 In my opinion, Top Bar creates the most beautiful notification bars of any Hello Bar alternative on this list. All the bars are minimalist and gorgeous.
So why didn't I put Top Bar at a position on this list befitting its name (the top!)? Because it's limited in the types of bars you can create.
All you can create is basic CTA notifications. If that's enough for you, I think it's a great option because of its beautiful designs.
But if you need email opt-ins or social buttons, you'll need to use one of the other Hello Bar alternatives.
There is a premium version of Top Bar, but all it adds is new targeting and functionality. That is, no new notification types.
7. Sleeknote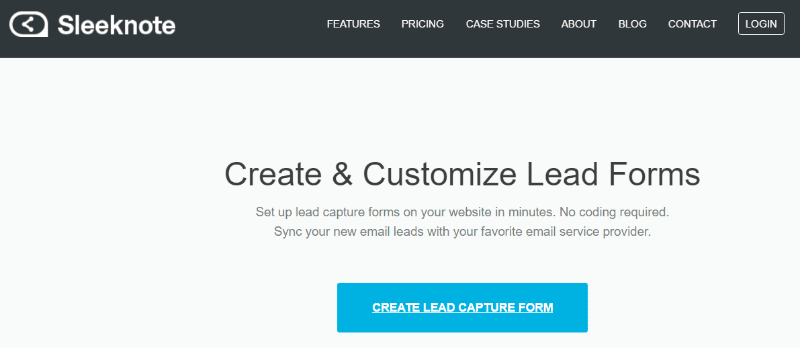 Ok, I told you that I was going to throw some paid versions into the mix, as well. Sleeknote isn't a good Hello Bar alternative because it's cheaper…no, it's because Sleeknote offers a ton more functionality.
See, Sleeknote can help you create detailed notification bars with page-level targeting, API integrations with email marketing services, and A/B testing.
But it can also do a lot more on top of that.
First off, you can go in-depth with targeting, opting to target users by specific referral sources, or even specific UTM tags.
You can also offer different functionality based on a user's cookie, which is a good way to avoid annoying your visitors.
Oh, and did I mention that you're not limited to notification bars? You can also create tons of other types of opt-ins or messages.
What's the catch, then? Well, Sleeknote is actually more expensive than Hello Bar, coming in at a cool $69 per month for the cheapest plan.
8. Foobar – WordPress Notification Bars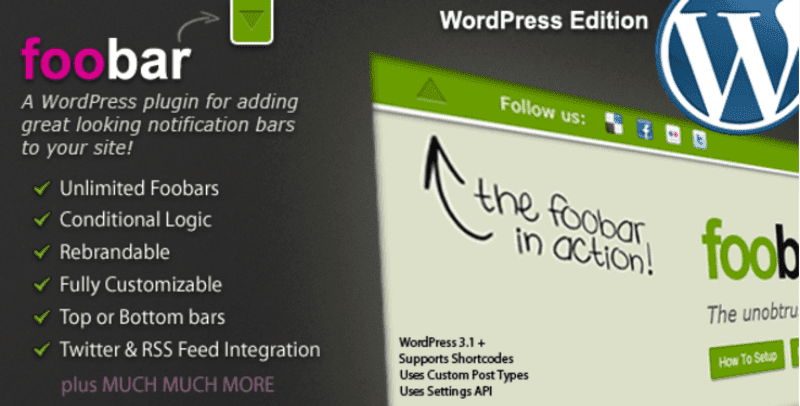 Foobar is another premium Hello Bar alternative. But don't worry – it's nowhere near as expensive as Sleeknote.
No, Foobar only costs a $17 one-time payment.
For that $17, you get the ability to create unlimited notification bars complete with conditional logic and custom branding.
You can include a normal CTA notification bar, or push readers towards your newsletter or social profiles with email opt-ins and social share buttons, respectively.
You can also use Foobar to display the latest posts from an RSS feed. This lets you create something akin to a news ticker on your site.
But again, you don't get any built-in A/B testing functionality.
9. WPFront Notification Bar

Let's round things out with one more free Hello Bar alternative!
WPFront Notification Bar lets you display a custom message with an optional button. You can customize your bar's height as well as specify a delay before the bar appears (good for grabbing a reader's attention).
You can either make the bar sticky or allow visitors to close it. If you allow visitors to close it, you can also add a button to reopen the bar.
As for targeting options, WPFront Notification Bar lets you target your bars to specific posts/pages as well as specific user roles (nice if you're running a membership site).
And you can also add specific start/end dates if your notification bar is for something time-sensitive.
All in all, it has some nifty features but is lacking any support for social follow buttons or email opt-ins. Nor does it have A/B testing like Hello Bar.
Go to WPFront Notification Bar
Wrapping Up
I have nothing against Hello Bar. But the free version of Hello Bar only works for up to 25 clicks, which pretty much means you're guaranteed to be paying a monthly fee for as long as you use Hello Bar.
Even though it starts off small, that fee quickly adds up.
You can escape the monthly fee by using one of these Hello Bar alternatives. Most of the time, the only thing you're losing out on is A/B testing. If that's a deal-breaker for you, then you should stick with Hello Bar.
Some plugins may also cause your website to slow down, but none of the ones listed here have been shown to do that. So you should be good to go!
Otherwise, WP Notification Bars and WordPress Notification Bar are my two personal favorites!