If you want to see your number of repeat visitors increase and build an audience that will regularly return to your website, you'll need to build an email list.
And that's where exit-intent WordPress popup plugins come in.
Why Is An Email List So Important?
Simply put, everybody uses email! You need to put your content where your audience spends time, and that's going to be in their inboxes across almost every industry.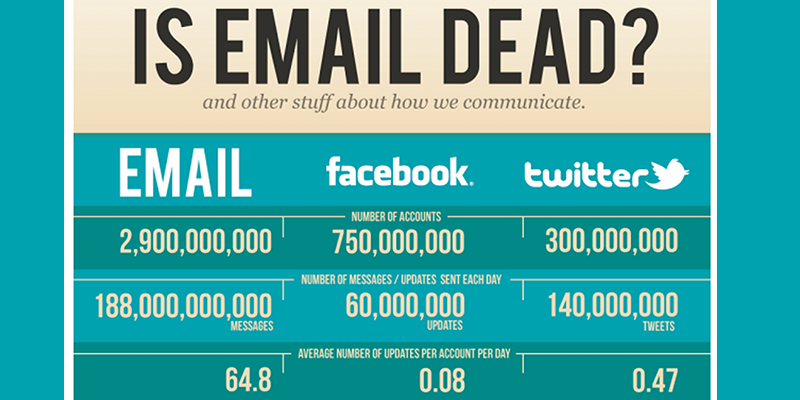 While keeping your website 99.9% secure and achieving loading times under 1 second is important, collecting email addresses is what will make the difference when it comes to the financial success of your website.
Email marketing is also extremely effective. Consumers who receive email marketing spend 83% more when shopping. In addition, the average return on email marketing investments is $44.25 for every $1 spent, which is multiples better than the ROIs for social media or digital advertising.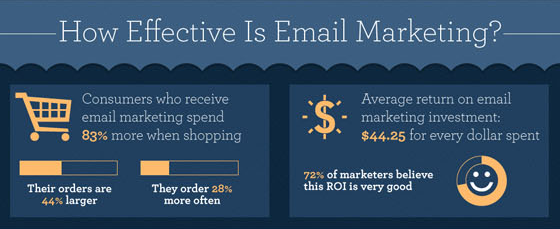 How Exit-Popups Can Help
We've all been to websites that show a popup immediately. They ask you to join their email list, enter a contest, or get involved on Facebook or Twitter.
Statistically speaking, most people won't opt into your email list. If 5% of visitors give you their emails, that's a big win.
But even if you convert 5% of your traffic, that still leaves 95% of visitors who left without wanting to stay in touch. All these people were uncertain or hesitant to let you shoot them the occasional email.
An exit-intent popup, which appears when the user's mouse floats towards the top of the browser to leave the page, may turn some of those dubious visitors into subscribers by simply giving them one final offer.
Let's say that with your next exit-intent popup implemented, your website will convert 8% of visitors instead of 5%. If you're attracting 100 visitors a day, that's 8 new subscribers instead of 5. If you're getting 1000 visitors a day, that's 80 instead of 50!
The fact is this could make a huge difference for your email list's conversion rate, so it's definitely worth giving a shot.
1. HubSpot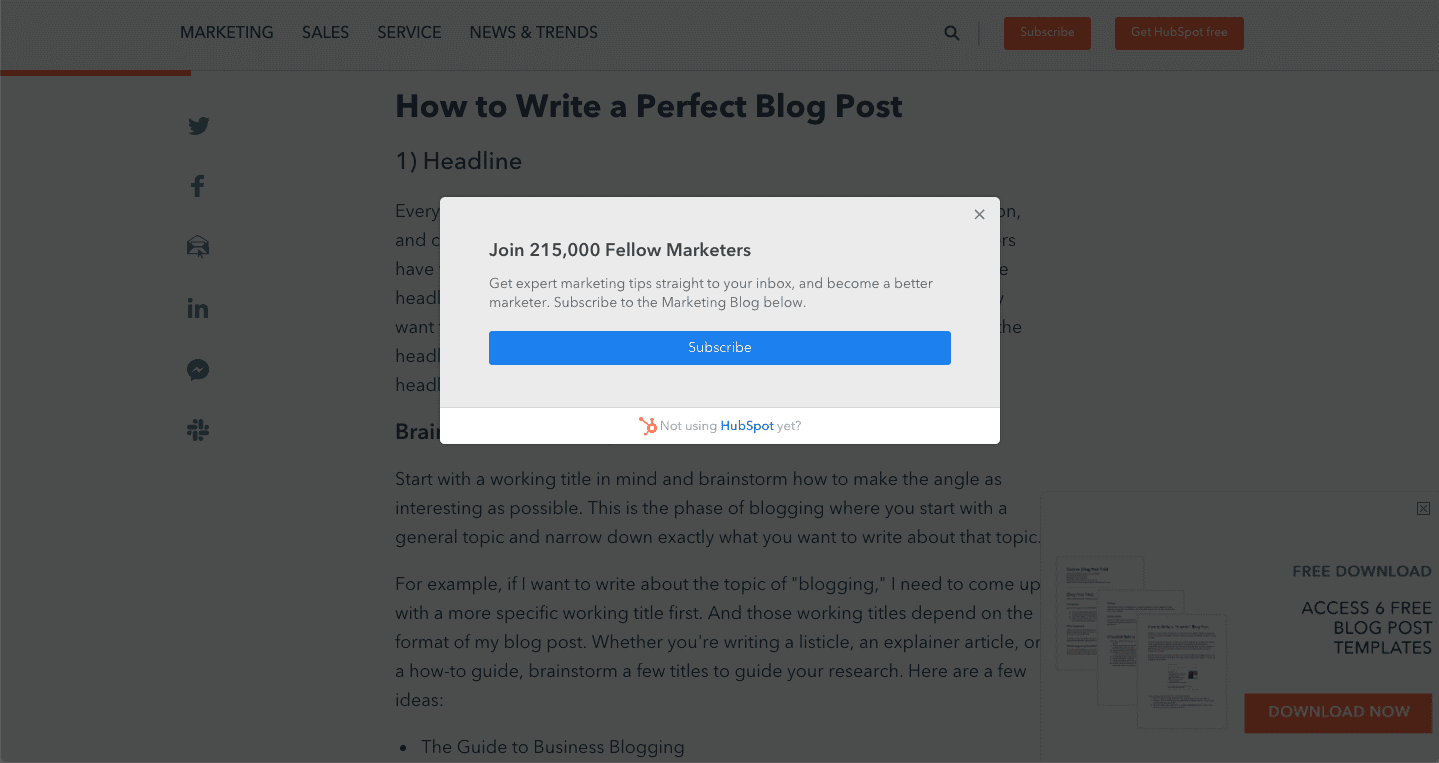 HubSpot's WordPress plugin* brings the power of the HubSpot Growth Platform to your website. Over 100,000 businesses use HubSpot to attract, engage, and delight their prospects and customers. The plugin is built to handle and improve your sales, marketing, and services.
HubSpot's popup builder is highly intuitive and easy to use. You can choose from three different styles of popups: box, banner, or slide-in.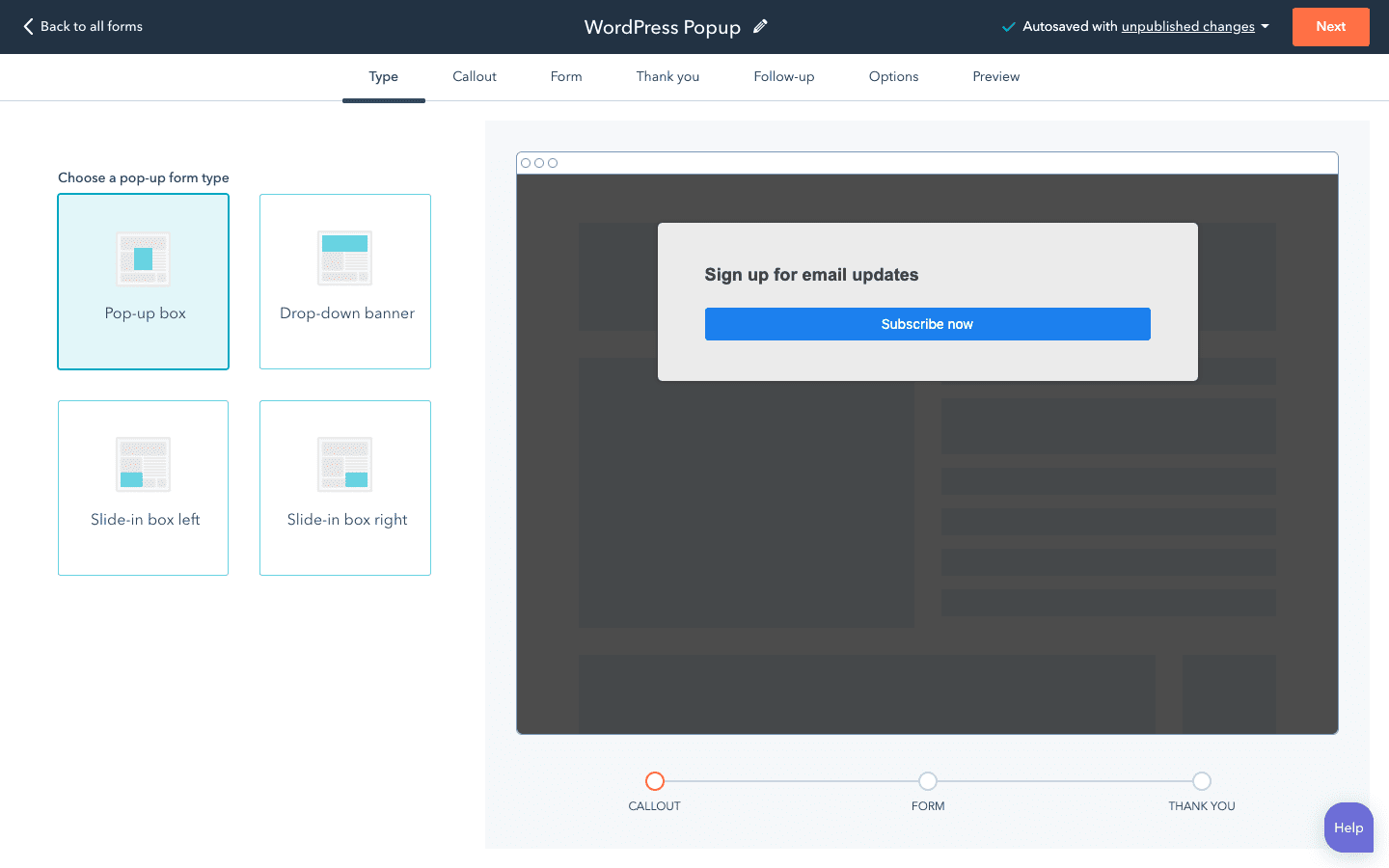 You are then prompted to the customizer where you can edit the text that appears in your popup, add an image and relevant form fields. You can also edit the color so it matches the look and feel of your brand.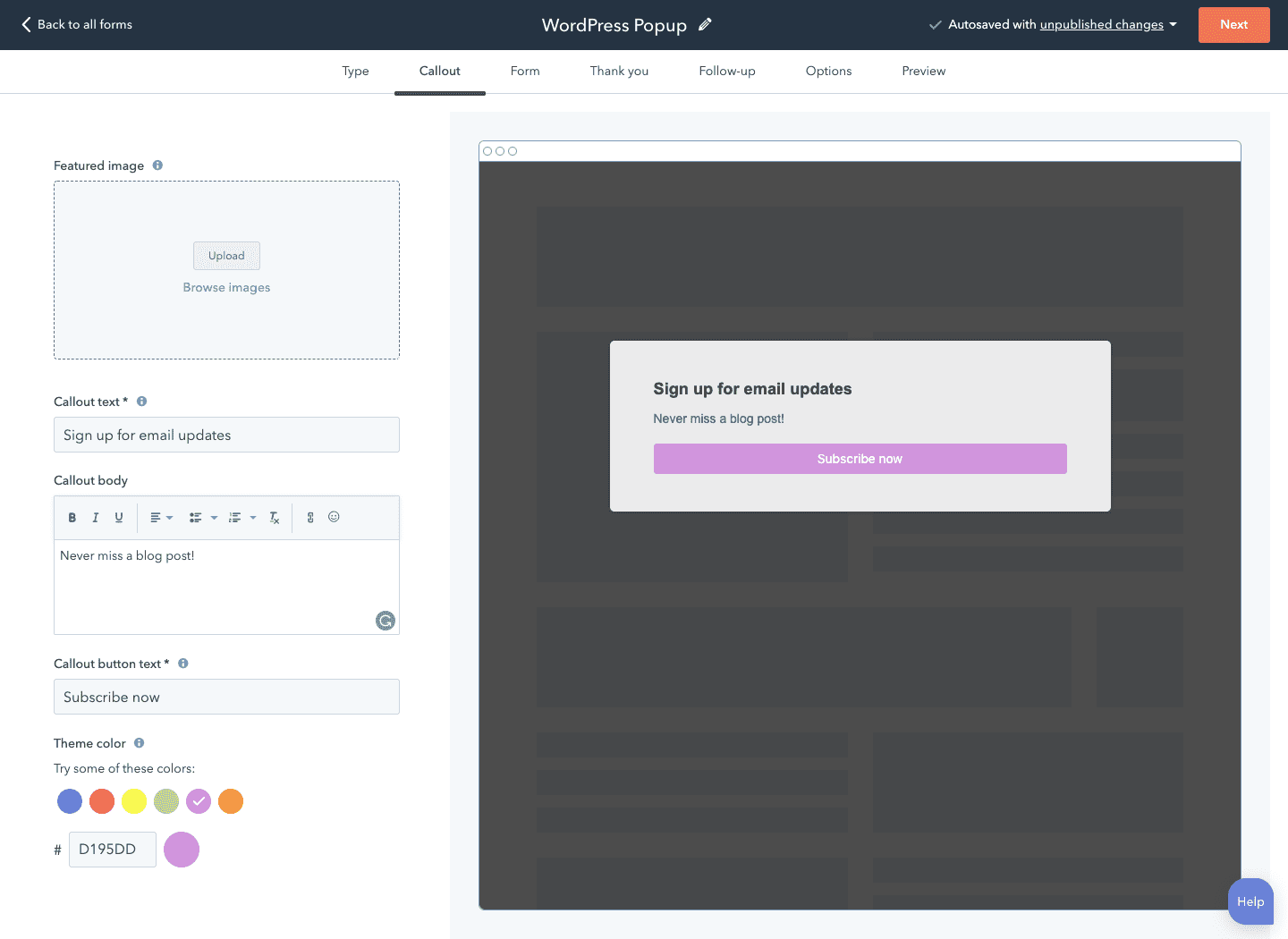 You can then design your own thank-you message at the end and add a CTA button that can push your visitors to take any action that you'd like.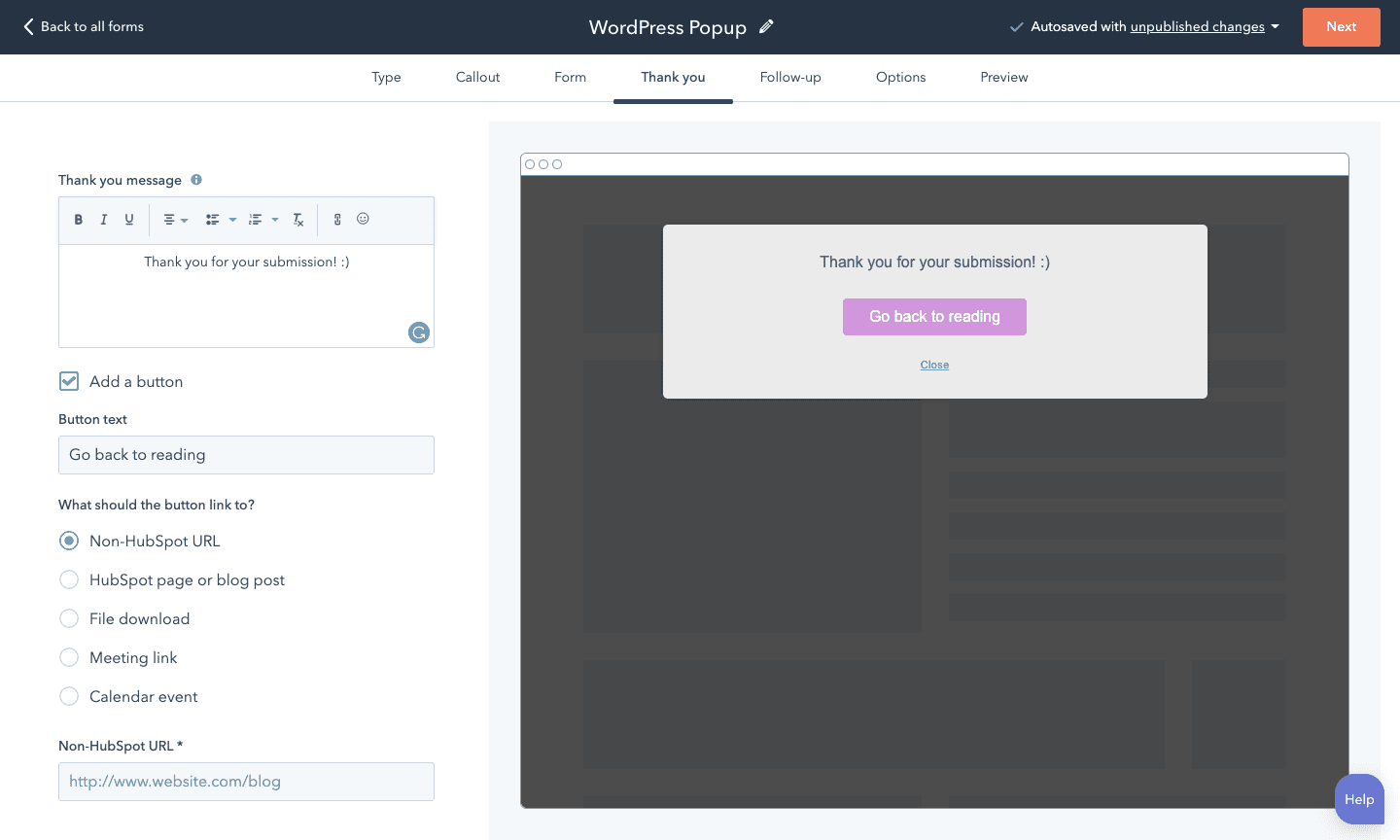 Every contact you capture is automatically added to your free HubSpot CRM, where you can track and manage all of your contact's information and interactions with your website, whether it be emails sent, pages visited, chat conversations, or form submissions.
Install the HubSpot WordPress plugin* to take your marketing game to the next level.
2. Exit-Intent Popups by OptiMonk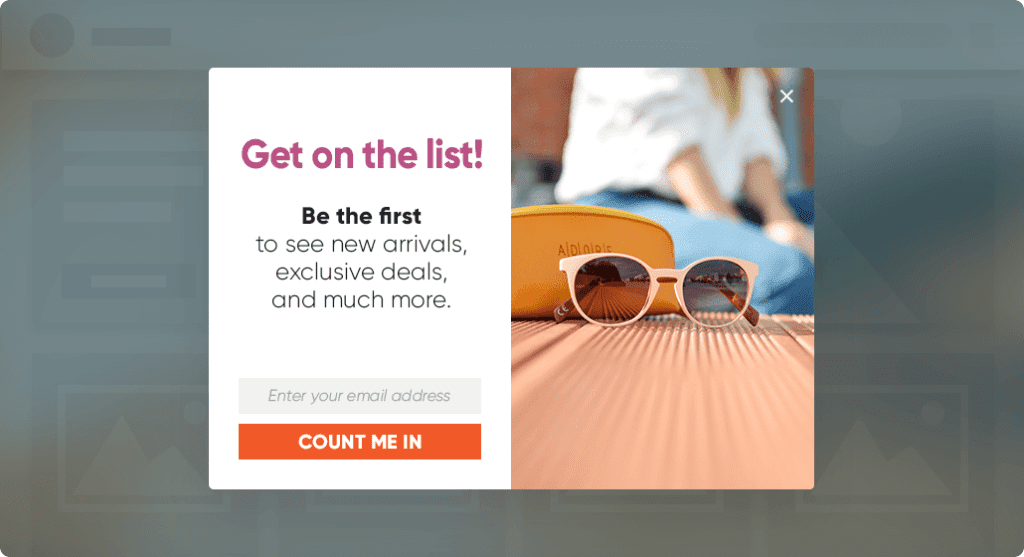 Transform your website's doubtful visitors into new customers with the award-winning Optimonk plugin. They even offer a 14-day free trial!
This exit-intent plugin gives you an extremely simple yet powerful method to convert more of your website's visitors into buyers as well as build out your email list. Your customized messages appear with a special offer at the exact moment your visitor is thinking about leaving your website (down to the millisecond).
Simply put, you get a second chance to convince your visitors to become part of your audience.
The team behind Optimonk are also obsessed with the human experience. They'll give you all the tools to show exit-intent popups with the right message to the right people at the right time.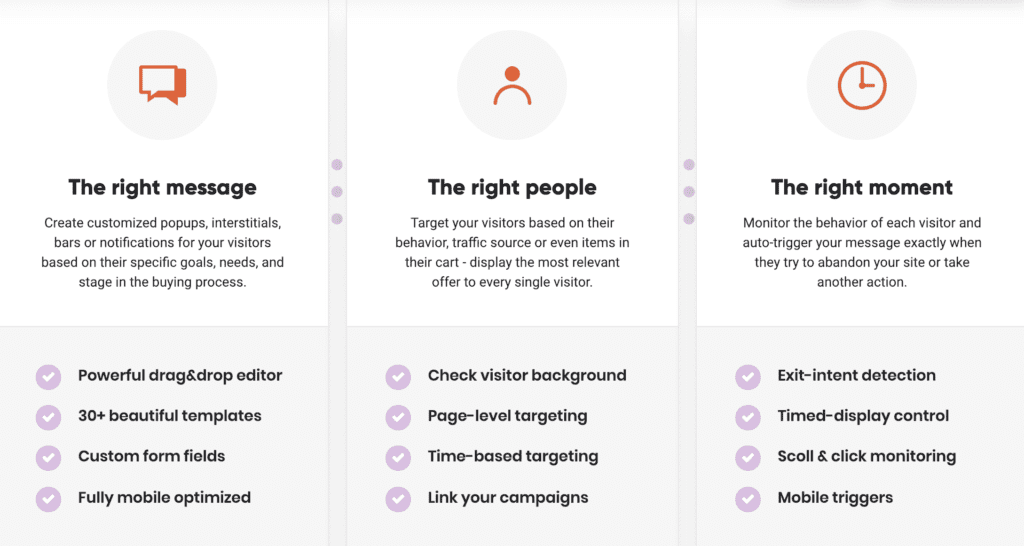 Basic features:
Create as many exit-intent popups as you want
Various premium templates to choose from
Simple customization with their editor
Popups can trigger because of exit-intent, page scrolling, upon entry to the website or after "x" seconds
Free integration with MailChimp, iContact, GetResponse, InfusionSoft, AWeber, etc.
No source code editing required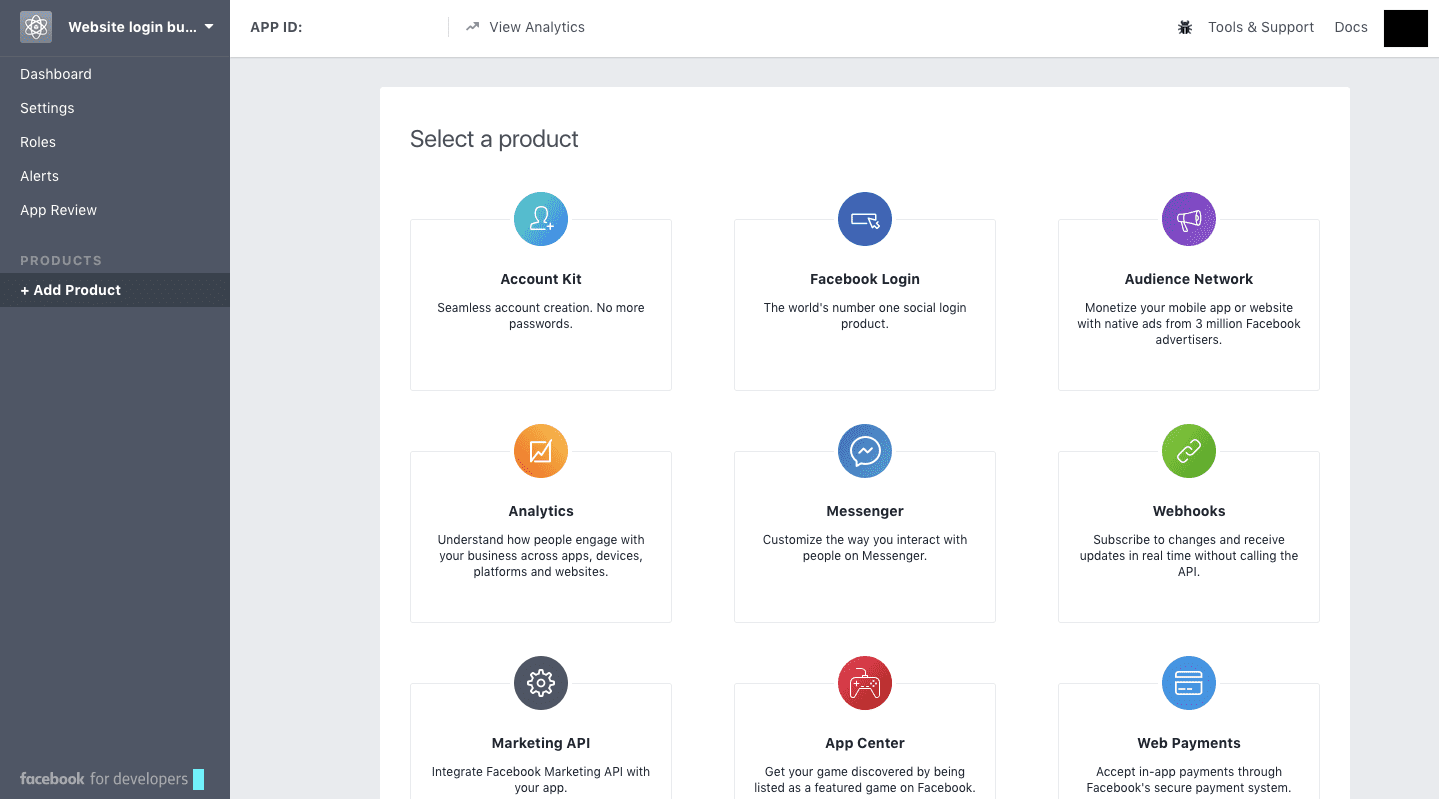 Advanced features:
Quite sophisticated targeting and segmentation options
Popups for multiple pages
All popups are responsive and mobile-optimized
Ability to delay the display of closing "X"
Ability to embed custom forms and surveys
You can schedule campaigns instead of launching them immediately
Target popups based on geographic location
Run A/B testing to see which popups convert the best
Tagging and segmentation specifically for eCommerce stores
And then there's the Optimonk team! To grow together with their customers, they'll pay very close attention to your needs. That's why they're so open-minded. Their team is constantly asking for feedback from both their users and colleagues.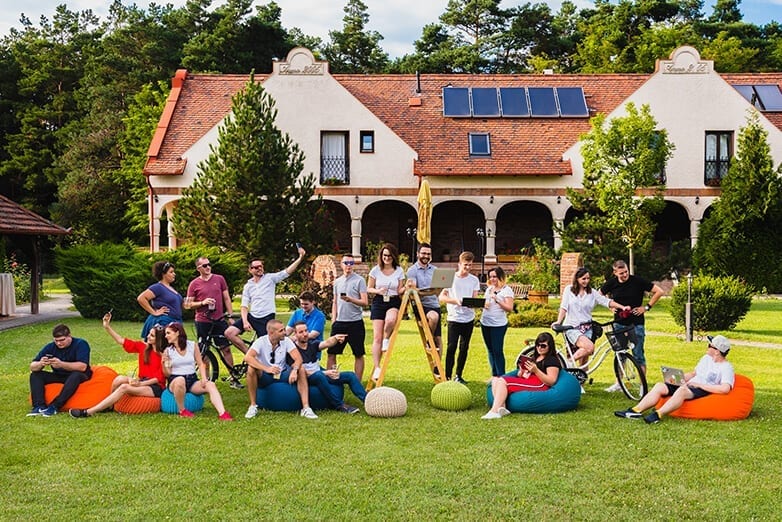 Finally, there are the fans of Optimonk. People have great things to say with their experience using their plugin!

3. MailMunch
MailMunch is one of the fastest growing lead generation services around.
Anybody can create high-converting exit-intent popups within minutes using the powerful drag-and-drop builder and templates. It's super easy to create any layout in minutes for a highly converting email opt-in.
As you can see, they have all the features you'd want from a list-building plugin, including exit-intent technology to convert website visitors who are thinking about bouncing.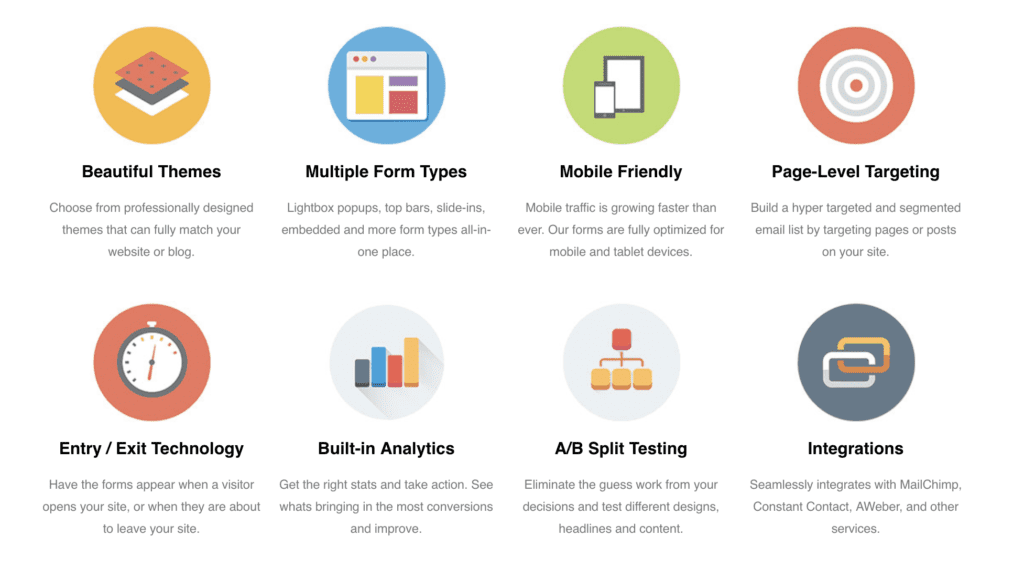 They also have some fantastic online reviews. Sarah used MailMunch to increase conversions by 550%. That's a game-changer!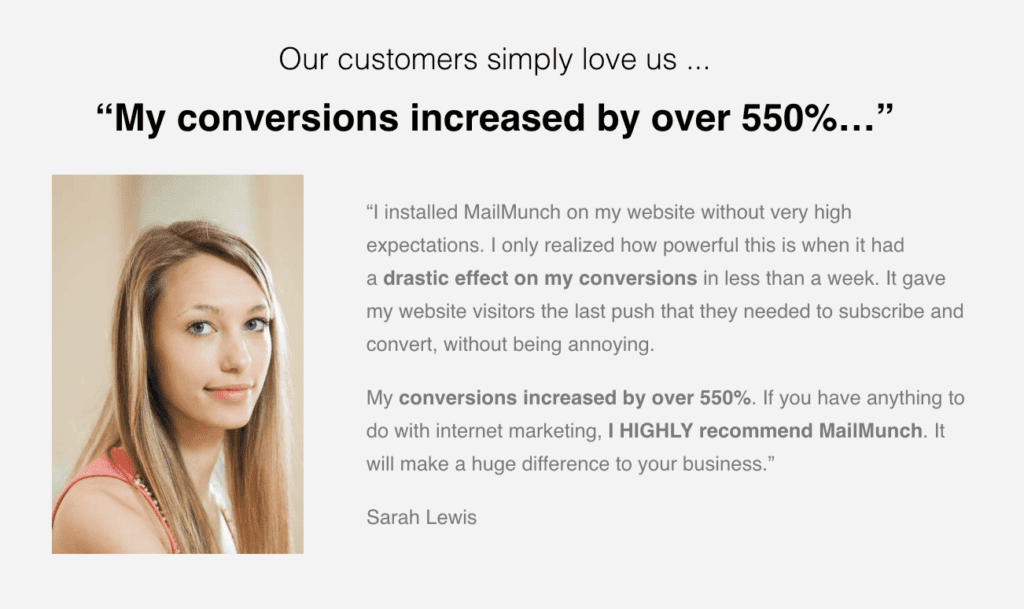 And no matter what email service provider you're using to collect those email addresses, MailMunch has a robust set of integrations so sending your email addresses to the right place will be as easy as pie.

4. OptinMonster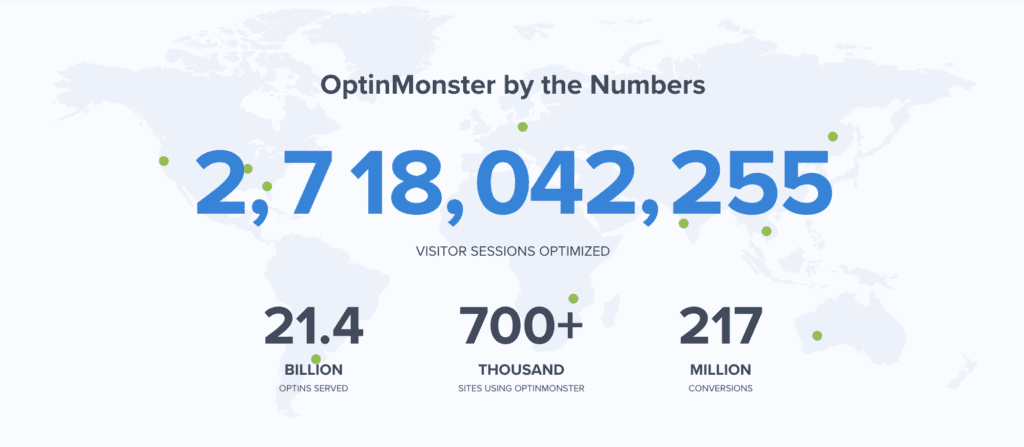 OptinMonster is lead-generation software with a proven track record to drive massive results!* They have some unique features that make them among the most effective lead generation and customer acquisition WordPress plugins around.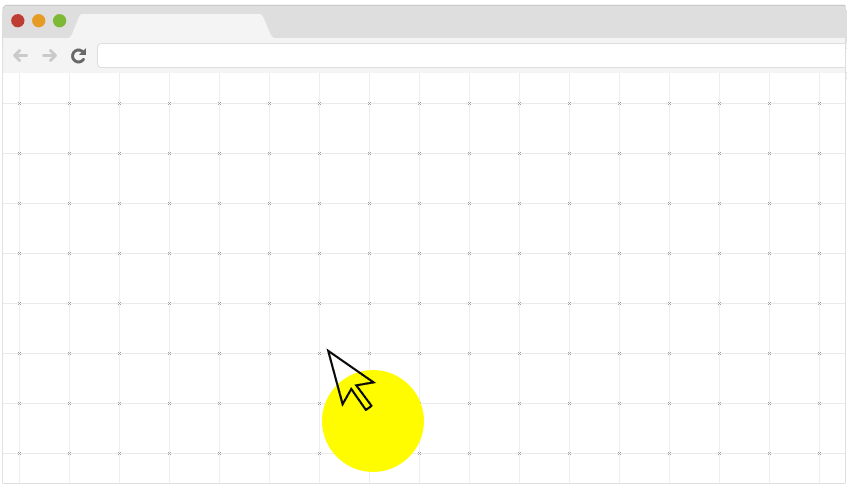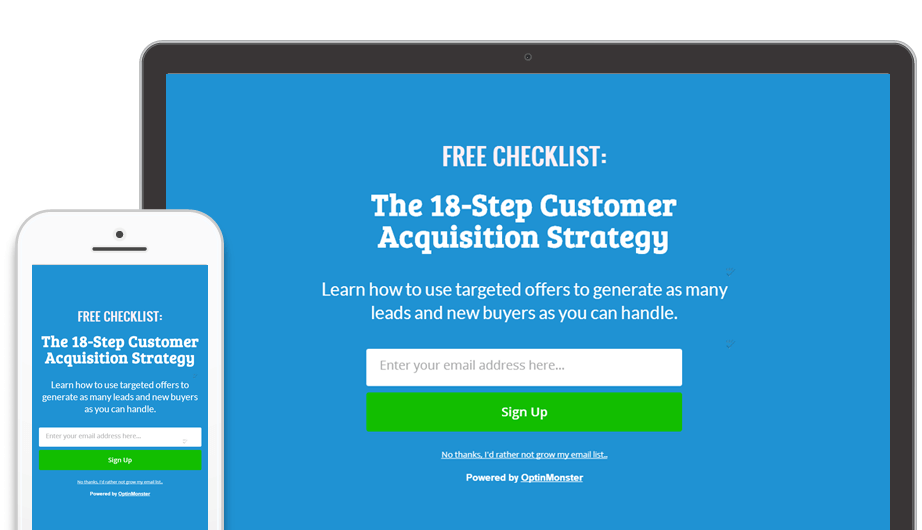 And maybe most importantly, they have tons of integrations* so OptinMonster will work perfectly alongside all the other software you have running.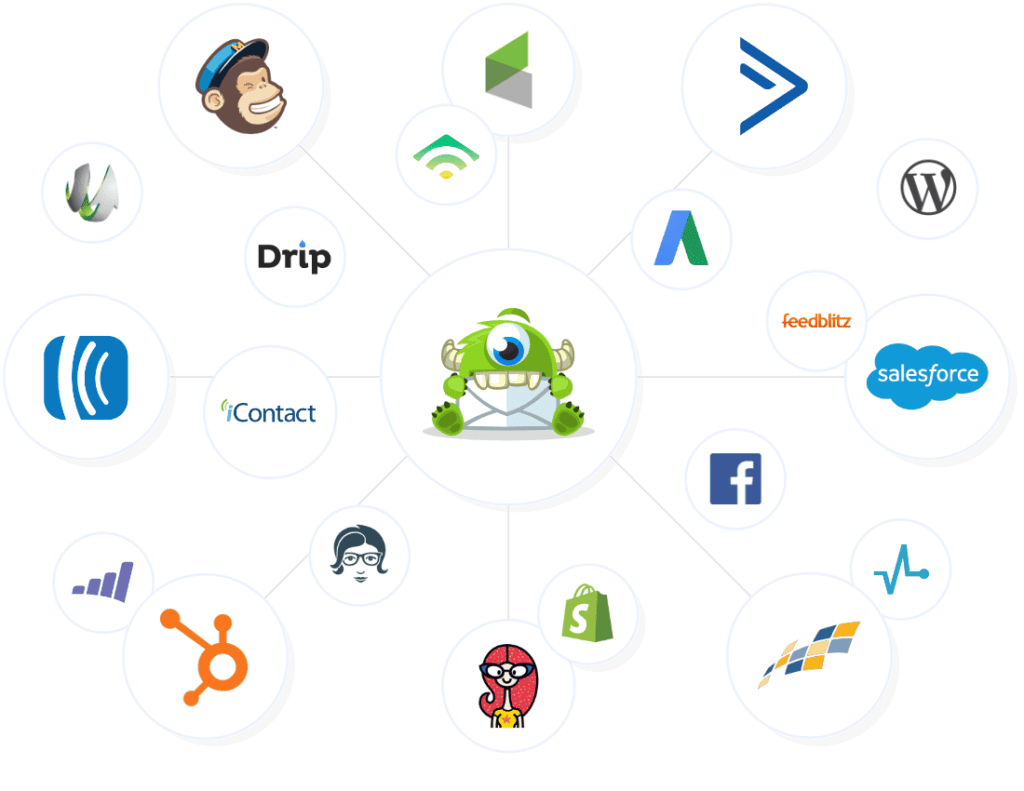 Oh, did we mention they also run OptinMonster University*? OMU is where entrepreneurs, business owners, and marketing professionals learn how to attract and convert website traffic into customers.
They have a proven process and a step-by-step program with exclusive resources you won't find anywhere else. Once you're graduated, you'll be able to generate traffic*, run email marketing campaigns*, generate leads*, execute content marketing campaigns*, optimize an eCommerce shop*, and much, much more*.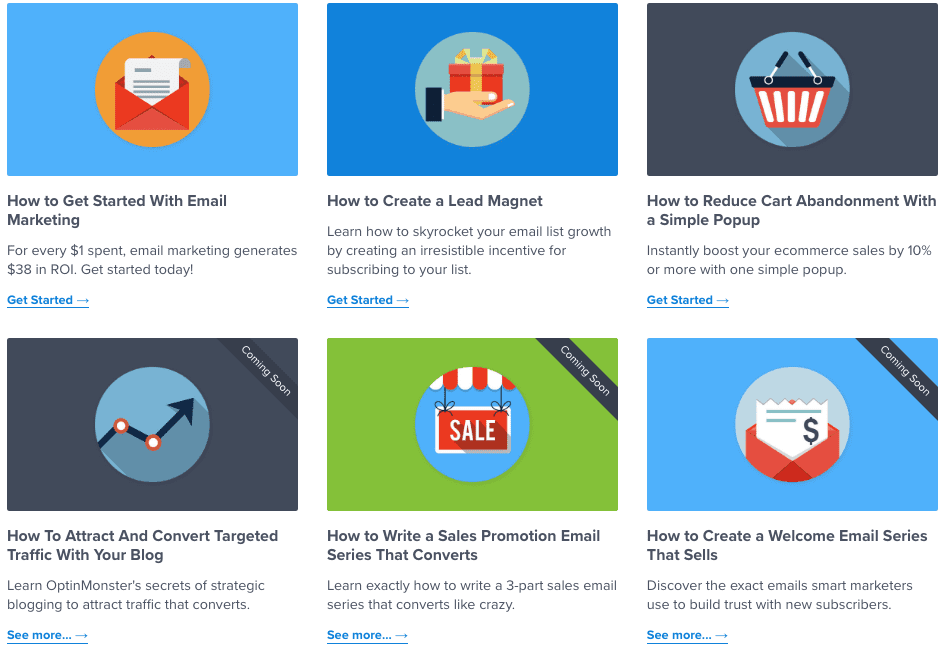 Then there's the team behind OptinMonster! Thomas Griffin and Syed Balkhi are two of the most talented entrepreneurs you'll find and both care deeply about customer experience.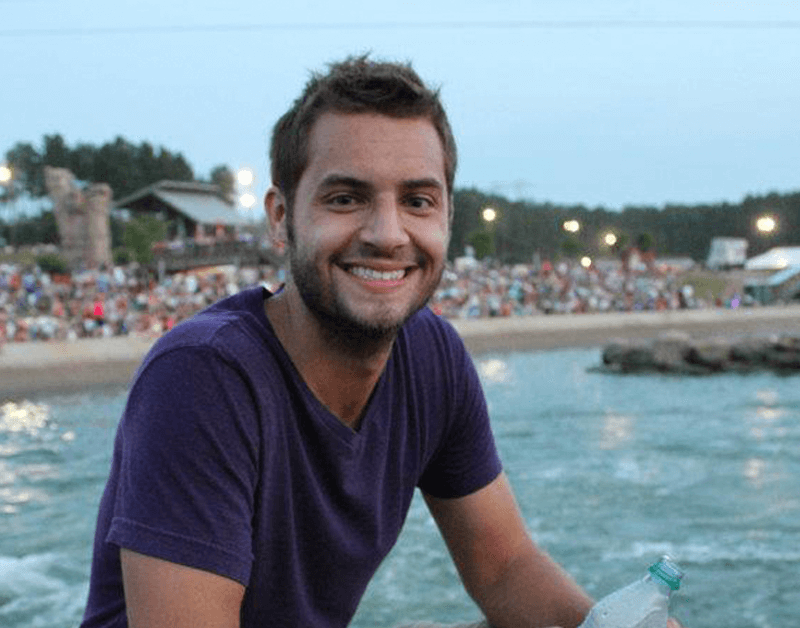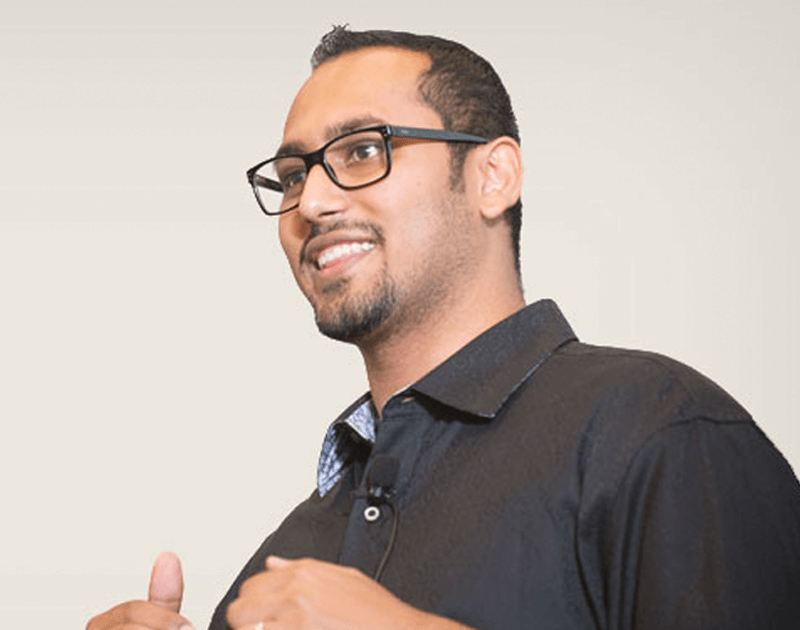 Joe, our Head Buff, knows Syed and Thomas well. They've spent a lot of time together at WordCamp Orlando, WordCamp US and beyond. This is another reason we love the team behind OM.
And then there are their company's core values:
We put people first, always.
We do the right thing every time.
We fight for our customer's success.
We commit to excellence by paying attention to details.
We labor for simplicity.
These are what make OptinMonster and industry leader in their space.
They also have terrific customer support with industry-leading satisfaction ratings. And then there are their fantastic customer reviews and robust case studies that prove they're the real deal.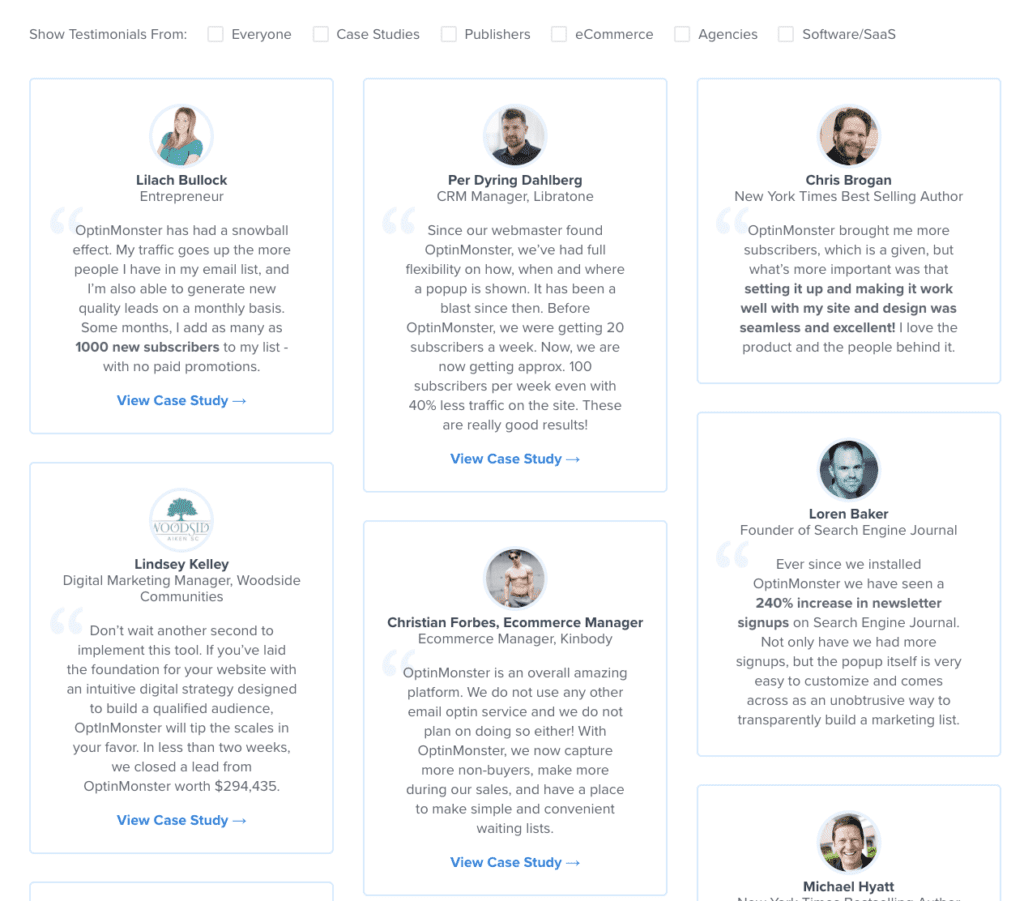 5. Elementor Popup Builder
Elementor now offers a visual popup builder! A popup feature was consistently ranked among our top feature requests since pretty much day one, but they wanted to do it right. So they spent months figuring out an entirely new process, one that has several key advantages over the alternatives.
One workflow: The entire popup building process is done using the same Elementor builder you know and love
All your content: You can include all your content from Elementor, WordPress, WooCommerce, ACF and more
Superior design: You get the highest level of design and styling options available in Elementor, including the ability to use all widget
Advanced yet intuitive targeting: You have advanced targeting capabilities that are set up intuitively from inside Elementor Our designers have handcrafted over 100 amazing pre-designed templates to get you off the a great start!
One of the key features is exit-intent technology. When a user seems like they're going to leave your website, Elementor's pop up builder can try to convert them one last time.

The popup builder is integrated into WordPress, which means you can create popups for any WordPress page, even one not created in Elementor. With Elementor, you can use all your content from WordPress and incorporate it inside your popups. This includes images, posts, WooCommerce products, ACF custom fields and pretty much any other plugin.
The popups can be populated with WordPress data, so you can personalize the popups with your user's name or a personal login area, for example.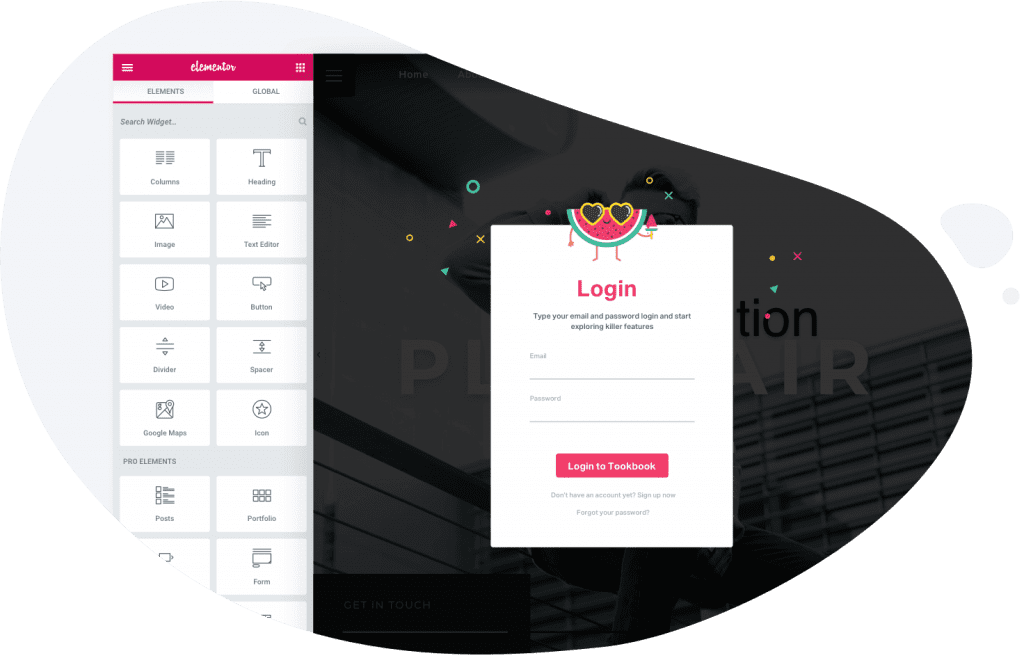 Creating popups inside Elementor means the entire web design process, from building the landing page, setting up popups and creating an entire funnel, all is done using one workflow. You are also not restricted to any set design, and can use Elementor's variety of widgets and design features to reach any popup design you like.
If you are already using Elementor Pro, you don't need to install any additional plugin. It's included in the pricing package: $49 for 1 site, $99 for 3 sites and $199 for unlimited sites. There are no limits on pageviews with any of these plans.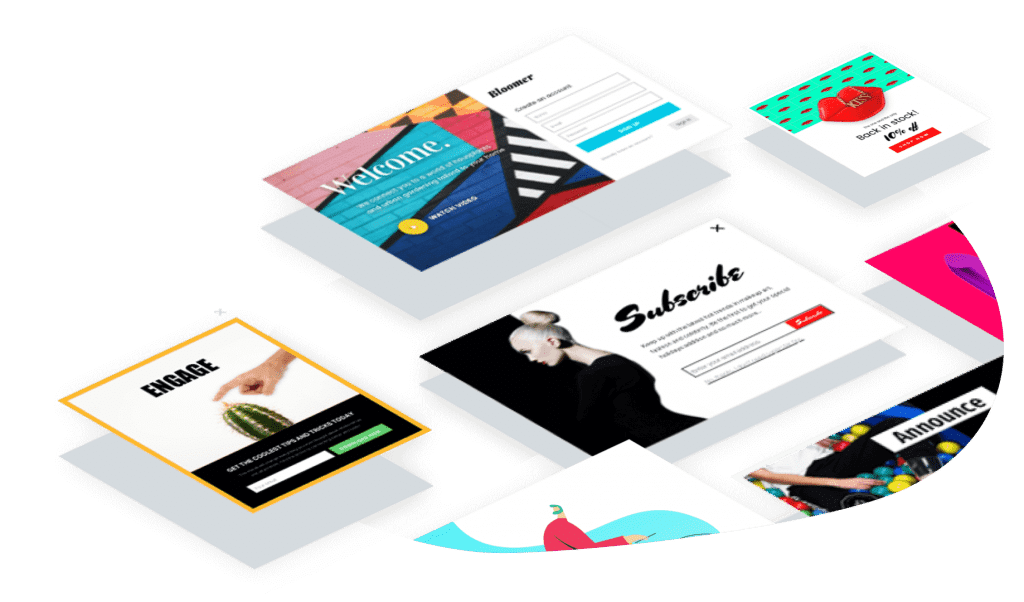 Some other features that people are loving are:
100+ designer-made popup templates, including classic, fly-in, bottom bar, full screen, hello bar and slide in
Pay $49 per year and get the Popup Builder as well as theme builder and page builder
Superior design, with all the power of Elementor, its features and widgets
One interface and no switching back and forth
Include your content from Elementor, WordPress, WooCommerce and website
Zero setup, no need to install another plugin (built-into Elementor Pro)
No limits of pageviews, popups or websites
Advanced Targeting: Page-based, time-based, device-based & visitor-based targeting, behavior-driven targeting (clicks, scrolling, form submit and more)
Responsive design editing
Awesome Email Marketing Integrations: MailChimp, Drip, ActiveCampaign, ConvertKit, HubSpot, Zapier, GetResponse, MailerLite, MailPoet, Slack, Discord
The fastest workflow to create and manage multiple popups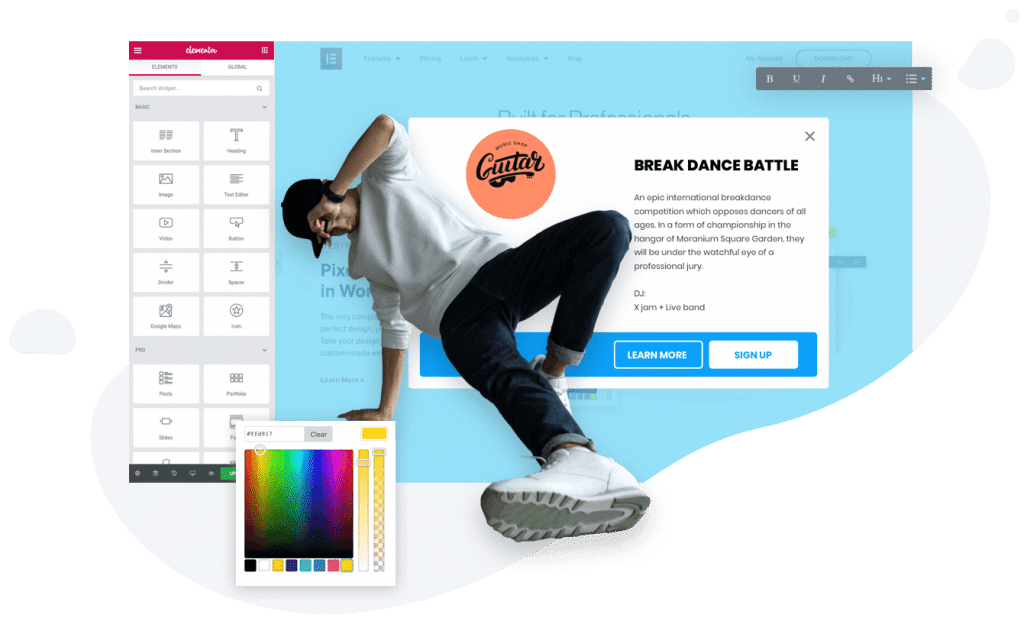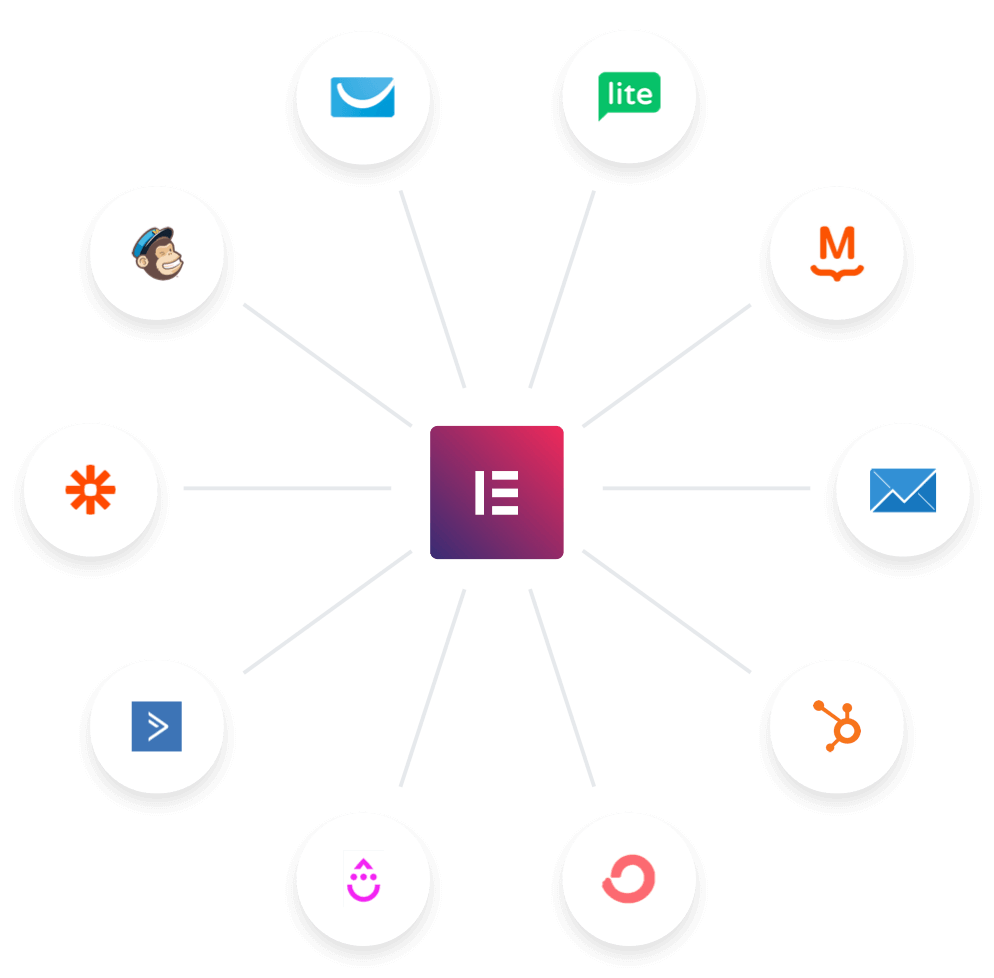 The Elementor team is fantastic, too, filled with innovative and inventive people.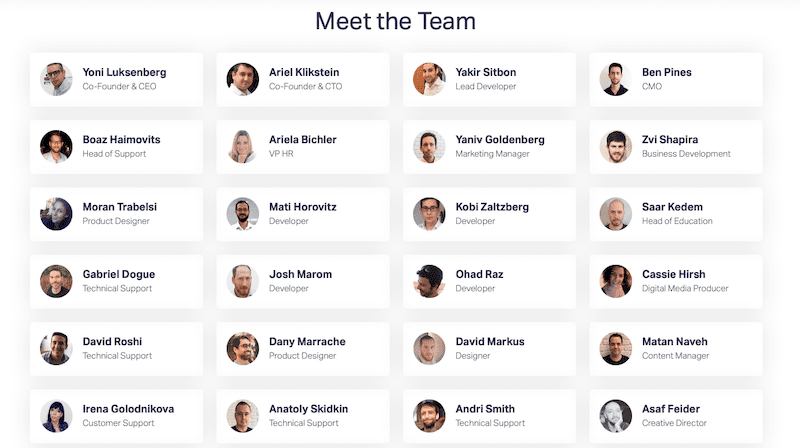 And the reviews for Elementor Pro have been nothing short of spectacular!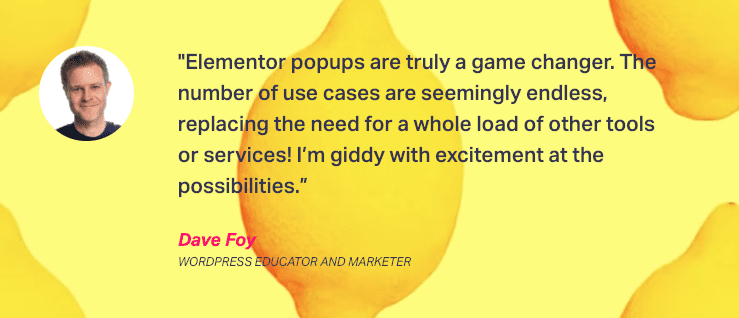 6. Icegram

Icegram allows you to easily build effective optins and calls-to-action for your WordPress website, show them to specific visitors and convert those users into fans and new customers.
Using Icegram means you don't need to hire a developer. It's super easy to get set up within minutes and start seeing results immediately. Most quality exit-intent popup plugins require you to pay for them and still provide much less functionality.
Icegram is jam-packed with features, is extremely user-friendly, and is used by 20,000+ users!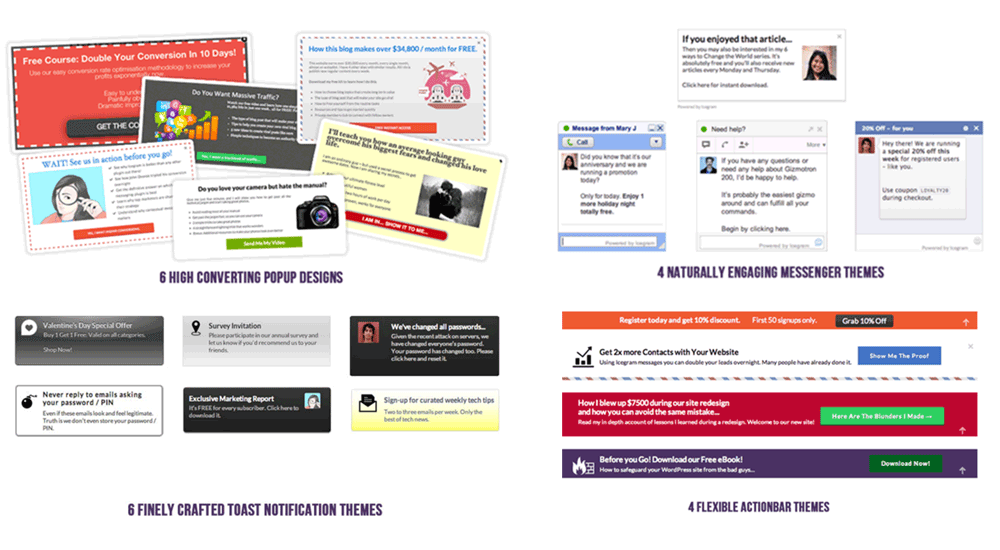 Convert abandoning visitors by showing them exit-intent optins
Icegram allows you to target your audience at the time they show exit intent (this feature is available in the paid add-on). With this implemented, you can show your visitors an optin form just before they leave your website. This will help you convert visitors that were hesitant to give you their email list and give them one last chance.
But Icegram is not the traditional exit-intent popup, email subscription, or list-building plugin. You are able to do much more!
Show high-conversion, attention-grabbing email opt-in forms to help you build your email list.
Display effective calls-to-action (CTA) and direct visitors to a specific area on your site.
Get visitors' attention, engage with them to lower your bounce rate, make an announcement or show them a customized message.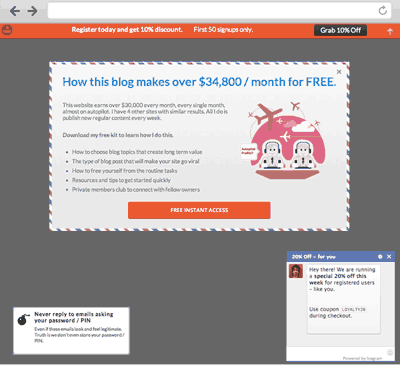 Icegram four different popup types – lightbox popups, toast notifications, header and footer action bars and slide-in messengers.
Deploy time-targeted popups or lightboxes that are fully optimized to convert traffic.
Plenty of customization possible!
Perfect for lead generation, announcements, and CTAs.
Very useful for alerts, multi-step calls-to-action, and invitations.
Recommend your best blog posts, welcome new visitors to your site, give away links to your best support resources and more with a slide-in message.
Choose from professional, mobile-responsive design templates
Icegram comes packed with 20 high-conversion and responsive design templates. You are even able to customize any colors of these designs in order to match the branding of your website.
Start adding to your email list instantly
This popup plugin specializes in converting visitors to subscribers. Icegram lets you build high-converting subscriber popups and target them to your audience strategically on different pages of your website.
Increase your conversions with advanced, powerful display targeting rules
This plugin provides you with multiple advanced targeting options. Target visitors based on:
Page level targeting
Time-based targeting
User-based targeting
Device-based targeting (100% mobile responsive)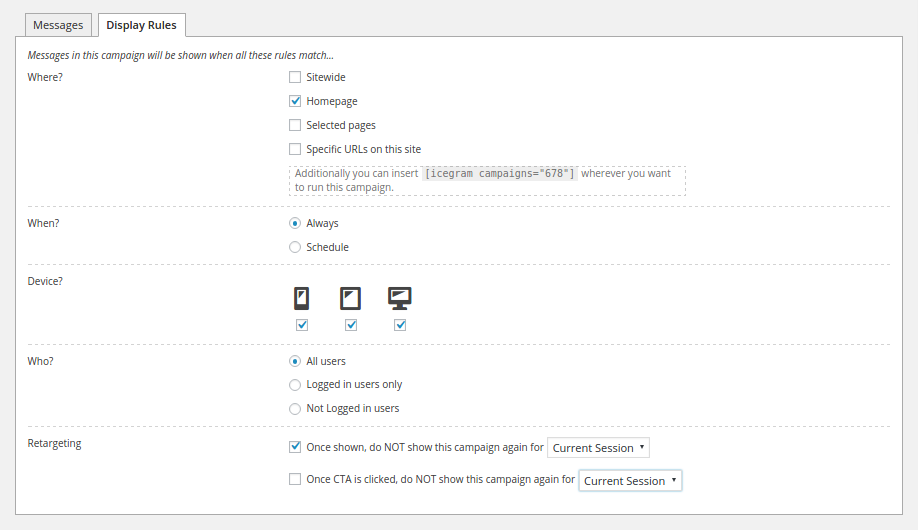 Get detailed reports on how your popups are doing
The very best way to measure the effect of a popup is checking out the analytics. Icegram gives you easy-to-understand in-depth statistics on how your popup is performing.
Build and test popup variations using split testing (A/B testing)
Icegram has another premium addon which allows you to do A/B testing on various aspects of your popup like content, color, headlines, design template, CTA, and more.
Easily integrate this plugin with your email marketing service
This plugin provides tons of simple integration with email marketing services like MailChimp, Infusionsoft, AWeber, ConstantContact, GetResponse, ActiveCampaign, CampaignMonitor, iContact, Emma, MailPoet, MailerLite, MadMimi, e-GOI, Klawoo, Email Buddy, SendPress, My Mail etc. Really, any email marketing service that has an HTML form code can be integrated with any of Icegram's optins.
Fully compatible with third-party plugins
It's also compatible with many third-party themes, form plugins/lead captures, and CRMs like Jetpack, Contact Form 7, Gravity, Visual Form Builder and others.
7. Yeloni Free Exit Popup

With the very popular Yeloni exit popup plugin, you're able to show email signup forms, social buttons, offers, or customize it as you wish. It won't show when the visitor is navigating within your website or on the scroll bar. It's also a very lightweight plugin, so you don't have to worry about it slowing down your website.
They've spoken with a lot of customers and have taken their thoughts and feedback into account by constantly revamping the plugin and adding new requirements and features.
The plugin has terrific support and all their popup themes are fully tested for high conversion. They even offer to provide support if you want a custom image for your popup. Now that's great customer service!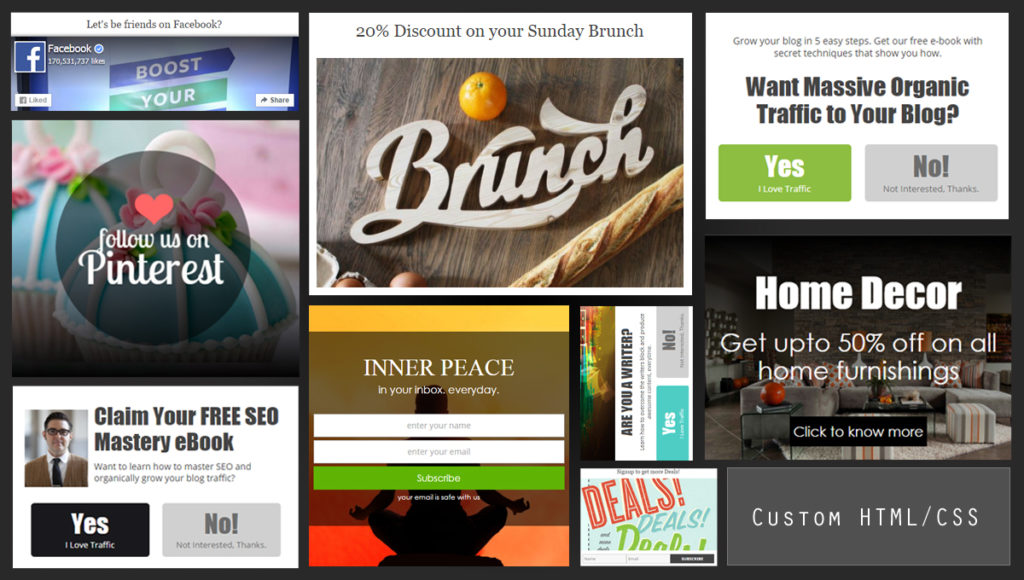 What The Plugin Does:
This exit-intent lead-capture plugin shows a high-conversion popup on your WordPress site. You can show your message when a user is about to leave, after the visitor scrolls, after a specified time duration, or when the visitor hits the very bottom of the page.
1. Design Your Own Popup
Choose from multiple popup themes for email subscription sign-ups, landing page redirection, social sharing, or chat activation.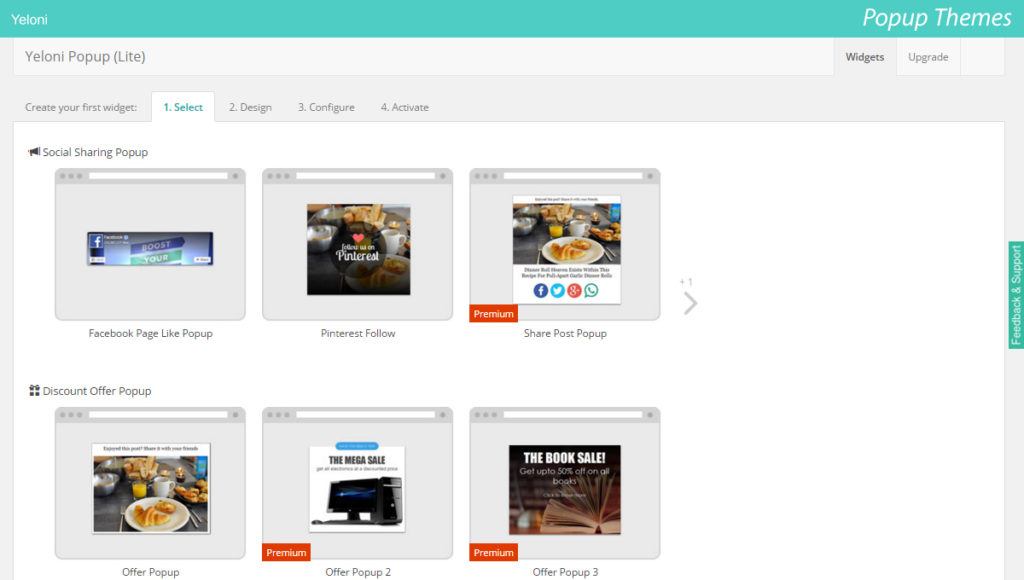 There are a ton of customization options – change the images, text, fonts, colors, etc.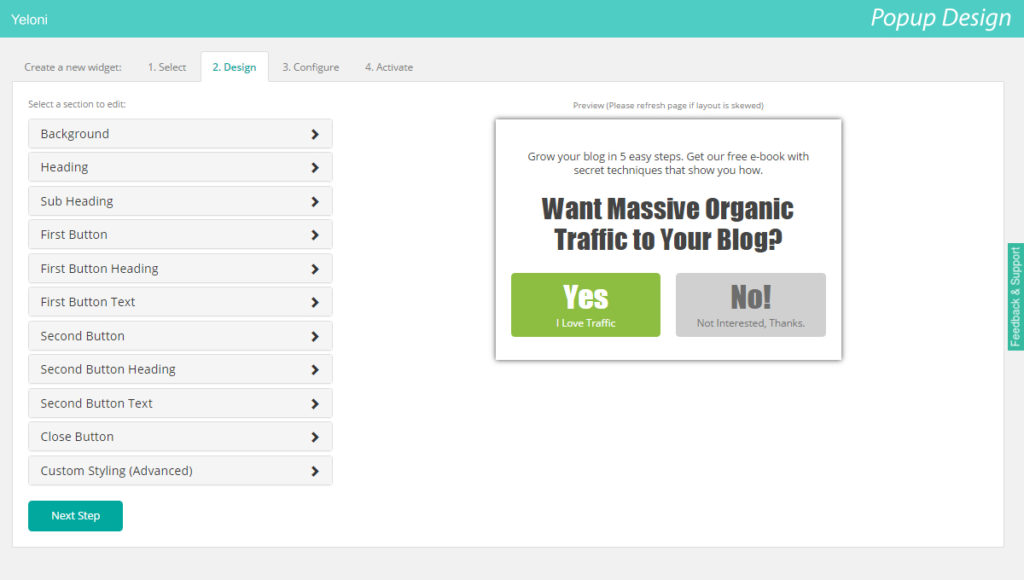 2. Configure the Behavior of the Popup
Activate any popup triggers you want. That includes:
Exit intent
Time delay
Page load
Scrolling down the page to a specific height
Yeloni offers three types of exit-intent popups.
Based on mouse movement
Clicking Browser Back button
Clicking Internal or External Link
Of course, you'll be able to create, save, and implement multiple popups on your site.
3. Integrations with Email Marketing Services
MailChimp
Aweber
Other services coming soon
If you want to activate responsive popups designed specifically for mobile and tablet screens or be able to show popups on specific pages instead of every page across your site, you'll need to upgrade to the paid version.
And if you're looking for an exit-intent popup with great reviews, Yeloni has received many for their robust plugin.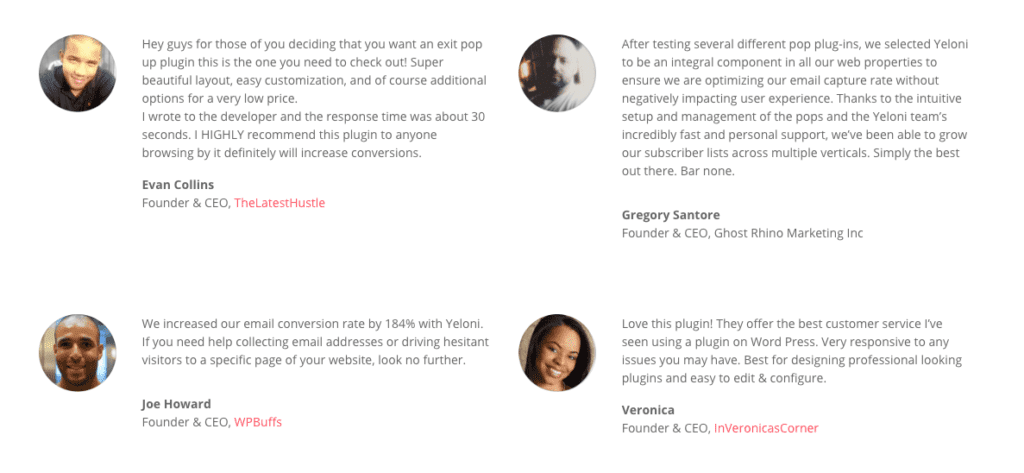 They also have a free plugin if you don't need all the bells and whistles.
8. OptinSpin – Fortune Wheel Integrated with Woocommerce Coupon and Exit Intent Technology
With the intent to engage your WooCommerce-based online store customers with something fun and attractive at the same time OptinSpin was made to convert more of your website's visitors into buyers and subscribers making the lead generation process easy.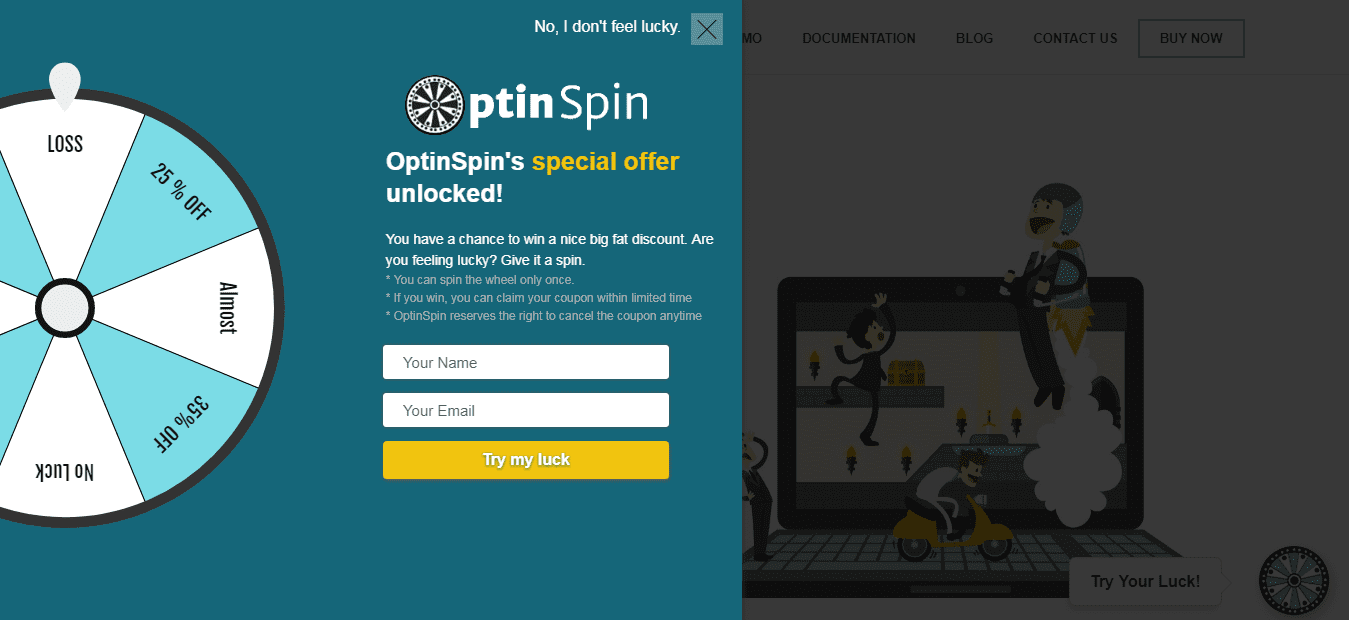 Using the exit intent trigger of OptinSpin it's really impressive the way it grabs the attention of the visitor to spend some more time on the site which he had already decided to leave and make them share their name and email over there. Apart from the exit intent trigger, there are more options in OptinSpin to do the magic.
Packed With Multiple Triggers
Time Delay
You can set some specific time after which you would like to trigger OptinSpin to appear in front of visitors.
Clickable Tab
Can place clickable tab at the bottom, which by clicking, users can get the OptinSpin and get engaged.
Desktop Exit Intent
You can even trigger the OptinSpin when it seems like your visitor is about to leave your website and convert the visitor into buyer or subscriber.
Mobile Exit Intent
OptinSpin's exit intent technology also works on mobile devices by detecting a visitors scrolling.
Comes With Powerful Features & Is Easy To Manage
Fully Customizable
Everything around the wheel is fully customizable. You can add your own styling and select your own color scheme as per your theme.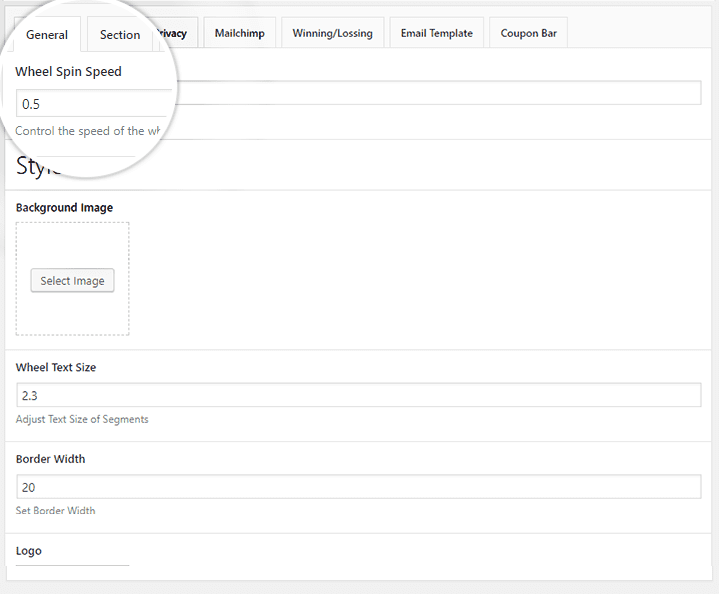 Drag and Drop
With a drag and drop interface, you can easily organize each section the way you want.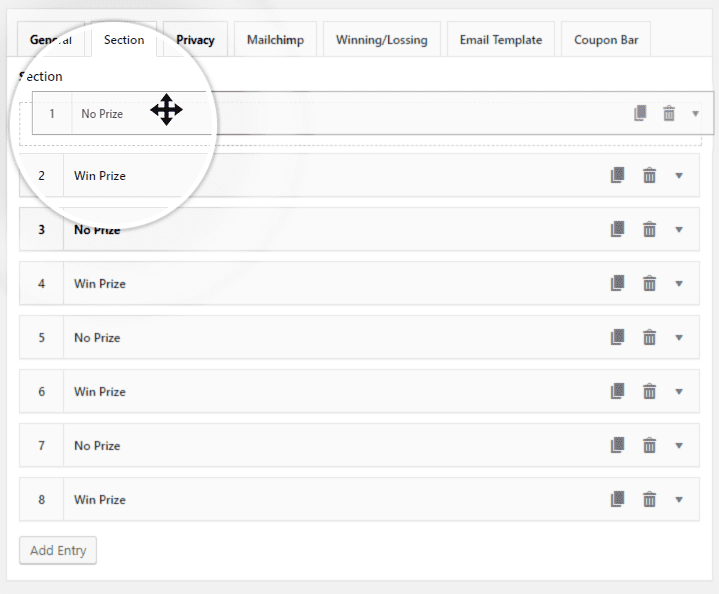 Easy to Manage
You can easily set things for each section. You can even set the color for each segment of the wheel and you have lots of other controls.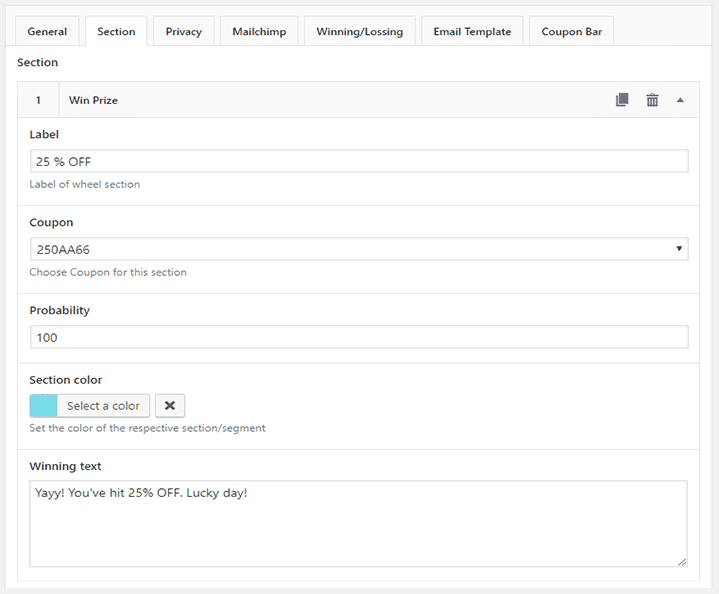 Unlimited Sections
Keep all accordions closed and focus on the Add new entry button with a magnifying glass.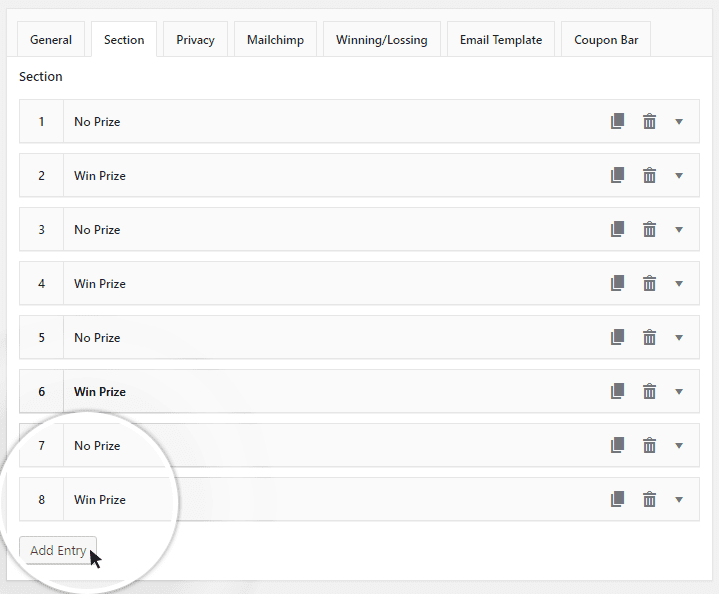 Probability
Have complete control over the frequency each prize is awarded to your customers. You can set the probability between 0 to 100.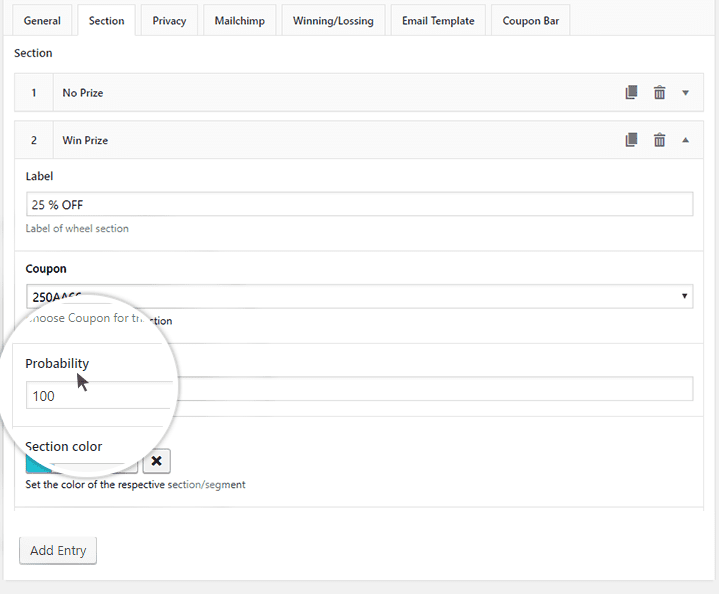 Email Templates
To empower the users, OptinSpin provides customizable email templates on the back-end.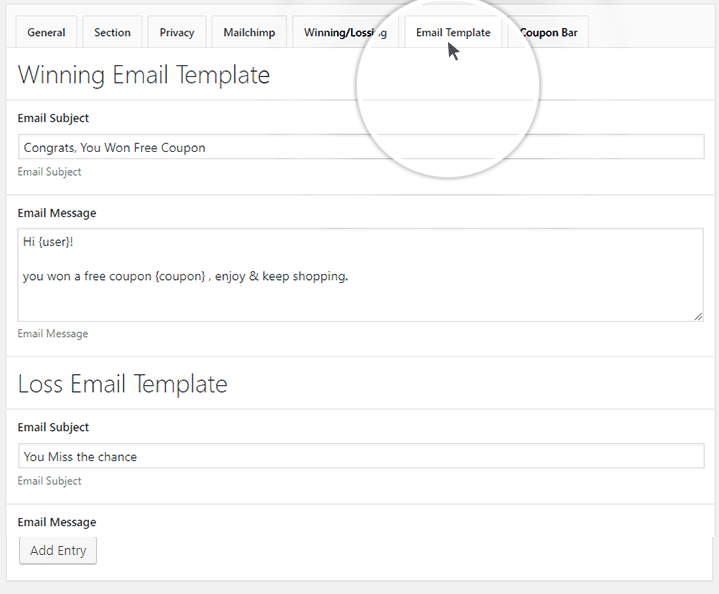 WooCommerce Options
OptinSpin uses default WooCommerce coupons functionality which you can select easily for each segment.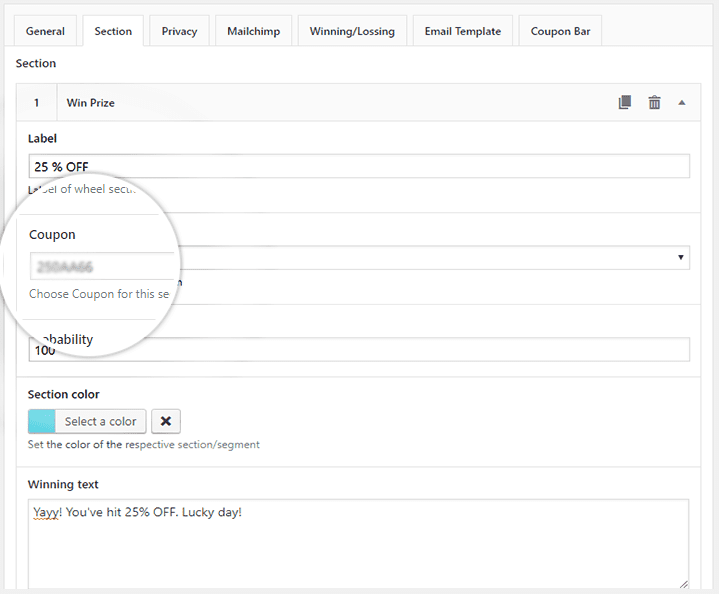 MailChimp Ready
With OptinSpin easy settings, you can connect your Spinner's email list directly to your MailChimp-specific email list with a few clicks.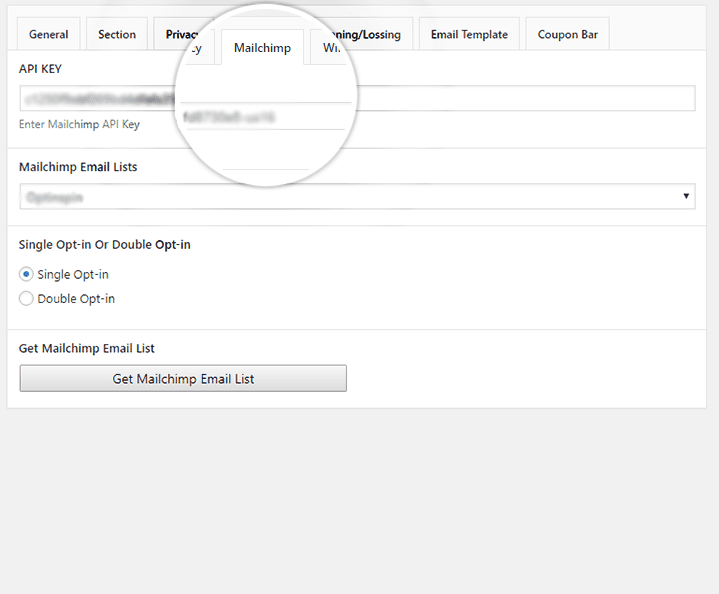 Fully Documented
The great thing about OptinSpin is they have detailed documentation for you to make everything clear to their users.
9. WordPress Exit Pop

This exit-intent WordPress plugin specialized in online WordPress stores, so keep that in mind. If you run a WooCommerce store, or simply sell products online, this may be the plugin for you.
According to the statistics collected by this plugin, 98% of web store visitors leave and a whopping 70% of them will never come back. Exit Pop helps you to convert those leaving visitors into new customers a second before they decide to leave your online store.
This WordPress plugin has the potential to get you more sales. It boasts a 1-minute setup and works with any theme. Best of all, there are no design or source code editing skills required!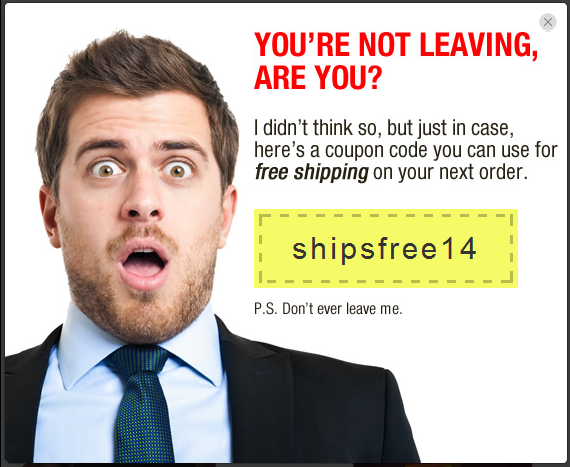 Their exit-intent technology tracks visitors' cursor movements in real-time. They are able to detect the exact millisecond that a user is thinking about abandoning your website and encourages them to stay involved by activating a popup.
WordPress Exit Pop also offers statistics so you can track the performance of your popups. It also allows you to conduct A/B testing to see which offerings bring back the most visitors.
Benefits:
No design or coding skills required
Automated customer acquisition
Smart A/B split testing
10. WP Exit Page Redirect
This plugin does something a bit different, it's in the same family as exit-intent popups so we wanted to include it.
With WP Exit Page Redirect, you can easily build out an exit page meta tag redirect within WordPress just by incorporating a shortcode into a page or post.
Simply put, when people try to exit your page, they will automatically be redirected to the page or website you want them to visit. This will allow you to send people who want to leave your site to an exit advertising page or exit warning page just before they leave your website.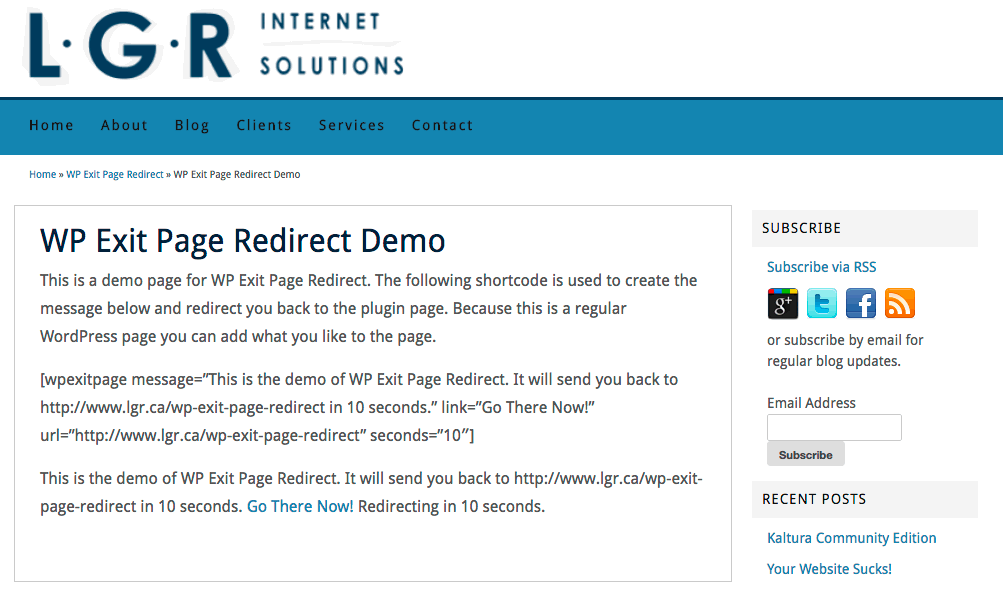 11. Exit Popup

The Exit Popup WordPress plugin enables you to show a jquery modal window that incorporates images, text, videos, maps, forms, and more, just before a visitor decides to leave your website.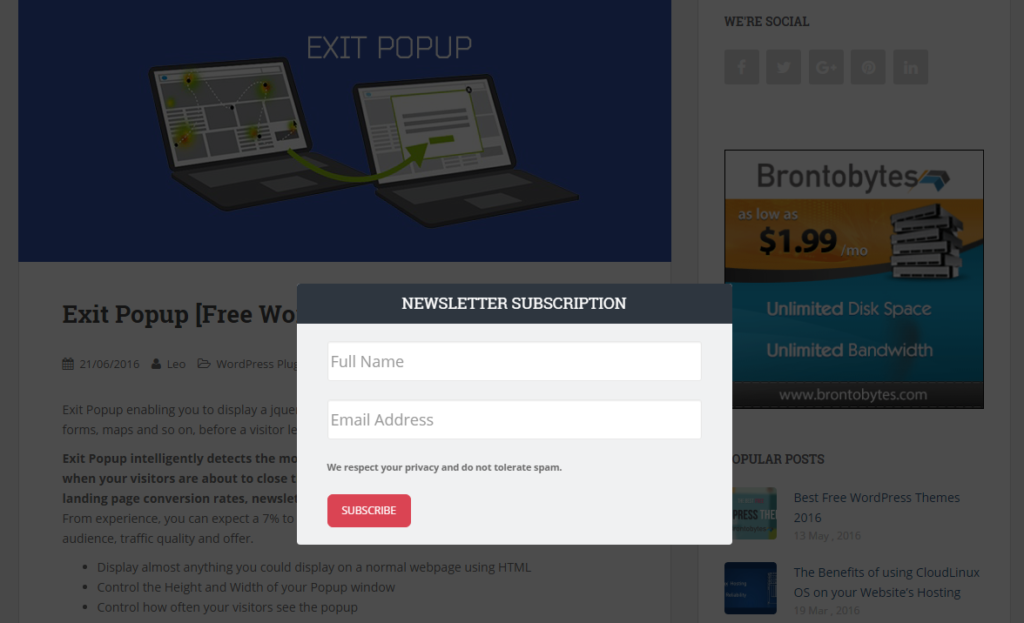 Exit Popup is able to detect users' mouse behaviors in order to show a popup when your visitors are close to leaving the page they're on. This will help you improve the conversion rates of your WordPress site.
According to the feedback Exit Popup has received, you will most likely experience a 7% to 12% increase in opt-in rate (depending on your traffic quality, audience, and offer of course).
Display anything you'd want to display on a traditional WordPress post or page using HTML
Control both the width and height of your popup
Control exactly how often your popup appears to certain visitors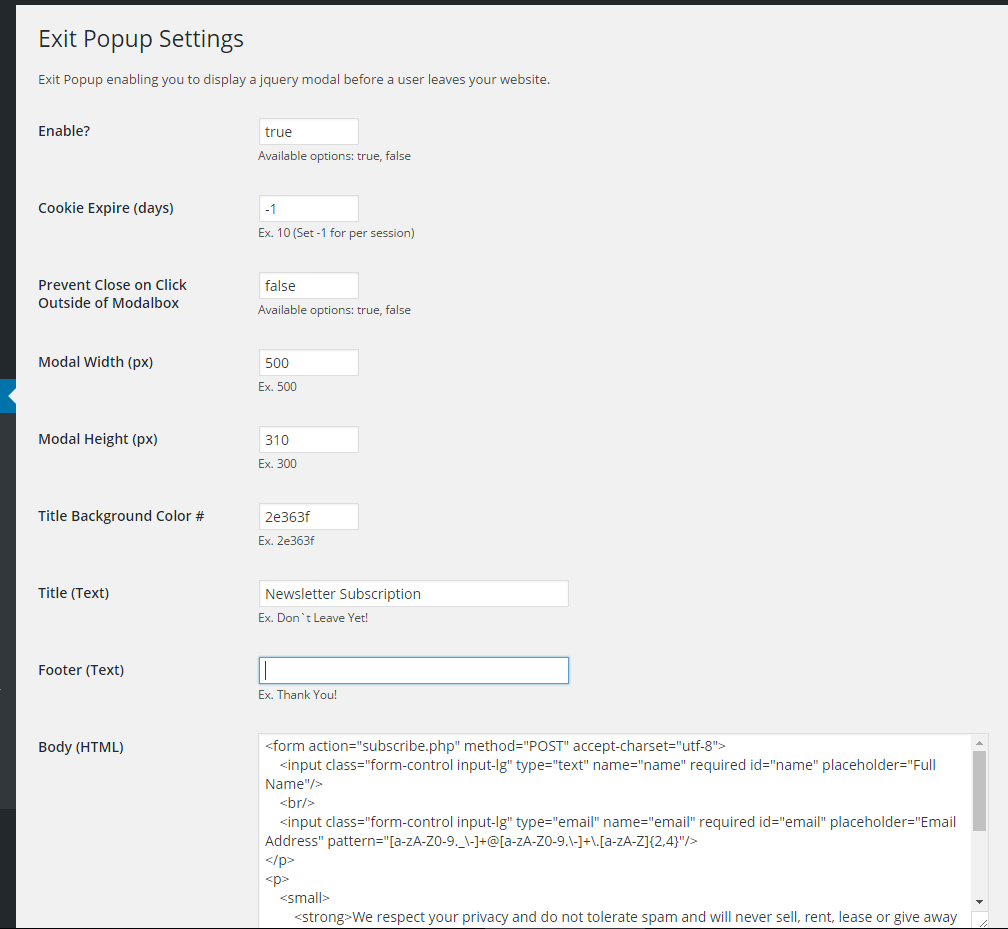 12. Exit Notifier

This is another plugin that will redirect users who want to leave your website to an "exit popup."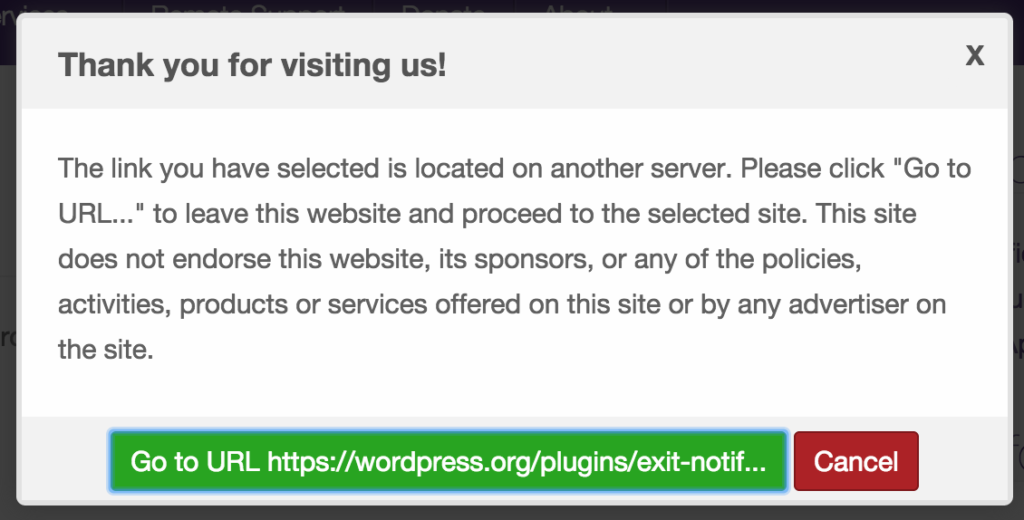 Some compliance recommendations propose that a notice be shown to visitors anytime a user leaves your website. This plugin provides generic exit page templates, or you can edit either the title or body of the exit box.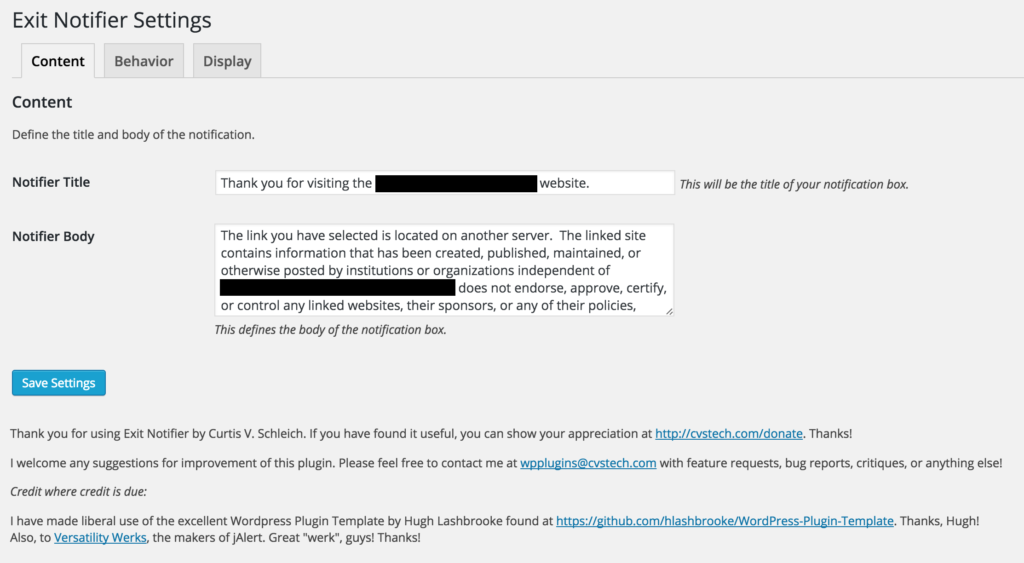 Additionally, you have the ability to add a visual indication on links that will take users to another website and to open external links in a new window/tab. Last but not least, there are visual customization options.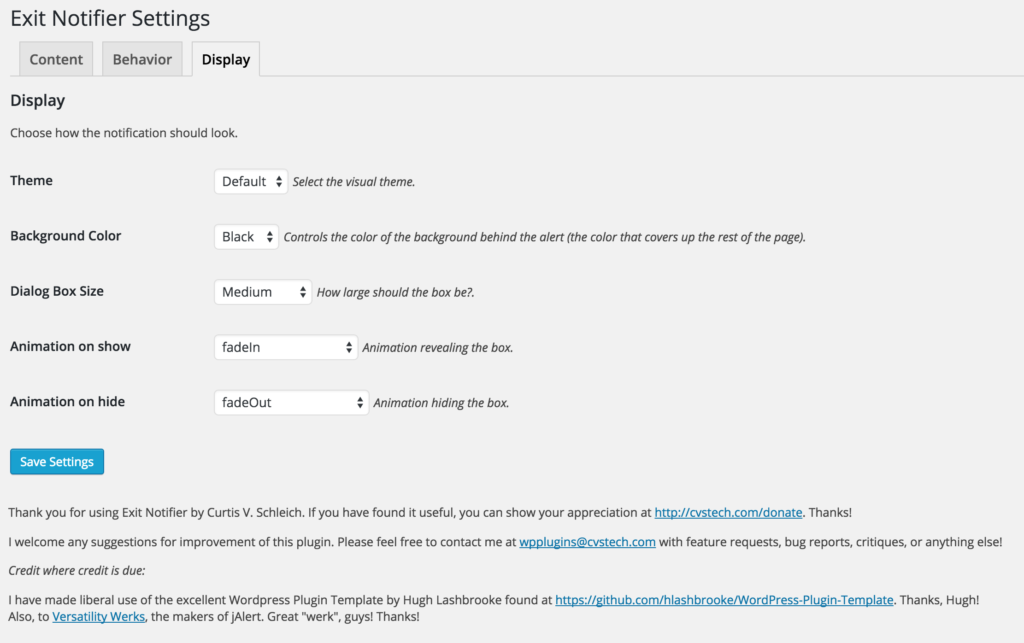 13. Supsystic Exit Popup
According to Supsystic, 95-98% of online visitors leave a WordPress site without making a purchase or even becoming a lead. With this plugin, you can show your visitors a special offer with an exit popup.
Feature discount codes, new products, or whatever you think will convert visitors before they leave your site.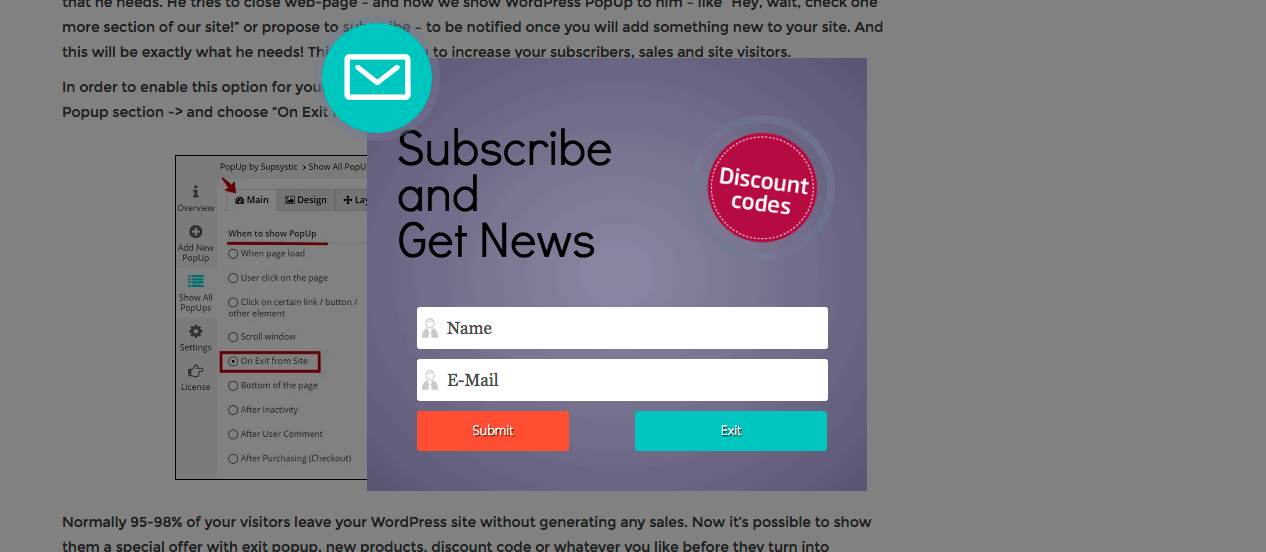 The plugins developers suggest that you'll be able to increase your conversion rate 2-5%. That's huge!
Lead generation and growing your website are critical to a successful online business. Every website owner has the ability to do this without having to hire a developer.
This plugin is extremely user-friendly and you'll easily be able to make it an integral part of your WordPress website.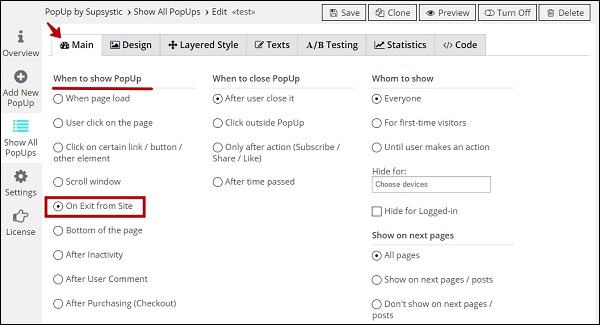 14. omnja Popups for WordPress

This is another paid option, but the reviews are in and this is on of the top exit-intent WordPress popup plugin around.
Some of the top features include:
Newsletter Locker: Lock your content by popup
Optin Locker: Facebook, Twitter, G+, LinkedIn Pinterest
Responsive Themes: All themes are responsive and works very good on popular mobile devices
Easy to Configuration: No making changes to the source code required!
Great Popup Design: Many color, many layouts
Highly Customizable: Colors, size, buttons
Samples Presets Included: XML file ready
Page Level Targeting: Different popups for each Post/Page/Category
Time Display Settings: Start & end date, open & close delay
Statistics: Check hits and conversion
Free Updates: Lifetime!
Mobile version: Works very good on mobile devices
Excellent Customer Support: You will get answer in 24h
A/B Testing: Check the effectiveness of your popups
Analytics: Now can simply analyze the charts
The paid plugin also comes with free email opt-in popups so you can collect email addresses, not to mention some eye-catching animations.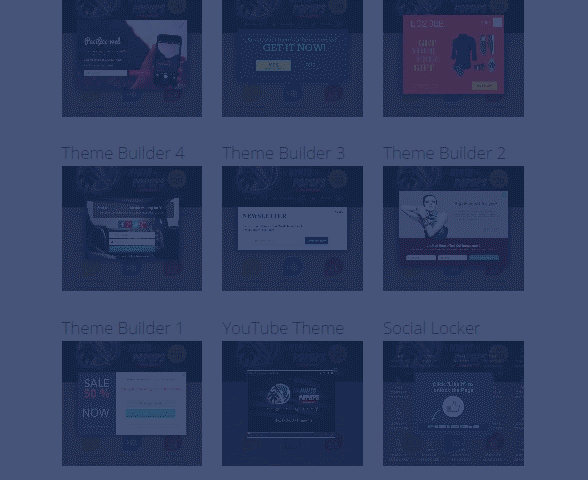 Get Ninja Popups For WordPress 
15. Generation Plugin
Turn your WordPress website into an email-collection machine using this paid plugin! This plugin makes email collection an activity you can truly automate.
Install the plugin in just minutes, even if you're new to WordPress. Setup your campaign with just a few simple steps and watch your email list grow on autopilot!
It also has some terrific features:
Exit Popup: Easily convert your exit traffic with an exit popup box with one final offer.
Popup Box: Attractive lightbox popup. Improve your conversion rate by 300% or more with only this tool.
Sliding Panel: These panels slide from left to right and top to bottom. Ideal for showing special offers.
Header Bar: Multiple kinds of header bars you can show in a fixed position on top of any page.
Footer Bar: Multiple kinds of footer bars you can show in a fixed position on bottom of any page.
Sidebar Box: Incorporate 1 of 4 unique opt-in boxes into your website's sidebar.
In-Post Opt In: Include an opt-in box anywhere in your posts and pages directly into your page content.
Video Templates: Use video in your Sliding Panels and Popup Boxes to increase your opt-in rates immediately.
Countdown Timer: Make your visitors make a quick decision by incorporating urgency into the equation.
Live-Checking Tool: Allows button to be clicked only if name and email are 100% formatted correctly and real.
Visitor Details in Form: Make the opt-in process as simple as possible for your visitors. They only need to click the next button.
4 Form Types to Choose From: Show 1 of 4 high-conversion forms in your boxes: Facebook connect, regular form, both or a simple linked button.
Custom Style: Stylize your popups however you want. Choose your template, select from dozens of pre-made buttons, use your own background color or image, swap out font color and much more.
Displaying Settings: Select posts, pages and categories to show certain popups, display popups for certain subscribers only, and let you visitor choose if he wants to see your newest offers!
User-Friendly Admin Panel: Very user-friendly interface, show only required fields, preview mode, character counting, 1-click support and much more!
Independent Opt-In Forms: Use various offers on your website and add subscribers to different email lists. Create as many lists as you want with a single blog.
Time Machine: Restore and reset settings, Backup all your popups, export and import settings, create specific point to restore from and more!
Customer Support: Their customer support team is prepared to provide assistance anytime.
3 Licenses: 3 unique licenses are available for whatever matches your budget and you can begin with one single license and upgrade later!
16. Popup Domination
Convert more visitors into customers and subscribers with Popup Domination's desktop and mobile popups.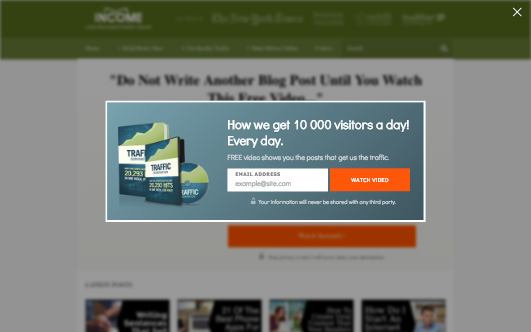 Some of their best features include:
Email Themes: Increase email subscribers using their high-conversion popups.
Redirect Themes: Send targeted traffic to your sales and affiliate pages.
Countdown Themes: Build time-bound offers and boost conversions.
Exit PopUps: Show popup at the exact moment visitors decide to leave your website.
OnClick PopUps: Show a customized popup when a visitor clicks text or object.
PopUp Triggers: Show your popup based on page views, time, scrolling the page and more.
A/B Testing: Split test your popups to see which converts best.
Analytics: See how well each of your popups are performing, including best countries, pages and devices.
Super Fast: They host everything so load time on your website is never affected.
Responsive Themes: All their popups work on any screen size.
Customizable Designs: Customize the size and color of all their themes.
Custom HTML/CSS/JS: Develop customized designs and insert your own scripts.
Geographical Targeting: Show targeted popups only to the countries you select.
Page Specific PopUps: Show popups only on the pages you want them to appear.
Referral Sites: Show popups based on the sites your traffic is coming from.
Notification Popups: Visitors can still interact with the website without closing the popup. Position it anywhere on the screen.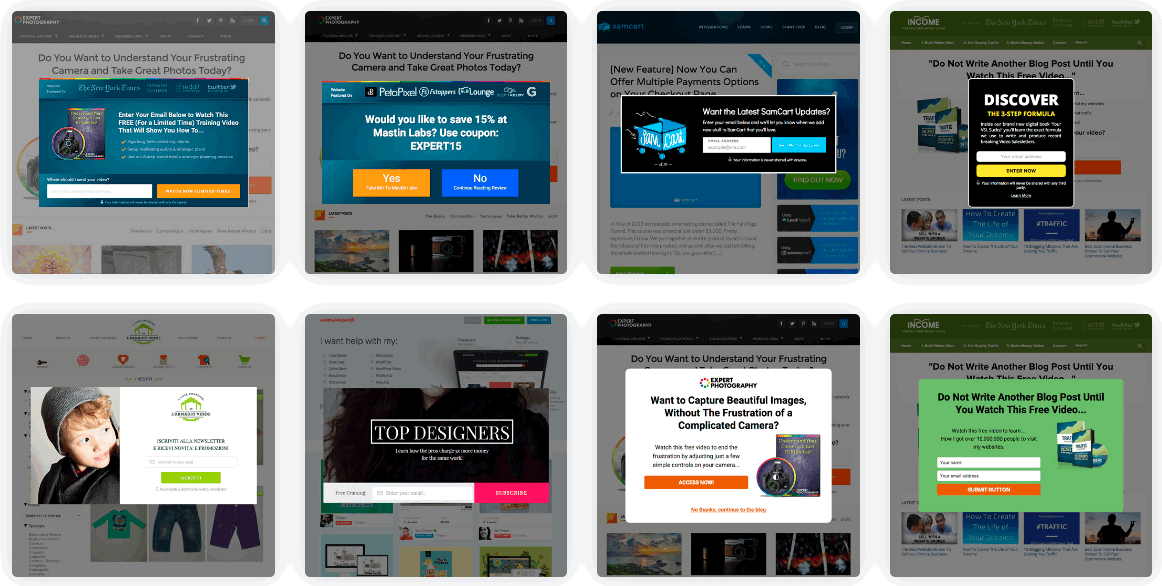 It works seemlessly with WordPress and integrates with every email provider out there, including MailChimp, AWeber, iContact, Infusionsoft, Campaign Monitor, Constant Contact, Mailer Lite, GetResponse, and Campayn.
They even offer a 60 day money-back guarantee, so there is absolutely no way you can lose!
17. PopupAlly

PopupAlly lets you build advanced popup signup forms in less than 5 minutes. The best part – you don't have to edit any messy source code!
This plugin's exit-intent popups let you capture almost lost visitors and users of the plugin have reported up to a 300% increase in conversion rate.
Mobile-Friendly Opt-in Forms
This plugin is mobile responsive, so your website visitors won't have a negative experience on mobile phones or tablets.
Horizontal Opt-In Forms
With this plugin, you can utilize a horizontal optin box so you can get people to join your list without making too much noise on your site.
Exit-Intent Popups With Time Delay
The exit-intent popup feature is very effective – it doesn't interrupt visitors while they're reading but it allows you to get their attention and capture their email address before they leave forever!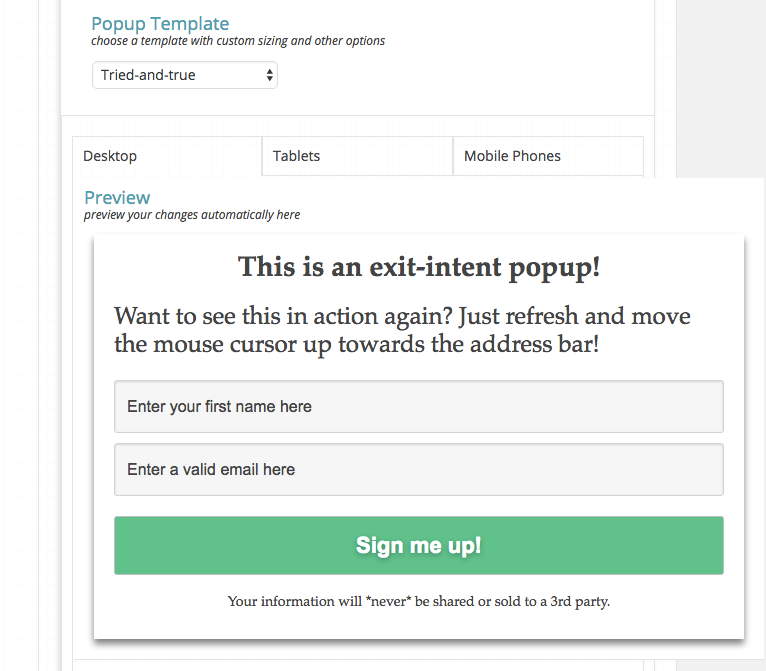 This Free WordPress Popup Plugin Is Compatible With Just About Every Major Email Marketing Provider
This plugin easily integrates with MailChimp, ConvertKit, AWeber, Ontraport, Infusionsoft, GetResponse, ActiveCampaign, ConstantContact, TotalSend, CampaignMonitor, Emma, MailerLite, iContact, MadMimi, FeedBlitz, MailPoet, and all email marketing systems that are able to provide an HTML opt-in code!
18. InkExit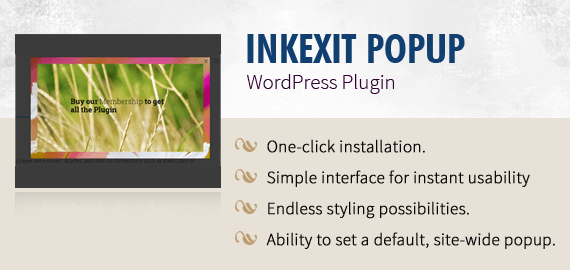 This exit popup plugin creates a lightbox when a user tries to exit your website. This will save you traffic as well as get attention for your offers.
This Exit Popup allows you to:
Grab visitors' attention on your most attractive content or offers.
Offer a mailing list subscription.
Ask for survey feedback.
Offer help from your support desk.
Redirect visitors to a specific page.
InkExit Features
Single-click installation with a user-friendly interface.
Ability to override default options on any post or page with a personalized popup exactly matched to content.
Lots of styling options like background, color, border.
Totally flexible editing screen includes high-conversion forms, stylized text, images.
Set customized popup for different pages so your offers always make sense as they relate to page content.
Customize your cookie settings for individual popups.
Turn off your popup for certain pages.
Create an unlimited number of popups.
Add video to any popup to increase engagement.
19. Thrive Leads
Thrive Leads is one of the top lead-generation plugins for WordPress. It's a list-building solution that's built by an entire team of people who are all obsessed with conversion optimization!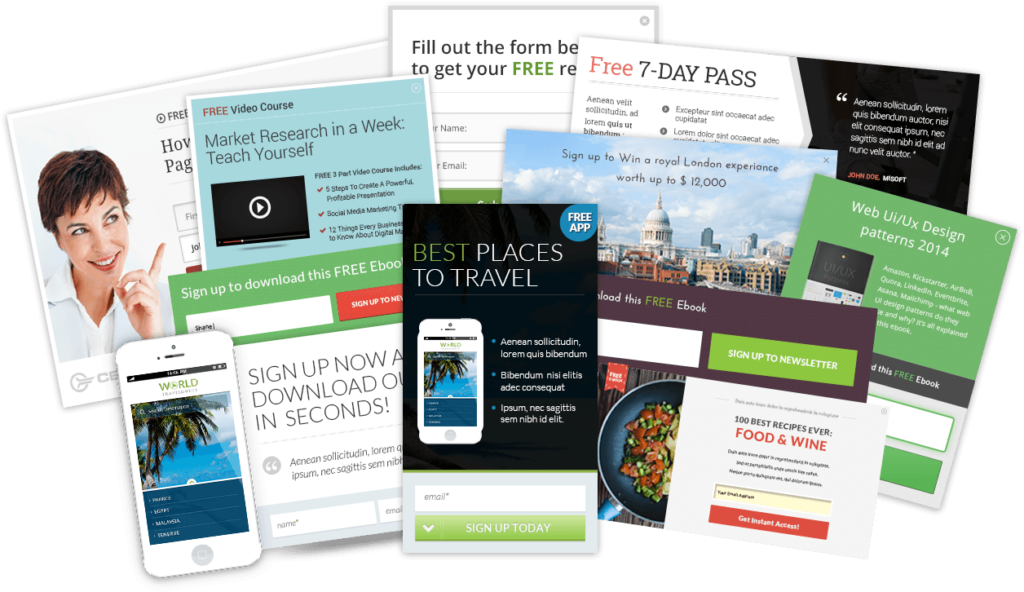 4 Big Benefits:
Design & Deploy: Thrive Leads combines each type of opt-in form you'll need into a single, comprehensive plugin and provides an easy drag-and-drop editor to build the optimal design every time.
Advanced Targeting: Get a huge boost in conversions by showing highly relevant, highly targeted offers to your website visitors based on tags, categories, posts, and more.
A/B Testing Engine: Thrive Leads has an advanced but easy-to-use A/B testing tool baked right into the plugin. Keep using the popups that are working and change the ones that aren't.
Actionable Reporting & Insights: This plugin gives you a simple overview of your most important metrics. See exactly how well or poorly your opt-in forms are performing over time. Even see where your most valuable traffic comes from!
8 Popup Types:
ThriveBox (Popup Lightbox)
"Sticky" Ribbon
In-Line Forms
2-Step Opt-In Form
Slide-In
Opt-In Widget
Screen Filler Overlay
Content Lock
Scroll Mat
Multiple Choice Forms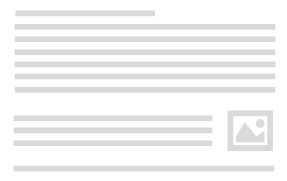 20. Popup Maker

Popup Maker is a flexible and usable popup plugin for WordPress.
You can build beautiful popups with no source coding skills! Personalize almost every element of your popups, from theme and position to targeting and cookies.
Features include:
Control Everything: Total control to personalize all aspects of your website's popups including: cookies, triggers, appearance, conditions position, and of course content.
Translation Ready: Easily translate your popup to any language.
Extremely Flexible: No random limitations are imposed in this plugin. Build unlimited popups! That includes: banner bars, welcome gates, slide outs and much more.
Developer Friendly: The plugin was created with developers in mind. It contains hundreds of action hooks, filters, and functions that developers of any skill level can use to build their own custom popups.
And there's a ton included in their free version!
Their conditions editor lets you decide which visitor will see which popup.
Use popups on any WordPress post, page, or category.
The plugin easily integrates with popular plugins like WooCommerce so you can lower your rate of cart abandonment.
Click triggers let your users trigger a popup by clicking buttons, sidebars, menu items, images, or any other content on your website.
Auto open triggers let you set up a timed delay for a more traditional popup experience.
Your triggers can check for one or more than one cookie. You have complete control when cookies are set and for how long they're set for.
Set cookies on events like when the popup opens, when the user closes it or even using JavaScript.
Control all elements of popup position, sizing, animation, and much more. Use their premade responsive sizes or build your own custom sizes.
The Visual Theme Editor gives you full control over all popups. Change shadows, colors, paddings, fonts, and much more.
Support is built in for popular form-building plugins including Ninja Forms, Gravity Forms, Contact Form 7, and Caldera Forms*.
Supported HTML optin forms include Aweber, MailChimp, InfusionSoft, Constant Contact, GetResponse, MailPoet, Hubspot, MadMimi, Emma, and many more!
21. WP Optin Wheel
WP Optin Wheel combines fun and purpose: it allows you to collect your visitors' email addresses while simultaneously offering them a moment of leisure and the opportunity to win a discount or another perk. Since every e-commerce owner's needs are unique, this plugin comes with a wide range of options and functionalities. If you're feeling lucky, you can use the standard themes and quickly start collecting your visitors' emails. If you're looking for something more specific, feel free to tweak the settings until your wheel is completely in tune with your branding.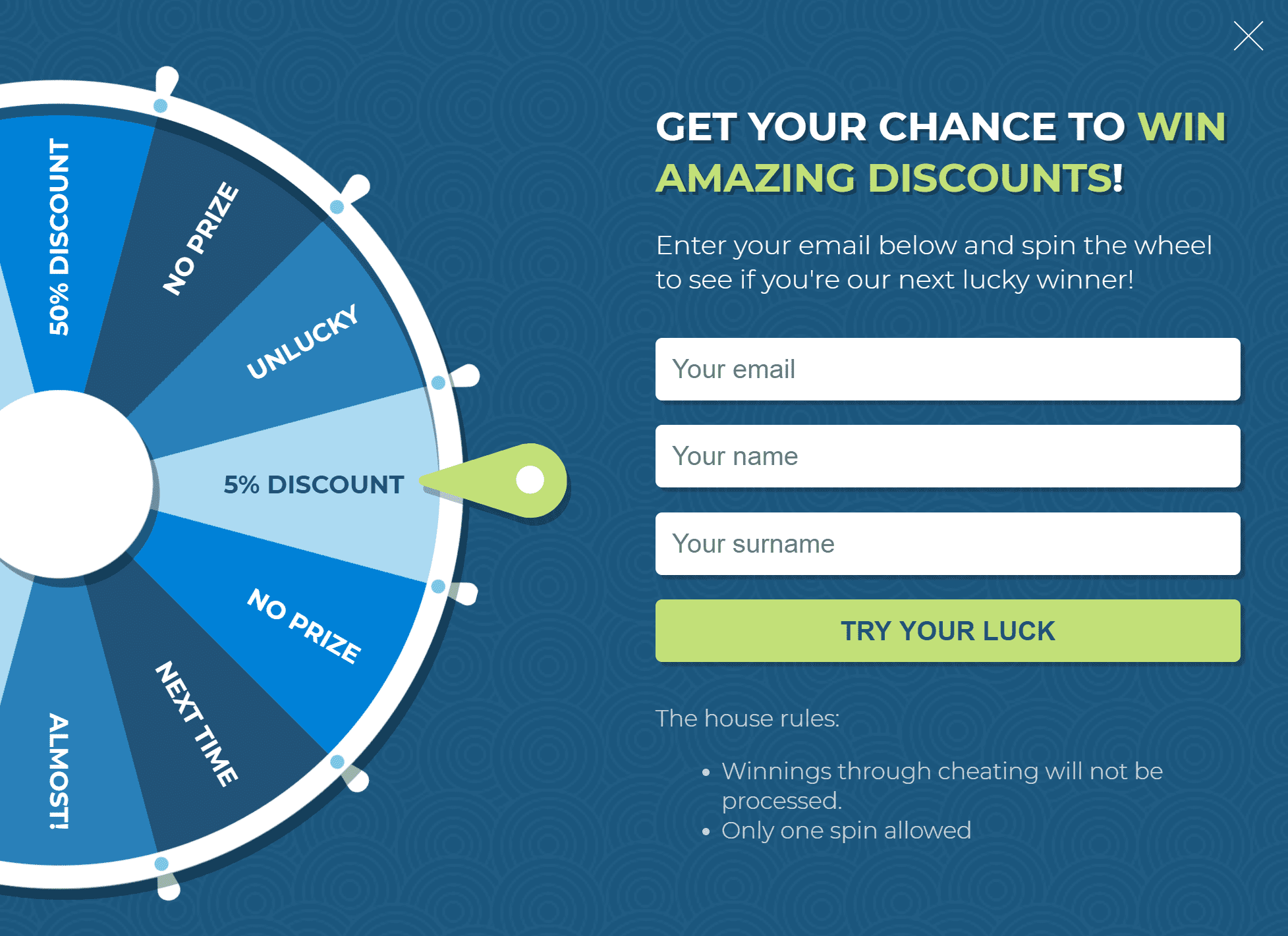 What makes this plugin so interesting? Let's have a look at some of the possibilities.
Integrate WooCommerce Coupons
If the visitor wins a coupon, WooCommerce can automatically generate a coupon code. You have access to some great extra settings, such as coupon duration, including and excluding product categories, etc.
And there's a ton included in their free version!
Email Integration
The wheel not only allows you to get your visitors' email addresses, but it also collects them straight in your email list provider (e.g. MailChimp, Campaign Monitor, Active Campaign, …).
Different Trigger Options
Depending on your visitors' behavior and your branch of eCommerce, it can be interesting to have various trigger options: upon exit intent, when the visitor starts scrolling, as soon as the page opens, …
Various Color Schemes and Layouts
Get the theme you like best and tweak it until you fall in love with it.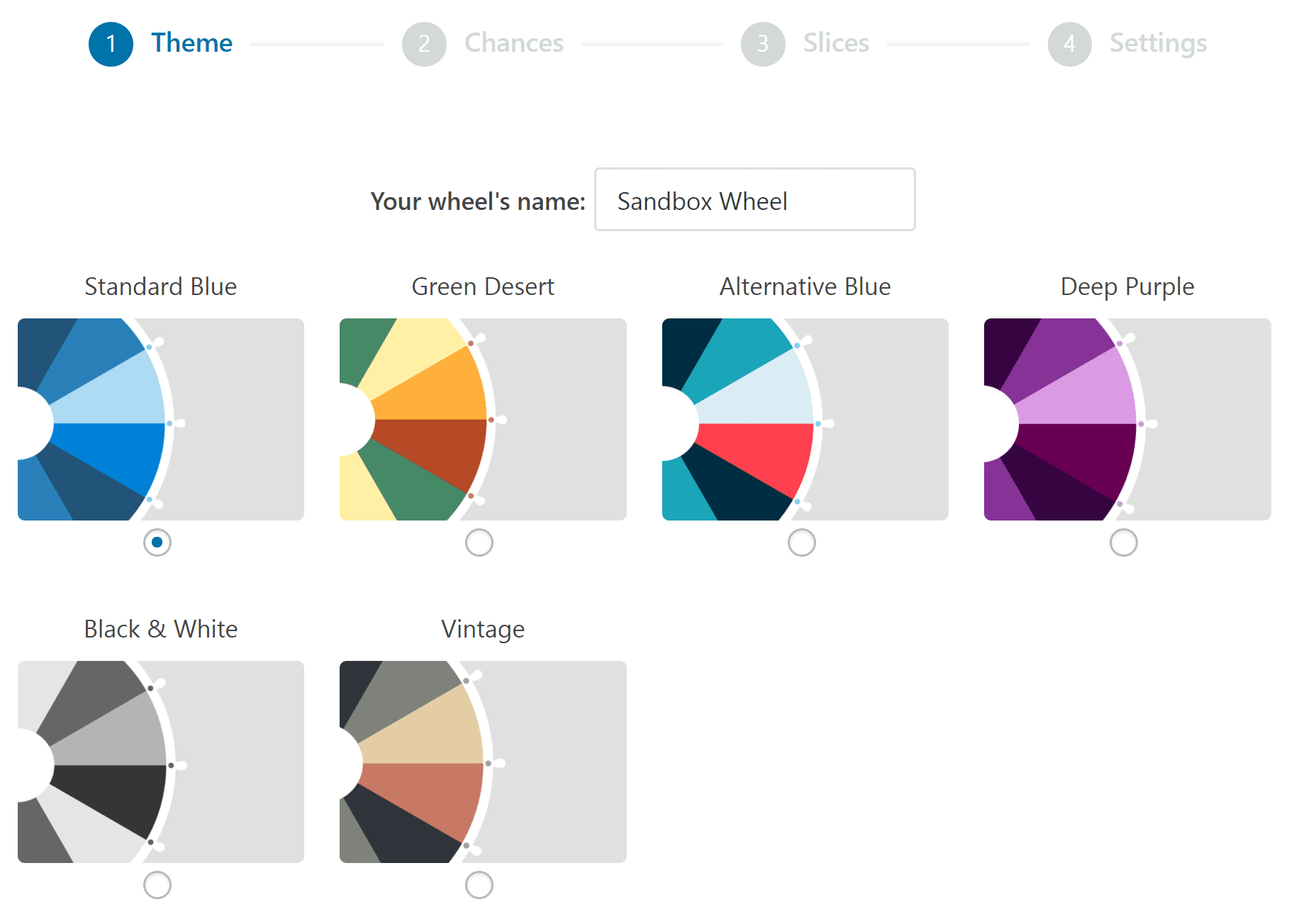 And why not adapt your theme to the current season?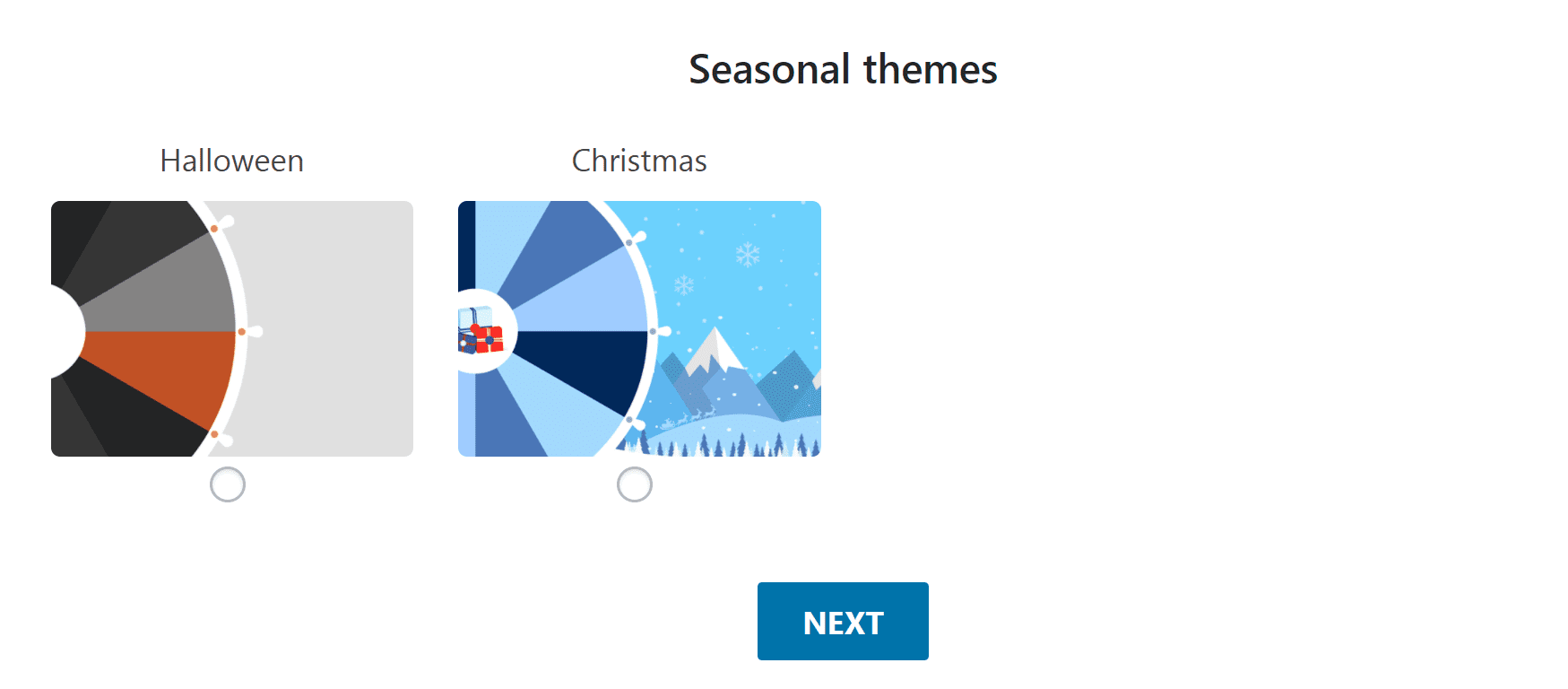 Full Control of Probability
You decide what the odds are your visitors will win something. You won't have to worry about giving away too many discounts as you are in control during the whole process.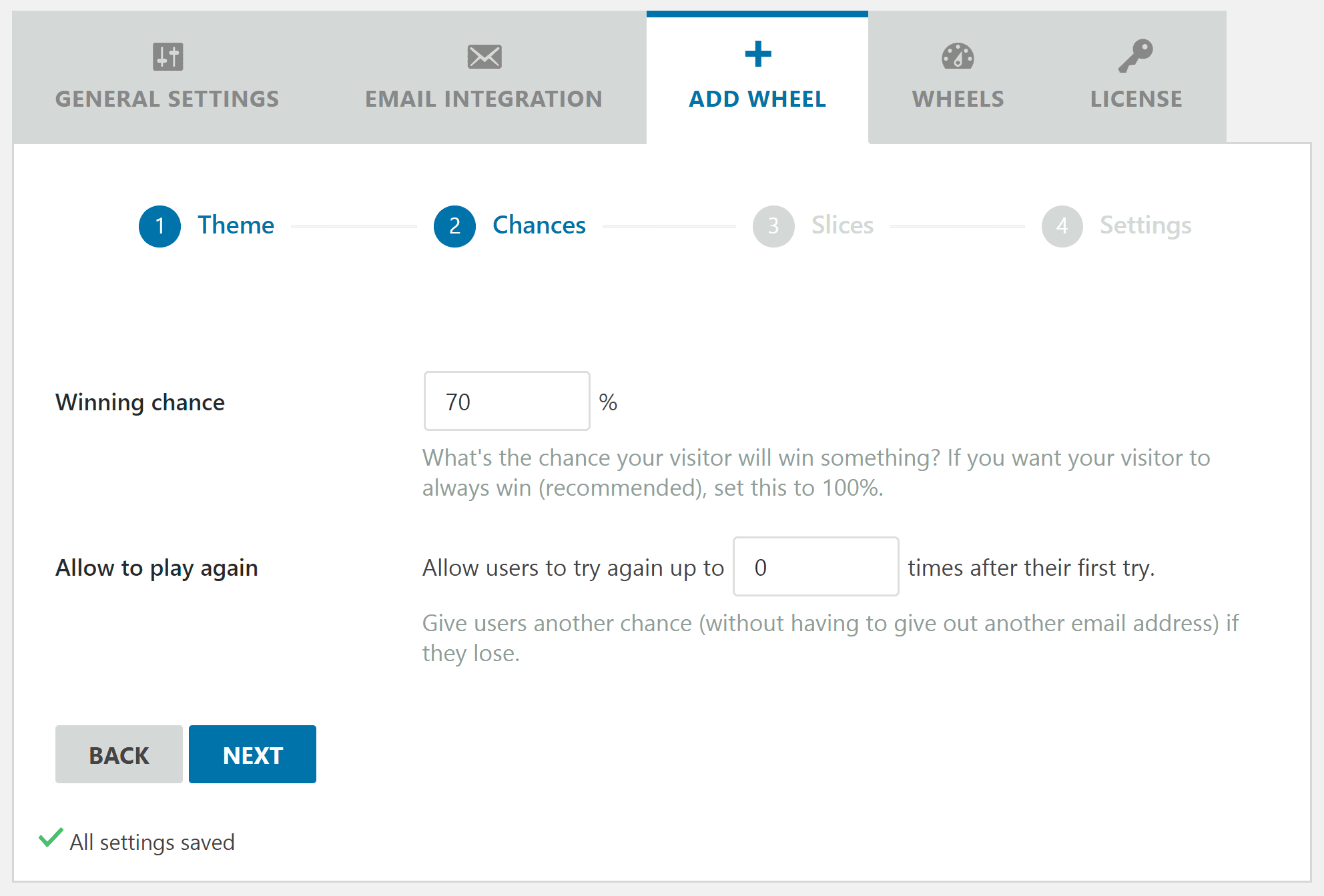 Personalized Slices
Decide how many slices will give people a coupon code, a discount, or a free item. You can fully customize the slices.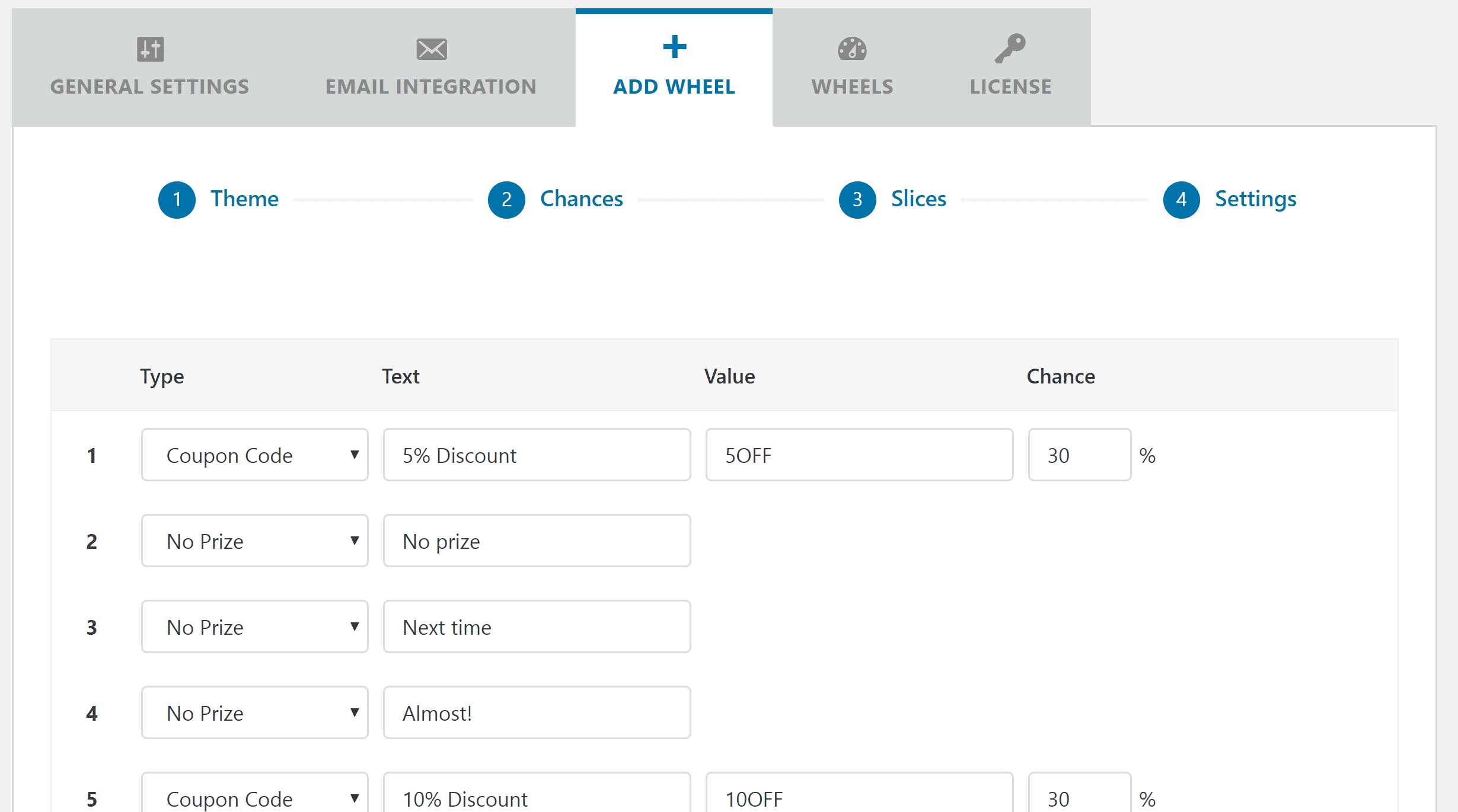 Settings
The settings menu allows you to make all the changes you want.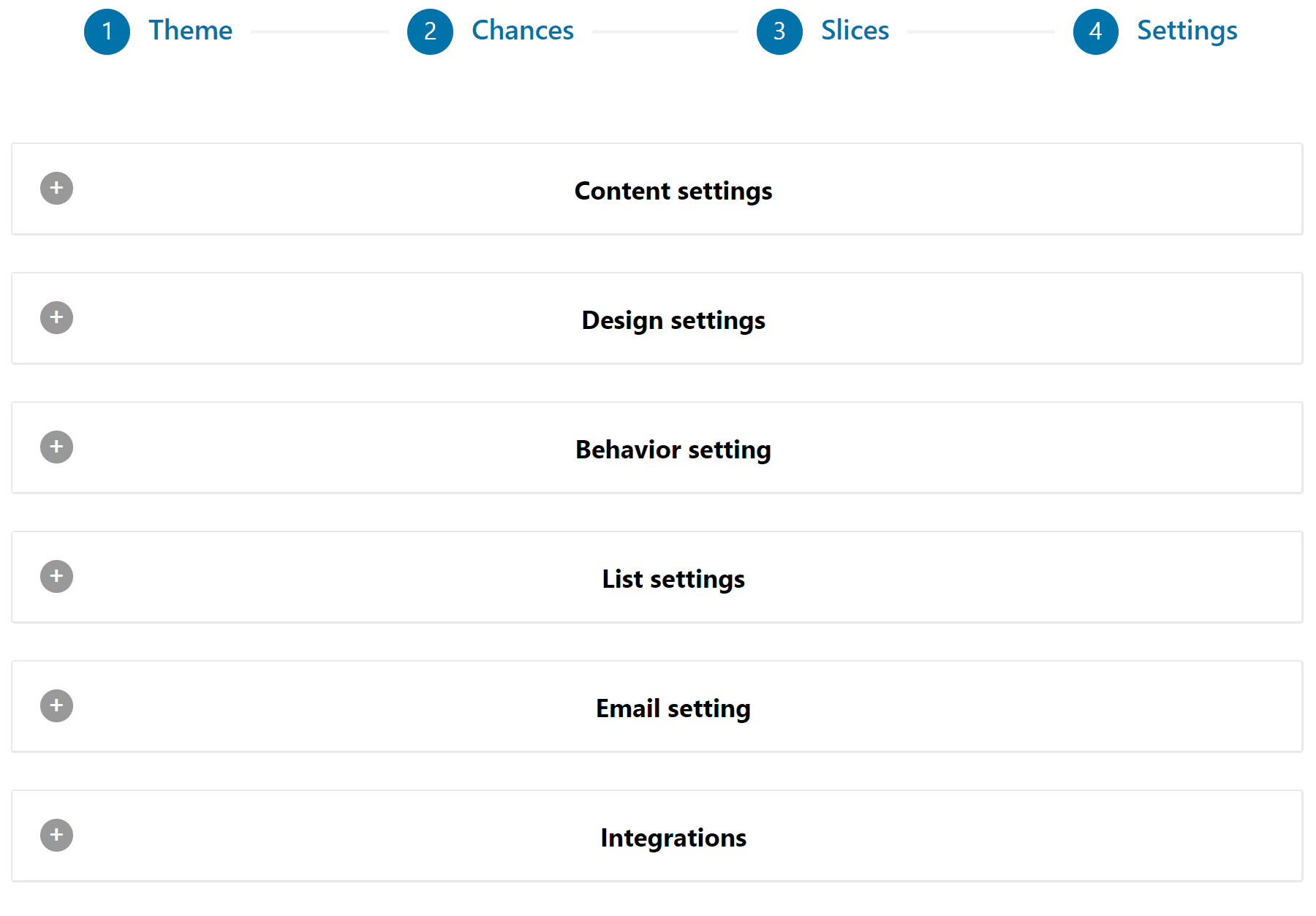 For example, in the category "design settings," you can change every small detail until you are completely satisfied.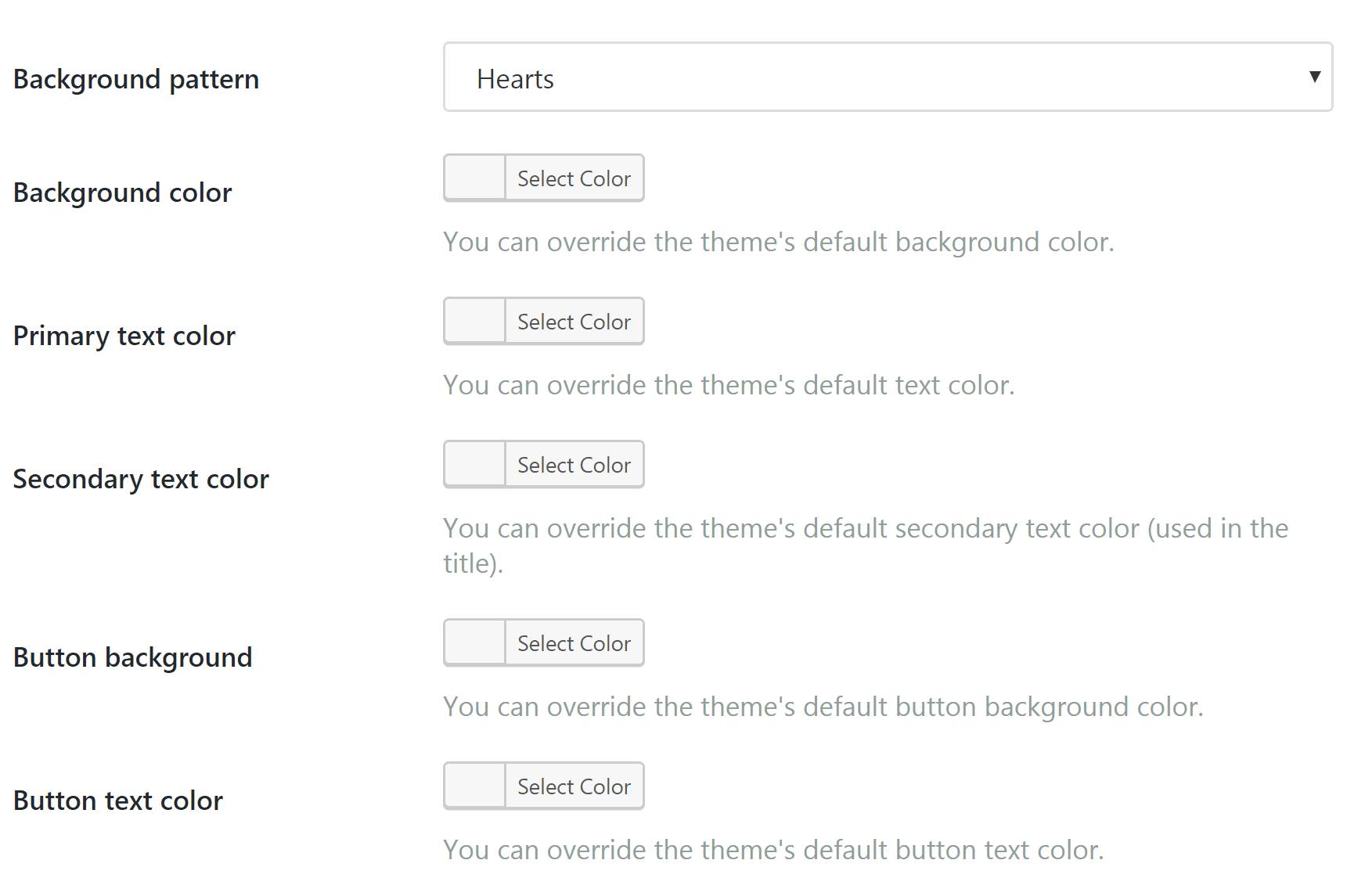 Place and Frequency
You can also decide when to trigger the wheel, where it should appear, and how often people can play.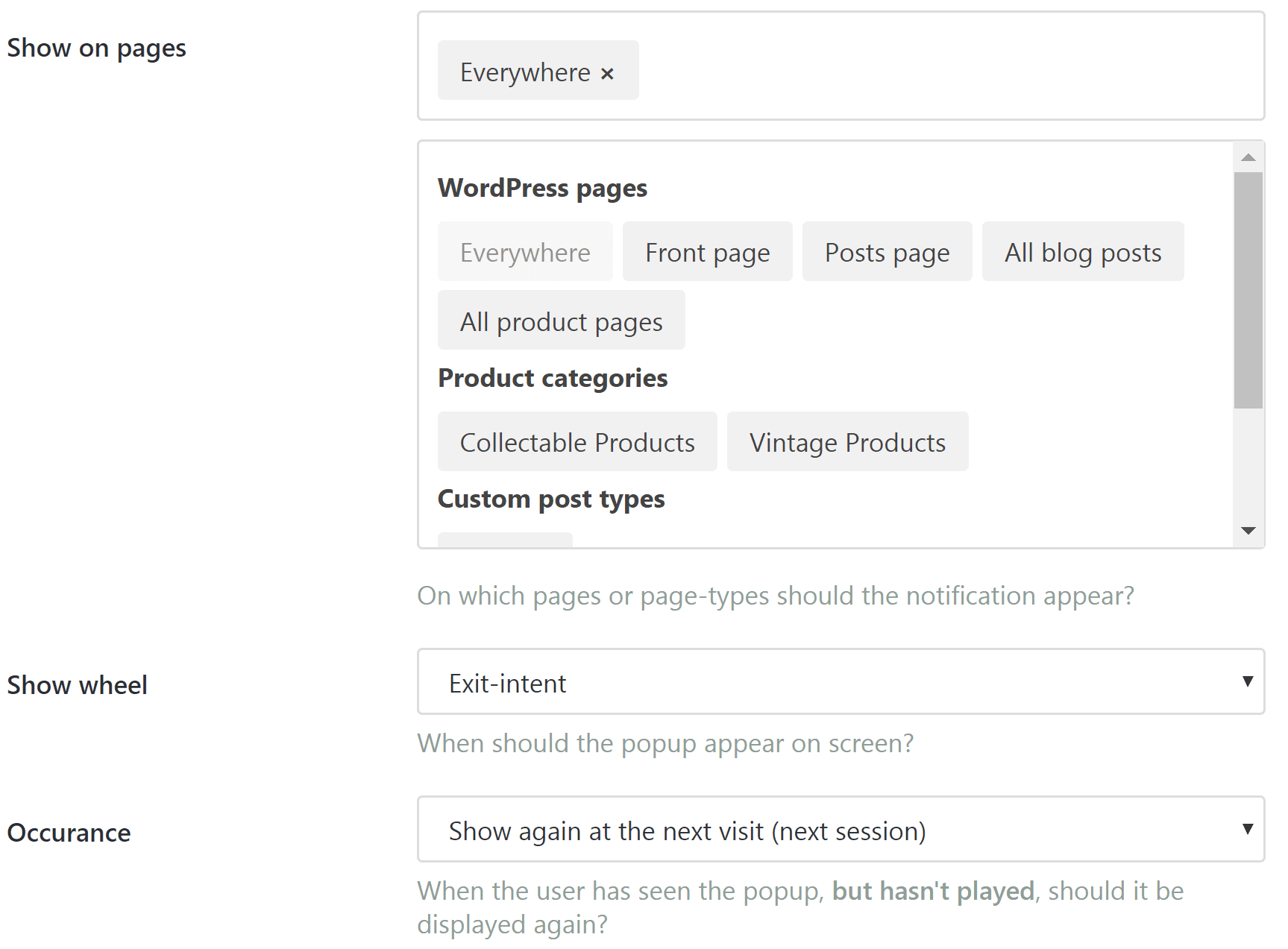 Automatic Emails to Winners
Do you want winners to receive an email with their coupon code or a link to their prize? Enter the email content and send automatic emails to every winner.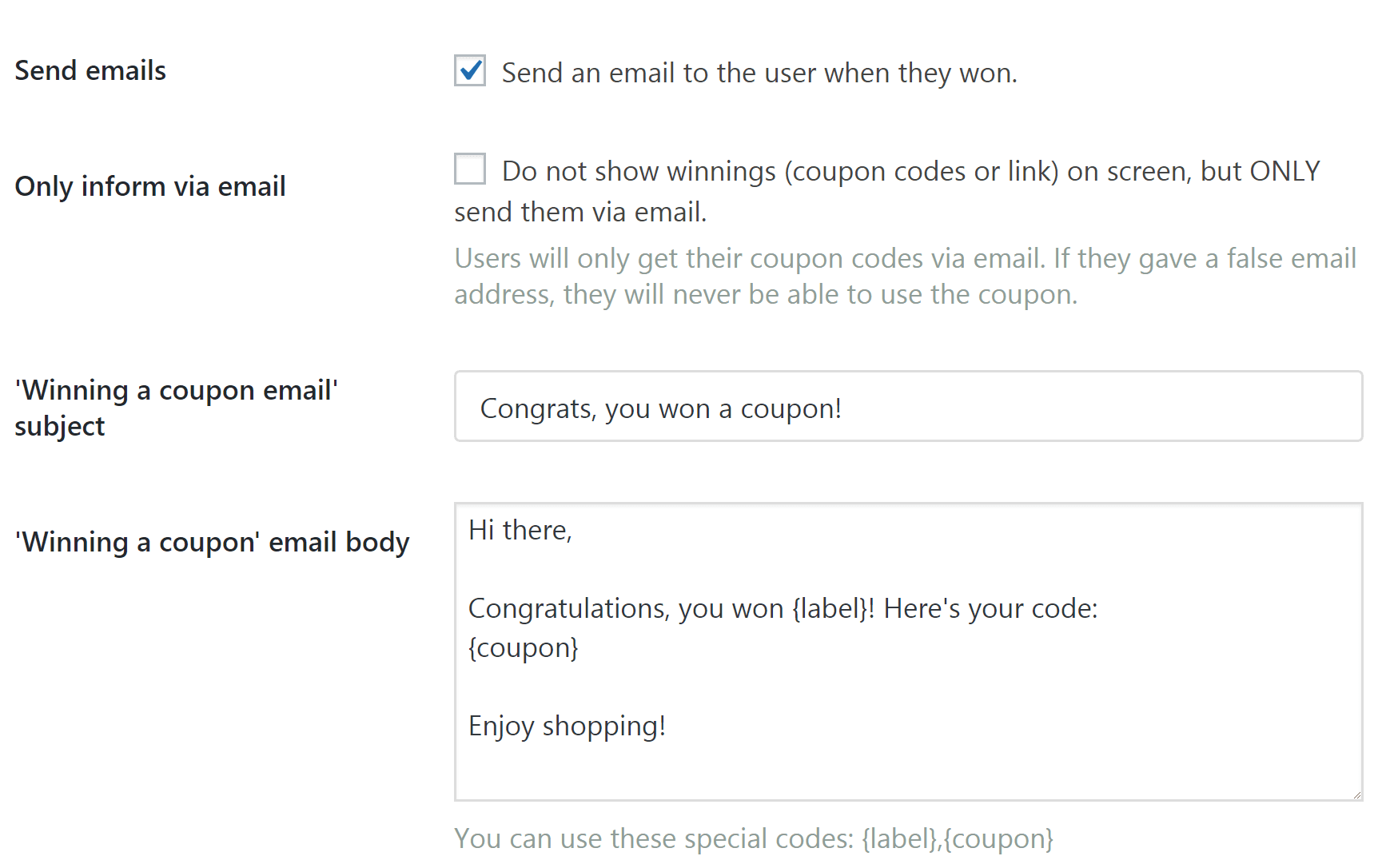 Zapier Integration
Need extra processing? Connect any app you can think to the wheel via Zapier.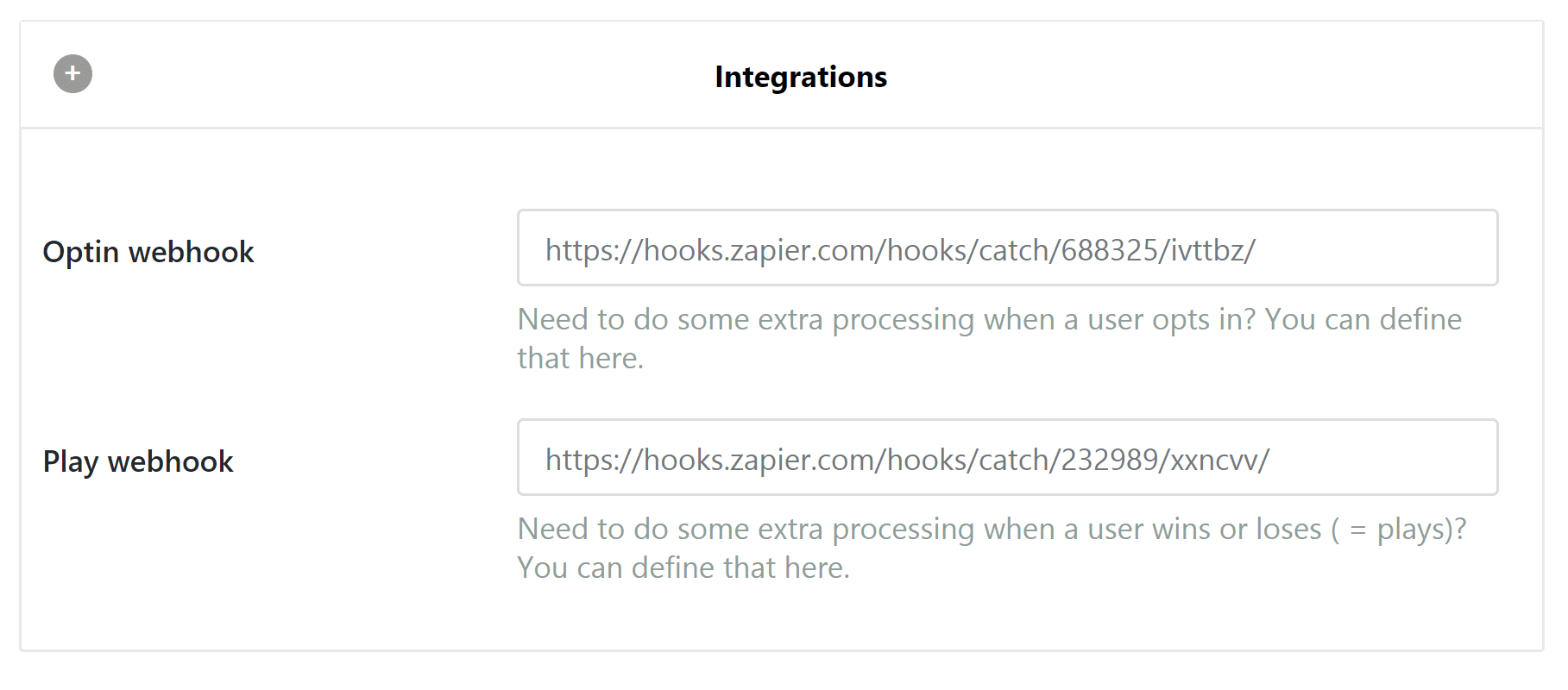 Customer-Friendly Support
Having trouble finding your way around the settings? The team aims to help you as soon as possible so you can create the perfect wheel for your website.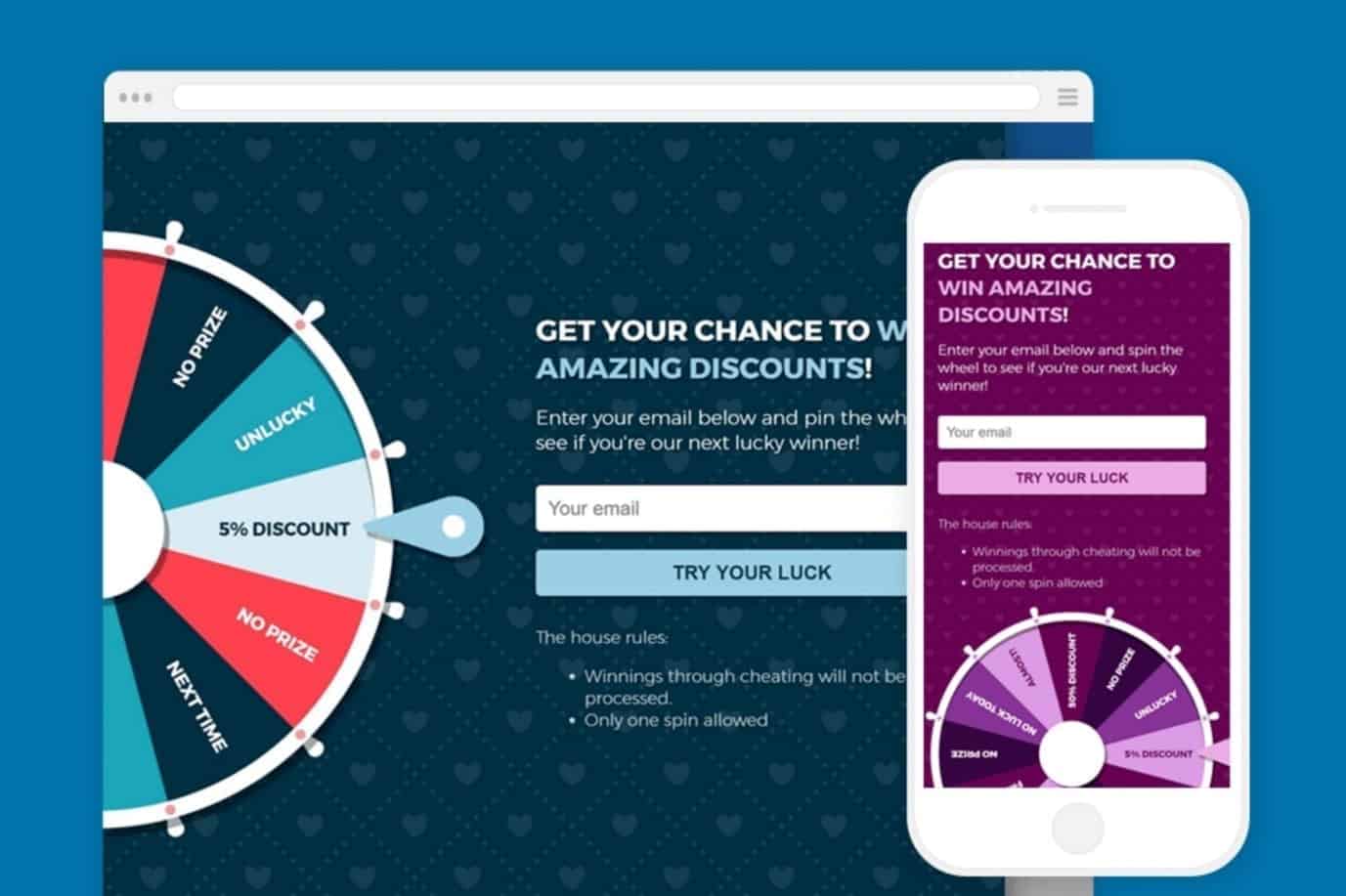 22. MailOptin
MailOptin allows you to grow your mailing list and display targeted messages across your WordPress site with popups, slide-ins, top bars, before/after subscription forms, and sidebar widget optin forms, and they're all integrated with all major email service providers.
Never again will you lose customers and subscribers that took you quite a lot of effort and money to build. MailOptin helps keep them engaged by sending them event-triggered emails including new blog post notification.
MailOptin exit intent, slide-ins, and other behavioral triggers convert abandoning visitors at the exact moment they are about to leave your website.
If your opt-in form displays too early, your reader might not yet be willing to subscribe and waiting too long will make you lose out on new leads. The "pageviews" and "time on site" triggers give you fine-grained control over the display of your optin campaigns.
MailOptin analytics show you important metrics to improve your lead-generation strategy and make data-driven decisions.
Overall Benefits
Different types of opt-in forms such as Popup, Notification Bar, Inline, Scroll Box, Slide Ins, Sidebar Forms.
Event triggered emails to keep your subscribers engaged such as new blog post notifications, welcoming messages, and email digests.
Tons of professionally designed, mobile responsive, and conversion optimized opt-in forms and email templates.
Page level targeting and optin triggers to build a hyper-segmented email list
Analytics with actionable reporting & insights to improve your lead-generation strategy and make data-driven decisions that will increase your revenue.
23. Popup Maker

Popup Maker is the ultimate marketing tool available as a service, a WordPress plugin and a Shopify application. Plus, the service has integrations with famous MailChimp email service and Google Analytics.
The bunch of popup elements and the easy customization options make the popup creation process as easy as pie. The service provides free registration, so anyone can check the functionality before paying for it. Yearly and Monthly payment methods are available, with Silver, Gold and Platinum plans.
30+ charming templates are offered for any purpose and taste. Subscription popup templates, Video popup templates, Spinner popup templates, Contact form templates, Age Restriction popup templates are there for your choice, for any purpose. The best thing about Popup Maker templates is that all of them are easily customizable. This means you can edit each of the templates to fit your website, specifically.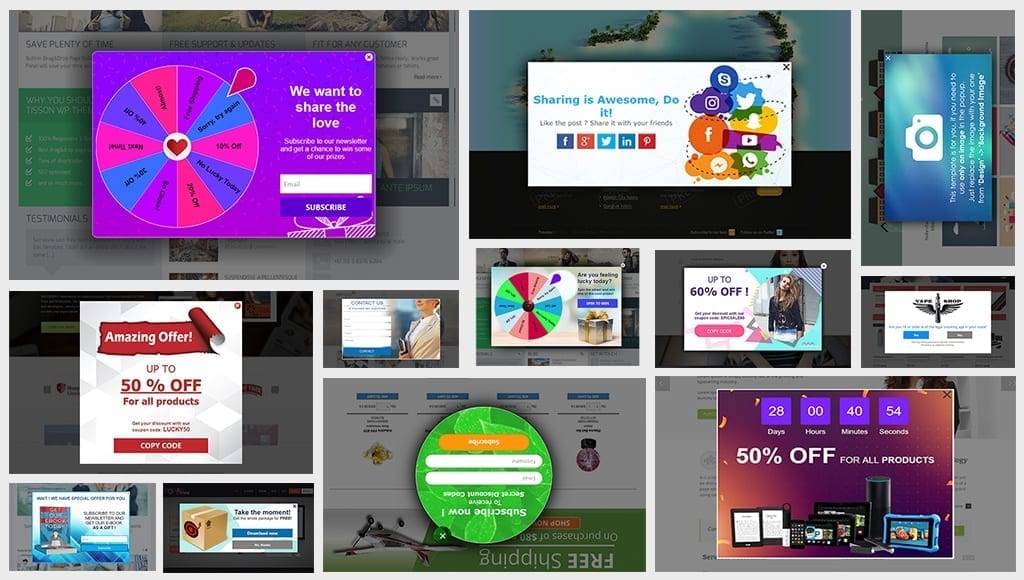 Exit Intent Technology
This is the best popup showing event to bring abandoning users back and convert them into your real customers. You can show your best offer just before the users is about to leave your site, thus convincing them to stay on your site and complete an action.
Popup Maker offers 4 modes of Exit Intent to choose from – Soft, Aggressive1, Aggressive2, Full.
Soft mode: If the popup is set to appear on exit intent, with Soft mode, it will come up on the page as soon as the user drags the mouse cursor out of the website.
Aggressive1: With this mode selected, the exit intent a message alert will appear when the user reloads the page, closes it or redirects to other one.
Aggressive2: This Exit Intent mode does the same thing as the Aggressive1 mode does, plus it shows the a popup.
Full: In case you want to show the popup, and the alert in all the cases, whether the user drags the mouse out of the website area, closes the tab, redirects to other page or reloads the page, this mode is the best for you.

24. Omnisend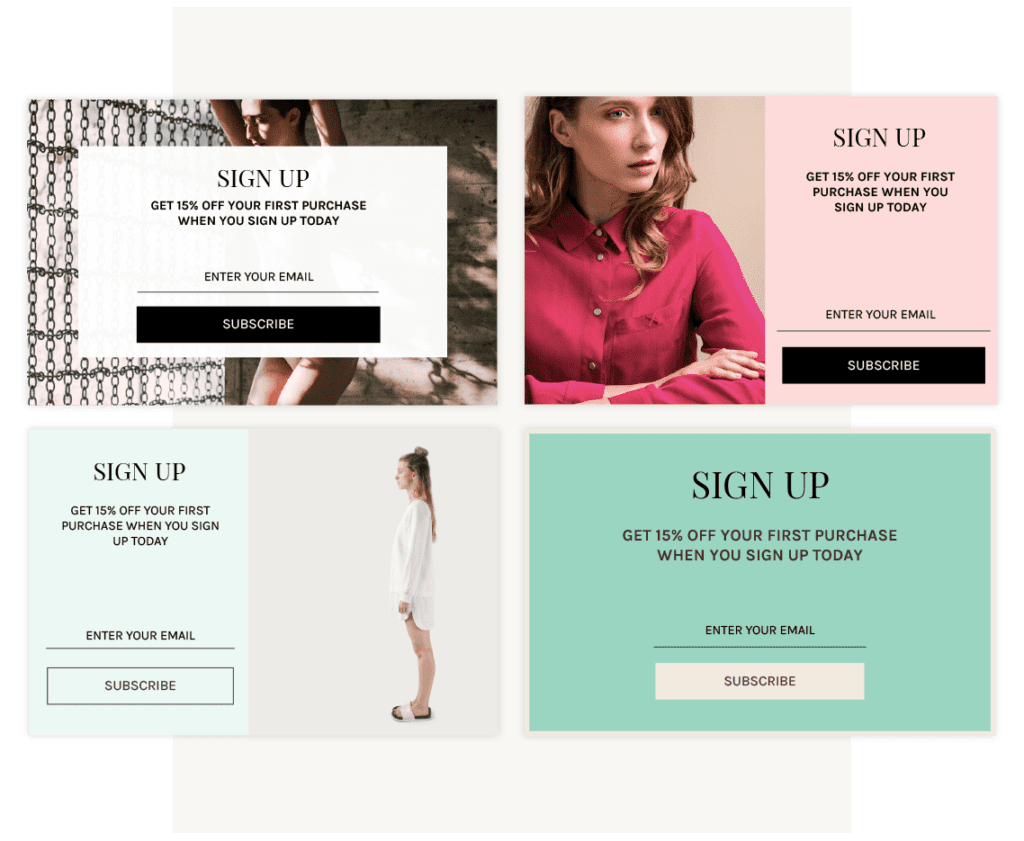 Omnisend is an omnichannel marketing automation platform built for ecommerce that has deep integration with WooCommerce and WordPress. This is a tool that provides exit-intent along with so much more for those who want to take their marketing to the next level.
Omnisend's integration with WooCommerce and WordPress allows it to collect data on your customers as they navigate your site. This means you can target your customers based on their behavior- not only for your email capture but in a variety of different messages and automated workflows.
Exit Intent, Timed, and Scroll-based popups: A popup for all occasions. Choose the best kind of popup based on the situation, and implement them all.
Advanced Segmentation & Targeting: target your exit intent popups so they are only shown to those who haven't seen them, haven't already signed up, or haven't opted out recently. You can make sure that your messages, whether in popups, emails, or text messages, are always relevant.
Creating popups in Omnisend is simple, as they have several potential templates to customize, and a drag and drop builder to make creation faster. Their advanced targeting options mean that your customer will never get irritated by an irrelevant popup, allowing you to implement several customized popups based on the situations your customers might encounter.
Omnisend also offers a dynamic spin-to-win Wheel of Fortune email form that allows your customer to spin for a discount once they've entered their email addresses.
While Omnisend isn't created just for email capture, it encompasses the whole marketing strategy for your ecommerce store. From the very beginning when you build your email list, to the moment where you're creating automated omnichannel workflows, Omnisend replaces many of the plugins you might already be using.
Some other amazing features WordPress and WooCommerce users are enjoying:
Automated omnichannel workflows that allow you to create customized messages for a seamless, unified customer experience.
Advanced email marketing with an easy-to-use visual composer.
Landing page creation for even easier email capture and lead generation.
Capacity to integrate several channels for an omnichannel experience: SMS, email, push notifications, Facebook Messenger, WhatsApp, Google and Facebook retargeting ads, and more.
24/7 support whether you're a paying customer or not
Omnisend offers a free plan for up to 2000 emails per day or 15000 emails per month. Their Standard plan starts at $16 per month with different modules you can add on as you go, meaning it scales easily, and comes with a 14-day free trial.
25. OmniKick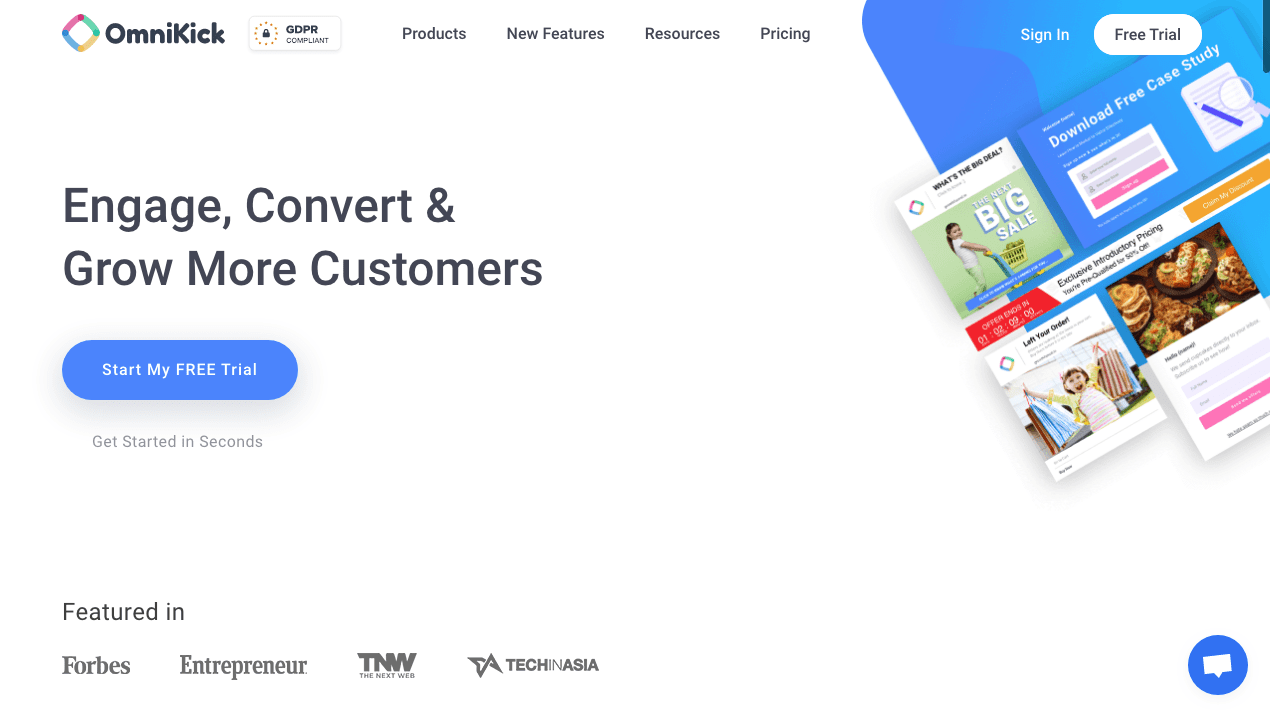 OmniKick is a popup builder plugin for WordPress that's effective for collecting leads.
The plugin automatically detects when a visitor is about to exit your web page. OmniKick tracks visitors' movements across the web page. They've collected enough data to perfect their exit-intent technology.
The tool gives you the option to choose the sensitivity of the exit intention. That means how fast you want OmniKick to recognize when the visitor is about to leave.
There are three options to choose from. And they are slow, accurate, and fast.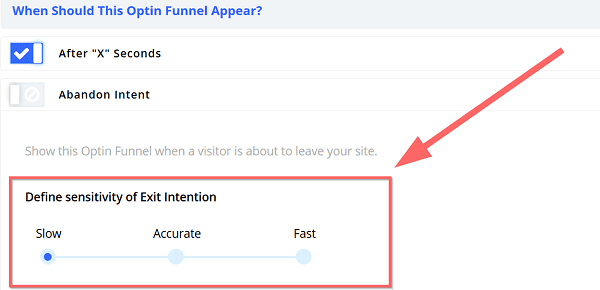 Slow takes a bit of time before it recognizes the visitor is leaving. Accurate is normal. And fast means as soon as the visitor shows a slight intention of leaving.
Accurate offers the best results as it's nor too slow or fast. It displays the popup normally.
Here are some of the benefits you'll get from choosing OmniKick:
Exit Intent Technology: Detects visitors' behaviors and prompt them with a targeted popup as they are about to leave.
Five Popup Types: OmniKick offers five high-converting popup types. They are popup optin box, full-screen welcome gate, slider optin box, inline optin box, and floating bar.
Popup Metrics: Get all the metrics you need to improve your forms.
Geo-Location Targeting: OmniKick lets you target visitors from a specific location. You have the complete freedom to target people based in a particular country, state, or city.
Device- Level Targeting: There are various kinds of devices prospects use to access your website. This option lets you target people on smartphones, desktops, and tablets differently.
Page-Level Targeting: Show popup campaigns based on specific pages or categories on your site.
Easy-to-Use Popup Builder: OmniKick popup builder is for everyone. Both beginners and experts can use it with ease.
OmniKick comes with ready-made templates you can use immediately. With these templates, you should get your popups running within a few minutes.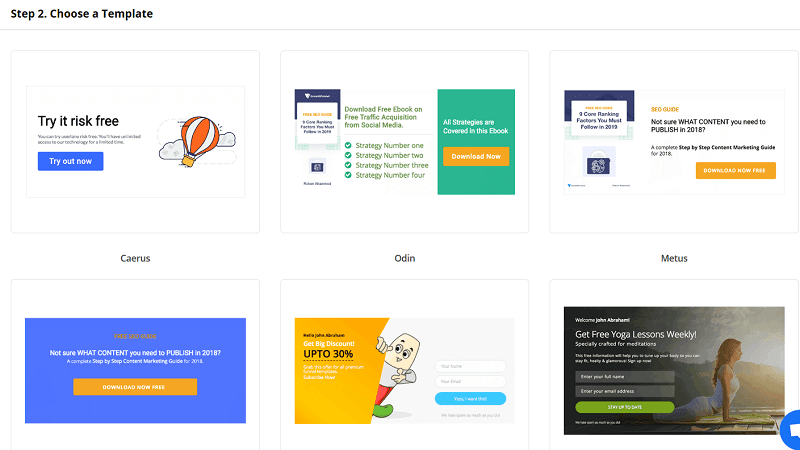 The team at OmniKick consists of talented people who have been doing digital marketing for decades. They are conversion rate optimization experts themselves. And that's why you should try this WordPress plugin.
26. Optinly
Optinly is another popup plugin you might have come across. It is a free exit intent plugin built to help you capture abandoned carts/visitors on your website, and it also has a premium version that can be tried for 14 days.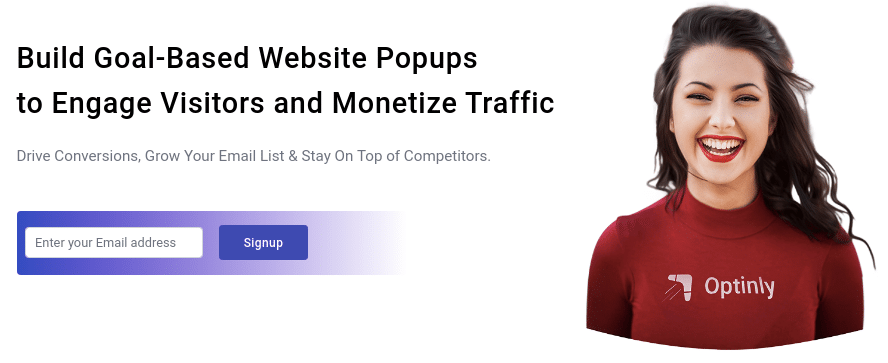 Optinly made our list not just because it is a good exit intent plugin, but also because of its goal-based marketing approach. As a marketer or an eCommerce store owner, you can create popup campaigns and set them live in minutes with the help of pre-existing marketing goals and appropriate popup templates.
Basic Features
10+ Growth marketing goals like upsell to existing customers, reducing cart abandonment, increase cart value and more. 

30+ premium highly responsive WordPress popup templates. 

5 different types of popups to use – fullscreen overlays, notification popups, floating bars, sidebar widgets and gamification popups. 

Exit intent popup triggering options – easy toggle button to make the activation process easy. 

Seamless integration with 10+ top email marketing platforms like Mailchimp, Aweber, Constant Contact, Mailer Lite, etc. 
Advanced Features
Powerful targeting options like page based targeting, device-based targeting (

mobiles, tablets and desktops

) and targeting based on user's previous web interactions.

Advanced popup triggering options like time-delayed triggers, URL based triggers and element-based triggers.

Advanced WYSIWYG Builder that's easy to use and gives endless options to customize popup templates.

Inbuilt spin the wheel popup templates to engage store and website visitors.

Quick customer support responses and on-boarding sessions. 
The fact that you get all advanced features in the free version as well is another good reason to opt-in to Optinly. Pun intended.
You can use the free version as long as you want (no credit card required and no strings attached) and the Growth version (paid version) starts from $25 per month! 
That ends the web's list of popup-intent plugins. Go ahead and try a few and see what works for you! And if you're interested, here's a list of the highest reviewed pop up plugins for WordPress.
Want to give your feedback or join the conversation? Add your comments 🐦 on Twitter.
SaveSave
SaveSave
SaveSave