Running a business is challenging enough. The last thing you need is to get tangled in messy disagreements with your website maintenance and support clients.
A lack of clarity regarding both parties' expectations can become a nightmare
of late payments, angry site owners, and bad press: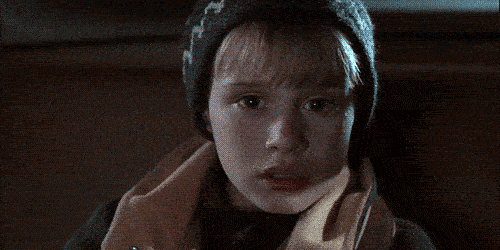 This is why
having a website support and maintenance agreement is crucial
. Spelling out your services (do you offer
site security
and
speed support
?) and policies upfront provides your clients with the information they need to decide if you can meet their needs.
It also gives you legal protection should the relationship turn sour
. In this post, we'll dig deeper into
why website maintenance contracts are necessary (and if you even need them)
. Then we'll walk you through
how to create your own web support contract
to use during your client onboarding process. Let's get started!
Our team at WP Buffs provides WordPress maintenance and support to
website owners
and helps
our partners
do the same. Whether you need us to manage 1 website or support 1,000 client sites, we've got your back.
Why You Need a Simple Website Maintenance Agreement 🔧
Offering maintenance and support services to your development clients is
a smart strategy for increasing revenue
. It also seems fairly straightforward – you keep up your clients' websites, and they pay you for your work. The nature of the agreement seems obvious, so writing it down may not seem important. Unfortunately,
operating off of good faith and assumptions about others' expectations usually spells disaster
. For starters, if your services aren't clearly defined, there's likely going to be some confusion.
What constitutes 'maintenance' and 'support' varies between professionals
. Your clients may have ideas about what services you'll provide that don't line up with your actual offers. This can lead to
angry site owners who feel deceived
because they didn't know your packages don't include Search Engine Optimization (SEO), for example.
😮 A clear, pre-determined web support and maintenance agreement outlines your responsibilities from the start so there are no surprises down the line. #WordPress
Click To Tweet
Your contract should also detail
your clients' obligations to you
, such as when and how much they will pay for your services. This way, you can reference this document if a client ever disagrees about how much they owe. If this doesn't solve the issue,
your web support contract provides you with much-needed legal protection
. In the event that a client refuses to pay you, you'll need evidence of the cost you agreed upon. Whether you use it to convince delinquent site owners to pay up or present it when pursuing legal action,
a simple website maintenance agreement could be what stands between you and a paycheck
. All in all,
a clearly written website maintenance contract will help you and your clients get on the same page
. By starting off with effective communication, you'll set yourself up for a lasting relationship with those you provide maintenance and support to, resulting in a steadier income stream.
Website Maintenance Contract: How to Create Yours In 5 Steps 🖋️
With so much riding on your website support and maintenance agreement, creating it can be intimidating. Below, we've broken down
the most important aspects
you'll want to include, as well as
some offered some resources to help you out
.
Step 1: Look Into Web Maintenance Contract PDFs and Templates
One of the easiest ways to avoid leaving a key detail out of your web support contract is to
utilize a template
. You'll simply need to find one that meets your needs, then customize the pre-written sections. A simple Google search will turn up several web maintenance contract PDFs to consider. You can also look at
our own website maintenance contract
for inspiration: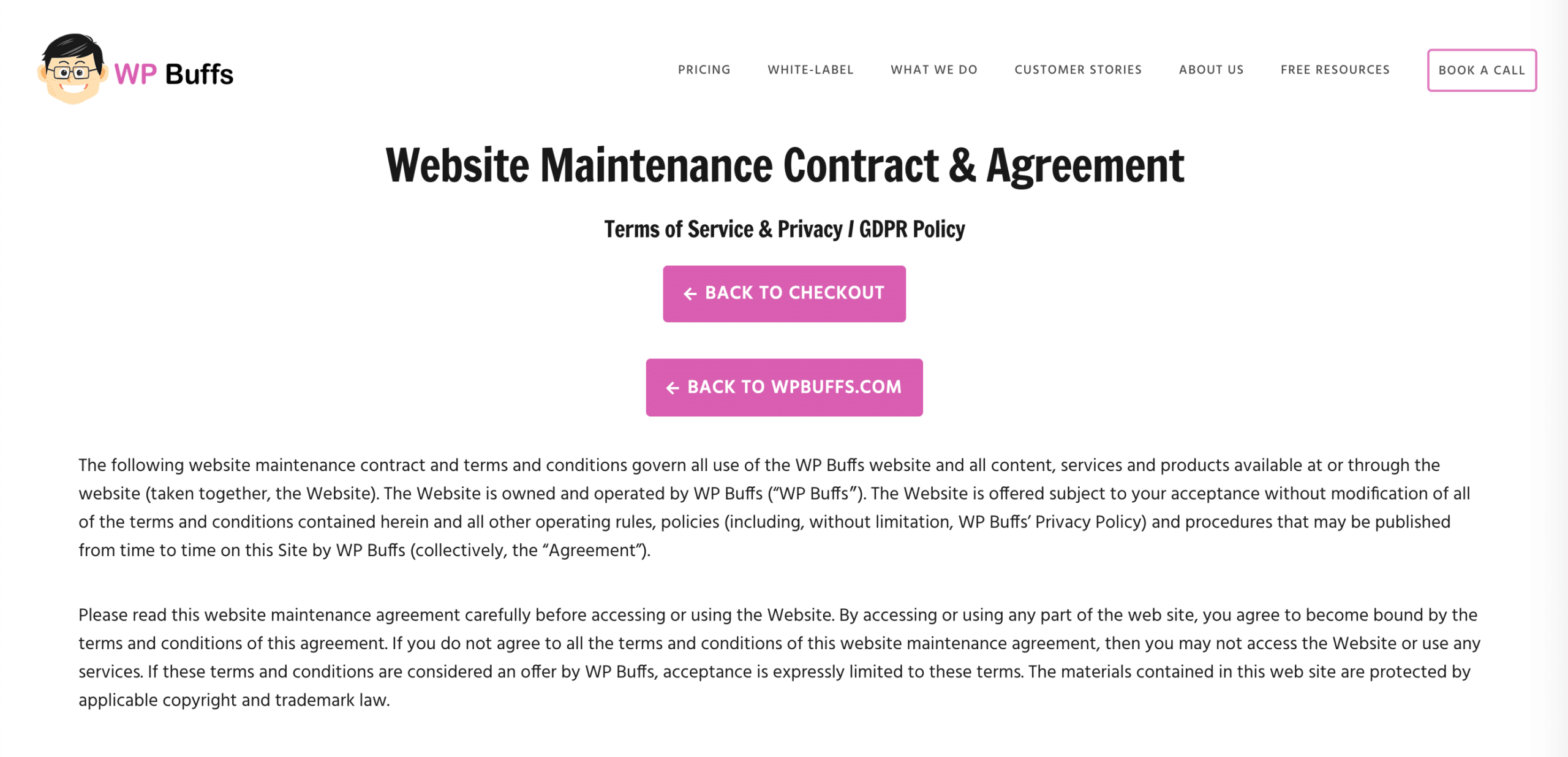 Even so, when choosing your template, it's important to ensure it includes certain key information.
A high-quality template
will at minimum incorporate the following sections
for clarity and legal considerations
:
Description of services: Also sometimes called the 'Scope of Work (SoW)'. This section explains exactly what your responsibilities to the client are.
Payment term and amount: Defines when and how much the client will pay you for your work. This section should also include your policies regarding late or missed payments.
Termination and renewal policies: Explains how you or the client can exit the agreement with notice, and the process for doing so. If your contract has a set end date, you can list your renewal process here as well.
Ownership agreement: States that the client will retain ownership of their site and its content during and after the contract.
Indemnity and liability: Prevents clients from holding you accountable if something goes wrong while you're working on their site. This is a key section to include for legal reasons.
Dispute resolution: Specifies how you will proceed if there is a disagreement between you and the client regarding the contract.
This list is by no means all-encompassing
. There may be other information you find essential to your contract, such as a
non-disclosure agreement
. Additionally, if you want your contract to be binding, both you and your client will need to sign it.
Step 2: Consider What Services to Offer in Your Website Maintenance Contract
Throughout this post, we've been using the terms 'maintenance' and 'support' somewhat interchangeably. However, there are some
key differences between these two types of services
. Plus, as we said earlier,
people have different ideas regarding what these terms entail
.
Maintenance involves the day-to-day upkeep associated with a website
. This may include several services, including:
Updating WordPress core, plugins, and themes
Creating and storing backups
Monitoring security
Optimizing performance
Fixing broken links
Auditing and/or creating content
Ongoing SEO
Support, on the other hand, is more focused on
situations such as troubleshooting errors or repairing broken features on sites you developed.
For example, if a client is facing the
White Screen of Death (WSoD)
, they could contact you to resolve the problem. Similarly, you might fix a malfunctioning form or another feature you built. The important things to consider if you choose to offer support are
when and via what channels you'll be available
. Make sure to clearly define your hours and request process. As you can see,
there are a lot of moving parts to consider when offering maintenance, support, or both
. That's why specifying what you have to offer in your website support and maintenance agreement is so important for your relationship with your clients.
Step 3: Decide How Much You'll Charge for Your Services
Pricing is a balancing act
. You want to charge enough to make a decent profit, but not so much that you scare clients off. There are several factors to consider in order to remain competitive. Firstly, you'll need to decide if you want to
offer one flat cost
, or if you'll
use
a tiered pricing model
. The latter option involves offering different packages that provide additional services for higher rates. Take ours for example: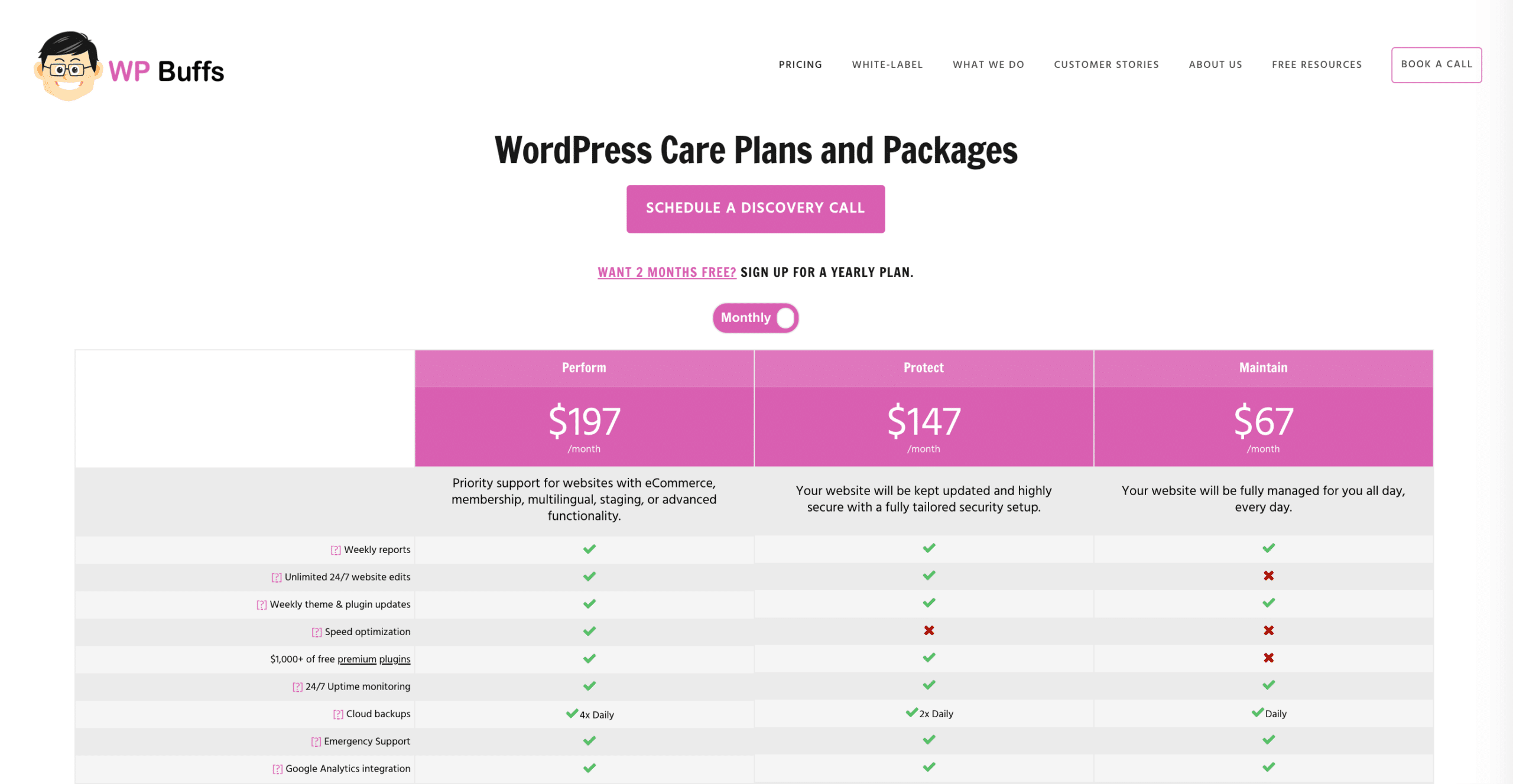 While you can make money with either model, tiered pricing may increase your revenue
. Next to your more expensive options,
your lowest tier will make clients feel like they're getting a good deal
. This offer might include services you can easily automate, such as updates, backups, and basic security scans. The most expensive tier will also offer the best of your maintenance and support options.
Some clients may find the extra cost worth it to have you handle all the details of their site's upkeep
. Here's where you'll likely include more time-consuming services such as 24/7 support and malware removal. Finally,
your middle tier will likely draw the bulk of your customers
. It might include services such as content updates, SEO, and limited support. Clients who want more than what your lower tier has to offer (without wanting to pay for your most expensive option) will likely settle here. Even so,
flat rates are simpler and may be easier to manage
. Plus, if you're not planning to offer advanced services it may not be practical to divide your maintenance and support tasks into tiers.
Step 4: Determine the Length of Your Maintenance or Web Support Contract
If you've included a termination clause in your website maintenance and support agreement (we recommend you do), then
stating the
duration of the contract
may seem unnecessary
. Either party can exit the relationship at any time, so bothering with a renewal process might appear to be an added inconvenience. However,
putting a set time limit on your contracts gives you a little breathing room
. Say you realize a few months into offering maintenance services that your late payment fees are a little too lenient. You can easily draw up a new contract to present to existing clients when their terms are up. Similarly, if things are going well and you decide to raise your prices,
having an end date for your existing contracts makes it easier to raise your rates
. This also
enables your clients to switch tiers
if they've decided they need more help or want to cut back on their expenses. Having
defined renewal periods can also make clients feel that they're taking less of a risk when hiring you
to maintain their websites. This could encourage them to try out your services, while the prospect of entering into a long-term contract might scare them off. To keep things simple,
you might include an 'auto-renewal' policy
that states the contract will renew annually unless the client cancels their services. Just be sure to
always alert your clients if changes are made to your agreement
.
Step 5: Show Your Website Support and Maintenance Agreement to Your Legal Advisor
We're certainly well-versed in WordPress website maintenance and support. However,
our advice can't compare with a lawyer
when it comes to creating binding contracts that will hold up if there's a disagreement and you need to pursue legal action.
👨‍⚖️ Showing your WordPress maintenance and support agreement to your legal advisor is highly recommended. #WordPress
Click To Tweet
We've hopefully given you an idea of what your website maintenance contract should include and access to several resources for creating one. However,
someone with the proper training will be able to examine your contract's specific wording for flaws
. If you don't have a lawyer and fear you can't spare the expense of one,
you may want to look into online
services to create your own website maintenance contract PDF or page.
LegalZoom
LegalZoom
is a solid online service. They offer a
Business Advisory plan
that will put you in touch with a lawyer for as little as
$31.25 per month
: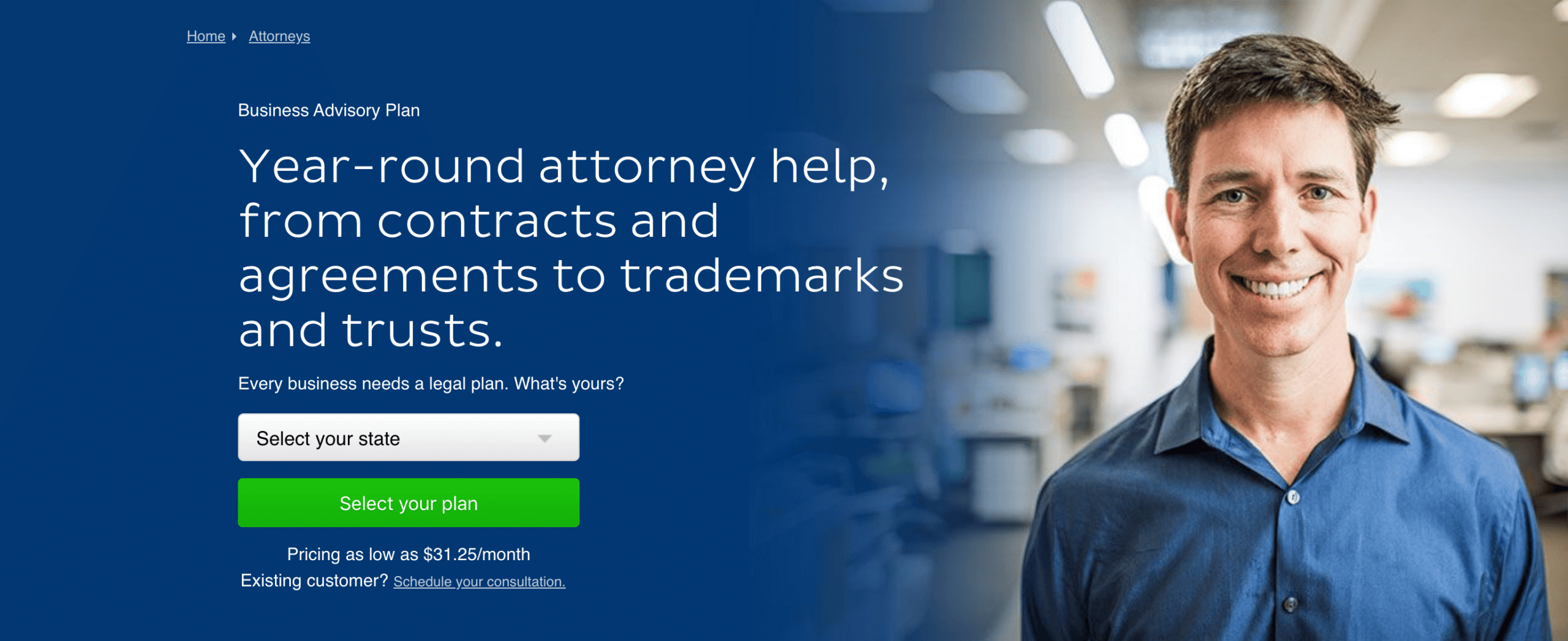 They also have a
Website Maintenance Agreement template
you can use. All you have to do is create a free account and provide some basic information that will be auto-filled to create your contract: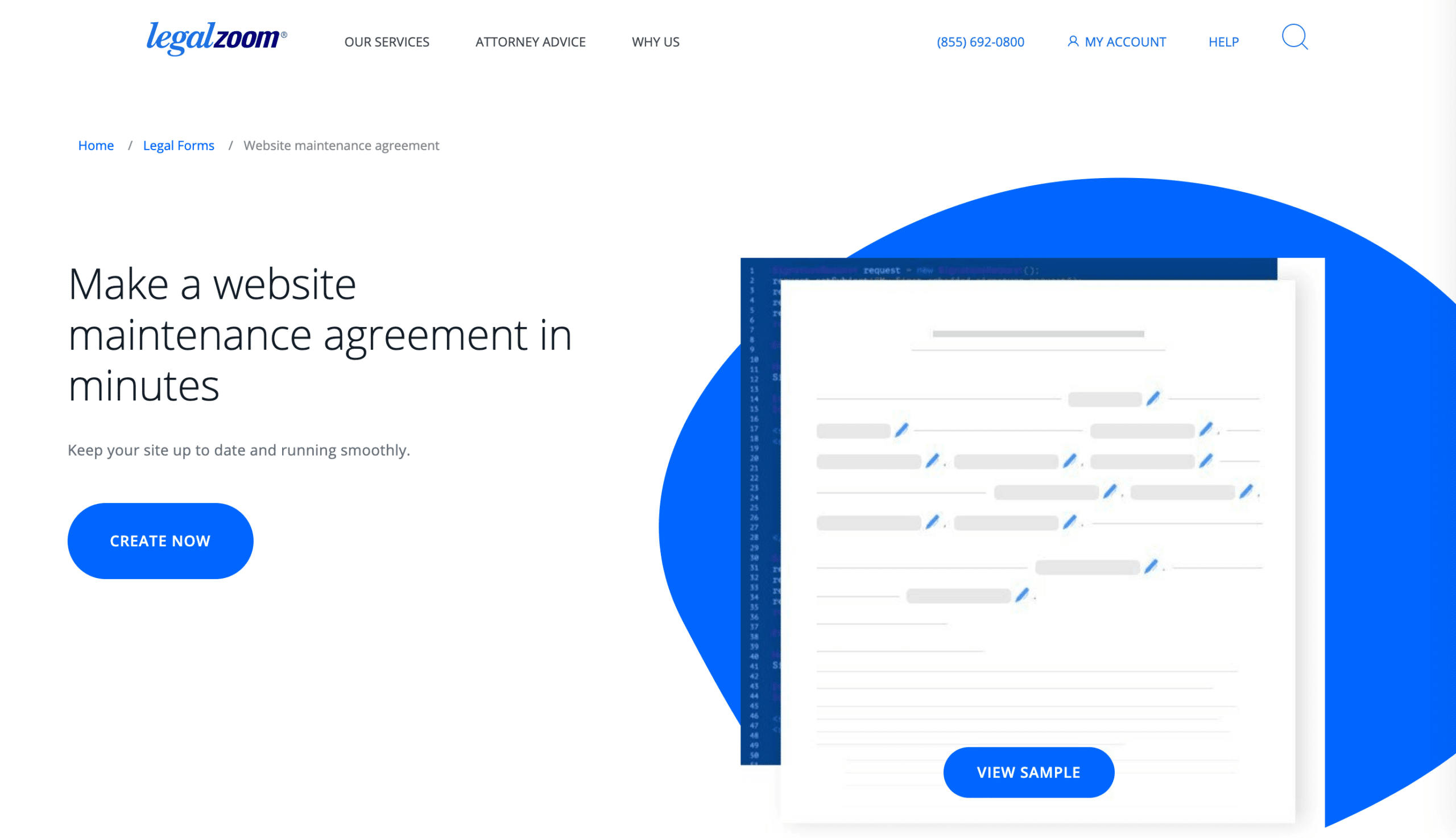 Rocket Lawyer
An alternative service is
Rocket Lawyer
. They also offer
service contract templates
, though you'll have to pay $39.99 for one if you're not a member:

Their memberships start at
$39.99 per month
after a seven-day free trial. Although it may seem like overkill to rope lawyers into your simple web maintenance agreement,
you'll be happy you spent the money if you ever get into a sticky situation with a client
.
Wrapping Up 🌯
There are many benefits to offering your clients support or maintenance services.
Creating a simple website maintenance contract will not only help you get off on the right foot but also offers important protection to you and your business
. In this post, we shared
five steps for creating your own website support and maintenance agreement
:
Look into web maintenance contract PDFs and templates.
Consider what services to offer in your website maintenance contract.
Decide how much you'll charge for your services.
Determine the length of your maintenance or web support contract.
Show your website support and maintenance agreement to your legal advisor.
Want to offer maintenance or support plans but aren't sure if you have the time?
Our
White Label Outsourced WordPress Support and Maintenance
may be right for you
. You sell our plans on your site under your own branding and we'll take care of the rest! Or check out this article if you want to read more about
WordPress maintenance
.
Want to give your feedback or join the conversation? Add your comments 🐦 on Twitter!