For owners of a WordPress website
, this typically leads you to seek out assistance in the matter. It's not that you can't do it on your own. It's just that it's labor intensive and your time is best spent elsewhere.
For developers and agencies that build WordPress websites
, you likely offer WordPress maintenance services to clients after launch. You understand the importance of ongoing maintenance and you want to ensure that your clients' investments are protected for the long haul.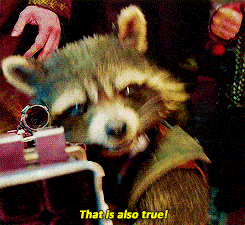 Regardless of which side of the fence you're coming from when it comes to
WordPress maintenance
, you're here because you're wondering if a WordPress maintenance contract is necessary. In many cases, yes, a contract is helpful to have. In others, it might not be needed at all. This guide will break down the reasons why website owners
and
WordPress maintenance professionals need a contract. Then, we'll give you some best practices for building one for your website. If you're a website owner,
start here
. If you're a WordPress maintenance professional, agency, or developer,
start here
.
Or if you're looking for more options for maintenance partners, go ahead and read
16 Top WordPress Maintenance Services in 2020
Why Do Website Owners Need a WordPress Maintenance Contract?
You've built a WordPress website, but you realize the work doesn't stop there. The software must stay up to date, content and visitors protected, everything well-maintained for search optimization, etc. You could do it yourself, but that takes time… time away from tasks that make you money.
So, you've decided to outsource WordPress maintenance to someone else.
Anytime you hand any part of your business over to a third party, you should ask yourself if you need legal protection. When it comes to building a website or hiring someone to create content for your site, an agreement ensures that you retain the copyright to your digital property and that all agreed-upon work is delivered on time and to spec. With ongoing WordPress maintenance services, you're simply paying someone to manage the upkeep of your site. There's likely not going to be much or any major web development or design going on, so what do you need to protect?
Here are some reasons why a website owner might want to use a WordPress maintenance contract:
You've run into problems in the past with contractors that have disappeared or not fulfilled their obligations. You want a web support contract to hold all parties accountable.
Your website is a major source of revenue and you're nervous that an unchecked error or security breach could leave your reputation tarnished and your profits diminished.
You have proprietary software or a highly confidential business concept and you need to protect it with a non-disclosure agreement (NDA).
Your business has strict insurance regulations, so you need to clarify certain standards as well as liability.
This is the first time you've worked with this WordPress professional (or any third-party) and you're nervous about leaving such a sensitive matter in the hands of an untested resource.
You're hoping to negotiate a discount on maintenance services, so you want a simple website maintenance agreement to clearly spell out the terms and rates for a longer-term agreement.
In some cases, you might find that a WordPress maintenance contract just isn't necessary for your website.
For instance:
Your website or blog is small and you don't anticipate traffic levels to increase in the near future (i.e. maintenance work will be straightforward).
Your site is for a private, internal network. Security and performance are important, but employees are the only ones who will access it so maintenance isn't a major undertaking.
You've been working with your web developer or agency for a while and you trust them to handle this without another contract that stipulates new terms of working together.
Ultimately, the choice is yours.
📝 A contract is never a bad idea as you never know when something might go haywire. It's always best to protect your business. #WordPress
Click To Tweet
And if you're serious about protecting your investment in a WordPress site, then getting serious about maintenance may be needed, too. Skip down for tips on how to
build your WordPress maintenance contract
.
Why Do WordPress Professionals Need a Maintenance Contract?
When it comes to building WordPress websites for clients, a contract makes sense. Those projects require a huge commitment of time and you need to ensure that you get paid for it. And it's not just about spelling out the dollars and cents of the job. There are things like scope creep and project abandonment that you can protect yourself against with a contract. But when it comes to recurring maintenance services, is a contract even necessary? It's not like the fees you receive from a client in a month's time equate to what you make on a web development project. However, there are other circumstances that can cost you if you don't protect your business with a contract.
Here are some reasons why a WordPress professional might want to use a maintenance contract:
You're new to WordPress maintenance services and want to give your clients the peace of mind that you will do as promised and that they'll get their money's worth.
You can hold clients accountable to the payment of services–the amount of payment as well as frequency.
You want to define the length of contract to establish and protect a predictable recurring revenue stream.
You can hold clients accountable to the scope of work for the maintenance plan they've chosen. This will help you avoid scope creep.
You need to protect your business from liability lawsuits that may arise due to security breaches or major episodes of downtime unrelated to the work you did.
Your client requires extra assurance that confidentiality will be maintained.
Sure, selling WordPress maintenance services is a great way to bolster your cash flow. But, let's face it, if you don't actively work to protect the websites you've created, there's a very good chance clients will allow them to stagnate, drop in performance, and go unsecured. So, maintenance services allow you to provide clients with that extra value (
that they need
) while you continue to build trust as their go-to WordPress professional.
That said, there may be a few instances whereby you don't need to use a WordPress maintenance contract.
For example:
Small websites or blogs meant more as placeholders than digital business fronts.
Portfolio websites.
Internal company networks that are lower risk (so long as there isn't a massive exchange of private data).
You might also eschew a contract for clients that you already have a long-term working relationship with. If you trust that they'll pay and they trust that you'll fulfill the terms of the maintenance plan, then a contract isn't really necessary. If you do have a need for one, keep reading to learn how to build your WordPress maintenance contract.
What Should a WordPress Maintenance Contract Include?
When it comes to creating a WordPress maintenance contract, or signing off on one that your client or developer has presented to you, there are certain elements that need to be included. The following breakdown will show you what a good maintenance contract should include to ensure you've covered all your bases. For the purposes of this demonstration, we'll be using snippets from a contract template created by
AND CO
(more on them in the section below).
1. Naming of the Parties
To start, your contract should define the two parties involved:
Client – The client's company name, main point of contact, and email address
Contractor – The maintenance company's (or developer's) name, main point of contact, and email address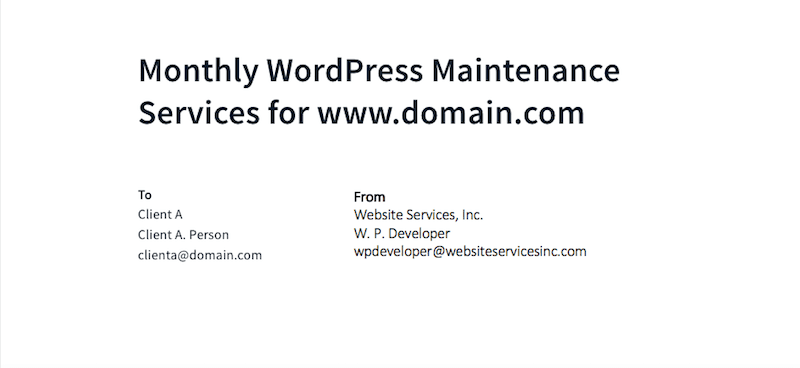 This gives both of you an official record of who your main point of contact will be.
2. Introductory Statement
Your introductory statement can be a blanket summary of the parties involved and the services to be provided.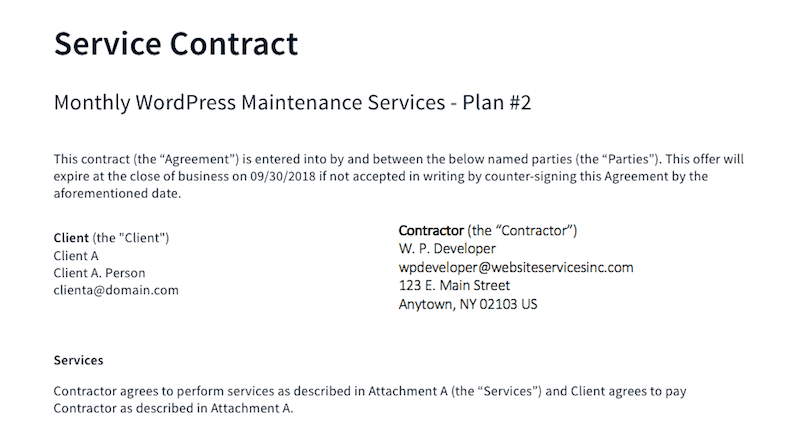 This particular statement allows the contract to refer to the involved parties as "Client" or "Contractor" throughout. This greatly simplifies things.
3. Terms and Conditions
Terms and Condition is a general statement that describes the reason for the legal contract.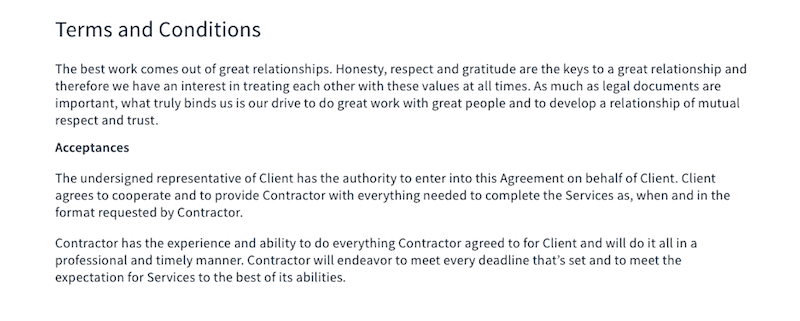 It also explains that both parties accept this with the understanding that anything owed to each–be it something like login credentials the client owes to the WordPress professional or the actual maintenance services the WordPress pro owes to the client–will be delivered in full and on time. This is important to include as it sets the tone right away.
‼️ The terms & conditions document is not meant as a show of hostility. It's meant to formally ensure everyone gets what they're fairly due. #WordPress #facts
Click To Tweet
4. Scope of Work
With the generic contract statements out of the way, it's time to get more into the nitty gritty of your arrangement. To keep your contract well-organized and focused on the legalities, create your scope of work (SOW) and service level agreement (SLA) as separate attachments. This will also make these maintenance-specific documents easy to find in the future.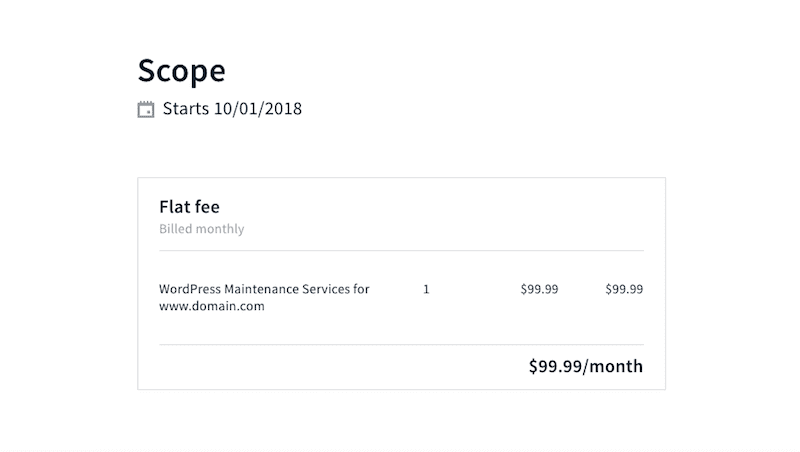 In terms of scope, keep this relatively simple. Include:
A brief description of the service.
The cost per month for the service.
The start and end dates (if any) of the service.
If you want to add more details regarding the maintenance plan, you can do so in the SLA (see next point). Every WordPress maintenance contract should include a change of scope clause.

All this statement does is to keep this contract strictly to the terms laid out within it. If a client should ask for additional design tweaks or need urgent assistance with a security breach (i.e. anything not in the plan), the contractor has the right to generate a new contract with payment terms specific to those changes or upgrades before managing any of those requests.
5. Service Level Agreement
In this SLA example, the explanation of maintenance services is bare bones (and pretty much identical to the SOW).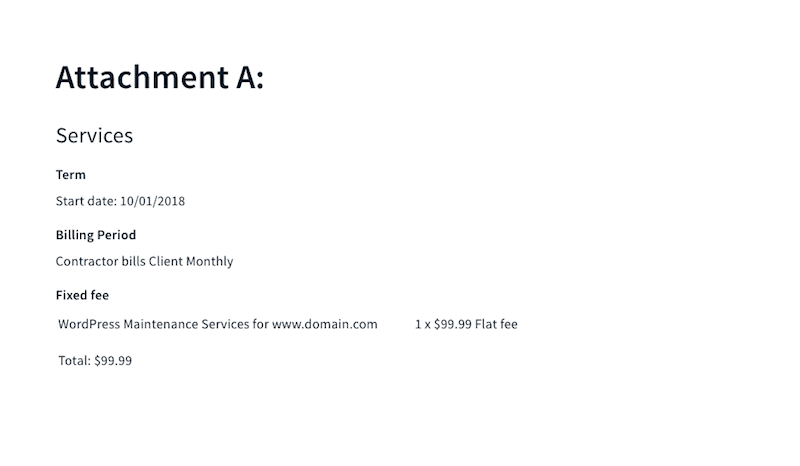 However, in your own service level agreement, you should write out each service that's included in the monthly maintenance package. This might include:
Updates for WordPress, plugins, and themes – define which ones and at what frequency
Backups – define the frequency as well as storage options
Security monitoring
Security fixes
Uptime monitoring
Performance upgrades
Database cleanup
Database tracking for unwarranted changes
Hours of development assistance
Number of design or content tweaks
Premium support options
Hosting and domain management services
Content marketing
SEO
Consulting
Content, security, or performance audits
Reports
In other words, lay out all the information from the maintenance plan in easy to follow terms. Then lay it out here in the SLA so you have an official copy saved along with the contract and that is signed off by both parties.
6. Define the Relationship
There are various statements that should be used throughout the contract to define the relationship the two of you are agreeing to. To start, explicitly state that this is a "work for hire" relationship.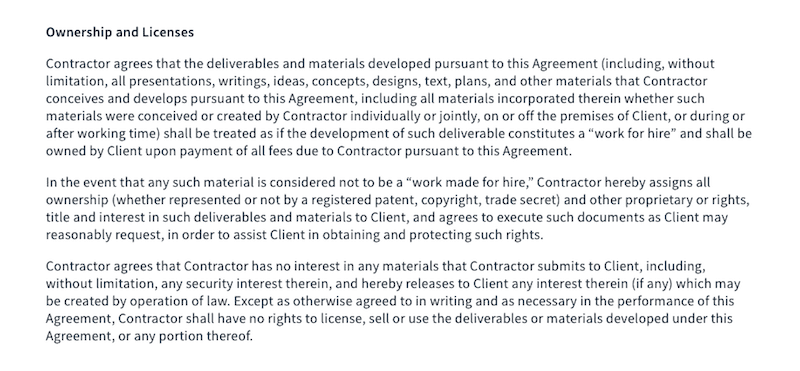 This just means that any intellectual property (i.e. the website) the contractor works on is owned by the client. It doesn't matter if custom coding or designs are added, the client has paid this contractor to handle the work on their behalf. Also, make sure you clearly explain that the contractor is not an employee. Because employees are privy to certain privileges, this statement will ensure there's no confusion over what's owed to the contractor.

The non-solicit is always a good statement to have as well. It's just a way to give the client some peace of mind that the contractor won't try to poach any of its employees during their working relationship. And vice versa.
7. Payments
Your SOW and SLA will include the actual monthly payments the two of you have agreed upon. However, the contract itself should break down the terms for other payment-related matters.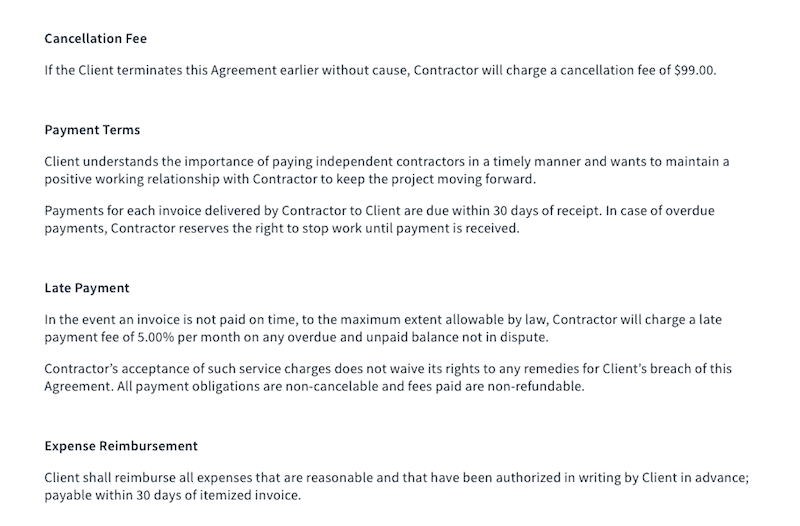 Specifically, you should include statements regarding:
Payment due dates
Payment types accepted
Late payment fees
Early contract cancellation fee
Expense reimbursement (say, if the contractor purchases a premium plugin on the client's behalf)
Depending on the kinds of maintenance plans offered, the contract might also include a statement related to automatic withdrawal of funds or one for rolling or renewable contracts. This will lessen the amount of work both parties have to expend on issuing payments and renewing contracts at the end of the term.
8. Termination
A termination clause grants either party the ability to pull out of a contract, so long as they give proper notice.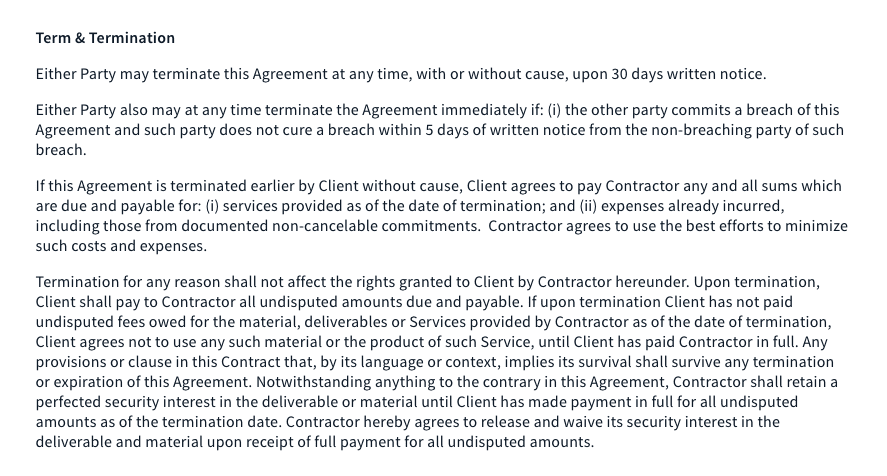 You can make this as simple or complicated as you want. Just remember to include termination fees in other parts of the contract so all involved parties are aware of the consequences of breaking the agreement before the contract end date.
9. Indemnity and Liability
This is a critical statement for any WordPress-related contract agreement.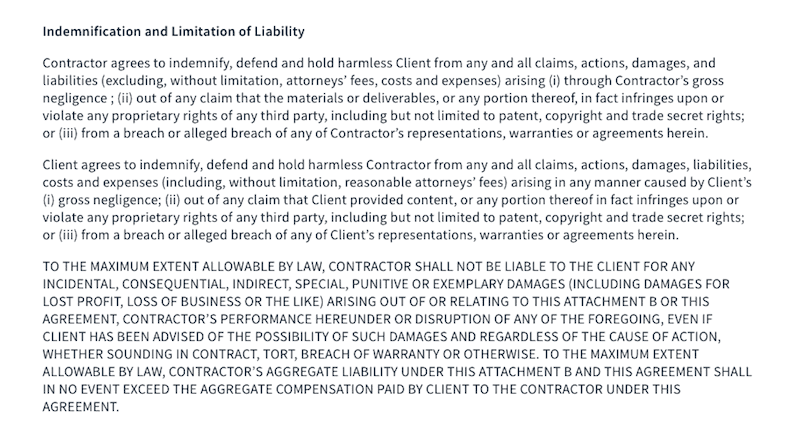 In sum, it explains that the client is not to hold the contractor accountable for anything that goes wrong with the website based on the attached terms of service. The same goes for the contractor if anyone should attempt to bring legal recourse against them. Now, if you're nervous that something could go wrong on a very high-profile website, then there are other ways to cover yourself legally. For contractors, liability insurance is a must. For clients, business insurance is what you need.
10. Non Disclosure Agreement
The confidentiality clause is one that most contractors will include, but it might not necessarily be relevant unless the website contains top-secret information or the contractor is given access to other privileged and guarded information.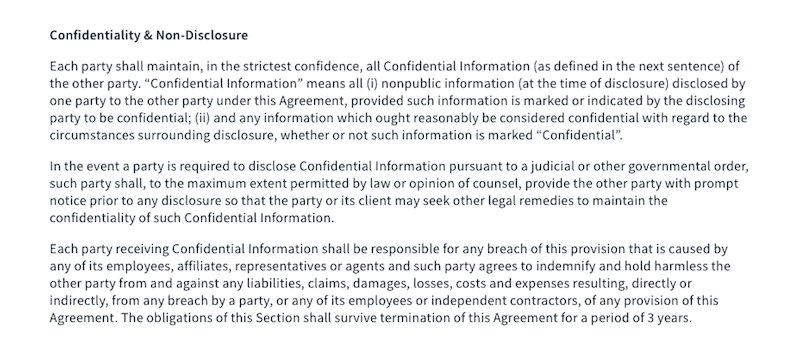 Regardless, this statement is an easy one to add to a contract and should be in place no matter what.
11. Choice of Law Clause
If one of the parties should find cause to take legal recourse, the matter will be handled by the governing law indicated within this section.

Because a contractor drew up this particular contract, the choice of law falls to their specific location. If the contract comes from the client, however, the reverse would be true.
12. Signatures
Finally, the contract must have signatures from both parties as well as the signed date in order to make it official.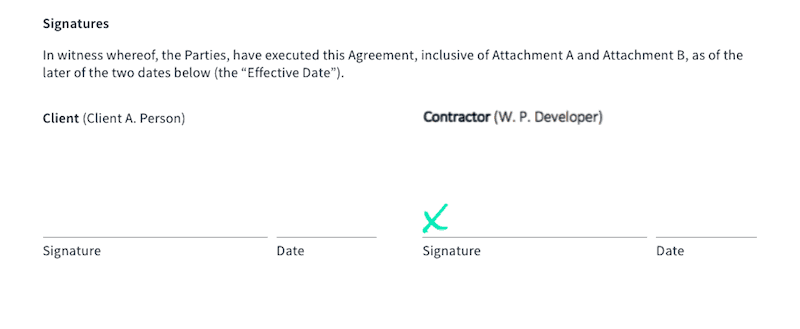 The Best Tools for Creating a WordPress Maintenance Contract
If you're worried about the amount of work involved in creating a WordPress maintenance contract, the legal fees associated, and so on, don't be. There are a plethora of tools that allow you to create your own legal document online. Let's look at a few options.
Option 1: Build Your Own
For those of you who've already taken the time to create company branding and letterhead, building your own WordPress maintenance contract is a totally doable option. And while this is technically "DIY" in terms of laying out the contract in your own design template, you can use verbiage that someone else wrote. Since this is all legalese and it's not going to be published anywhere, it's okay to copy someone else's work.
Docracy
is always a great place to get contract templates from. You can either download them straight from the website or copy and paste the relevant sections into your own document.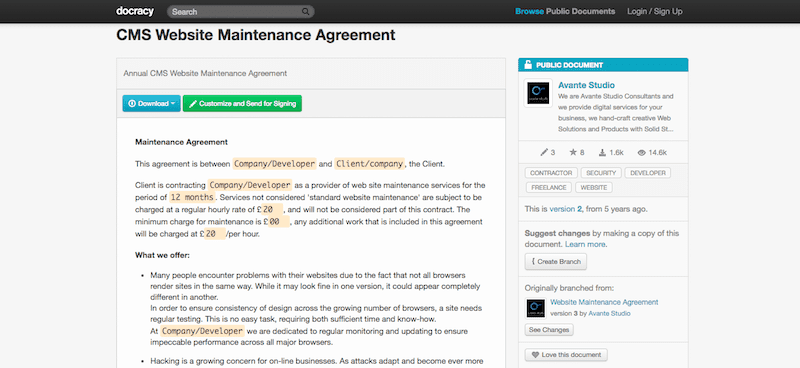 Here are two to get you started:
Bashfoo
also has a great WordPress maintenance contract template. If you want to worry less about formatting and rewriting the contract template to suit your own needs, give this one a go.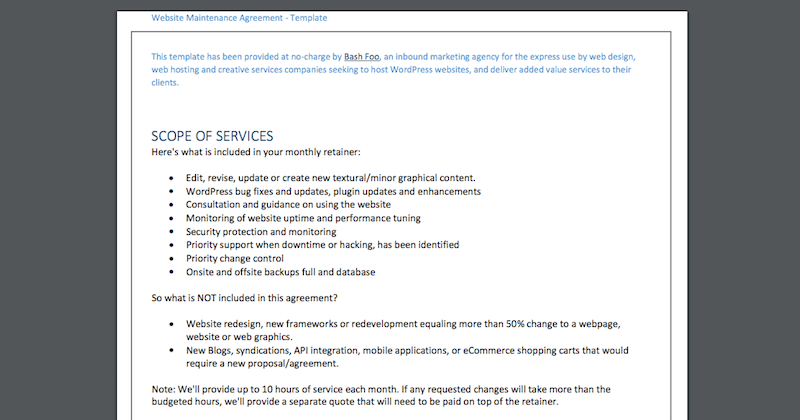 Now, in terms of getting a legally binding signature on your own custom-made contract, you have a few options. The easiest and most convenient one for WordPress maintenance professionals and website owners is a combination of
ApproveMe
and a contact form plugin.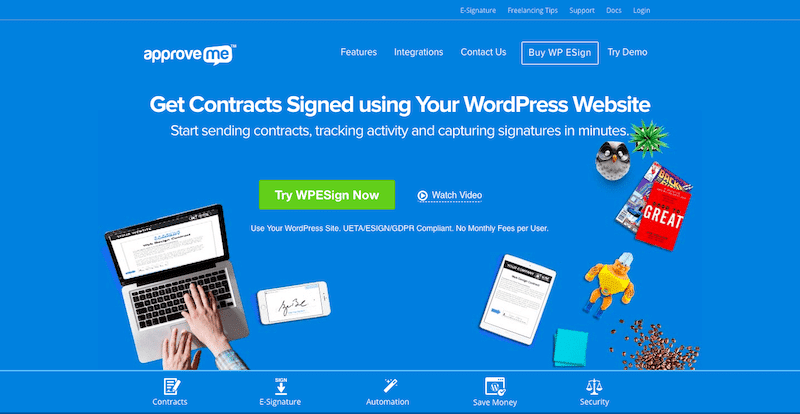 ApproveMe is an e-signature platform that enables you to build your own beautiful contracts using a drag-and-drop builder. The forms are then integrated with your contact form plugin of choice to collect information from clients on your WordPress site. Once all fields are filled in, the contract is converted into a completed PDF.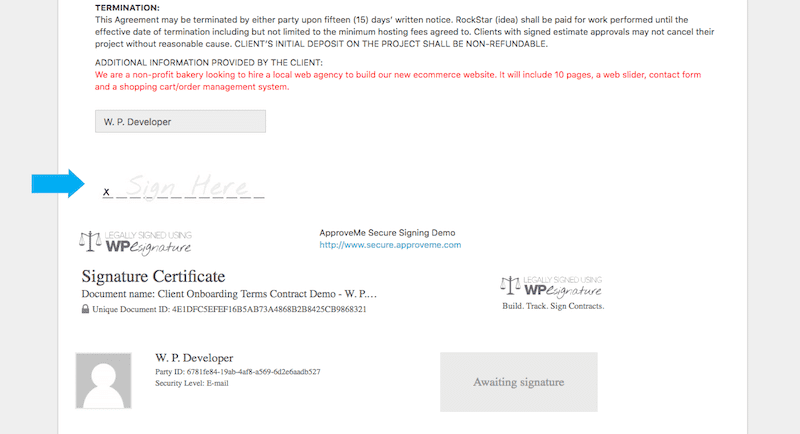 All that needs to be done now is to draw in a signature with your finger, mouse, or keyboard.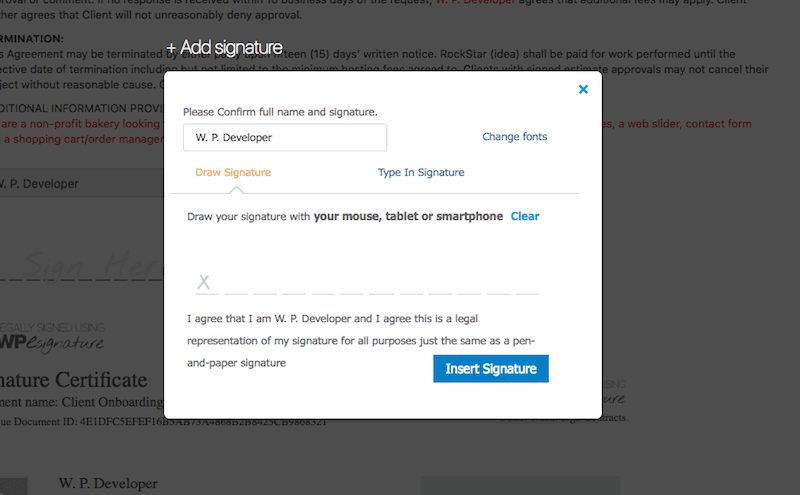 With one final "Agree and Sign" click, you now have a formal WordPress maintenance contract in place.
Option 2: Use a Contract Generation Software
With contract generation software, you can still add your logo to the document. You just won't be able to custom-design it to match your brand. So, that's the major tradeoff between going the DIY approach and using software to generate a contract. There's also less work to do with contract generation software as most of it's already written for you. The platform will simply ask you to fill in a few details and add specifics regarding pricing and billing tasks, but that's about it. To show you how easy it is, here is what you have to do within AND CO to get a contract out the door to a client or contractor:
Decide if you need a contract or a contract with a proposal (the proposal is the SOW and SLA).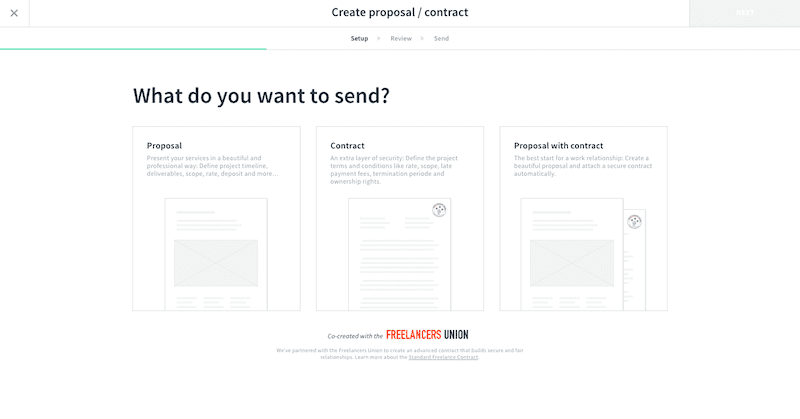 Next, provide the client's information. Your (contractor) information will be pulled from your profile.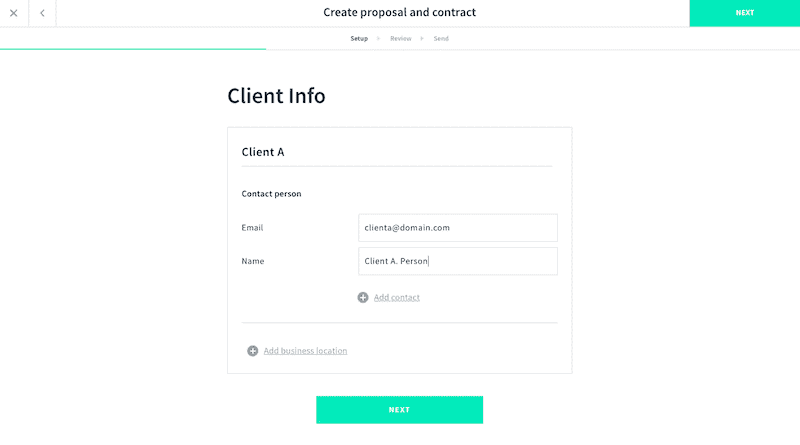 Name the project, set a billing schedule, and break out all associated prices for the WordPress maintenance plan.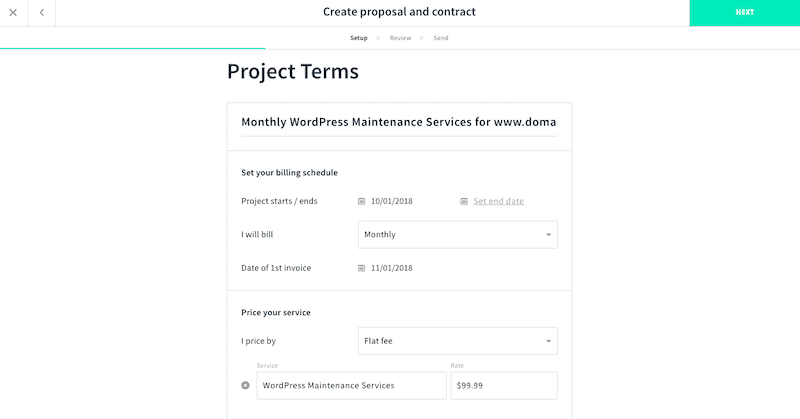 You'll be given a final tab that asks you to review and adjust the contract settings.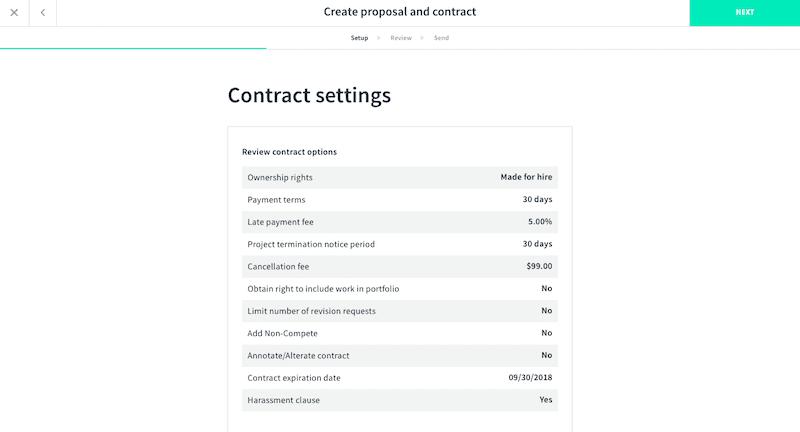 These settings give you a chance to alter the more commonly personalized details within a contract. If you should find later on that a clause is not included or is incorrectly defined within the template, you can use the "Annotate/Alterate contract" option to amend this. Once you're done, add your signature to the form. Then, enter your client's (or contractor's) email address, craft a message to them explaining what the contract is, and send the contract out for their review and signature.
Option 3: Build Your Own + Software
AND CO isn't the only solution for streamlining the contract setup process.
Bonsai
is another software you can use.

This is particularly nice as it offers plans to agencies that want to white label their contracts (i.e. what the DIY option does for you) and send out an unlimited number of them to clients. Bonsai is more than just a contract generation software, too. It's a freelance management platform, so WordPress maintenance developers and agencies can use it to:
Write proposals
Track time
Manage expenses
Track invoices and payments
Report on revenue
And more
Like AND CO, it is quite easy to use Bonsai to quickly create contracts and only have to worry about personalizing the most relevant parts of the contract. This is a really great option for saving yourself time and streamlining the onboarding process.
Wrapping Up
While it might seem like an unnecessary addition to your already hectic workflow and business, WordPress maintenance contracts and
website support and maintenance agreements
can easily be automated once you've done the initial setup work. When you put that up against the consequences of working without an agreement, you can see why these are such an important part of doing business. Hopefully, this guide has given you a good sense for
why
you might need a WordPress maintenance contract and
how
to go about creating one with online tools. Or check out this article if you want to read more about
WordPress management services
.
Want to give your feedback or join the conversation? Add your comments 🐦 on Twitter.