An active comments section below each of your posts is a great way to improve your website's engagement. They add value to your posts, demonstrate that your readers care about your site and provide a reason for visitors to return.
But to get an active comments section, you need to actually make it a place where your readers want to hang out. Unfortunately, the default WordPress commenting system doesn't really do that.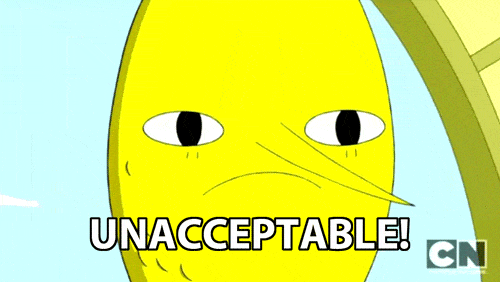 While comments can help create more buzz around your content, some have gotten away with comments sections entirely. The reasons range from too much time spent moderating comments and an abundance of spam.
We all know that keeping your website 99.9% secure and achieving loading times under 1 second is important, but improving engagement can help engage users and turn visitors into your biggest fans.
If you've made the decision to move forward on implementing a comment system for your website, these WordPress comment plugins will help your turn readers into active participants.
How Does WordPress Handle Comments by Default?
By default, every fresh WordPress install uses the native WordPress commenting system. This is the system you're probably most familiar with. The exact design depends on your theme, but I know you'll recognize the format:
While it's functional enough, it hasn't really changed since I started my first WordPress site back in March 2007. In case you struggle with arithmetic, that's almost 10 years ago!
In those intervening years, I'd like to think some intrepid developers have figured out better ways to handle website commenting. And that's what I'm going to show you – the best WordPress commenting plugins from some of the best developers out there.
So if you're ready to go extreme makeover on your WordPress comments section, let's jump into the plugin list…
The Best WordPress Comment Plugins – Complete Overhaul
For clarity, I'm going to break up the list of plugins into two sections. First, I'll discuss plugins that completely overhaul the WordPress comments section. Then, in the next section, I'll dig into plugins that only make small tweaks to the native WordPress comments system.
Here are the best WordPress comments plugins to completely overhaul your discussion.
1. Jetpack
Jetpack is more than just a commenting plugin. But as part of its more than 20 different modules, it includes a nifty upgrade to native WordPress comments: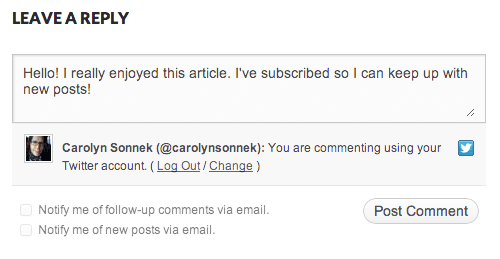 Social logins.
Instead of manually filling in their information, readers can click a button to quickly use their social information to comment. They can also comment via their existing account.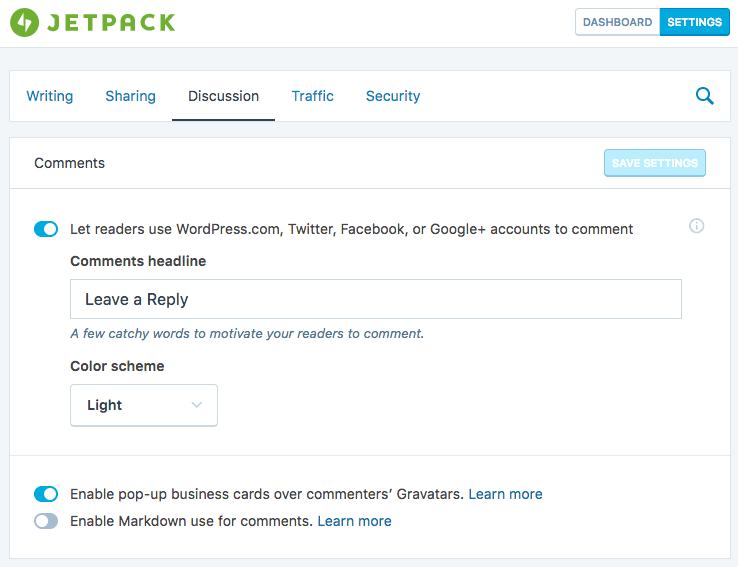 But the nice thing about Jetpack is that it doesn't force users to do this. They can still use the anonymous "Name", "Website", "Email" form if they want.
And if you didn't know, Jetpack* is a collection of WordPress-built plugins to help drastically improve your website. It's run by Automattic, the developers behind WordPress.com. Make sure you have a WordPress.com account and activate Jetpack to gain access to some great plugins and commenting functionality!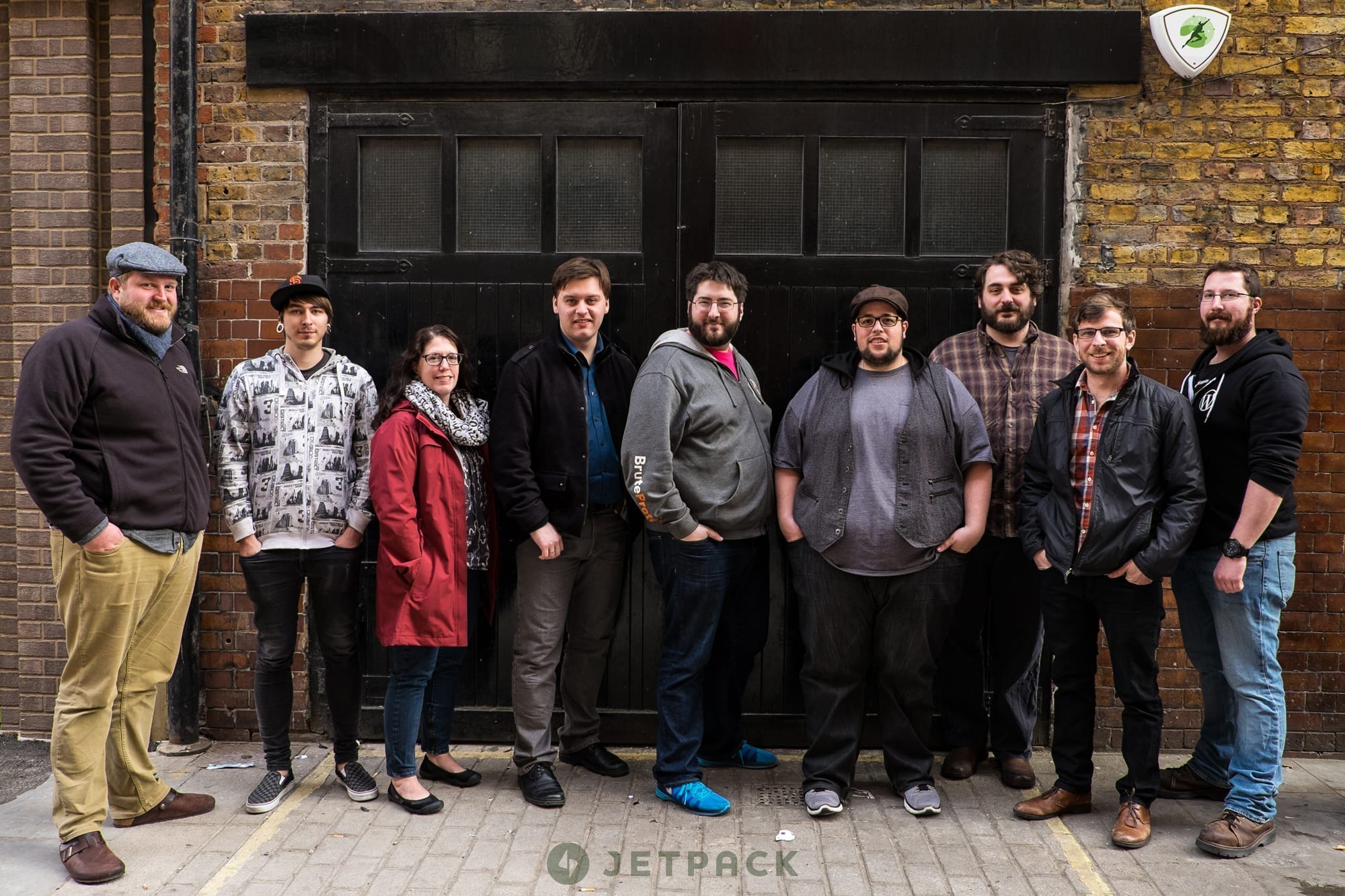 2. Disqus
Disqus is a popular third-party commenting system for WordPress. And while there's no debating it's popular, it's also generated some controversy (more on that later).
🗒️ Disqus completely replaces the native WordPress comments system with its own interface -- but this approach has both pros and cons. #WordPress
Click To Tweet
Because it's always good to be optimistic, let's start with the good:
Disqus' template is, by most people's accounts, a better design than native WordPress comments.
Comments are in real time.
Readers can "Recommend" comments and sort them by "Best", "Newest", "Oldest".
Disqus recommends other content on your site, which drives deeper engagement.
Native WordPress comments don't scale well, so if your site gets tons of comments, outsourcing them to Disqus can reduce the load on your server.
Disqus can sync comments with your WordPress database so that you can migrate back to native WordPress comments in the future.
Readers can comment from one unified Disqus account that they use across different sites. That means they can see notifications about replies to their comments on your site even if they're on someone else's site. That's good for bringing back visitors.
But Disqus isn't without its cons:
Requiring a Disqus account means readers must register before commenting – no anonymous comments like with the native WordPress comments.
Disqus has some serious privacy issues. Disqus uses your readers' comments to help build an advertising profile that they sell to the highest bidder. Some (rightfully) don't consider this to be fair.
You need to actively turn off ads – if you don't disable the option, Disqus can show links to other sites.
Some site owners have noticed Disqus inserting/switching affiliate links into comments, even when those owners thought they had opted out of that service.
Disqus is popular for reason – it improves the user interface of your comments section and takes a load off your server. Just make sure you're aware of potential privacy issues before making the decision to go with Disqus.
If you do use Disqus, make sure you also use the Disqus Conditional Load plugin to lazy load Disqus comments.
3. ReplyBox
ReplyBox is a privacy-focused alternative to Disqus. Like Disqus, it's a third-party comment system but without the surrounding controversy concerning ads, user privacy, and affiliate links.
Features
Spam protection powered by Akismet (can be turned off in favor of manual moderation)

Markdown comment formatting

Like Disqus, readers can comment from one unified ReplyBox account and receive email notifications for new replies

Social logins similar to Jetpack

Import existing WordPress comments

Sync ReplyBox comments to your WordPress database, meaning you can migrate back to native WordPress comments at any time

Reduce server load by offloading comments to a third-party service, which makes page caching much easier

Completely customizable using CSS
Cons
No anonymous commenting like native WordPress comments (coming soon)

Users must log in via ReplyBox or a social platform like Google. WordPress authentication isn't supported (coming soon)

ReplyBox does not have a free version, but does have a free trial. The premium service starts at $10/month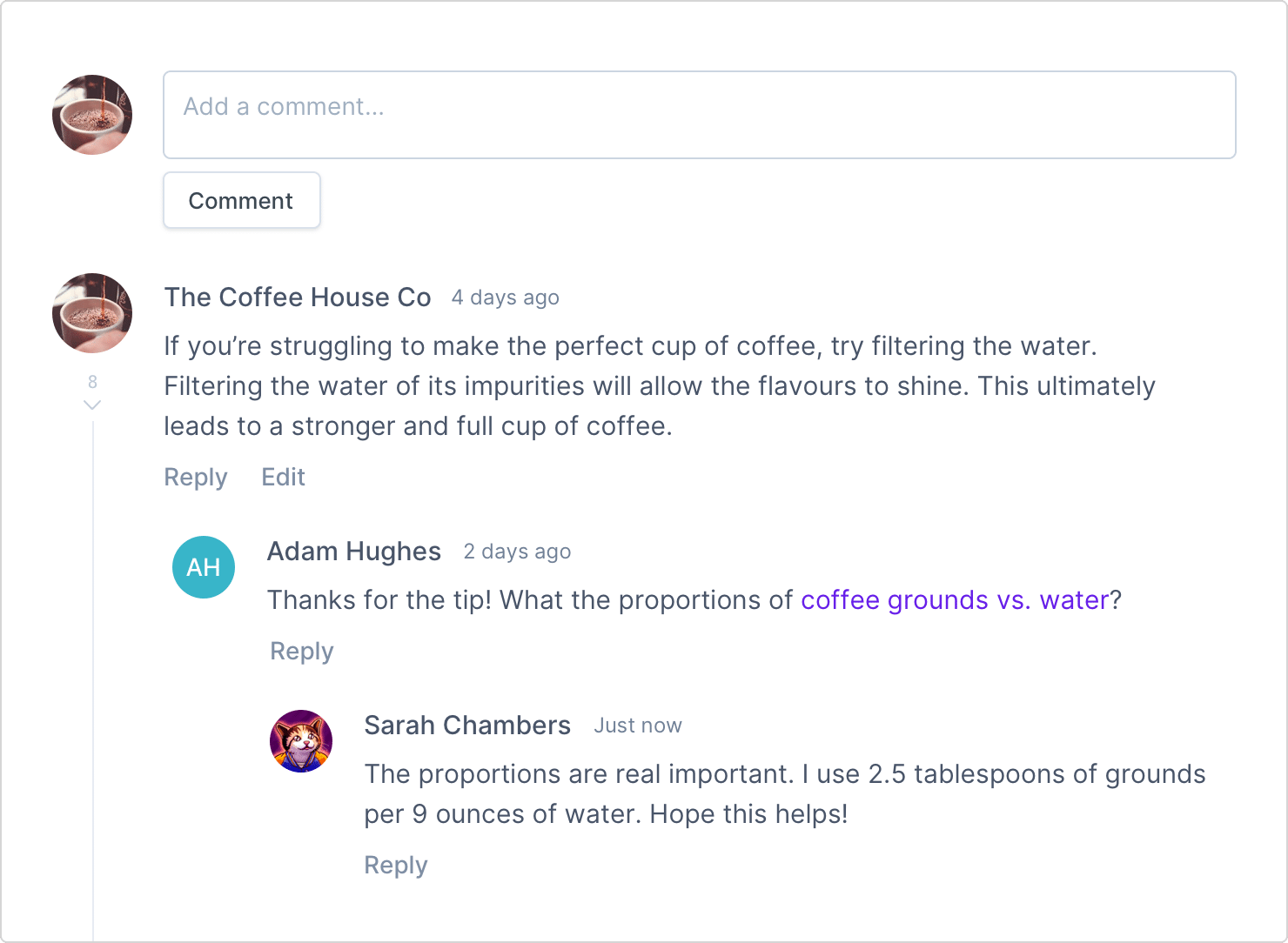 ReplyBox is a relatively new player on the block, but its privacy-focused approach, commitment to blazingly-fast load times, and slick design make it a great choice.
Start a free trial with ReplyBox
4. wpDiscuz
As you might be able to glean from the name, wpDiscuz positions itself as a native WordPress comments alternative to Disqus. Essentially, you get most of the benefits of Disqus, without the baggage.
Here's what you get with wpDiscuz:
Ajax commenting
Live comment updates and real-time commenting
Comment sorting by "New", "Old", and "Most Voted"
Anonymous commenting (same as native WordPress comments)
Ability to break up long comments with a "Read More" button
Readers can easily subscribe to comment notifications via email
The only downside? The design is definitely is not as slick as Disqus. If you're willing to sacrifice some aesthetics, you still get a ton of new functionality without the privacy concerns of Disqus.
5. Postmatic
Postmatic adds a super helpful engagement-boosting feature to your comments. It lets readers subscribe to both new posts and comment replies via email. And when your readers get a notification email, magic happens:
Your readers can reply to the email to leave a comment on your site, making it as easy as physically possible for them to stay engaged with your site.
If you want a method to boost your engagement, Postmatic is a great way to do it.
6. Simple Comment Editing
Simple Comment Editing makes one simple tweak to your native WordPress comments:
Users can edit their comments for up to five minutes after posting.
"Scientific" research has shown that humans are 5,000,000% more likely to notice typos immediately after pressing the "Submit" button. Simple Comment Editing gives them a second chance.
7. Comment Popularity

Comment Popularity lets you add upvote and downvote buttons to your comments section. In case you're not familiar with Reddit, upvotes are essentially a +1 (good comment), while downvotes are a -1 (bad comment).
Users can vote on each comment. Comments with higher aggregate scores are displayed at the top of the list.
It's a nice way to crowd-source quality sorting for your comments section.
8. Lazy Load for Comments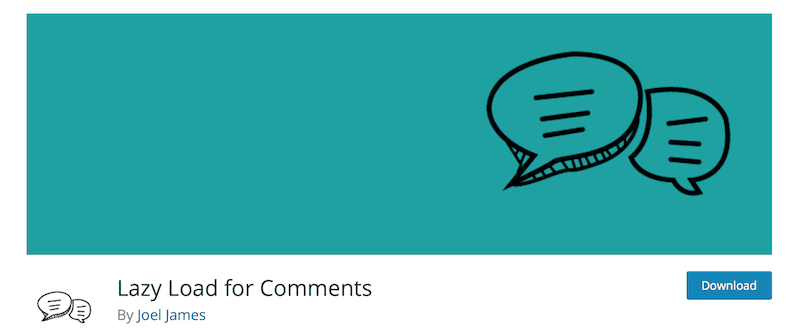 Lazy Load for Comments doesn't add any new front-end functionality, but it does improve the performance of your website. A quicker loading website means happier users. And happier users are usually more engaged users.
Lazy Load for Comments gets these performance improvements by delaying loading your comments section until a user starts scrolling down the page. Because your comments section is always below each post's content, this doesn't negatively impact user experience.
Getting Rid of Comment Spam
While comments sections can help your audience engage with you and amongst themselves, spam can always be a huge headache for website owners. That's where enabling and moderating comments comes in with the help of an anti-spam plugin. Here are some of the best WordPress plugins to help keep your comments sections spam-free.
9. Anti-spam
10. Akismet
11. WPBruiser
12. Antispam Bee
13. Spam Protection by CleanTalk
14. Spam Destroyer
Wrapping Things Up
Whether you want a complete makeover or just a partial remodel, these plugins will help you make your WordPress comments section into a place your readers want to be.
If you're running an average WordPress site, I'd recommend sticking with the native WordPress comments system over something external like Disqus. While Disqus is pretty, it has too many privacy concerns for my liking. Additionally, you probably won't see much of a performance improvement unless you're getting hundreds of comments per post.
But using the native WordPress comments system doesn't mean you can't make any changes. Plugins like Postmatic, Jetpack, and others can quickly make your comments section much more user-friendly.
And one parting piece of advice:
When in doubt, pick the most lightweight plugin. A bloated comments section can easily drag down your site's performance – don't let it.
Want to give your feedback or join the conversation? Add your comments 🐦 on Twitter.
SaveSaveSaveSave
SaveSave
SaveSave
SaveSave