There are dozens of ways you can monetize your website. Affiliate links, physical products, online courses, selling services, etc. The list goes on and on.
But….
All of those take a ton of additional work.
But, if you have enough traffic, then one of the easiest ways to monetize your site is with one of the best Adsense plugins for WordPress. Google's ad network is one of the longest-running ways to turn your site into an income generating machine.
It's not as simple as throwing ads via WordPress ads plugins up on your site and watching the revenue rain down.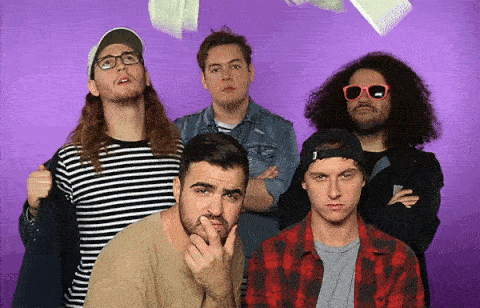 It takes a solid amount of traffic, ongoing optimization, and experimentation to really watch your revenue numbers climb.
With so many tasks on your plate, do you really want to add ad management as well?
Luckily, a number of WordPress ad plugins can come to your rescue. But, how do you choose between the myriad of plugins available?
Below, you'll learn why using a WordPress ads plugin can make your life easier, as well as which AdSense plugins are worth installing on your site. Telling you exactly which is the best Adsense plugins for WordPress is tough, as there are multiple great premium options, but this list will give you a great starting point to make a good decision.
Google AdSense 101 🚌
Google Adsense is an advertising platform run by Google that allows website owners to easily display ads on their websites and blogs. The ads are targeted to your visitors browsing behavior, history, and the content of your website.
No doubt, you've come across an AdSense ad or two on your time online.
AdSense ads are cost-per-click (CPC) which means that you'll get paid whenever someone clicks an ad on your site. The CPC will be higher or lower depending on the type of ad your user's click on.
For example, some niches can pay out around $5 per click, while others will only deliver $.10 per click.
There are a handful of other ad networks that serve the same purpose, but AdSense does offer some unique advantages like:
Multiple ad types. Depending on your niche and type of site, different styles of ads may perform better. AdSense offers image, text, rich media, and video ads.
Company credibility. Since Google will be paying you, payment issues and company credibility will never be an issue. Plus, getting a check from Google is a very cool experience.
Timely payout. Once you've hit the $100 payment threshold, you'll receive payment every 30 days.
In terms of an advertising partner, it's hard to find a better business to link yourself with than Google. And WordPress ads plugins make this so simple, there's no reason not to give Google ads a shot if you want to make a little extra cash from your website.
Are Plugins for AdSense Monetization Worthwhile? 💸
Search "AdSense monetization" online and you'll find a lively debate.
Some argue that using AdSense is a total waste of time. While others are making easy six-figure incomes with Google's ad network.
For the majority of site owners, AdSense probably won't bring the windfall income you've been dreaming about. If your content is low-quality and you don't get much traffic, then you're probably looking at $2-3 per month maximum.
But, if you have high traffic numbers, and the traffic you receive is high-quality, then you have a chance at a solid income.
📈 If you have high traffic numbers, and the traffic you receive is high-quality, then you have a chance at a solid income with AdSense #WordPress
Click To Tweet
There are a few factors that will impact your revenue numbers:
The size and type of the ad displayed
The location the ad is placed on your site
The volume and quality of traffic your site receives
An AdSense plugin for WordPress won't help you get more traffic, but it can help optimize your ad placement, and let you test ads to help maximize your revenue.
The way that users interact with ads on your site will influence how much money you can make. Hence, why optimizing and testing different ad units and placement is so important.
The Benefits of Using an AdSense Plugin for WordPress 📝
To start earning money with AdSense all you have to do is place the ad codes on your site.
Sounds simple enough right?
If only that were the case.
When implementing AdSense ads on your WordPress site there are a lot of things you'll need to take into account.
Here are the biggest reasons you'll want to use a WordPress ads plugin:
1. Keep Your Account in Good Standing
When you sign up for AdSense there are certain policies and terms you'll have to adhere to. Failure to comply with these can lead to an account suspension or even termination.
Plus, if you're currently awaiting payout these funds will be inaccessible.
Yeah, not fun.
A lot of AdSense plugins for WordPress are created with the AdSense policies and guidelines in mind, so you can ensure your account remains in good standing.
You'll also learn about a few plugins in the list below that actually come equipped with a feature that checks to ensure your ads are always compliant.
2. Easily Optimize and Tweak Your Ads
To get the most out of your existing AdSense ads you're going to be doing a lot of experimentation. You might test different ad placements, colors, types of ads, number of ads per page, and a lot more.
Without the use of a plugin, you'll have to do all this customization yourself. You'll have to create new ad formats within Google AdSense and copy and paste the new ads into your site.
With an ads plugin you can create new ad units, then easily test them across your site by tweaking the plugin settings.
With a Google ads plugin you can test things like:
Placing ads after a set number of paragraphs
Adding an ad unit to the end of your post
Changing the number of ads shown per page
Place ads in widgetized areas of your site
Change the type of ad that's displayed
Set a timer for when ads should display
Tailor ads to certain user locations, and demographics
3. Integrate With Other Ad Networks
If you want to further improve your advertising revenue streams you might want to add more display ads to your site.
Google AdSense limits the number of ads you can display on any given page, but by adding more ad networks you can get around this limit by showing ads from other networks.
With a WordPress ads plugin, you can easily manage multiple different ad accounts from a single network. This not only allows you to see what ad networks are performing the best but saves time by giving you a single dashboard to work from.
4. Avoid Dealing with Complex Code
Without a WordPress ads plugin you'll be stuck copy and pasting ad code everywhere you want ads to appear.
Not only is this tedious, but you run the risk of not pasting over the code correctly, or accidentally deleting other portions of your site. Dealing with broken site elements when you don't have the proper coding skills is the exact opposite of fun. Luckily, we do know someone who can help with that.
If even looking at code fills you with confusion and dread, then using a plugin can remove this entirely. Let a WordPress AdSense plugin handle all of the technical heavy lifting for you.
What to Do Before You Install an AdSense Plugin for WordPress 🔨
Before you can actually use an AdSense plugin on your site you'll need to get approved by Google.
To get started all you need is a Google account. If you already have a Google account, then you can sign up using that, but if not then you'll need to create an account.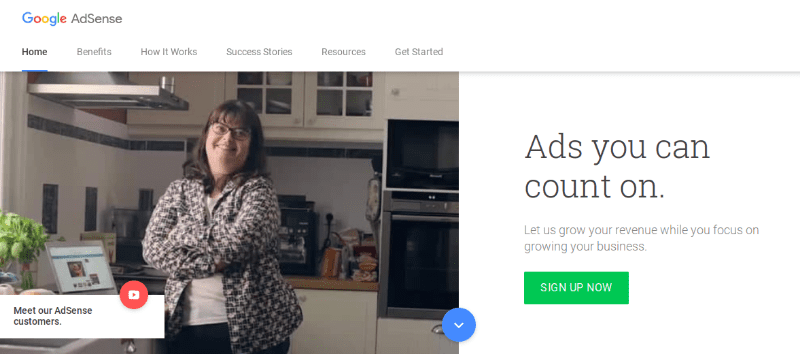 Just click the big green Sign Up Now button.
The next step of the process is filling out an application. The application is very straightforward and shouldn't take more than a few minutes.
If you haven't yet, you should familiarize yourself with their terms and policies, as you'll be expected to adhere to these rules.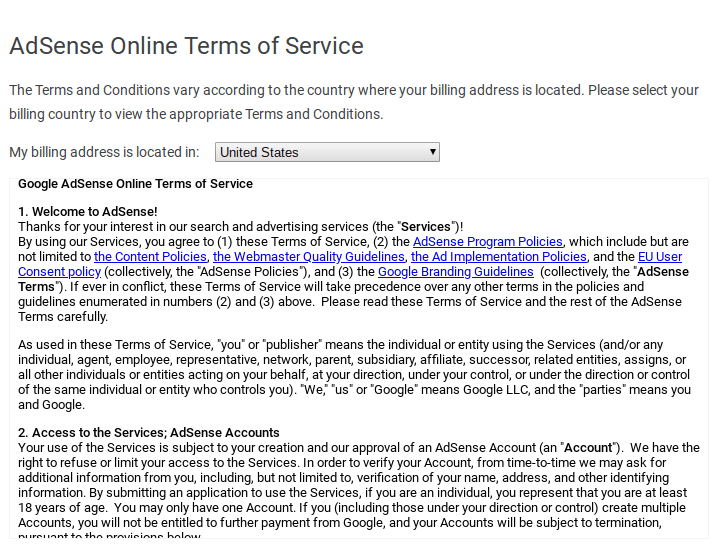 Diving into legalese is never fun, but in this case, it's worth pouring yourself a big cup of coffee and reading from start to finish.
All that the application requires is your site URL, some basic information about your site, your payment information, and a phone number for verification.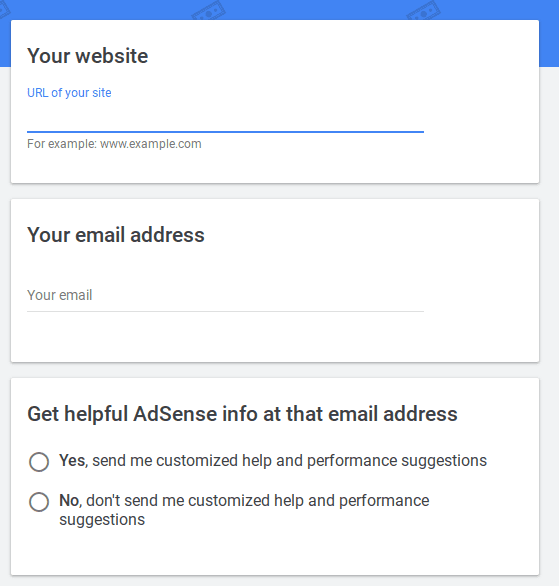 Once you complete all that, you'll be given HTML code that you need to add to your site per the following instructions: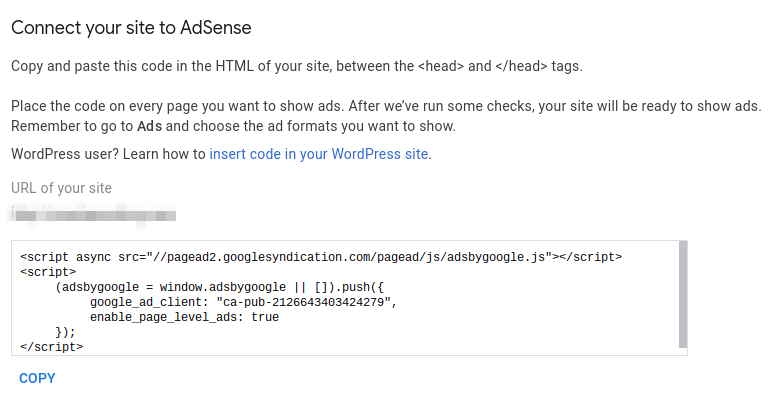 Note that you can also use one of the plugins from the list below to add the code to your site.
If the thought of opening your header file and pasting code terrifies you, then this will be the best route to take.
With that done it's time to cross your fingers and sit back and wait.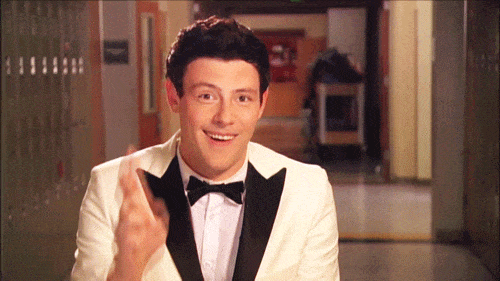 Reviewing your application can take between 48 hours to two weeks. Once you've been approved you'll receive an email notification.
10 Best AdSense Plugins for WordPress 🤑
If you want to monetize your WordPress site with AdSense, then using an ads plugin is a no brainer. Whether you don't want to deal with complex ad code or want to better manage your ads, a plugin will make your life much easier.
Instead of having to deal with ad code and manage your ad campaigns yourself, these plugins will make managing your ads dead simple.
⚰️ #WordPress AdSense plugins make managing your ads dead simple. Yup, we said it. Dead. Simple.
Click To Tweet
An AdSense plugin will bring your site a lot of benefits like:
Easy ad management and optimization
Higher site revenues with integrated optimization and testing
Control the location of your ads with a single setting
Integrate other ad networks for improved revenue
Handle all ad based tasks from within your WordPress dashboard
…And that's just the beginning. Keep reading to see some of the incredible features the following plugins offer.
Here are some of the best AdSense plugins for WordPress:
1. Ads Pro Plugin – Multi-Purpose WordPress Advertising Manager

Ads Pro is one of the most popular ad management plugins in the CodeCanyon store.
The Scripteo team has a near five-star rating with over 7,900 plugin sales. That's a very solid track record.
Right out of the gate, it is a premium plugin.
But, this plugin will let you do things that you simply can't do with other plugins.
It works with a multitude of different ad networks, so it's a great fit if you want to go beyond AdSense. You can easily manage your existing ads, plus sell additional advertising space.
Here's a quick look at some of their advanced features:
All of your advertising-based tasks will be accomplished from the backend admin panel, which breaks down your earnings, ad CTR, clicks, impressions, and more.
For users who want to sell advertising space, you'll get access to an intuitive order form that'll help you sell more ad space by making it very easy to place orders.
As you can see, saying this plugin is feature-rich would be an understatement. There's simply too much to cover here. If you want to access advertising features you can't get anywhere else, then this plugin might be worth the investment.
2. Adning Advertising – Professional, All In One Ad Manager for WordPress

Adning is a premium ad management tool. Like other plugins on this list, it's jam-packed with features. But, Adning remains easy to use and doesn't make things overly complex.
If you want to display multiple types of ads across dozens of different networks, then this plugin can help you do it easily.
For instance, here the variety of ad types you can display:
HTML ads
Image and text ads
Ads within pop-ups
Video ads
Ads within content
Post feed ads
Notification bar ads
Full-width background ads
Attention-grabbing corner-peel ads
Parallax scrolling ads
One of the stand out features of this plugin is its focus on banner ad creation and management.
You can create HTML5 banners, post banners that look just like blog posts, along with integrated Google AdSense banners.
Aside from banner creation and ad management, you'll get a wealth of different ad display options, including:
Auto-positioning of ads
Access to above content, below content, within content ad positions
Display filters to show your ads under certain conditions
Geographic and country filters for targeted ad display
Like other premium ad management plugins, you'll also be able to sell ad spots on your site directly to advertisers. Plus, you'll get an intuitive ad creation platform that lets users upload and manage their own ads. Creating you another hands-off revenue stream!
Adning is an advanced plugin, but they keep things simple.
3. WP In Post Ads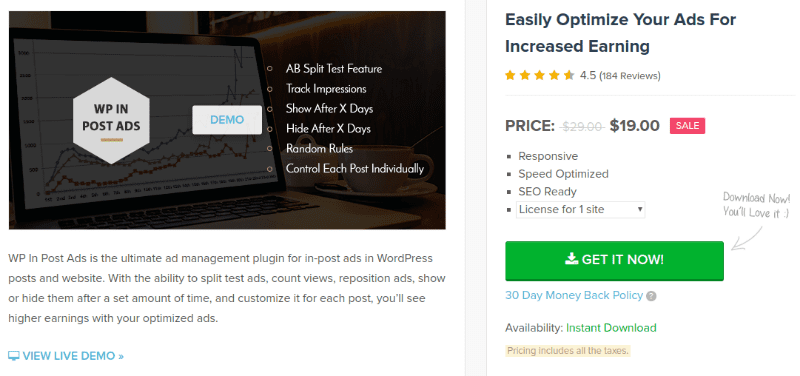 WP In Post Ads is definitely an advanced plugin. But, it's a plugin you'll want to use if you're serious about growing your revenue.
Some plugins just let you place ads on your site. This plugin goes above and beyond and provides you with features like:
You'll also have the ability to place ads in multiple locations including:
After your post title
At the end of your blog post
After a certain number of paragraphs
In specific locations via shortcode
Plus, the plugin was built by the MyThemeShop team. They're known for their quality themes and plugins, and WP In Post Ads is no different.
4. Easy Google AdSense

Easy Google AdSense does exactly what you'd think. It makes placing AdSense ads on your site dead simple.
If you're the type of website owner who doesn't want to spend time configuring or managing your ads, then this plugin is for you. All you have to do is literally install and activate the plugin.
Once you enter your AdSense Publisher ID, this plugin will take care of the rest, and ads will start showing on your site. That's it!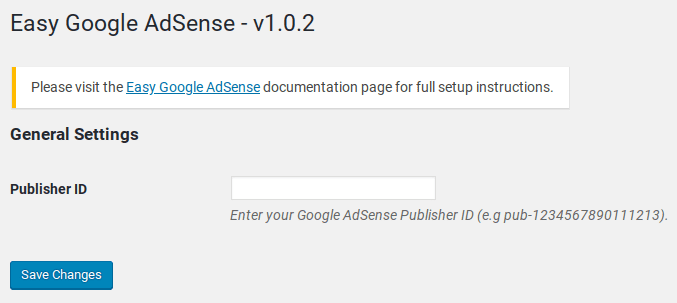 It's based upon machine learning technology that automatically places ads across your site. With Auto Ads, the ads will only be shown when there's a good chance they will perform well.
This also means that you'll have an improved user experience, as ads won't be cluttered over every square inch of your site. If you're concerned about the impact that ads will have on your site experience, then this plugin can help you find a middle ground.
Here are a few reasons to consider using this plugin:
Since your ads are using Google Auto Ads technology, you'll always be compliant with their rules and guidelines.
You never have to touch or think twice about managing your ads.
Your revenue can be higher since ads will only be shown when they're likely to perform.
You're leaving optimization and testing in the hands of Google's machine learning algorithms.
If you're using any other ad networks this will be taken into account when placing ads.
If you prefer to set back and let Google's algorithms handle your ad management, then this might be the plugin you've been looking for.
This plugin is free but premium support is available for $19.99.
5. Advanced Ads

Advanced Ads is a free ad management plugin that works with nearly every ad network out there. So, if you're working with other advertisers beyond AdSense, then this might be the plugin for you.
It offers you a highly detailed level of customization options and control over your ads.
Here's an example of a few different things you'll be able to do with your ads:
Create and display an unlimited number of ad units, across multiple networks
Create a schedule for different ads to display (helpful if you want to test new ad types)
Rotate different ad units to see which ones bring the most revenue
Have ads automatically display within your blog posts and other content
Select certain ads to display based upon the type of content or visitor
If you're just using this plugin for AdSense, then you'll have access to an equally large suite of features:
Create AdSense ads and change settings directly from your WordPress dashboard
Support for all AdSense ad types including, display ads, in-article ads, matched content ads, Auto ads, and more
Convert ads to responsive ads and Google AMP ads
There are also features that will help to prevent your ads from being blocked by AdBlock and other similar software. This will help to improve your revenue and prevent ad blockers with plugin scripts actually breaking your site.
It's also equipped with an AdSense violation checker. This feature alone is worth installing the plugin. It can be difficult to always know if you're within their advertising guidelines, so this…
You'll find a multitude of other features as well. But, you can probably see that this is one feature-rich plugin.
Plus, it boasts nearly 650 five stars reviews!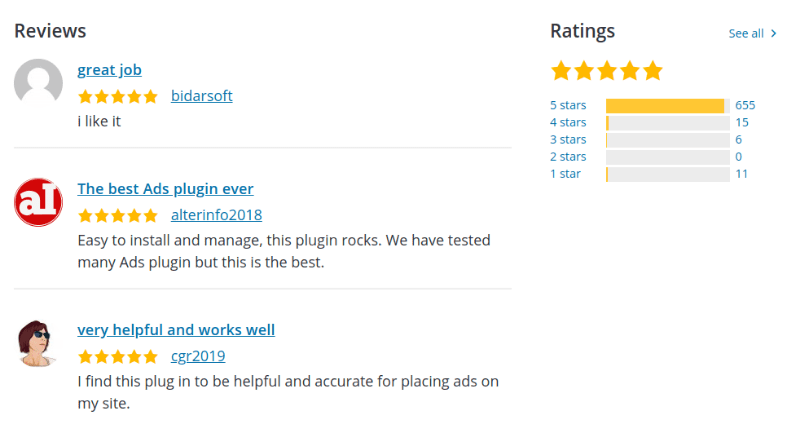 You'd be hard pressed to find a higher quality free plugin.
6. Quick Adsense

The Quick Adsense plugin is aptly named. It's an intuitive and simple plugin. Perfect for beginners who don't want to fiddle around with endless settings.
For almost every feature of the tool has an automation element that'll help to connect your AdSense account and start displaying your ads.

You'll also find video tutorials within the plugin itself if you get stuck at any point.
With this plugin, you can place ads in widgetized areas of your site, after a set number of paragraphs, or have them randomly display throughout your site's content. If you want to use other ad networks on your site, you can integrate with this plugin too.
Google only allows you to show 3 AdSense ads per page. But, you can add 7 additional ads, if you're using other networks.
The biggest benefit to using this plugin is the intuitive menu. If you like to keep things simple, then give this plugin a try. And it's free, which is geat when you're just starting out.
7. WordPress Ad Widget

Using the WordPress Ad Widget plugin will let you quickly add AdSense ads to your WordPress site.
Once you install and activate the plugin all you have to do is drag one of the created widgets to your sidebar and select the ad that you're like to display. There isn't a built-in ad management interface, instead, you'll be doing everything solely through the included widgets.
Check out how easy it is: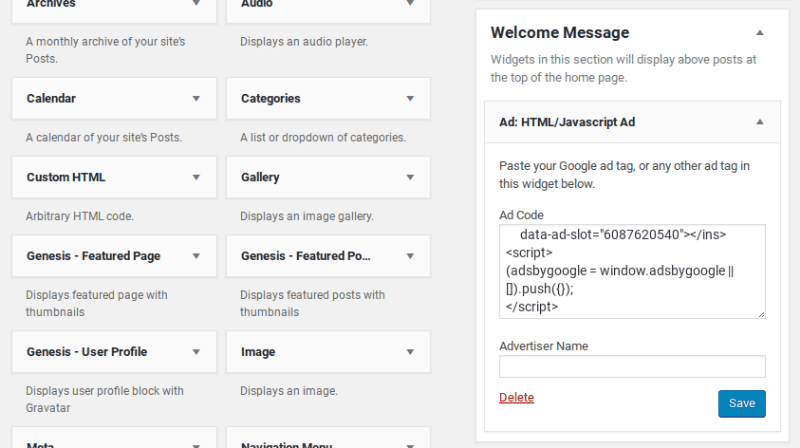 Just paste your AdSense code into the widget and drag it over to any widgetized section of your site. It's really that simple!
With this plugin, you'll be able to display text and image-based ads, as well as standard AdSense ads.
This plugin doesn't offer you a ton of customization options. So, it's perfect for beginners who want to get started with AdSense advertising in the simplest manner possible. And you can't beat the price at free.
8. Google AdSense by BestWebSoft

Google AdSense by BestWebSoft is a great starter plugin. It is a freemium plugin, which means there's a free version with a limited set of features, along with a paid version that gives you greater access (if you decide to upgrade).
Still, the free version itself has more than enough features to get you started running AdSense ads on your site.
Here's a quick look at what the free version of the plugin offers:
Ability to insert ads into posts, pages, category pages, and widgetized areas
Change ad position to after your content, after the title, or even below comments
An easy to navigate ad settings page
Bundled setup documentation and tutorial videos
If you choose to upgrade the plugin, then you'll get access to even more features like:
Ability to display ads after the first paragraph, or set to display randomly
Choose between both static and fixed ad position within widgets
Access to a much faster support response time, within one business day
Add AdSense ads directly to your site search results
Currently, the plugin will cost you $33 per year, but that also comes with priority support in case something goes wrong, along with regular plugin updates.
9. Ad Inserter

Ad Inserter is an AdSense plugin packed with premium level features.
It's one of the few plugins that actually has a guiding philosophy, which includes:
The user interface must be intuitive and easy to use
All of the plugin settings should be accessible from a single page
The plugin should be fast, with no overhead
If you do run into an issue, troubleshooting should be simple
Being able to insert code into any page, while being able to see the ads code
You'll get support for AdSense ads, as well as other networks like Media.net, banner ads, and Amazon Native shopping ads.
The free version is still pretty advanced. You'll get access to features that will help you easily insert ads into optimal positions across your site.
Plus, it currently has over 900 5-star reviews!

The Pro version of the plugin is equipped with tons of features like:
Additional ad blocks to utilize
Split testing ads and ad placements
Click and ad impression tracking
Ability to geotarget your ads for your visitor's location
Schedule ads with start and end dates
Plus, you can never go wrong with a plugin that's been endorsed by Google AdSense Support.
Once the free plugin is configured you can insert ads via a shortcode, or you can use any of the preset placement options, such as:
Before or after your post content
Within a sidebar widget
Before or after your comment section
Within plugin hook sections (if you use Genesis)
After a set number of paragraphs
After a certain HTML element
All you have to do is insert your ad code, select your position and you're all set.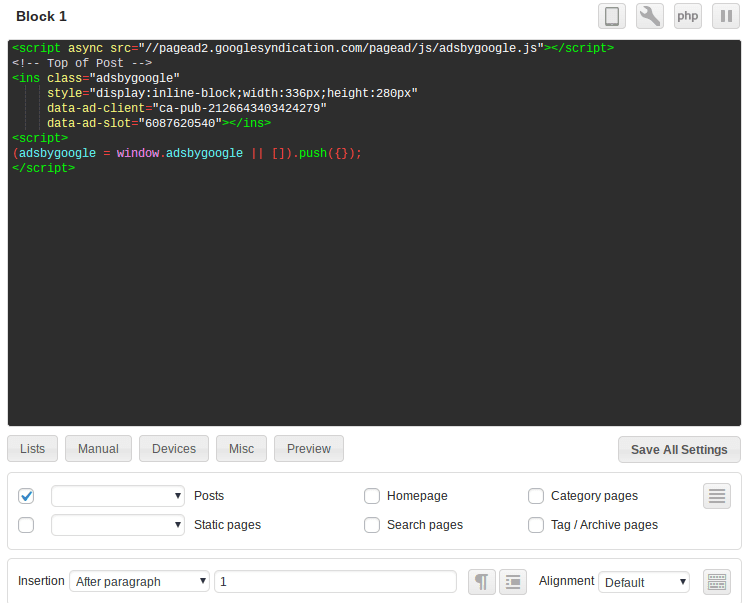 Most plugins are equipped with general ad placements. If you aren't satisfied with these placements or want more control over where your ads show up, then you'll be happy with the level of control this plugin gets you.
You can purchase the plugin for 20 Euros, which is currently about $22.37.
10. WP Simple AdSense Insertion

Ruhul Amin, the creator of WP Simple AdSense Insertion, was frustrated with the unnecessary complexities of most other AdSense plugins.
So, he created this plugin to do exactly what he wished a plugin would do–let you quickly and easily add AdSense ads to your site.
This plugin relies upon a shortcode that you add to posts and pages wherever you want your ads to display.
All you have to do is enter your ad code into the ad unit slots.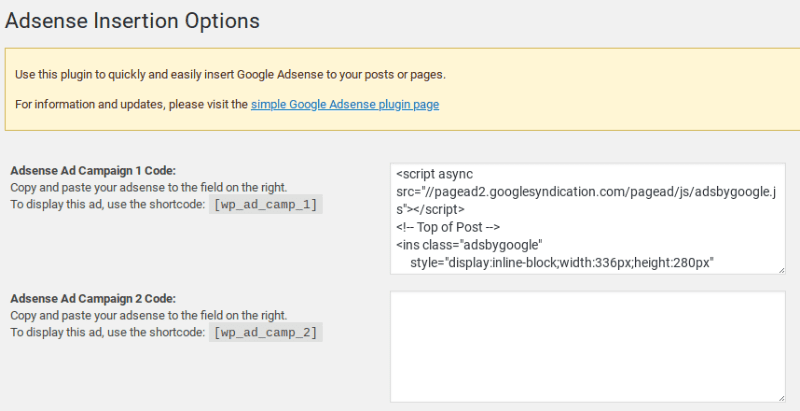 Then use the included shortcodes or PHP code to display ads across your site.
You can also use this plugin to automatically insert ads into your posts and pages. For example, maybe you want your ads to automatically show after every first paragraph, or at the end of each post?
Although this plugin is built for AdSense you can use it to store ad code from other networks as well.
If you're a new user who's overwhelmed with WordPress, then this plugin can be the solution to your woes. Plus, it's free!
11. WP Adcenter Pro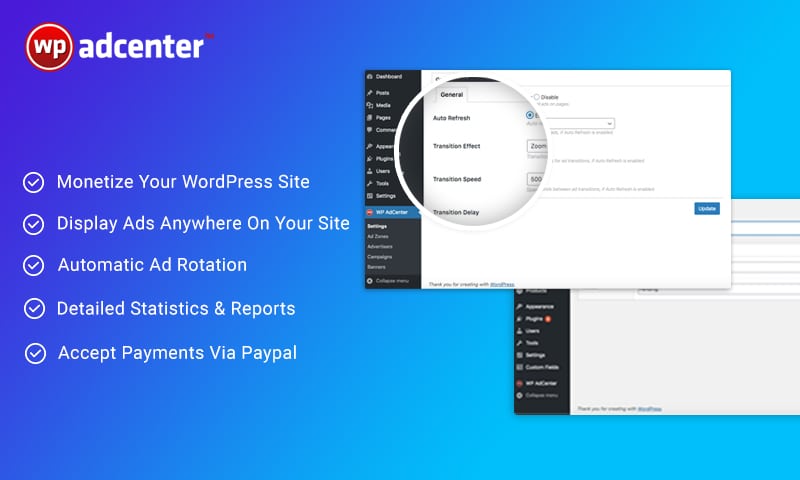 WP AdCenter Pro is an advanced WordPress ad management plugin. It gives you total control over the ads that are on display on your site. You can manage the size and position of the ads. Also, you can control the rotation of the banners or display ads on your screen. You can manually schedule the display. Apart from these, it pulls ads from ad networks and displays ads on your site without using any custom code. You can limit the number of ad impressions per person.
Here is a quick look at some of the key features:
Online advertiser sign up
Display as anywhere on your site
Detailed statistics and report
Auto-refresh ads
PayPal integration
The biggest advantage of using WP AdCenter Pro is you don't have to worry about the types of ads to be hosted on your site anymore. Install the plugin and host any type of ad on your website. Here are the key ad formats it supports:
Google AdSense Auto ads
Native ads
Display ads
In article ads
Infeed ads
Link Units
Wrapping Up 🍣
If you've been looking for a way to monetize your website, but don't want to deal with the complexities of building a course, creating affiliate content, or offering your services, then the best AdSense plugins for WordPress are the way to go if you can generate traffic to your site.
Once your account is approved all you have to do is install your AdSense plugin of choice and start placing ads on your site. It's really that simple.
You don't have to worry about the content of the ads, sourcing advertisers, or anything of that nature. If you don't want to worry about any site maintenance, speed optimization, or site security either, then you know who to call.
Your only responsibility is to continue creating compelling content that brings in traffic. Google AdSense gives you a way to make money with your site without that much-added work. Especially, when you've got a quality AdSense plugin behind you.
If you're monetizing your site via AdSense, then a WordPress AdSense plugin is a must-have.
Want to give your feedback or join the conversation? Add your comments 🐦 on Twitter.