2019 was a great year for e-commerce in general, though one giant, Amazon has dropped in market share a bit. A big part of that was due to the growing popularity of other e-commerce businesses like Walmart. By year's end, Amazon could claim about 38% of all e-commerce revenue in 2019–down from the 47% it claimed last year. Projections for 2020 sales hold in line with 2019's numbers.
Even so, Amazon is still an e-commerce powerhouse. And if you are thinking about making money with WordPress, the Amazon affiliate program should be one of the first places you to turn to.
While keeping your website 99.9% secure and achieving loading times under 1 second is important, knowing how to make money as an affiliate is too. In the following guide on how to add Amazon affiliate links to WordPress, we're going to cover that and much more. We're going to talk about:
What affiliate marketing is.
The different ways in which you can use Amazon affiliate links in WordPress.
The pros and cons of using the Amazon affiliate marketing program.
Tips on how to add Amazon affiliate links (or ads) to your WordPress site.
WordPress themes and plugins designed specifically to improve your ability to monetize with Amazon affiliate links. Our favorite is Lasso. Start your 14-day free trial here!
What Is Amazon Affiliate Marketing?
There are many ways in which you can make money with WordPress. Creating a website for the purposes of promoting a business or selling goods through an online store is one such way. Monetizing a blog with display ads is another. While there are other ways in which you can use your WordPress site to make money, perhaps one of the easiest ones to get started with is affiliate marketing.
Unlike traditional display advertising in WordPress, affiliate marketing takes the unknown out of the equation. 📈 With affiliate marketing, you actively choose which products or services you want to promote. #WordPress #affiliate Click To Tweet
This is in contrast to ad publishers that choose which advertisers to fill the space with based on end user data.
Here is what a display ad typically looks like: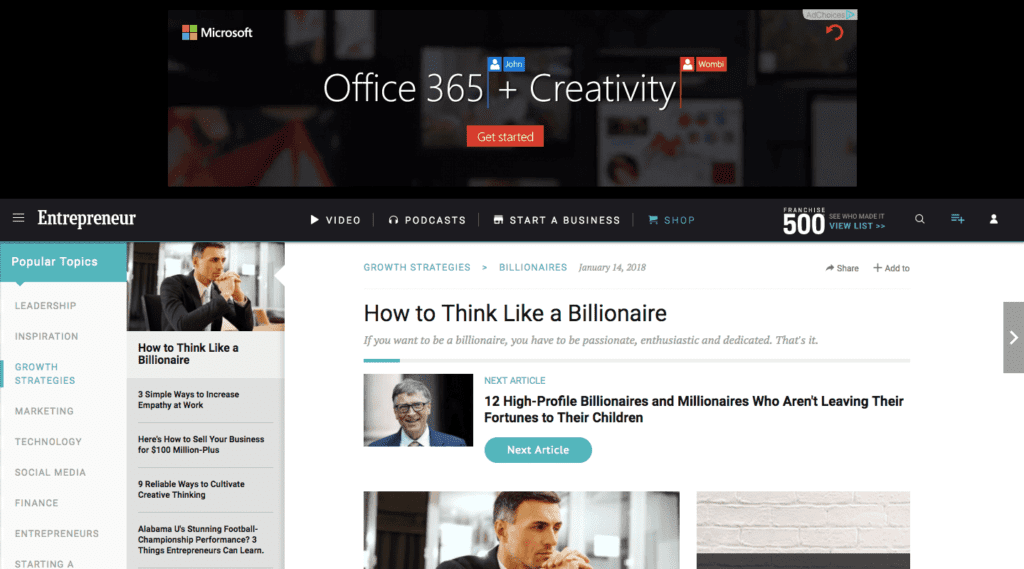 That big block promoting Microsoft 365 at the top of the page was put there thanks to Entrepreneur's use of DoubleClick Advertising Solutions. Although the ad is somewhat relevant to myself as a business owner, it's not all that relevant to the article that I visited the website for in the first place.
Now, here is an example from Wirecutter that shows what affiliate links (highlighted in yellow) look like: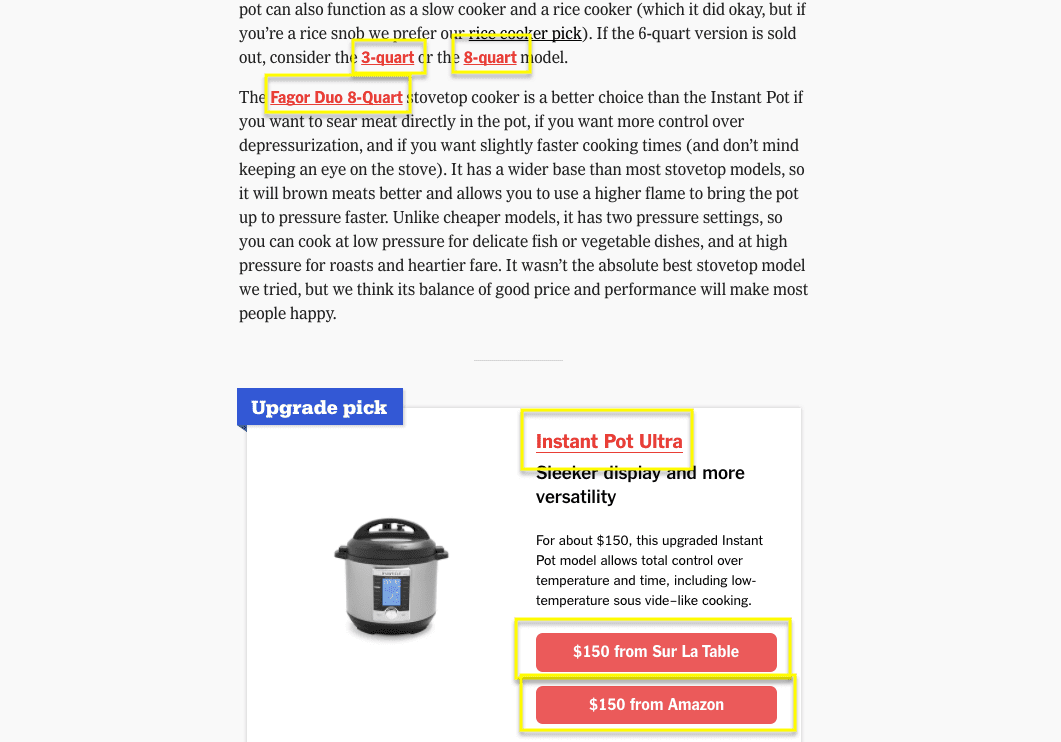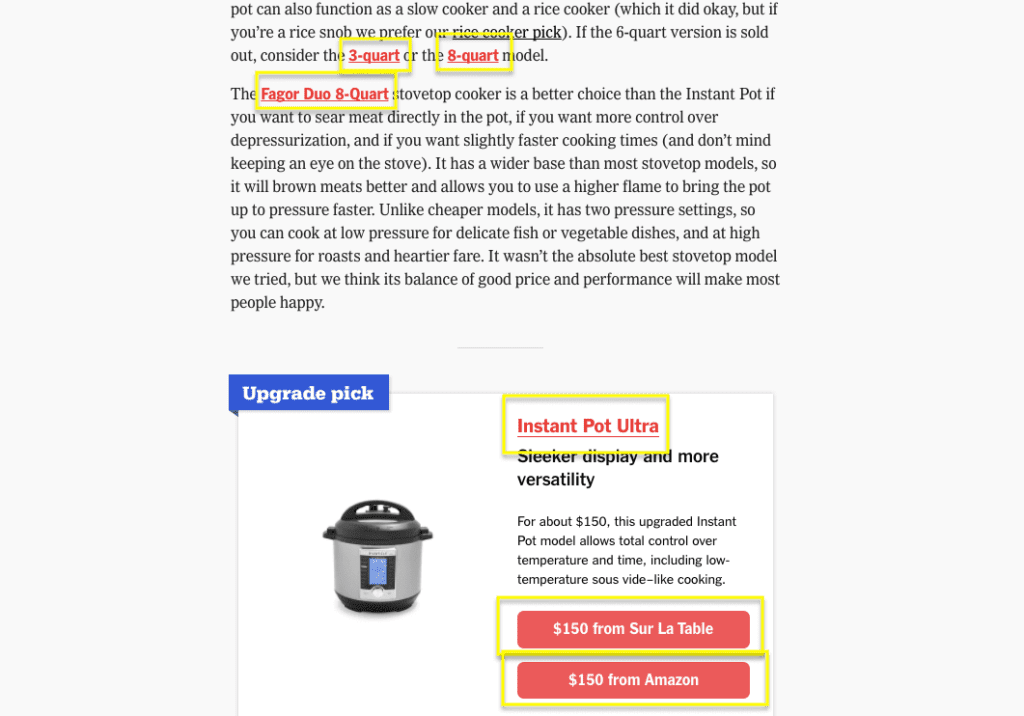 As you can see, the links to the pressure cookers are directly relevant to the content on the page (it was a roundup of the best pressure cookers).
In terms of how affiliate links work, Amazon makes it quite simple. You don't need to pay for any ad software nor do you have to designate space on your site in which ads will appear.
Instead, you sign up for an Amazon Associates account and then are provided with links you can use to promote products from the Amazon marketplace.
Some people think Amazon Associates sucks. But that's another story…
In order for you to actually make money for these product referrals, however, you can't just use the product link on Amazon. You have to use one that's been tagged to give you credit for any sales that come from it. Essentially, each link you use stores an affiliate cookie on your site that will then associate the customers' sales to your account.
Here is an example of an Amazon affiliate link on the Parenting website: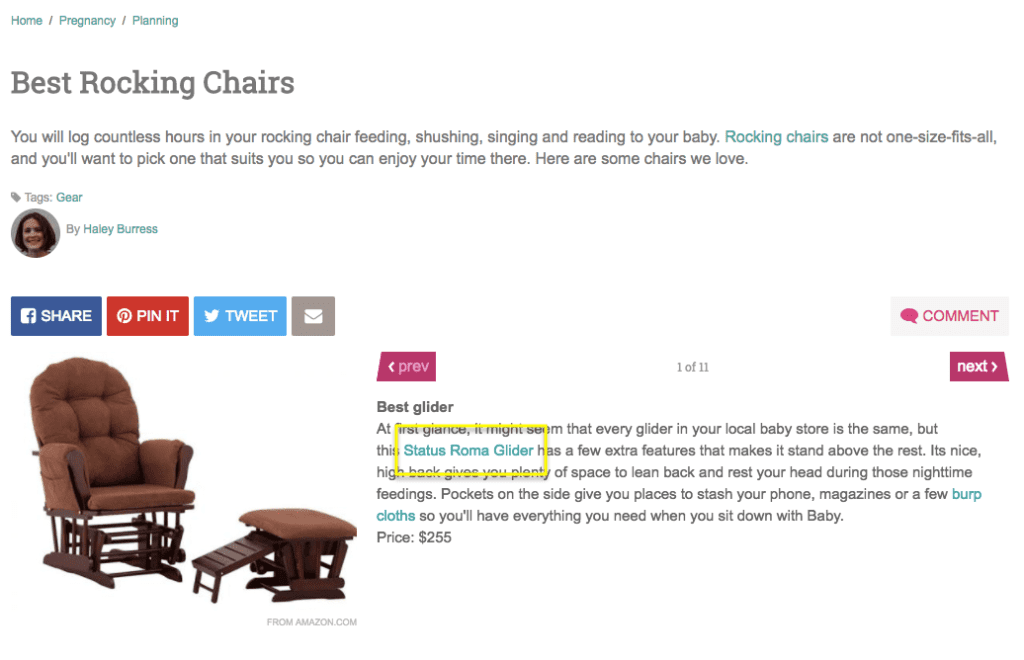 Click on that link and you will be then taken to the Amazon website. However, if you look at the address bar, you'll see that it contains more information than the standard URL (which typically ends in "/dp/" and the ASIN ID).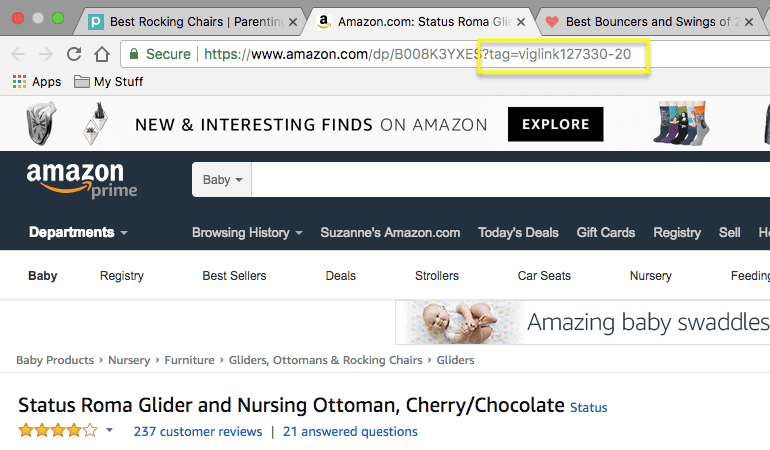 That is the affiliate tracking code and cookie linking back to your site and notifying Amazon to pay you a commission up to 10% of the ticket price on that item.
Why You Should Add Amazon Affiliate Links to WordPress
Amazon launched back in 1994 and, two short years later, they developed their Amazon Associates program. In so doing, Amazon was able to increase exposure to their marketplace by enabling web developers and site owners to work as evangelists for their products. It helped drive more traffic to Amazon while giving these business-minded individuals the opportunity to generate more revenue for their own sites and businesses.
Today, the Amazon Associates affiliate program can be used in a variety of ways in WordPress:
Bloggers can add affiliate links to their content or ads on their sidebar when discussing and recommending specific products available in the Amazon marketplace.
Users can create entire online stores dedicated to selling products from Amazon. This is also known as an affiliate store.
Business owners can sell and promote their own Amazon products on their WordPress sites using affiliate links (so they'll get the commission fee in addition to whatever money they earn in the direct sale through Amazon).
People who want to make a living writing reviews about products, books, movies, and anything else available on Amazon can create an entire site dedicated to it.
Affiliate marketing can also be used on sites that compare product pricing or offer coupons in bulk for various products.
If you like the idea of generating additional income by adding Amazon affiliate links to your WordPress site, you should first make sure you know what you're getting into. While there are a plethora of benefits to glean from the Amazon Associates program, there are a number of drawbacks that go along with it as well.
And if you're ready to start adding affiliate links today, our favorite tool is Lasso. Start your 14-day free trial here!
What to Watch Out for with Amazon Affiliate Marketing
Let's first examine the "bad" parts of Amazon affiliate marketing. Basically, these are the things you need to be careful about when working with a brand like Amazon.
This is not a get-rich-quick scheme. Without steady traffic to your site, without content that is relevant to the affiliate links you want to promote, without a healthy marketing campaign going on outside of your site, you might not earn much from this.
Bad product picks could hurt your brand. Chances are good that if you're including an affiliate link in your content, then you're willing to put your full support behind the product. However, if the reputation of that product should sour with the public and you fail to catch it, that recommendation of an untrustworthy product could hurt your brand.
Analytics are limited. Unlike with conversions made directly on your WordPress site, you'll be limited in terms of what you can learn about the people making purchases through your affiliate links. While Amazon does provide you with details about clicks and sales, you won't get deep insights into who the consumer was and what they did on your site before they got to that point that you would with Google Analytics.
Amazon mostly deals in physical products. For those of you hoping to promote software or other digital products (not including books, of course) through affiliate links, you won't be able to do so through this program.
Commissions are not consistent. Although Amazon advertises that affiliate marketers receive up to 10% commission on purchases made through their links, many categories don't pay out that well. You can find the commission structure here: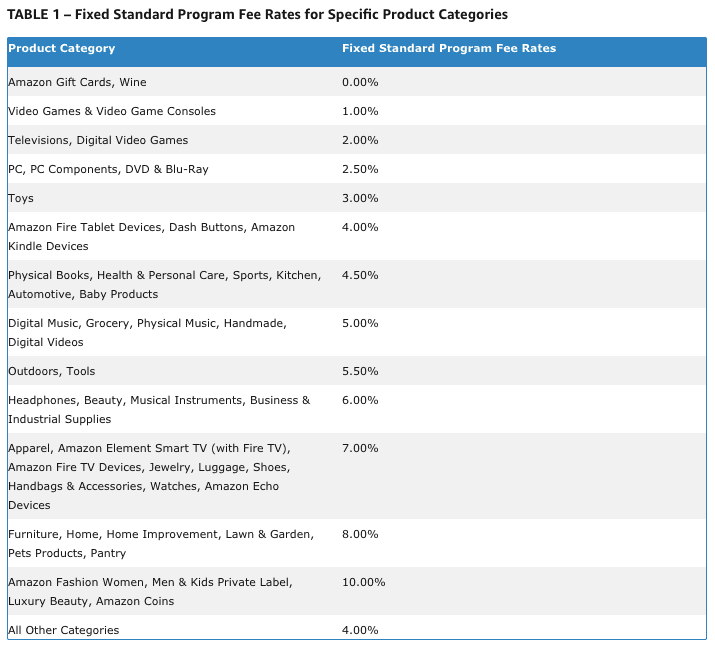 Also, be sure to check the payouts for Amazon's special "bounties", which refer to promotions of Amazon's digital services: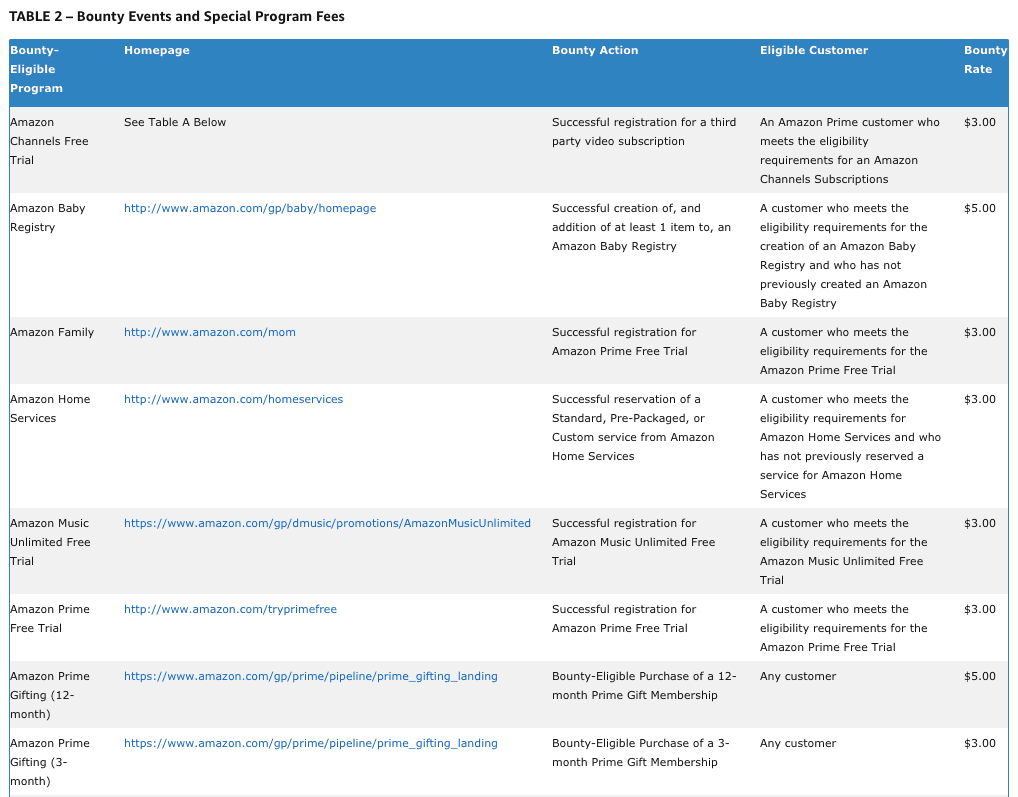 Their policies are strict. Be sure to read through Amazon's affiliate program policies very carefully. Any violation of their policies is grounds for account suspension–something which could be devastating if you build an entire website or store around affiliate links. Amazon has also been known to suspend accounts without any prior notice, so tread carefully.
Affiliate links only work on the WordPress site. If you were thinking about using the Amazon Associates program outside of WordPress, you may want to rethink your strategy. According to Amazon's guidelines, you cannot use affiliate links in email nor can you even use them in on-site pop-ups. They have to be embedded on your website.
The one exception here is social media. You can use affiliate links to promote products on social media. However, if you intend on doing that, you must first add your social media accounts to your website list. You can do this during the setup phase (under "Profile"):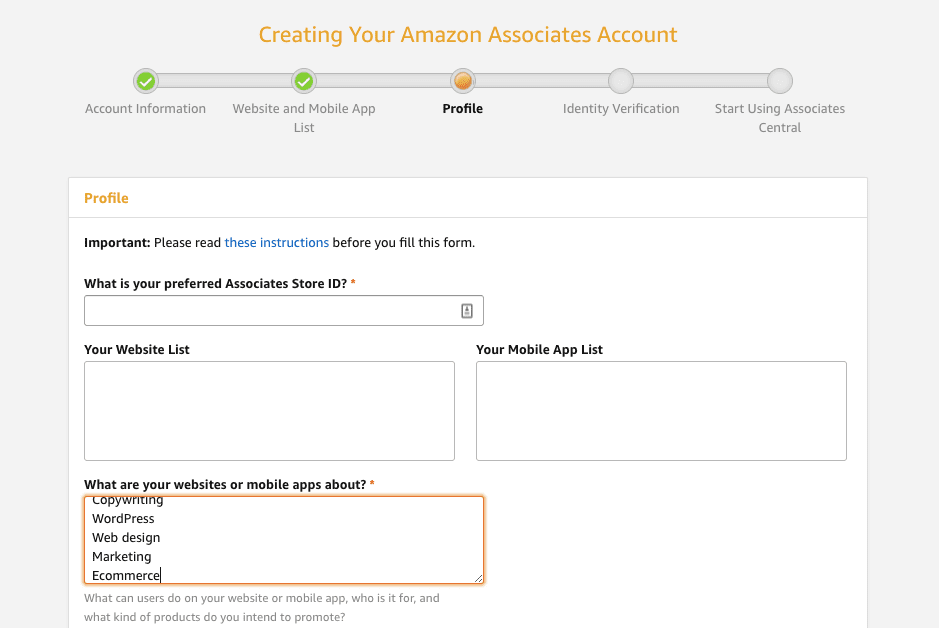 Or you can go in later and add your social media profiles to your list under Account Settings (under your email address at the top of the page):

There's no need to be intimidated by the cons noted above. Every affiliate program comes with them as does any working relationship you enter into with a well-known brand. Think of Amazon like Google: their top priority is keeping customers happy. Without their continued satisfaction, they wouldn't be in business and you wouldn't have an affiliate program to take advantage of, so they need to ensure you don't abuse the terms of use.
What to Be Excited About with Amazon Affiliate Marketing
Unsurprisingly, there are many more pros associated with Amazon affiliate marketing than there are cons. Let's take a look at why this type of marketing should get you excited.
It's free to join and use. There's absolutely nothing to pay to Amazon to make use of this program.
The sign-up process is simple. If you already have an Amazon account, you'll be taken through a straightforward five-step signup process: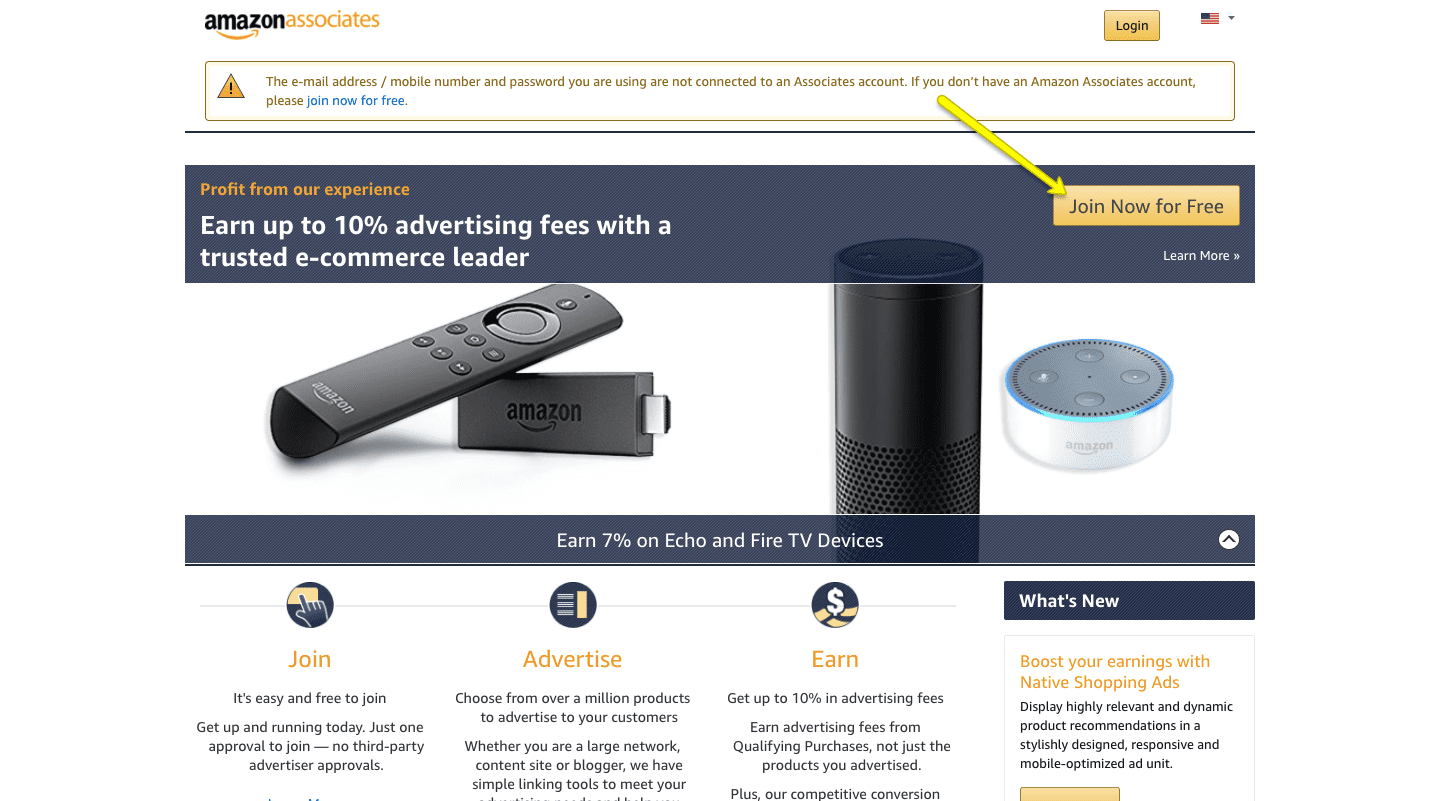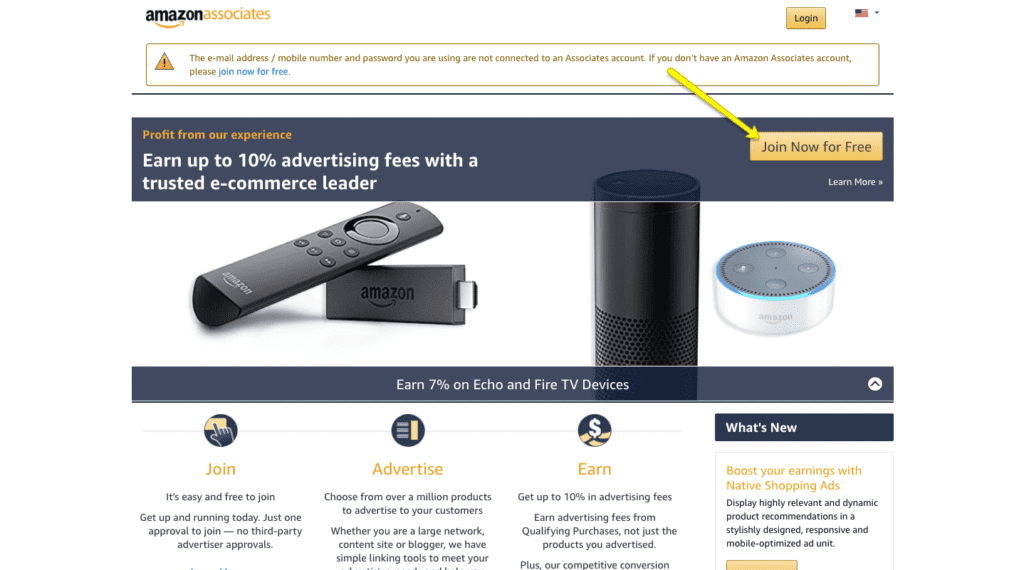 During this process, Amazon will ask about your business, your website(s), as well as how you intend to use the affiliate marketing program to make money.
It's extremely WordPress-friendly. As you'll soon see, it's very easy to add Amazon affiliate links to WordPress. If you decide that you want more than just the occasional link to appear within your content and you want to build an entire affiliate store, there are WordPress affiliate themes and plugins built specifically for Amazon Associates members.
You get to hand-pick what you promote. Unlike display ad systems that typically choose which brands serve ads on your WordPress site, you have total control over this with Amazon affiliate links. You'll never have to worry about a competitor's link showing up on your site and the link will always be relevant to the content that it appears within or beside–which will improve its chances of getting clicked.
You can build greater trust with visitors. When affiliate links are used properly, you'll build even more trust with visitors. This means always directing them to Amazon products that are relevant to the topic at hand. Conversely, any attempts to deceive by pushing them to unrelated links or to untrustworthy products could hurt trust (and get you banned by Amazon), so be careful.
Referral fees aren't just for the products you recommend. Perhaps the coolest thing about the Amazon Associates program is that you receive credit for any sale associated with your affiliate link for 24 hours. So, if a customer visits the page of the product you recommended, but then goes on to purchase five more eligible items during that same visit, you will receive a portion of that entire sale.
It's a great way to make passive income. Of course, when I say "passive", this doesn't account for the time needed to spend building or maintaining your WordPress site. However, in terms of having to promote these affiliate links, you can put in as much or as little work as you want to drive traffic to them. This obviously makes this a great option for a passive income stream if you're not in the business of e-commerce.
Amazon customers are loyal. Beyond that, Amazon customers–especially Amazon Prime members–are more than happy to convert. According to a 2015 report, Prime members are said to convert at a rate 22 times greater than customers that shop with other top online retailers. So, if you can tap into that audience and appeal to their willingness to spend money with Amazon, you should see a good return on your decision to join the program.
It has universal appeal. Unlike some types of marketing that work better for certain segments than others, affiliate marketing is really something that anyone can use on their WordPress site or e-commerce store. With millions of products available and categories covering a wide spectrum, you're bound to find more than enough products worth promoting.
You can open a store without the burden of managing inventory. One of the ways in which you can use Amazon affiliate links is to populate your online store with third-party products. This spares you from having to produce, store, or even manage inventory. That's all handled by the manufacturers. You only need to worry about maintaining your online store.
You can use affiliate links after the fact. You don't have to decide upon building a WordPress site that you're going to optimize it with Amazon affiliate links. You can decide down the road that you want to give affiliate marketing a try and, consequently, revisit old content, embed affiliate links within it, and start generating revenue that way–especially if your old content is finally starting to take off.
Track your earnings with Amazon. Amazon collects all your affiliate activity in one place. Under Reports, you'll be able to see information on your fees (for standard affiliate link promotions) and bounties (for Amazon services promotions).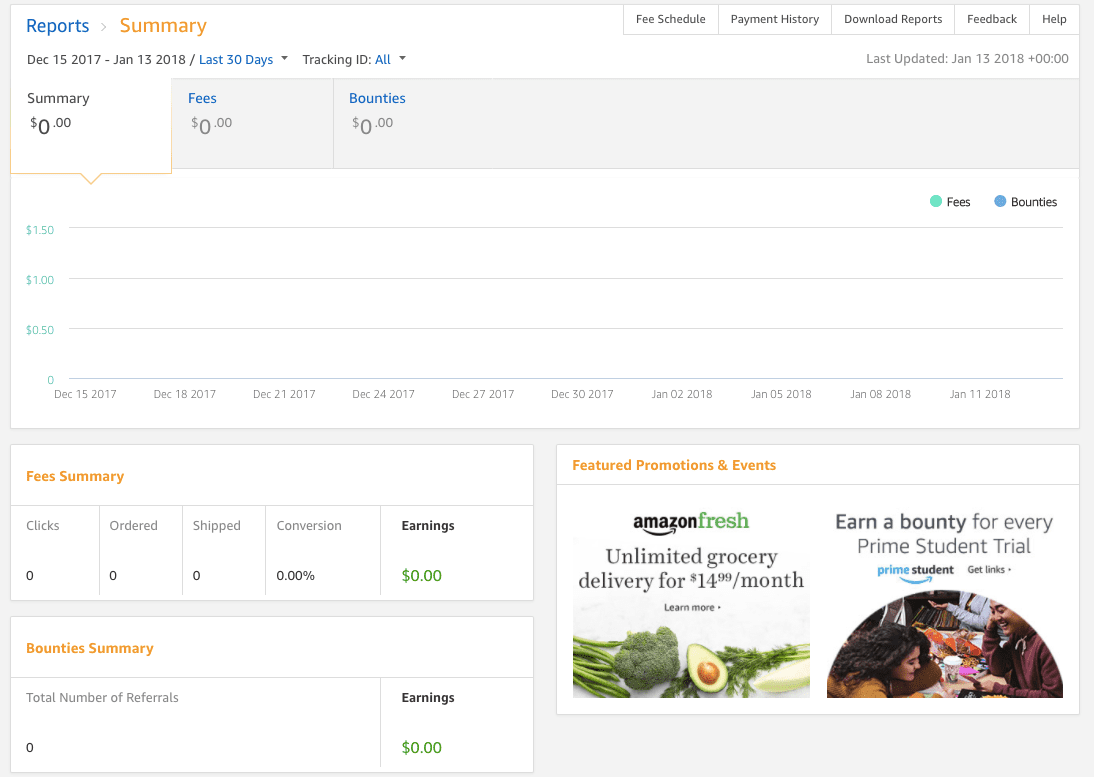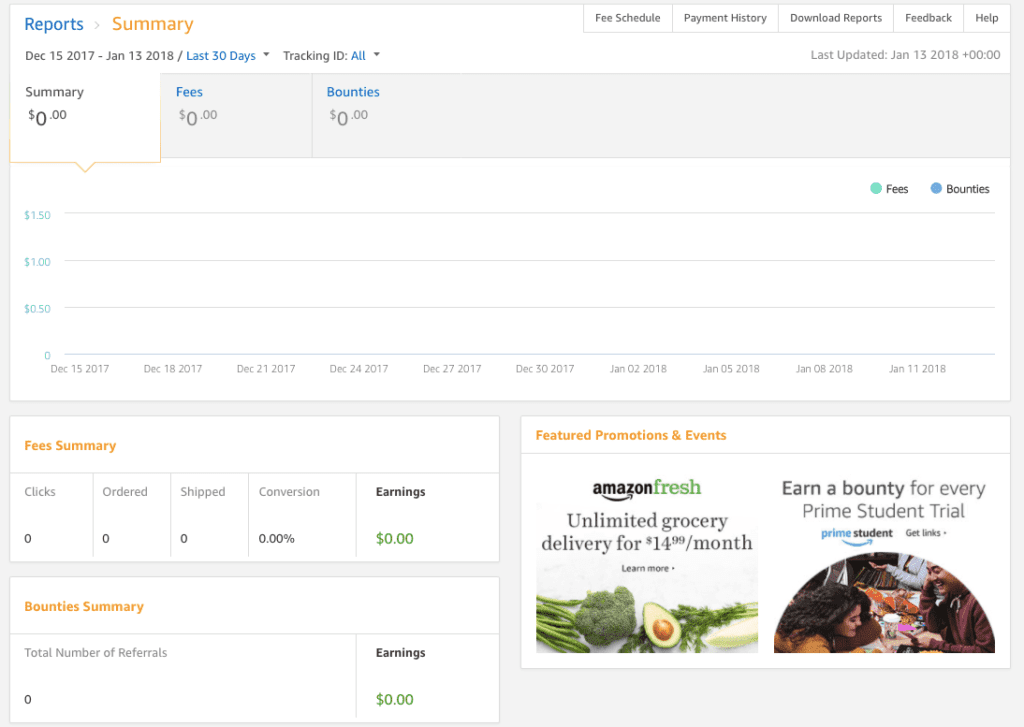 You can also find out more about how well your links are doing in terms of the types of conversion (e.g. clicks, orders, etc.)
How to Add Amazon Affiliate Links to WordPress
Okay, so now that you know what Amazon affiliate marketing is and how it can help you make money through your site, let's look at how to add Amazon affiliate links to WordPress.
Step 1: Sign Up
Visit the Amazon Associates program website. Click on the Join Now for Free button to create your account.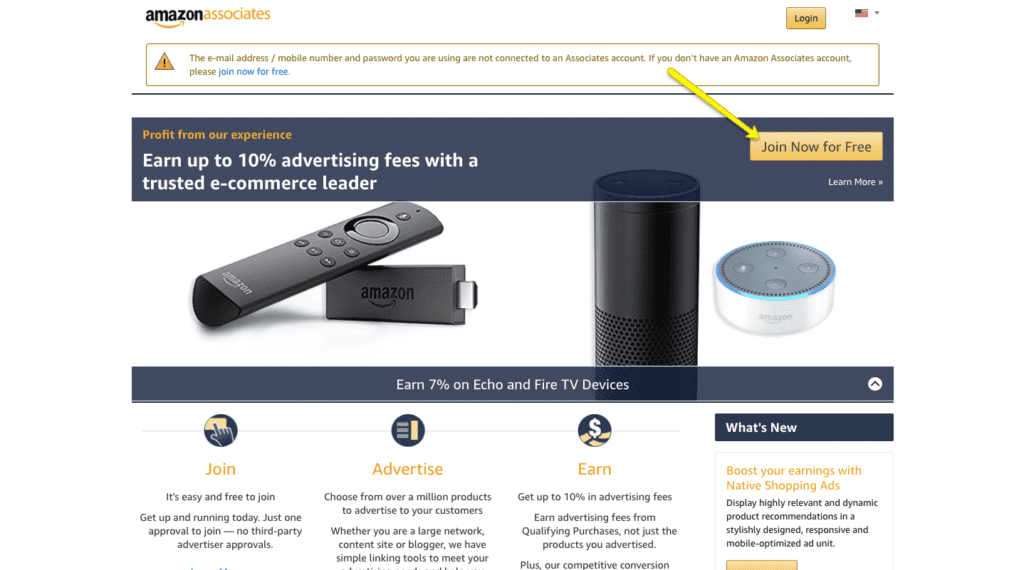 You'll then be taken to the five-step account creation process where you'll be asked a series of questions that will help Amazon review your account and associated activities in the future.
Account Information will cover who you are and where you are located.
The Website and Mobile App List is where you will enter all websites through which you intend on sharing affiliate links. Be sure to read the instructions thoroughly before proceeding.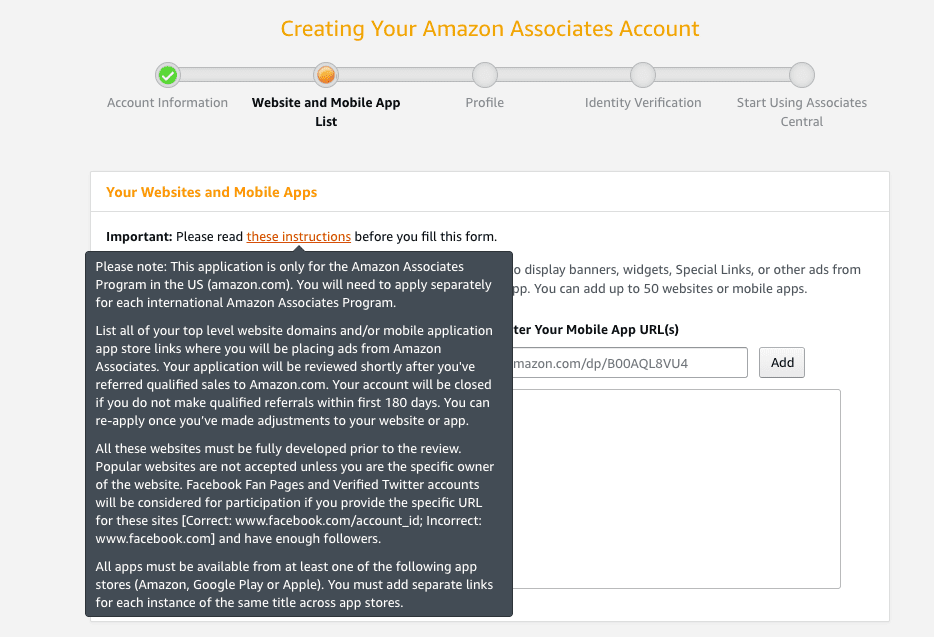 Under Profile, you will create your affiliate ID, the string of letters and/or numbers that will serve as your tracking code. You'll then be asked a series of questions regarding what type of topics your website covers and which kinds of products you intend on promoting through your site.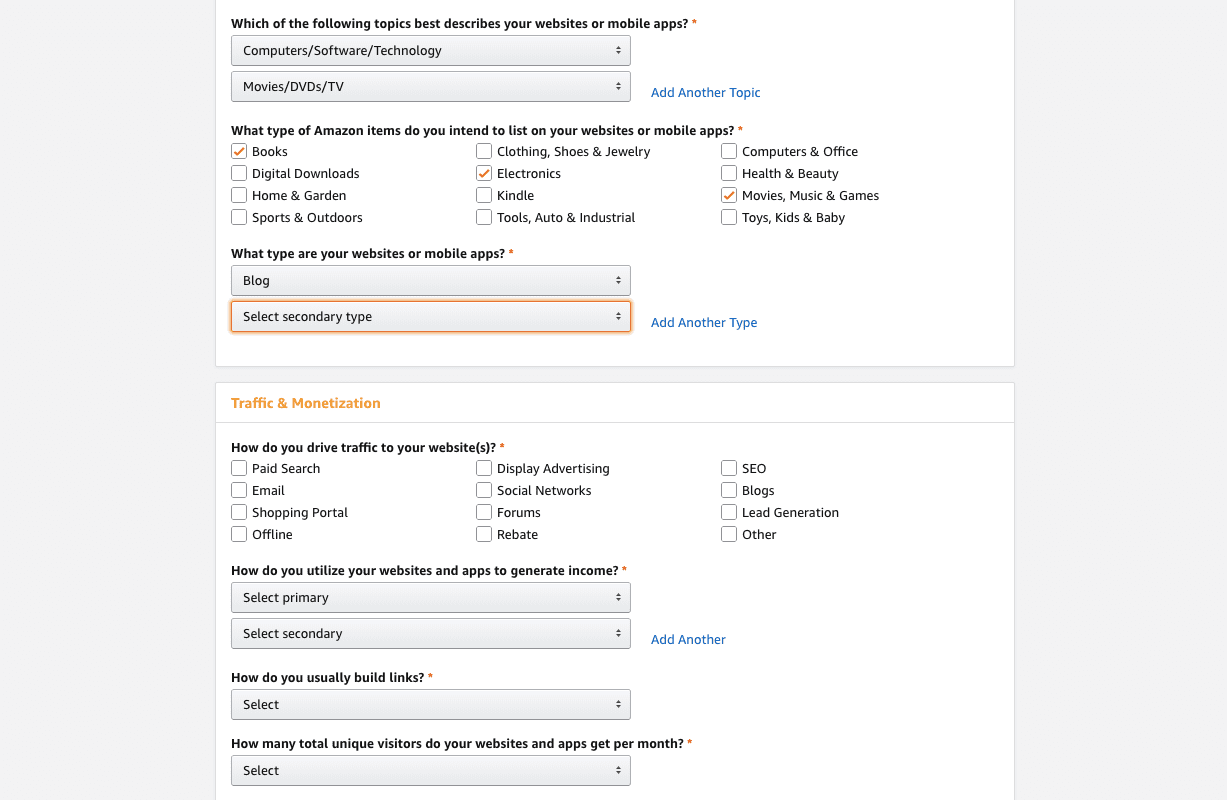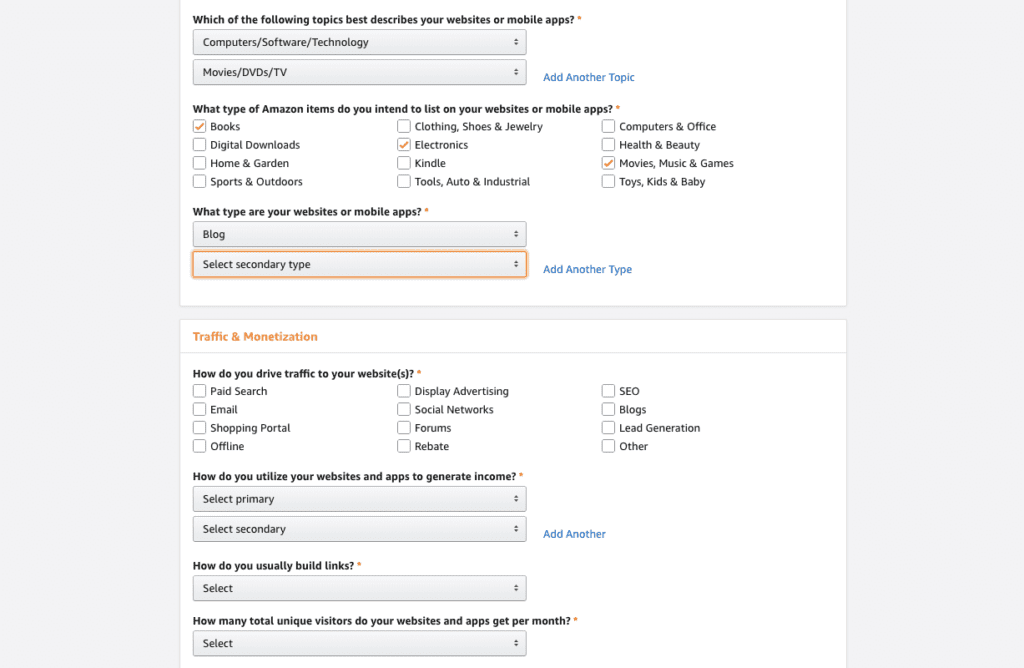 In the Identity Verification step, you'll need to share your phone number so that Amazon may verify that you are who you say you are.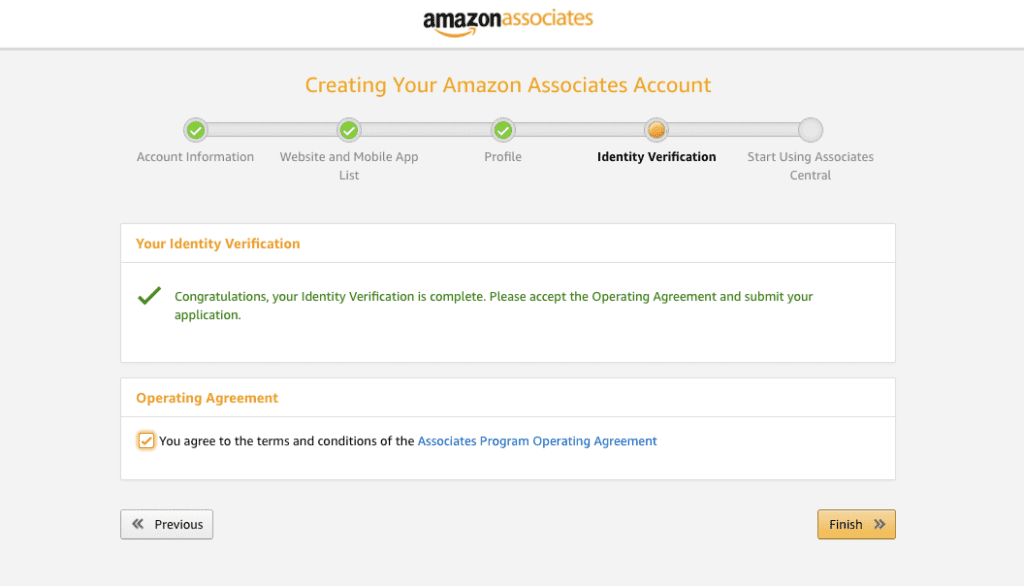 The final step will provide you with your official Amazon Associates tracking ID and will give you a chance to submit your tax information (as you'll have to report all earnings to the IRS). If you prefer, you can add this information later.
Once you've set up your account, do note that Amazon requires you to use product links and generate income from at least three of them within 180 days. If you fail to do so within that time, they will close your account. If you are able to satisfy that requirement, Amazon will review your account as well as your usage of affiliate links once the first sale is complete.
Step 2: Acquaint Yourself with Amazon Associates
Upon completing the setup process, you'll be taken to Amazon Associates Central. This will be your new hub for all matters related to your affiliate marketing efforts.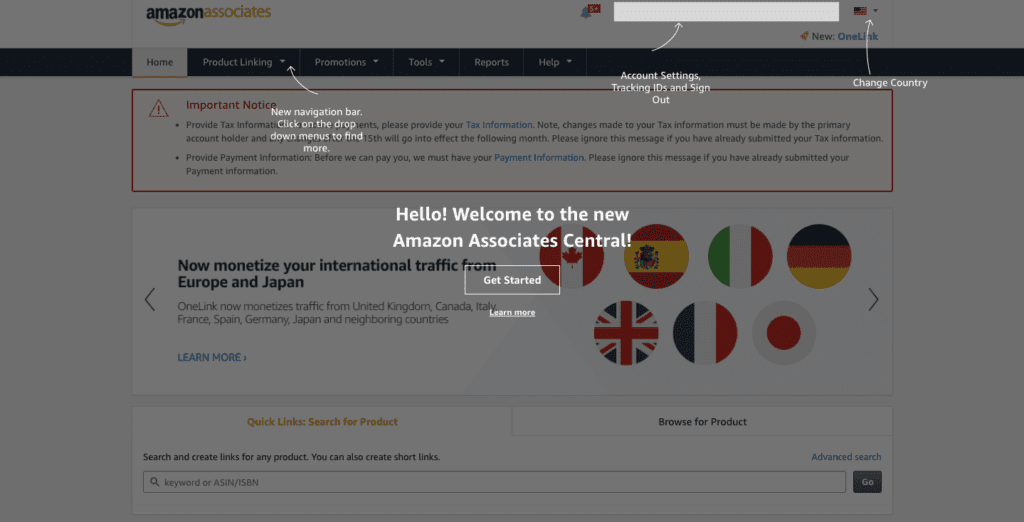 The main dashboard is quite comprehensive without being altogether overwhelming. Right within this home page, you can search for products to link to:

You can also see a high-level overview of your earnings over the last month: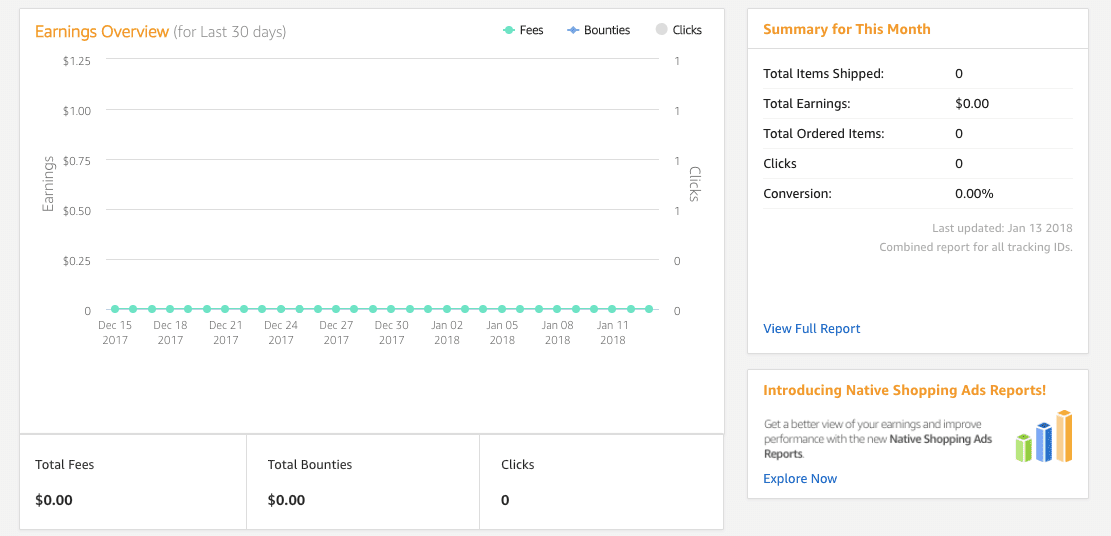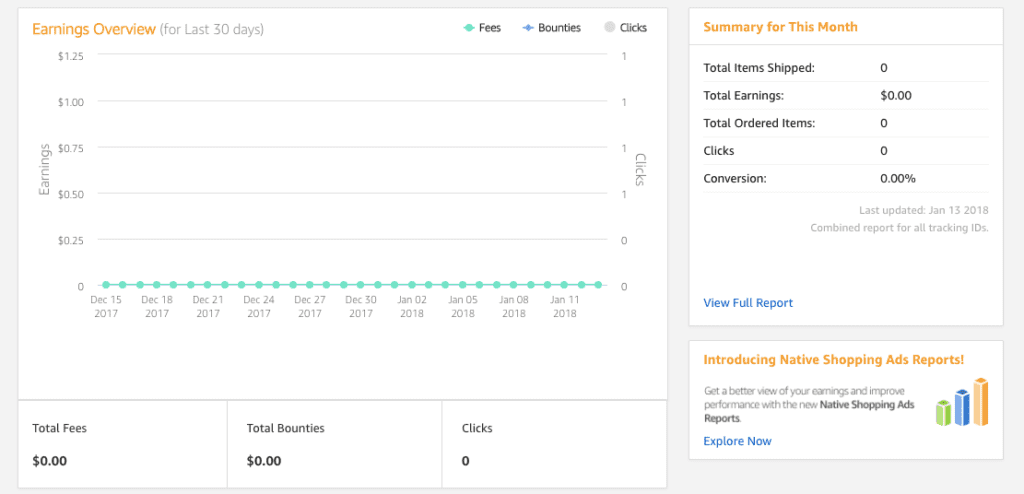 While you're in here, be sure to familiarize yourself with the navigation at the top of the site. It includes everything you'll ever need to create and manage affiliate links. Here is a brief overview of what you will find:
Product Linking > Product Links: This is where you can search for products and then create affiliate links.
Product Linking > Banners: If you'd like to add Amazon-specific banner ads to your site, you can set those up here. You can choose to promote high-performing categories on Amazon, a category of your own choosing, or Amazon gift cards.
Product Linking > Native Shopping Ads: Let's say you've written a review about a new hair product. If you want additional money-making opportunities from this despite only recommending a single product, you can add native shopping ads to the end of your content. Think of them like related post content, except it's a banner that promotes other Amazon products.
Product Linking > Mobile Popover: The popover is a way to get Amazon links out to your mobile users but in a non-intrusive manner. It's a small image ad that pops up from the bottom of the screen that promotes the first affiliate link that appears on the page. According to Amazon, these popover "ads" improve conversion rates by up to 30%.
Promotions > Featured Promotions: If you're using this program to piggyback on Amazon's popularity, you'll want to use this tab. It keeps users attuned to the hottest deals going on with Amazon at the moment.
Promotions > Amazon Bounty Program: This is where you can learn more about how to promote Amazon services to your visitors.
Tools > Site Stripe: This is a new tool Amazon has built for its Associates members. Basically, it adds a toolbar to the top of the Amazon website that enables you to create affiliate links from any product page you visit without having to return to Amazon Associates Central.
Tools > Publisher Studio: This tool is available either as a Chrome extension or as JavaScript code that goes into the footer of your site. It simplifies the process of creating and adding Amazon affiliate links to your content by allowing you to do all of this right within the WordPress text editor.
Tools > Link Checker: If you're nervous that you're not receiving referral payouts for your affiliate links, you can check the validity of your links with the Link Checker.
Tools > Product Advertising API: If you want to do more custom searches for products and advertise more details about them on your WordPress site, use the API.
Tools > OneLink: If your site caters to audiences outside of your home country, you'll need to use OneLink to set up an international affiliate account and link it to your main one (you can link with the next tab "Link Your Accounts"). This way, you can receive referral payouts from visitors outside your country, too.
Reports: This is where you'll find information on your affiliate link traffic and earnings.
Step 3a: Add Amazon Affiliate Links to WordPress
Note that this process will differ slightly based on how you intend on using affiliate links in WordPress. In other words: will you use content links to promote affiliate content or will you build an entire Amazon affiliate store? If you only want to use content links, follow this step. If you want to build a store, review both steps 3a and 3b.
The easiest way to add Amazon affiliate links to WordPress in an organized and optimized way is with our favorite tool, Lasso. Start your 14-day free trial here!
Here is how you go about finding and adding Amazon affiliate content links to WordPress:
You can search for available products either under the Product Linking tab in the navigation or in the center of the home page's dashboard. For this example, let's assume you're writing a review about the best dog leashes. You have a few specific brands in mind, but want to see what others Amazon might suggest for you.
Enter your query in the search box:

Amazon will then return a list of results. The more specific you are in your query, the smaller the list you'll have to work from: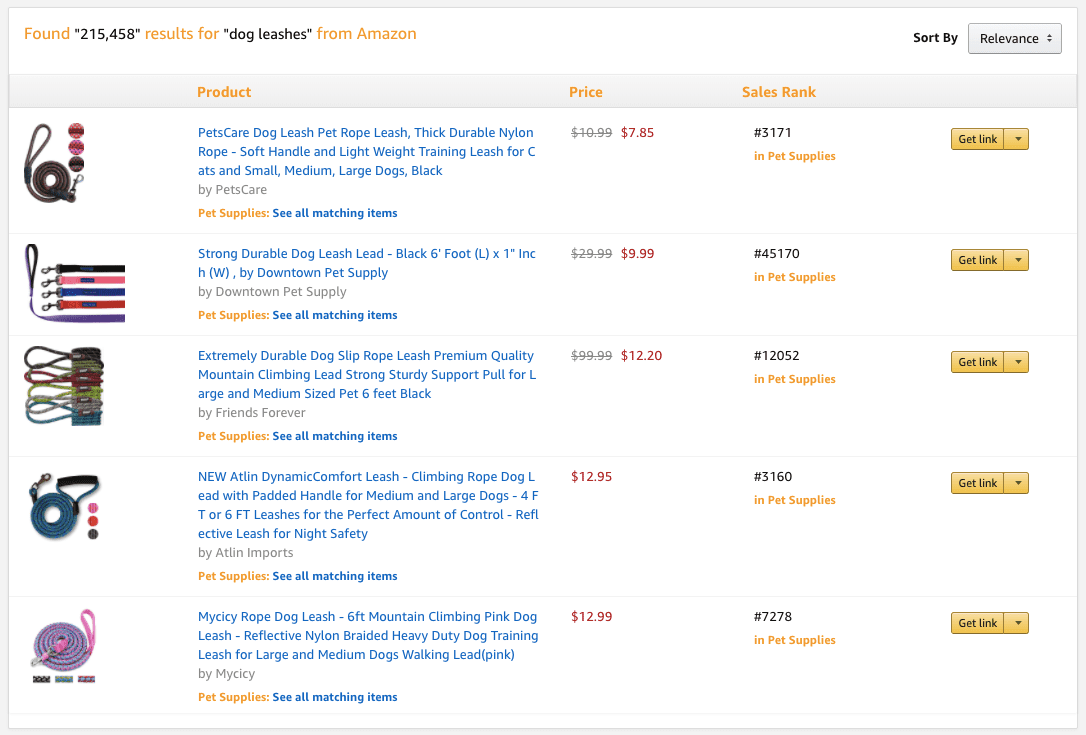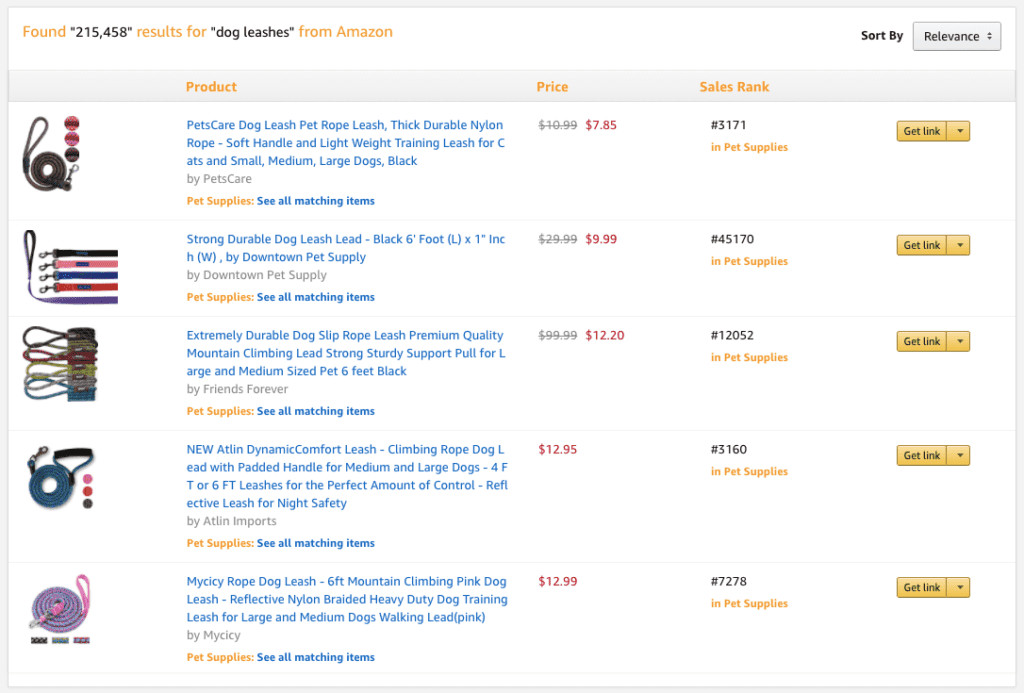 Once you've identified the product you want to link to, you'll need to get your affiliate link. There are two options:

If you plan on creating a text link on your website, you can use the arrow drop-down to quickly grab a copy of the affiliate link (this is the one you'll use in step 3b, so hold onto this tip):

If you want more options in terms of how to embed the affiliate link on your WordPress site, click the "Get link" button: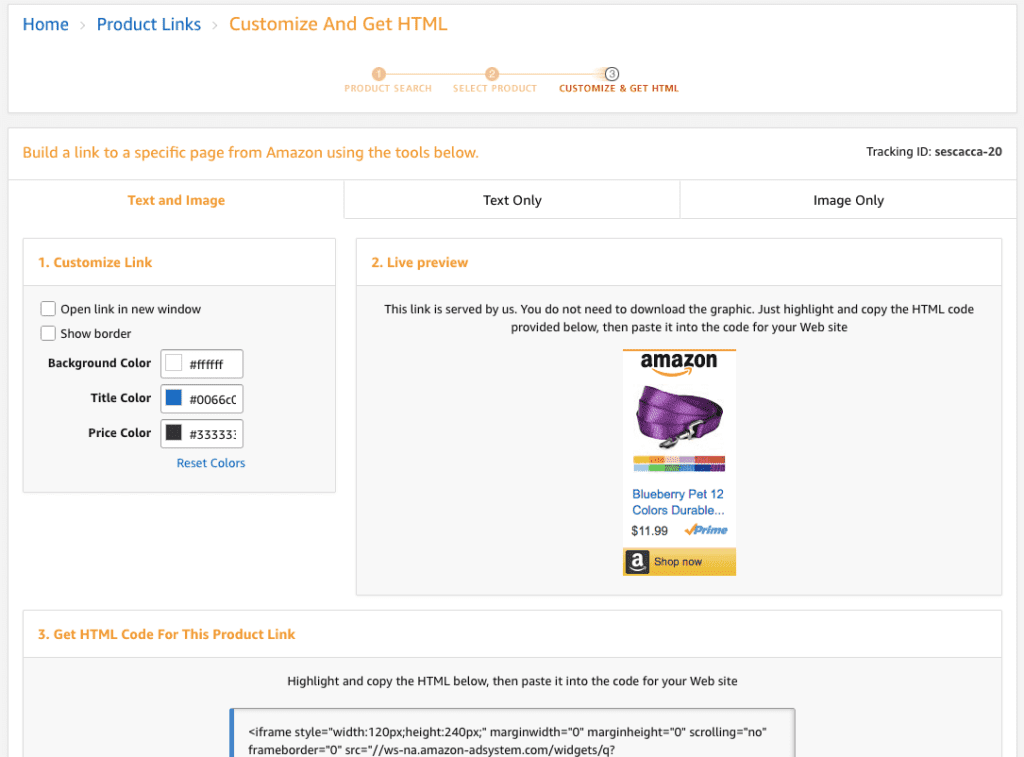 Here is where you can customize how your link is displayed, including:
Text, image, or text and image link formats
Whether the link opens in the same or new browser
Colors used within the image link
Size of the image
Hyperlink text for text-only link
Link destination
Once you've defined each of the parameters, copy the HTML code provided at the bottom of the page:

Return to your WordPress site and open the page, post, or sidebar widget in which you want to add the Amazon affiliate link. Embed the code within the text editor. Here is an example of how this looks on my website: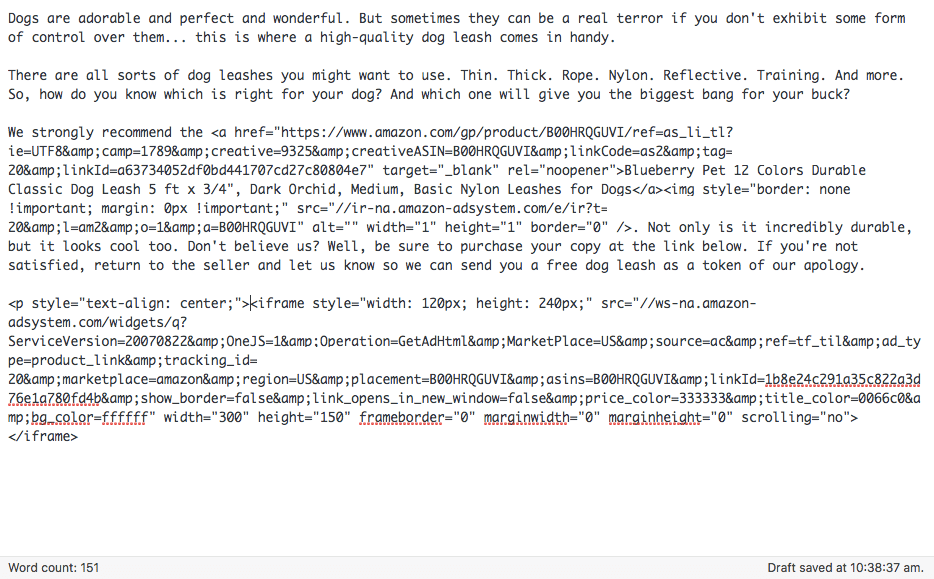 You can see that I've embedded two different types of affiliate links for the same product: a text-only link as well as a text-and-image link. Here is how they appeared on the website once I saved the changes and published: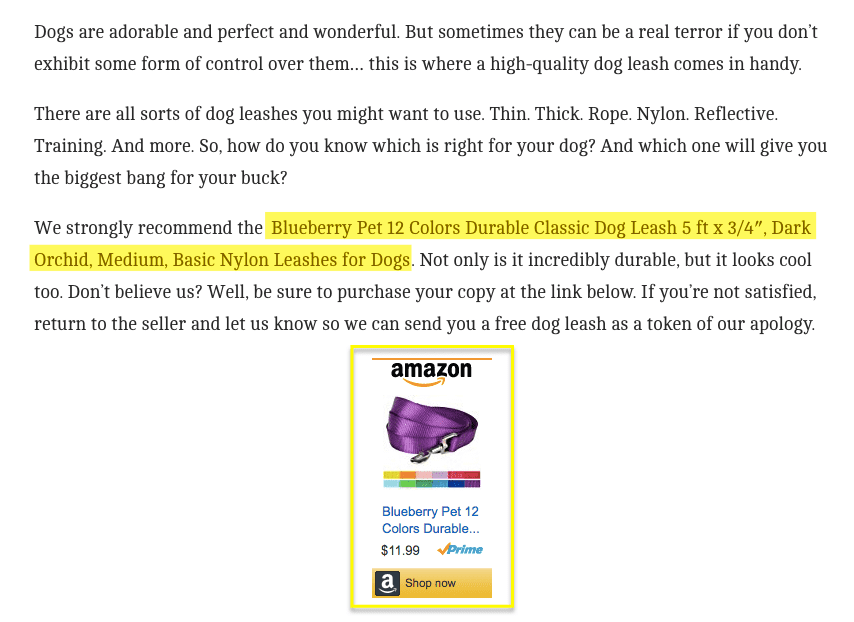 Once the link is on your site, it's up to your visitors to click on it and start shopping. And, once they do, you'll start making money!
Step 3b: Add Affiliate Products to Your eCommerce Store
For those of you who intend on building an Amazon affiliate store around your products or those of others, the process may end up being a little different. Obviously, you'll need to have your online store fully up and running before you do this, which means:
Purchasing a domain and web hosting
Installing WordPress
Choosing a WordPress e-commerce plugin or theme (WooCommerce will work just fine)
Building and designing your website around a specific niche topic or product
Once your store is ready to go, you can then start adding affiliate links to WordPress. However, since this is a store and not a blog, you'll likely want to add links as product blocks instead of as hyperlinks throughout your content. To do this, create a new product page in WordPress: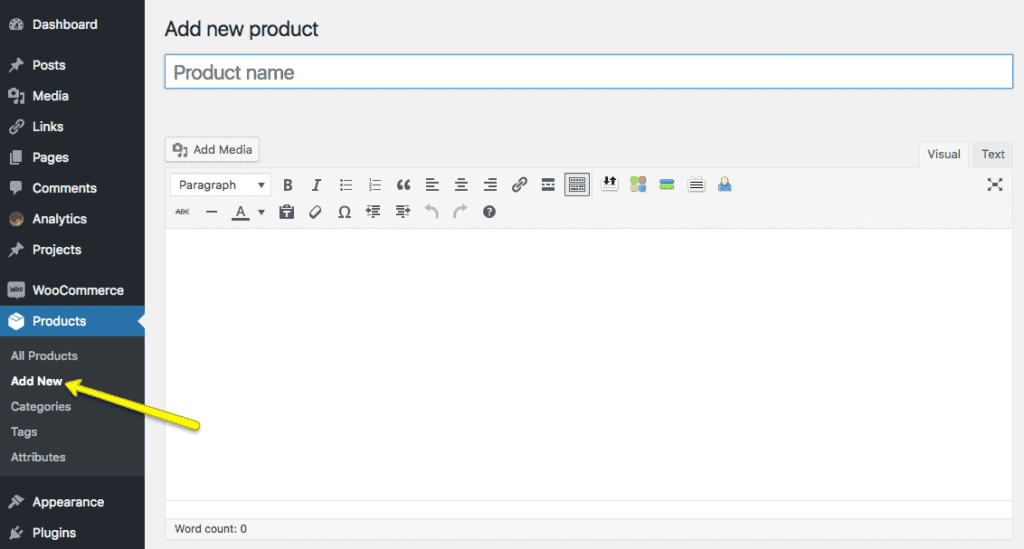 In the text editor, you can add whatever sort of description or sales message you want to place around the affiliate link. However, to get the affiliate link in here, you'll have to scroll down to the Product Data section:

Next to the Product Data heading, change the type to External/Affiliate product.
In the Product URL field, enter the text link from your original product search (it was the link you get when you click on the down-arrow). Then create a label for the purchase button.
Do not add a price. Amazon prohibits affiliates from adding pricing information about their products as this information is always changing.
Be careful with product images. Amazon does allow affiliates to use images of products on their websites; however, they can only be used in the context of promoting the affiliate link.
Once you've crafted the product entry the way you want it to appear, save your changes and preview how it looks on your site: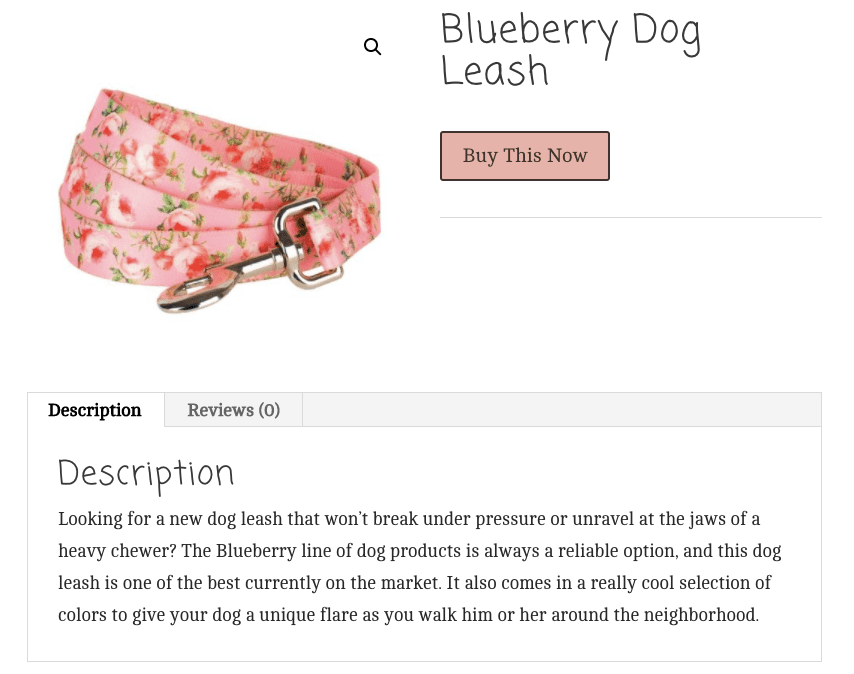 In the above example, you can see that this page is completely yours to design. You don't have to rely on an image or text link from Amazon to dictate how it will appear on your site. Simply create your purchase button, add the affiliate link to it, and actively promote the product the way you want in your store.
Step 4: Add a Disclaimer to Your Site
Once you have that first Amazon affiliate link embedded and published, you need to add the Amazon disclaimer statement to your WordPress site (your Terms of Use page or footer will suffice). Per the Amazon Associates policy (#5):
"We are a participant in the Amazon Services LLC Associates Program, an affiliate advertising program designed to provide a means for us to earn fees by linking to Amazon.com and affiliated sites."
Step 5: Bolster Security and Performance
Don't forget to create a secure website for your visitors. You might not handle the actual e-commerce transactions that take place through the Amazon affiliate links, but you're still responsible for ensuring a safe experience between your site and Amazon.
With the bar set so high by Amazon, it's important to do everything you can to maintain a high level of speed and performance as well. A fast website means faster loading pages, higher click-through to Amazon and an improved bottom line for you.
WordPress Themes and Plugins for Amazon Affiliate Marketing
Finally, let's cover some of the WordPress affiliate themes and plugins you can use in your Amazon affiliate marketing efforts.
WordPress Amazon Affiliate Themes
In all honesty, you won't need a special affiliate theme if you intend on promoting the occasional text or image link on your WordPress site. When the affiliate link is part of your content, it won't have much of an effect on your website as a whole.
However, if you're running an e-commerce site, conducting product testing and reviews, or offer Amazon product coupons, then you probably will want to use a WordPress Amazon affiliate theme. To be clear, these themes aren't usually made specifically for Amazon affiliates. Instead, what you'll want to look for are e-commerce or multi-purpose WordPress themes that are:
Secure
Fast
Responsive
Compatible w/affiliate marketing
Feature-packed (for when your site is highly specialized)
The following WordPress themes would work very well if you intend on building an Amazon affiliate store:
Admania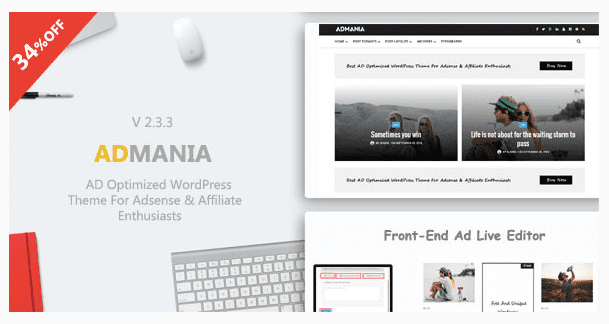 The Admania WordPress theme is a great choice if you run a blog or product review site that would benefit from optimized affiliate link placement both inside and outside of your content.
Electro/MediaCenter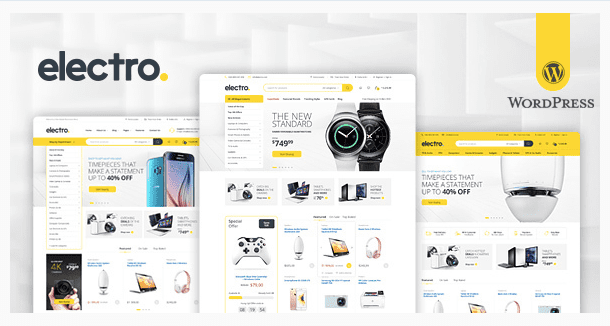 Madras Themes has created two media-focused WooCommerce themes called Electro and MediaCenter. (They both look similar, so it's simply a matter of choosing which layouts and features you prefer best.) If you want to build a store to sell Amazon digital and media products, use one of these themes.
REHub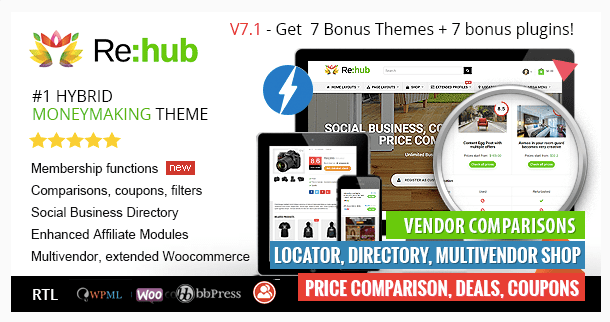 REHub is another WordPress Amazon affiliate theme we'd recommend. Specifically, you'll find this one to be quite useful when creating and managing coupon and price comparison websites.
I recognize that the list above is short; however, that's because Amazon affiliate marketing really doesn't require a specialized theme in order for it to work well (unless it's one of the unique cases noted in the themes above). Instead, you're better off using WooCommerce if you want to build a full affiliate store or simply stick to the WordPress theme you currently have and add affiliate plugins to the mix.
If you're going the WooCommerce affiliate route, this guide is exactly what you need: Earn WooCommerce Amazon Affiliates Commission with Your Product Reviews Site: The Complete Guide
Lasso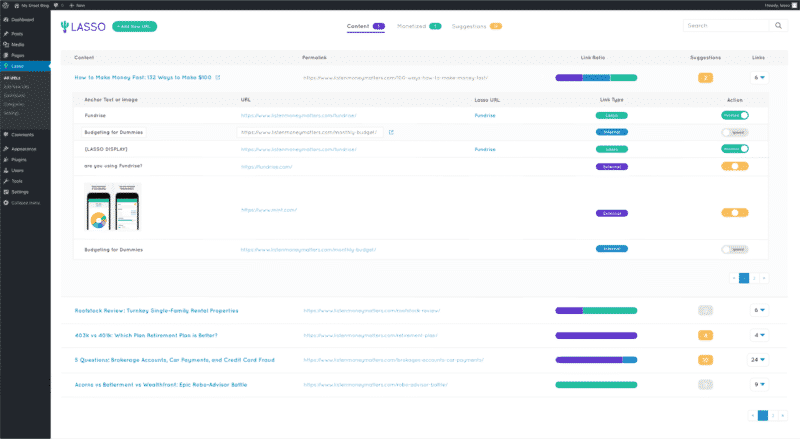 Lasso is a premium WordPress plugin that lets you add, manage, and beautifully display your affiliate links from any affiliate program, including Amazon Associates! They help your affiliate links stand out. Each Lasso affiliate link includes a product photo, description, and an accurate price. This transparency and design helps increase conversion rates and commissions.
Lasso also lets you search and add affiliate links from your inventory right in the WordPress editor. You can add a simple text link or a display box that makes your links stand out in the posts.
AzonPress
AzonPress is an excellent premium Amazon affiliate plugin for WordPress that allows you to manage entire Amazon affiliate program while staying on your WP site. The plugin provides a shortcode that enables each affiliate to include advertising areas into the post content while giving you the ability to choose between different visual formats.
Moreover, AzonPress lets you add the product link to the WordPress content editor and search items in the Amazon Product Directory. You also can add different grid-based layouts that makes your links stand out on your site while placing affiliate links.
Free WordPress Affiliate Plugins
As you can see from the tips on how to add Amazon affiliate links to WordPress, Amazon has really simplified the process for their associates. That said, having a WordPress plugin to streamline the process even further couldn't hurt.
It's even possible to get an Amazon affiliate WordPress plugin free so you can start making money without an initial investment.
The one thing to be aware of with WordPress Amazon affiliate plugins is that you don't want to use one that offers link cloaking. This is a method used to protect affiliates from a threat known as affiliate link hijacking. However, Amazon expressly forbids the cloaking of their links, so you'll want to avoid plugins that do that or always be sure to disable that functionality if they give you the option.
Here are some WordPress Amazon affiliate plugins you might find helpful in your workflow:
Ad Inserter

Earlier I mentioned something called Native Shopping Ads. If you think your site would benefit from embedding these types of affiliate ads from Amazon at the bottom of your content (they're basically just related product recommendations), the Ad Inserter plugin will streamline the process for you.
Amazon Affiliates for WordPress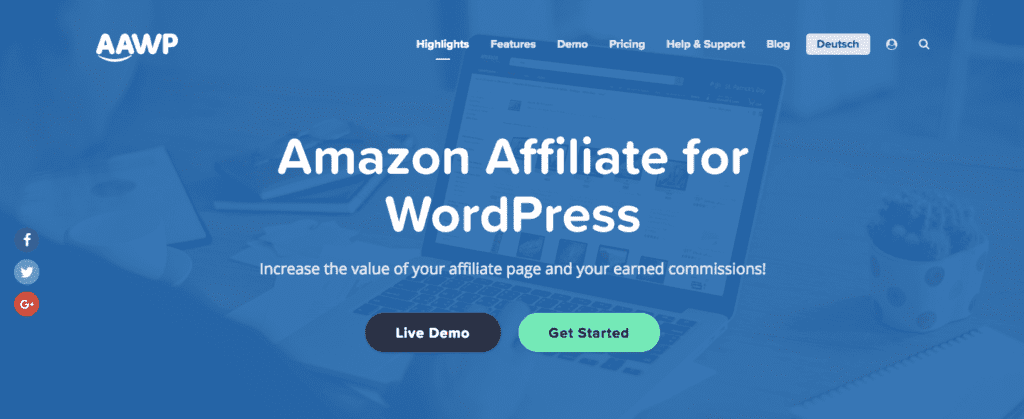 For WordPress websites built around Amazon affiliate marketing, you'll need a premium WordPress plugin to help you import more details from Amazon and display your links and ads in a more professional manner. That's exactly what the Amazon Affiliates for WordPress plugin does.
Amazon Auto Links

You may have noticed in my overview of the Amazon Associates site that I left out the mention of the plugin they built for WordPress. That's because the plugin doesn't work (at least not well). Luckily, the Amazon Auto Links plugin will simplify the process of finding new and relevant products to promote and creating affiliate links to them–all from within WordPress.
AmazonSimpleAdmin

AmazonSimpleAdmin is a free WordPress plugin built specifically to help Amazon affiliates not only add links to their site but also develop templates for products and collections. This will, in turn, streamline the design process when displaying Amazon links.
You Can Add Amazon Affiliate Links to WordPress
So, now that you know everything there is to know about how to add Amazon affiliate links to WordPress, what will you do with this information? Just save a little money on Amazon? Will you start out small and embed promotional product links into your blog content? Will you be adventurous and launch your own Amazon affiliate store? Or are you concerned about the use of too many affiliate links affecting site speed?
Whatever you choose to do with this monetization and marketing technique, take time to plan your strategy. While it is very easy to get started and to add Amazon affiliate links to WordPress, the key to success is in how well you execute those links and promote them to your visitors. Affiliate marketing takes time to excel at, so be patient and don't give up!
Want to give your feedback or join the conversation? Add your comments 🐦 on Twitter.
SaveSave
SaveSave