Being a freelance WordPress professional comes with many challenges. One of them is pitching clients and convincing them you're the best person for the job. Ideally, this involves writing a project proposal. However, unless you know about WordPress proposal plugins, this can be stressful, too.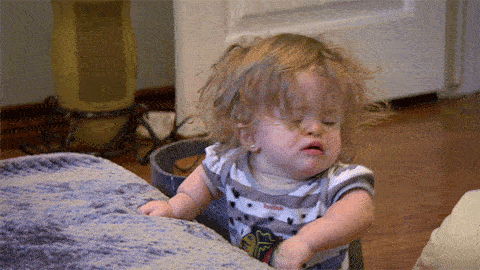 Using tools to generate proposal templates can make this task easier. By streamlining the process of creating and sending pitches, you can win projects and keep the revenue rolling in.
In this post, we'll provide you with a complete guide to WordPress project proposals. After explaining what they are, why they matter, and how they should look, we'll share five tools you can use to generate and send them to leads. Let's dive in!
In This Article 🗒
An Introduction to WordPress Project Proposals 📈
If you're new to freelancing or have been running a fairly small operation until now, you may not be familiar with the concept of a proposal. In short, this document contains a summary of what a project might include and why you should be the one to work on it.
📃 WordPress project proposals are a smart way to showcase your skills and land gigs. #WordPress
Click To Tweet
Proposals are fairly common across many different fields. Writers often submit them for books or articles, graphic designers create them for client projects, scientists have to pitch their research, and so on.
Basically, any time you're asking someone to invest in you or rely upon your skills to produce a final product, a proposal is a smart thing to have on hand. This includes WordPress design and development projects.
Why WordPress Development Proposals Are Vital to Professionals 🧪
When it comes to WordPress development proposals, the goal is to convince leads you're the best person for the job. To succeed, you'll need to provide them with all the information they need to make a hiring decision.
Often, potential clients want to know how long the project will take and how much it will cost. You could supply them with this information in a short email or by sending an estimate.
However, a full-scale WordPress project proposal has its advantages. For starters, it looks far more professional than a hastily written email. Plus, it tells leads a lot more about you and your abilities than an estimate would.
📝 Writing WordPress project proposals may take some extra work, but it can pay off by helping you win over clients. #WordPress
Click To Tweet
In a WordPress development proposal, you have the chance to explain how you would accomplish a client's goals and why your method is superior. You can also highlight qualifications that make you well suited to the task at hand.
Think of it this way. Imagine you need to have some work done on your car and are deciding between two repair shops. At the first, the mechanic simply says it will cost $1,500 to fix your vehicle.
At the second shop, the mechanic provides you with a list of how much each part will cost, and says it will take four days. They also inform you they've done similar jobs, and show you before and after photos from the most recent one.
Even if the second shop's price is a little higher, you may consider it worthwhile. Their pitch is much more likely to assure you they'll do quality work than the first shop's estimate. That's the power of a project proposal.
What to Include in a WordPress Project Proposal 📦
In order to be as effective as possible, there are a few key features every WordPress project proposal should include. The first is a summary of the work you plan to do.
This should explain the main goal or objective of the final product, as well as what it will look like when complete. Another way to approach the summary is to discuss the client's problem and explain how you'll solve it.
The next thing you'll want to tackle is the project's scope. Here, you'll provide a clear description of the services you'll cover over the course of the work to be done. This is essential for establishing your client's expectations for you.
For instance, if you'll be building a new WordPress site, you should specify exactly which elements you'll include. Otherwise, you may have clients who believe you should write About page copy or add products in WooCommerce.
As we mentioned earlier, timeframe and budget are key factors for clients when deciding who to hire. Make sure to provide a realistic deadline, and consider scheduling periodic check-ins as well.
Your assessment of how much the client will have to spend should account not only for your services. Also inform them of the cost of any plugins, themes, and other tools they'll need to purchase for you to complete your work.
At the end of your proposal, consider sharing some of your qualifications. You can mention any relevant training as well as past projects you've worked on. Pointing your lead to your online portfolio is also wise.
Finally, attach a copy of your standard contract for your potential client to review. That way they'll know exactly what they're getting into if they choose to work with you.
5 WordPress Proposal Plugins and Tools Designed to Help You Win Projects 🎖
As you can probably imagine, writing out a proposal from scratch with all of the standard sections mentioned above can be quite time-consuming. Investing in a tool to help speed up the process is wise, especially if you plan to make freelance development a long-term career.
Fortunately, there are several available worth considering, including some WordPress proposal plugins. We've explored five of them below.
1. Proposify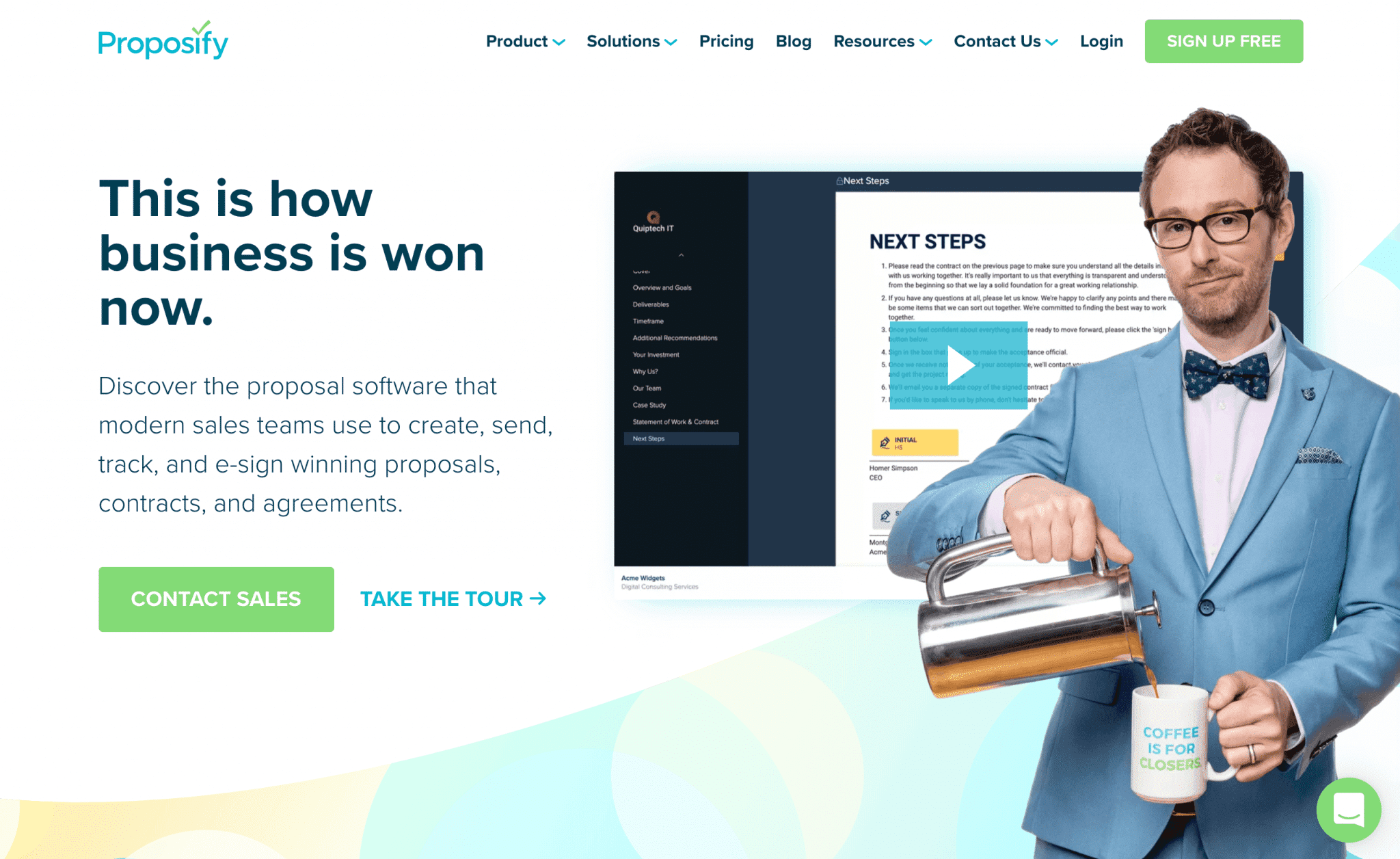 Proposify is an online document automation tool. It's primarily geared towards proposals, but you can also use it for quotes, contracts, and collecting e-signatures: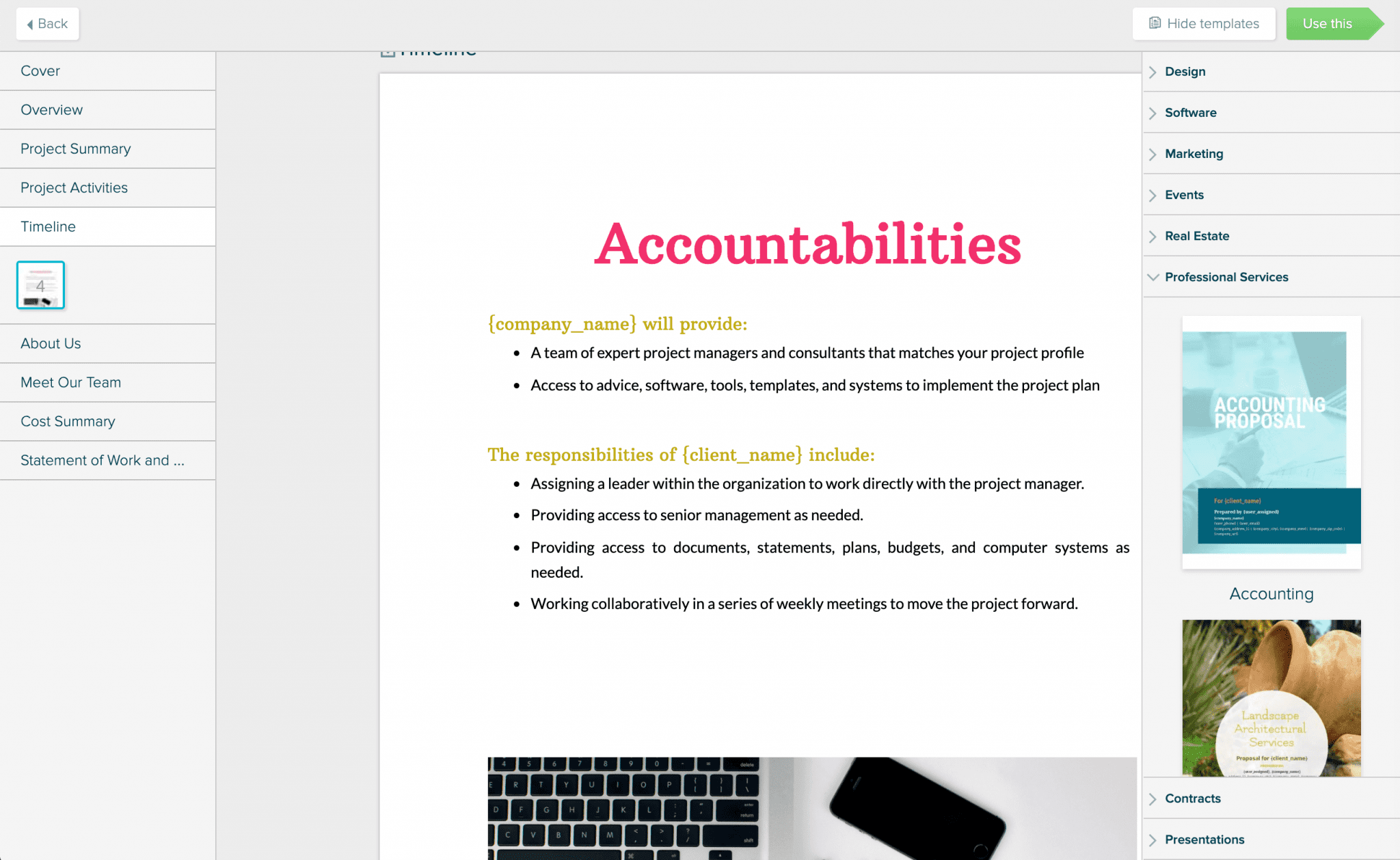 This platform enables you to create templates and save content to reuse across proposals, saving you a significant amount of time. You can store descriptions of your services, past projects, and more in your library for easy access.
However, this just scratches the surface of what Proposify can do. Other features include:
Proposal tracking that enables you to see when prospective clients have opened your document
Automated follow-up messages to prevent clients from forgetting about you
Custom branding across your documents for a cohesive look
Support for live chat so you can quickly address any questions your leads have
While Proposify isn't available as a WordPress plugin, you can integrate it with your site using Zapier. It's also available in 15 different languages, making it a viable option if you have international clients.
Pricing for Proposify starts at $19 per month. This plan grants access to up to three team members and provides support for five active proposals. You can upgrade for $49 per month to create unlimited documents.
2. Better Proposals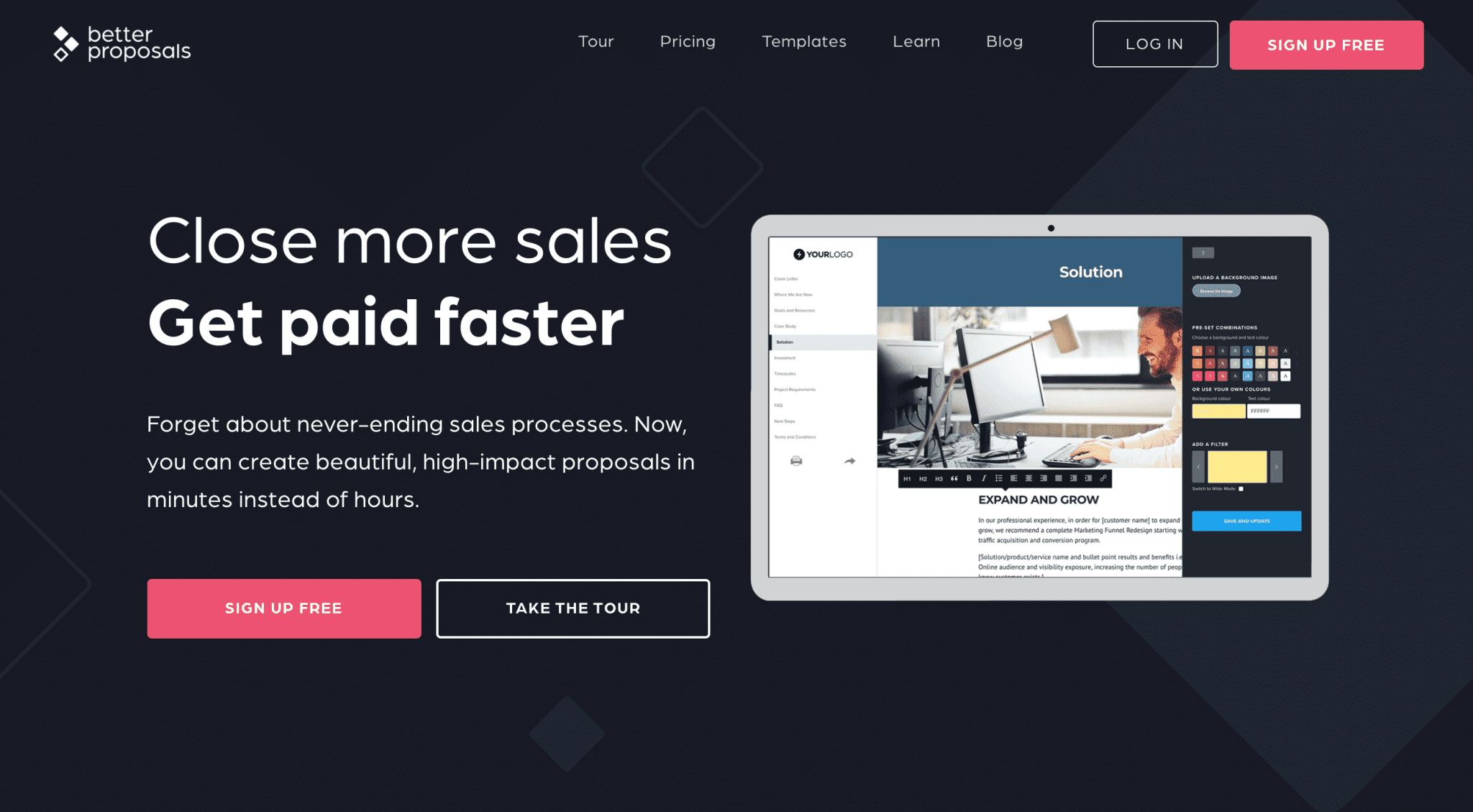 A very similar platform is Better Proposals. Like Proposify, this is an online tool you can use to customize WordPress website proposal templates to suit your needs: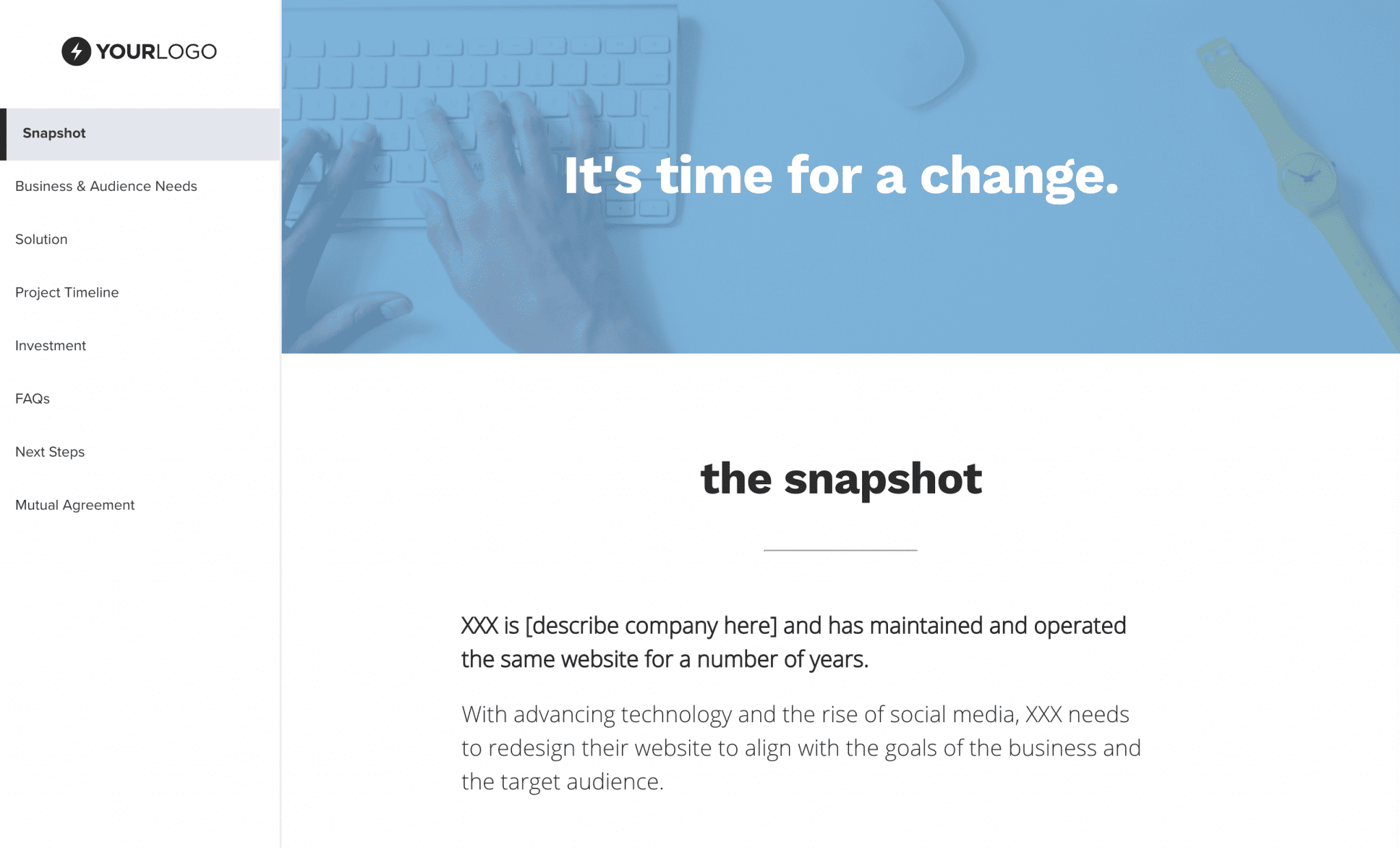 Better Proposals comes with more than 100 template options. It's also available in 22 languages and has multi-currency support for international development jobs. Other key features include:
Proposal reports that include a sales overview, revenue by product, and more
Live chat integration and automated notifications regarding client activity
Custom branding to personalize your documents
Content recycling so you can avoid retyping information
In order to connect Better Proposals with your WordPress site, you'll need to use Zapier. You can set up triggers to automate portions of your lead conversion process.
Pricing for Better Proposals also starts at $19 per month. Although their lowest tier plan provides support for ten proposals per month, you'll have to pay an addition $19 for each additional user. Upgrading to their next tier will bring your costs to $49 per month and covers usage for three team members.
3. Product Enquiry Pro

While it doesn't generate full-blown proposals as we've described in this post, Product Enquiry Pro does enable you to connect and discuss your services with potential clients. The plugin adds a Request a Quote button to your WooCommerce product pages: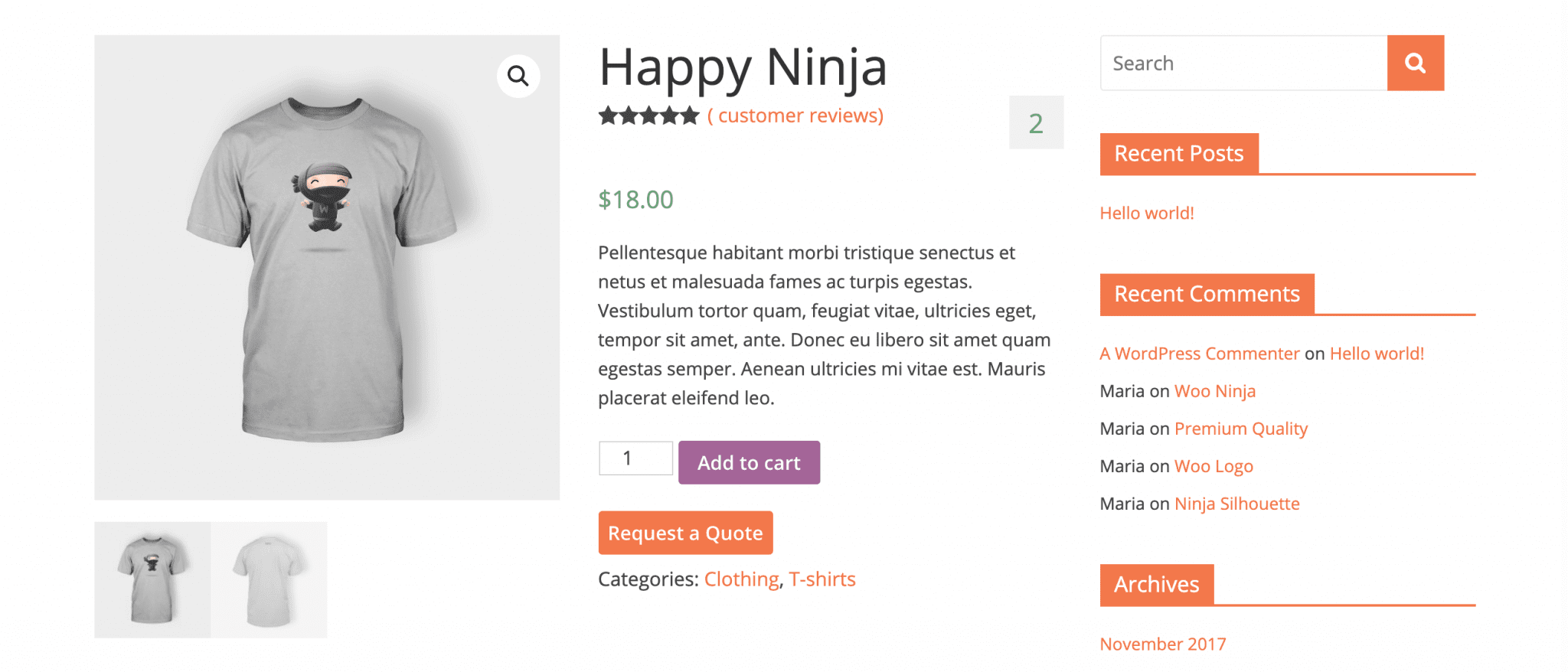 Whenever a lead sends you an inquiry, you can view it on the back end of your site: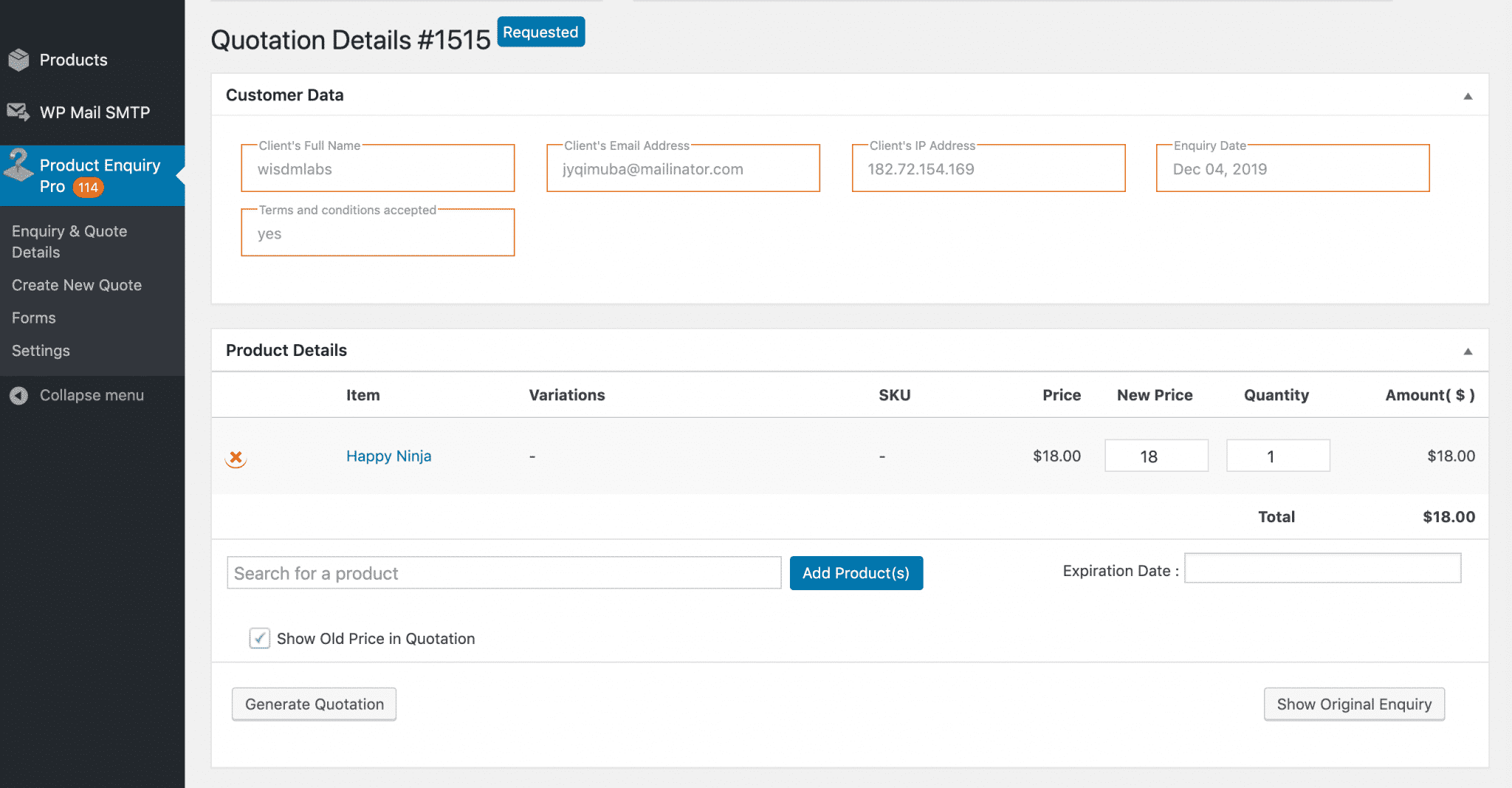 You can also send them a response right from your WordPress dashboard by clicking on the Reply button:

Additionally, Product Enquiry Pro enables you to:
Customize the fields on your inquiry form
Hide or show the Request a Quote and Add to Cart buttons, as well as the price
Enable quote requests for multiple products and bulk orders
Send quotes back and forth to negotiate with clients
True WordPress proposal plugins or platforms such as Proposify or Better Proposals are ideal if you want to use templates to create longer documents regarding your offers. However, adding Request a Quote buttons to your site may encourage curious leads to reach out.
You can purchase this plugin for $79 per year or a one-time payment of $199.
4. WP-Client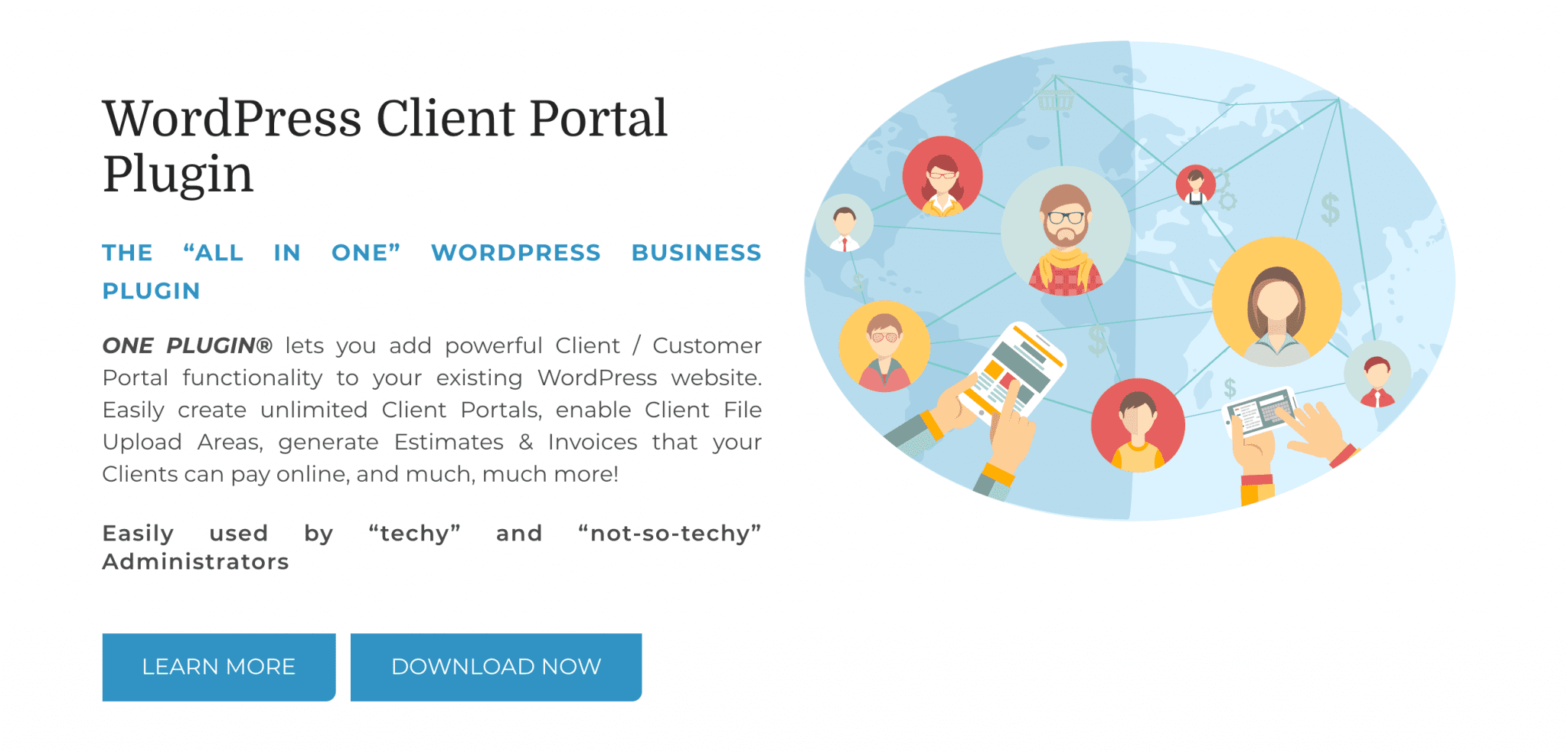 Unlike the other WordPress proposal plugins and tools in this post, WP-Client is a complete client portal and management system. It includes a wide range of features for interacting with customers and keeping them up-to-date on your progress.
For the purposes of this post, we'll focus on the functionality WP-Client provides that will most help you when it comes to creating and sharing proposals. Relevant features include:
Built-in customizable estimates and invoices that can be easily sent to leads by email
Secure file uploads and downloads to share your proposals in full, and alert clients via automated email notifications
A 'Project Feedback Component' that could help you create and send your full-length proposals
Client login alerts so you'll know when your clients access their accounts to view your estimates or proposals
Single site licenses for this plugin are available for just $59 with $20 per year renewal fees. To use it on multiple sites, you can upgrade to one of their more expensive plans.
5. WP Proposals

As you may be able to tell from the previous tools we've covered, WordPress proposal plugins are few and far between. For this reason alone, WP Proposals is something to get excited about.
This plugin combines many of the best features of online proposal generators like Proposify and Better Proposals with the convenience of WordPress dashboard access. Using it, you'll be able to create custom, branded documents from the back end of your site: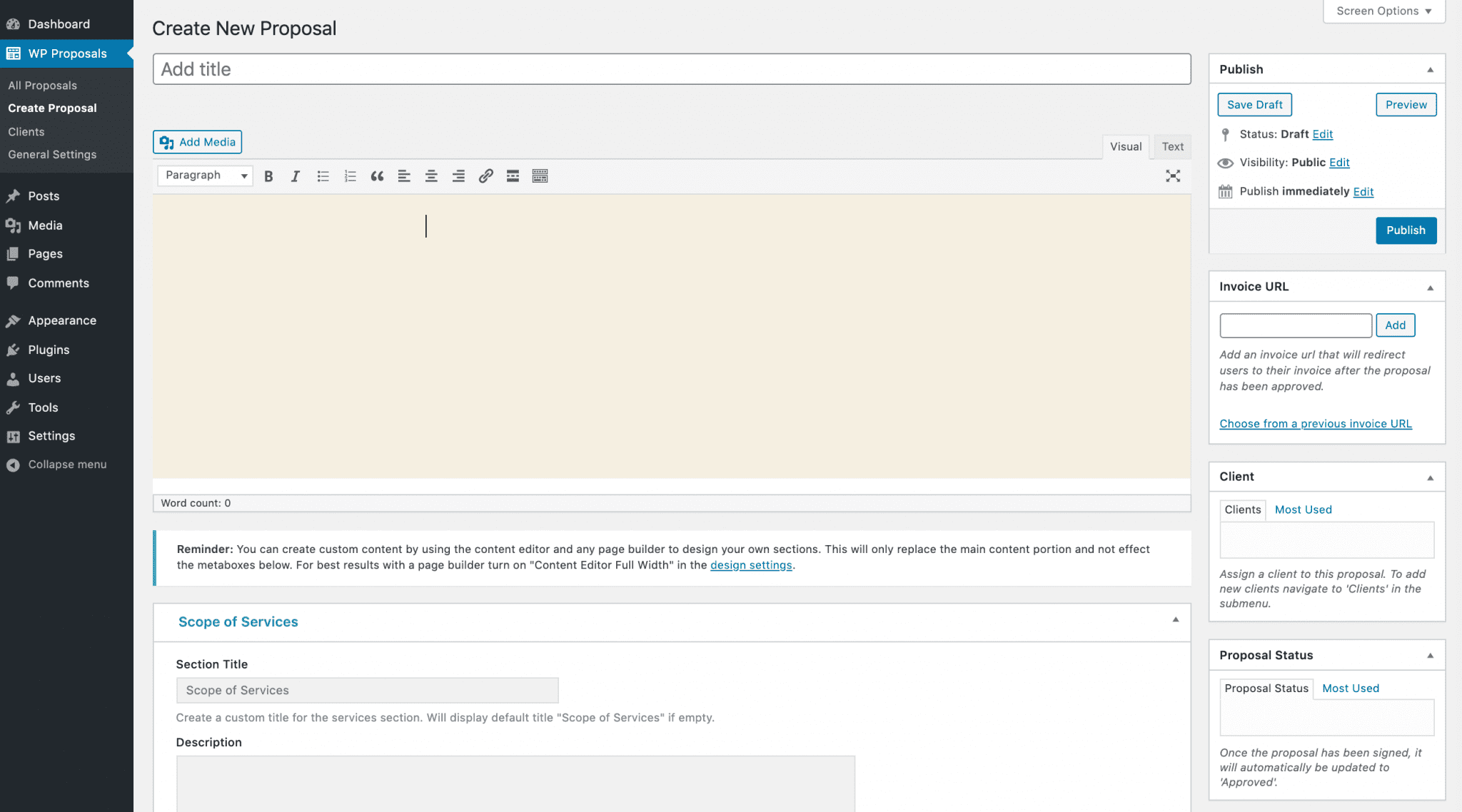 Additionally, WP Proposals provides several features to make the process of pitching your services to clients more convenient:
Tracking to inform you when clients have viewed your proposals
Branded email notifications for you and your clients
Duplicate proposals and reusable content to streamline the writing process
E-signature acceptance
Unbelievably, this plugin is completely free to use. This means you can access all the convenience of expensive online proposal platforms in WordPress at no cost.
Wrapping Up 🍬
Sourcing and pitching clients is without a doubt one of the most difficult things about freelancing. As such, anything you can do to make the process easier is worth the investment.
This post has provided a comprehensive look at proposals, including five WordPress proposal plugins and tools you can use to create them:
Proposify: Offers advanced features, but at a price that may be out of budget for some freelancers.
Better Proposals: Best for established freelancers or teams with an international client base.
Product Enquiry Pro: A viable option for those who use WooCommerce and generate a lot of website leads.
WP-Client: Ideal for those who want to set up client portals and share proposals via file upload.
WP Proposals: A convenient balance between the advanced features of online tools and the accessibility of a plugin.
If you're in the business of creating and maintaining client sites, outsourcing some of the work can take a huge load off your shoulders. At WP Buffs, we offer white-label agency and freelance partnerships. Check out our program today!
Want to give your feedback or join the conversation? Add your comments 🐦 on Twitter.
Featured Image Credit: Ani Kolleshi.
GIF Credit: GIPHY.