Part of running a successful online business is consistently providing strong customer service. However, managing questions, concerns, and inquiries can be overwhelming and time-consuming, especially when many of the requests are repetitive.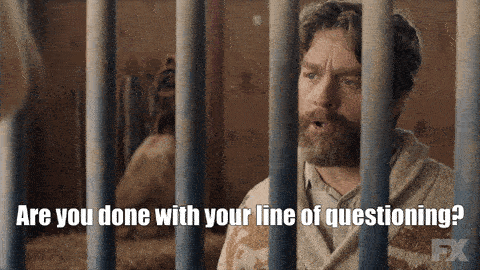 As with most businesses, you probably have a handful of Frequently Asked Questions (FAQs) you deal with on a regular basis. A smart way to minimize the redundancy of answering them (and streamline your workflow in the process) is to add a WordPress FAQ plugin to your website.
In this post, we'll discuss some of the benefits of including an FAQ section on your WordPress site and the advantages of using a plugin to do so. Then we'll provide you with seven of the best options to choose from. Let's get to it!
In This Article ⬇️
Our team at WP Buffs maintains WordPress sites for
website owners
,
agency partners
, and
freelancer partners
so they have more time to support their own customers. Whether you need help maintaining one website or 1,000 client sites, we've got your back.
The Benefits of Adding an FAQ Section to Your Website ✔️
As a business owner, you probably field a lot of common questions from customers as well as leads. Whether it's pricing, products and services, or something else, chances are if one person needs more information about a certain aspect of your company, they're not the only one.
A significant part of offering high-quality customer service is making sure those who use your products get the information and answers they need when they need them. However, manually answering each inquiry isn't the most efficient use of your time, especially when there's a much easier method. This is where an FAQ section comes in: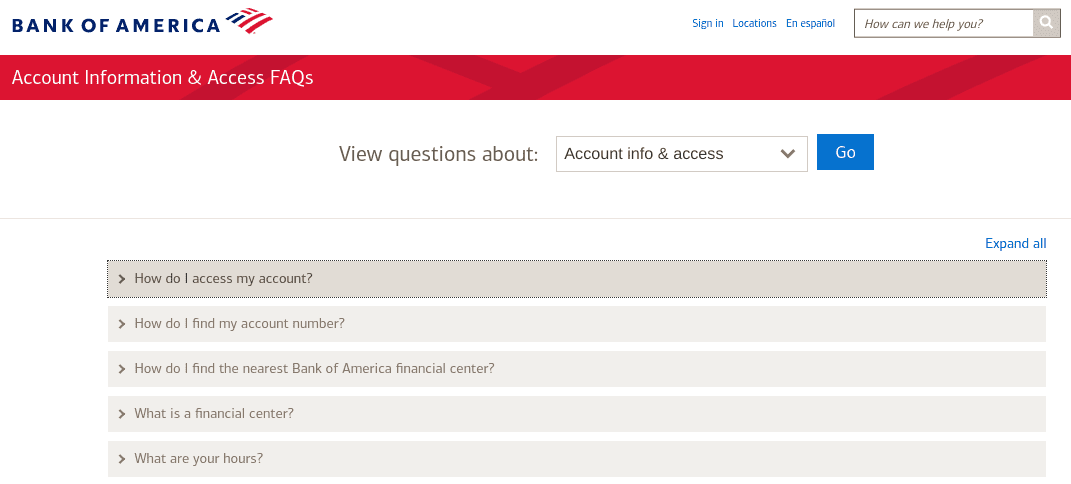 Adding an FAQ section to your website can save you time and improve the customer experience. Having a dedicated space where visitors can find answers on their own benefits them as well as your business.
☝️An FAQ section on your website saves time and improves the customer experience. #WordPress
Click To Tweet
Visitors can find the information they need in an accessible and efficient manner, rather than having to wait for a response from your team. In addition, you can spend the time you would normally dedicate to support emails and tickets focusing on other pressing areas of your business.
FAQs can also help customers perceive your company in a positive light. You can build trust by using this content to establish transparency as well as demonstrate your expertise, which can instill confidence in your brand.
Adding FAQs to your website can also help boost your site navigation and even help with search engine visibility. It presents an opportunity to create new, fresh, and relevant content on a regular basis and to point visitors to other key posts or pages.
Why You Should Consider Using a WordPress FAQ Plugin🔌
Deciding you want to address some FAQs on your website is one thing. Figuring out how to go about it is another.
One option is to create a standard webpage, the same way you would an About or Contact page. However, while this approach may be simple and straightforward, it also tends to be a bit bland and boring. An alternative option is to use a WordPress FAQ plugin.
Generally, plugins provide features and functionalities that wouldn't otherwise be possible to achieve with the WordPress page editor alone. For example, many FAQ builders let you arrange questions by category and choose different display styles, such as a collapsible accordion: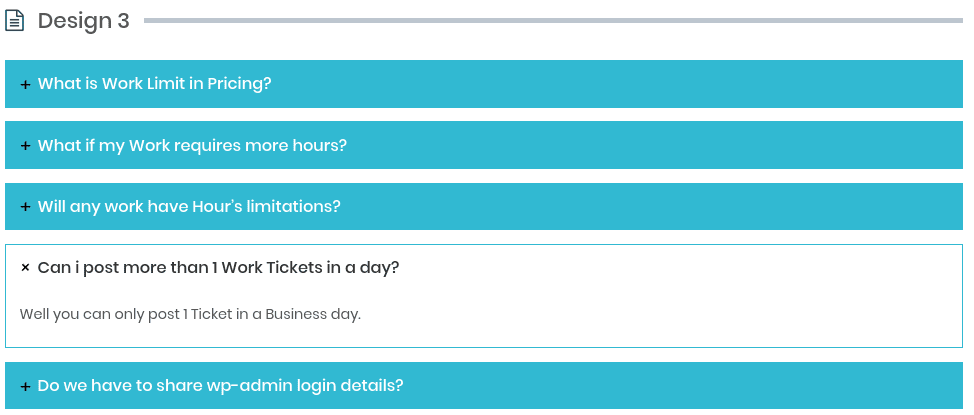 Another reason for using a WordPress FAQ plugin is that they can make your page more engaging and functional. You can leverage search features to make it easier for users to find the answers and topics they're looking for.
You can integrate other posts and pages on your WordPress site within the answers, as well as various media types such as video. Additionally, a professional-looking FAQ section nicely compliments a chatbot or Virtual Assistant.
Plus, most WordPress FAQ plugins (or at least the ones we'll be discussing in this post) are easy to use. You can quickly download and activate them as you would any other, then have a fully functioning Help section in no time. Most also include drag-and-drop interfaces to make designing your page that much easier.
6 of the Best WordPress FAQ Plugins to Improve Your Customer Support 💎
When it comes to choosing a plugin to create your website's FAQ section, there are several factors to consider. Responsiveness, the available layouts, and customization options are just a few aspects to pay attention to. Below, we've compiled a list of six top candidates.
1. WP Responsive FAQ
People increasingly use their smartphones and tablets to access the internet. Therefore, having a responsive website and using mobile-friendly plugins is crucial. WP Responsive FAQ is a popular, premium tool you can use to ensure your answers to common inquiries translate well across all screens and devices:

This plugin uses a shortcode system that makes it quick and easy to customize which questions you include and where you display them on your WordPress site. In addition to utilizing unique parameters, you can also create categories.
One of the biggest draws of this WordPress FAQ plugin is that it supports WooCommerce integration. Additional features include:
Fully responsive designs
Over 15 accordion-style layouts
Drag-and-drop order change
Include/exclude category option
Read and show more/less buttons
Custom CSS editor
Display limits for the number of FAQs
It also includes a grid layout option and various color design templates to choose from. You can view the demo for free to get an idea of what to expect if you go with this plugin.
If you do decide to use WP Responsive FAQ, you have a few pricing options to choose from. There is a free version available, though the features included are very limited. Another route is to pay $99 annually for the premium version for a single site ($149 for unlimited sites annually), or a one-time payment of $199 for lifetime access ($299 for unlimited sites).
💰 BUY WP RESPONSIVE FAQ PREMIUM $99/YEAR
2. Heroic FAQs
One of the many advantages of using plugins (and WordPress in general, for that matter) is that you can expand the functionality of a page without having to do any coding yourself. Heroic FAQs is an exemplary tool that provides advanced features and capabilities for building an FAQ page with a highly intuitive back end interface: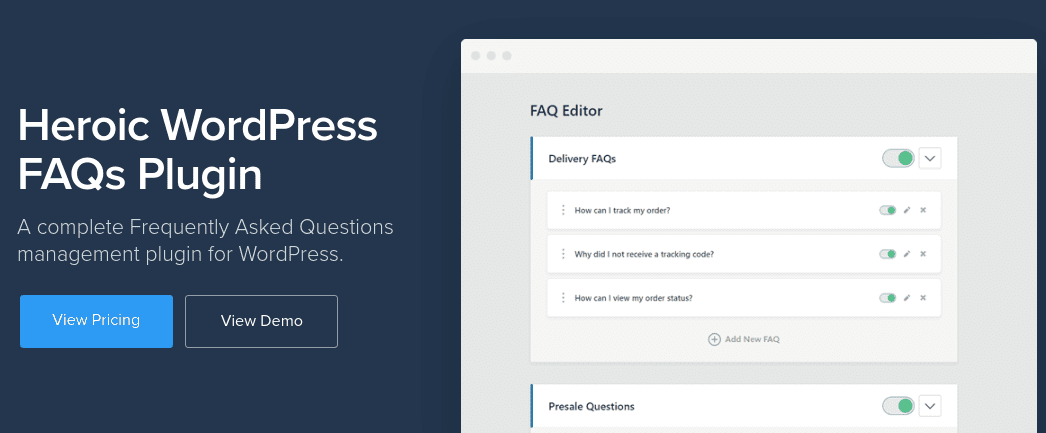 With this plugin, you'll have the option of choosing between five different display styles. Then you can drag the sections of your FAQ page to arrange them as you see fit. You can also include rich media content, such as images and videos.
One of the advantages of using Heroic FAQs is the ease of use in setting it up. After you install and activate the plugin, you'll be met with the Quickstart Wizzard: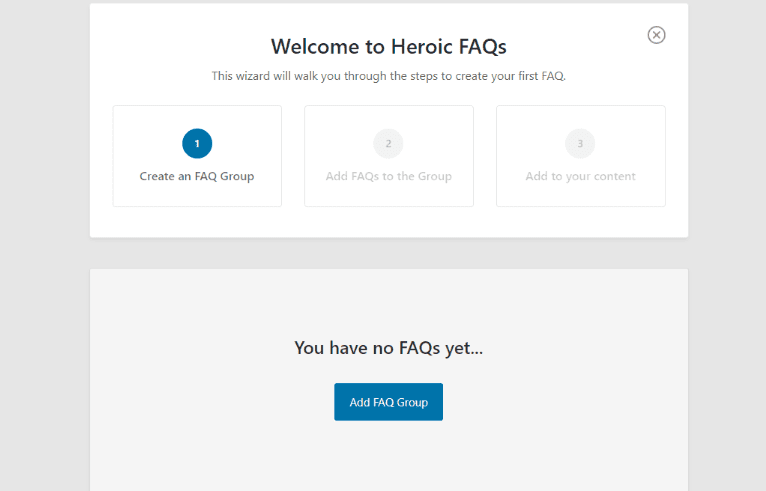 This Wizard will walk you through the steps of creating an FAQ group, then curating the content that goes within it. The plugin's interface operates much like the WordPress editor, enabling you to customize and control the display of your Support page without having to deal with the technical details.
Additional features include:
A diverse icon selection
Premium support
Animations
If you decide to use this premium plugin, you have three pricing options. The first is to pay $49 per year for use on a single site. For $69 per year there's the 3-site license. Finally, there's also a 5-site license for $149 per year. All options provide support and updates.
3. Ultimate FAQ
Creating an FAQ section on your WordPress site isn't a one-and-done deal. Or, at least, it shouldn't be. Ideally, you'll update it on a regular basis. Customers constantly have new questions, and adding and expanding on those inquiries as your business grows is important.
Ultimate FAQ is a WordPress FAQ plugin that makes doing so incredibly easy:

With this plugin, you can create unlimited FAQ categories and choose from a variety of display and style options. As with Heroic FAQs, Ultimate prompts you with easy-to-follow setup instructions: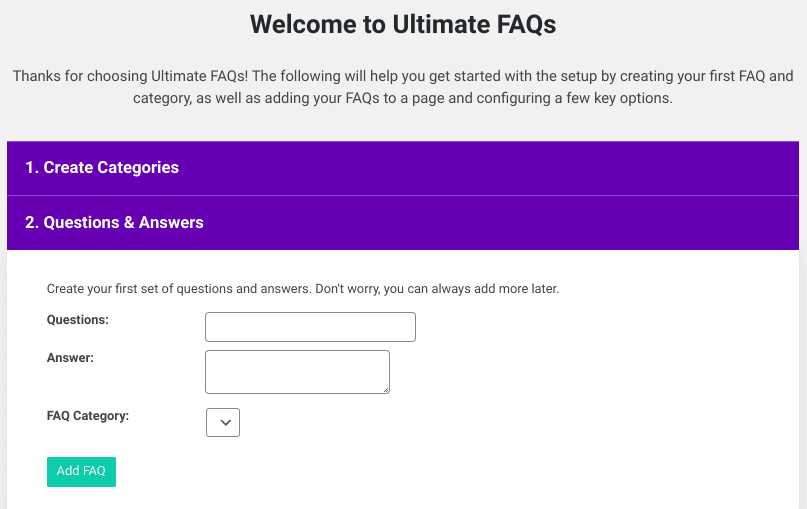 It also includes a stats overview so you can gain a summary of your FAQ views directly from your WordPress dashboard. Plus it offers search functionality, which can make it easier for your customers to find what they're looking for.
Additional features include:
Option to export questions and answers as a PDF
Shortcode generation
Individual FAQ entries
Accordion display style options
FAQ analytics
Custom field entry
YouTube tutorials, support, and documentation
This plugin comes in a free version, though not all of the features we mentioned above will be included. To get the most out of your FAQ section using this plugin, we suggest investing in a premium version, which begin at $67.
💰 BUY ULTIMATE FAQ PREMIUM $67
4. Accordion Pro
At this point, you might be recognizing a pattern: many WordPress FAQ plugins offer accordion-style displays. There's a reason for that trend.
Accordion structures let you display a large number of questions and answers without the page looking overly crowded or cluttered. Users can simply scroll to the question they're seeking and then expand the answer they're looking for.
🧐 A collapsible, accordion-style FAQ section can help save space on your website. #WordPress
Click To Tweet
With that said, if you're looking for a no-hassle yet flexible and powerful FAQ plugin, Accordion Pro is certainly worth considering:

This plugin is perfect if you want to create an accordion-style FAQ section and keep the setup and building processes as simple and quick as possible. After you install and activate Accordion Pro, it will add a Responsive Accordion item to your WordPress dashboard sidebar: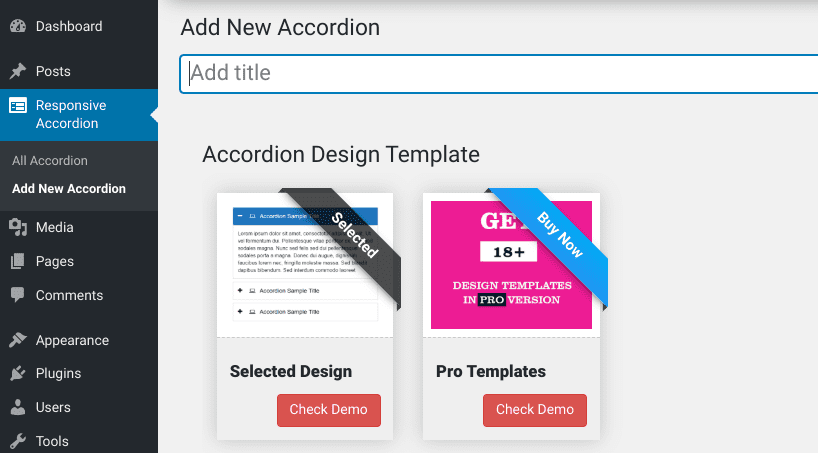 From there, you can click on Add New Accordion to start your first set of questions and answers, or upgrade to the Pro templates. We recommend the latter route, as it provides more options.
Accordion FAQ Pro features include:
Multiple FAQ accordion layouts
FAQ lists with shortcodes
Various color templates
Font Awesome icons
A drag-and-drop FAQ layout builder
One of the biggest draws of Accordion FAQ Pro is that its a premium option that is also relatively inexpensive. There's a six-month license for $9, or you can pay $27 for lifetime usage on unlimited sites.
5. Easy Accordion
As we discussed earlier, making sure your WordPress site is fully responsive is crucial. You want your customers to be able to find answers to their questions from any phone or other device. The Easy Accordion FAQ Plugin plugin can help:

Self-described as "the best responsive and drag & drop Accordion FAQ builder plugin for WordPress", it comes with plenty of customization options.
Easy Accordion lets you quickly and easily customize the color and design of your questions: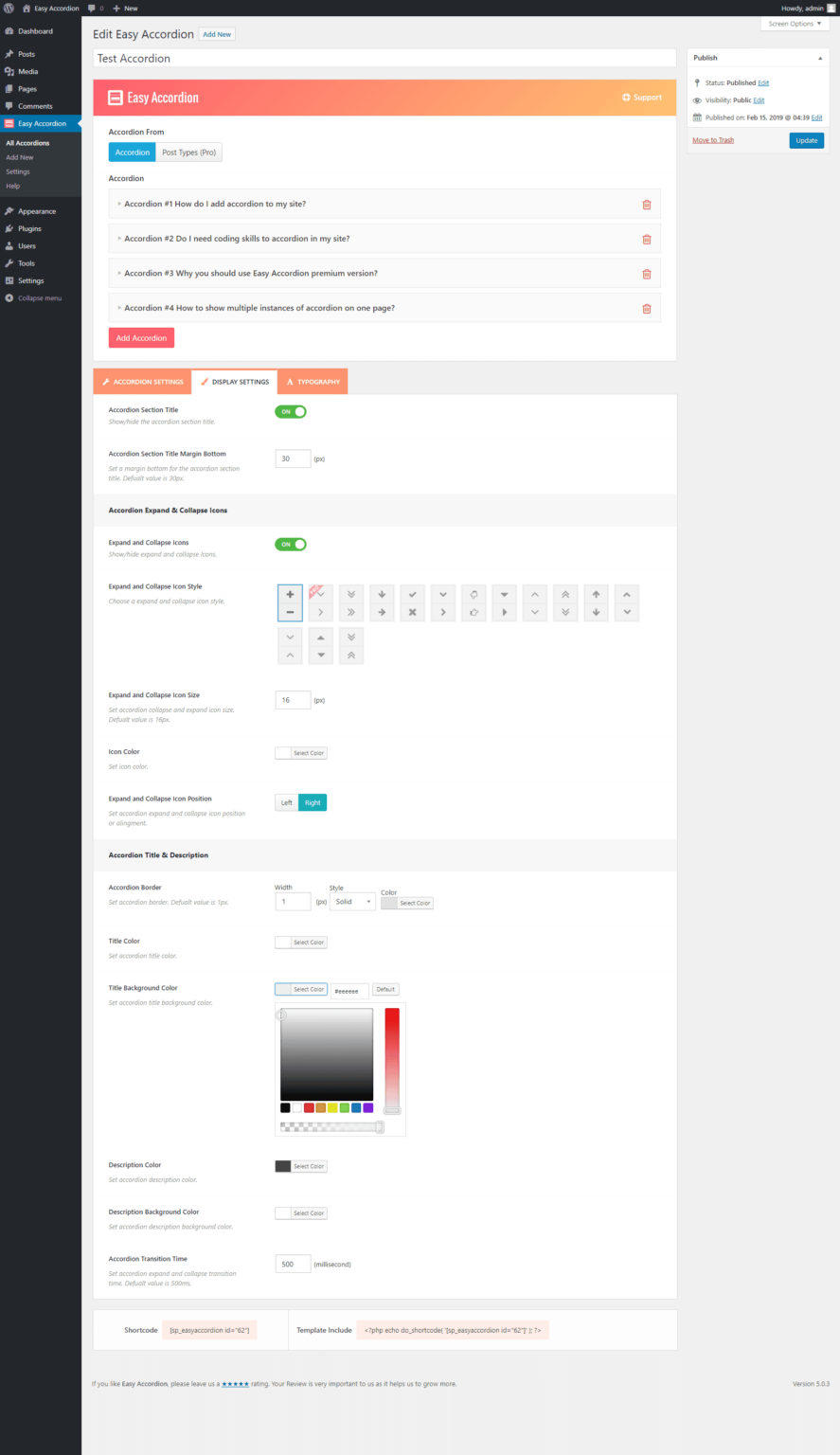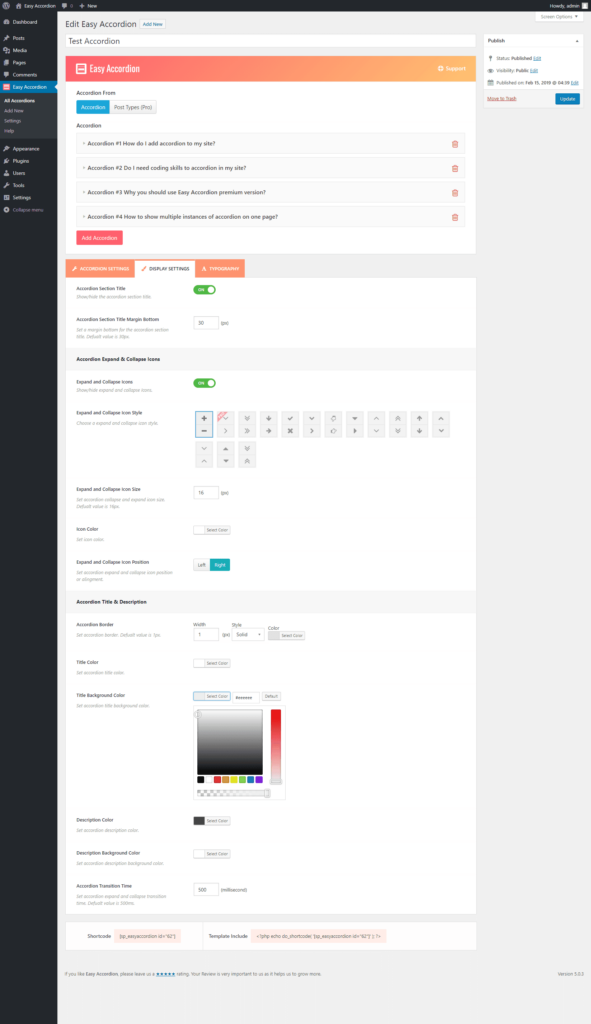 The biggest draw of this is that you can ensure it matches your WordPress theme and branding.
With other tools, you might have to spend more time editing and adjusting to ensure your questions fit well with a new look. Additional features include:
The ability to create unlimited accordions on the same page
Drag and drop accordion sorting
Unlimited color and styling options
Custom CSS field to override styles
Easy Accordion comes in both free and premium versions. The 3 paid plans include; Personal (single site)  for $29 annually, Business (5 sites) for $99, and Agency (unlimited sites) for $199 annually. Lifetime, one-time payment options are also available.
7. Arconix FAQ
In some cases, simpler is better. You might be looking for a WordPress FAQ plugin with as few bells and whistles as possible. If so, Arconix FAQ might be the solution for you:

Acronix includes a shortcode generator to help you create simple, ready-made styles for your FAQ page. It also makes it easy to create groups or individually section off each question: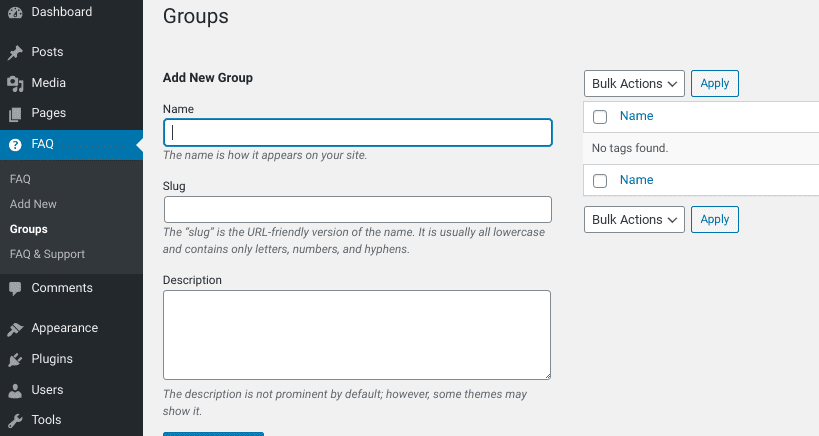 You don't have the same range of options for customizing the appearance and display that you might be able to access with some of the other plugins on this list. However, Arconix FAQ is a great option if you're looking to answer a handful of questions in a quick and concise manner.
A few highlights to look out for include:
Toggle or accordion box display styles
FAQ grouping through tags
A Return to Top button
This plugin is completely free and doesn't offer a premium version. However, for its simplicity, it gets the job done.
Wrapping Up 🧹
If you want to provide your current and potential clients with the highest level of customer service possible, it's important to reply to their questions and inquiries in a timely manner. However, trying to manually handle each one can be inefficient and unnecessary, especially when many of them are similar.
In this article, we discussed six of the best WordPress FAQ plugins to consider adding to your site:
In addition to maintaining a list of FAQs, another way to provide solid customer service and User Experience (UX) is to keep your site is the best shape possible. At WP Buffs, we offer WordPress Care Plans and Maintenance Packages that can help your website run smoothly and save you time in the process. Check them out today!
Want to give your feedback or join the conversation? Add your comments 🐦 on Twitter.
Image Credit: Emily Morter.