When building a website, it's often not deliberating over the design or content that results in the most stress—it's the possibility that your website could go down at any minute and you might not even be aware that it's happening!
Of course, it's still quite stressful to deal with server issues and other problems that bring your website down. Whether you sell services or e-commerce products, you never want potential customers to land on a broken page. This can directly impact potential earnings—both in the short-term and when it comes to long-term reputation building efforts.
But knowledge is power, and the sooner you start using website monitoring tools, the sooner you're aware of a website issue, the sooner you'll be able to fix it.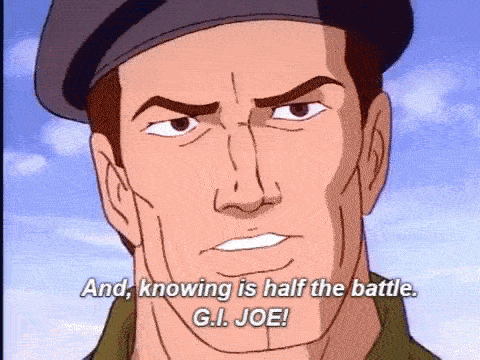 Once a new website or even just a new website design goes live, your work isn't quite done. Clearly, investing time and energy (and oftentimes, budget) into website monitoring is just as important as all the other investments that originally went into initially building your website.
Website performance monitoring is a critical part of maintaining your own WordPress website.
📈 Website monitoring isn't just about getting alerted as soon as your server is down. It's about learning exactly what's happening on your website in real-time to prevent it from happening the future. #WordPress
Click To Tweet
Let's take a deeper dive into the art (and science) of website performance monitoring. This will include a brief look into the various elements you need to monitor as well as the best website monitoring services–free and paid–and uptime monitoring software you should be using for WordPress.
What Is the Significance of Website Performance Monitoring?
Put most simply, website performance monitoring is the process of verifying whether end-users are interacting with a website as expected. This involves measuring uptime, website functionality, and security too.
The ongoing process of website monitoring provides important data that can help websites when it comes to improving performance. Improving site performance leads to a more satisfied website visitor, which ultimately translates into more conversions.
Since your website is likely one of your primary sources for potential clients and customers (if not the primary source), ensuring that your website is at 100% functionality should be a top priority.
Just a short period of downtime can largely affect an organization in terms of:
Sales (if your contact form or checkout page doesn't work, sales simply can't happen!)
Brand reputation (top organizations have backup solutions in place)
Customer satisfaction (it's hard to be satisfied if you can't complete actions)
Customer's first impression of your website (you never get another one!)
A website monitoring service or tools allow you to see possible issues that can harm your website as they occur, which can help you prevent any of these aforementioned issues.
What Kind of Website Performance Monitoring Does WordPress Need?
If you're not sure what to monitor exactly, the process of website monitoring can seem a little overwhelming.
Here are some basics to be aware of when building a website monitoring strategy:
Uptime Monitoring
Is your website fully operational? Is it live? Measuring uptime is one of the most important things to measure when it comes to website monitoring because mere minutes of downtime can cause a big business impact. You can use uptime monitoring software to do this.
User Journey Assessment
It is important to monitor the path that a user navigates on a website, which can help you acquire data on each step—including response time. This will also tell you whether (or not) users are completing expected actions in an expected order.
Page Load Time
The full-page load time indicator shows how long it takes to download the source code of a specific page on your website. Ping and loading time of source code indicates your website speed.
Visitors can only undertake certain actions and interactions within your website if the whole page has loaded, including all other elements (such as graphics). Even a milliseconds delay can cause your website a great deal of loss, in terms of conversions. Page load speed is also a Google ranking factor, which is another reason why this should be a consideration of your website monitoring strategy.
Database Performance
Keeping an eye on your database performance will help you maintain smooth website performance as a whole. Monitoring database performance will provide you with data about which queries are taking the most time, as well as overall performance to find any point of process delays.
Web Server Hardware
This includes disk space, memory, and CPU usage. There are many things that consume a web server's disk space, including photos and video files, database entries, and log files. When writing this data to your web server's hardware, errors and data losses can happen. High CPU load can also cause website failures. This is due to the excessive amount of processes that can cause an overload to your CPU and slow down the server.
Others metrics to monitor on an ongoing basis include:
Visitors
Monitoring visitor statistics will help you find out how many people have visited your website over a specific range of time, the source where they came from to get to your website, which pages they visited, and more. Data acquired from monitoring visitors will help you monitor goal completion—at least when cross-referenced with other data points.
Broken Links
These are links to other web pages that are no longer working. Broken links affect SEO negatively. Dead links stop/interrupt search engine spiders from crawling your site, which can result in it getting de-indexed. Monitoring links for issues will help you head up issues before they spiral out of control.
Best Website Monitoring Service for Your WordPress Site
So that you don't have to sit at your computer, constantly hitting refresh, we've compiled the best website monitoring services and uptime monitoring software to automatically assist you in the backend:
1. SmartBear AlertSite

SmartBear AlertSite is a website monitoring service that is ideal for small to midsize businesses. It offers great real-time alerting, monitoring, and reporting capabilities across platforms. It's available in Internal, External, and Hybrid Deployment monitoring.
2. AppDynamics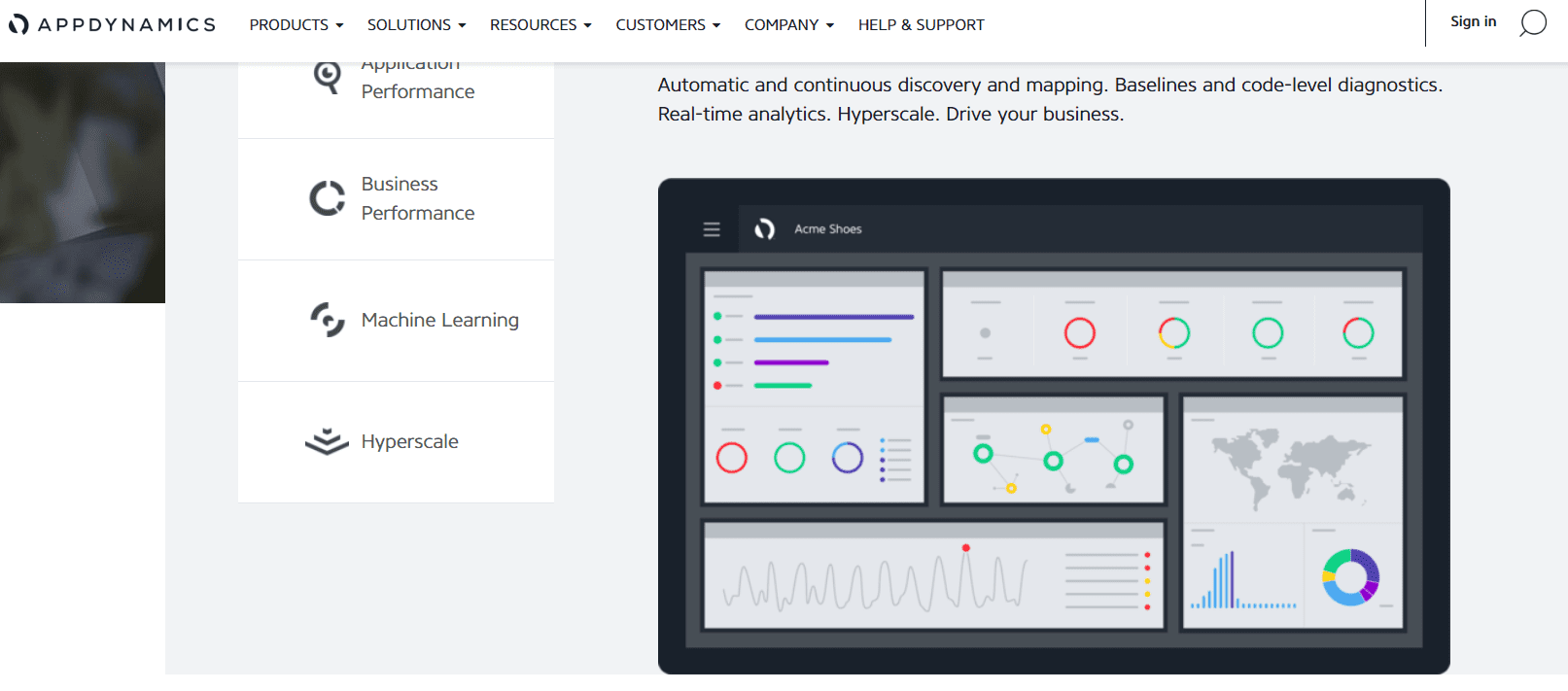 This website monitoring service is ideal for enterprise organizations. AppDynamics comes complete with business-focused analytics, reports, dashboards, and alerts. Customers positively review it for its depth of monitoring when it comes to web apps.
3. SolarWinds Web Performance Monitor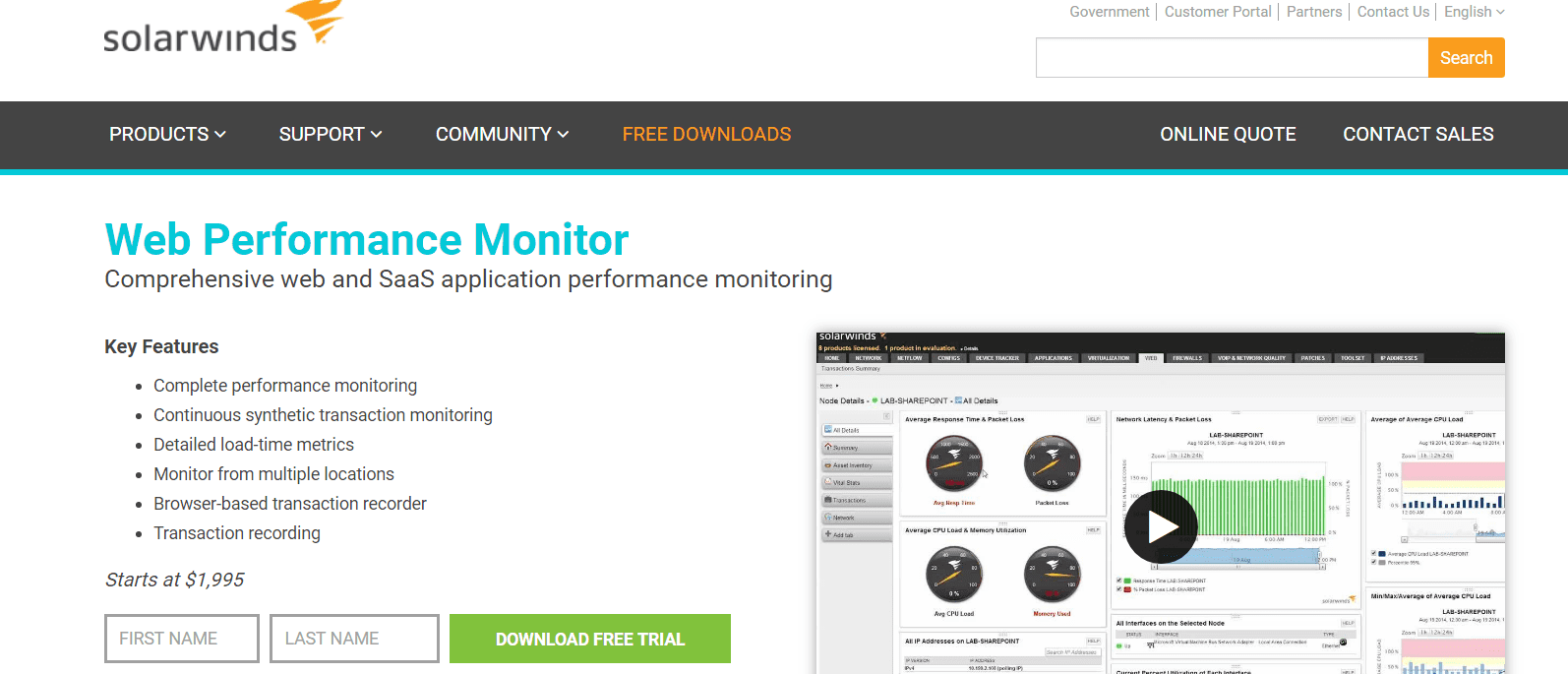 SolarWinds Web Performance Monitor is good for midsize businesses, thanks to a series of pre-configured information and alerts. Its synthetic monitoring tool allows you to catch issues before they happen.
4. Pingdom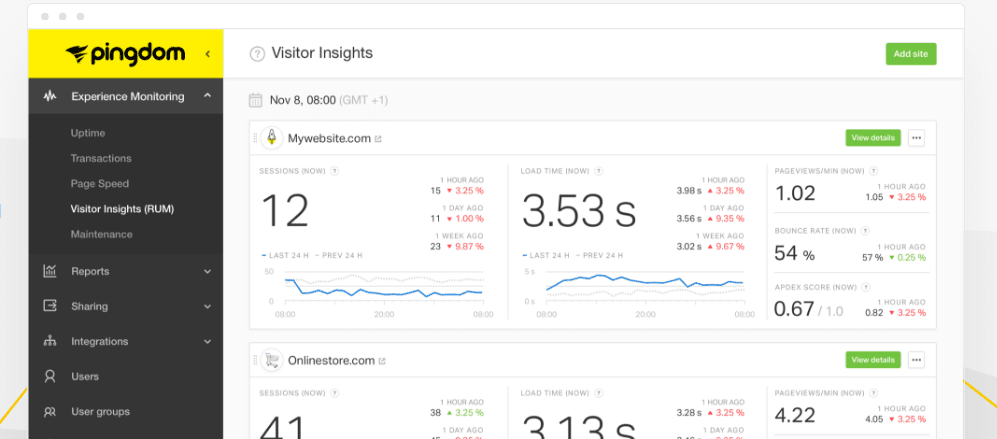 Pingdom is one of the most popular website monitoring tools (free). This tool contains many control components that are essential for developers and operations professionals.
It is fast and reliable when it comes to alerting and reporting, providing instant insights in terms of customer experiences. Pingdom uses a combination of synthetic monitoring and real-user monitoring. It's ideal for small to midsize companies, as well as enterprises.
You can access the basic uptime monitoring software for free, with advanced functionality available as part of a paid plan. You can also download Pingdom as a WordPress plugin.
5. Google Analytics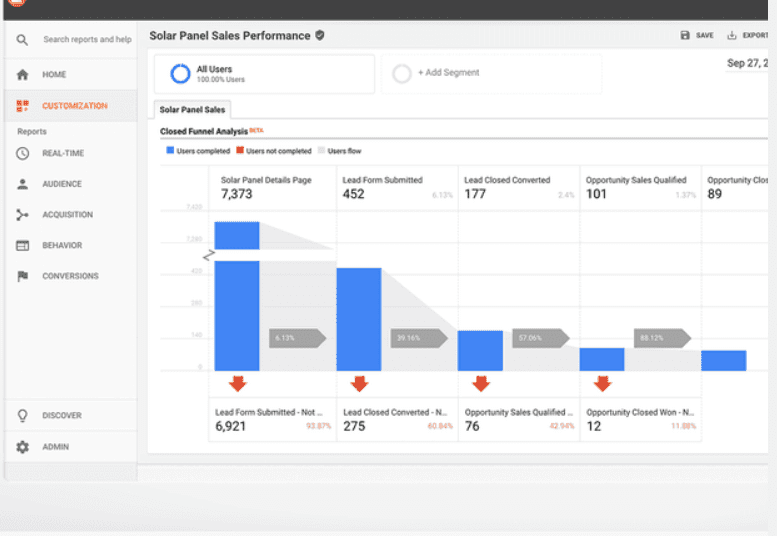 Google Analytics is best known for providing reliable website insights. It's also a great tool for monitoring website visitors in terms of their paths, behaviors, actions, and other statistics, such as page views, sessions, and demographics. Insights gained from monitoring can be used when it comes to decision making with your website content.
Best Free Website Monitoring Services for WordPress
WordPress is a specialized content management system, integrating with its own set of website monitoring tools.
Below, you will find a number of the best free website monitoring software available for WordPress sites. Some of these monitoring tools have paid upgrades that allow you to tap into additional resources, so be sure to read the fine print when considering the freemium options.
1. Jetpack – Best Free Website Monitoring Service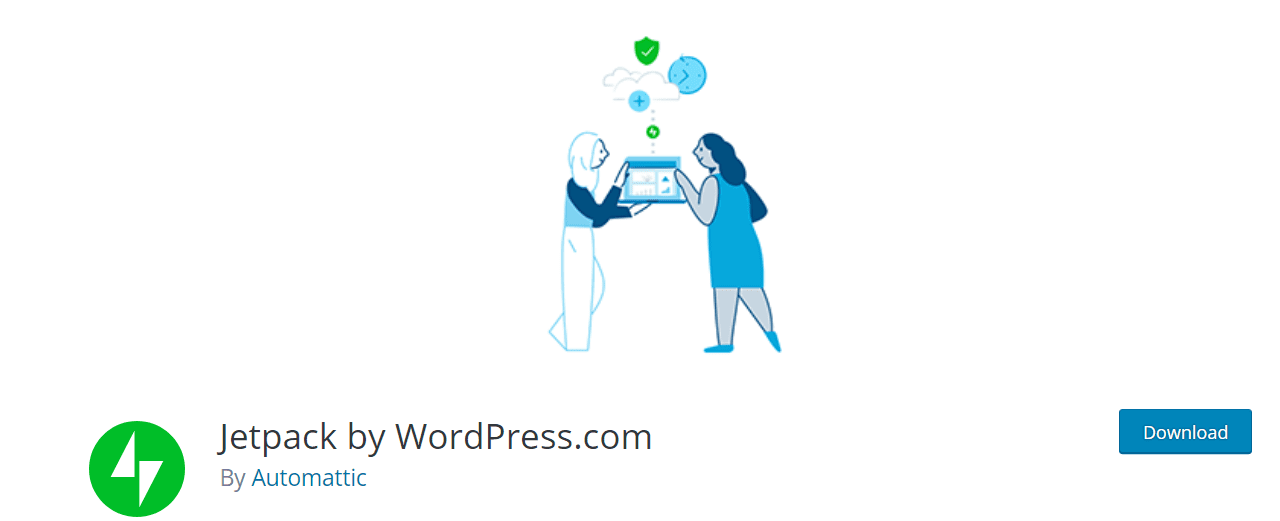 Jetpack is one of the most popular plugins for WordPress, with over 4 million active users. It offers a lot of functionality in one comprehensive plugin, operating off a freemium model.
One of Jetpack's many features is Monitor, which has the ability to keep track of your website's uptime. It alerts you by email if your website is currently down, also alerting you as soon as your website comes back up (with a measurement of the time elapsed).
In order to use this plugin, you'll need to have a WordPress.com account, then integrate it with your WordPress website.
2. Freshping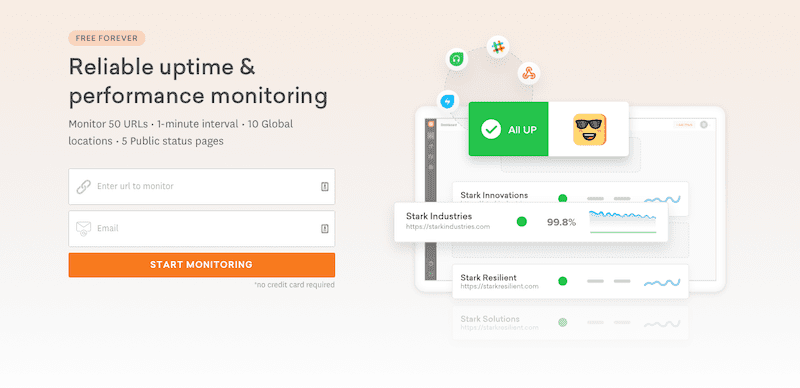 Freshping is a free website monitoring tool. You can monitor up to 50 websites at 1-minute intervals for free. Unlike most free monitoring tools where the frequency of monitoring checks is limited to 5-minutes.
3. Uptime Robot – Best Freemium Website Monitoring Service

If you're on a budget, Uptime Robot is the perfect website monitoring tool for you. Like Jetpack, it operates with a freemium model.
Uptime Robot checks your website every five minutes and sends an alert if there's any downtime. You can monitor up to 50 websites for free. The premium plan allows you to monitor up to 1000 websites, with 12 months of logs, 1-minute monitoring intervals, and 80 SMS credits (so you can always know what's happening, even when you're not checking your email).
4. ManageWP – Best Premium Website Monitoring Service
ManageWP is another WordPress plugin that is packed with a number of website monitoring features including backup, multiple site management, restores, and uptime monitoring. The uptime monitoring feature is included in the premium plan subscription.
5. Super Monitoring

Super Monitoring is another website monitoring service that provides a plugin for WordPress. Entertaining branding goes hand in hand with the tool's ease of use. But there's quite a serious amount of features underneath. Super Monitoring allows you to test websites not only for the availability but also for the content, loading times or proper functioning of individual processes. It can also watch your domain & SSL certificate's expiration times, and detect the presence on blacklists. It will also alert you if you accidentally block search engine robots.
In addition to e-mail and SMS alerts, cyclical and on-demand reports, Super Monitoring provides a lot of additional data to analyze the detected problems—such as screenshots, HTML snapshots, HTTP headers, and HAR files.
😮 Woah, these monitoring tools are actually really helpful! Keeping your #WordPress website fast, secure and up and running 24/7 isn't as hard as it sounds.
Click To Tweet
Website Performance Monitoring: Final Thoughts
There are many options for a website monitoring service, free and paid, available online. The specific tools and services you implement on your website will be a function of your needs and budget. Luckily, there's something for everyone.
The bottom line? Website performance monitoring is necessary—especially for WordPress websites, where plugins, themes, and core version updates can cause regular conflicts. But besides monitoring uptime, you also want to monitor your user experience to make decisions and improve the overall performance of your website.
Want to give your feedback or join the conversation? Add your comments 🐦 on Twitter.
SaveSave