Once you've completed the development of a brand new WordPress site and it goes live for everyone to see, what should be your top priority?
A. Put the website aside and turn your attention to another project.B.
B. Focus on lead generation efforts that encourage more visits and conversions.
C. Establish a thorough monthly maintenance strategy so that both A & B can happen.
Look, we recognize the word "maintenance" doesn't always have the most positive of connotations. Take, for instance, maintenance for your home or your car. These tend to be time-consuming or expensive tasks that you put off over and over again because there are other things you'd rather be doing. But, in the end, they have to get done.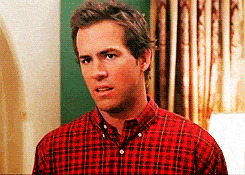 The same thing happens with your WordPress site, be it one you've built for your company or ones you've built for others.
WordPress monthly maintenance ensures that your site remains in peak condition at all times.
Or if you're looking for more options, go ahead and read 16 Top WordPress Maintenance Services in 2020
When a site is left to slow down, laid bare to vulnerabilities, or declines in search rankings, that initial investment in building the WordPress site severely depreciates in value.
As such, WordPress monthly maintenance is something you have to take seriously as soon as a website goes live. The below guide includes a checklist of tasks that should be done on a monthly maintenance schedule. We'll then discuss what to expect in terms of the costs of WordPress monthly maintenance.
10-Step Checklist for WordPress Monthly Maintenance
To keep WordPress working like the finely honed machine that it is, there is some site maintenance we recommend you do frequently. Consider it the lube job you need once every 1000 miles.
If you pay close attention to our blog as well as others that write about WordPress frequently, you know that there are certain things we all pay a lot of attention to. Namely:
That's because each plays a vital role in contributing to and assessing the user's experience.
Without satisfied visitors, readers, or customers, your WordPress site won't be able to achieve much in the way of its goals.
That said, by prioritizing certain WordPress monthly maintenance tasks, you can prevent that from happening. WordPress provides recommendations on how to do this, and we've got even more for you to consider in the checklist below.
Use the following list of WordPress monthly maintenance tasks to first determine which ones apply to your website. Then, get yourself organized and schedule these regularly to ensure no stone lays unturned before the end of each month.
For those of you who plan on selling WordPress monthly maintenance or care services, you can use the following tasks to shape the various plans you design for your clients.
1. Security Monitoring
Sucuri's Hacked Website Report maintains that WordPress websites continue to be the primary target of hackers' attempts in 2017, with 83% of all infections occurring on the platform.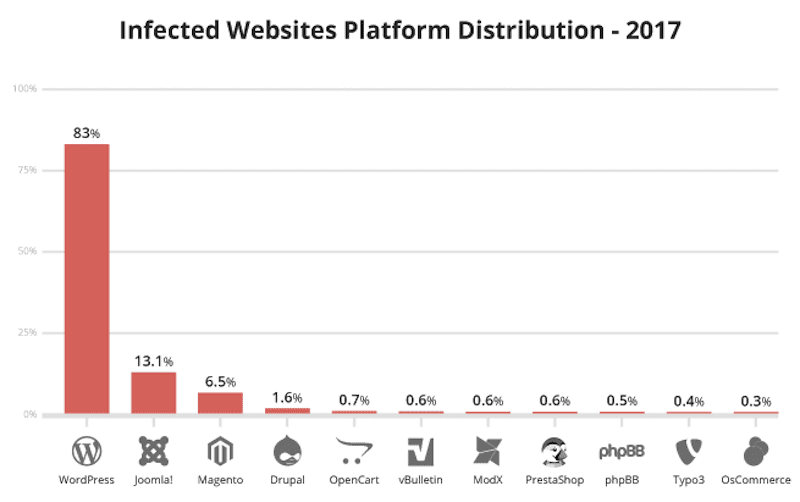 The first thing you should do for your clients' sites, in that case, is to monitor for known threats.
2. Security-Related Cleanup
For the most part, if your website has a security plugin installed (in addition to implementing an SSL certificate), you're in a good position to cover all major threats. Brute force. Comment spam. DDoS. And a whole host of malware threats: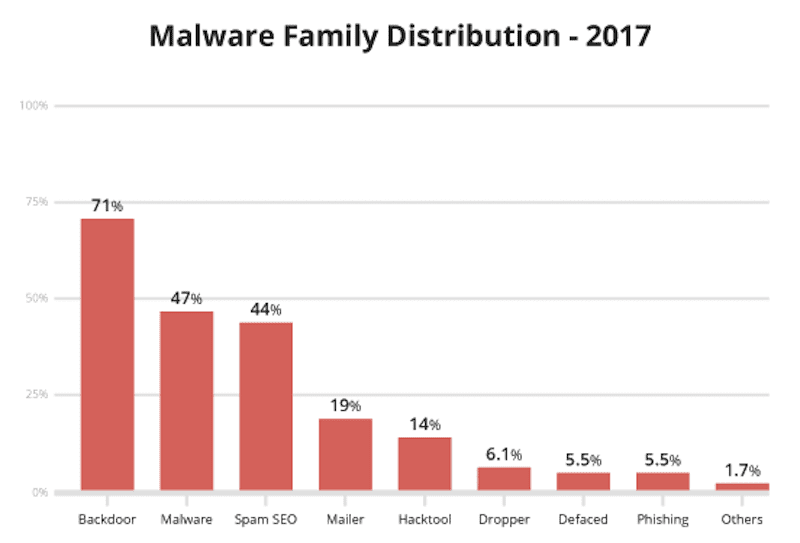 That said, it would be a good idea to give your site a little shake once a month or every quarter to ensure that it is fully secured. These tasks should include:
Reviewing user lists and removing inactive users
Forcing a reset/update of all passwords
Spam cleanup
Malware removal and restoration of a site after an attack is also included in this service, though it needs to happen immediately upon detection.
3. Uptime Monitoring
While web hosts may inform users when a site goes down, you can't always rely on this to happen nor can you rely on them to help get your clients' sites back online right away. And this can cost your clients lots of money if it happens frequently enough.
This downtime cost calculator from Web Hosting Secrets Revealed will help you calculate just how much each minute of downtime is worth to your clients: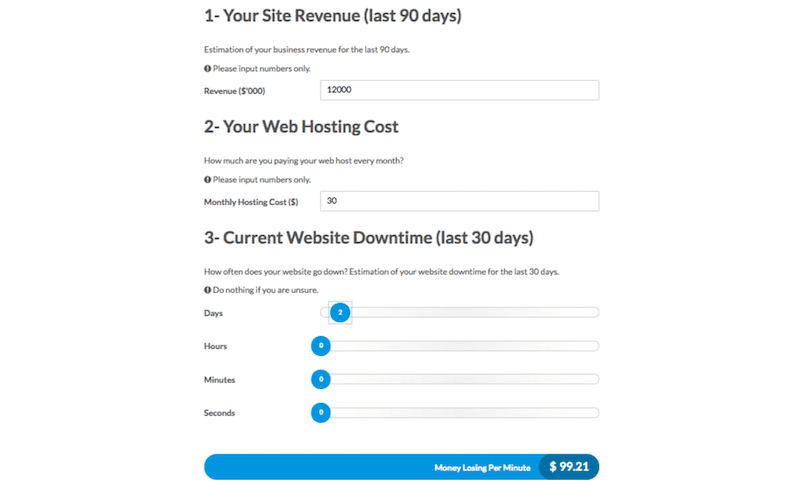 By providing 24/7 uptime monitoring as a part of your WordPress monthly maintenance services, you can ensure that the least amount of revenue is lost as a result of downtime.
4. Performance Audit & Optimization
💨 Speed is a factor that can contribute to a poor on-site experience and compromise the user experience. #WordPress #speed
Click To Tweet
That said, it's easy enough to run a speed and general performance check on your WordPress site every month. This will, in turn, make it easier to catch changes to themes, files, or your database that cause slowdowns.
5. Backup-and-Restores
Depending on the size of the sites on your WordPress monthly maintenance schedule, you may find that backups are needed frequently. But, at the very least, each website under your care should have one backup saved every month to the cloud. This will make restoring your site go much more easily and quickly after a security breach, disaster, human error, or anything else that threatens its integrity.
6. Software Updates
According to the Hacked Website Report, 39.3% of infection cleanup requests Sucuri received in 2017 were from WordPress: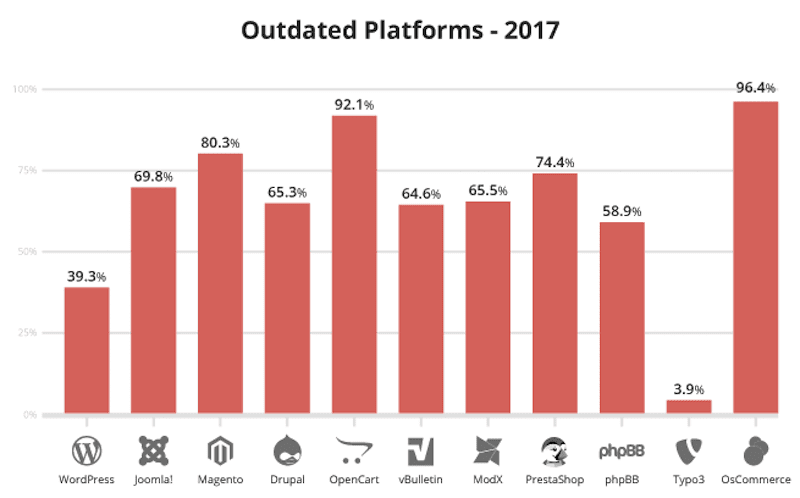 While that number is in serious decline from the previous year, that's still a good chunk of websites running on outdated software. By going in and updating the core, plugins, and themes on a set schedule, you can help stop these sorts of infections from occurring.
7. Website Cleanup
WordPress websites can get weighed down quite easily, especially if everyone is so focused on creating content and not looking backward at the things that have already been put in place. This is why it's a good idea to do WordPress monthly maintenance on your website.
This would include:
Plugins – Make sure your clients haven't installed any bad or untested plugins and verify that the reputation and support from the developers is still rock solid.
Themes – Confirm that only the theme(s) that belongs in WordPress is there. Also, vet the quality of the theme and support, as well as the frequency of updates to ensure the developer is still maintaining the code.
Images – Review your Media storage and verify that all content within it belongs there and is fully optimized.
Database – Run a scan through your database monthly to check for unwarranted changes to files and clean out any that aren't needed anymore.
8. Website Audit
WordPress recommends that websites be validated on a regular basis. This means:
Reviewing the code to ensure it's up to current standards.
Testing the responsiveness of the design.
Ensuring accessibility.
Repairing broken links.
Repairing anything else that might be broken and is essential to visitor engagements and conversions (e.g. contact forms, feeds, checkout, internal search, clickable buttons).
In other words, take time to give the front end of your site a thorough walk-through. You might be working hard on the backend to maintain it, but there are things you might miss if you don't visit the site frequently enough.
9. Website Edits
For small superficial changes that need to be made to the website, it might make sense to bundle them into one WordPress monthly maintenance task. You can then allow for a specified number of hours to on-the-spot technical issues that need addressing.
10. Reporting
In order to confirm that all your WordPress monthly maintenance efforts are working to improve the user experience, monthly reports should be prepared.
Google Analytics and Search Console are essential. Also, when you run your monthly scans for security, uptime, and speed, capture screenshots and provide analyses of those within your reports so clients have something to reference when you discuss progress on their site maintenance.
Monthly Website Maintenance Cost
Realistically, there are three ways in which you can handle WordPress monthly maintenance and each comes with its own associated costs:
1. You Don't
The first option might sound a bit funny but here it goes: 🤷‍♂️ You could just do nothing to maintain the security, performance, or SEO activities on your WordPress site. But that would be majorly ill-advised. #WordPress #maintenance Click To Tweet
This might seem like the most cost-effective approach. After all, you don't have to take time away from your schedule. You don't have to pay anyone to maintain the site for you. And there's no need for pricey tools to manage it. The only real cost is when you have to step in and fix the occasional broken link or delete a spam comment, right?
Actually, the cost of leaving a WordPress site unchecked could end up being the most expensive of the options. Consider the following:
Site gets hacked… You have to identify the threat, neutralize it, recuperate lost data for your business, make amends to affected customers, and launch a major PR campaign issuing an embarrassing mea culpa.
Site goes down… You have to figure out what the underlying problem is, when it happened, and how to properly fix it. Then, you have to account for the lost leads and sales from that timeframe and try to make up for it somehow.
Site ranking is poor… You don't know how long it's been this way nor do you know why. You spend time studying analytics and attempt to grasp why it is this otherwise attractive and professional site isn't performing well. Then, you have to take time out of your schedule to fix it.
2. DIY
Whether you maintain one site or a dozen client sites, you figure the DIY approach won't cost too much since you're going to handle all of it. It doesn't require a full-time commitment, and some of it can be automated with free plugins, cheap online tools, and WordPress monthly maintenance and management dashboards like ManageWP, so it seems doable.
But your time is of value. The actual work you put into someone's site is a billable service for a reason, which means that every time you work on maintenance-related tasks, your business is paying you to do the work. Plus, don't forget that you're losing money every time you turn your attention away from revenue-generating tasks for the business.
That's not to say this is a bad choice–especially if you're only maintaining your company's one site. It just means you should more carefully consider what the costs of doing it on your own are.
3. Outsource
The third option puts the onus of WordPress monthly maintenance onto a third-party professional. It may be a developer or a maintenance company you hired for this purpose, or it could be a white-labeled maintenance service you use to streamline the WordPress maintenance services you sell to clients.
Regardless of who does the work, they're a trained WordPress monthly maintenance professional who will work much more efficiently than you would be able to on your own. Their sole focus is on maintaining the health of that website. And you're free to dedicate your energy to tasks that play to your strengths.
As such, you'll reap a number of benefits when outsourcing WordPress monthly maintenance responsibilities:
Security monitoring alerts won't disrupt your workflow.
Threats will be detected and dealt with right away.
Page speeds will remain fast no matter how long it's been since you last logged in.
The second your site goes down, someone will be on top of it to restore service.
The design and functionality of the site won't go stale.
Every effort to maintain your site will build a stronger case with Google for higher rankings.
Your WordPress sites will be future-proof.
And let's not forget about what WordPress monthly maintenance services do for the relationships you have with clients. For your own business, you'll become the trusted resource for all things WordPress. And because you're protecting their website from harm and stagnation, you're also helping your clients build better relationships with their target audience.
As a result, you'll maintain longer relationships with clients and sustain a predictable revenue stream that keeps your business steady–even with the additional costs of paying someone else to manage the service for you. The markup you apply to make a profit on these WordPress monthly maintenance services might seem small, but you can now effectively handle many more clients. With a recurring service like this, you stand to make a great deal of money.
Wrapping Up
If you've gotten to this point, then you understand how important WordPress monthly maintenance is to the health of your site… and you're probably wondering how you can outsource it.
Well, if you're looking to provide thorough WordPress monthly maintenance coverage of your clients' sites with minimal effort from you, then signing up for a WordPress Care Plan (for your own site) or for white-label outsource WordPress support and maintenance (for your WordPress maintenance business) from WP Buffs is your best bet. Or if you need it, here's a list of maintenance service providers for WordPress.
Or check out this article if you want to read more about WordPress maintenance services.
Want to give your feedback or join the conversation? Add your comments 🐦 on Twitter.