With so many websites created with WordPress, the need for lightbox functionality is in high demand. Moreover, the lightbox plugins need to be not only attractive but easy to use even for the beginner WordPress user. Today we'll feature our favorite WordPress lightbox plugins for 2020.
While keeping your website 99.9% secure and achieving loading times under 1 second are important, having beautiful images presented well on your website can build trust with visitors and help your website become successful.
These are the best lightbox plugins for WordPress. They've been user-tested, rated and are kept current and updated for the latest versions of WordPress.
1. Modula
Modula is a powerful, easy-to-use WordPress gallery plugin. It gives you a wide range of flexible customization options so you can easily tweak your gallery to your liking. Unlike other available gallery plugins, with Modula's custom grid functionality you can freely resize images within your gallery's container, controlling their heights, widths and aspect ratio. And, all you need to do is switch a gallery from 'creative gallery' to 'custom grid' and start resizing and changing the dimensions of your images by clicking and dragging from the bottom right-hand corners of the images in your gallery.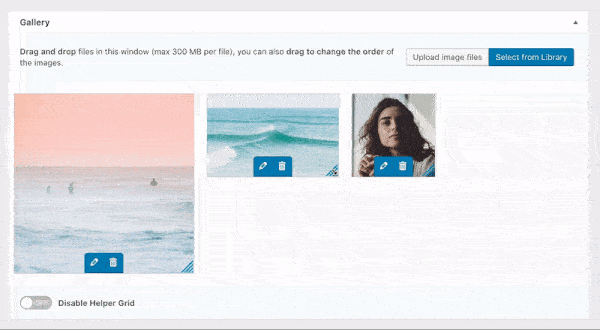 You're also additionally able to select from a whole range of built-in lightbox styles and hover effects to ensure your gallery adopts the look of the rest of your website. For more advanced users, Modula has an advanced customizations section wherein it is possible for users to add both javascript and CSS that can be applied to galleries separately. Matched with their well-written documentation, they've created what we believe to be a truly wonderful user experience.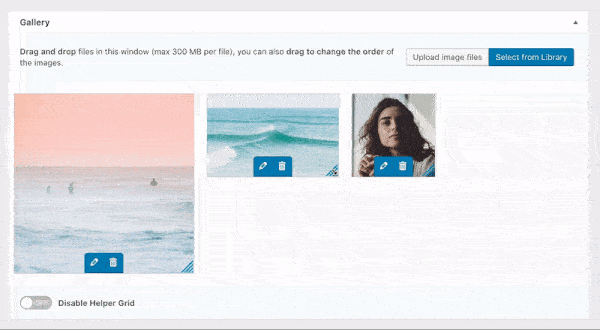 Modula is almost incomparable to other gallery plugins when it comes to customization and power- they offer an unparalleled amount of flexibility that we haven't found to be available in any other gallery plugins; it's straightforward to see why Modula is an absolute must-have on any list of plugins.
Features include:
Ability to design custom girds – freely resize images within the gallery container so you get to choose which images stand out
A choice of 6 different stunning lightbox effects
12 stunning and creative hover effects built-in. Using an effect is a great, simple way to engage your audience. The effects are designed to be cross-browser compatible and with the use of modern techniques like CSS3 animations, the effects work perfectly on mobile devices too.
Ability to further customize your gallery by using custom CSS and javascript.
Premium Modula video extension available so you can easily add videos to your gallery.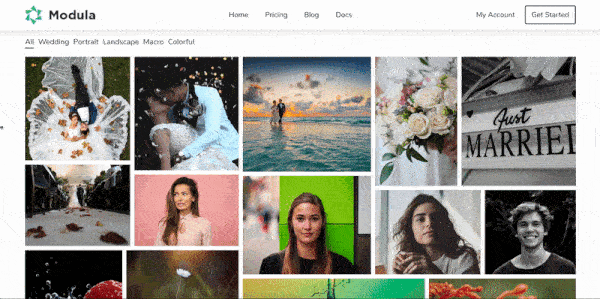 2. Responsive Lightbox by dFactory

No WordPress lightbox plugin list would be complete without mentioning one of the most popular and widely-used lightbox plugins: the Responsive Lightbox by dFactory. With current installs over 200,000 and a rating of 5-stars, it's easy to see why dFactory's plugin is a must-have on any list.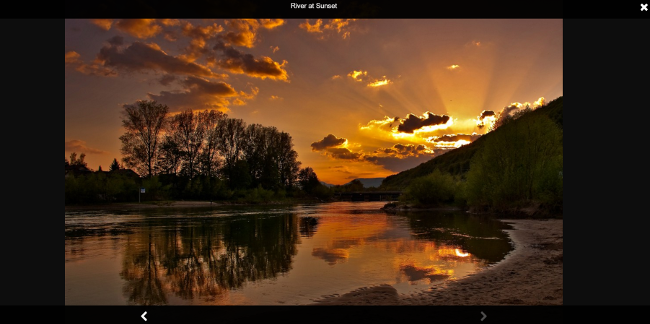 This lightbox offers additional features that some others do not, such as the option to choose from six different lightbox styles. Having the different style options allows you to not have the same look and feel as other websites, giving you the option to better match the lightbox to your site's theme.
dFactory's plugin can automatically add lightbox functionality to your WordPress galleries, and image links, and easily features video links from sites such as YouTube and Vimeo.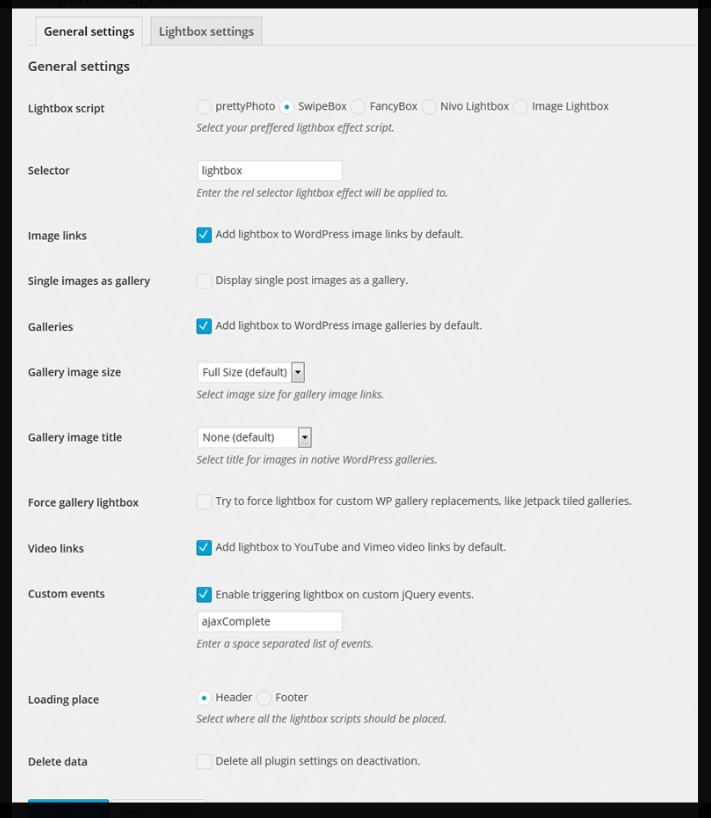 Features include:
3. Simple Lightbox

The Simple Lightbox plugin by Archetyped is another of the popular lightbox plugins in the WordPress community. It currently has over 100,000 active installs and a user-rating of 4.5-stars.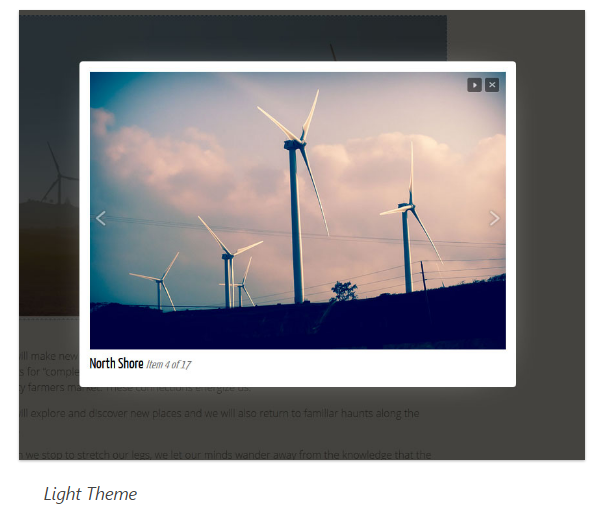 With Simple Lightbox, there is no need for any manual coding. The plugin automatically activates all images and media for lightbox functionality. It also provides customization options such as light and dark themes and customizable animations.
What makes Simple Lightbox truly stand out is its almost infinite customizations via add-ons. With the add-ons, you can truly make your site's lightbox your own, fitting it snugly with the look and feel of your website's theme.
This plugin also displays the metadata for your image or media allowing for captions or descriptions and has keyboard navigation to scroll through the lightbox gallery.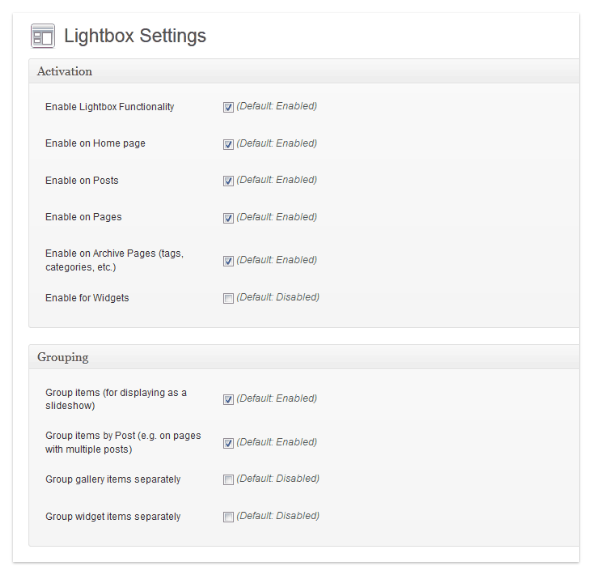 Features include:
4. Responsive Lightbox

Responsive Lightbox by Subhan Sanjaya is a popular and easy-to-use lightbox plugin. With over 20,000 installs and a 4.5-star rating, this is one to check out for your own WordPress website. It includes built-in functionality for images, separate HTML content, and media such as videos.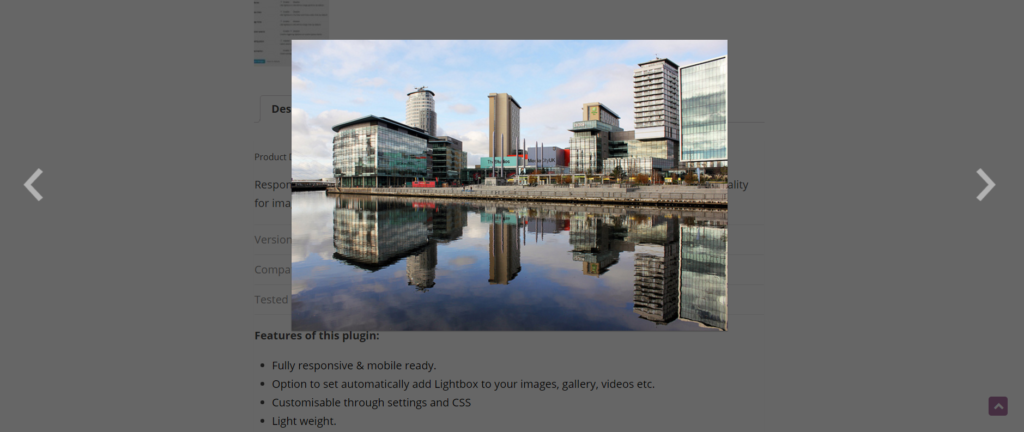 Responsive Lightbox provides a clean, modern look, with easy to navigate arrows to switch between the content in your gallery. If you include a Google-style map on your site, the lightbox allows visitors to see the larger, lightbox version for easier viewing. Featuring YouTube or Vimeo videos is a snap.
The admin interface for the plugin is simple and straightforward, and also allows for manual addition of your lightboxes if you prefer more customization.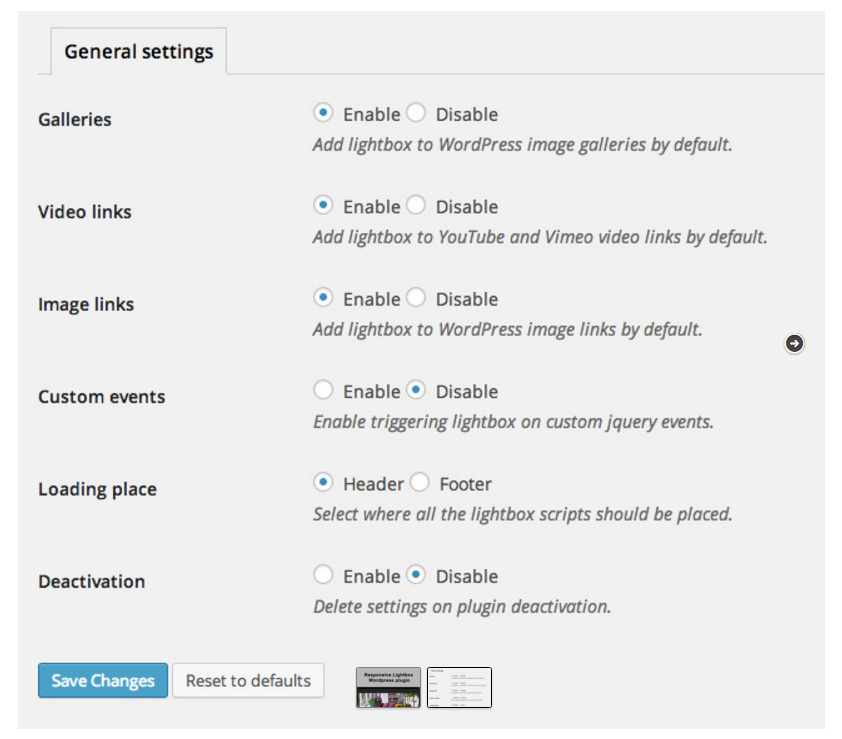 Features include:
Easy installation
Fully responsive and lightweight
Can set lightbox to automatically convert links
Customizable through CSS
5. Lightbox

The Lightbox plugin by Huge is gaining in popularity with over 50,000 active installs and a 4-star rating. It is based on the premise of simplicity and ease-of-use and is adaptive and responsive to the device it's being viewed on.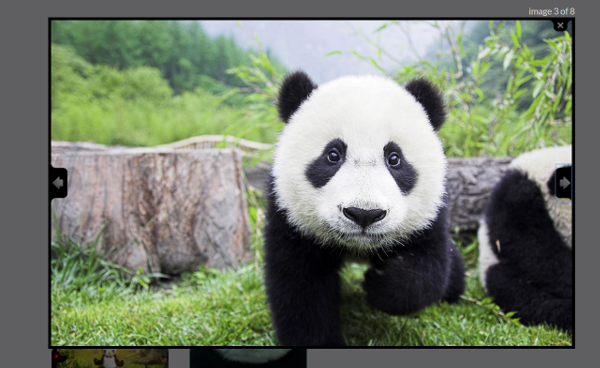 Lightbox also provides five lightbox styles making it easy to fit in with the style of your website. It automatically provides lightbox for your images and videos, both from YouTube and Vimeo, and has a clean easy-to-understand interface for your site visitors.
A nice feature is the transition animation between images if they are of different sizes. It gives the lightbox a modern, satisfying feel when browsing through the gallery.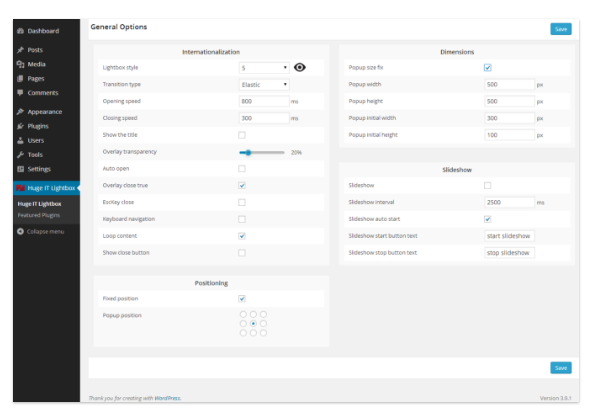 Features include:
Ease of installation and administration
Easy-to-use interface
Automatically links YouTube and Vimeo videos
Adaptive to the displaying device
Five lightbox styles to choose from
6. WP Lightbox 2

The WP Lightbox 2 plugin from Syed Balkhi is another of the more popular WordPress lightbox plugins with over 100,000 active installs, and a user-rating of 4.5-stars. While this plugin is still actively used and loved by many of its fans, it is worth noting that it does not appear to be in current status, with the most recent updates being at the end of 2015.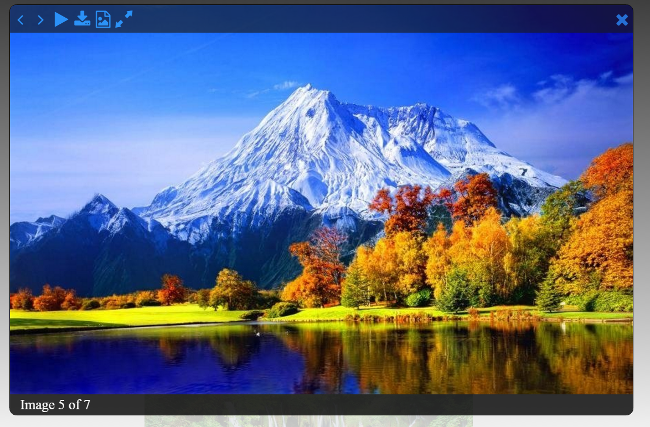 Nice features included with this plugin are the ability to customize by setting the duration of the transition animations, adding text to the images, and the ability to add a download link for the images.
Installation is standard as with all WordPress plugins, and it does need some manual coding if you want to include videos from YouTube or Vimeo, but appears to be relatively easy.
WP Lightbox 2 also gives you the customization ability to change the location of the text on the picture, and a play button which will cycle through all the images in the gallery automatically in slideshow style.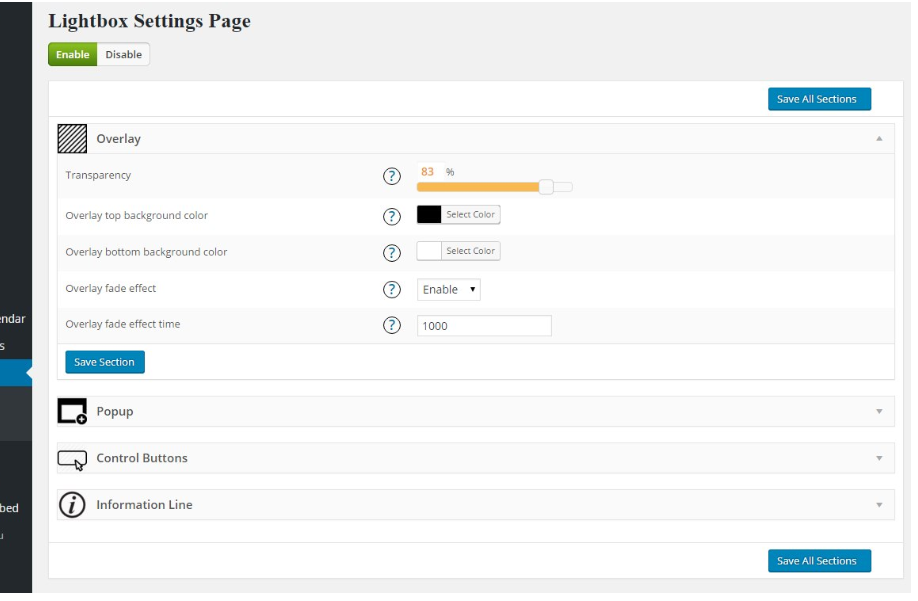 Features include:
Easy installation
Fully responsive lightbox
Lightbox can be used in comments
Can include download link for images
Customizable location of text captions
7. Circle Image Slider with Lightbox

The Circle Image Slider with Lightbox is a newcomer to the lightbox arena but is quickly gaining in popularity. With almost 1000 active installs and a user-rating of 5-stars, this WordPress plugin is unique in that it offers an image slider that displays your images in a bordered circle, but then also makes them into a functional lightbox.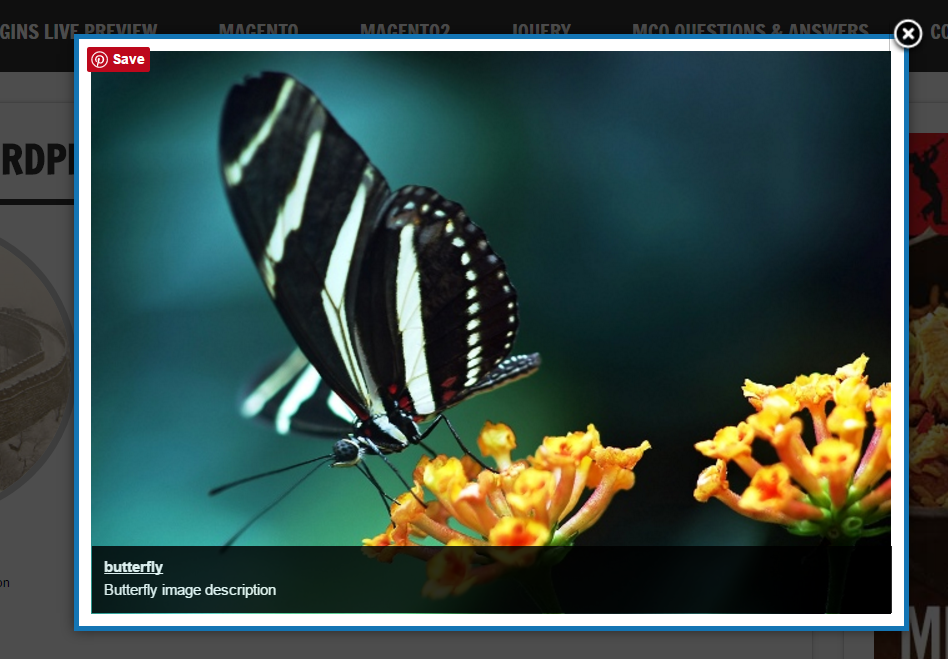 Fully responsive and easily customizable, site owners can set how many images to display at a time in the slider, as well as the captions, and the speed of the transition animation.
Adding the slider into your WordPress pages or posts is simple with the use of a shortcode. For those who optimize their site for SEO, the image name is used as the alt tag for SEO.

Features included:
Easy installation
Unique circular images without manual manipulation
Unlimited images in sliders
Image name used for SEO
Slider previews before publishing
Lightbox feature can be turned on or off
8. ARI Fancy Lightbox

Another new, but full-featured lightbox plugin is ARI Fancy Lightbox. It's easy to use on any device, supports gestures like tap, zoom, pan and pinch and shows fully responsive content. It can attach a lightbox automatically to WordPress and Jetpack galleries, photos, videos from YouTube, Vimeo, Vine, Metacafe and Dailymotion service. Web pages and inline content (custom HTML) can also be shown into the lightbox.
The pro version contains social and viral features, adds share buttons to make content more viral and can be integrated with the Facebook comment plugin. Deep linking is a built-in feature and is used to create a unique URL for the content in each lightbox. If this URL is visited, the lightbox opens automatically and shows an appropriate content.
You can even use simple shortcode to create a splash popup that opens a lightbox with your content right when the page loads.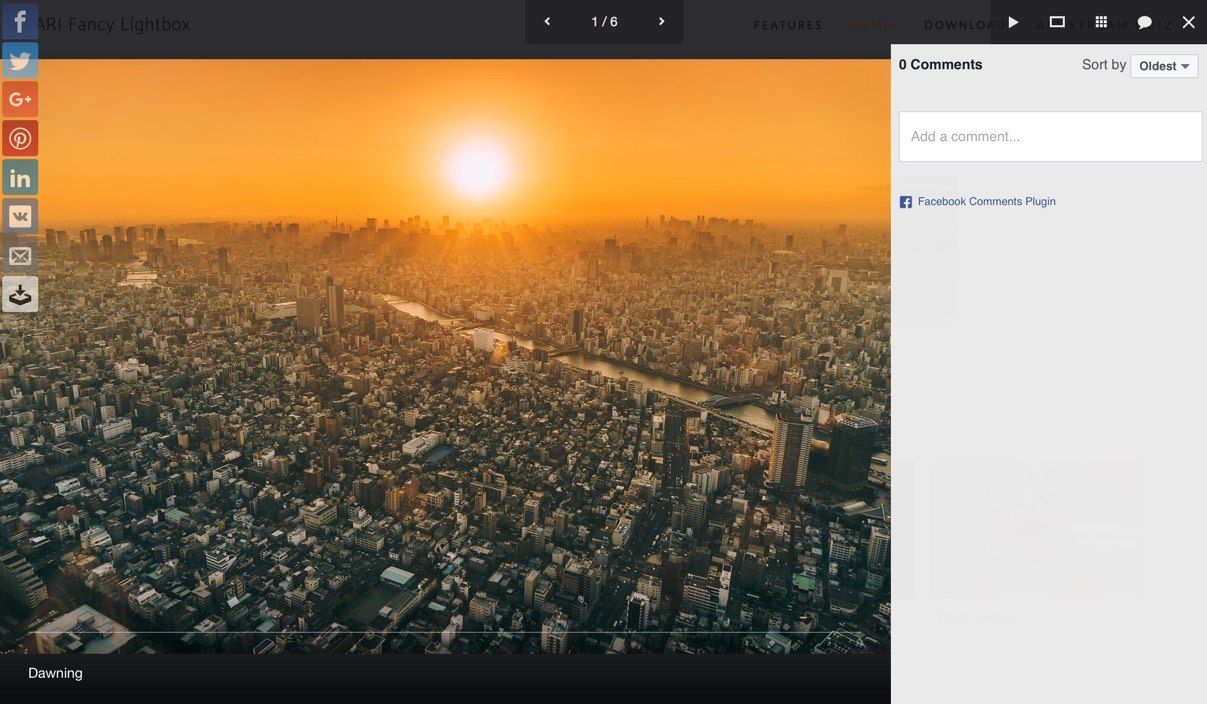 Features include:
Easy install from the Add Plugins section of WordPress
Mobile ready
No manual coding. Automatically adds lightbox to image galleries, video links, external or internal page links
Contains a lot of parameters for customization
Can show local PDF files in PDFJS viewer
Built-in social and viral features (PRO)
With these being the very best lightbox plugin for WordPress, the options for your website are almost endless.
Whether you are looking for a simple, lightweight plugin, or a modern themed plugin with additional functionality, any of these plugins will work for your needs!
Want to give your feedback or join the conversation? Add your comments 🐦 on Twitter.
SaveSave
SaveSave
SaveSave