Whether you know it or not, you're probably familiar with some of the basic concepts of digital asset management (DAM). Digital asset management is all about storing, cataloging, and sharing digital assets such as images, audio files, video files, and more. In a successful digital asset management system, these files are all stored and cataloged in an easy-to-access central repository.
Sounds a bit like how you use file storage systems, right? Well, digital asset management is a little more complicated than that – but if you organize your files in Dropbox or Google Drive, you're familiar with the concept in a very basic sense.
WordPress digital asset management is no different. It's about making it easy to store, catalog, and use digital assets inside WordPress. Unfortunately, though, WordPress lacks many of these features in its default state. So, to turn WordPress into a digital asset management system, you'll need to add functionality in the form of plugins and/or integrations.
While keeping your website 99.9% secure and achieving loading times under 1 second are important, making sure your digital files are stored correctly and served to visitors quickly could be the difference between a successful website and a high bounce rate.
In this post, I'll talk a little bit more about asset management before digging into how you can use WordPress as a tool for document and image management.
What is WordPress Digital Asset Management?
Even on a blank WordPress install, you have a rudimentary digital asset management system in the WordPress media library.
But while the WordPress media library certainly makes it easy to store images and documents, it fails at the "cataloging," "sharing," and "using" parts. Those are essential elements of digital asset management.
Once you upload a file to the WordPress media library, the file quickly disappears. There's no taxonomy or labeling system, so there's no way to organize and share old files.
To create a true WordPress digital asset management solution, you need to add some functionality to the basic WordPress install. This functionality is mainly focused on better cataloging your media files and making them easier to use and share.
With that in mind, let's get into some plugins that can help add digital asset management functionality to WordPress by improving key image and document management functions.
Brandfolder Plugin – Digital Asset Management Simplified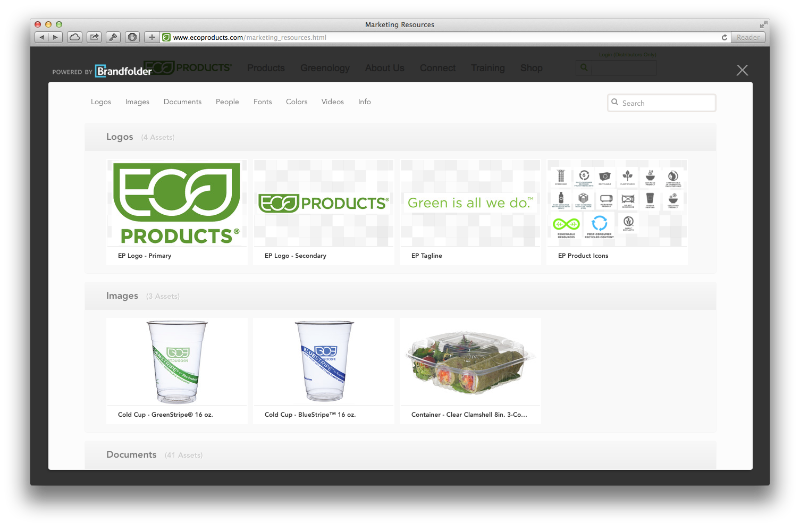 The Brandfolder plugin helps you with digital asset management for your WordPress site by creating a connection between your Brandfolder account and WordPress.
If you're not familiar, Brandfolder is a simple, cloud-based digital asset management tool. It allows you to store, manage, search, and share your digital assets from one centralized place.
When you install the plugin, you'll be able to insert these assets directly into your posts and pages. You can also manage your Brandfolders directly from your WordPress dashboard and embed whole folders to make it easy for third-parties to access your assets.
Note – Because the plugin is integrated with Brandfolder service, you will need a Brandfolder account to use this plugin. Brandfolder is not free, so if you're looking for a free WordPress digital asset management solution, keep on reading!
Price: Free, but requires premium Brandfolder account | Go to Brandfolder Plugin
Phraseanet Plugin – Open Source Digital Asset Management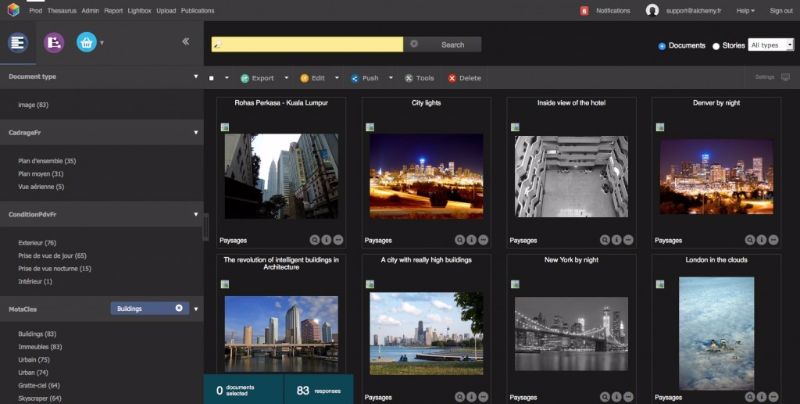 Phraseanet is a popular open source digital asset management software. You'll need to download and host the software yourself. You can then integrate the software with your WordPress install via this plugin.
Phraseanet provides a way to store, manage, and organize your files. It's much more heavy-duty than the default WordPress media library, which makes it a better solution for companies or other large organizations.
Individuals likely don't need as detailed functionality as Phraseanet offers.
File Manager Plugin – Powerful WordPress Document and Image Management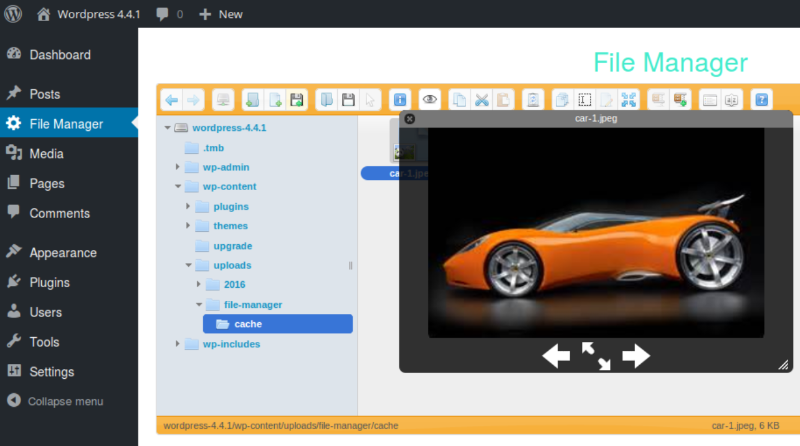 File Manager is a popular plugin which adds some much-needed asset management tools to WordPress. It creates a new File Manager side menu which allows you to upload, store, and manage all of your digital assets.
File Manager essentially replaces the need for FTP. You can add and move any of the files on your hosting server without needing to connect via FTP. You can even upload files simply by dragging them into the File Manager interface.
The plugin also includes search functionality to find files by name and type. And you can also sort files if you don't want to search directly by name.
With the extended version of the plugin, you can enable a front-end file folder to make sharing assets easy. You can also restrict access to folders based on user roles, which is helpful for securing files.
And if you need separate folders for individual users, you can give every WordPress user a private folder that is only accessible to them.
Enhanced Media Library – Add Taxonomies to WordPress Media Library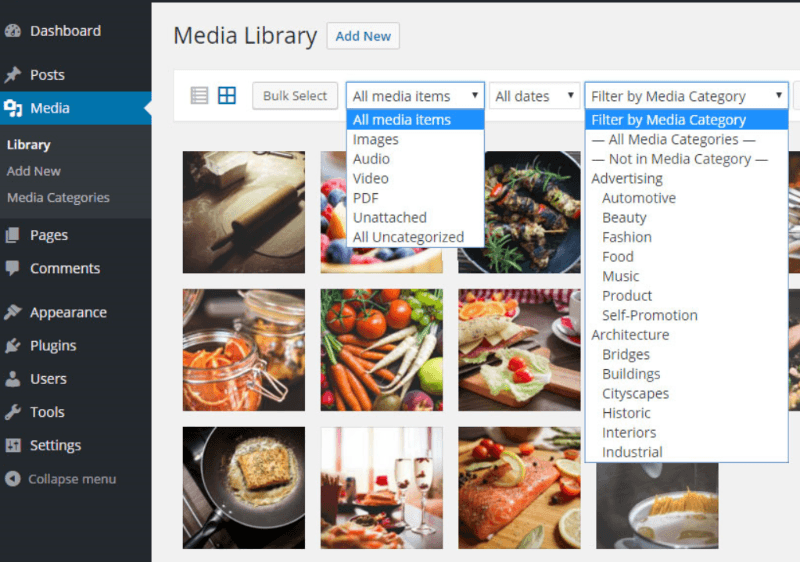 If you want something that will add some much-needed digital asset management functionality to the native WordPress media library, Enhanced Media Library is one of the best options.
Enhanced Media Library lets you add both categories and tags to any of your images and documents. You can then sort and filter by these tags to easily find digital assets.
You can also use the plugin to share your media by embedding media files in posts based on different taxonomies
If you want a media file organizer that works within the native WordPress media library, then Enhanced Media Library is definitely your best option.
Get Enhanced Media Library for FREE!
WordPress Digital Asset Management Integration Options
If you're already using a digital asset management system and want to work with WordPress, you'll need to find a way to integrate. I already touched on two integration options via plugins (Brandfolders and Phraseanet), but not every digital asset management system offers a dedicated WordPress plugin.
One way to solve this lack of dedicated integration is with embed codes. Embed codes allow users to easily insert media from your digital asset management system into WordPress without a direct integration.
Embed codes eliminate the need for users to download files from the digital asset management tool and re-upload them to WordPress. Instead, users just need to copy the embed code from the digital asset management system and paste it into WordPress.
In addition to ease of use, this also has the benefit of eliminating multiple versions of your files. You only need to update the file once in your digital asset management system. Then, that change will automatically be applied to the WordPress embed.
You'll also be able to track exactly where and how often your assets are being shown/downloaded.
If you aren't already locked into a digital asset management platform, a solution like ResourceSpace makes it easily to export files for use on external content management systems (including WordPress).
So, if direct integration with WordPress via a plugin isn't possible, your next best option is to utilize embed codes, rather than upload images to WordPress individually.
Wrapping Things Up
By itself, WordPress isn't an especially helpful digital asset management system. But with the right plugins and/or integrations, you can make WordPress digital asset management work for you.
At a minimum, you can add some much-needed cataloging and sharing features to the WordPress media library. And if you need more feature-rich document or image management, you can turn to the Brandfolders or Phraseanet WordPress plugins.
No matter what, don't let your digital assets get lost in the WordPress media library! Pick a solution to keep them stored, cataloged, and easily accessible.
Want to give your feedback or join the conversation? Add your comments 🐦 on Twitter.
SaveSave
SaveSave