WordPress is an excellent platform if you want to sell products or services, run a website for your business, or just publish awesome content for your readers. But if you run a business and booking appointments or reservations is key to your bottom line, you'll need to use more than what comes with WordPress core.
We're talking about WordPress booking plugins, here. So, if you've ever searched for WordPress meeting room booking plugins and came up empty-handed, buckle up. Here is what we will cover:
Finding the value of WordPress booking plugins
Why you need a quality WordPress booking plugin
Premium WordPress booking plugins
Free booking plugins for WordPress
Hotel booking plugins for WordPress
Doctor appointment plugins for WordPress
Restaurant WordPress reservation plugins
While keeping your website 99.9% secure and achieving loading times under one second are both important, making sure your core functionality is what you need will make the difference when it comes to the success of your website.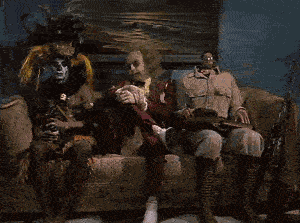 Adding booking functionality to your WordPress site will make things easy for your visitors and help convert them into new customers. That's why you should look into a WordPress booking plugin to use ASAP.
The Value of WordPress Booking Plugins 💸
There are a couple of reasons why a booking plugin will be one of your most valuable assets:
 It improves your website's user experience. While some people like to talk with a real human on the phone or via live chat, many just want to book an appointment or make a reservation without talking to anybody. This kind of plugin allows your visitors to book an appointment or make a reservation through your website without you spending any of your precious time on it. That's huge!
Creating an expectation that users will book appointments or make reservations themselves makes things easier for you as the business owner. No more back-and-forth email exchanges or untimely phone calls. The booking plugin takes care of the whole process and you can focus on bigger things.
Some of the WordPress booking plugins listed below integrate with your Google Calendar to make scheduling even easier.
Many of the following WordPress booking plugins come with payment functionality fully integrated as well (PayPal, Stripe, etc). This allows your users to pay you without your involvement.
😀 Using #WordPress booking plugins to allow visitors to make appointments greatly improves their user experience. By like, a lot.
Click To Tweet
Does My Website Need A WordPress Appointment Booking Plugin? 🤔
Before you add, activate, and configure a free WordPress booking plugin (or a paid one), it's important to ask yourself if you really need it in the first place. Having booking functionality implemented on your WordPress site could be important in a few different situations.
If your practice runs on appointment windows (maybe you're a doctor, dentist, therapist, etc), then allowing your patients to book appointments online will make you more efficient and save you and your staff tons of time.
If you're helping people book travel, a travel agency booking plugin might help your visitors reserve travel plans.
If your website allows travelers to book a place to stay, an accommodation booking plugin could allow them to reserve rooms for their visit.
Perhaps you're helping people find the right hotel, in which case a hotel booking plugin with payment integration would be perfect.
You may be helping people with airfare. If this is the case, an airline booking plugin might help.
Maybe you want to help people rent a vehicle. A car rental booking plugin would work well on your WordPress site.
In the same vein, your visitors might want to reserve a taxi service. A taxi booking plugin would bring a lot of value to them.
If your business lets people do any sort of rentals, a general rental booking plugin would streamline your entire operation.
You need to take bookings for courses or events. You can even use WooCommerce for this!
These are only a few situations in which a booking plugin could be helpful for you. In general, if it would bring value to your visitors to allow them to book an appointment or make some sort of reservation themselves, it's worth considering.
Booking Plugins That Integrate with Google Calendar 📅
Some of you probably rely on Google Calendar. A lot. and if that's the case, any booking plugin you choose will need to integrate with Google Calendar. No ifs, ands, or buts. To save you some time, here are all the WordPress booking plugins we will discuss here that offer Google Cal integration:
WooCommerce Bookings and Appointments
BirchPress Scheduler
Calendarista
Booked
Team Booking
Booking Calendar
Easy Appointments
That should help narrow down your selection a bit if Google Calendar integration is a priority.
Premium WordPress Booking Plugins ⏰
If booking is really essential to your bottom line, investing in a premium plugin may be worth it. If you want one of the more powerful paid booking solutions for WordPress, check out some of these premium plugins.
1. Amelia
Amelia is a plugin for automating appointment bookings, embedding cutting-edge software architecture approaches and technology in WordPress. All elements from user interface design and UX to back-end API were developed by a professional team that usually works on large-scale enterprise platforms.
People are often looking for a booking plugin that works perfectly for their niche or the industry they're in. Lucky for you, Amelia works across any industries (and will probably work for yours!).


Amelia has all the biggest positives possible: a robust user experience when you're working in the WordPress dashboard, ridiculously detailed reports so you can optimize your bookings and an extremely user-friendly booking page in the front-end will turn your website into a booking paradise.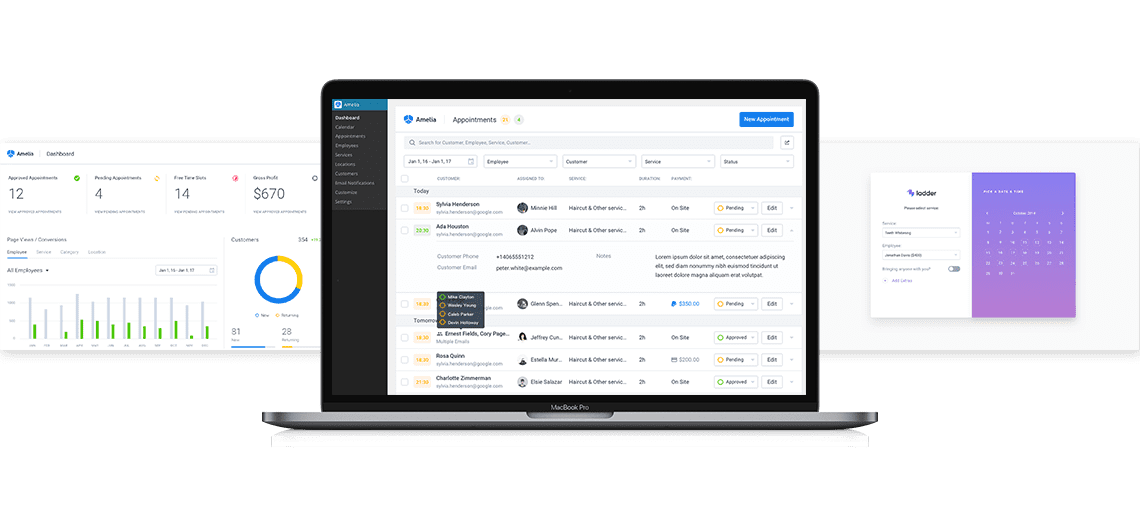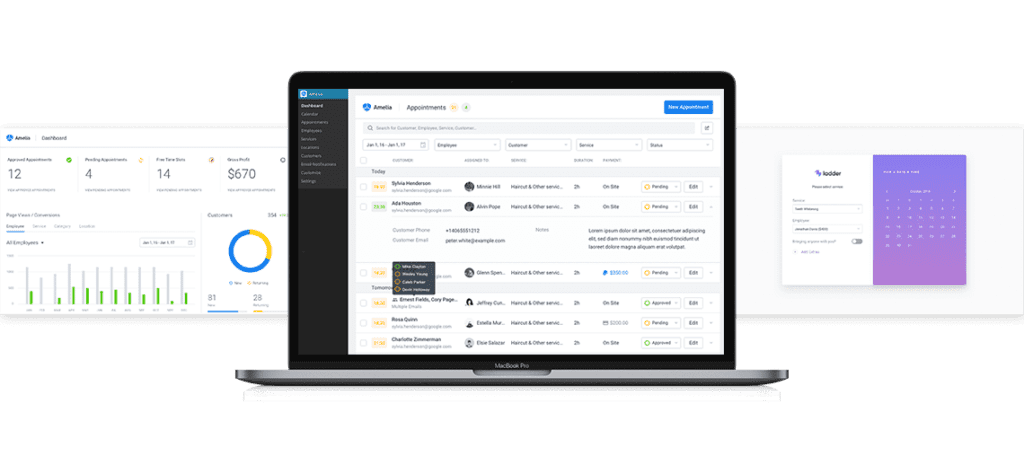 The Amelia WordPress booking plugin offers detailed analytics:
And a friendly user-interface for site visitors to book appointments with ease
You also gain access to a detailed calendar view that allows you to edit appointments and view your upcoming schedule.
Search filters also make it easy to sort appointments by services or keywords.
Many customization options are also available, so you can easily adjust the color scheme of your booking system to better match your brand.
They even provide a few demos so you can see exactly how their booking plugin works and looks like. Frontend and backend demos are available!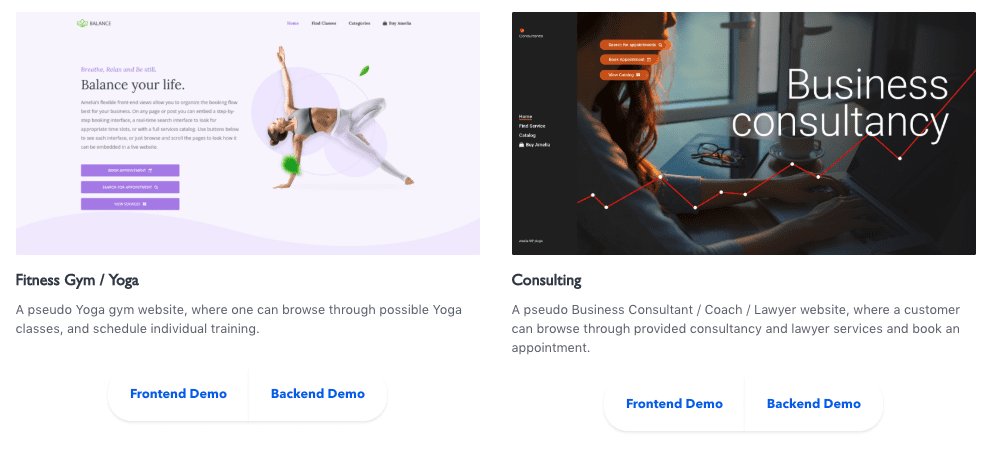 Amelia supports:
Individual and group appointments
Multiple employees (vendors)
Multiple business locations
Multiple services
Different services duration, cost; specific service cost and duration per employee
Service extras (e.g. upselling an 'included meal', or 'extra 20 minutes') that can increase the appointment cost and duration
PayPal and Stripe payment systems support
Discount coupons support (absolute or percentage discounts)
Amelia has several views for front-end users that can be added to the page by different shortcodes:
Classic step-by-step booking wizard, when customers first select a service, then an employee, then a date, and pay.
Search interface, similar to large aggregate booking websites, where customers can play around with dynamic filters and dates, picking the most appropriate time slot.
Catalog views of services provided, where customers can look through all services that a company offers, can see a gallery and read additional information and then book.
Amelia's admin panel is quite rich, providing business owners, managers and vendors with comprehensive tools for appointment flow management:
The main page is a dashboard where owners and managers can track business performance – pending appointments, approved appointments, new vs. returning customers, views vs. conversions per service, employee and location.
A powerful calendar view which can be shown in daily, weekly, monthly, or timeline format, and filtered by employee, service, location.
Appointments management is done through a dynamic list that you can easily filter by date range, appointment status, employee, location, and other parameters.
It is possible to quickly book appointments from the admin panel if a customer is calling on the phone.
Employees, services, business locations, appointments, payments, customers management is done in an elegant single-page app style.
Amelia's UI/UX was noticed by large web design resources and published as an inspiration. The product is quite new, however, it already received high reviews and recognition from the WordPress audience.
And Amelia has garnered some fantastic online reviews! Users sure do love the design and user experience!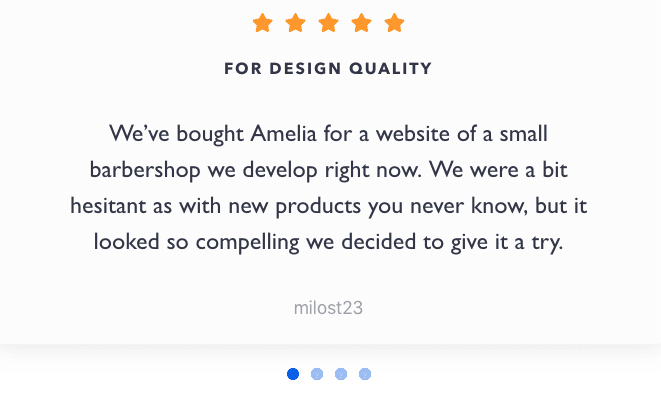 The company behind Amelia is TMS-Plugins, who are also responsible for wpDataTables. It was founded by Alexander Gilmanov and the company works on numerous other web applications as well.

2. WooCommerce Bookings and Appointments
WooCommerce Bookings and Appointments from PluginHive is an end-to-end booking solution made easy for business owners. It works really well with almost every business case that requires a WordPress booking system.
You can convert any existing WooCommerce product into a bookable resource, service, and time. On top of that, you can define the booking duration with any value of minute(s), hour(s), day(s) or even month(s).
The plugin allows you to set the booking availabilities which truly reflects its flexible nature. If you aren't available to offer bookings for certain days, the plugin can block those particular days and will allow booking for other days.
Not just that, you can set the booking availabilities for only a couple of hours every day or every Wednesday. You can set the maximum number of bookings for a timeslot and also set the opening and closing day/time of your bookings. The plugin allows you to fully manage any availability scenario with its simple availability settings.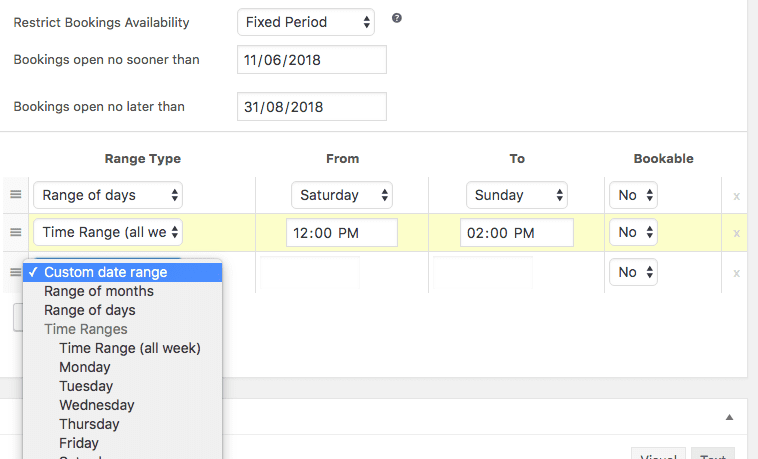 Now talking about control, it has a dedicated section that lets you set up the booking cost with multiple combinations of pricing rules. You can apply these rules to any booking in order to display different prices for different time durations or seasons.
So for instance, you can have higher bookings prices during weekends while keeping your weekday prices comparatively lower for your hotel rooms.
This booking solution can allow cancellations from your customers until a certain time before booking. There's another cool feature that allows you to confirm a booking only if you wish.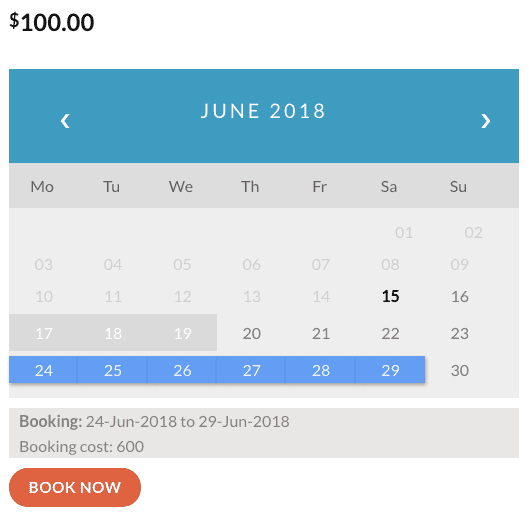 Here are a few other features that come along with this flexible plugin:
Define special prices based on certain days, specific days, time, no of participants etc by setting pricing and participant rules
Email notifications for new booking, cancellations or confirmations
Allow customers to choose the number of people participating in a booking event and set prices on per person basis.
Allow customers to choose extra resources along with the booking and charge them accordingly.
Sync bookings with your Google Calendar.
Sync bookings between multiple products
Dedicated bookings management section to manage all your bookings at one place.
Unlimited number of bookings with no monthly subscriptions
Add a flexible buffer between your bookings
Manage the availability of your team or staff
Ability to change the calendar into accommodation booking by allowing customers to book on a per-night basis
Dedicated notes section for your customers to enter additional information
Time Zone conversion based on client's location
Calendar color customization
Language readiness, WPML compatibility
Compatibility with Woocommerce Product Addons and Woocommerce Deposits plugins
And the plugin has some fantastic online reviews as well. Their users seem to really value the plugin, its functionality, and their solid support.


4. Gravity Forms
Whether you already own Gravity Forms* or you need to purchase it, you can easily create a fully customized booking form using its advanced drag-and-drop interface.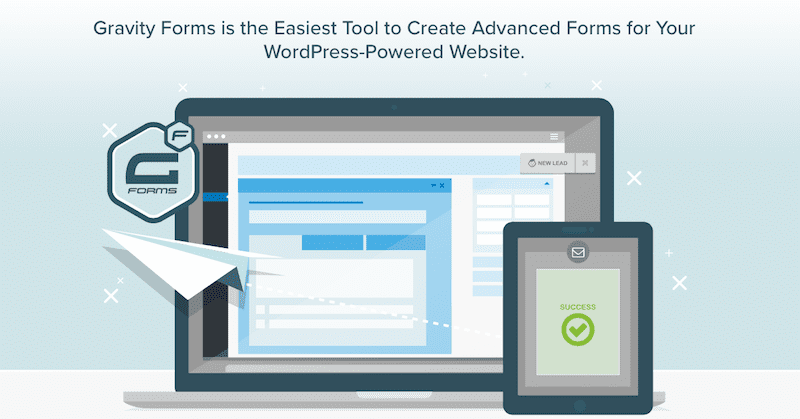 GF also has built-in notifications so you can easily send confirmations for any appointments set by your visitors.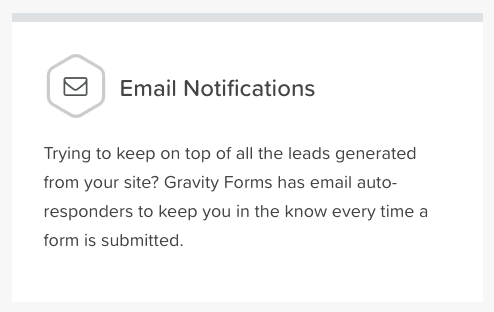 You can also integrate payment options with your forms in case you want to charge for each reservation. Gravity Forms has a robust community of integrations and add-ons for Stripe and PayPal so you can easily set up paid bookings on your website.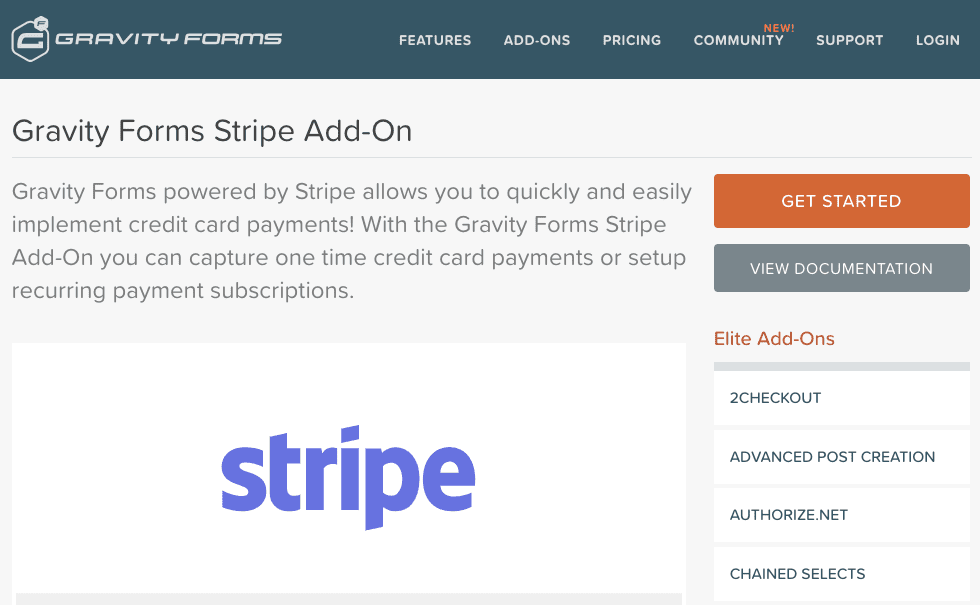 And then there is the ridiculous number of awesome testimonials they've collected. It seems like people just plain love Gravity Forms!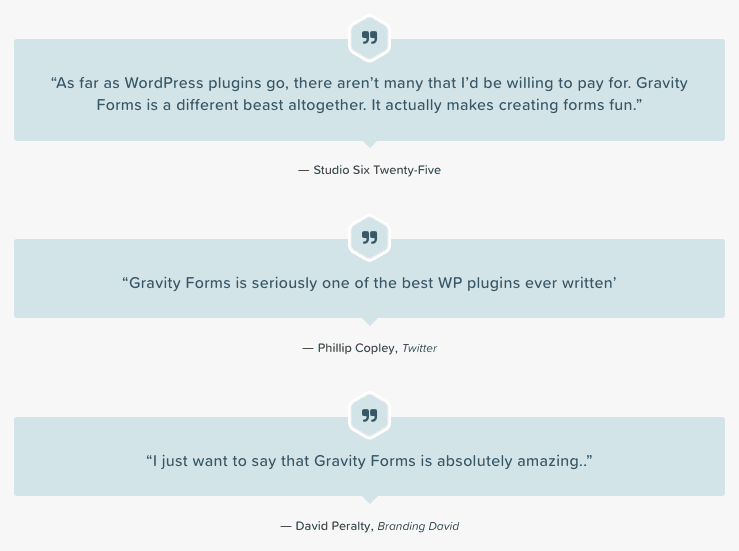 Then if you want to create charts and calculations from form submissions to keep your bookings digitally organized, you can always invest in something like GFChart!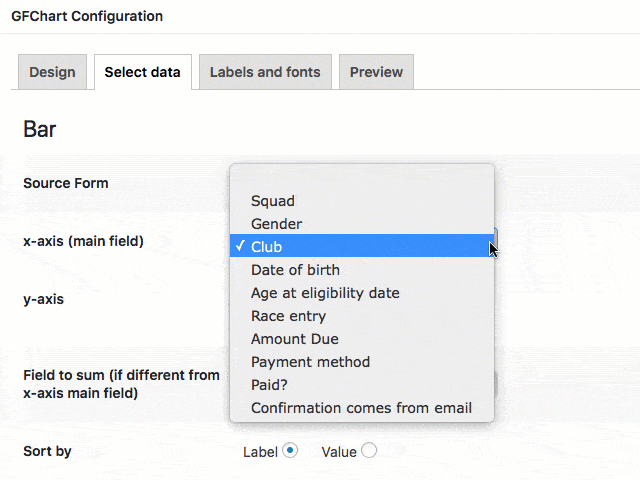 Gravity Forms has a dedicated Facebook presence that's updated with photos and posts about team members often: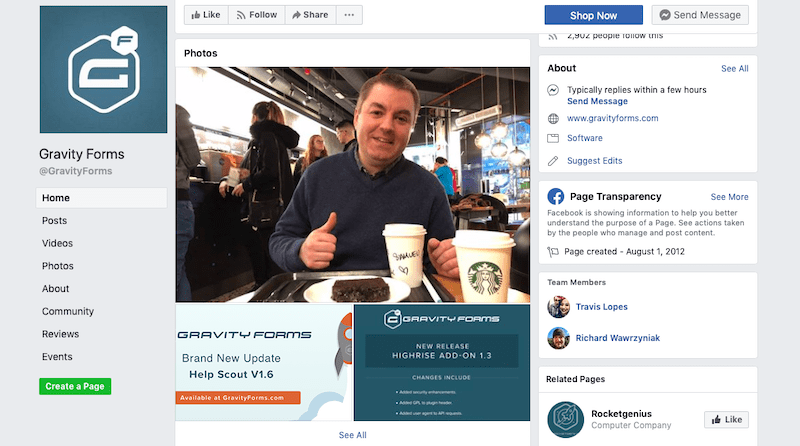 However, the company behind Gravity Forms is Rocketgenius, which has its own social presence as well.
5. Calendarista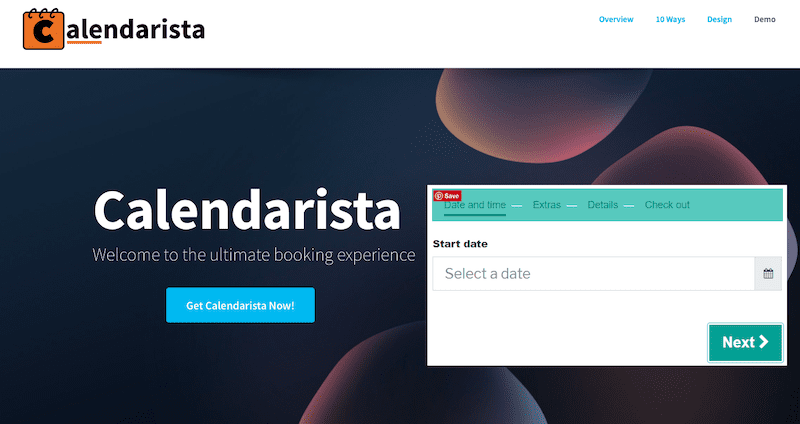 Calendarista is a comprehensive online WordPress booking system for WordPress. This WordPress appointment booking plugin makes it easy for companies to accept bookings and appointments online. It can be used for hotel reservation systems, salons, restaurants, consulting practices, and more.
Some features include:
3 payment gateways
WooCommerce support
A form builder
Google Maps
Backend calendar view for easy schedule review
Export to CSV and more
Calendarista was developed and is maintained by Typps, the company that created Booki, which you'll learn about later on the list. It is owned by Alessandro Zifiglio, who is occasionally on Twitter.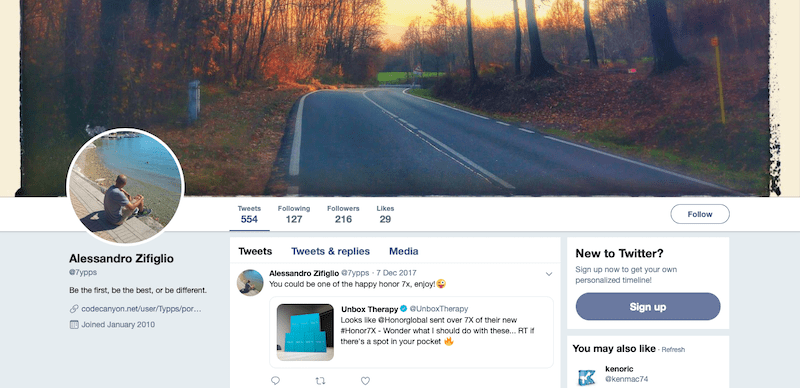 6. Booking Calendar Contact Form

The Booking Calendar Contact Form allows you to build a traditional contact or booking form with the ability to integrate a reservation calendar as well as connect to a PayPal payment button. The plugin allows visitors to select the start (ex: check-in) and end (ex: checkout) dates.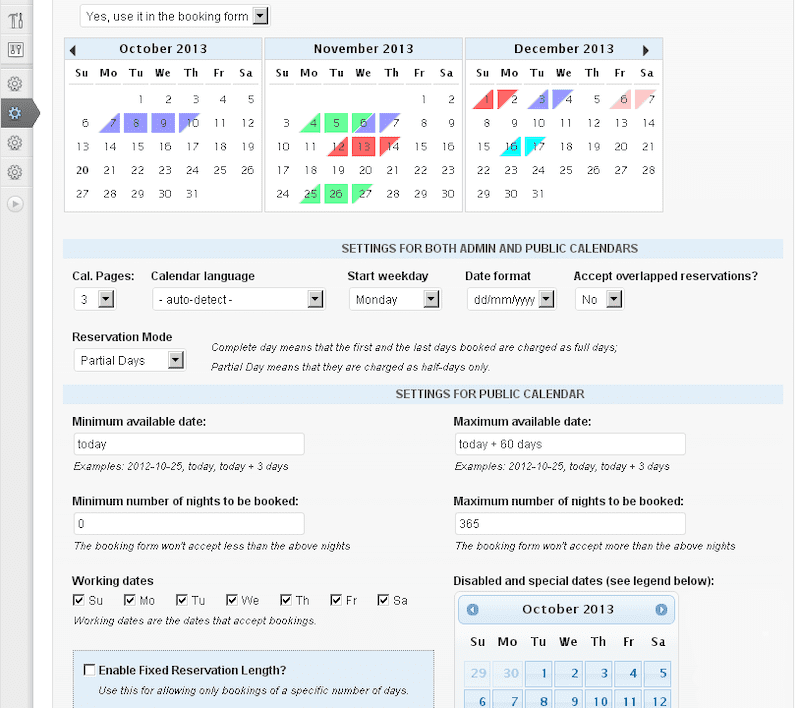 Some features include:
An anti-spam CAPTCHA is built into the booking form.
Start and end dates are easy to select.
Email texts and validation messages are customizable.
Supports full-day, partial-day, and week-long bookings.
Season management
Fully responsive and mobile-friendly forms
Configurable validation messages
There's a free version of this plugin available as well with limited functionality.
The company behind this plugin is CodePeople, a group of independent developers based in Spain. Founded in 2003, the company also publishes a blog with helpful hints and tips for using their plugin.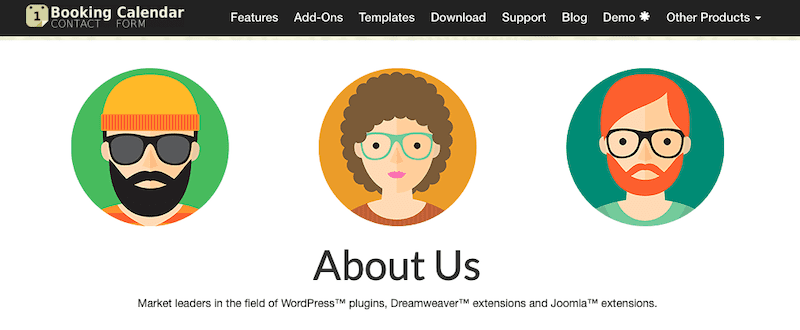 7. MotoPress Hotel Booking Plugin for WordPress
MotoPress Hotel Booking plugin for WordPress was developed specifically for hotel business needs. It's a complete solution for creating a beautiful accommodation listing and enabling online instant bookings.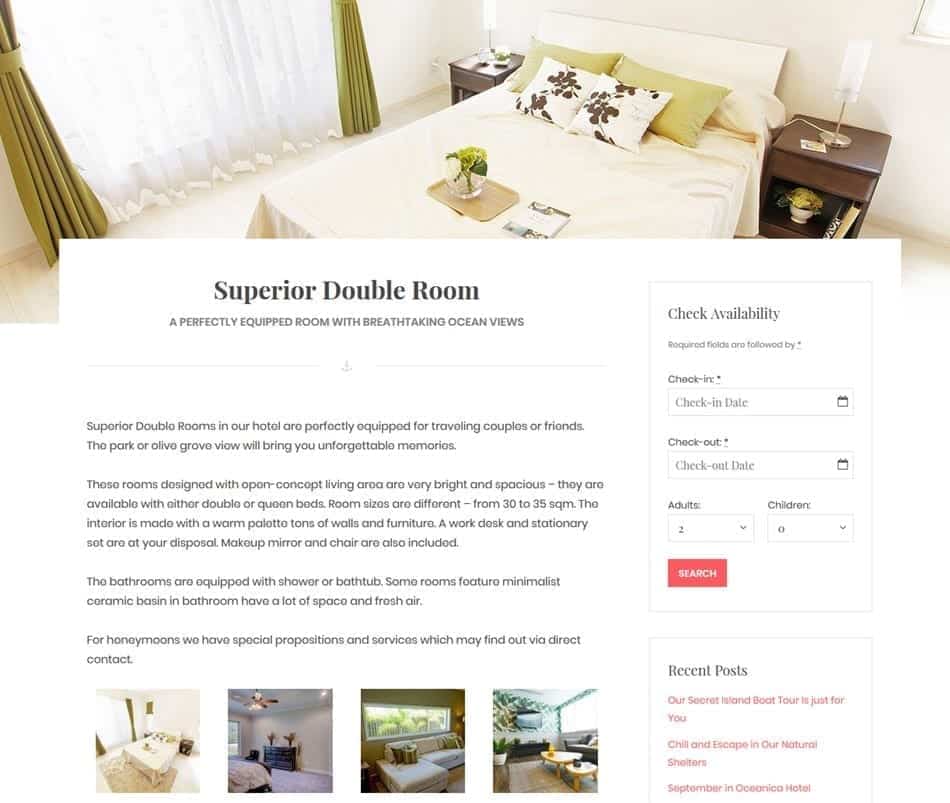 This WordPress booking plugin can be used for hotels, apartments, bed and breakfast establishments, hostels, and so on. So, if you are building a hotel site on WordPress and don't want to wrack your brain with any workaround like a multipurpose booking calendar, this plugin is going to fully suit your needs.
Moreover, the plugin is an easy-to-use tool even for non-tech folks, where the most difficult thing is just adding and customizing the shortcode.
Already running WooCommerce? Well, they also have a Hotel Booking WooCommerce Payments plugin that turns your Woo store into a hotel booking site.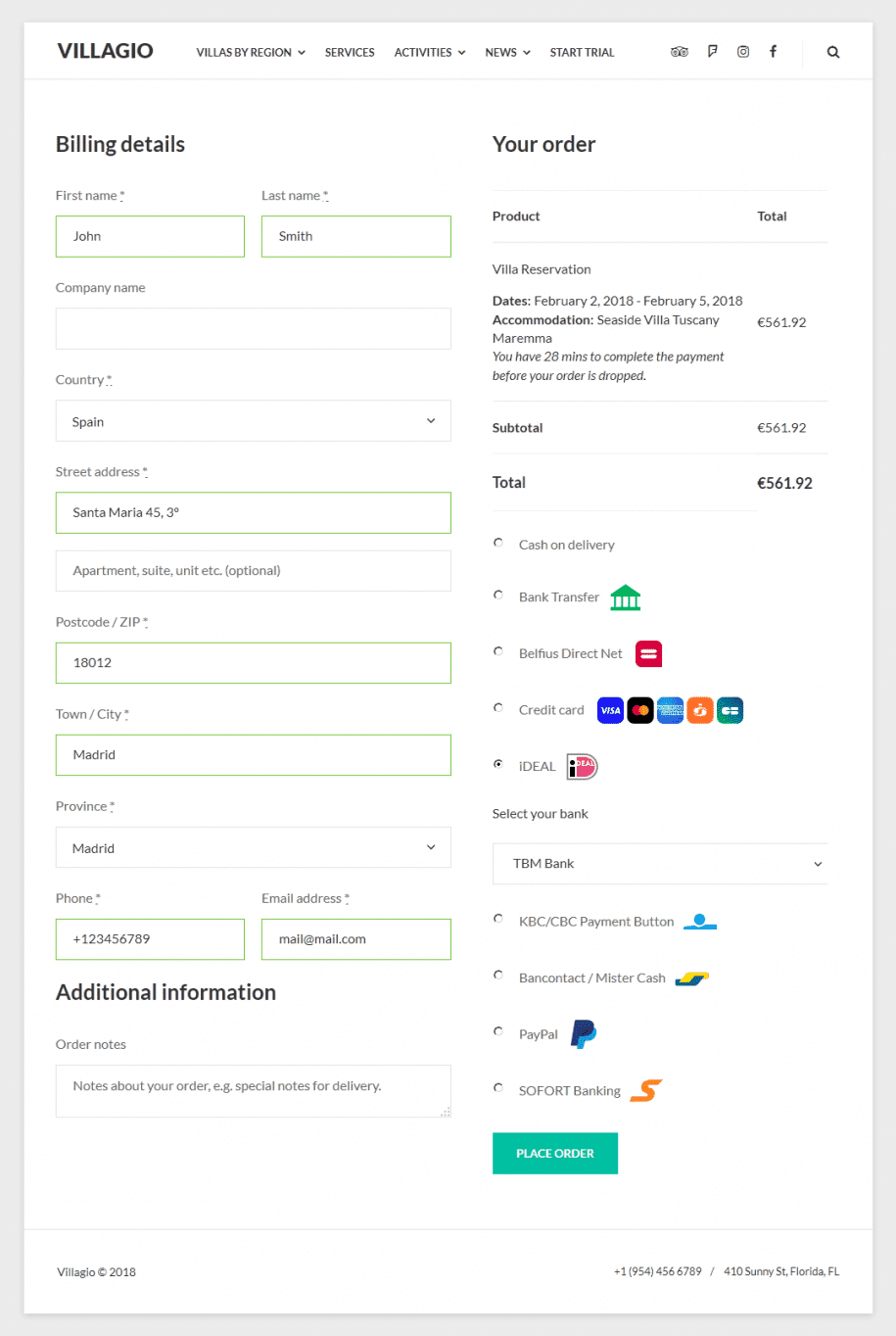 And then there's their Hotel Booking Reviews plugin that builds trust with travelers by featuring real user-generated reviews.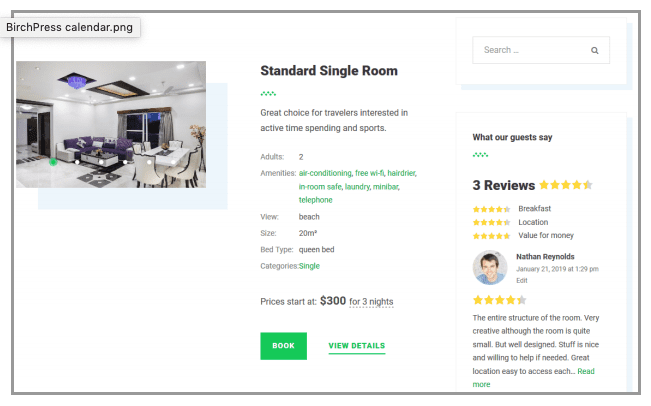 Finally, there's their Hotel Booking Payment Request plugin. This add-on entirely automates your workflow and requests and collects rental payments from your clients.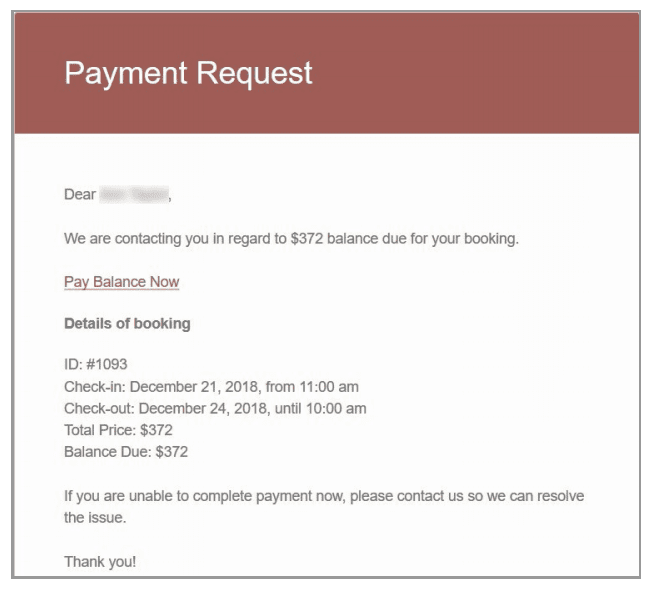 Let's list the main features:
Real-time search availability form (check-in and check-out, a number of adults and children), which is also widgets-ready.
Easy property reservation form for travelers.
A smart algorithm of accommodation search (including recommended rooms).
Ability to feature all accommodation details: amenities, capacity, sleeping arrangements, photo galleries of accommodations, extra services, view, etc.
Flexible pricing system: seasonal pricing and rates.
Selling extra hotel packages and services.
Automatic and manual booking confirmation modes (with or without payments).
Online and offline payments accepted including PayPal, 2Checkout, Stripe, Braintree, Beanstream/Bambora etc.
Admin and user email notifications.
Discount coupons.
Automatic bookings synchronization across online travel managers like Airbnb via iCal interface.
Professionally translated into multiple languages and custom translation ready.
A handy backend bookings calendar.
Actions and filters for developers.
Flexible booking rules (block the entire lodging establishment or individual accommodations for a certain period of time).
And then there are the fantastic testimonials for the plugin. People seem to have big praises after MotoPress made booking easy and efficient for them!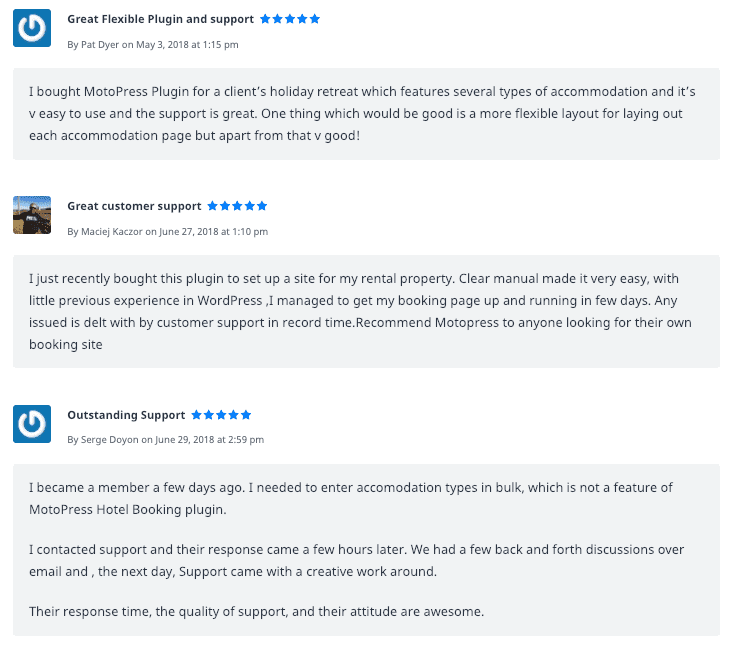 MotoPress also maintains social media accounts and appears to update them regularly with information on new plugins, blog posts, and more.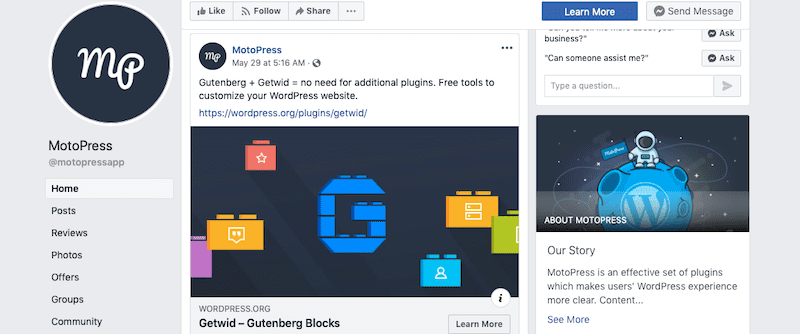 8. Booked

Booked comes with some terrific features and is well worth checking out. Just take a look:
You can use Booked with WooCommerce to let your visitors purchase appointments and checkout using WooCommerce.
Your website's Booking Agents have a profile screen that lets them manage their incoming appointment requests.
Display your appointments on Google Calendar, Outlook, Apple Calendar, etc with an iCal feed directly from your site via one-way sync.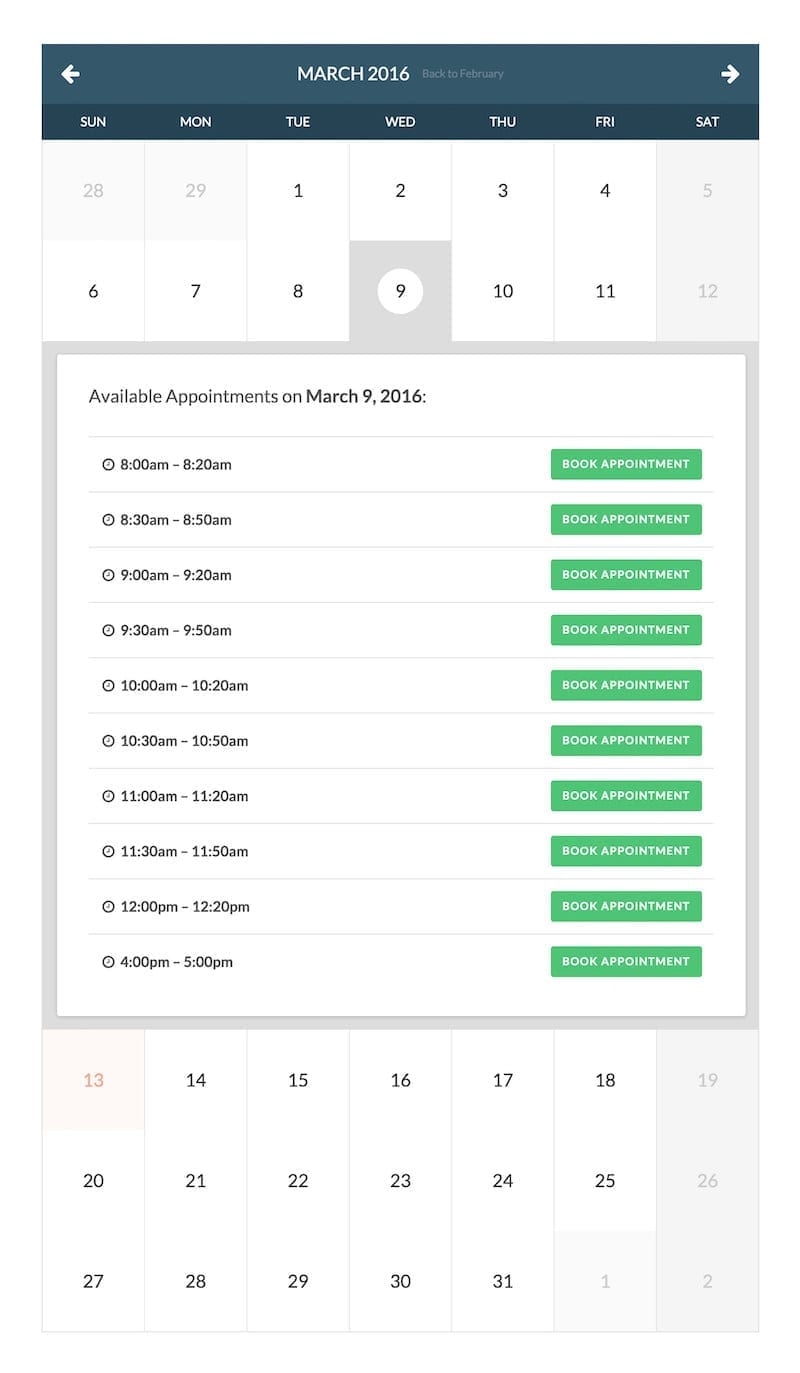 Six months of support is included in the purchase price as are lifetime updates. This WordPress appointment booking plugin was developed by Boxy Studio, which is owned by Justin Scheetz. The company was actually acquired by Orbweaver within hours of this writing.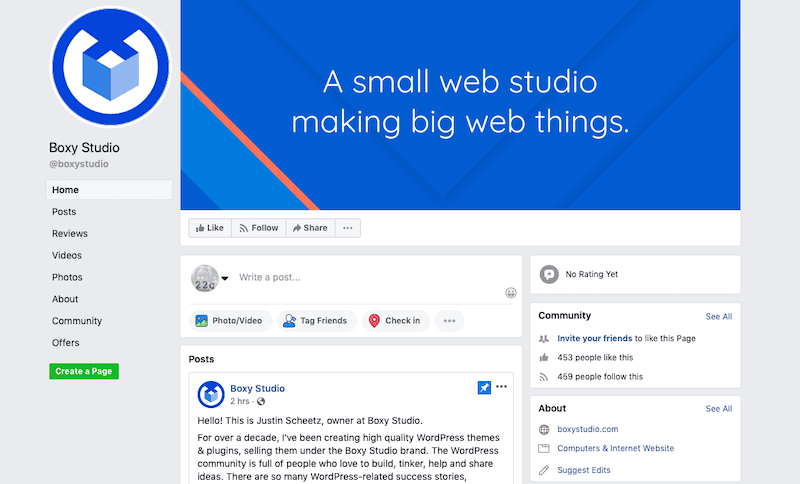 Free Booking Plugins For WordPress 📋
The easiest way to implement booking functionality on your site is a plugin. Here's a list of the very best free plugins. Some have premium upgrades, but you can test and use the basic functionality on your site without upgrading.
12. WP Booking System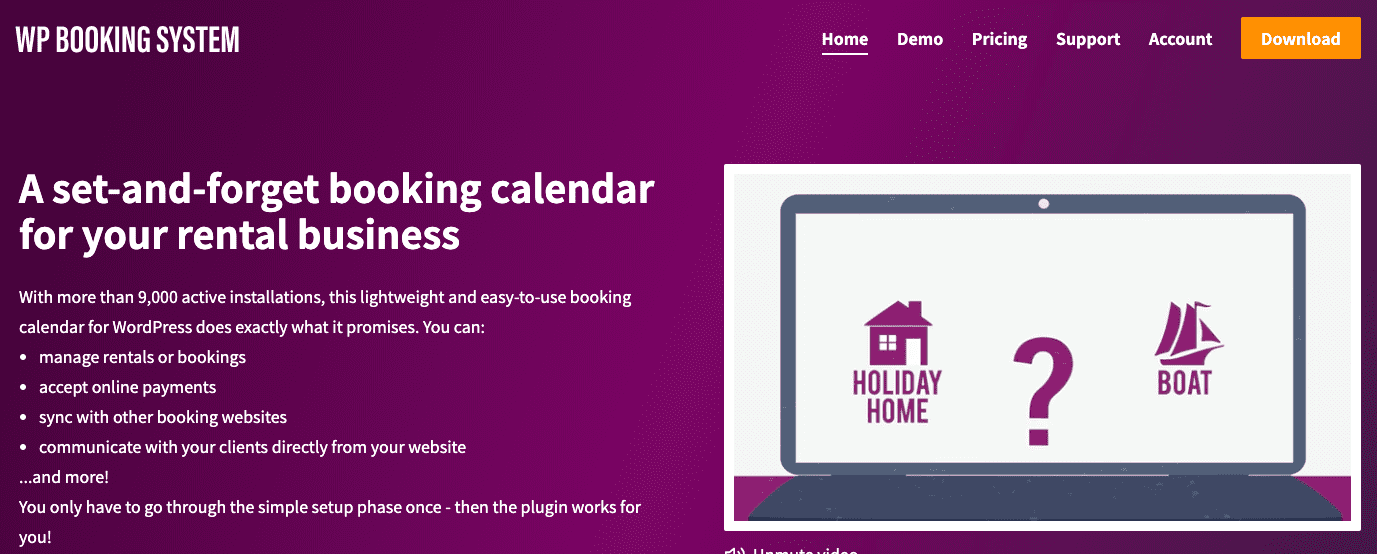 If you're trying to rent your holiday or vacation home to tourists, WP Booking System is the perfect free plugin to use on your website. You can easily display the availability of a holiday home, bed & breakfast, individual room, office, or even a piece of equipment.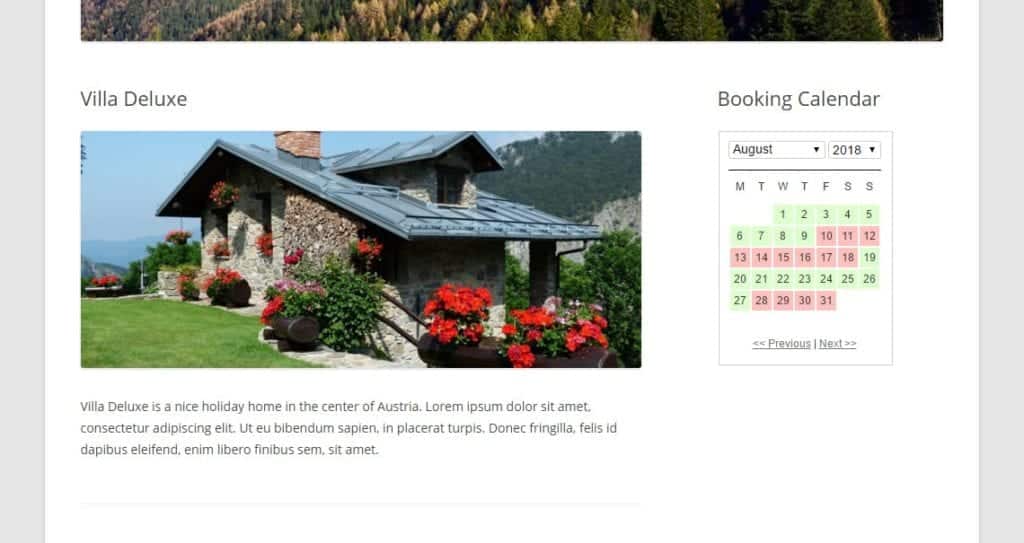 The free version of this plugin gets you all the basics you'd need to keep track of all the bookings on your website. If you're interested in advanced editing and publishing options or custom legend items, it's easy to upgrade to the Premium version as well.

This appointment booking plugin is open-source and is currently maintaining a 4.8 out of 5-star rating on the plugin directory with over 10,000 active installations.
13. Booking Calendar

Booking Calendar is quite simple, unique and very user-friendly! Here are some of its standout features:
Booking Calendar is easy to use.
All bookings received and plugin settings are stored in your database. No need for third-party account(s).
Customizable and sleek design of calendars, which means you can easily match it to your site's design.
Responsive front end and back end design so the booking plugin will appear well on all devices.
A robust Admin Panel that lets you manage and display all bookings in a Calendar Overview.
Easily import events from your Google Calendar to your booking admin panel.
Quickly add bookings from your admin panel to your Google Calendar.
This WordPress appointment booking plugin touts an impressive 4.7 out of 5 stars on the plugin directory:

14. Easy Appointments WordPress Plugin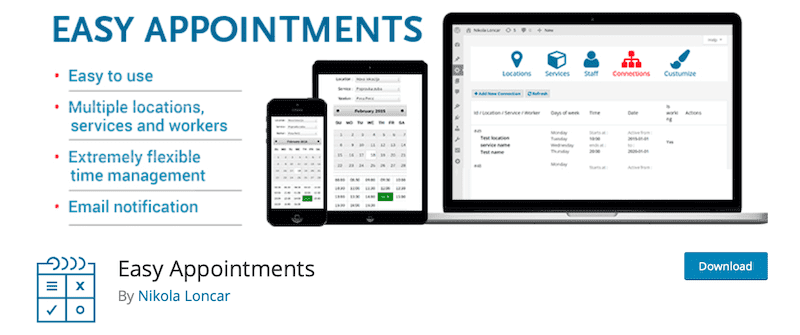 The Easy Appointments WordPress plugin makes it easy to add an appointment and a WordPress booking system to your website. You can set it up to manage appointments for many different types of services, locations, and employees. You can also choose from a single column layout: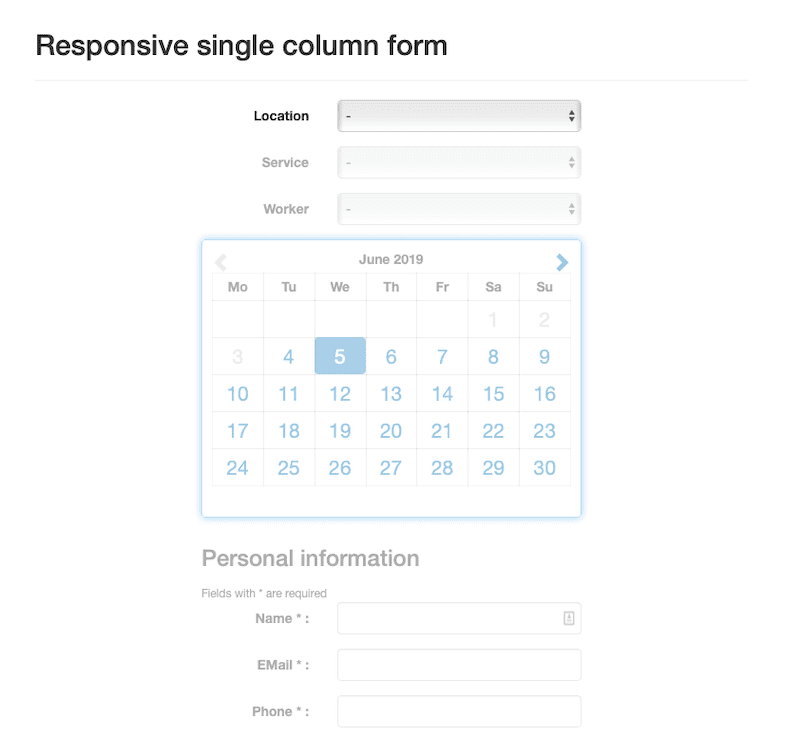 Or two column layout: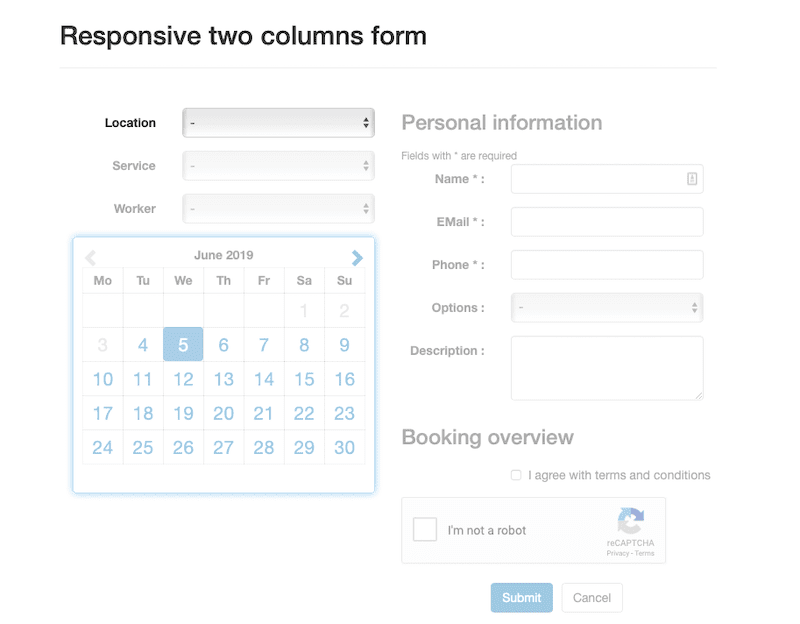 You can also add multiple time slots, send out email notifications, custom fields, internationalization, the ability to export to CSV and more.
Though the Easy Appointments WordPress plugin is free, there is a premium extension available that adds syncing ability and integration with Google Calendar, SMS, iCalendar, and WooCommerce.
The plugin currently has numerous positive reviews on the plugin directory: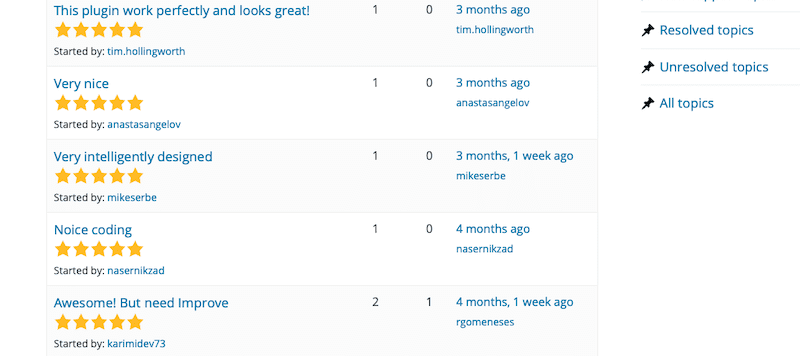 This plugin was developed by Nikola Loncar, a WordPress developer, who maintains a personal blog with helpful development tips.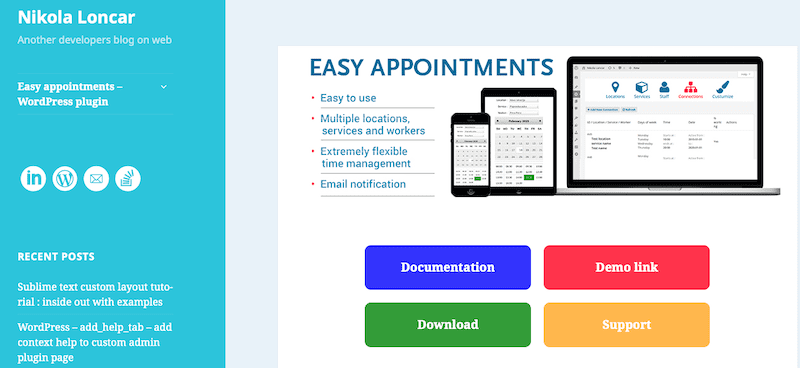 15. Sagenda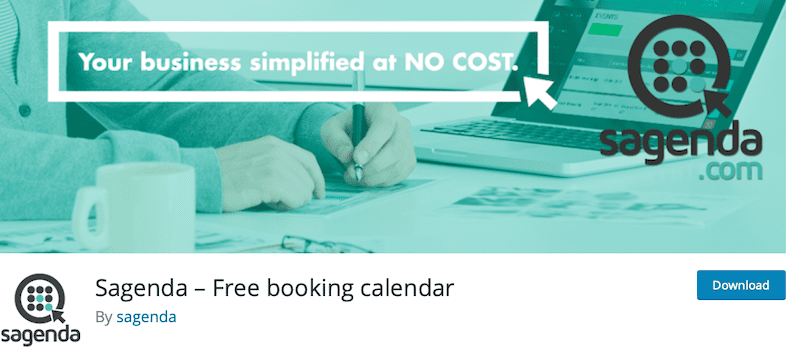 Sagenda is one of the premier online booking software tools that can help your website visitors reserve meetings and appointments with you or your business online. It gives your visitors the ability to choose both the date and the time of their appointment. Booking for your business can now be done 100% online!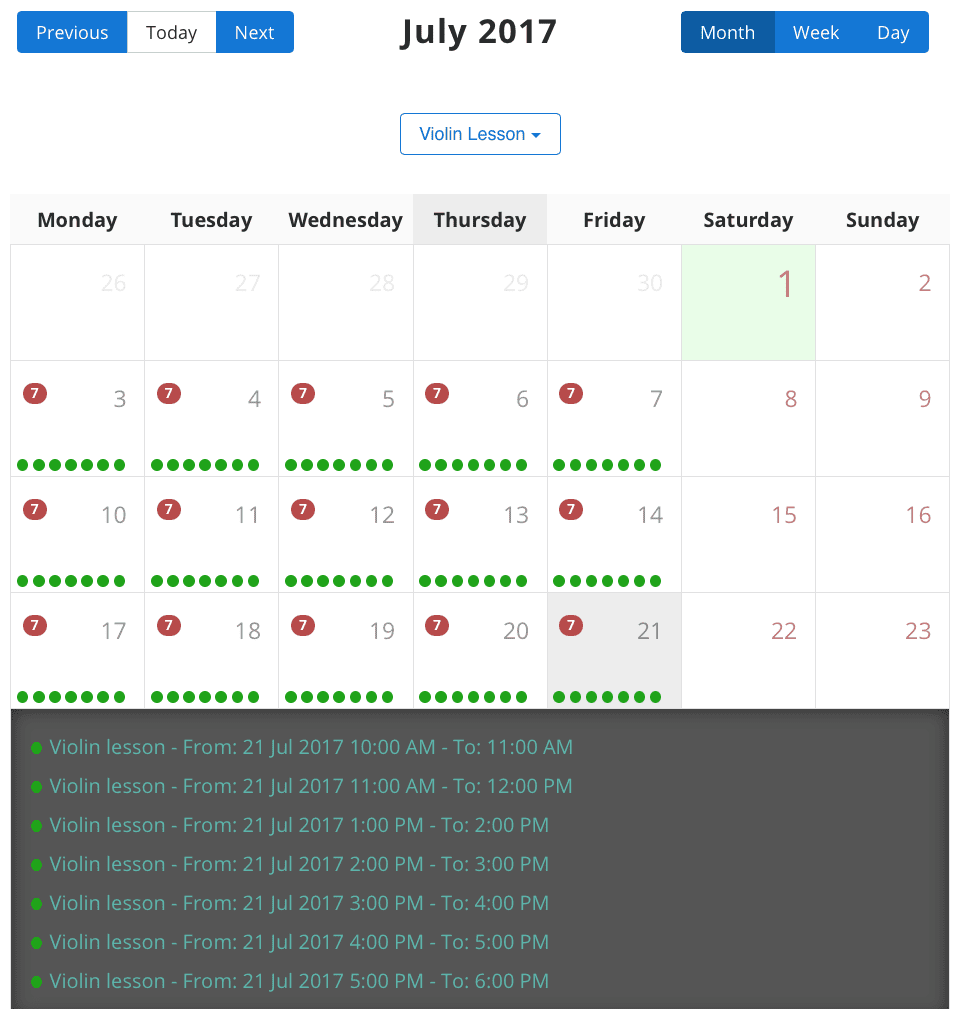 There is no cost for your clients or you. This makes things easier for website owners on a tight budget.
You can process unlimited bookings/customers through the plugin. There are no limits.
Sagenda doesn't display ads, so you know the user experience for your visitors will be excellent.
You can use Sagenda shortcodes to easily implement the booking plugin on any page or post.
You can even install and have the plugin working on your WordPress site within 2 minutes.
Sagenda was created by a Swiss company called Iteration. They have a sparse website and social presence but keep their plugin up-to-date.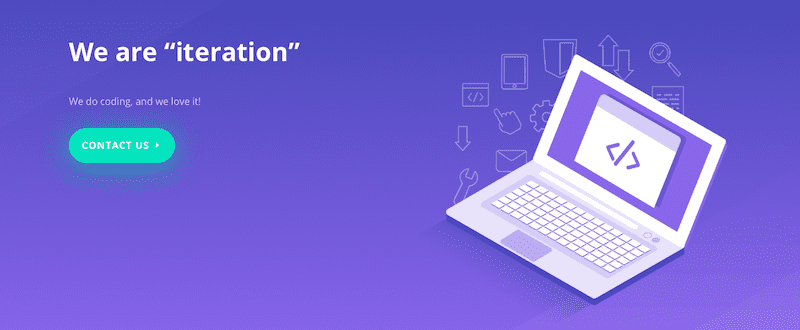 Hotel Booking Plugins for WordPress 🏨
While any of the booking plugins discussed here would likely work for a hotel or bed and breakfast website, sometimes you might want something a bit more tailored to your specific needs. Two hotel booking plugins for WordPress have already appeared on this list: MotoPress Hotel Booking Plugin for WordPress and WooCommerce Booking and Appointments.
If you have an online hotel booking system and are looking for a WordPress plugin, free downloads are always available. However, be sure to look at what you get with free. It may not do exactly what you need as hotels can be high volume.
Both of these plugins offer features that cater to the needs of hotel owners and managers, including:
Flexible booking options with price variations for different time periods. Think higher prices on weekends and holidays.
Cancellation windows
Payment integration
Real-time availability search for rooms
The ability to set booking rules
Filters and search capability for accommodation details (number of beds, pets, non-smoking, etc)
A few other hotel booking plugins for WordPress you might want to check out include:
16. HBook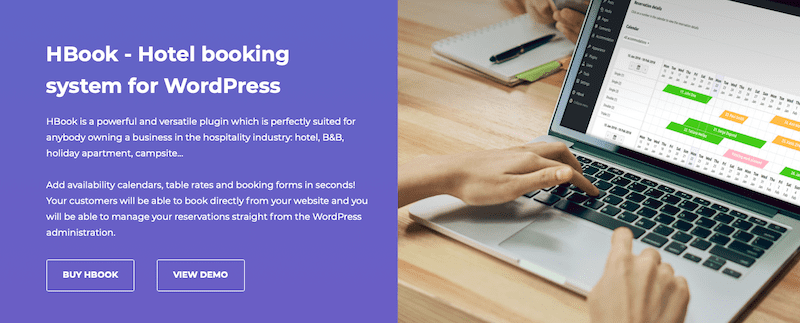 HBook is an easy-to-setup WordPress reservation plugin that is suitable for any hospitability-based business. With it, you can create available calendars, booking forms, and table rates for hotel rooms, B&Bs, apartments, and more.
HBook offers flexible booking options
Cancellation options
Real-time availability search for rooms
The ability to set booking rules
Filters and search capability for accommodation details (number of beds, pets, non-smoking, etc)
17. Hostel PRO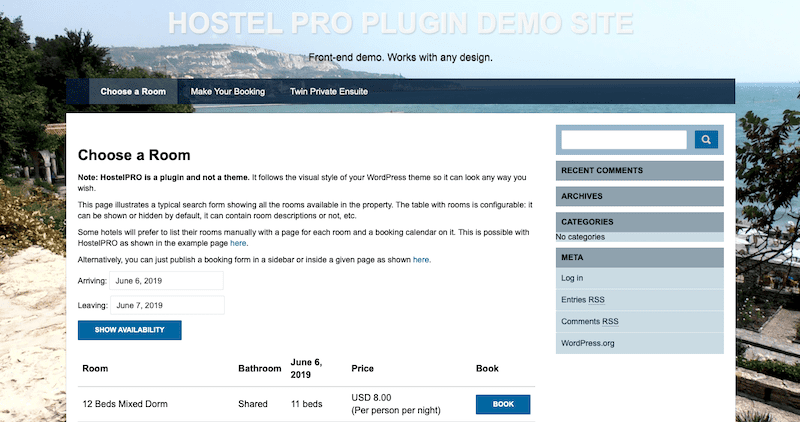 Hostel Pro is a hotel booking plugin for WordPress that caters specifically to smaller hotels, hostels, and B&Bs. This plugin makes it easy to create room descriptions, availability calendars, accept online bookings, set up payment integration, as well as backend reports and analytics to aid in evaluating how your business is doing.
Flexible price management.
Reports and charts analytics
Room calendars
Real-time availability search for rooms
Customizable booking form
Doctor Appointment Plugins for WordPress 🥼
If you run a medical clinic or doctor's office, sometimes being able to accept appointments through your website is a beneficial convenience to offer your patients. In those cases, a doctor appointment plugin for WordPress can definitely help.
There are a few plugins featured in our list that would work well for doctor's offices including Easy Appointments and Amelia, the latter of which offers an example of how it would work in a dermatological setting: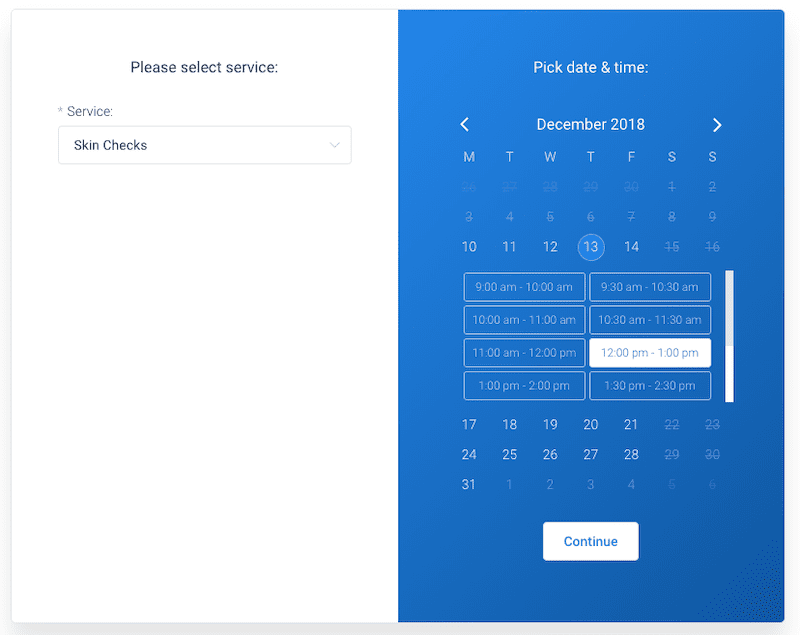 A few features you'd want to look for when selecting a doctor appointment plugin for WordPress include:
Customizable service options
Multiple calendar views
Email and/or SMS notifications
Cancellation policies
Multiple worker/employee (especially applicable for medical practices)
Restaurant WordPress Reservation Plugins 🧂
Restaurant owners, listen up! As more and more people use online ordering services for restaurants (think GrubHub and Postmates) it's vital that you get a piece of that market by offering online reservations. This can include reservations for sitting down in the restaurant or ordering takeaway.
The list above already includes the restaurant WordPress reservation plugin Calendarista, which can easily be used for taking reservations: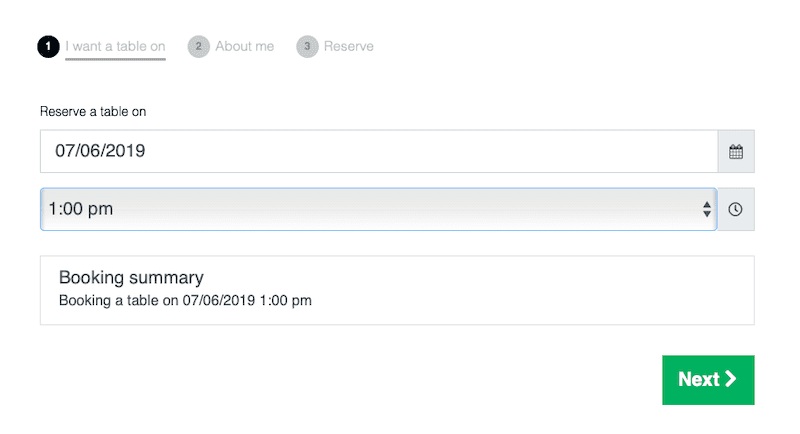 Any plugin you select needs to include the ability to:
Reserve a table on a specific date and time
Provide confirmation of the booking
Include payment integration
Set availability limits to avoid overbooking
Wrapping Up 👋
This list of plugins should provide a comprehensive list to get you started booking appointments or reservations on your WordPress site. Every website is different, so try a few that you think will work best for your unique situation and go with one that fits your website best.
And if you ever need help adding booking plugins, setting up a WordPress booking system, or maintain a WordPress site in general, WP Buffs has your back. You'll definitely want to check out our care plans or, if you run an agency, consider white-labeling with us. You won't regret it!
Want to give your feedback or join the conversation? Add your comments 🐦 on Twitter.