SEO is exhausting.
Really – even for our search engine marketers here at WP Buffs.
First, you have to be producing some really great content. If people don't love what's published on your website enough to sign up for your newsletter or at least come back in the future, bringing in traffic from search engines won't help you.
Then there's on-page SEO. You need to use the right WordPress SEO plugins make sure your page title, headers, meta data, image alt tags and more are optimized on every new page you publish.
But you're not done yet. You need to reach out to others in your industry to help them promote your content. Not to mention getting all your content indexed by Google, winning links back to your website, and much, much more.
Who knew taking care of your SEO checklist would be so time-consuming? It's a full-time job and then some!
But like most challenges, people overcome it by reaching out to others for support. Although the realm of search engine optimization has its fair share of shady characters, there are many people out there who want to help you grow your website.
That's where the top SEO forums come into play.
And if you're looking for some technical help with your website, here are 15 WordPress maintenance companies that can help you out.
The Advantages of Using SEO Forums
While reaching out to individual search engine marketers or digital agencies is an option, seeking answers in forums has its benefits.
Not everyone in SEO is looking for work! Many of those people hang out in forums answering questions, so there's no expectation that providing you free information means you'll hire them to do the work.
These forums already have hundreds if not thousands of questions and answers, so someone may already have the solution you're looking for.
If you choose to, you can remain anonymous. No need to reveal your real identity if you don't want to.
These SEO forums will help you find answers to simple SEO questions. But if you need real help running a successful inbound marketing campaign, reach out to Pathfinder SEO. They're one of our premium SEO partners who we trust for SEO advice and if you want to drive meaningful traffic quickly, we highly recommend putting your trust in them. They've got your back!

What to Watch Out For
Whenever you access any online forums, it's important to stay vigilant of spam and malicious activity.
Be careful before you click on links. Make sure the person who posted it seems trustworthy.
Only interact with people who have completely filled out their profile. Many spammers will create incomplete accounts, and filling yours out means you're there for a good purpose.
Keep an eye out for bad grammar and incorrect spelling. We don't discriminate against anybody who's second language is English, but this could be a red flag.
And if you need a solid WordPress SEO plugin for all the great inbound marketing work you're about to do, check out SEOPress*.


Which SEO Forums Are The Best?
1. SEO Chat Forums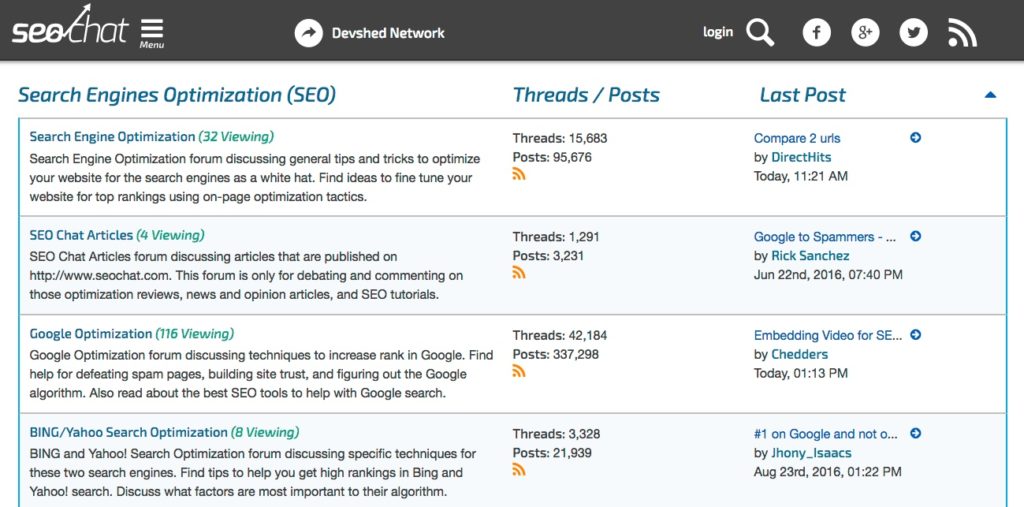 SEOchat is a community dedicated to helping beginners and professionals alike in improving their knowledge around search engine optimization.
Topics include:
Search Engine Optimization (Google, Bing and Yahoo)
Social Media Marketing (Social Chat, Twitter, Facebook and Google Plus)
Pay Per Click (Google AdWords, Bing ads and Facebook ads)
Affiliate Marketing
Content Writing / Marketing
Local Marketing
Keyword Research
Analytics Analysis
Link Development
Conversion Optimization
Mobile Optimization
2. Warrior Forum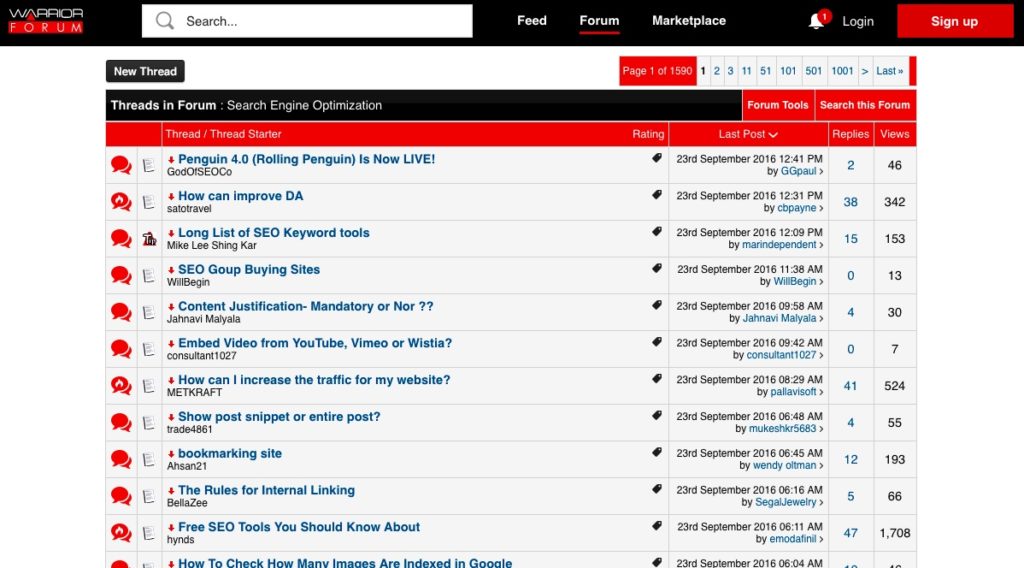 The Warrior SEO Forum lets you post questions and get assistance quickly as well as get advice and answers from SEO experts around the world. Stay current with ranking algorithm changes and search engine updates so your site never gets penalized and you continue to increase visibility, exposure and traffic from the right audience. Learn how you can target new visitors through content and keyword optimization, convert the traffic into sign-ups, sales, calls or bookings.
Discussion questions and topics normally posted in the SEO forum range from introductory SEO topics and help to advanced SEO like XML sitemaps, rich snippets, increasing visibility and traffic, improving page load speed and even ways to avoid malware, black hat SEO, spam and search engine penalties.
Topics include:
Search Engine Optimization
Search engine success factors
Content optimization
HTML optimization
Link building
Rich snippets
Search engine spam penalties
SEO starters guide
Site architecture
Duplicate content
Sitemaps
Writing copy
Copyhackers
Content marketers
SERPs
Panda update
Penguin update
Internet marketing
Content creation
Keyword research
3. The MOZ Q&A Forum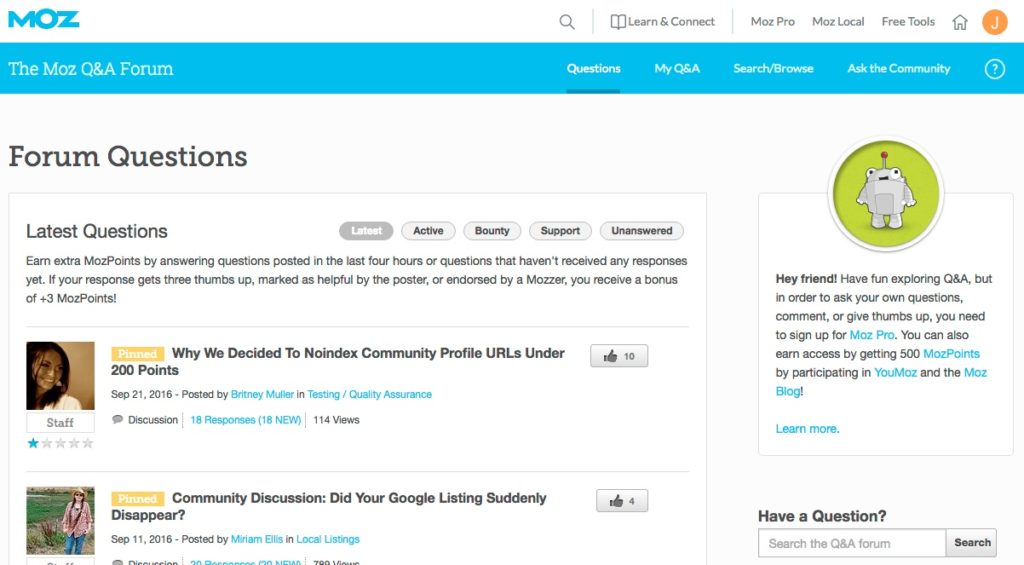 Moz is an SEO-focused digital marketing software company with 35,000+ customers. It's one of the go-to resources for SEOs around the world, and they have a forum where anybody can peruse questions and answers!
In order to be able to ask your own questions, make comments, or give others thumbs up, you'll first need to sign up for Moz Pro.
4. SEO Mastering Forum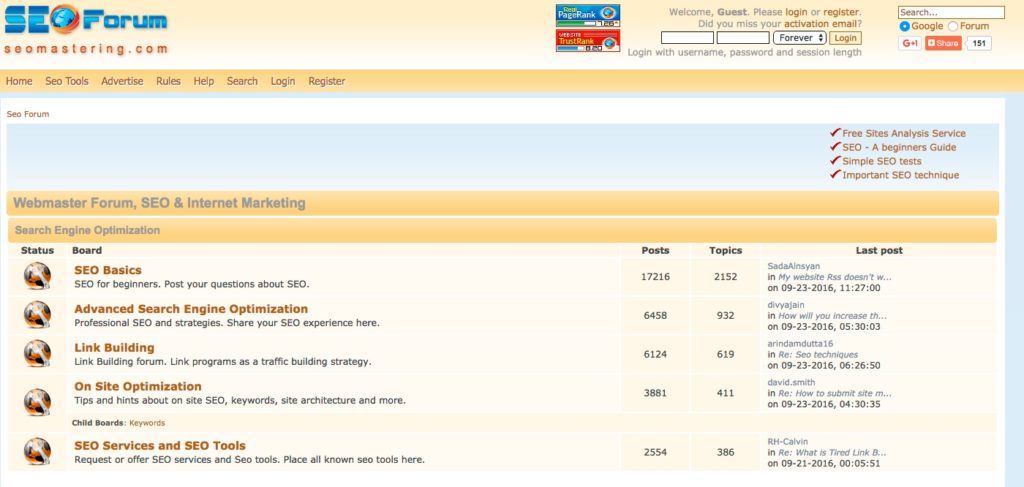 The SEO Mastering Forums are to be used as a place where people can come to learn about search engine optimization and website promotion trends and techniques.
Topics include:
SEO Basics
Advanced Search Engine Optimization
Link Building
On Site Optimization
SEO Services and SEO Tools
Google Search Optimization
Microsoft SEO
Alexa Ranking
Other Search Engines
Facebook Discussions
Twitter Discussions
Pay Per Click
Pay Per View
Directory Submission
Copywriting
Domain Names
Websites
Affiliate Marketing
Online Payment Processing
Blog Promotion
Website Design
Website Review and Suggestions
Web Hosting
Server Administration
Databases
5. Digital Point SEO Forum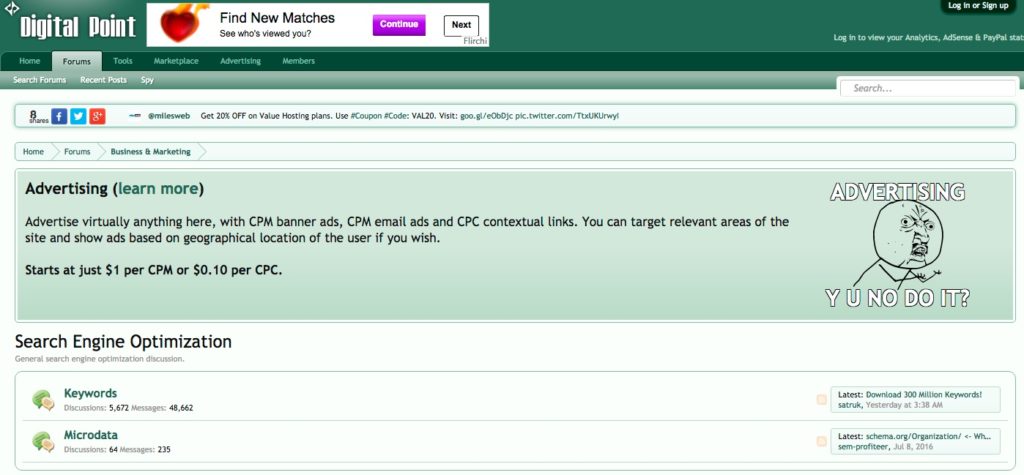 Digital Point is an online community of everything digital. They have a special forum area specifically dedicated to search engine optimization.
6. SEOforums.org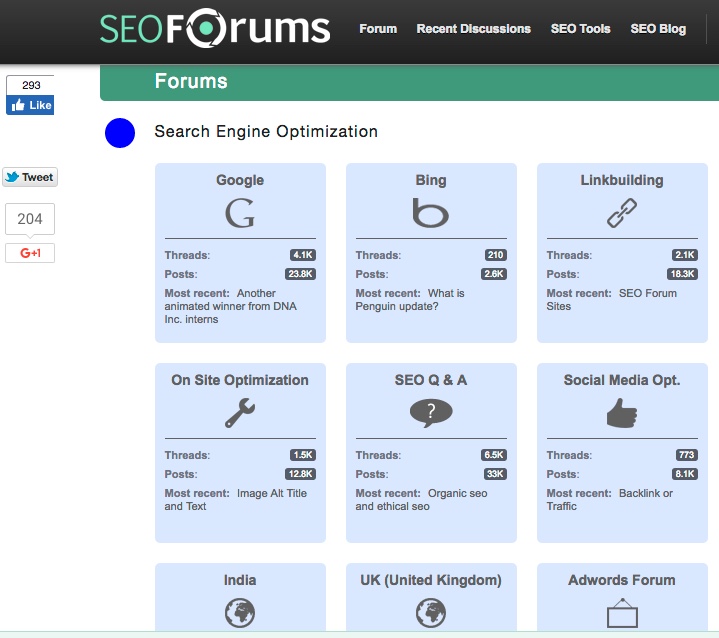 SEOforums.org will help you improve your SEO abilities, learn & share the best SEO strategies, and increase your network within the SEO world. All good things!
Be careful not to buy or sell links, as that strategy of link building goes directly Google's guidelines and may get you penalized!
7. SEO Refugee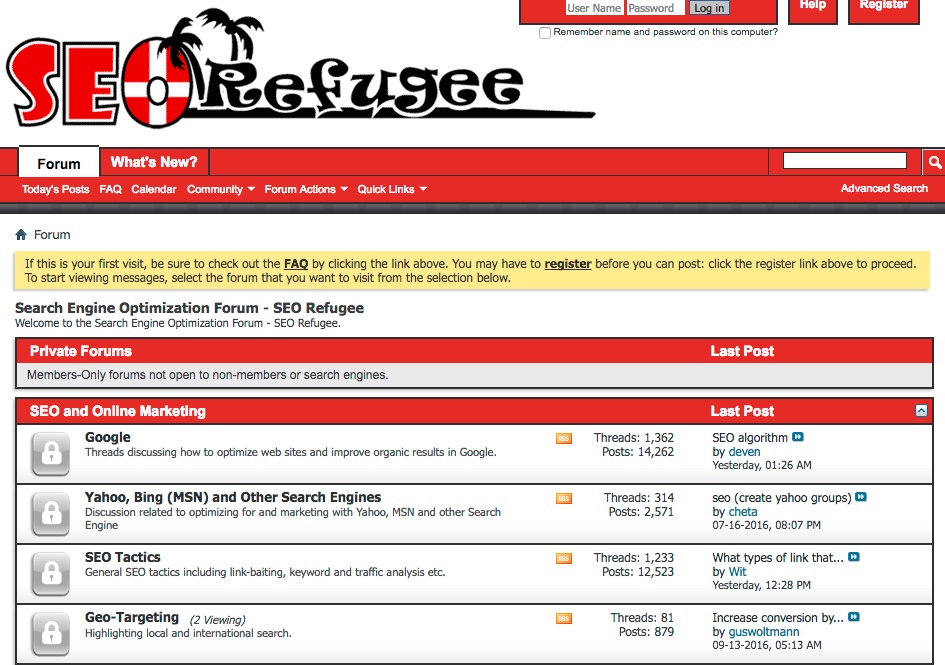 SEO Refugee is another strong SEO forum. They have a lot of topics previously discussed, not to mention some pretty killer spam-prevention statistics.
Always good to know when you register and log in, you won't have to face too much spam!

8. Apex Forum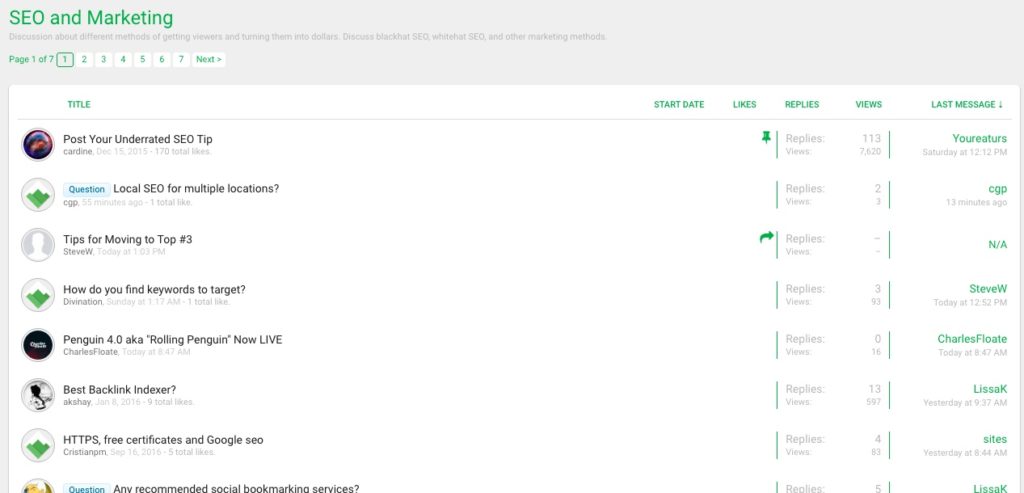 Apex Forum offers discussion about different strategies of getting viewers and turning them into dollars. They discuss whitehat SEO as well as other marketing methods.
Use these forums to your benefit as they're all free to join! Be careful of spam, talk to the right people and you'll have the answers to your toughest SEO questions in no time! And if you'd like a checklist to make sure your current SEO has checked all the boxes, give this a read: WordPress SEO Checklist – 45 Tips for 2017
And if you're looking to get started with some serious SEO, make sure you equip yourself with the proper SEO plugins for WordPress.
Want to give your feedback or join the conversation? Add your comments 🐦 on Twitter.
SaveSave