Most of us interact with the web through a browser. You enter an URL, wait for that website to load, and then navigate from one page to another using links. It's a simple approach, but it's not the only way you can interact with the internet.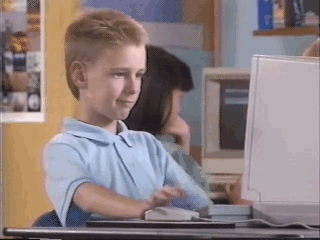 If you work in web development, you're probably familiar with File Transfer Protocol (FTP). In a nutshell, it's a protocol that enables you to download and upload files to your web server, without using a browser. As such, it's going to be ideal if you're maintaining your own website.
Throughout this article, we'll break down how FTP works and what a 'client' is. We'll also talk about which FTP clients work best with WordPress, Windows, and macOS, and teach you how to install them. Let's dig in!
In This Article 🥽
Here at WP Buffs, we help 
website owners
, 
agencies
, and 
freelancers
take care of their websites and that can mean you as well. Whether you are looking after one WordPress website or 1,000, we've got your back!
What is an FTP Client? 👈🏻
An FTP client is a piece of software that enables you to connect to servers using a specific protocol. Most (if not all) hosting providers enable you to connect to your website via FTP using credentials like the following:
Hostname: Your FTP server's address.
Username: In most cases, this isn't the same username you use to log into WordPress, but a unique one.
Password: This will also be unique, similar to your username.
Port: Most servers use port 21 for FTP connections.
Here's a quick example of what those credentials look like within an FTP client:

In the next section, we'll show you how an FTP client functions. For now, it's important to understand what you can use this type of software for:
Uploading and downloading files of almost any type.
Creating new subdirectories within your server.
Troubleshooting your website.
In a nutshell, FTP provides you with a different way you can interact with your website – one that only you should have access to – whereas anyone can see your website using a browser.
With FTP, you can upload and download files en masse and resume the connection is it's broken. FTP also enables you to edit and download files, or to modify their permissions directly.
👓 With FTP, you can interact with your WordPress website in an entirely new way. All you need to get started is to choose the right FTP client for you.
Click To Tweet
Technically, these are all things you can accomplish with the command line too, but FTP clients provide a much more user-friendly approach. If you're going to be working on a website (or you already are), knowing how to use an FTP client is key.
How Does an FTP Client Work? ☝🏻
By and large, most FTP clients work similarly. You'll first need to enter your web host's credentials, then wait for it to establish a connection, before finally getting to work. Here's an example of what you should see when you connect to your website via FTP: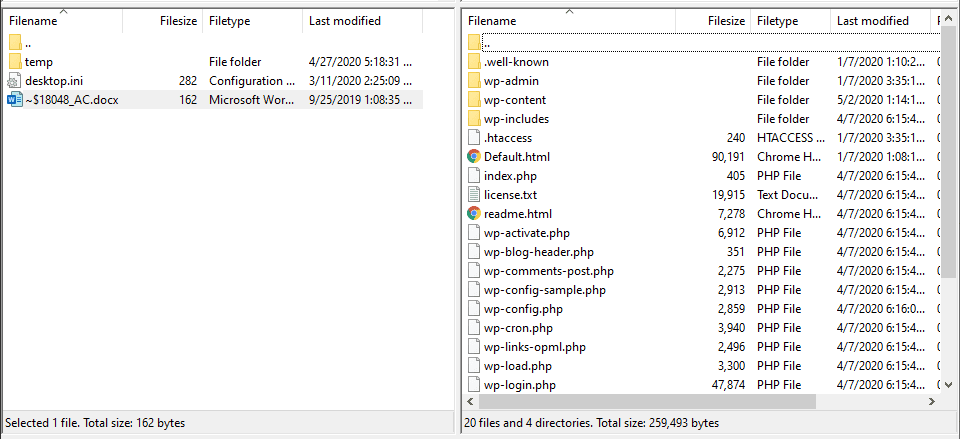 To the left, you have a local directory on your computer. On the right, you can see a WordPress website's root folder. This directory includes all the files that enable WordPress to work, you can interact with all of them using an FTP client.
For example, you can right-click on any file to open, edit, download, or delete it: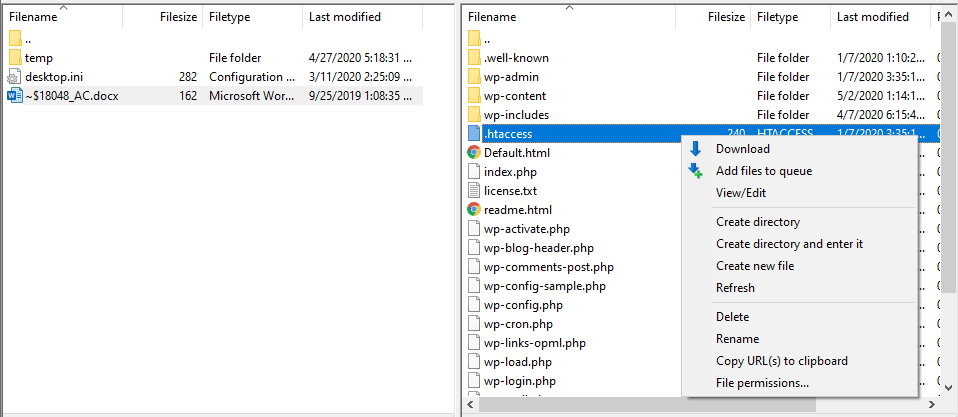 In a nutshell, you get access to all the same functionality as when you interact with a file locally. Most FTP clients also enable you to drag and drop files between your computer and web server, to simplify transfers:

One of the most useful features in most FTP clients is the ability to modify permissions for your server's files and directories:

Permissions determine who can interact with your server's files and in what capacity. To give you an example, you could block access to your WordPress Uploads folder by removing Read permissions for regular users.
When you combine these features, FTP is one of the most versatile tools you need if you're going to run a website. Without an FTP client, you're going to miss out on a lot of ways you can interact with WordPress.
What is the Best FTP Client to use with WordPress? 🥇
You have a broad range of options when it comes to FTP clients, and let's be clear, they all work with WordPress. What Content Management System (CMS) you use doesn't preclude you from using practically any FTP client you want.
Given this, your choice of web host can impact whether you get FTP or Secure File Transfer Protocol (SFTP) access. As the name implies, SFTP is a more secure version of the protocol, which works almost identically in practice.
However, with SFTP you may need to specify a different port and potentially hostname. Most web hosts are clear about which protocol they support, and they enable you to create FTP accounts from your hosting control panel: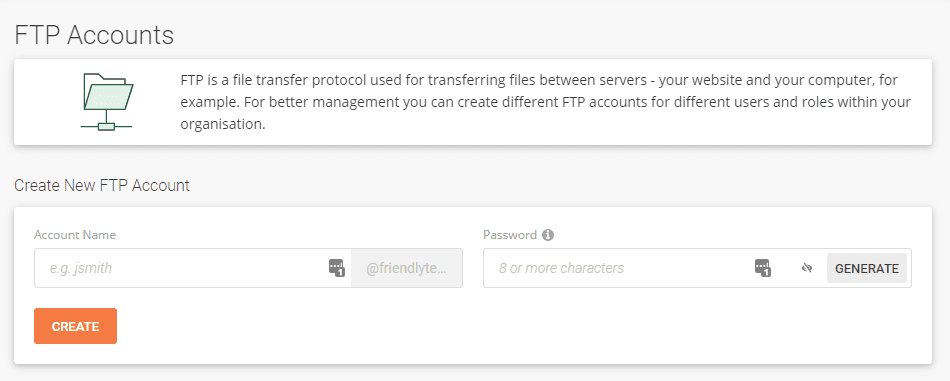 Almost every FTP client supports both that protocol and SFTP within the same package. This means neither your choice of CMS or the protocol your web host supports should impact your choice of FTP client.
The 4 Best FTP Clients for WordPress Users (2021)
As such, the decision for which FTP client you choose comes down to two factors:
The OS you're using
Whether you want access to any extra features
To keep things simple, we're going to introduce you to our four top picks for FTP clients. Most of them are multi-platform choices, so your decision may come down to the features you want to take advantage of.
1. FileZilla (Windows and Mac)

FileZilla is the FTP client we've been using throughout this article so far. It's what we'd call a no-nonsense option, with a sober interface that's easy to pick up and navigate, even if you're new to using FTP.
With FileZilla, you can save credentials for multiple FTP servers, connect to any of them with a click, and configure when your connection should time out. This is in addition to the base FTP features we've talked about so far.
The best part is FileZilla is open-source software. When it comes to FTP clients, all the best options are free, so you're in luck!
Price: FileZilla is open-source software.
2. Cyberduck (Windows and Mac)

If you want to use an FTP client that offers as much functionality as possible, you may prefer Cyberduck to FileZilla. With this client, you get access to all the basics – you can connect to your FTP server, interact with files, and manage multiple sets of credentials.
However, beyond this Cyberduck comes with a lot of extra features:
When you put these features together, what you get isn't so much an FTP client as a set of tools for website management. If you rely heavily on cloud storage services, Cyberduck is a much more attractive option than FileZilla. Plus, it has a much cooler name.
For development teams, Cyberduck's advanced suite of tools provides you with far more options to manage web projects. What's more, it's all part of an open-source package, which makes it even better.
Price: Cyberduck is open-source software.
3. ForkLift (Mac)

ForkLift is very different from both the clients we've seen so far. For one, it's premium software. Second, it's not actually a dedicated FTP client. With ForkLift, you get to use a dual-panel file manager that integrates seamlessly with macOS.
However, the file manager supports multiple types of remote connections and protocols, including FTP, SFTP, Google Drive, Amazon S3, and more. If you want to use an FTP client that integrates tightly with your OS of choice, ForkLift could be ideal.
Price: A single-user license for ForkLift costs $29.95.
4. WinSCP (Windows)

WinSCP isn't as pretty to look at as Cyberduck or ForkLift, but it gets the job done. Plus, it packs in a few additional features over FileZilla, which is the closest to it in terms of style and functionality.
With WinSCP, you get a standalone FTP client that comes with a built-in text editor, file previews, and integration with Amazon S3. Plus, the client supports scripting and task automation, which could make it an excellent option for developers.
Price: WinSCP is a free FTP client.
How to Install an FTP Client for Mac 🚀
Once you choose an FTP client, you'll need to install it. The process is simple, regardless of whether you're using macOS or Windows, and it starts with downloading the respective files from the client's home page.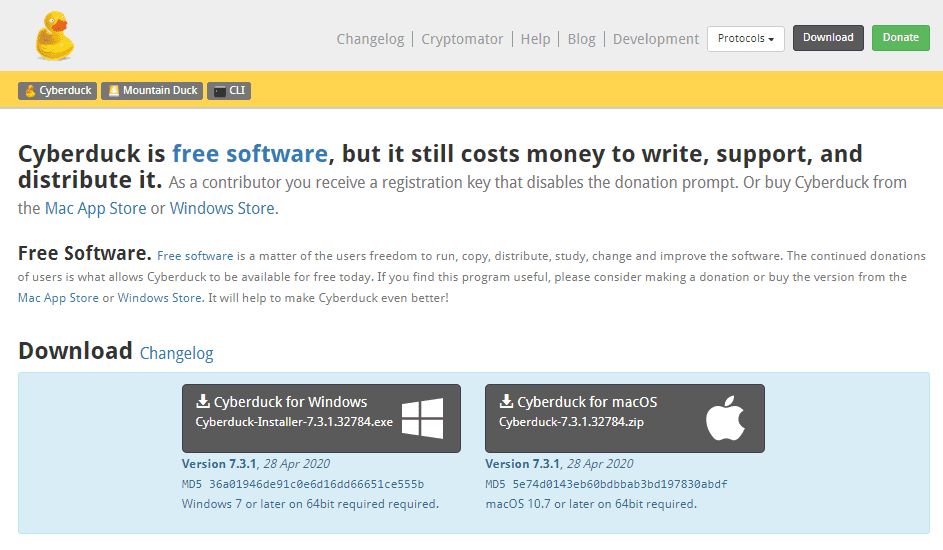 If you want to use Cyberduck, the application's installer comes in a zip file. You'll need to extract its contents and drag them to your Applications folder: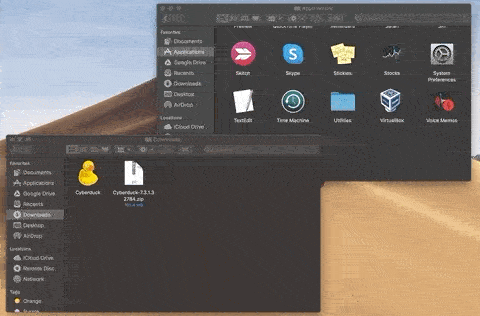 Once the file is there, you can simply double-click on it to start the program and connect to your FTP server.
How to Install an FTP Client for Windows 🌁
Once you have the client's Windows installer, simply run the program like any other application: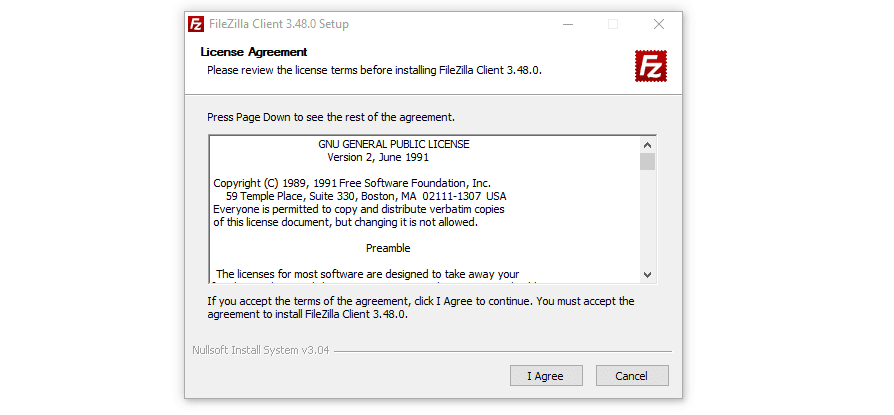 There will be multiple screens of options before you complete the process. In any case, the installation shouldn't take more than a few minutes. Once the FTP client is ready, you can open it using a shortcut or through the Start menu.
Wrapping Up 🚗
If you're running a WordPress website, you'll need to use FTP sooner or later. This means you'll need a standalone client and you have plenty of options to pick from. Let's go over them quickly:
The best FTP client for Mac: ForkLift offers a nice seamless experience for Mac users, but you get a lot more features from free options such as FileZilla and Cyberduck.
The best FTP client for Windows: FileZilla is our top choice if you want a client that's easy to use and Cyberduck is a solid pick for power-users.
The best free FTP client: Almost all the clients we covered in this article are free and our top pick due to ease of use would be FileZilla.
A great FTP client will make your life a lot easier. However, having access to premium maintenance services also goes a long way towards improving your website. With WP Buffs and our WordPress Care Plans, you get a team that can help you take care of all your site's needs!
Want to give your feedback or join the conversation? Add your comments 🐦 on Twitter!
Image credit: Unsplash.