It doesn't matter who you are or what role you play in the lifecycle of a WordPress website. Owner, developer, blogger, SEO, admin. If you have access to the WordPress admin and dashboard, your WiFi connection could potentially be putting your website, the business behind it, and the customers in front of it at risk.
The last thing you want is to discover your WordPress site was hacked because you hadn't properly secured your session. To spare yourself the time repairing the hacked site and apologizing to the owner of the site, why not add a VPN to your workflow?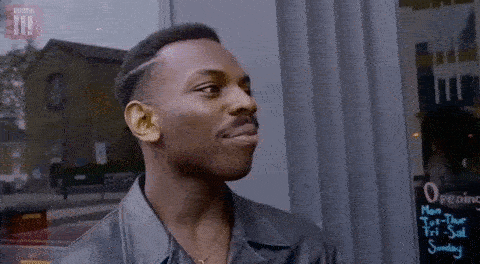 In the following guide, I'm going to explain what a VPN is, what role it plays in WordPress, and how you can go about getting a free VPN download for all your devices.
What Is a VPN and Why Do You Need It for WordPress?
You go to great lengths to secure the connection between your WordPress website's visitors and your server. One of the tools you use to do this is an SSL certificate, which encrypts browser sessions at the server-level. You can also use a CDN plugin to add an additional encrypted server layer between visitors and your website.
On top of everything you do to create a secure browsing experience for visitors, you should be thinking about how your device might potentially pose a threat to them… and how to protect them from it.
This is what VPNs are for.
What Is a VPN?
VPN stands for "virtual private network." It basically works the same as a CDN or SSL certificate in that it adds an encrypted layer between two entities.
In this particular case, the encryption is placed between the private network, which manages your online session, and the device you're working from (e.g. computer, tablet, smartphone). 🔒 When a #VPN session is enabled and you attempt to visit a website (i.e. the #WordPress login), the VPN server encrypts the information passed between your device and the site. Click To Tweet
If you're thinking this is overkill, I assure you, it's not. Especially for those of you who don't work from an employer's office.
Many employers go to great lengths to protect the data shared throughout their company; between management, employees, clients, business partners, prospective hires, and so on. And they do this by laying down an airtight security protocol behind the scenes. For employees allowed to conduct business off-site, these employers may grant them access to a company VPN in order to keep all sessions safe.
When you work from home or work from remote locations like a co-work space or coffee shop, you rely on public WiFi to connect you to the web (and, consequently, WordPress). Even if you purchased professional-grade WiFi for your home, there's no guarantee it's totally safe from prying eyes without the help of a VPN. And you most definitely will need one if you work off-site using publicly accessible WiFi with a shared password.
As a WordPress professional, it's tempting to take your work wherever you go. To the library, on vacation, in the waiting room at the auto body shop, and so on. And even if WiFi is seemingly abundant and free at these locations, "free" comes at a price. And that price is security.
If you need to connect to and work within WordPress and you work over an unsecured Internet connection, then you need a VPN. If you're worried about the cost of adding yet another tool to your workflow, don't be. I'm going to talk about the best free VPNs for WordPress professionals shortly.
First, let's dig into the benefits of using a VPN for WordPress.
What Are the Benefits of Using VPNs for WordPress?
Before we talk about the best free VPNs for WordPress, let's briefly talk about the key benefits:
Security
With a VPN on your side, you can protect your website from anything malicious that tries to sneak through from your device.
The VPN protects you and the work you do in WordPress through its encrypted layer, which keeps any info you input into WordPress login credentials, uploaded documents, credit card information, and so on hidden away. Even if your device should become infected by malware, hackers, or bots, you have an extra layer of defense to keep them away from WordPress.
Privacy
Now, what you might not know about VPNs is that they also protect your identity.
The way they do this is by using a geolocation tool that hides your IP address. Basically, you choose from one of their many servers to connect to around the world and the VPN hides your IP address and your location, making it incredibly difficult for hackers to try to uncover your identity and break into WordPress that way.
In conjunction with your WordPress site's SSL certificate, CDN, security plugin, and anti-malware software, a VPN can take your web security strategy from great to nearly unhackable.
The Best Free VPNs (Mac, Windows, Android, iOS)
As with other tools you use to manage security for WordPress, you have a choice of free and premium. While a paid VPN would undoubtedly get you top-of-the-line security and privacy and work without issue, a free VPN can get you pretty darn close. There will, obviously, have to be a trade-off since you're asking the VPN provider to give you access to their secure network to improve your workflow.
So, before I present you with the best free VPNs for WordPress users, I want to quickly cover the kinds of features you should look for. Some of the best free VPN plans may be missing some of these or not deliver them as well as their premium counterparts — and some might sell your data — so take some time to really think about what's most important to you.
Free VPN Features You Need to Know About
As you review the options for free VPNs, cross-check them against these features:
Complex data encryption that provides the right level of security for your needs.
Connection protocols like OpenVPN and SSTP that provide fast and secure browser sessions.
Bandwidth or data caps which are common if you're using free VPNs.
Browsing session logs are destroyed and not saved anywhere, so their records can't be hacked and used as a workaround into your site.
Internet kill switch which gives you the ability to immediately and permanently disconnect a session to a website.
Support for the kinds of devices you want to use the VPN from.
Quantity of devices you're allowed to connect the VPN to.
Server locations that give you a greater choice of where to hide your IP address from.
Quantity of server locations that provide redundancy in case one server gets overloaded with traffic and is too slow to use.
Ease of use in terms of installation and session configuration.
Inclusion of ads which is the VPN service's way of making money (this is common if they don't offer premium plans).
Then, of course, there's the matter of price. Just a reminder: a free VPN will likely come with a trade-off for at least one of the features above.
If…
You don't want to be shown ads as you work over a VPN,
You're nervous about the connection being too slow to get your WordPress-based tasks done,
You're afraid a data limit may disrupt your workflow,
You need to stream training videos or audio while you work,
Or you can't compromise on certain aspects of your workflow that conflict with a free VPNs restrictions, then it might not be the best choice. In other words, if you need advanced functionality in terms of security, privacy, and speed, and you want maximum control over it, consider the upgrade.
That said, there are some very well-known and well-rated free VPNs that have worked well for others and can work for you. Here is what you need to know about them.
Best Free VPNs for WordPress Users
If you google "What are the best free VPNs?" you'll find pretty decent reviews and ratings for dozens of VPN services for Mac, Windows, iOS, and Android devices, you have to be careful about reading the fine print on a lot of these.
For example, a lot of what you find for "VPN" results in the Android and iOS stores are actually VPN proxies. A proxy will hide your IP address, but it's not so great when it comes to the security piece of the puzzle. Also, there are some VPNs that label themselves as "free," but, really, you only have a few days of free access until you're charged for them.
Rather than waste your time with options that won't provide you with the security or no-cost options you've come here for, I'm going to focus on the best free VPNs that satisfy as many of the requirements and features from above as possible.
1. Private Internet Access

Yes, we promised you free VPNS and this first one isn't. But we use it here at WP Buffs so we can highly recommend it for people doing serious digital work.
WP Buffs is a fully distributed team that handles the security of websites from around the world. We need to work with a company we can trust to ensure our internet activity is fully encrypted for each and every member of our team.
We trust the Private Internet Access premium VPN for that.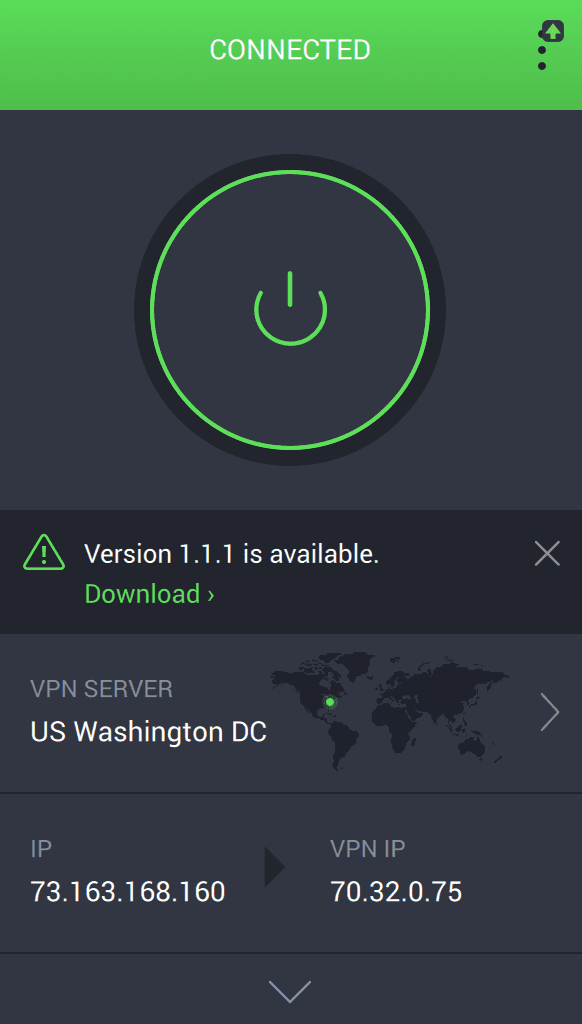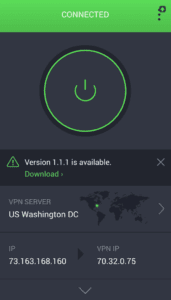 They're so serious about keeping people's digital identities protected, they let you pay in Bitcoin so you can stay anonymous.
And they care about you understanding how a VPN works 100% before trying one, which is why they have a super-clean how it works page with accompanying video so you can understand exactly what you're getting yourself and your computer into.
One of their biggest priorities is to keep you safely surfing the web on public WiFi (like when you're at a coffee shop, co-working space, etc).
Truth be told, Private Internet Access is not a free VPN service provider. That said, the costs are so low and the value so high, we're going to go ahead and consider them "free" since the benefits so greatly outweigh the costs of this anonymous VPN tunnel gateway service.
Encryption: Private Internet Access takes great care to secure all communications that take place over their VPN. Security measures include: encrypted WiFi, anonymous VPN tunnels, OpenVPN protocols, SOCKS5 Proxy, advanced firewall and filtering protection.
Bandwidth cap: Unlimited.
Browsing session logs: Traffic logs are never saved and everything you do through the VPN comes from a hidden IP. In addition, you pay Private Internet Access anonymously, so there is no direct trail leading to you anywhere.
Platforms: You can use up to give devices simultaneously on your Mac, Windows, iOS, and Android devices.
Ads: Because this is a paid service, you won't have to deal with any ads from Private Internet Access as you work and they will block all ads coming from external sources. In addition, their encrypted WiFi keeps malware and other trackers out.

Did we mention they have 3,335 servers located in 78 countries across five continents (Asia, Australia, Europe, South America, and North America)?

One of the best parts of PIA is that a subscription allows you to use their VPN across all your devices. Whether you're on your laptop, tablet or smartphone, you'll be surfing safely.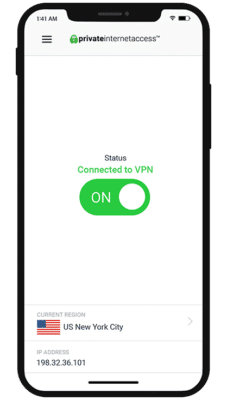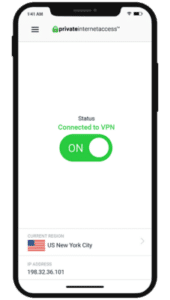 And Private Internet Access has some brilliant online reviews! This may not be a free VPN but it will definitely get the job done.


2. Hotspot Shield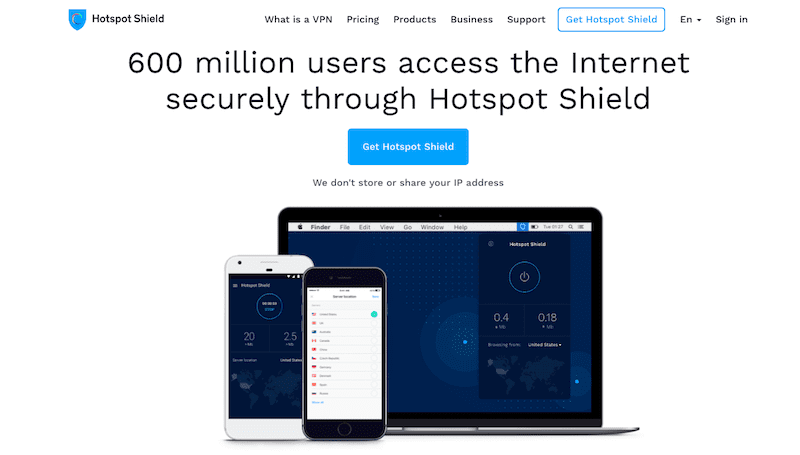 For WordPress professionals or just people who are serious about keeping their internet activity secure, the free version of Hotspot Shield* is for you. While you can use this if you're located in other parts of the world, you won't have the advantages of choosing a server location closer to you. So be sure to keep that in mind.
Encryption: Hotspot Shield uses 128-bit and 256-bit AES, military-grade encryption across its network of servers. In addition, it includes a killswitch that enables users to more securely terminate browser sessions with WordPress.
Bandwidth cap: The free plan does come with a bandwidth cap, though the limits are not published.
Browsing session logs: Although Hotspot Shield says it doesn't store your IP session data, it does actually make use of it; albeit, anonymously and only for internal research purposes.
Platforms: Available for Mac, Windows, iOS, and Android. Only allows for one device at a time.
Server locations: On the free plan, you'll get a different U.S. IP address than your own. You have to upgrade to have a choice of server from over 20 countries.
Ads: Ads are served.
HotSpot shield has a premium options, but their free VPN* is all you need to fully encrypt your internet activity.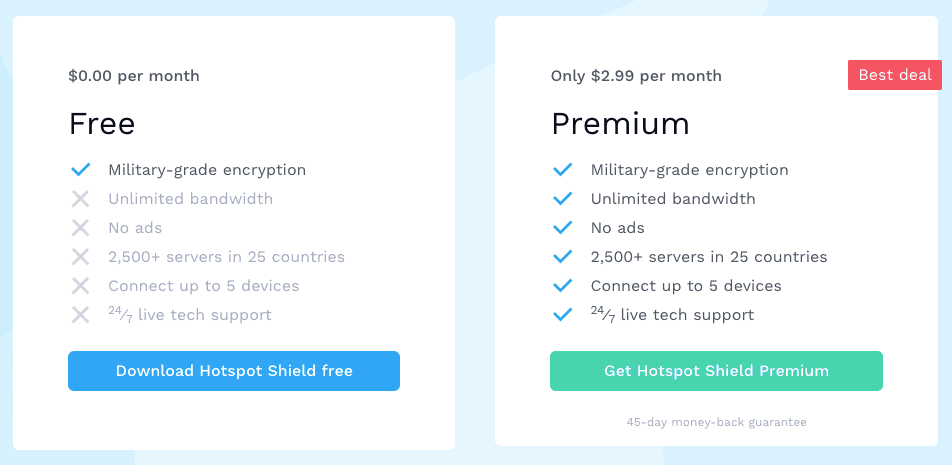 3. TunnelBear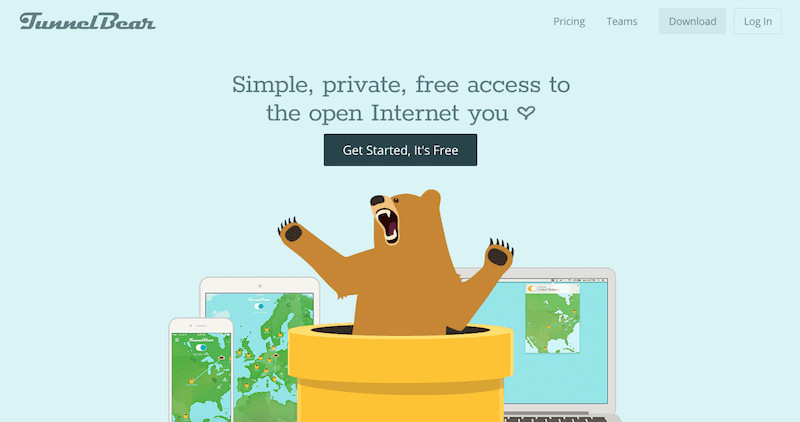 One of the best things about TunnelBear is its openness regarding how well its VPN solution works. Over the years, it seems to have been improving greatly in terms of keeping user sessions secure. And because of its adblocker technology for Chrome, I'd say this is the best free VPN for Windows and Mac users.
Encryption: TunnelBear's VPN offers AES 256-bit encryption to keep your session data safe.
Bandwidth cap: It labels its server speeds as "lightning fast", though no further elaboration is given regarding that or uptime. What is mentioned, however, is a free 500MB of data you receive. Double that if you're willing to tweet on behalf of TunnelBear.
Browsing session logs: There's no logging.
Platforms: Available for Mac, Windows, iOS, and Android.
Server locations: Users can choose from servers located in over 20 countries.
Ads: None. In fact, TunnelBear's adblocker attempts to block all ads from reaching your browser.
4. Windscribe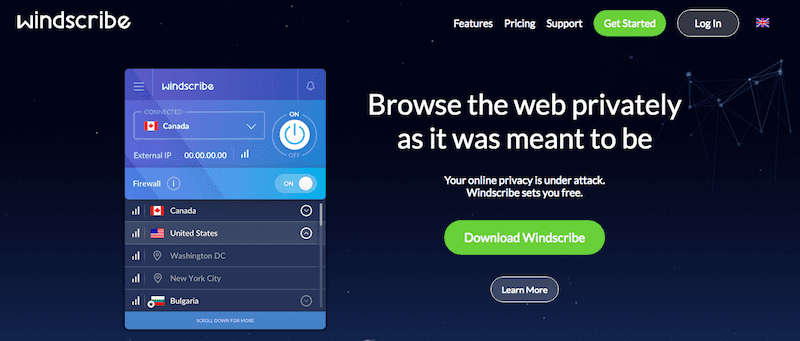 Want unlimited bandwidth, lots of data, and extra strong security with your VPN? Windscribe* is a good choice. Of course, there are some restrictions in terms of server location and connection control. So, if you're located outside of North America, Europe, or Hong Kong, you won't be able to use Windscribe for free.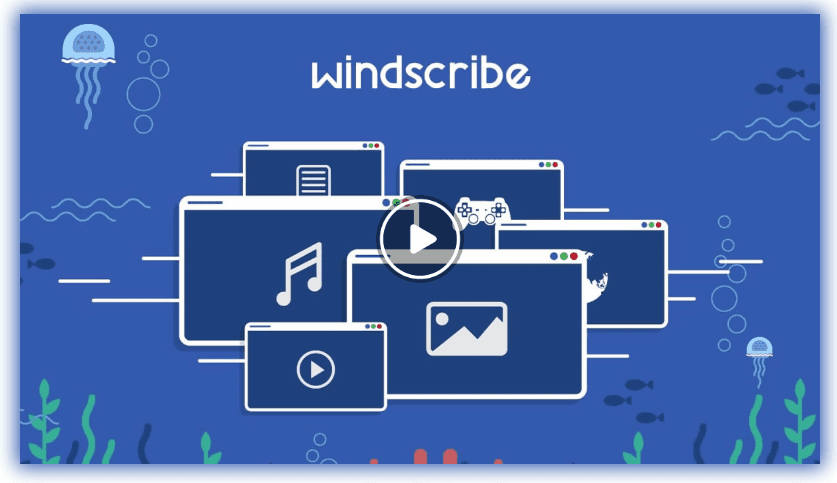 Encryption: Windscribe VPN comes with an AES-256 cipher, SHA512 auth, and 4096-bit RSA key encryption.
Bandwidth cap: Free users get up to 10GB of data a month and Windscribe's Cruise Control service is automatically configured to connect you to the closest available server for the best speeds.
Browsing session logs: Windscribe doesn't track your sessions.
Platforms: Available for Mac, Windows, iOS, and Android. Note that Windscribe offers both a desktop VPN and browser extension. It's recommended that you get both, so you can have the security for your platform while blocking ads in your browser.
Server locations: While premium members can choose from over 50 countries, free users still have a choice of over 10.
Ads: No.
They also have terrific support and getting started guides so encrypting your internet activity has never been easier.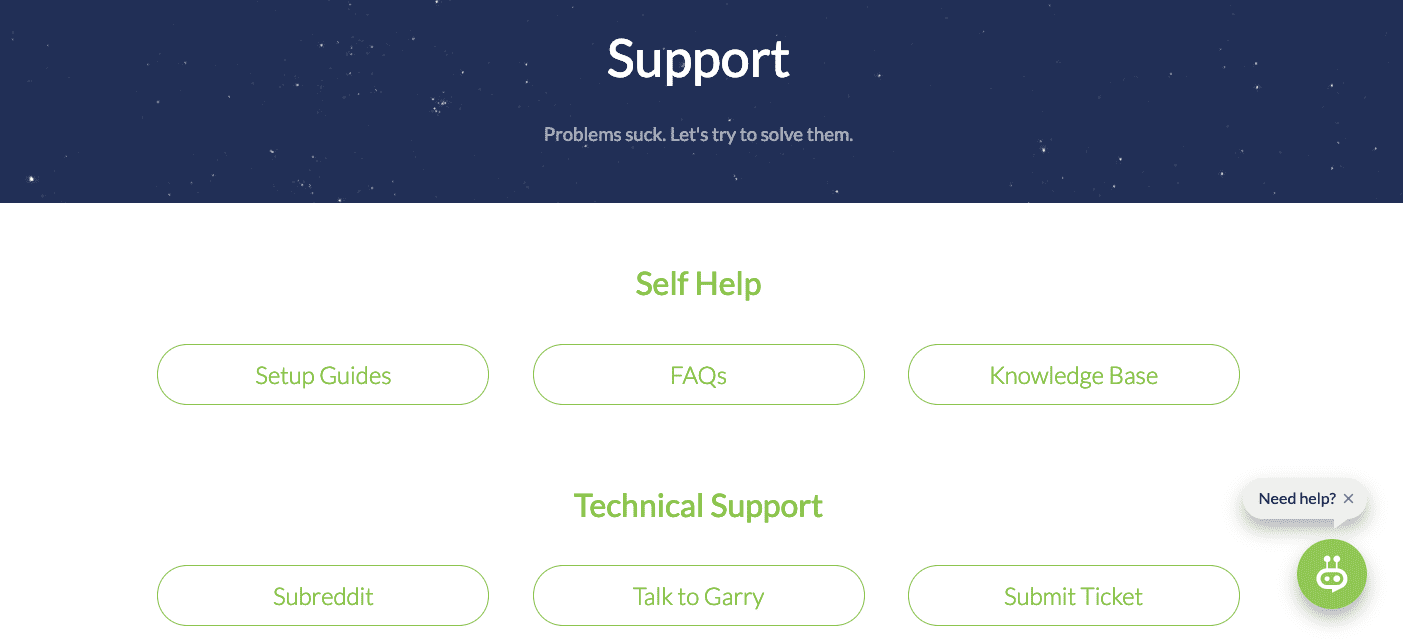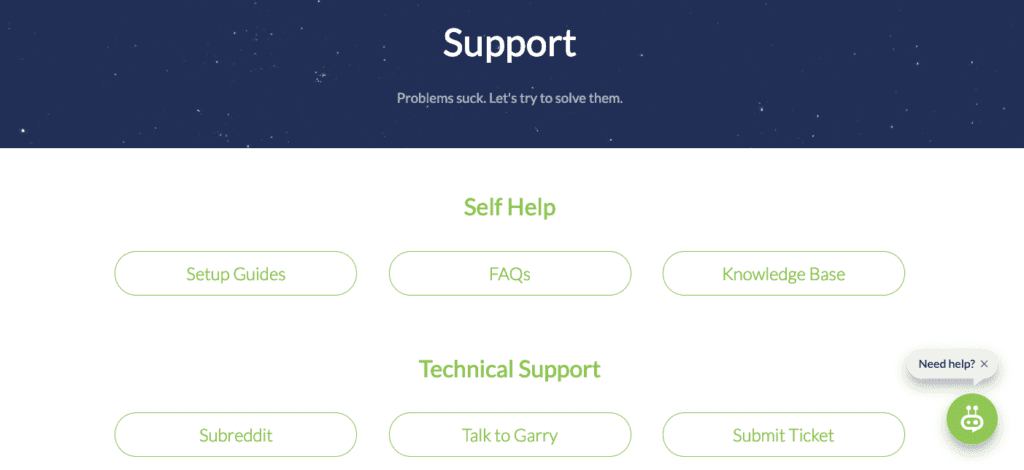 They also have a free version you can use if you don't need all the bells and whistles.
5. hide.me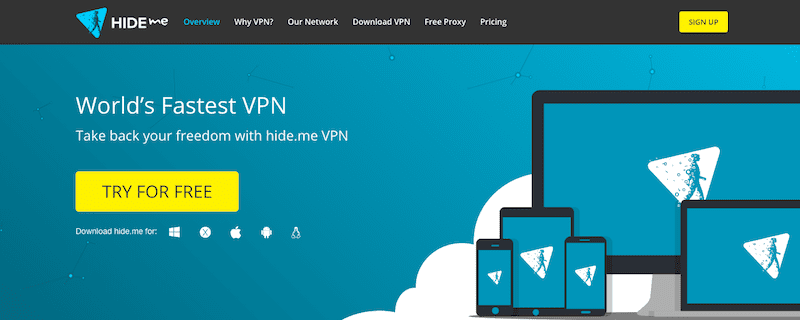 For WordPress users that don't require much more than Gigabit speeds and encrypted browsing sessions, you can get everything you need with the hide.me VPN. Plus, hide.me powers 15,000,000+ users and helps them completely encrypt their online activity.
As your business and team grow, and you need broader VPN coverage, upgrading to one of the affordable paid plans is easy.
Encryption: VPN plans offer up to AES-256 encryption, which will protect not only your individual devices but also your home router (if you want to). All major protocols are offered, including IPsec, OpenVPN, and SSTP.
Bandwidth cap: No bandwidth caps, but there are data transfer limits for free users. Also, with 99.9% uptime, you won't have to worry about sessions dropping out often or VPN slowing to a crawl during peak periods.
Browsing session logs: hide.me doesn't store or sell any session data.
Platforms: Available for Mac, Windows, iOS, and Android. On the free plan, you can only use one of these devices at a time. With upgrades, you can use up to five devices simultaneously (which is great if you have a team to share the VPN).
Server locations: Free users can choose from Canada, the Netherlands, or Singapore servers. If you upgrade to premium, you have a choice of over 30. And here's a great resource if you're looking for best VPNs in Canada.
Ads: None.
They also have a free version if you don't need all the bells and whistles.
6. FastestVPN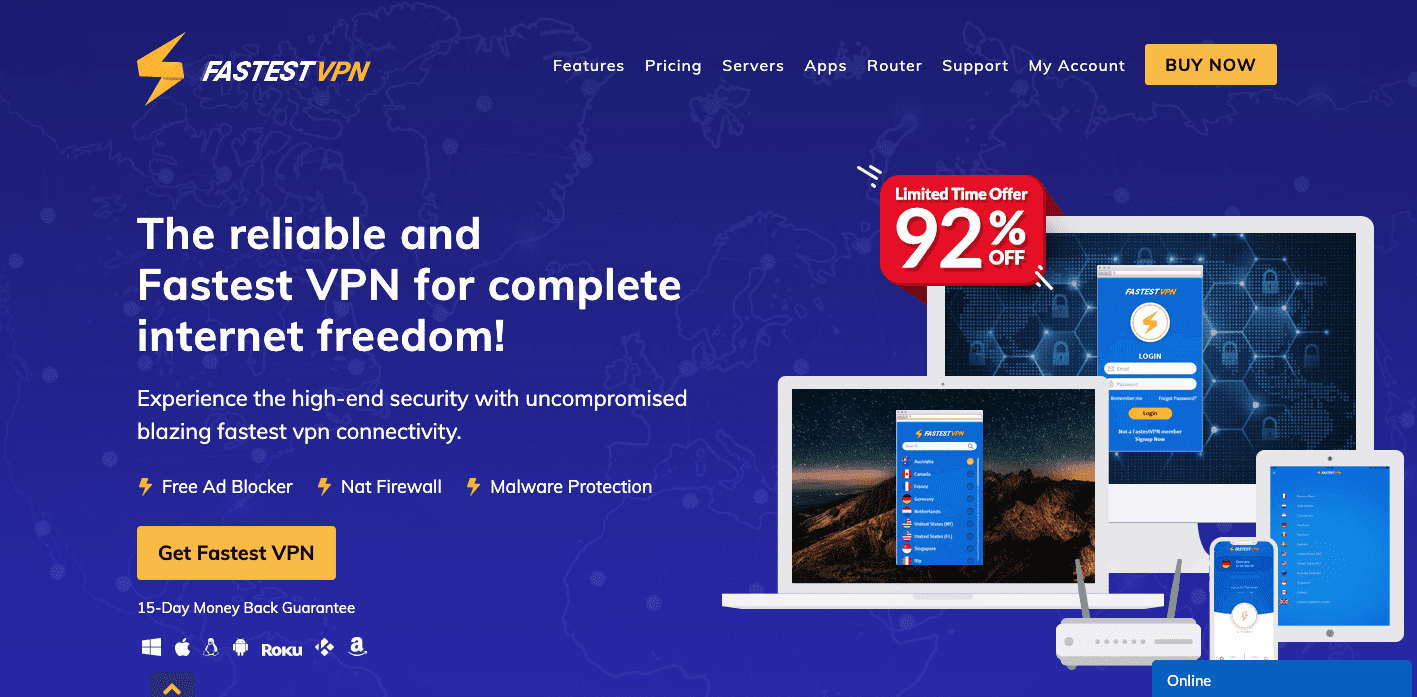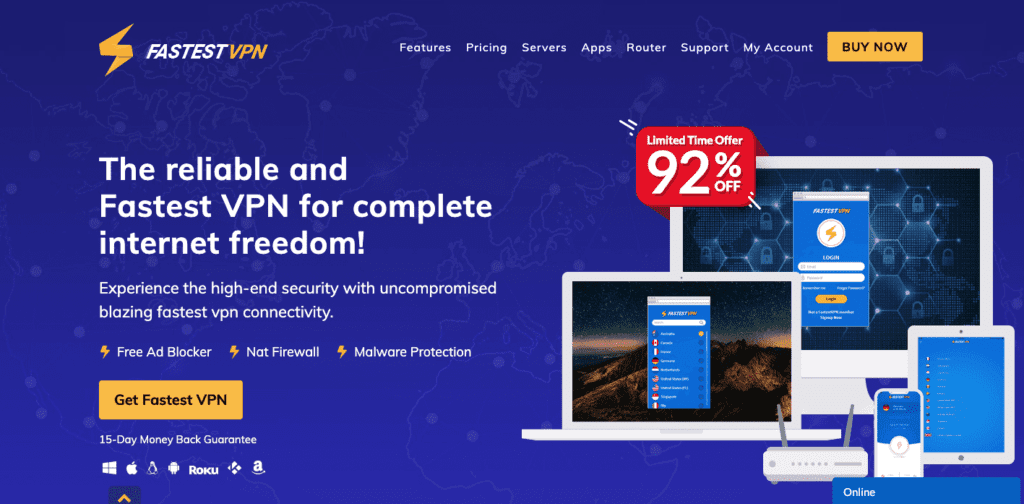 FastestVPN is the latest VPN provider in a world of growing cyber-security threats. Their service was founded in 2017 in the Cayman Islands with the goal of providing you the best security features and absolute privacy and safety while online.
The internet is a dangerous place, which is why using a VPN can protect your basic online privacy by connecting you to a secure server, thus allowing you to access geo-restricted websites all over the world.
Do you plan to stream your favorite media content online, download high-definition torrents, or play the latest games free from any restrictions? Then use a VPN provider like FastestVPN, to easily do all of these tasks and much more for no additional cost at all. Walk through with us as we talk about FastestVPN services, and cover all their aspects and features to know for sure if you're making a good choice.
Speed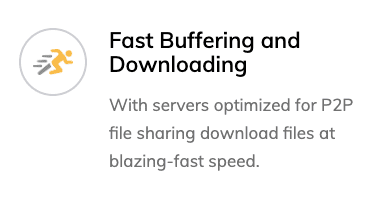 FastestVPN can seem a tad-bit pretentious at first, especially since it calls itself the fastest VPN in the market. Nevertheless, through rigorous testing, we can find out whether FastestVPN offers what it claims to be when it comes to speed.
The VPN provider has servers situated in 29+ countries and 130+ locations across the globe so you're getting a good-enough selection of servers. In the future we expect these numbers to be much greater, but for now, this is to be expected especially since their service was formed only 2 years ago. Their service is not only fast in terms of speed but also the fastest growing in the market today.
Security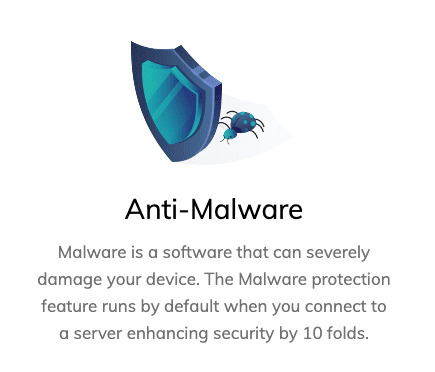 Some of the most notable features in FastestVPN is the multiple security features, which is a good sign in any VPN service. All of FastestVPN's packages come equipped with NAT firewall protection, 256-Bit AES encryption, malware protection, and internet kill switch.
The services lets you choose between multiple security protocols, ensuring that you can connect with the most preferred method. When it comes to privacy, FastestVPN follows a strict no-logs policy. So you can rest easy knowing that your data is in safe hands.
The service recently introduced a pocket-sized Wi-Fi router that extends VPN protection on all connected devices. FastestVPN software comes pre-installed on the router, so you don't need to tinker around with the settings.
Customer Support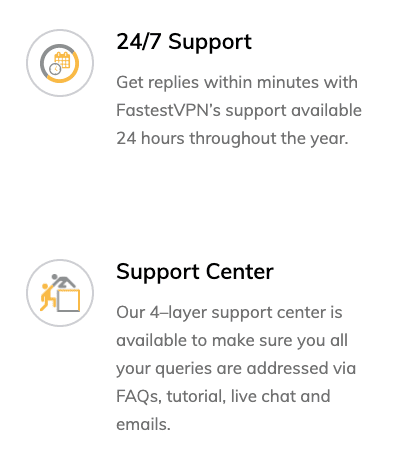 There is no feature more widely advertised then FastestVPN's renowned customer support. Not surprising; their service was built on the principle of providing the best experience. For that reason even if you dislike their services, all their packages come equipped with a guaranteed 15-day money-back policy, and any questions or queries can be answer via their live customer chat or by their dedicated customer support center.
However, many customers have complained about their slow service, which is typical if you consider their company was founded only 2 years ago. In the future we expect this problem to be solved.
FastestVPN is highly recommended many. This is evident when you take a glance at its review page on Trust Pilot. The review score for FastestVPN on Trust Pilot currently stands at an outstanding 9.5.
Entertainment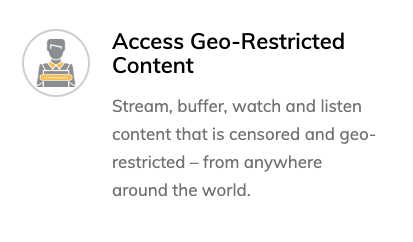 There are hundreds of geo-restricted movies, TV shows, games, and songs. Accessing such content is easier said than done, proxy websites do not offer the same level of security and protection like VPNs. FastestVPN is one of the few providers in the VPN market today which has optimized P2P servers and the ability to access geo-restricted sites with ease.
Proxy sites target you with numerous ads, and clicking on one of these advertisements could potentially leave you vulnerable to malware or phishing attempts. FastestVPN ensures this does not happen, and makes it an effort to block ads altogether, so your viewing experience is as stress-free as possible.
Prices


Many people are skeptical of virtual private networks due to their excessive prices. But customers at FastestVPN shall be please to know that FastestVPN hosts a wide range of payment packages suitable for all budgets.
You can avail their 3-year and 5-year plan, which saves you 89% and 91%, respectively. There's no difference of features between the packages; all features are standard across packages. The 15-day money-back guarantee is also standard on the packages.
After making it through this review you may be wondering if would recommend using FastestVPN. The short answer is: yes.
FastestVPN takes the cake when you consider their vast features and incredibly low prices, but it's not without issues of its own, one such example is their slow customer service. But considering the overall scope of things FastestVPN comes highly recommended by us.
It makes for a great VPN experience with its military grade encryption technology, great customer service, and absolute anonymity while online. With dedicated apps available on their website for all your devices, it checks all the right boxes.
The affordable pricing plans are a core reason for their success. But under the hood, it's a solid VPN that deserves your attention.
7. Betternet


Betternet claims to handle over 38 million users and 1 Petabyte of data on its servers. With over 60% of that traffic taking place outside of the United States, it looks to be a good option for WordPress freelancers who aren't U.S.-based. I would just be careful in starting with this one since information regarding encryption and uptime are scarce.
Encryption: States that they offer end-to-end encryption that keeps your data safe.
Bandwidth cap: There is no bandwidth cap. However, they do state that there are certain times of day where the VPN becomes very slow due to high usage.
Browsing session logs: None.
Platforms: Available for Mac, Windows, iOS, and Android.
Server locations: Does not publish these, but states that they're located around the world. They plan to allow customers to choose which server they connect to in the near future.
Ads: Yes, but you can disable this feature.
8. SurfEasy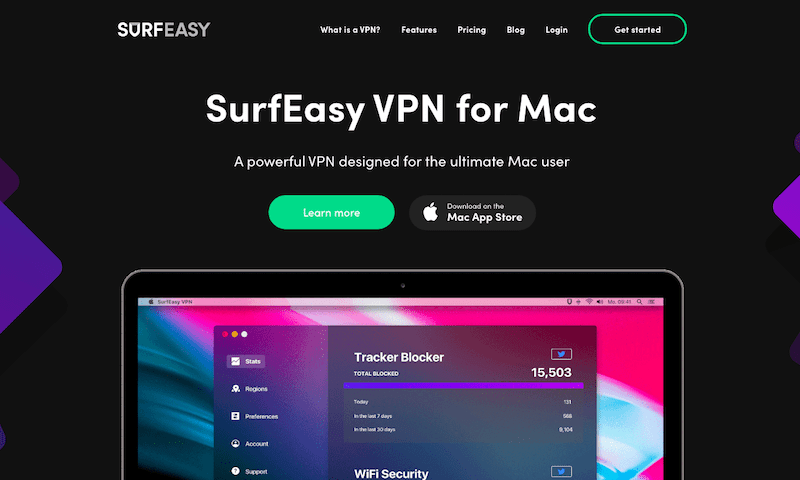 If I had to nominate SurfEasy for an award, it would definitely receive it for the best free VPN for Mac. Exclusively made for Mac users (but now offered on all major platforms), this VPN is highly secure and also comes with a 99.9% uptime guarantee to keep you working just as productively while on-the-go as you would from home.
Encryption: SurfEasy's servers come equipped with bank-grade encryption. In addition, adblocker technology is included, so you can stop worrying about third-party cookies and ads following you around the web during your VPN sessions.
Bandwidth cap: There's no limit on how much bandwidth you use, though there is a 99.9% uptime guarantee. Note, however, that data is limited to 500 MB on the free plan.
Browsing session logs: Logs are never stored.
Platforms: Available for Mac, Windows, iOS, and Android. However, this VPN was designed exclusively for Mac users, so I would strongly recommend this VPN for them.
Server locations: One-click IP masking allows you to pick from your choice of server located in 28 regions around the world.
Ads: None.
9. NordVPN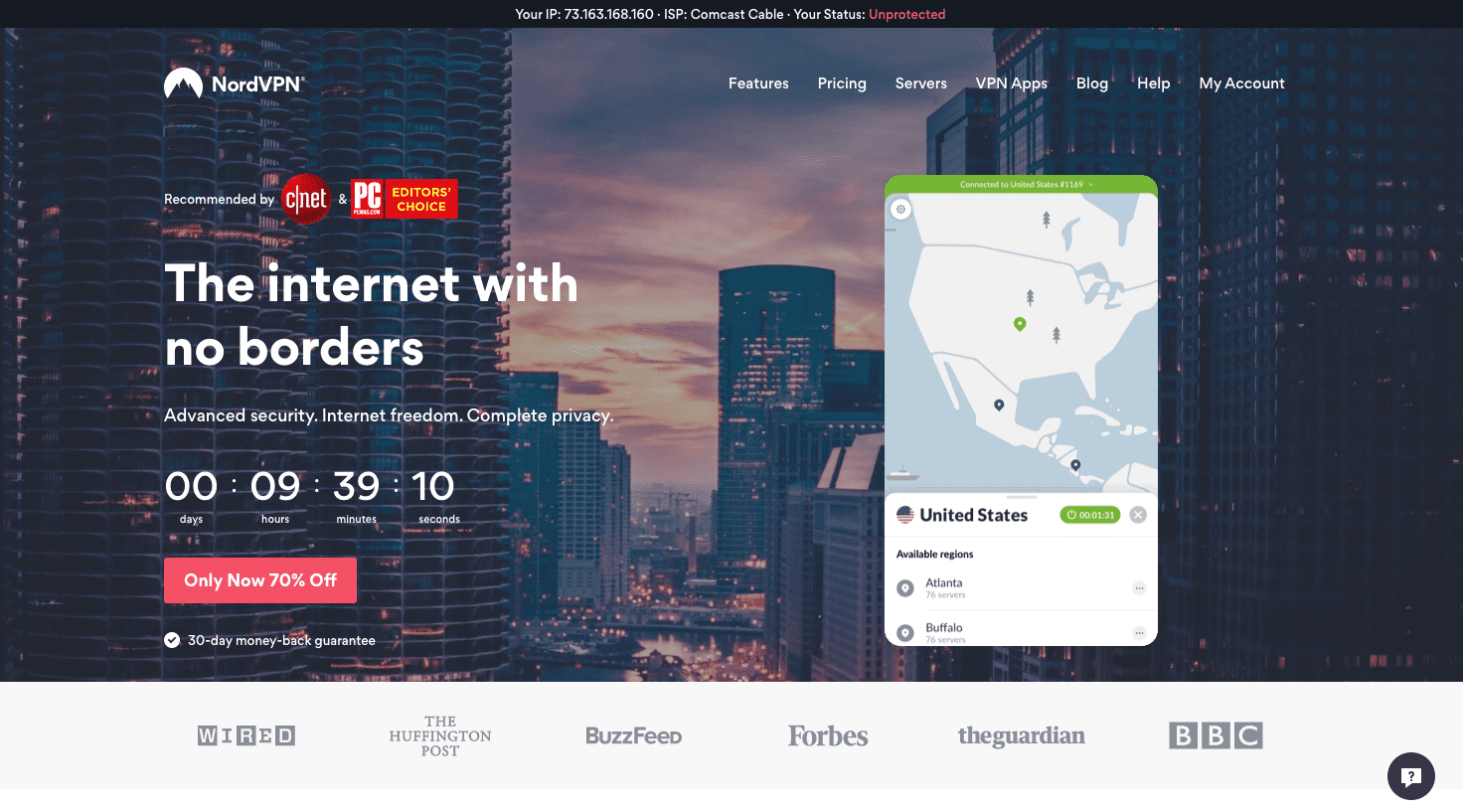 NordVPN is a service with an extra focus on cybersecurity and privacy. It's perfect for WordPress users who deal with sensitive information and cannot tolerate a single security breach. NordVPN is a premium VPN, so it's is not free. However, the 7-day free trial is more than enough to make up your mind.
NordVPN comes at a very affordable $2.99/month — the best price you can find for an A-list VPN.
Some of the features include:
Encryption: NordVPN uses the military-grade AES encryption with 256-bit keys, recommended by the NSA to secure TOP SECRET documents. Depending on the device you use, your traffic will be routed through a secure VPN tunnel, created with one of the two fast and secure protocols: IKEv2/IPsec or OpenVPN.
Bandwidth cap: No bandwidth caps and no data transfer limits. NordVPN used to have occasionally slow speeds, but during the last few years, they have improved by leaps and bounds. Now the service offers one of the best connection speeds in the market, along with special servers tailored for better video streaming and P2P activities.
Browsing session logs: NordVPN adheres to a strict no-logs policy, meaning it does not observe, track, or log its users' online activity. While a lot of VPNs claim that, NordVPN is the first in the industry that has put its no-logs policy under an audit. One of the Big For auditors — PricewaterhouseCoopers AG, Zurich, Switzerland — has confirmed that NordVPN does not track the online activity of its users.
Platforms: Windows, macOS, Android, iOS, Android TV, Linux, with proxy extensions for Google Chrome and Mozilla Firefox. You can secure 6 devices (phones, laptops, tablets, even smart TVs and routers) at the same time.
Server locations: NordVPN has 5300+ servers in 61 countries, some of which are designed to provide the privacy of Tor or double encryption. You may also request a dedicated IP address for unrestricted access to websites that blacklist shared IPs.
Ads: None. Moreover, with NordVPN's CyberSec feature you will be able to block ads and malware-laden websites.
Bottom line? Each of these VPN services comes with pros and cons. What might seem like the more secure or fast VPN might not be the case for everyone, and much of that boils down to where you're located and where the VPN has servers available. When doing your research on the best VPNs above, start with the location search as it'll help you more effectively whittle down your choices.
How to Install a Free VPN
Once you've made your decision, it's time to download and set up your free VPN. 🔐 Setting up a #VPN is actually pretty easy, no matter what solution you choose. #WordPress Click To Tweet As an example, I'm going to use hide.me to show you how quick and easy setting up a free VPN can be.
To start, go to the hide.me website. Scroll to the footer and choose the platform you want to use. I've selected the Mac VPN.

Hit the "Download now" button and wait for the file to save to your computer. Click on it and run the installation.
Next, you'll see a login screen. There's no need to create an account on the free plan, so just choose to "Start Your Free Trial".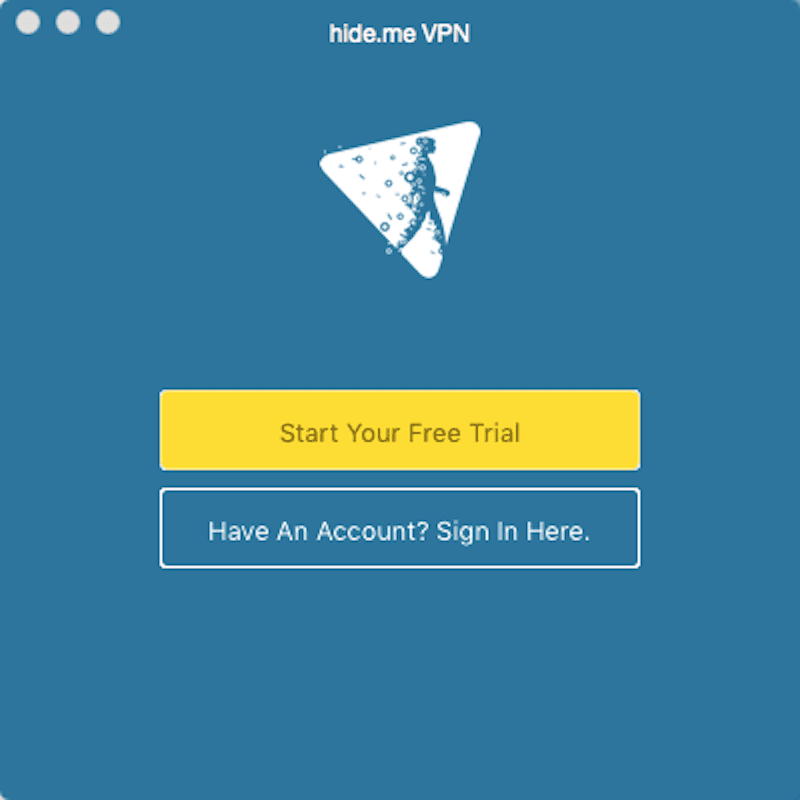 The next popup that displays on your desktop is going to look like this: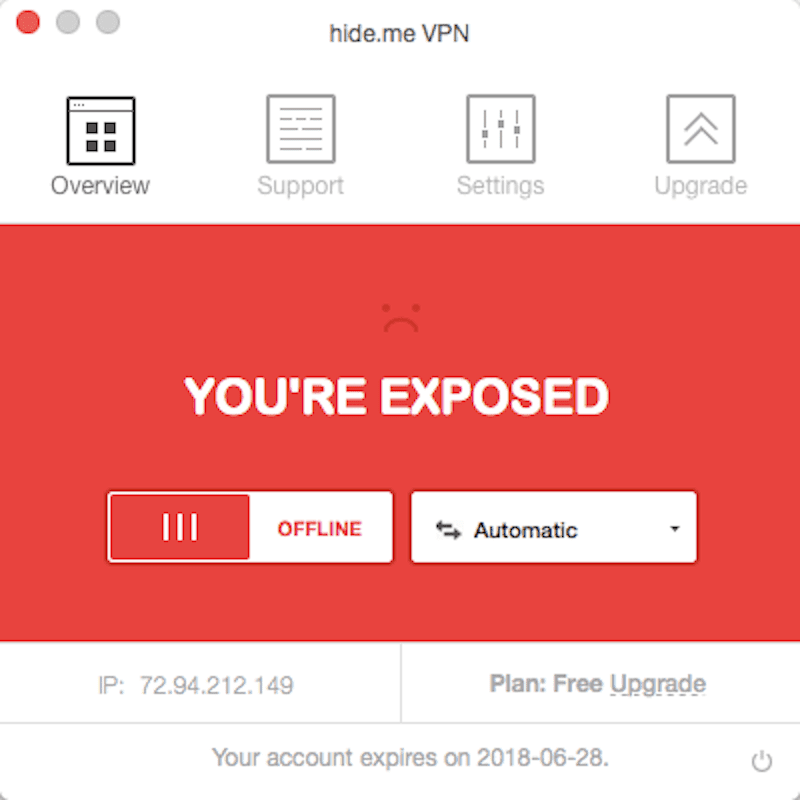 I know. It's unnerving. If you want to make this message go away and connect to your VPN, hit the toggle switch on the left that says "Offline." It will then change to this: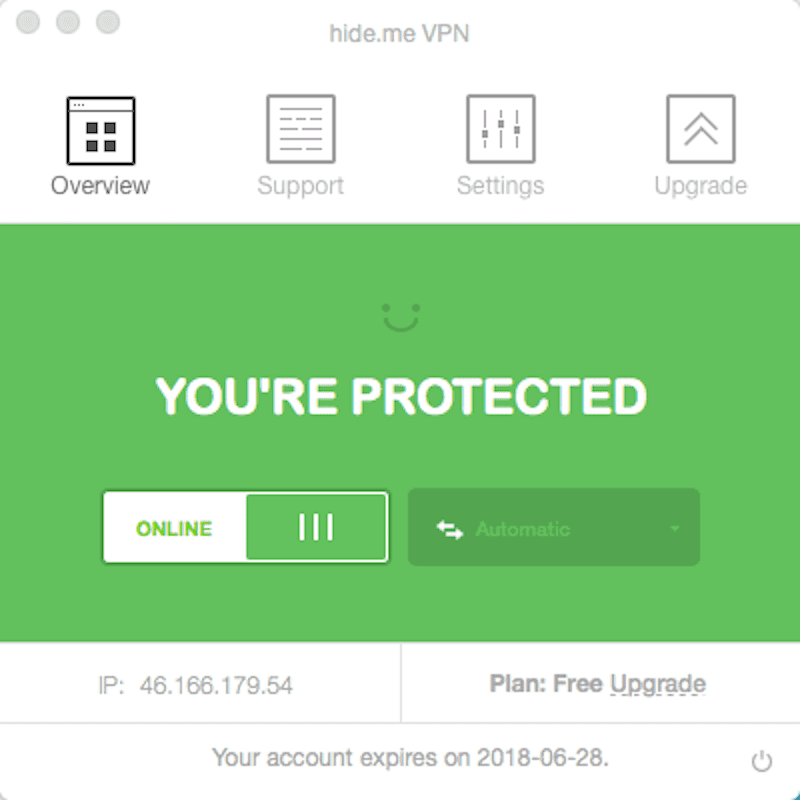 To terminate your VPN session, you simply have to hit that switch again.
Before you start using the web with the VPN enabled, be sure to update your Settings first.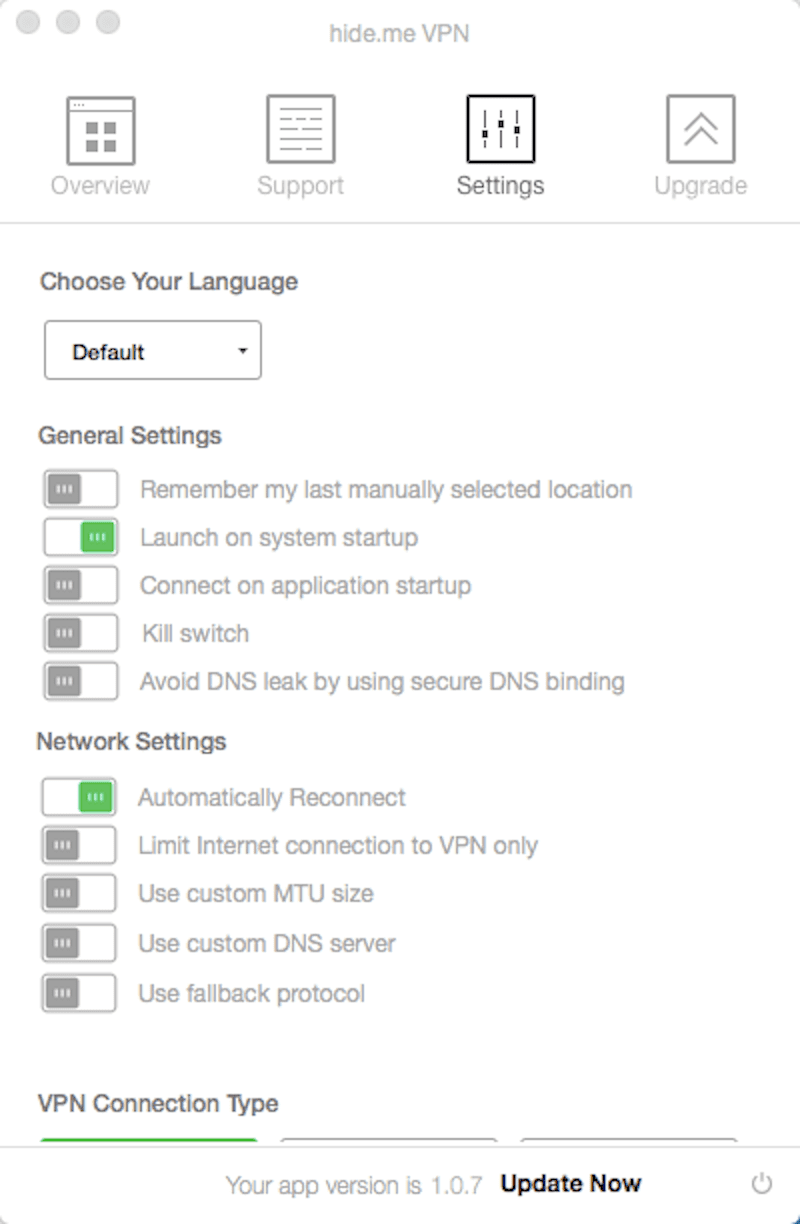 In particular, you should think about enabling the kill switch and secure DNS binding while you're here.
Then, scroll to the bottom of the window and choose your preferred connection protocol: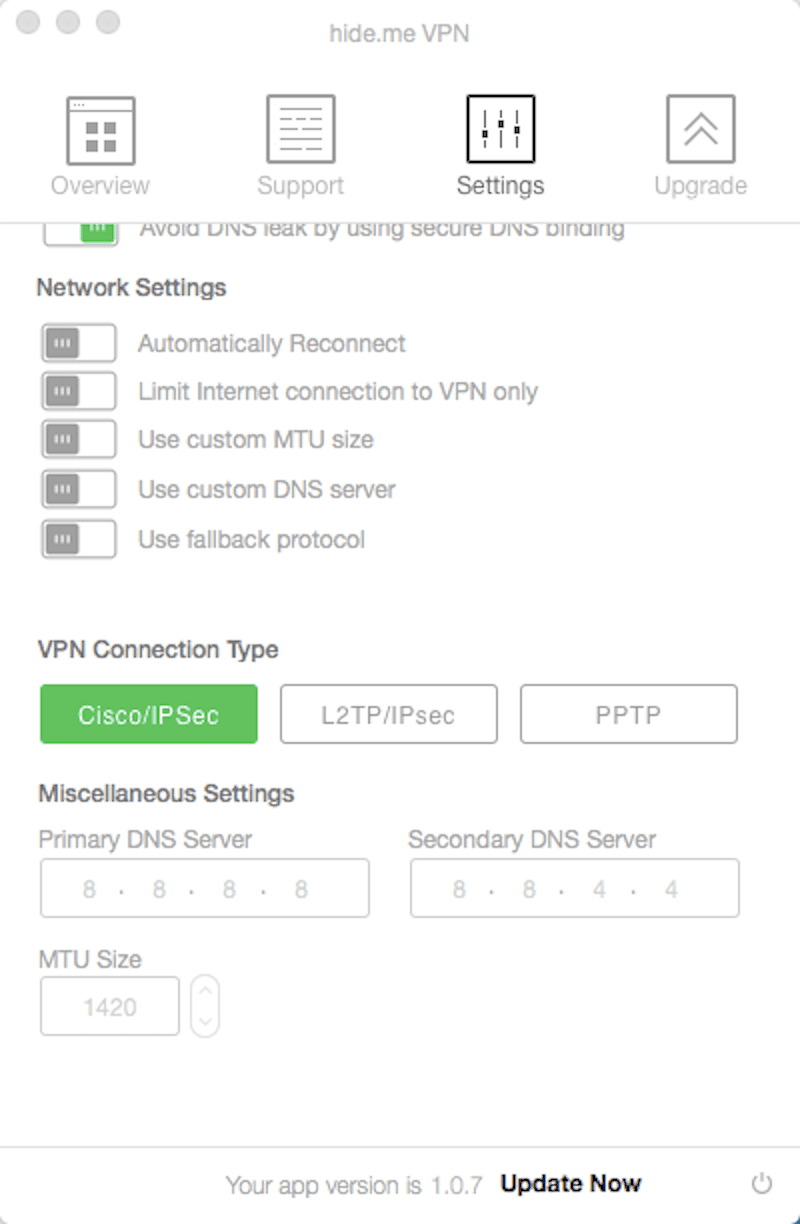 And that's it. You are now connected to a free VPN and able to log into and use WordPress more securely than you were before.
Why Skimp on Security When You Can Get a VPN for Free?
WordPress website security needs to be a top priority for your business. With so many vulnerabilities to worry about within WordPress and on your server, having to secure your device and browser might seem like a nuisance. However, as you can see from the above guide to free VPNs, it's both possible to set one up quickly and to do so without having to pay a dime. And if you're looking for a VPN-specific resource, look no further than VPNVanguard for VPN experts.
And if you want to read a real-life VPN test, check out this 27-day trial run with ExpressVPN!
If you want help configuring and managing the rest of the security for your WordPress site, get in touch with WP Buffs today. With everything from regular backups to malware scanning offered, WP Buffs can reduce the amount of work you're required to do to keep your website safe.
Want to give your feedback or join the conversation? Add your comments 🐦 on Twitter.I
SaveSave
SaveSave
SaveSave