Without an audience, making money on your WordPress site is next to impossible. Not only do you need to be able to drive organic traffic – it's also important to keep your user retention rate up in order to increase brand loyalty and revenue.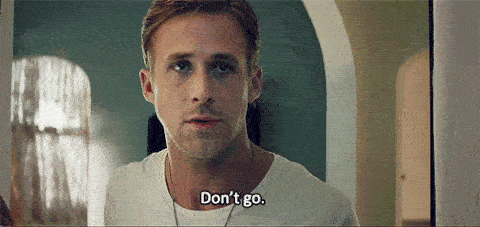 Fortunately, there are a variety of ways to engage visitors and build your site's following. Push notifications, in particular, have a strong track record when it comes to calling users back for more. All you need is the right WordPress plugin.
This post will serve as a comprehensive guide for how to add push notifications to your WordPress site. We'll discuss the benefits of doing so, list several plugins you can use, and walk you through the notification setup process in the popular solution OneSignal. Let's get started!
In This Article 🔮
Our team at WP Buffs helps
website owners
,
agency partners
, and
freelancer partners
utilize WordPress push notifications plugins to engage and retain users. Whether you need us to manage 1 website or support 1,000 client sites, we've got your back.
An Introduction to Web Push Notifications in WordPress 🔔
Like mobile push notifications, those you can enable for your WordPress site include short messages regarding recent activity that may be of interest to your audience. They appear right on your users' desktops, even if they're not currently on your website:

It's important to note that only users who have opted into your notifications will receive them. Visitors to your site can subscribe via your own pop-up, or their browsers':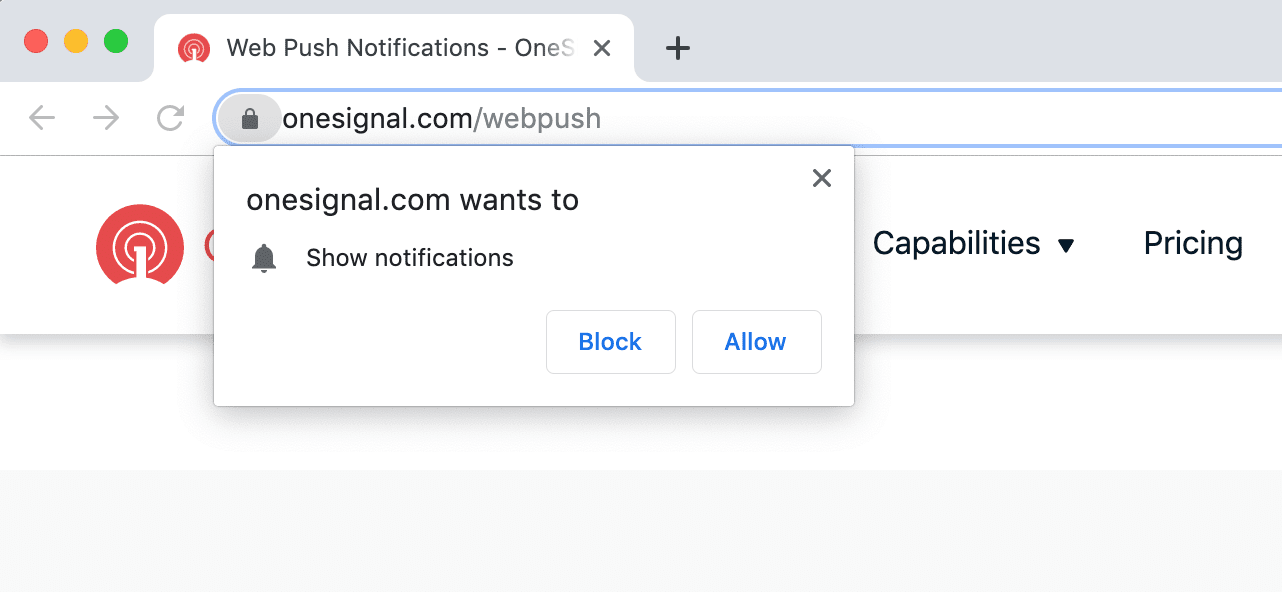 Notifications respond to several triggers, which you'll specify via the platform you use to send them. They encompass a wide variety of use cases, including:
Welcome messages: Send a personalized greeting to new subscribers or logged in users.
New content alerts: Notify subscribers when you've published a new post.
Abandoned cart reminders: Mention items left in online shoppers' carts and encourage them to complete their purchase.
Promotions and discounts: Draw special attention to current promotional prices or coupons users can take advantage of.
Recent comments: Alert users to activity – such as new comments or social shares – on posts they've read.
Product or other announcements: Let your subscribers know when you have a new product release, an upcoming event, or some other special occasion on the horizon.
Depending on your goals, you might create push notifications for one, some, or all of these instances. Regardless, they'll help you increase engagement, drive returning traffic, and may even increase your conversions and revenue.
The Benefits of Using WordPress Push Notifications Plugins 📈
The advantage of using push notifications over, say, email updates is that they're instantaneous. You don't have to count on users to check their inboxes because they'll see your message the moment they open their preferred browser.
Plus, with web push notifications, you don't have to worry about spam folders, so your delivery rate should be higher. Delivery is not only guaranteed, but also timely. Your users will see your message right away so they can choose to act on it promptly.
Push notifications also tend to have better opt-in rates than email, which makes sense when you think about it. Users don't have to give up any personal contact information in order to stay up-to-date, and they won't have to worry about a cluttered inbox either.
If these pros aren't enough to get you interested in this new marketing channel, consider this:
✉️ Push notifications have an estimated Click-Through Rate (CTR) that is four to eight times higher than email. #WordPress
Click To Tweet
Since the notifications appear directly in users' browsers, your audience is more likely to drop what they're doing and head over to your site to finish a purchase or take advantage of a flash sale. To top it all off, around 46% of push subscribers become recurring users.
You can bring all these benefits to your website easily with a WordPress Push Notifications plugin. By connecting your preferring notification provider to your site, you can manage all your notifications right in your dashboard for streamlined marketing.
Non-Intrusive Options for Implementing Push Notifications
There are a lot of benefits to using push notifications, but that does not mean that you can do whatever you want without annoying your viewers. For example, you might not want to display your notification to your user immediately after they arrive; you might want to wait until they have interacted with elements of your website.
As such, you will want to consider the most non-intrusive options for implementing this functionality and pick only from those options.
Option 1: Click Triggers
Click triggers have two primary advantages: you know exactly what the user has done and you know what they are interested in (after all, they did click), so you can provide a highly-relevant push notification.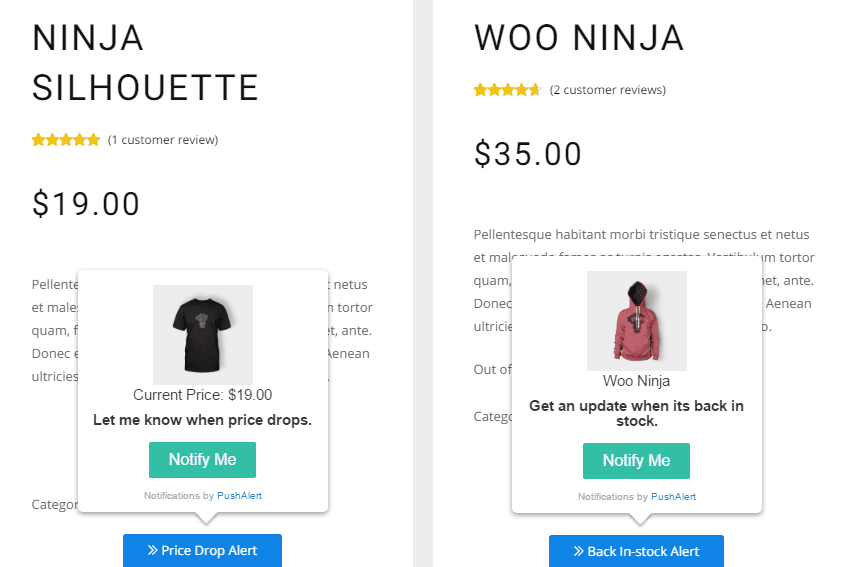 One plugin that helps you create push notifications based on click triggers is PushAlert. In this case, the user doesn't even need to click — they can hover over the webpage item of interest and be prompted to take action.
Remember, the more relevant your message is, the more likely the user is to receive the message and interact with your notification instead of ignoring it.
Option 2: User Action-Triggered
Push notifications based on user actions are similar to click trigger push notifications. However, we think these are a broader category, since the user doesn't necessarily need to click on something specific to trigger the push notification.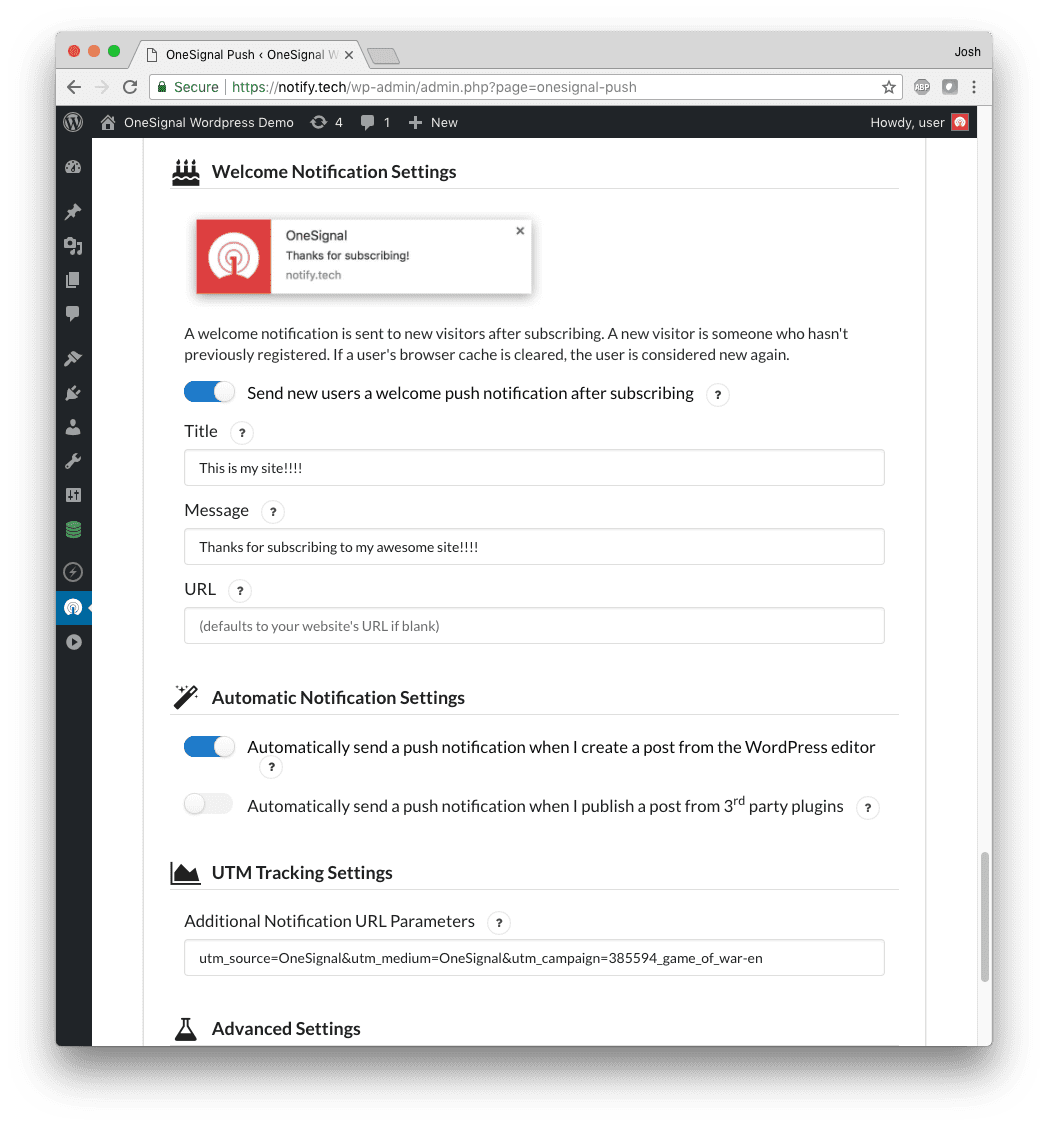 An example of an action-triggered push notification: OneSignal offers you the opportunity to send a push notification after the user subscribes.
For example, one popular thing that e-commerce sites do is to send a notification whenever a user abandons their shopping cart.
Option 3: Floating Widgets
If you want to display something to all of your users, you can do so via floating widgets. For example, you've likely seen the pop-ups that appear on the bottom right of your screen and offer you assistance.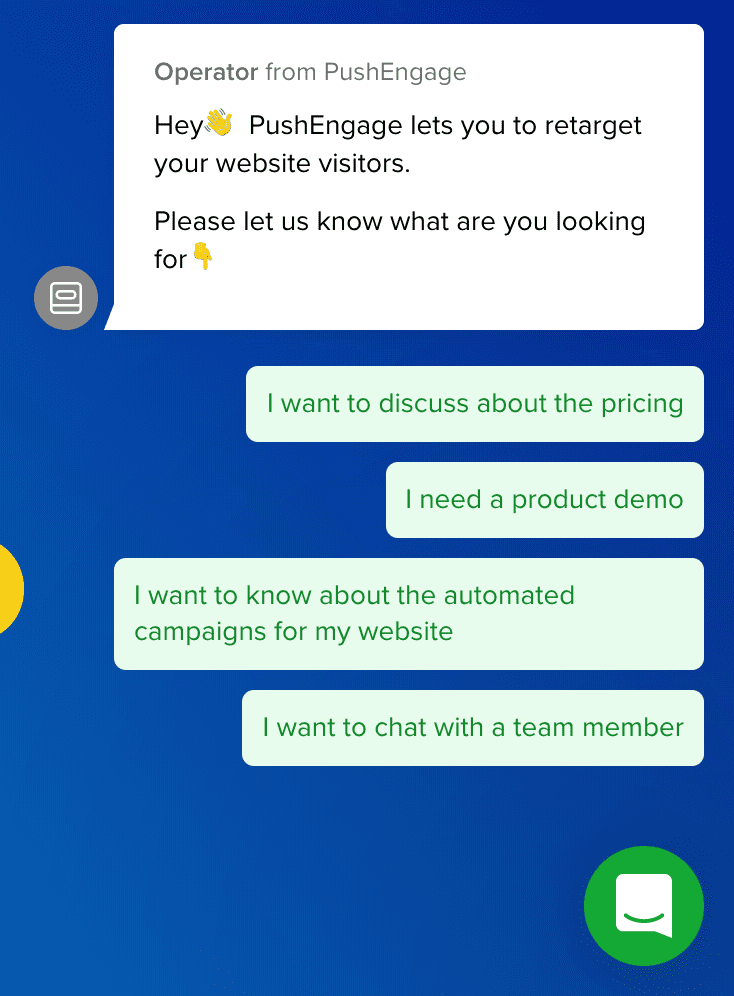 PushEngage allows you to create notifications that "layer" on top of your website text. Your user can interact with your notification or close it with ease.
Such widgets can be used for more than customer service — you can use them to encourage things like mailing list signups.
9 of the Best WordPress Push Notifications Plugins 🔌
If you think push notifications could be effective for retaining users on your WordPress site, you're in luck. There are a number of plugins you can use to integrate your website with some of the top push notification platforms. We've rounded them up below.
1. Beamer

The majority of the plugins in this list do not send you push notifications. Rather, they connect your site with third-party platforms capable of handling that part of the process.
Beamer is one of the many such providers with a plugin in the WordPress Plugin Directory. You can use it to create push notifications as well as a notification center that appears as a sidebar when users visit your site: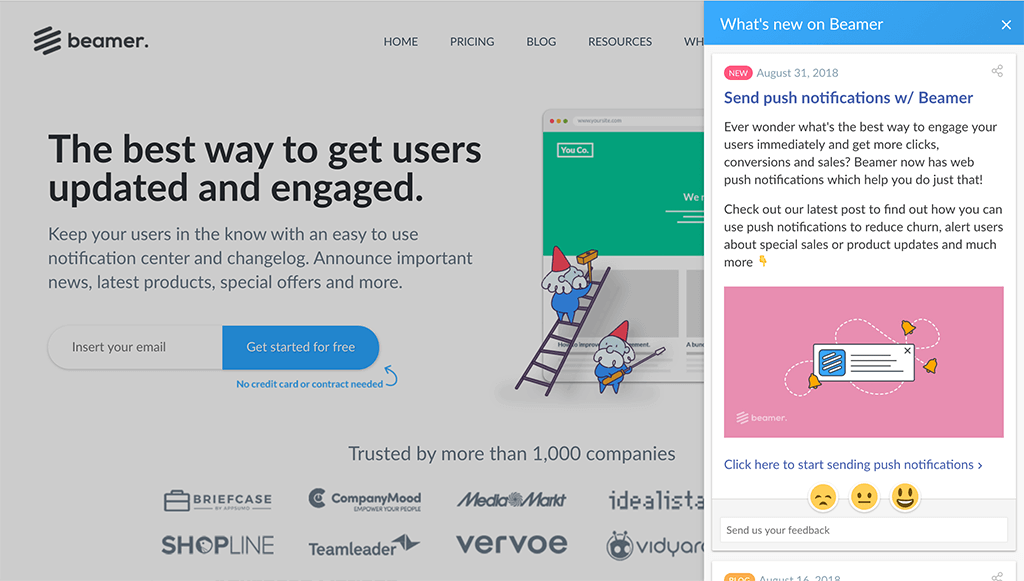 With Beamer, you'll gain access to a variety of unique features, including:
The ability to incorporate images, videos, and GIFs in your notifications.
Specified Call To Action (CTA) links to direct users where you want them to go.
Customization options to integrate your notification center's design with your site.
User comments and ratings for instant feedback on your notifications.
While the WordPress plugin is free, you'll need a Beamer account to make use of it. You can create one for free, and use it to create a notification center for your website at no cost for up to 1,000 subscribers.
However, in order to create true push notifications, you'll need a Beamer Pro plan. Pricing starts at $99 per month for up to 10,000 subscribers, and increases as additional users opt-in.
2. OneSignal

As one of the most user-friendly and feature-rich platforms for creating push notifications, OneSignal is a solid choice for boosting your site's reach. Its WordPress plugin is the most popular of its kind, and will handle integrating OneSignal's features with your admin dashboard: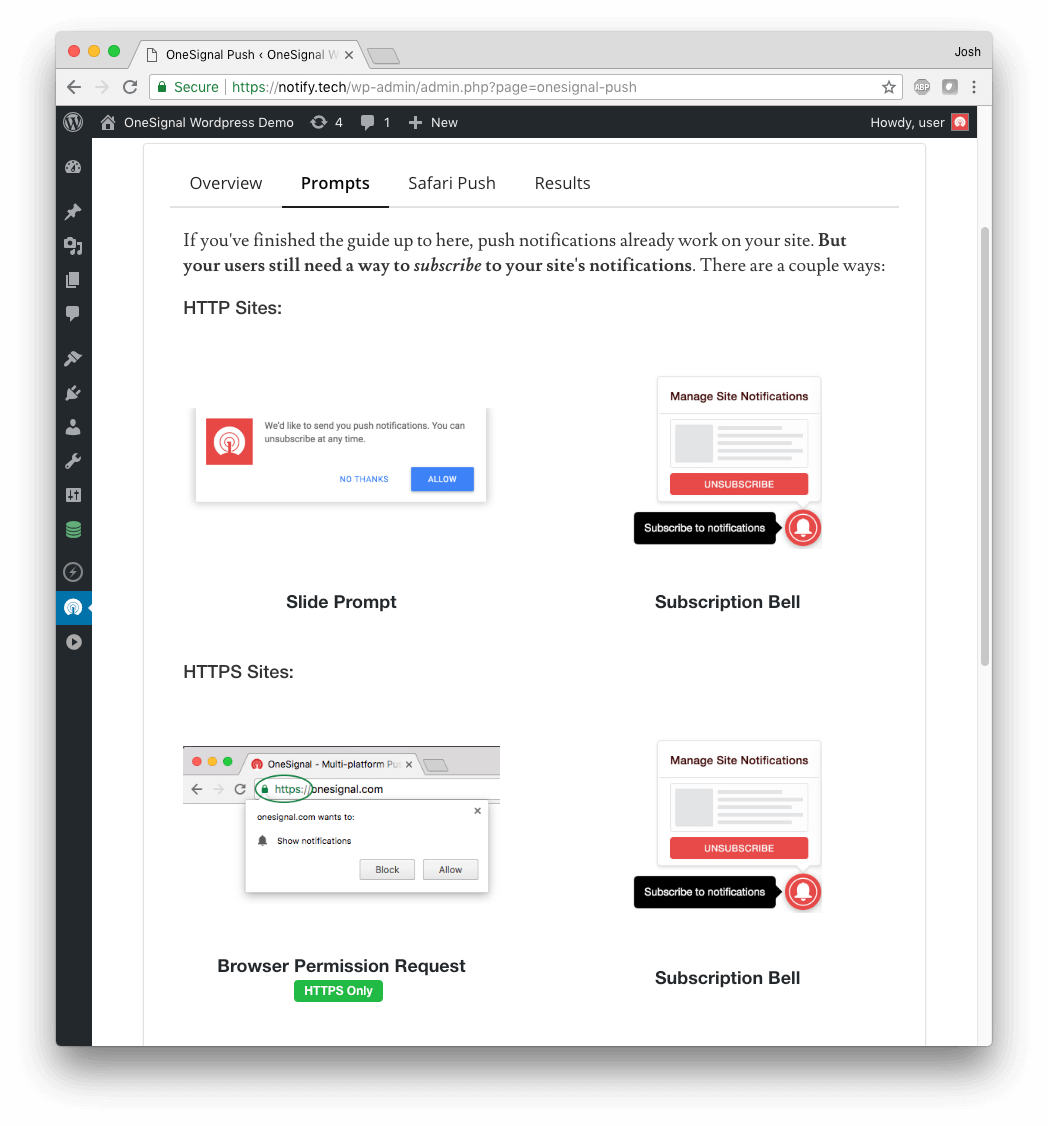 As the leading push notification provider, OneSignal is reliable and has a track record for effectively re-engaging website visitors. In addition to creating a custom subscription opt-in popup, this platform enables you to:
Personalize and segment your notifications so subscribers see messages relevant to their interests.
A/B test your notifications so you can continually adapt and improve them.
Send mobile push notifications via your WordPress site without the need for an app.
Automate notifications for triggers such as new blog posts.
OneSignal's WordPress plugin is free, but you'll need to sign up for a OneSignal account to start sending notifications. Fortunately, they're highly affordable, especially for smaller sites. You can send an unlimited number of notifications to up to 30,000 subscribers for free.
Paid plans start at $99 per month and include additional user segments and message templates as well as a higher subscriber count. The nice thing about OneSignal is that it can grow with your brand, which makes it ideal for newer sites looking to expand as well.
3. PushEngage

Analytics are helpful for any marketing strategy you choose to implement. When you can see how your campaigns are performing and narrow down what's resonating with your users and what isn't, it's easier to improve your technique to boost engagement and conversions.
PushEngage includes a handy dashboard for monitoring CTRs and opt-in rates so you can work on building up your notifications' effectiveness: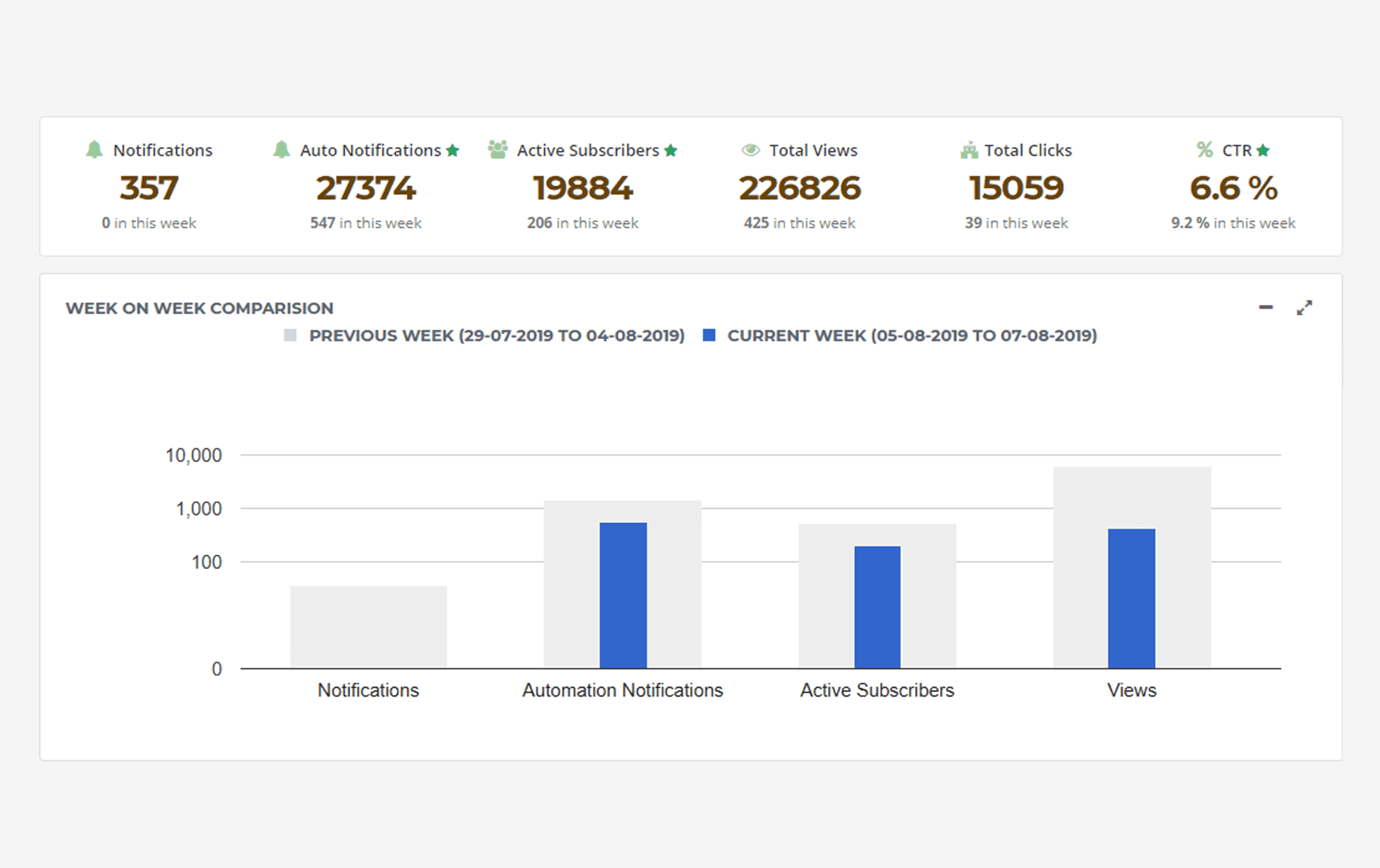 The free PushEngage plugin will quickly connect the platform with your site so you can start collecting subscribers right away. In addition to analytics tracking, this WordPress push notifications plugin includes:
Drip integration for advanced marketing campaign features.
Multilingual support for creating notifications for international audiences.
Seven opt-in popup choices with custom messaging.
Auto-triggered and scheduled notifications for creating a variety of campaigns.
You can start your PushEngage account for free, but if you have more than 2,500 subscribers or wish to send over 120 notifications per month, you'll need to upgrade. Business plans start at $29 per month and include support for 5,000 subscribers and unlimited notifications.
4. iZooto

iZooto recognizes that different types of sites have unique needs when it comes to their push notifications. While they have plans available for e-commerce and enterprise-level sites, this platform specializes in helping publishers – including those who run blogs or news sites – re-engage and build their audiences.
The corresponding WordPress plugin enables you to create and schedule notifications right in the post editor, so you can easily keep users apprised of your latest updates: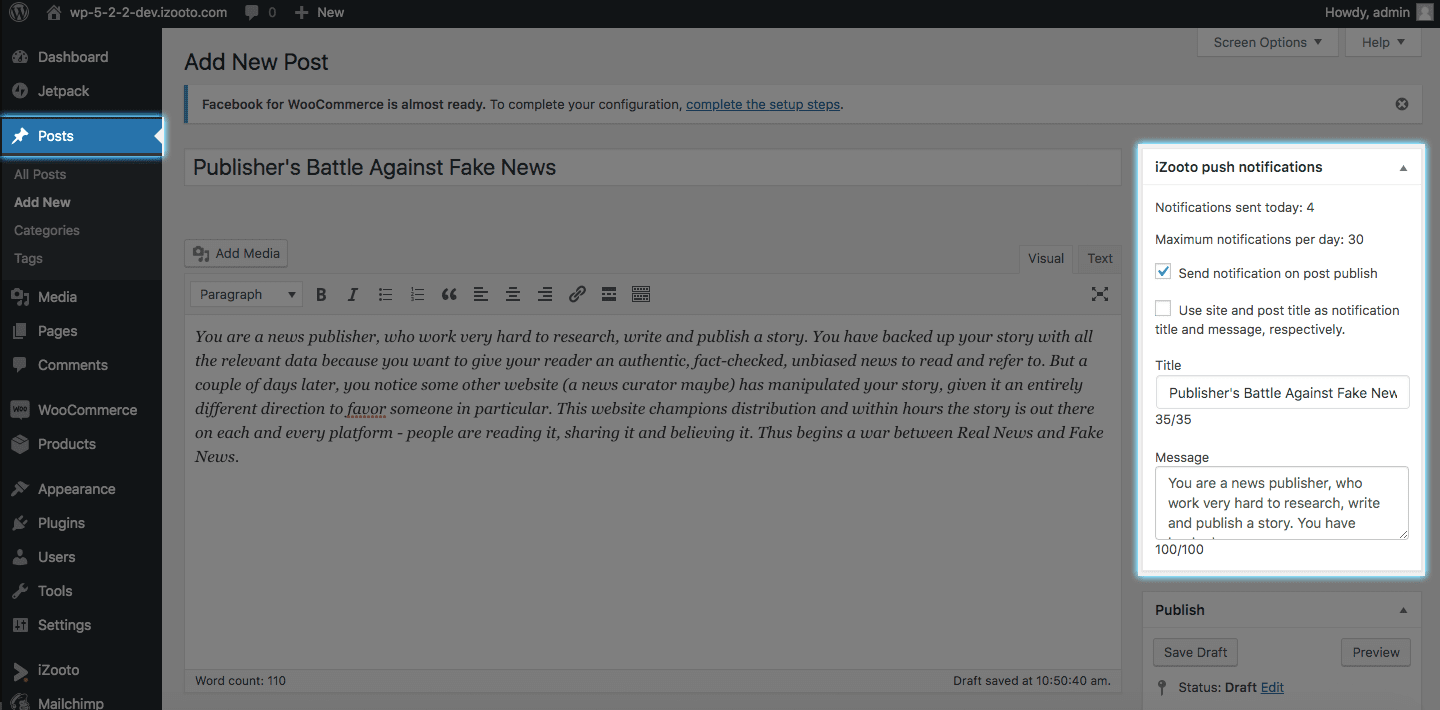 Other attractive features include:
Geo-targeting for creating relevant messages for your users no matter where they are.
Local time zone delivery so you can capitalize on high-activity periods.
Collaboration features for teams.
Unique push notification monetization opportunities for publishers with strict budgets.
iZooto's Publisher plan offers unrestricted push notifications for bloggers and other content creators. The catch is that they'll send native push notification Pay-Per-Click (PPC) ads to your subscribers. You'll get a cut of any ad revenue they make from your site, but if you're trying to keep it ad-free, this isn't the platform for you.
Alternatively, you can check out iZooto's e-commerce plan. You can use it for free to reach up to 2,500 subscribers, but your notifications will include iZooto branding. Upgrading to a $25 per month plan white-labels the feature but still limits your subscriber count to just 2,500, and costs go up from there.
GET IZOOTO FOR FREE TO $25/MONTH
5. Push Monkey Pro (WooCommerce push notifications)

Online retailers face a unique challenge in the form of abandoned shopping carts. Since customers don't have to check out right away, many use their carts as a wishlist and leave products they want to buy at a later date sitting in their account.
The problem is, sometimes those items are forgotten. Creating abandoned cart push notifications with Push Monkey can help you remind your customers of the products they've left behind in order to draw them back to your store to complete the sale.
Once you've connected your site using the free plugin, you can start sending WooCommerce push notifications and tracking your related data: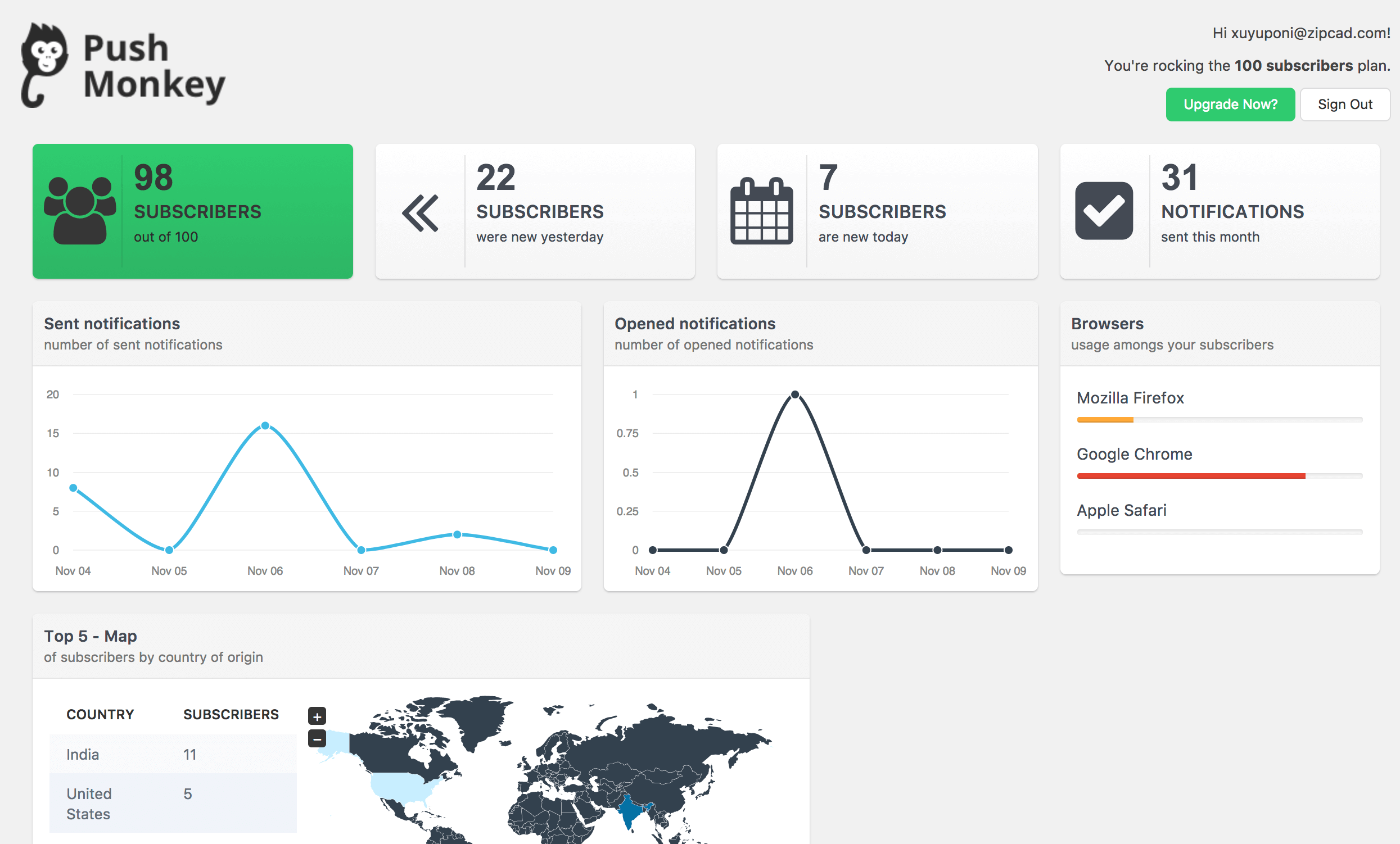 With this platform you can:
View push notification analytics in your WordPress dashboard.
Fully customize your push notifications with your own branding.
Schedule and automate abandoned cart notifications to send after a certain amount of time.
Display any missed notifications as soon as users wake their computers up.
Unfortunately, this platform is relatively expensive. Usage is only free for your first 100 subscribers, then the price jumps to $16 per month.
This may seem low, but consider this comparison. OneSignal supports 50,000 subscribers for roughly $149 per month. Push Monkey charges $165 per month on top of requiring to you pay more over time due to the low maximum subscriber count for its free plan.
6. SendPulse

While push notifications are an effective marketing technique, you'll likely want to use them alongside other channels such as email, SMS, or even Facebook Messenger to take advantage of additional engagement opportunities. SendPulse can help you manage all of these marketing methods, and create automated push notifications: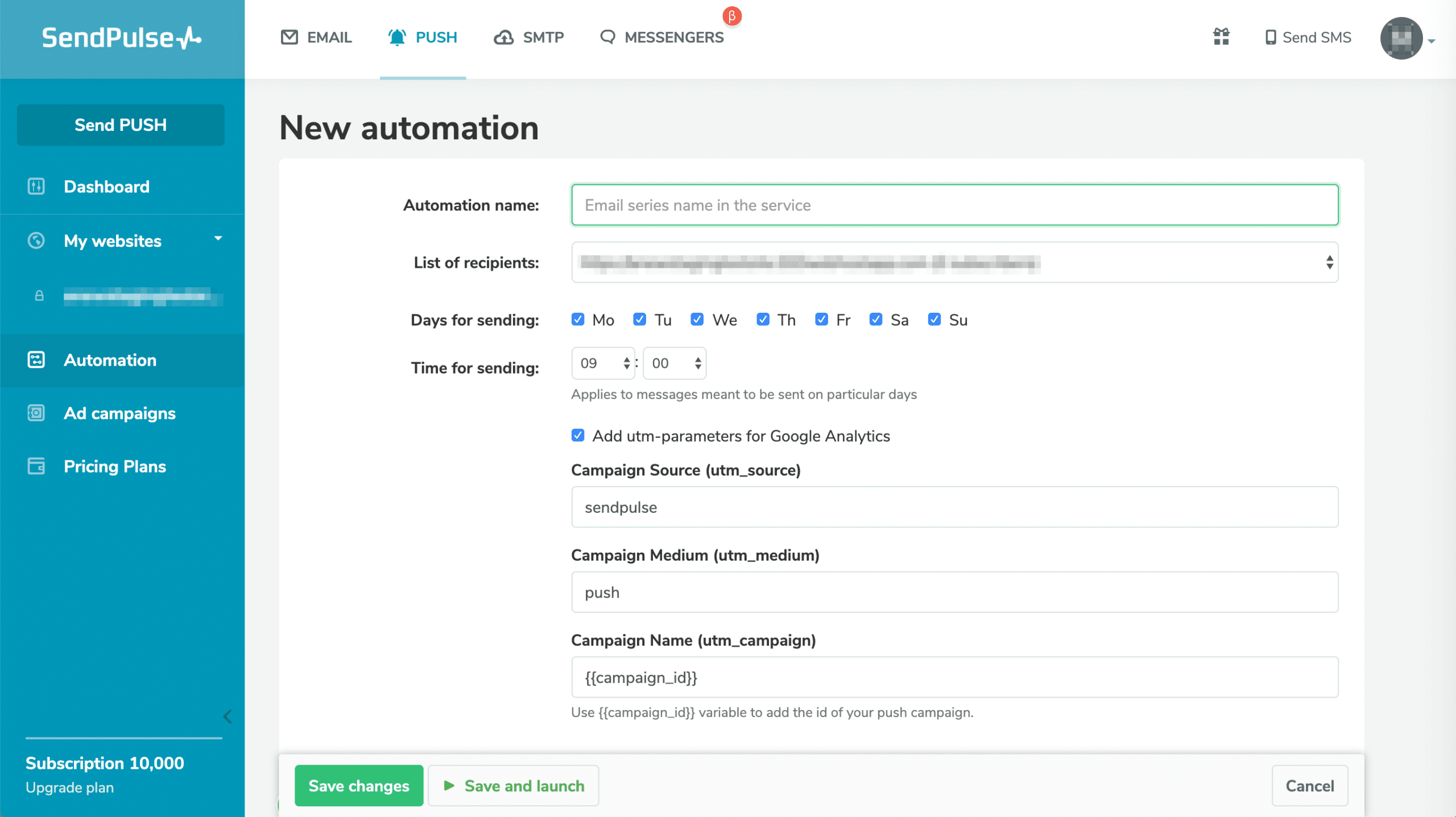 Once you connect your website to the platform with its WordPress plugin, SendPulse enables you to:
Monetize push notifications with ads.
Create custom subscription requests and notification messages.
Utilize REST API integration and developer documentation for further customization.
Implement personalization and segmentation for targeted marketing efforts.
You can use branded SendPulse notifications for free until you reach 10,000 subscribers. If you have a larger audience or what to white-label the service, you can purchase a paid plan. Pricing starts at $15.88 per month.
BUY SENDPULSE FOR $15.88/MONTH
7. PushAlert

Research shows that personalized push notifications are more successful than broadcast messages for increasing user retention and engagement. While many of the platforms on this list include segmentation features to help with this, PushAlert's Audience Creator takes things a step further and enables you to target users based on behavior, location, Return on Investment (ROI), and more.
Plus, creating your own custom messages is easy with the PushAlert WordPress plugin. You'll be able to quickly compose and send push notifications from your WordPress dashboard:

Besides the Audience Creator, PushAlert offers several other useful tools to improve your marketing strategy:
Built-in scheduling makes it easy to time your notifications for optimal engagement.
Fully automated e-commerce alerts help you rescue abandoned carts.
Multilingual support provides international reach for your brand.
Detailed analytics visible right in your WordPress dashboard enable you to refine your messages.
PushAlert also offers several pricing options that can accommodate a range of budgets. Their free plan includes unlimited notifications (with PushAlert branding) for up to 3,000 subscribers. You can purchase a Basic plan to reach additional users starting at $12 per month, and white-label your messages with a Premium plan for $39 per month.
8. Push Notifications for WordPress

While going through a third-party server has its benefits, you can save money on monthly service fees by sending notifications directly from your WordPress site with Push Notifications for WordPress. This plugin can even automatically collect content from your site to create notifications without any additional effort on your part: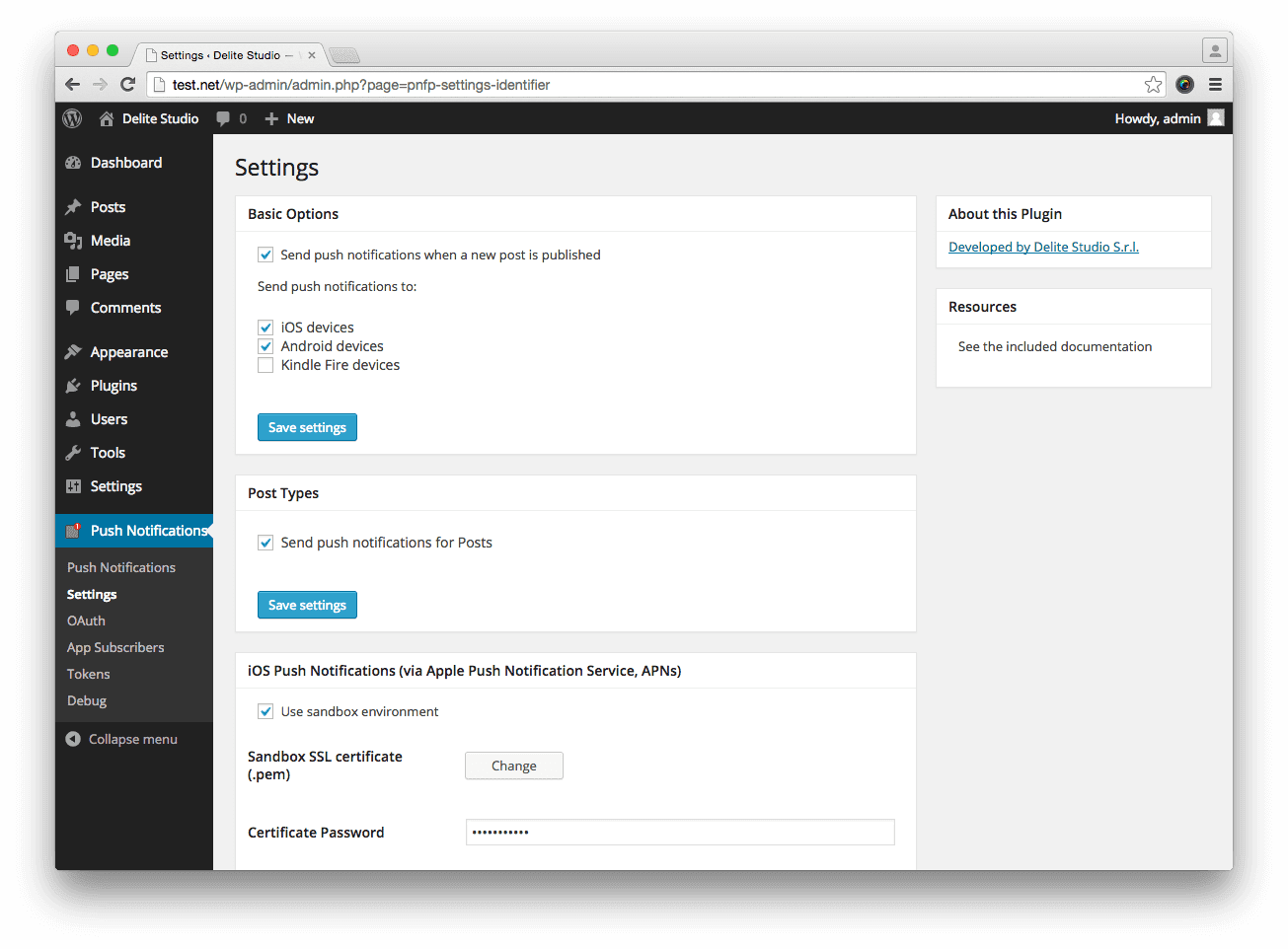 This WordPress push notifications plugin includes many of the standard features others in this list provide, as well as some unique functions:
Displays analytics in your WordPress dashboard for easy analysis.
Enables you to create user groups to segment and target users.
Gives users the ability to select the types of notifications they would like to receive.
Supports push notifications for custom post types.
There are no monthly fees associated with this plugin, regardless of how many subscribers you have. Licenses start at €99.90 per year for a single site. There's also a free version in the WordPress Plugin Directory, but it only enables mobile push notifications and limits the number you can send per post.
BUY PUSH NOTIFICATIONS FOR WORDPRESS FOR $109.66
9. Smart Notification WordPress Plugin

Another option for those looking to avoid third-party providers is the Smart Notification WordPress Plugin. It provides support for multiple marketing channels so you can manage push notifications, Facebook messaging, and your email newsletter with a single plugin: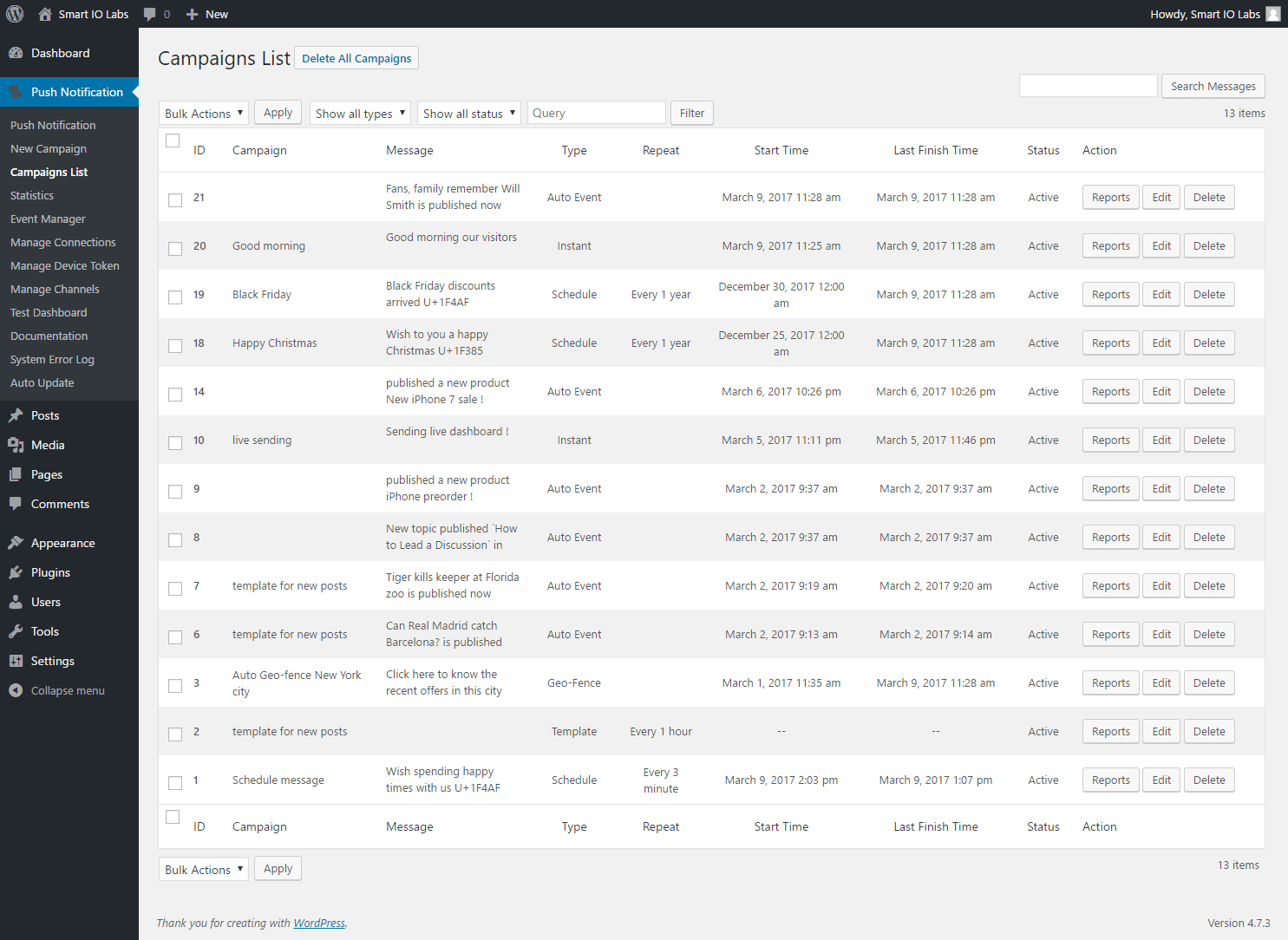 One of the most significant benefits of this plugin is its WordPress-specific focus. Features include:
Integration with other popular plugins including WooCommerce, BuddyPress, and Ultimate Member Pro.
A WordPress widget for encouraging subscriptions from your users.
Notifications based on user roles (e.g., inform authors when their posts are published).
Localization and translation support.
This plugin is available on CodeCanyon for just $29. Since there's no third-party integration involved, you don't need to worry about monthly fees or subscriber counts.
BUY SMART NOTIFICATION WORDPRESS PLUGIN FOR $29
Why You Should Avoid Nulled WordPress Push Notifications Plugins ❌
'Nulled' WordPress plugins and themes are premium products that have been hacked and made available for free. Using them instead of purchasing legitimate versions is tempting if you're looking to cut costs, and you can find nulled push notifications plugins online.
However, you'll likely end up paying a different kind of price by installing nulled plugins on your site. For starters, you'll miss out on developer updates and support. If something goes wrong with the plugin, you'll be on your own to troubleshoot it. You also won't receive key security patches, leaving your site vulnerable to hackers.
Plus, there's no way to be 100 percent sure what's in the code of a nulled plugin. You could inadvertently install malware on your site or cause other serious issues in an effort to save a few bucks. Considering the steep cost of malware removal and other site recovery services, you're better off paying for the actual plugin.
🖥️ Nulled WordPress push notifications plugins aren't worth the risk. #WordPress
Click To Tweet
Ultimately, purchasing plugins directly from their developers or through a trusted marketplace is also the best way to keep WordPress professionals in business. Spending a little extra money to reward others for their efforts is a small way to give back to the WordPress community.
How to Add Push Notifications to a WordPress Site Using OneSignal 👨‍💻
Hopefully, the information above has helped you select the best WordPress push notifications plugin for your site. Now you simply need to go about setting it up so you can start building your subscriber base and engaging your users.
The process differs slightly between platforms, although the same basic steps apply to third-party providers you can integrate with your site via a plugin. Since it's the most popular, we've walked through the setup process using OneSignal below.
After you've installed and activated the OneSignal plugin on your site, you'll need to create your account on their site. Simply click on the Sign Up button and fill in the appropriate fields: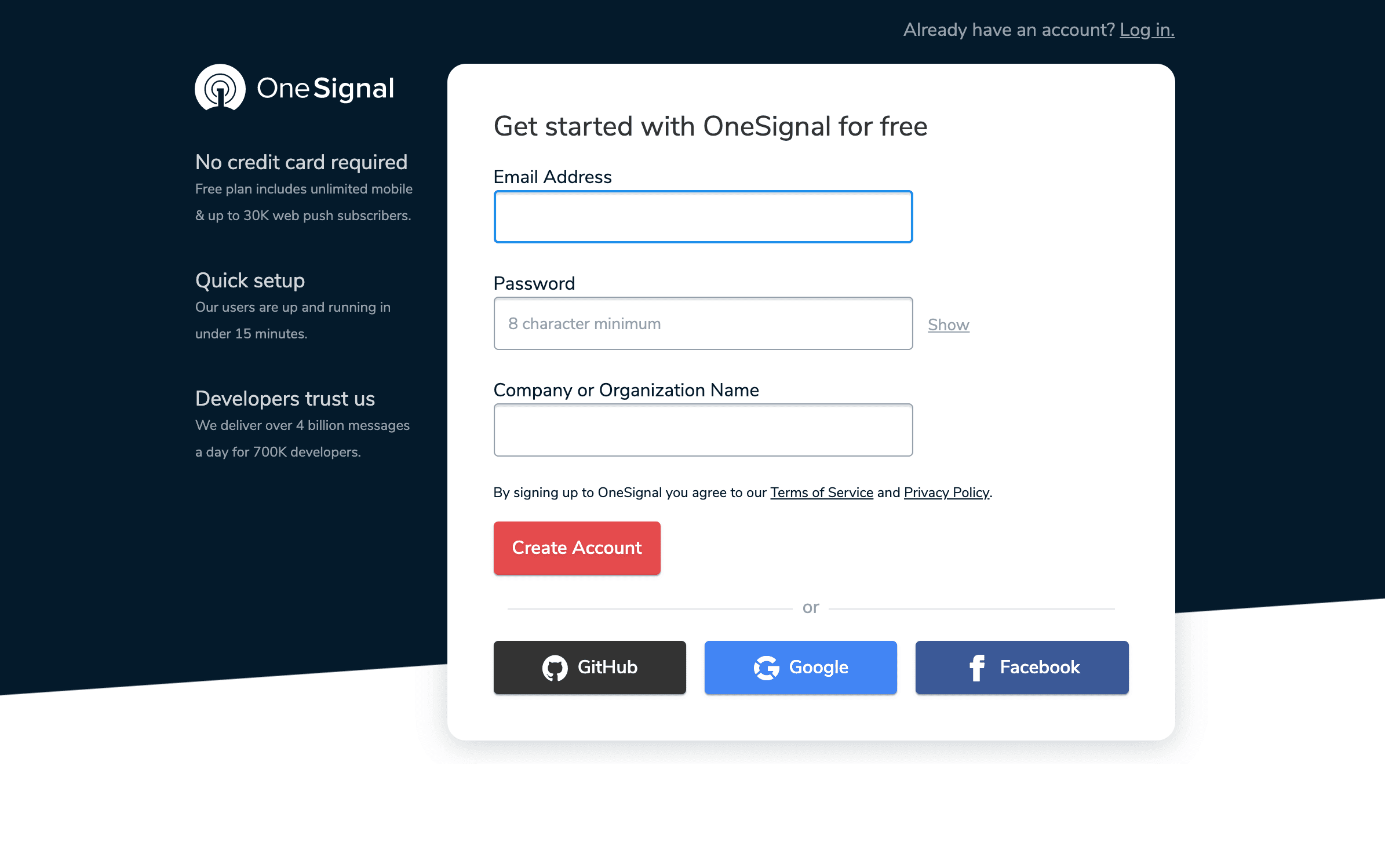 Once in your OneSignal account, click on the New App/Website button:

You'll then be prompted to choose the platform you wish to configure. Select Web Push: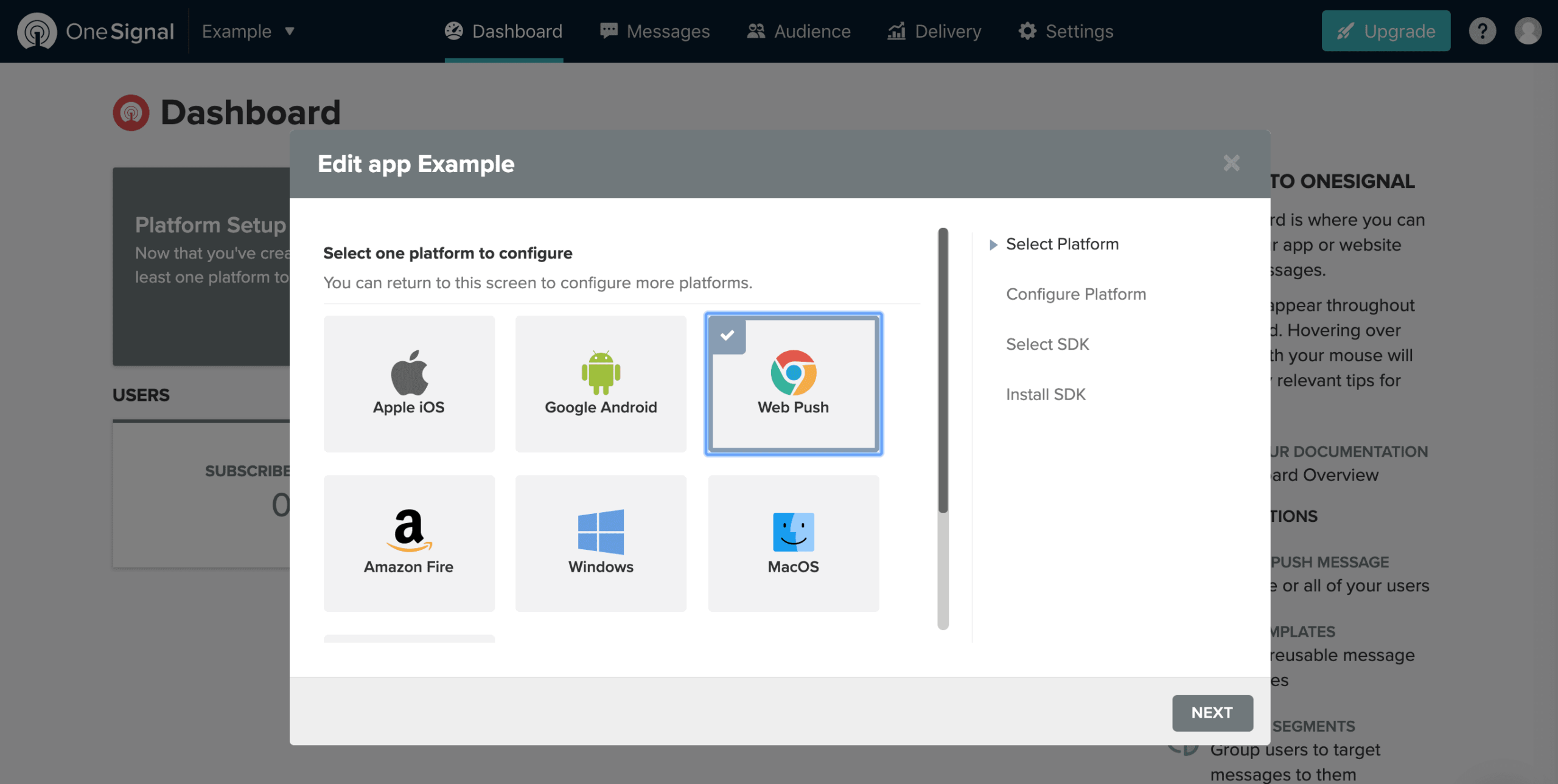 Now you'll begin the process of integrating your site with OneSignal – it involves just four steps, and is fairly straightforward. However, you can consult the Web Push Quickstart guide if you need more direction. Step 1 is choosing your integration. Select WordPress Plugin or Website Builder, then click on WordPress: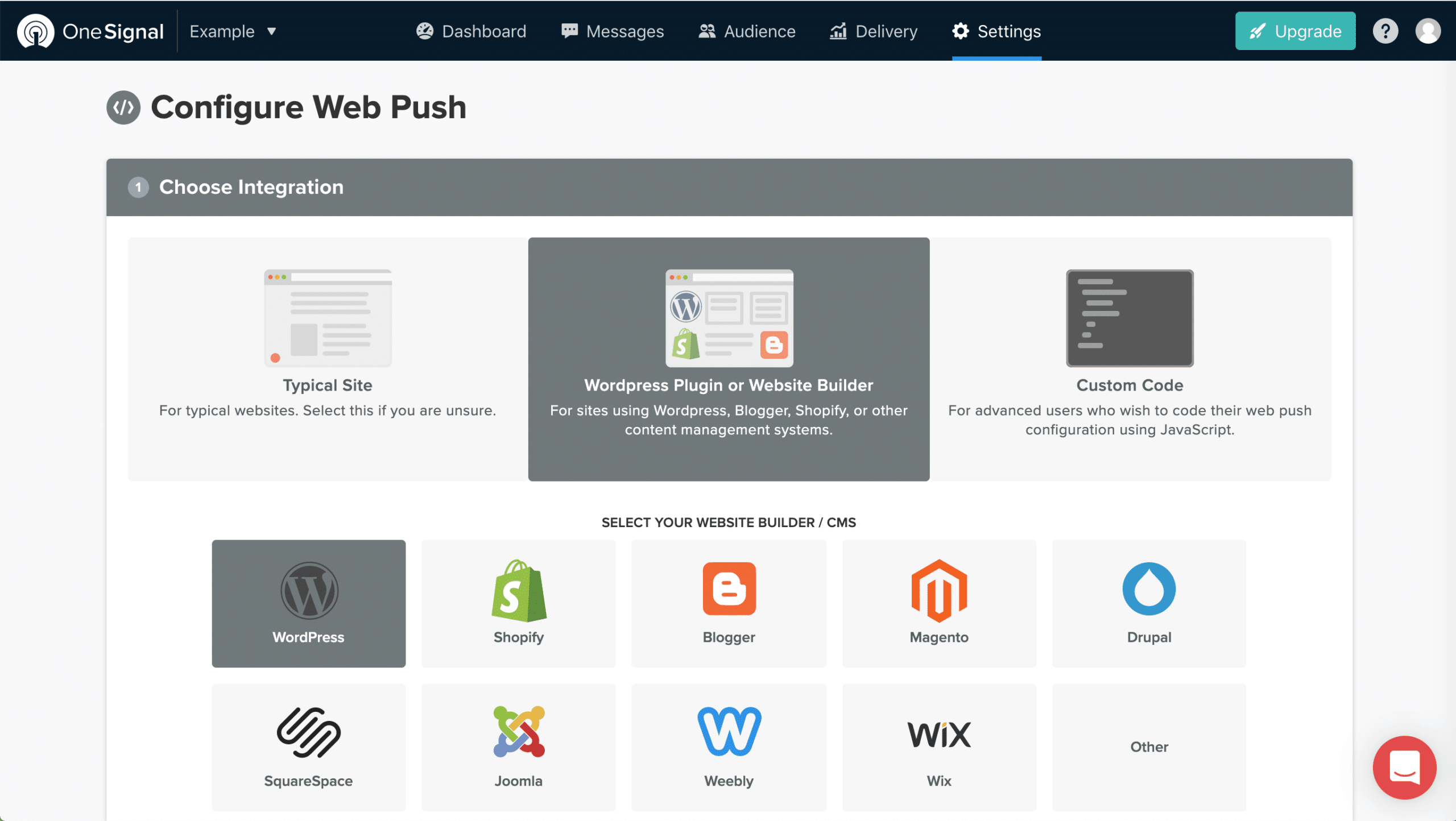 For Step 2, you'll need to enter your website's name and URL, then click on Save: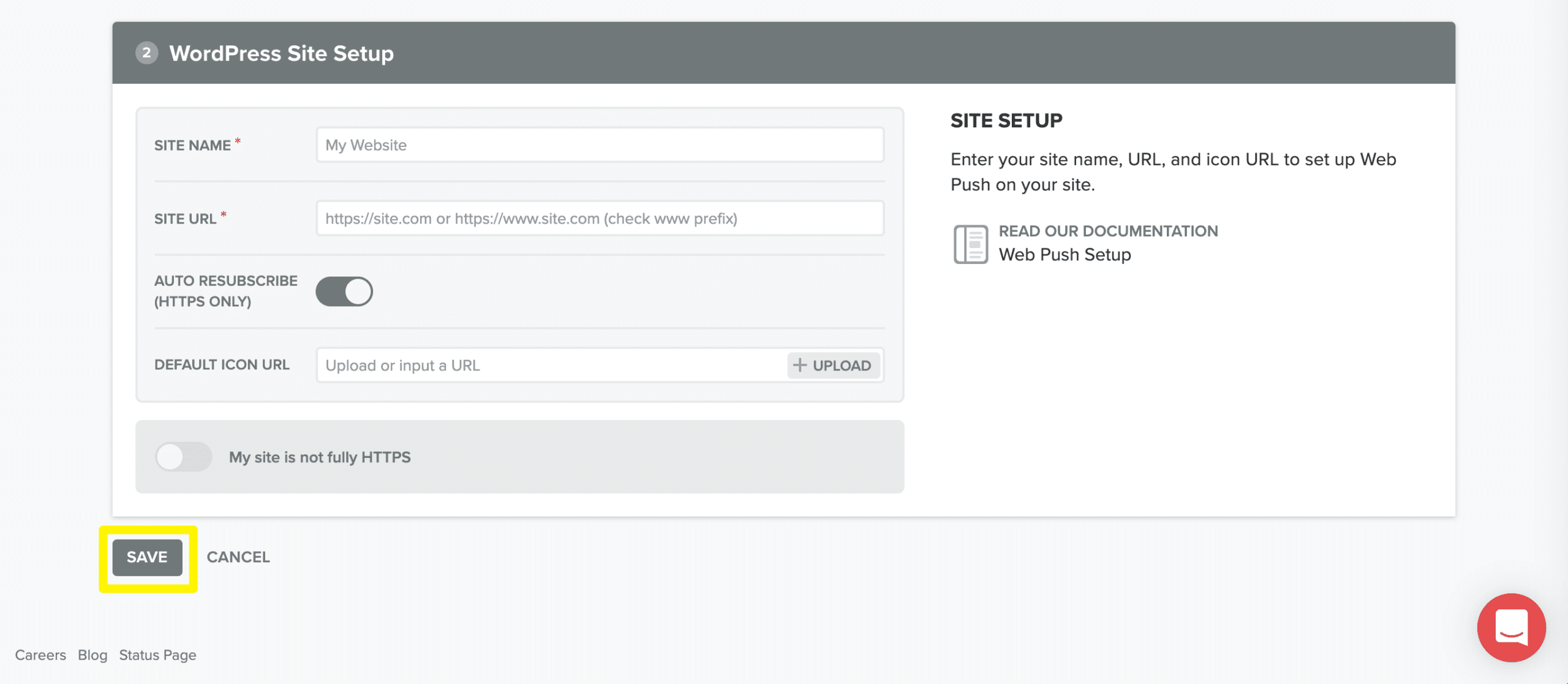 OneSignal will then provide you with an App ID and an API key: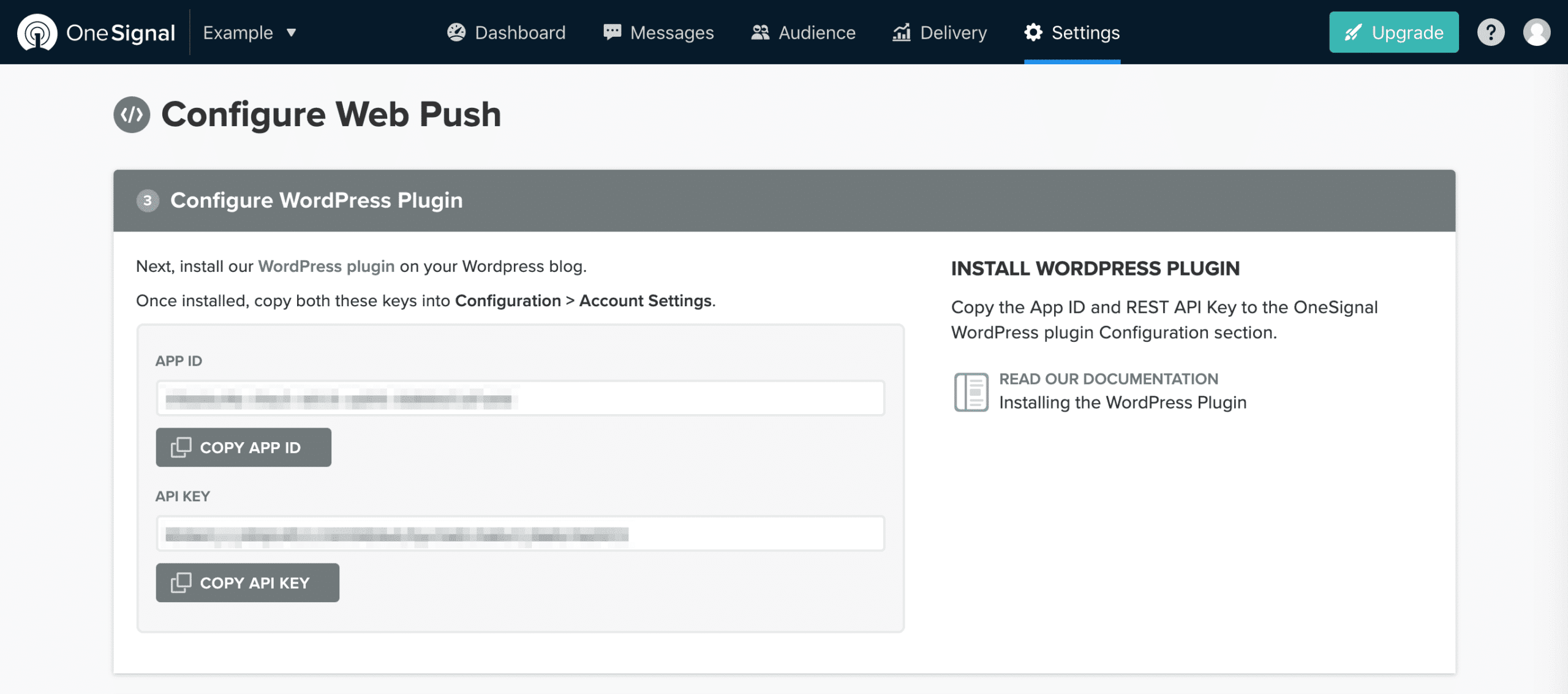 In your WordPress dashboard, navigate to OneSignal Push > Configuration > Account Settings. Here you can copy and paste your App ID and your API key: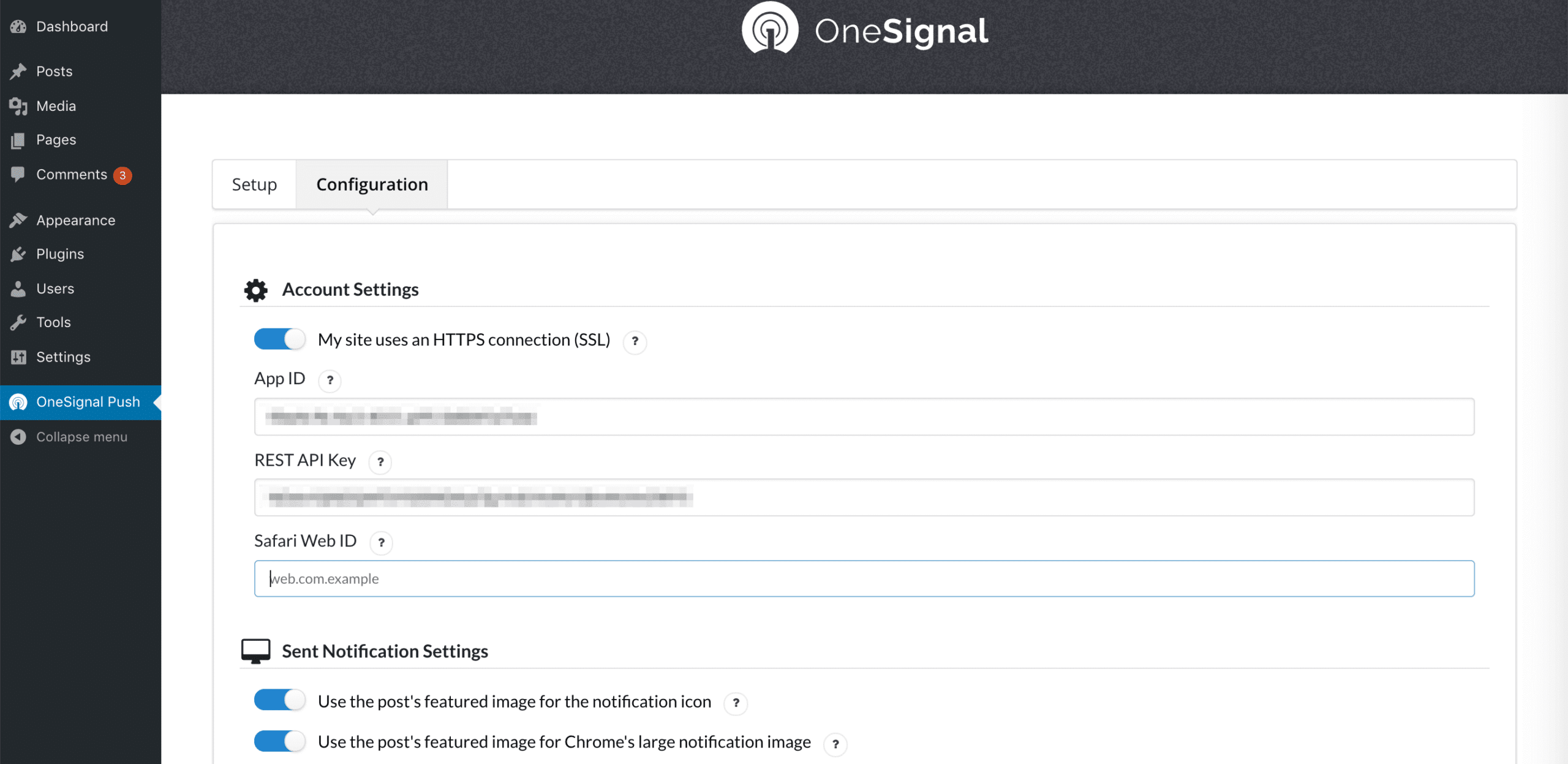 Back in your OneSignal account, click on the Finish button to complete the setup:

Once you've done this, push notification functionality will be live on your WordPress site! You can now choose your subscription prompt and continue editing the other OneSignal settings in your admin dashboard.
Wrapping Up ⏲️
User retention is one of the foundational pillars of a website's long-term success. Web push notifications for WordPress are a simple way to nudge subscribers back to your site and keep them engaged with your brand.
As we've shown in this post, there are many platforms that can help you accomplish your user engagement and retention goals with push notifications. OneSignal has proven itself a popular choice among WordPress users. However, you may also want to consider the more affordable PushAlert, or avoid third-party integrations with Smart Notification WordPress Plugin.
In addition to maintaining your audience, you don't want to forget about keeping up your site. With help from WP Buffs, you can ensure your website is always updated and optimized. Check out our Care Plans and Packages to learn more about what we have to offer!
Want to give your feedback or join the conversation? Add your comments 🐦 on Twitter.