Whether you're a nonprofit organization trying to fundraise or a startup looking to grow, accepting donations through your website is an effective way to do so. A WordPress donation plugin is one method of making this possibility a reality.
As a WordPress user, having the option to use a donation plugin puts you at an advantage. This particular type of extension makes it quick and easy to accept money through your site and provides multiple payment gateways for users.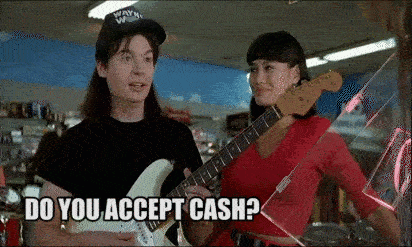 In this post, we'll discuss some of the benefits of using a plugin to accept monetary gifts on your website, as well as what to look for when choosing one. Then we'll explore eight of the best WordPress donation plugins to use. Let's get started!
In This Article 🔍
Our team at WP Buffs maintains WordPress sites for
website owners
,
agency partners
, and
freelancer partners
so they have more time to focus on their core business objectives. Whether you need help maintaining one website or 1,000 client sites, we've got you covered.
The Benefits of Using WordPress Plugins for Donations 🔌
As a WordPress user, you're likely no stranger to the power of plugins. These extensions enable you to expand the functionality of your website, which includes accepting donations.

If you're looking for a quick and easy way to accept monetary donations on your site, a WordPress donation plugin can help you do that. Some of the benefits of using one include:
The ability to offer multiple payment gateways
Easy setup and integration
No need for coding or complicated configuration
Customization options for styling the donation button
There are also many different use cases for WordPress donation plugins. Perhaps you run a charity or nonprofit and are looking for a way to elevate your fundraising strategy.
Another instance where it makes sense to use a plugin is if you're a small blog or startup business that needs help keeping up with the costs of running your site. Providing your visitors with an accessible, simple method of donating can be an effective solution.
💰 A WordPress donation plugin makes it quick and easy to fundraise through your site. #WordPress
Click To Tweet
What to Look for in a WordPress Donation Plugin 👀
Making the decision to use a WordPress donation plugin on your website is easy. It's choosing which one is best for your situation that can be a bit tricky.
There is no one-size-fits-all solution for accepting online donations. The right plugin for you will depend on your particular needs. However, there are a few factors to take into consideration that can help narrow your decision. These include:
Pricing. Obviously, budget is a major consideration when shopping for a donation plugin. Beyond the initial cost of a premium tool, it also helps to check whether there are any associated fees. Some take a percentage of each donation, and certain payment gateways have ongoing costs as well.
Usability. As we mentioned, one of the benefits of using a WordPress donation plugin is that it makes the setup easy. However, it's wise to do a little research to make sure the interface and functionality of the options you're considering are easy to navigate.
Payment gateways. If you want to increase the chances of your site visitors making donations, it's important to make it easy for them to do so. This includes offering multiple payment gateways so they can choose their preferred method. It's also beneficial if you can provide popular platforms users will be familiar with to make them more comfortable inputting their credit card details.
Ultimately, it's essential to choose a plugin you can rely on. You want to make sure that the one you select is safe, secure, and, ideally, charges the least amount in fees.
8 Contenders for the Best WordPress Donation Plugin 💸
Now that we've discussed the benefits of using a WordPress donation plugin and what to look for when you go about selecting one, it's time to dive into some noteworthy options to consider.
Here, we'll take a look at eight of the best WordPress plugins for donations:
1. GiveWP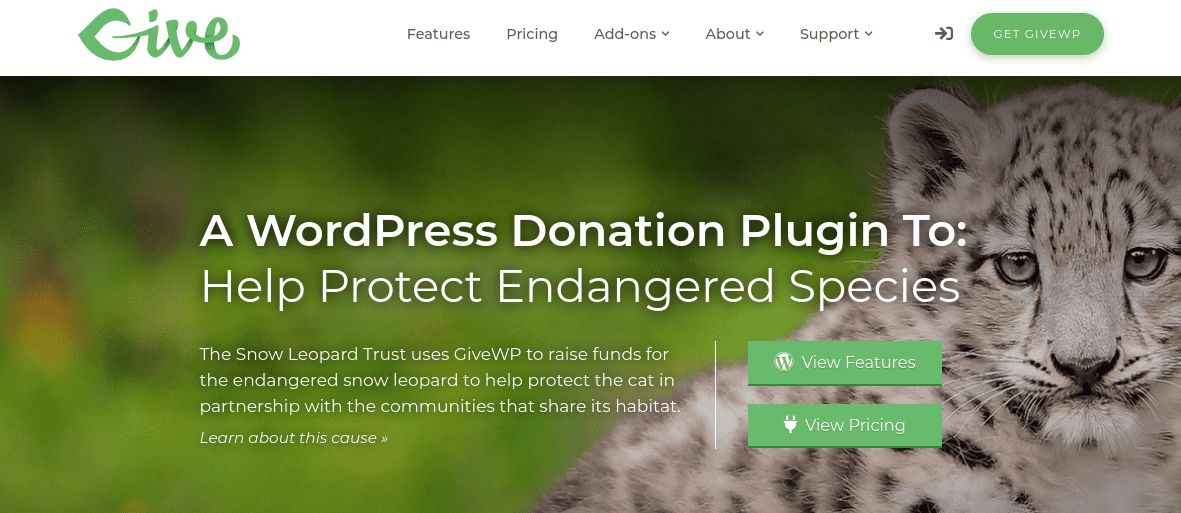 GiveWP is one of the most popular and versatile tools available for collecting money via your WordPress site. It's particularly useful if you're a nonprofit organization looking to fundraise.
With this plugin, you can customize a donation form directly from your dashboard. You have the option of accepting recurring gifts or configuring it for one-time giving.
Some notable features include:
Multiple payment gateways, including Stripe, PayPal, Authorize.Net, and Braintree
Customizable donation tributes
Option to set up campaign goals and incentives
Donor management dashboard with donation reports
Email marketing integration
Fee Recovery add-on that lets you customize the fees per gateway per form
Another advantage of using this plugin is its budget-friendly pricing plans. You can download and use GiveWP for free. However, to gain access to its full suite of features and add-ons, you'll have to upgrade to one of its paid plans, which start at $149 per year.
💰BUY GIVEWP DONATION FOR $149 PER YEAR
2. WP Crowdfunding

The WP Crowdfunding plugin by Themeum is another popular WordPress fundraising plugin. This extension is ideal for crowdfunding campaigns. It can basically turn your site into a GoFundMe-type platform.
It comes with a Native Wallet System that makes it easy to track campaign pledges and distribute funds among stakeholders. Other WP Crowdfunding features include:
Integration with multiple payment gateways including PayPal, Stripe, Authorize.net, as well as WooCommerce gateways
Option to charge a commission fee for collecting donations
Project and goal management
Front end dashboard for users
WP Crowdfunding does have a free WordPress plugin you can use. However, we recommend paying for a licensed plan, which starts at $149 and comes with a 30-day money-back guarantee. With the premium version, you can utilize the Native Wallet system features, connect to Stripe and Authorize.net, and much more.
💰BUY WP CROWDFUNDING FOR $149 PER YEAR
3. Charitable

Charitable is another WordPress donation plugin that is packed with helpful features for setting up a fundraising campaign on your website. With this tool, you can set a fixed giving amount or customize your own. You can also add the donation form to any page, post, or sidebar, or incorporate it in a pop-up.
Additional Charitable features include:
Email marketing integration
One-time or recurring donations
Unlimited campaigns
Option for donors to cover the processing fees on donations
You can download and use the Charitable WordPress plugin for free. However, you may want to invest in a yearly premium subscription, which gives you access to significantly more features.
You will also need to sign up for a paid plan if you want to connect your site with payment gateways such as Stripe and Authorize.net. Charitable offers a risk-free 30-day money-back guarantee, so if you change your mind and want to go back to the free version that's always an option.
💰BUY CHARITABLE PLUS FOR $119 PER YEAR
4. WPForms

The WPForms plugin is a well-known WordPress extension that is most commonly used for its drag and drop form builder. However, it can also enable you to accept donations through your website.
One of the templates that comes built-in with WPForms is a donation form. This is a solid option if you're looking for a simple way to accept one-time or recurring monetary gifts, but don't want a plugin with too many bells and whistles.  It also offers add-ons for PayPal and Stripe.
Additional WPForms features include:
Email marketing service integration
Volunteer signup forms, surveys, and polls
Instant notifications
User registration forms
User-friendly interface and drag-and-drop builder
With WPForms Lite, you can download and use the plugin at no cost. However, the free version doesn't include the donation form template. For that, you'll need to upgrade to a premium plan, which starts at $39.50 per year.
💰BUY WPFORMS FOR $39.50 PER YEAR
5. YITH Donations for WooCommerce

If you have an online store as part of your website, YITH Donations for WooCommerce is a WordPress donation plugin worth considering. This tool is unique in that it operates a bit differently than other ones on this list.
When you're shopping in a retail store and go to check out, you're sometimes prompted with the option to make a donation to a certain charity or cause during the purchase process. Basically, this is what the YITH Donations plugin lets you do for your e-commerce site.
When one of your customers adds a product to their shopping cart, YITH Dontations will present them with the option to make a donation to one of the campaigns you've set up. You can decide which product pages to add the form to.
If your products are free, you can configure YITH Donations to automatically receive monetary contributions from your visitors. It also lets you specify minimum and maximum donation amounts.
While the free version of this plugin has been closed since November 2021, the premium version is fortunately relatively inexpensive compared to other options. Subscriptions start at $59.99 for a single site.
💰GET YITH DONATIONS FOR WOOCOMMERCE FOR $59.99 PER YEAR
6. Donorbox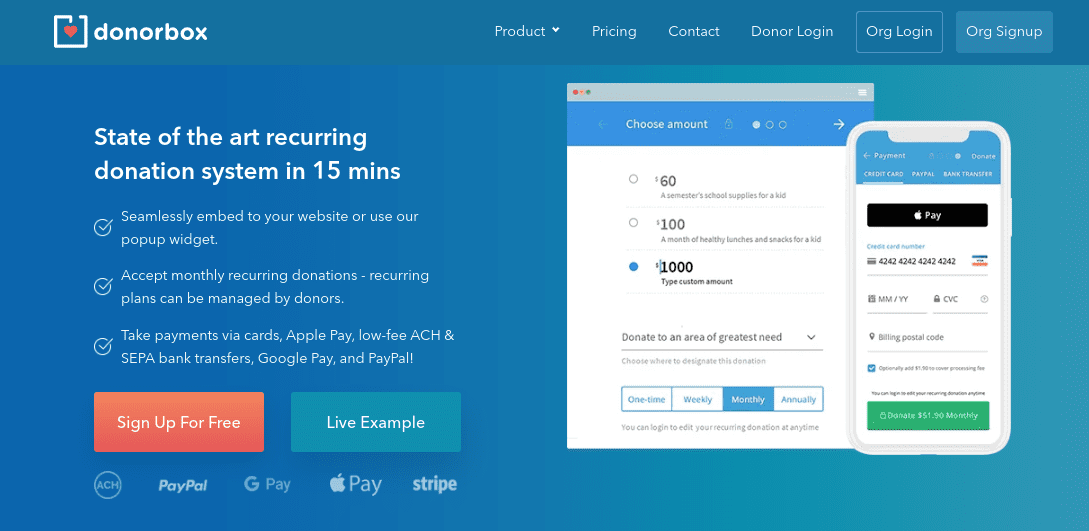 If you're looking for an affordable yet versatile WordPress donation plugin, Donorbox is worth checking out. It can be particularly useful for small businesses as it comes with a feature that lets you provide company gift matching and company donations.
Although this plugin can be used for WordPress sites, it is not WordPress-specific. You can use the Donorbox platform on its own if you'd prefer.
Donorbox features include:
Option to set up weekly, monthly, and annual recurring donations
Support for multiple payment gateways including PayPal Express, Apple Pay, and Google Pay
Donation page branding and styling options
Fully customizable donation forms
Email and pop-up deployment
Donorbox is free to use but comes jam-packed with impressive features, making it difficult to match in terms of value. However, the one caveat to note about this plugin is that it is only free for up to $1,000 in collections per month.
If you bring in more than that, you'll be required to pay a 1.5 percent platform fee. There are also additional payment processing and integration fees that we recommend reviewing.
7. PayPal Donations

If PayPal is your primary payment gateway, the PayPal Donations plugin might be all you need for your WordPress site. This plugin is totally free to use. It lets you choose either a sidebar widget or shortcode to add a donation button to your website.
You can simply connect your PayPal account to your site via your PayPal ID. Then any donations accepted via your site will be transferred directly to your account. After you install and activate the plugin, you can also choose from multiple button options for collecting funds via your website.
We mentioned earlier that the available payment gateways should be a major factor when you're choosing a donation plugin for WordPress. Although PayPal Donations only offers one, it's such a well-known and trusted platform that you're still not likely to have issues with users holding back from contributing to your campaigns.
The biggest draw of this plugin is its simplicity. It's a straightforward, no-frills method of accepting donations. Plus, it doesn't cost a dime!
💰GET PAYPAL DONATIONS FOR FREE
8. Donation Thermometer

If you have a fundraising goal or often run campaigns that include monetary contributions from users, Donation Thermometer can add an engaging, visual aspect that goes beyond your typical WordPress donation plugin.
The important thing to note about this free WordPress extension is that it is meant to be used alongside another donation plugin. Unlike the other tools mentioned on this list, you cannot use Donation Thermometer to accept payments or funds.
Instead, its purpose is to complement other WordPress donation plugins by displaying your overall fundraising goal and how much money you've collected so far. Donation Thermometer simply adds a visual aspect that makes your fundraising process more engaging.
You can use it to let your visitors see where you're at in your campaign and how close you are to reaching your goal. It can be a powerful incentive and help build momentum and encourage more giving on the part of visitors.
Once you install and activate Donation Thermometer, you can customize the chart's design, including the colors, size, and text. Then you can use the plugin shortcode to display your fundraising progress anywhere on your WordPress site.
💰GET DONATION THERMOMETER FOR FREE
Wrapping Up ⌛️
Whether you're looking for help with the costs of running your blog or trying to fundraise for a specific cause, being able to accept contributions on your WordPress site makes raising money a lot easier. This is why we recommend using a donation plugin.
As we discussed in this article, there are a ton of powerful plugins to choose from. The right one for you depends on your budget and campaign goals. From premium tools geared toward charities such as GiveWP to free extensions built around a specific gateway such as PayPal Donations, there's a cost-effective solution to make fundraising easier.
After you get your WordPress donation plugin up and running, it's important to make sure that – like all aspects of your website – it's properly maintained and regularly updated. At WP Buffs, we can help make this easier. We offer WordPress care plans and maintenance packages that can keep your site running smoothly and reduce the amount of time you spend on maintenance. Check them out today!
Want to give your feedback or join the conversation? Add your comments 🐦 on Twitter.
Image credit: Fabian Blank.