Online lead capture can be tough, but you can make it easier by stocking your arsenal with the right WordPress plugins and tools.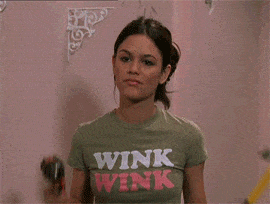 Having these tools on your side will help you:
Create content your visitors will love
Convert visitors into qualified leads
Analyze your funnel so that you know what's working, and what you need to improve
To help you optimize your lead capture strategies, let's take a look at 14 of the top WordPress lead capture plugins. Each also accounts for site speed and security, too, so don't fret.
What Counts as a WordPress Lead Capture Plugin, Anyway? 🤷‍♀️
There's a lot that goes into lead capture.
You need to attract potential leads to your WordPress site in the first place. Then you have to nurture them. Then, when the time is just right, you have to convert them.
Now, you're not going to find a single WordPress plugin that does all of that for you, nor did I want to focus this post on basic traffic generation tools like Yoast SEO (a popular WordPress SEO plugin).
Instead, these plugins are mainly focused on the end of the process – converting prospects into leads. All of these plugins help you do that in some way. You'll find plugins to help you with:
Creating lead capture forms
Designing high-converting pages for various stages of your funnel
Displaying popups
Analyzing your lead capture funnel
Some plugins focus on one piece of the puzzle, while others are a little broader in the aspects of lead capture that they tackle.
Our team at WP Buffs is dedicated to helping 
website owners
, 
agency partners
, and 
freelancer partners
manage their WordPress sites 24/7. We even use the HubSpot CRM Sales Professional Hub! Whether you need us to manage 1 website or support 1000 client sites, we've got your back.
The 14 Best WordPress Lead Capture Plugins in 2021 💥
HubSpot All-In-One Marketing
Holler Box
Thrive Leads
Elementor Pro
IntelligenceWP
WPForms
WP Quiz
WP Live Chat Support
Intercom
Gravity Forms
Zero BS CRM
OnePress Opt-In Panda
Yoast Comment Hacks
CallPage
1. HubSpot All-In-One Marketing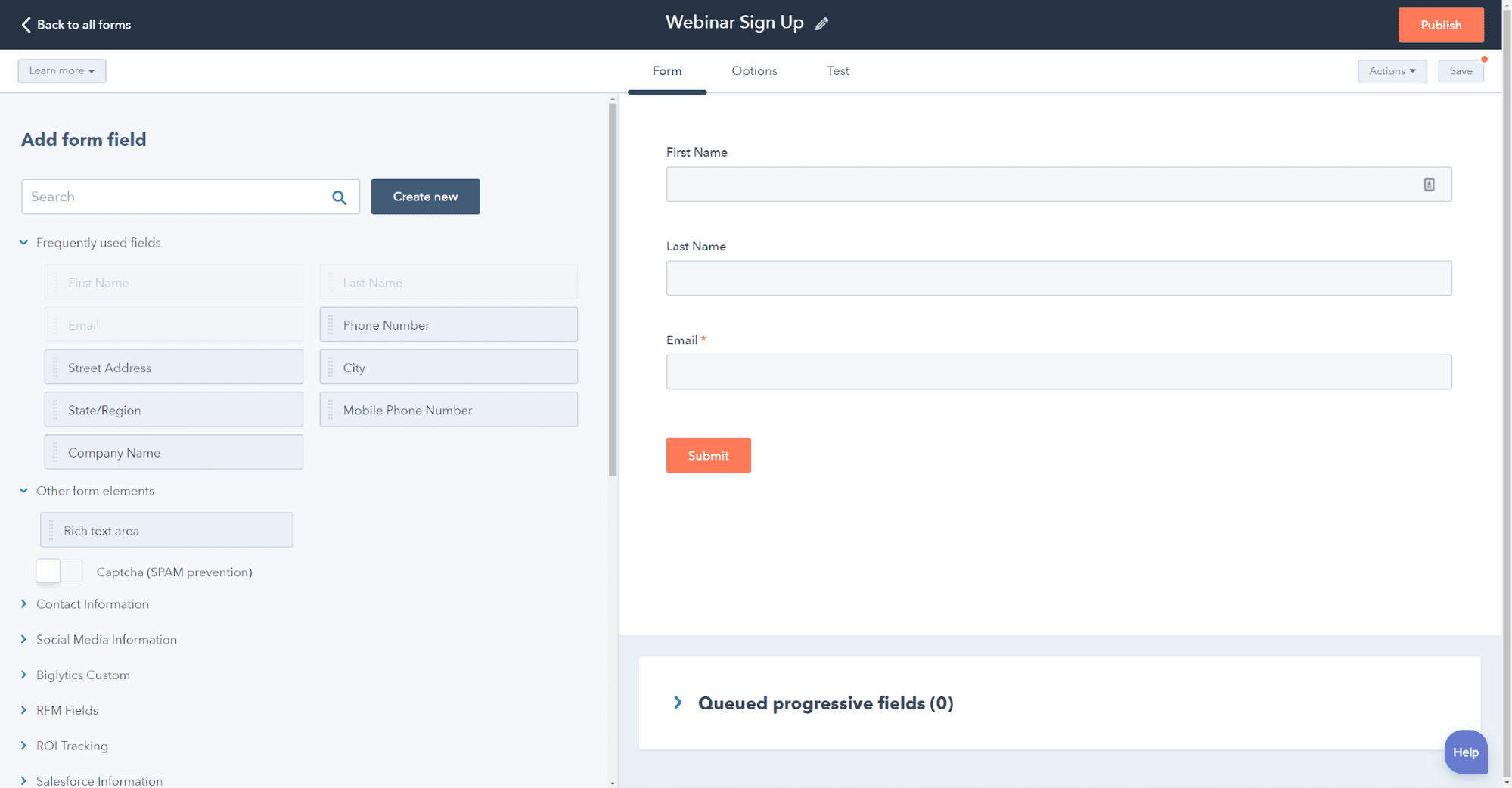 HubSpot All-In-One Marketing* is a versatile plugin that gives you multiple tools to help you generate leads on WordPress:
Forms – create inline forms anywhere on your site and collect as much (or as little) information as you need from your customers.
Popups– add those forms as modal popups or unobtrusive top banners or slide-ins.
Live chat– add a live chat box to your website and connect with your customers to offer support or sales help.
Chatbot– create an automated chatbot to respond to visitors when you aren't around.
The neat part is that all of these features integrate with HubSpot's free CRM*. So whenever someone fills out a form or submits their details via live chat, that information goes into the CRM, where you can organize your leads and segment them into lists.
🤩 Whenever a site visitor submits info, it goes into the free HubSpot CRM, where you can organize your leads and segment them into these awesome lists. Neat! #WordPress
Click To Tweet
Beyond that, you can also view the first seven days of activity for your leads, which lets you track all your leads' touch points as they move through the customer journey.
You can get started with HubSpot All-In-One Marketing for free, and setting up the CRM only takes a couple of minutes – all you need to do is register for a free account.
2. Holler Box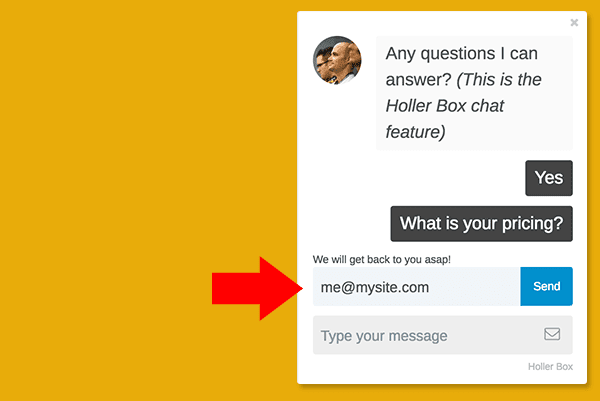 Holler Box is a simple WordPress lead capture plugin that focuses on giving you unobtrusive ways to generate leads.
Holler Box markets itself to WooCommerce and Easy Digital Downloads stores, but non-eCommerce stores can get plenty of benefit from its functionality, too.
The tool helps you generate leads with both simple notification boxes, as well as faux live chat boxes built to collect email addresses.
In total, Holler Box gives you access to 7 different form types. And if you are running a WooCommerce or Easy Digital Downloads store, you can add authentic social proof with real sales notification popups, which is a great way to cultivate new leads.
3. Thrive Leads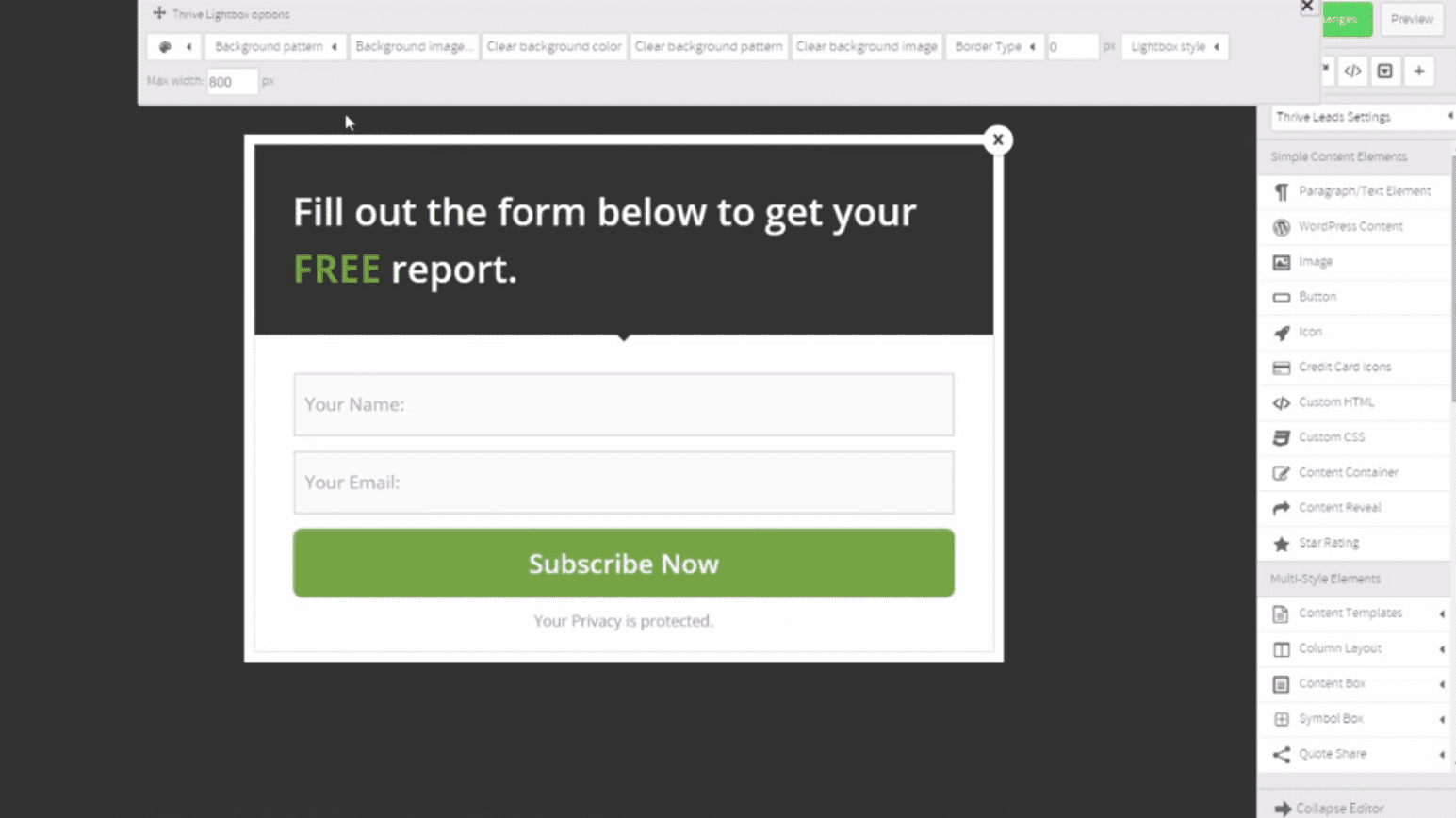 As the name suggests, Thrive Leads is a WordPress lead capture plugin that's 100% focused on helping you generate leads. More specifically, email addresses.
Using a drag-and-drop form builder, Thrive Leads can help you create:
Popups
Slide-ins
Notification bars
Scroll mats
In-content forms
You get lots of options for targeting those forms. For example, you can create personalized lead capture forms for specific WordPress categories or tags, which is a great way to boost your conversion rate.
Beyond that, you get a similar array of triggers – including exit-intent – and Thrive Leads also comes with built-in A/B testing and analytics to help you analyze and optimize your forms.
4. Elementor Pro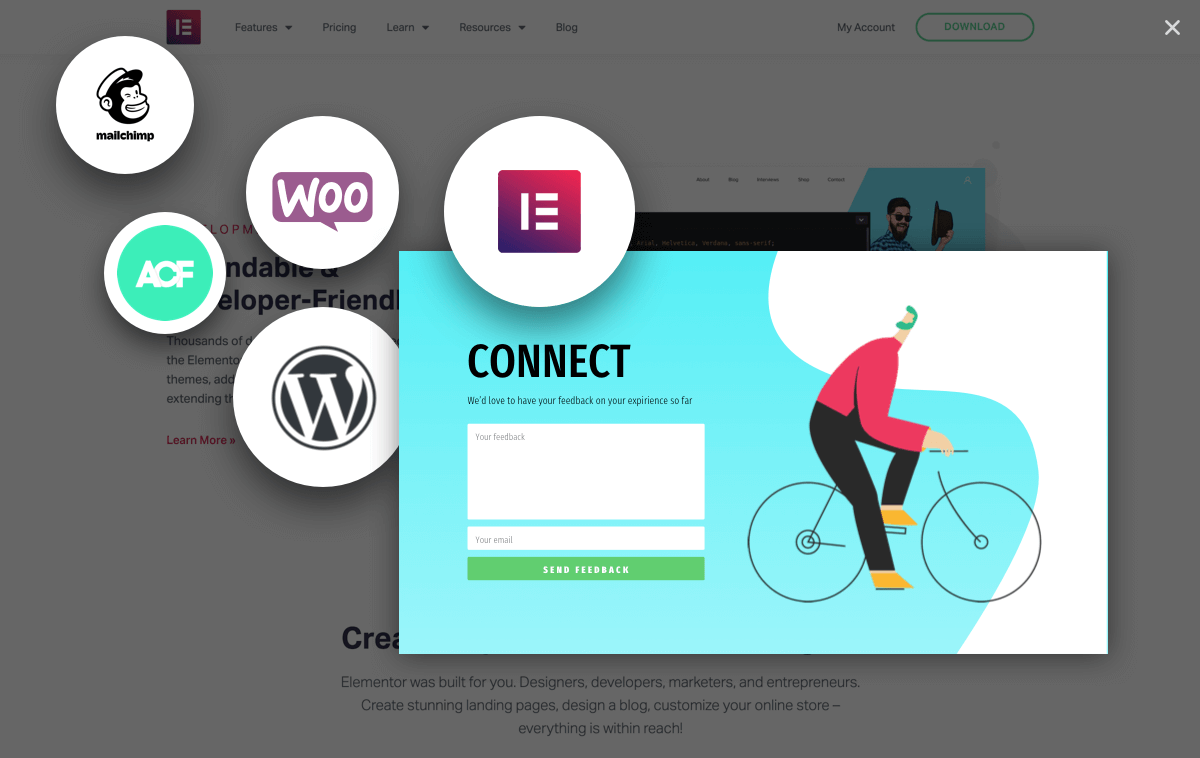 Elementor Pro* is a popular WordPress page builder plugin, which means that it lets you visually build designs using drag-and-drop. It contains a ton of style options and templates and just generally lets you build some awesome content without the need for any technical knowledge.
For example, you could use it to create a custom landing page to generate leads or a squeeze page for your next webinar.
Beyond helping you create well-designed content that's optimized for leads, Elementor Pro comes with a few specific features that make it great for lead capture:
Form widget – create customizable forms to collect information about your visitors. You can hook these forms up to popular email marketing services, or connect to Zapier to store details in your CRM (including HubSpot CRM).
Popup Builder – use the same drag-and-drop design options to build your own popups and display them anywhere on your site. You can add a form widget inside a popup, which lets you create email opt-in forms, user feedback surveys, polls, and more.
Countdown widget – create regular or evergreen countdown timers to add urgency to any of your lead capture efforts.
Elementor is also just generally a great tool to combine with these other lead capture plugins. For example, you could still use HubSpot's forms, but use Elementor to design everything that goes around those forms.
5. IntelligenceWP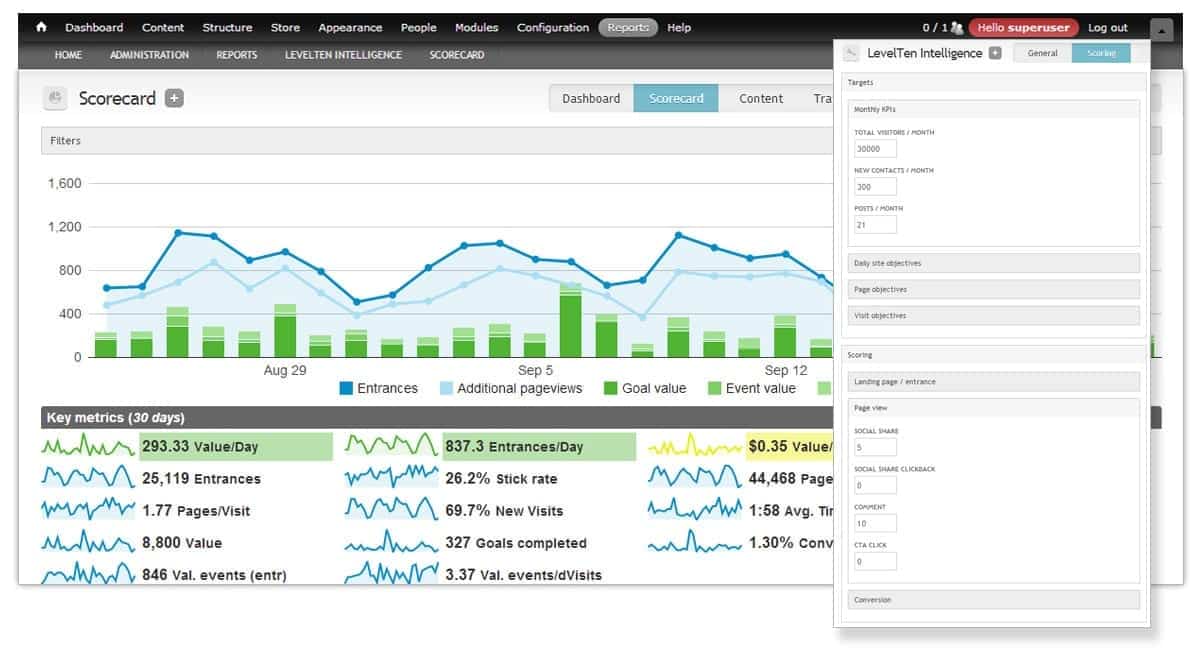 IntelligenceWP doesn't help you gather more leads by itself, but it does help you figure out which of your efforts are generating the most leads (and the most valuable leads).
Basically, IntelligenceWP hooks into your Google Analytics data to provide you with information about individual leads and key metrics for your site as a whole.
On the individual lead front, you can track key actions and touchpoints for your leads.
And on the website front, IntelligenceWP helps you figure out which parts of your site generate the most leads for you.
Beyond analyzing traffic sources, you can also look at different:
Post authors
Categories
Etc.
IntelligenceWP also gives each individual page on your site a scorecard so that you can understand each page's value.
6. WPForms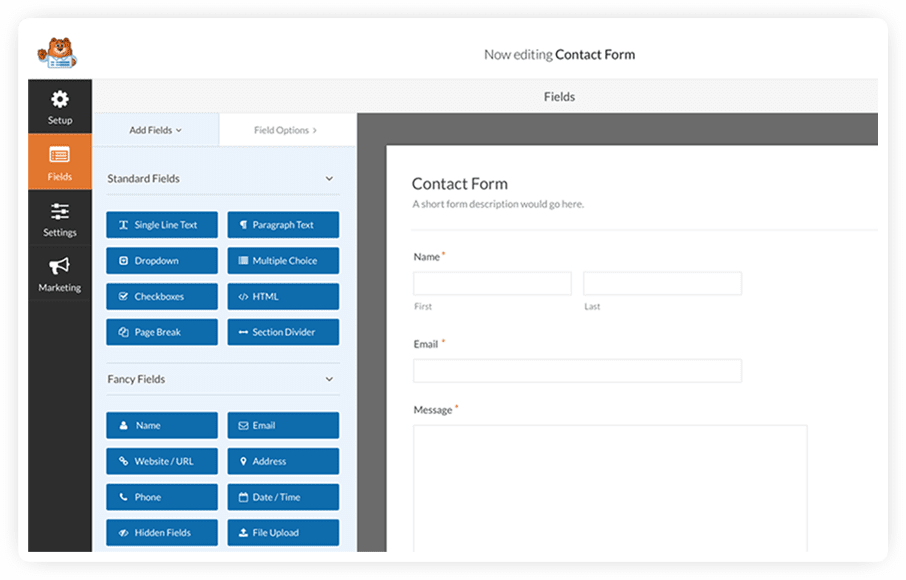 At some point or another, a form is probably going to play a key role in your lead capture strategies. And when it comes to creating forms on WordPress, WPForms* is one of the most popular options.
It lets you create pretty much any type of form, ranging from simple contact forms all the way on up to surveys, payment forms, registration forms, and more.
With the highest tier of the paid version, you can even hook your forms up to Zapier, which gives you a way to connect to your favorite CRM or otherwise work with your form submissions.
If you use WPForms, you can also integrate it with HubSpot All-In-One Marketing so that you can view leads from WPForms inside of HubSpot's free CRM.
7. WP Quiz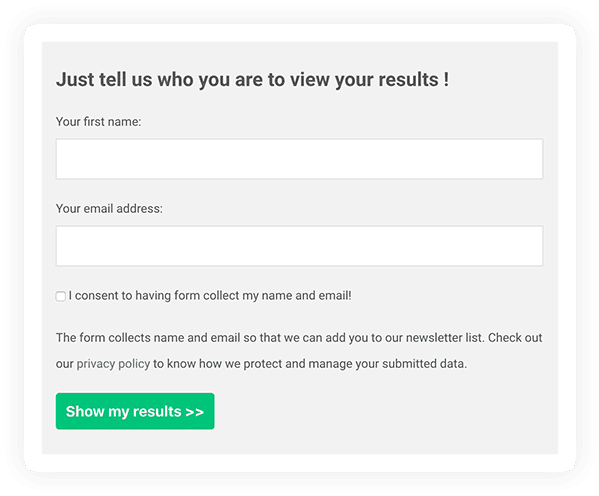 WP Quiz is a popular WordPress quiz plugin that helps you create everything from viral personality quizzes (think BuzzFeed) to more serious surveys or even online exams.
You get lots of different quiz styles, as well as plenty of options for grading and structuring your quizzes.
The lead capture tie in is that you can ask submitters to register for your site or enter their email address before starting the quiz or receiving their quiz results. That's what technically makes this a WordPress lead capture plugin.
You can either create a quiz as a way to reach more people in the first place. Or, you can just use your quiz as a fun way to gamify your existing lead capture processes.
8. WP Live Chat Support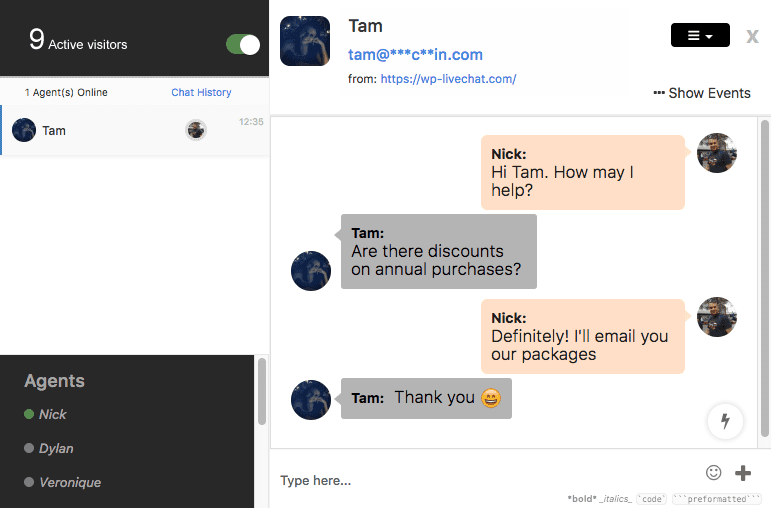 WP Live Chat Support is a fully-functional live chat tool that's a native WordPress plugin, rather than many of the external live chat services you'll find.
You can use it for customer support, but you can also use it for more proactive lead capture, too.
For example, you can:
Collect and store email addresses.
Initiate chats with visitors.
Get event notifications for visitors. For example, you can know when they fill out a form or visit a specific page.
Insert surveys and polls in the chat box, either before or after a chat session.
And again, the unique thing is that WP Live Chat Support uses your WordPress site's server as the chat relay (though they've also introduced an option where you can use a hosted server).
While the free version of the plugin only lets you chat from inside your WordPress dashboard, you can purchase a premium extension that lets you chat from desktop or mobile apps, as well.
9. Intercom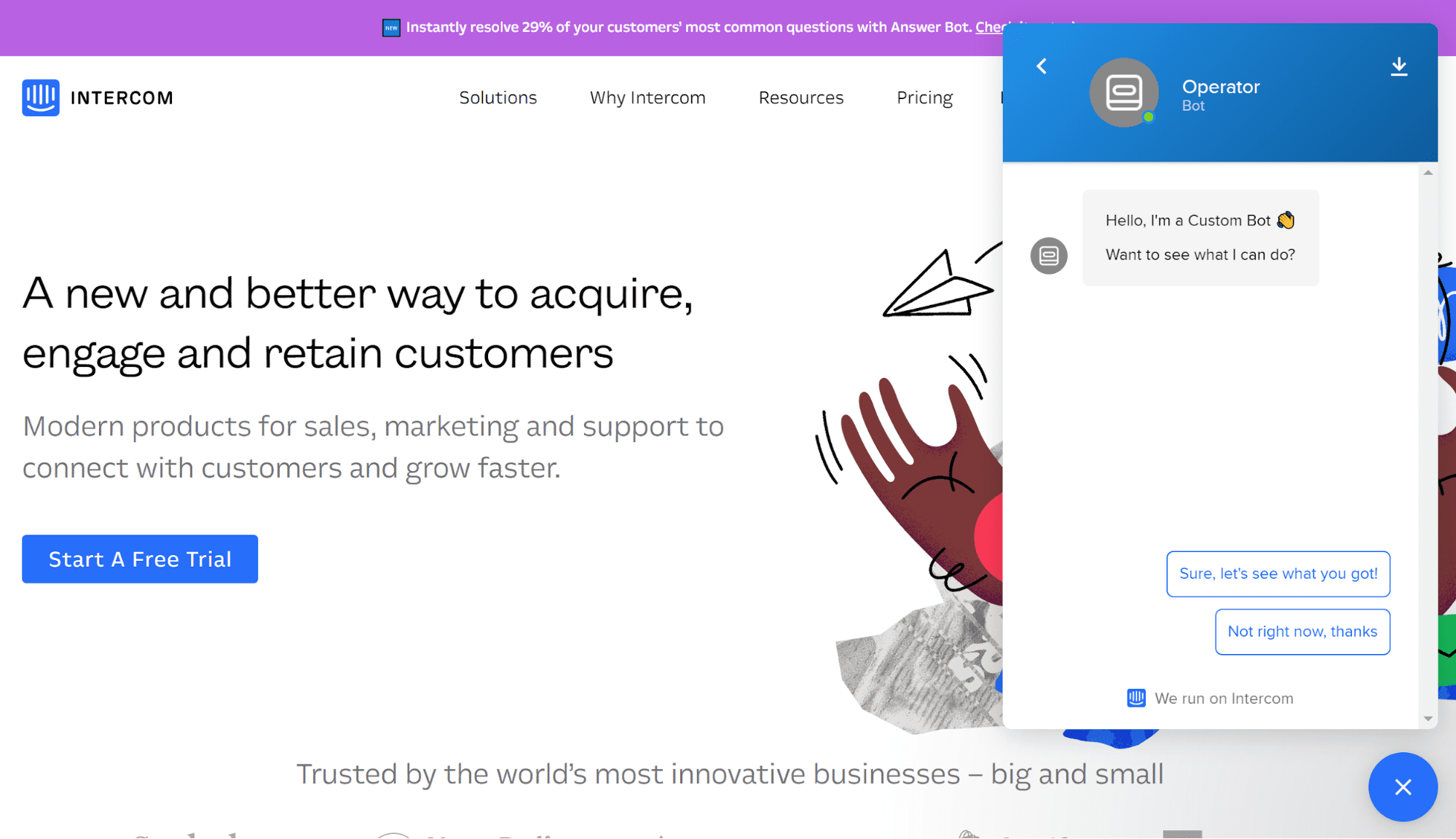 Intercom is a popular service that helps you connect with your customers via on-site messaging and track how visitors engage with your website.
In addition to adding live chat functionality to your site, Intercom also lets you proactively message customers at key points in their journey. For example, when a visitor lands on a key page (like your pricing page), you could automatically trigger a message.
With the official Intercom WordPress plugin, Intercom will automatically track your logged-in WordPress users as Intercom users – no need for any special setup. For any visitors who aren't logged in to your WordPress site, Intercom will track them as leads for you.
Beyond adding the tracking functionality, the Intercom plugin also makes it easy to add the Intercom Messenger to your site, which is a nice little bonus.
10. Gravity Forms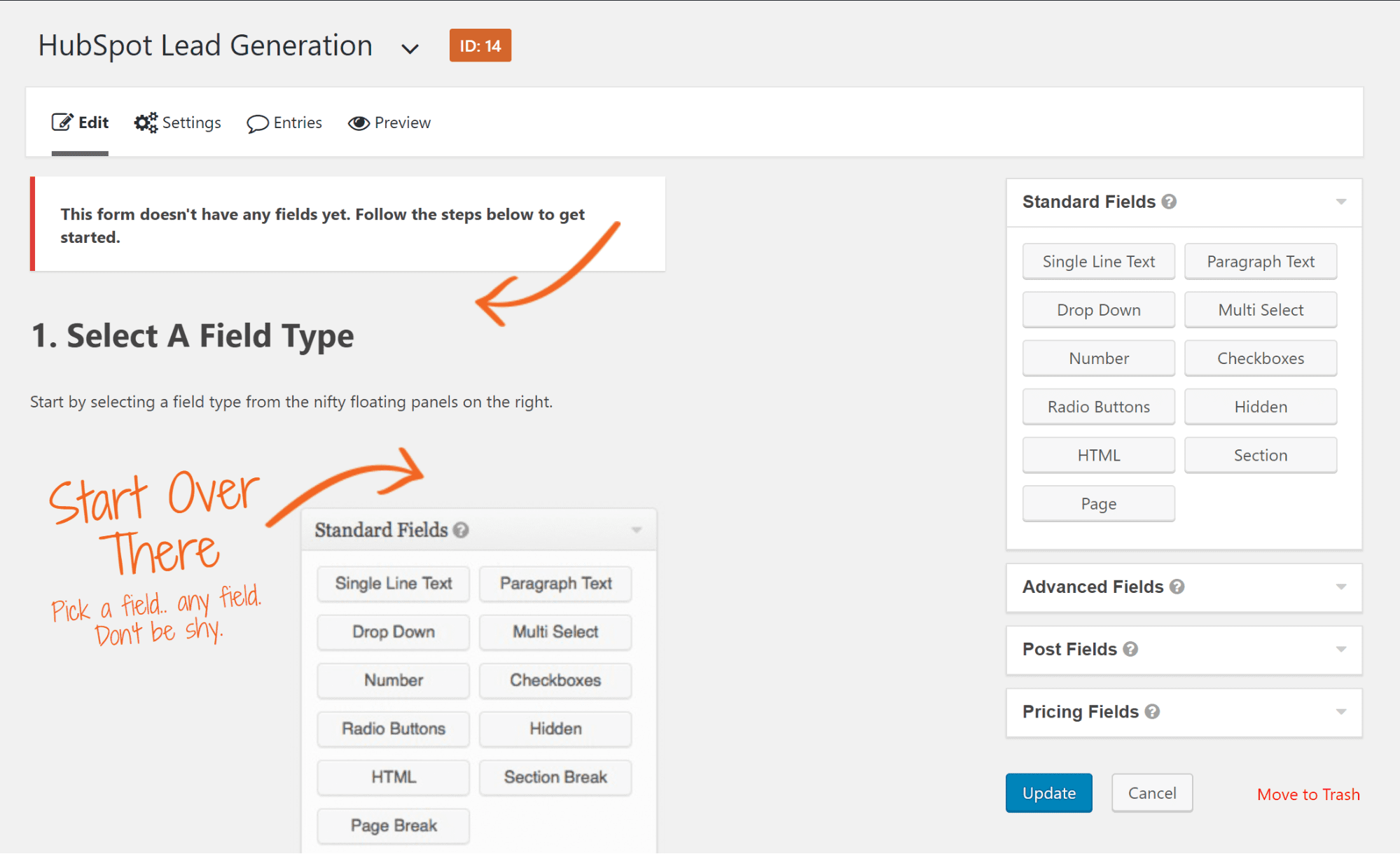 Along with WPForms, Gravity Forms* is one of the most popular and flexible WordPress form plugins.
It's also a swiss army knife for creating pretty much any form imaginable. You can use it for:
Contact forms
Registration forms
Surveys and polls, including a dedicated add-on to help you analyze responses from your WordPress dashboard
Email capture forms
And one of the great things about Gravity Forms is that there's a huge developer community that's created a bunch of helpful third-party add-ons for Gravity Forms. For example, the Gravity Wiz add-on lets form submitters preview their submissions, which is great for any lengthy lead capture forms you have.
Like WPForms, Gravity Forms also integrates with HubSpot All-In-One Marketing, which lets you view any leads you collect with Gravity Forms inside of your free HubSpot CRM.
11. Zero BS CRM

Zero BS CRM is a WordPress CRM plugin that offers a few useful premium extensions for lead capture. For example, the Funnels add-on gives you a visual representation of your funnels, including the drop-off percent at each stage.
You can also tag and segment customers, and Zero BS CRM integrates with many popular form plugins to help you create lead capture forms.
12. OnePress Opt-In Panda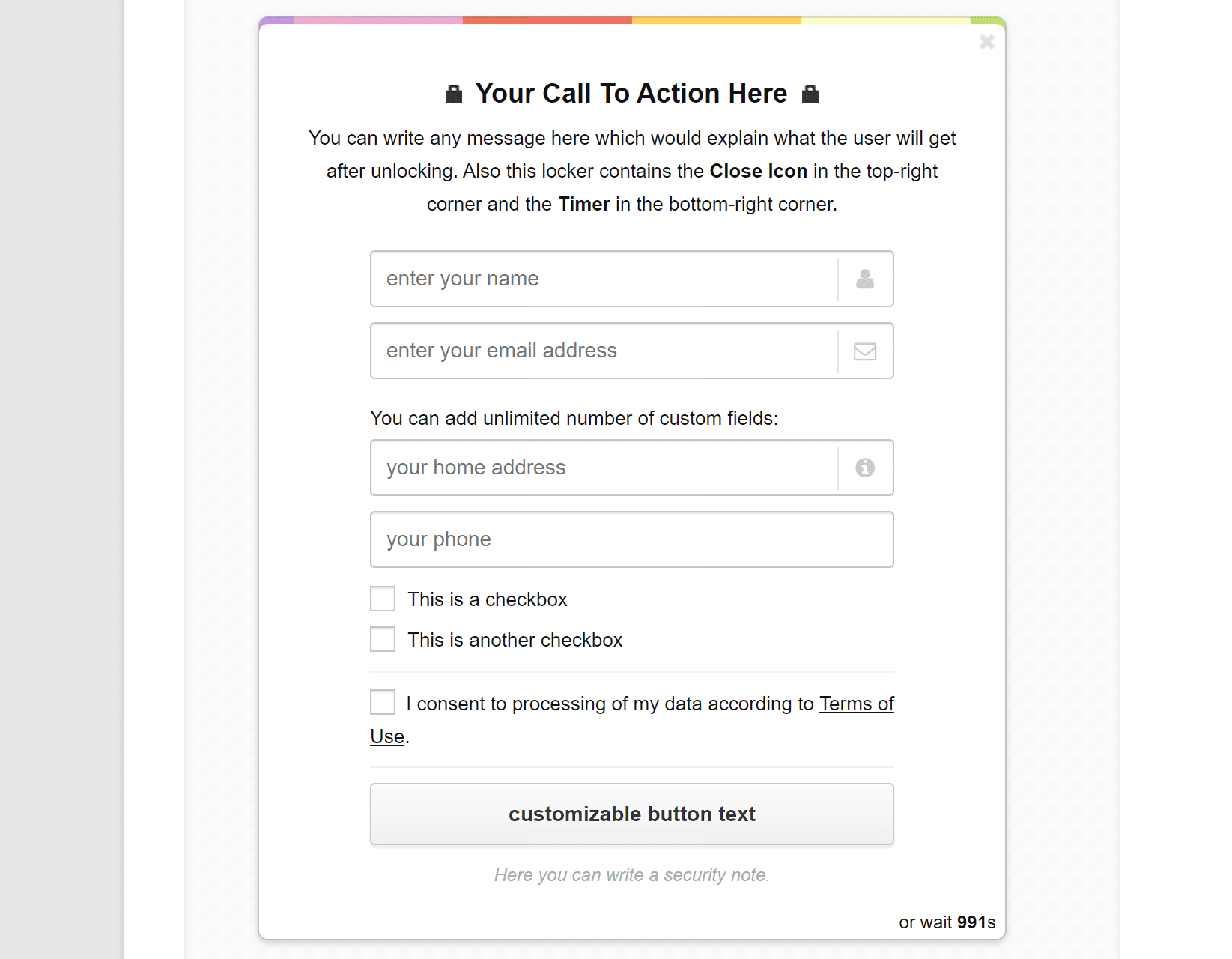 OnePress Opt-In Panda gives you an aggressive way to generate leads by locking certain content behind an email subscription wall.
This WordPress lead capture plugin works by wrapping the content you want to restrict in a shortcode, which means that you have tons of control over exactly what content is public, and what content is locked behind the email subscribe form.
You can use it to lock up:
Videos
Scripts (for example, you could make people provide their details to see your email outreach template)
Images
Code snippets
Regular text
If you get the premium version, you'll be able to collect extra information about your leads (beyond their email addresses) and you'll also be able to view a database of all your leads right inside your WordPress dashboard.
13. Yoast Comment Hacks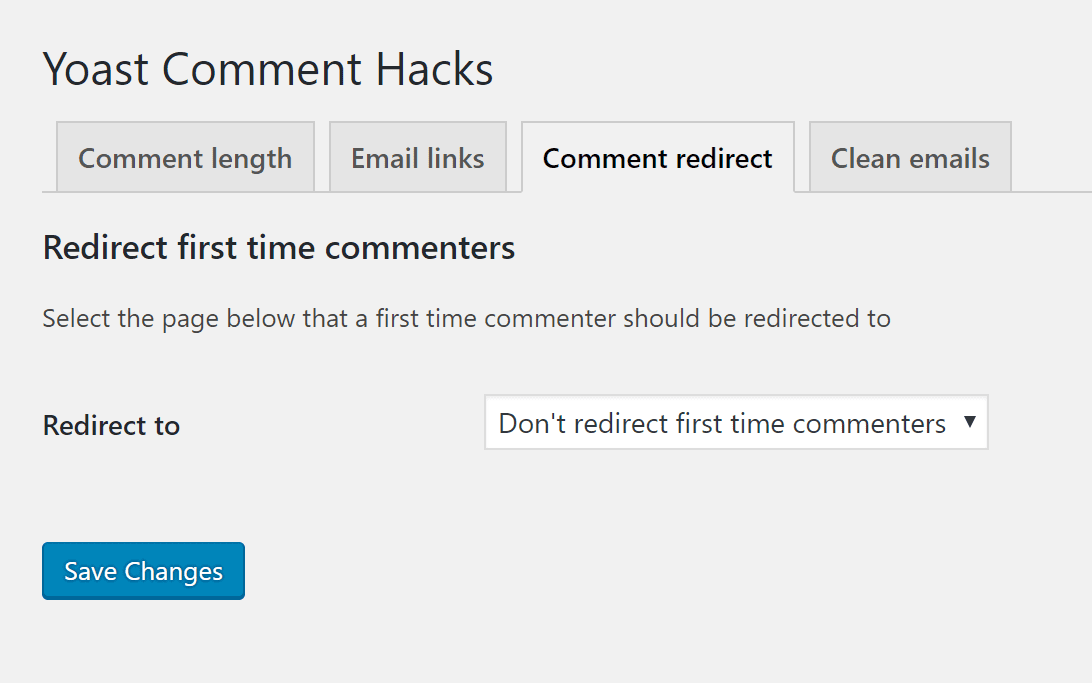 Yoast Comment Hacks is small in its scope, but it's surprisingly handy for lead capture.
Essentially, it lets you redirect first-time commenters at your site to a custom page. You could use this to send new commenters to a special squeeze page designed to convert them into leads (maybe something you built with Elementor).
The timing is great because you're collecting a person's information at a time when you can guarantee they're engaged (because they left a comment).
14. CallPage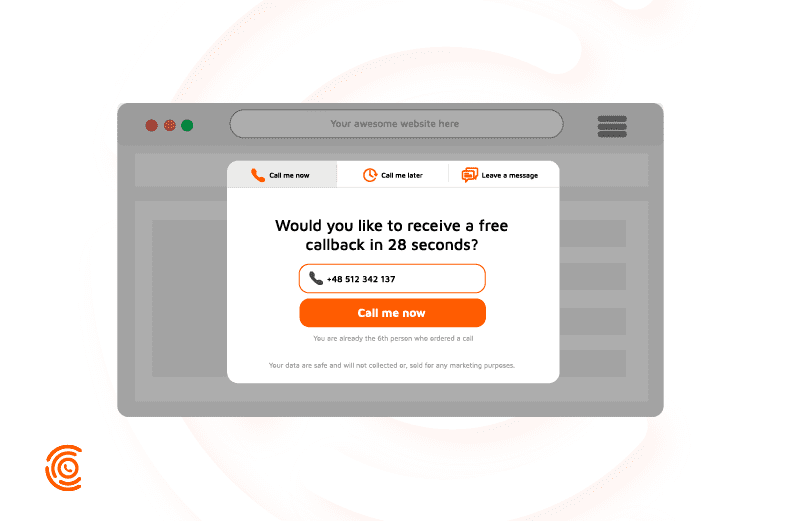 CallPage helps you generate more leads over the phone by adding a call back widget to your WordPress site. That is, your visitors can enter their phone numbers to receive a phone call within a certain amount of time.
What's unique about this widget is that it doesn't necessarily show the widget to every single visitor. Instead, CallPage tracks visitors' actions and uses a scoring system to only display the widget to people who actually seem interested in what you're offering.
Wrapping Up 🎀
There are a lot of WordPress lead capture plugins that can help you generate leads. However, only you know which tools are right for your site.
The WordPress form plugins provide good versatile options for basic lead capture forms, and then you also have plenty of options for popup and slide-in lead capture forms, as well.
🌠 #WordPress form plugins provide good versatile options for basic lead capture forms, but you can always expand with popups and slide-ins. Whatever works for you!
Click To Tweet
If you want a spot to store and segment all those leads (and capture them in the first place), the HubSpot All-In-One Marketing plugin provides a nice all-around foundation and is free to get started with.
It also integrates nicely with a lot of the other lead capture tools, if you want to mix-and-match tools to boost your lead capture efforts.
And if you need help setting up lead capture or want general hands-on assistance, we here at WP Buffs can help! Plus, we have the HubSpot CRM Sales Professional Hub, so we're familiar with the best tools around for configuring and monitoring lead capture efforts. We have plenty of WordPress care and maintenance packages, one of which is certain to suit your needs.
Want to give your feedback or join the conversation? Add your comments 🐦 on Twitter.