Whether you're starting your first WordPress blog or looking to enhance an existing one, plugins are a must. However, figuring out which are the best WordPress blogging plugins can be challenging. Too many plugins, especially ones that are outdated, can bog down your blog and even cause plugin conflicts.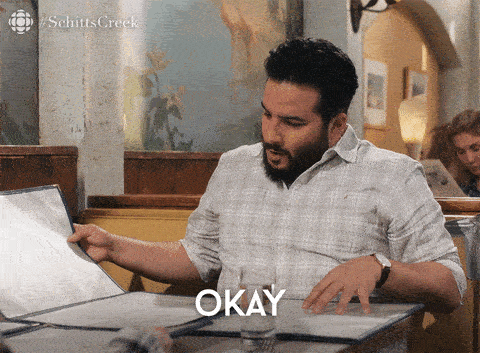 Therefore, it's important to be strategic and selective when adding plugins. There are a plethora of free WordPress plugins that can help you improve the design, appearance, and functionality of your blog.
In this post, we'll discuss the importance of WordPress plugins for bloggers and the many purposes they serve. Then, we'll provide you with 10 must-have WordPress plugins for bloggers. Let's get started!
In This Article 👁️
What Role Do Plugins Play In WordPress? 🧩
WordPress is the most popular Content Management System (CMS), and for good reason. It's a flexible, user-friendly platform that makes starting and managing a blog quick and easy, even with limited technical knowledge.
WordPress comes equipped with a plethora of built-in features that let you perform the fundamental, basic tasks of blogging. You can create and share engaging content, incorporate multimedia elements, and assign tags and categories. You can also choose from many WordPress themes based on the specific type of blog you have.
However, while themes provide a diverse range of design and customization options, from an operational standpoint they only take you so far. To make your blog stand out and best serve your marketing goals, you need plugins.
Put simply, plugins are extensions you can add to your WordPress site to enhance both its appearance and functionality. The WordPress Plugin Directory offers thousands of options. Many are easy to install and some of the best WordPress plugins for bloggers are free.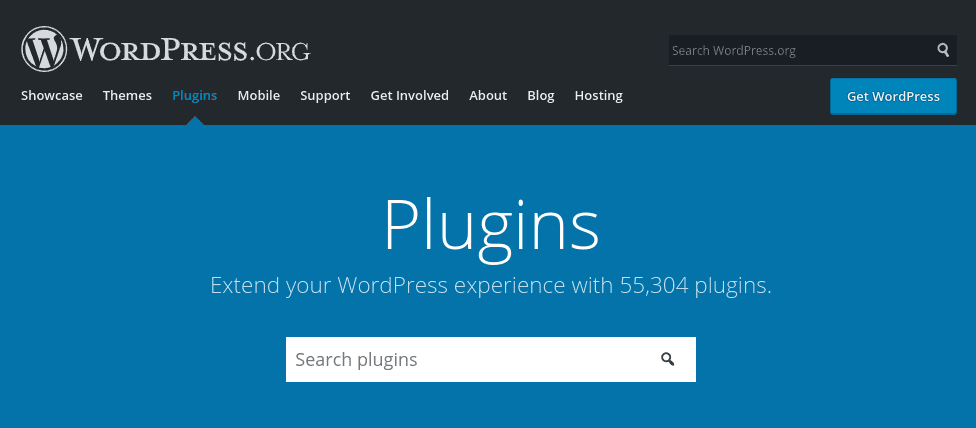 WordPress plugins let you expand the functionality of your blog beyond the limiting, built-in features that come with your installation. Let's say you're building a house.
WordPress is the foundation and framework. The theme is where you get the paint, walls, and roofing for the house. It helps make the bare structure aesthetically pleasing.
However, for it to be truly functional and comfortable – to make your house a home – you need electricity, plumbing, appliances, and furniture. That's where plugins come in.
How Can Your Blog Best Use WordPress Plugins? 🖥️
You can find a plugin for nearly everything. No matter what the purpose and goals of your WordPress blog are, plugins can help you achieve them faster than you otherwise could.
Plugins can help you:
Extend your design options. You can use plugins to add design enhancements to your site, whether it be an infinite scroll, a home page slider, or something else.
Increase user engagement and build subscribers. From opt-in and contact forms to lead generation and content pop-ups, there are many plugins that can help drive traffic and increase conversions.
Understand visitor behavior. Analytics plugins make it easier to track visitor behavior and gather meaningful information that you can use to create tailored, targeted content.
Improve SEO. If you want to drive traffic to your blog, you need an SEO strategy. WordPress plugins make creating and implementing a sound SEO strategy easier to improve your search engine visibility.
Expand your reach and brand awareness. To expand your reach and grow your audience, you can use social media plugins to share your blog content across social channels.
Enhance performance. Optimization plugins increase page loading times and overall site performance.
Strengthen your security posture. From malware scanning to performing regular updates and backups, security plugins can handle essential maintenance tasks that minimize vulnerabilities and security risks.
Plugins let you turn an otherwise basic and bland blog into a dynamic, engaging one. You can use them to significantly elevate the overall value and quality of your WordPress blog.
🔑 Plugins are key for taking your WordPress blog from acceptable to exceptional. #WordPress
Click To Tweet
10 Best WordPress Plugins for Bloggers
Now you have a better understanding of the myriad benefits of plugins, it's time to look at the ones worth considering. Below we'll discuss ten essential WordPress plugins for bloggers:
1. Jetpack
You spend a lot of time and energy making your blog the best it can be. So it's important to make sure it's properly protected.
Unfortunately, you never know when something might go wrong. Malware and other cybercriminal activity can wreak havoc on your blog and destroy all your hard work. To minimize your risk, you need a security plugin.
With over five million activate installations, the Jetpack plugin is among the most popular and widely used WordPress plugins for blogs, as well as many other types of websites:

This plugin can help strengthen the security of your blog. It takes a multifaceted approach to monitoring and automating site protection.
Jetpack's features include:
Spam filtering
Malware scanning
Brute-force attack protection
Secure login and two-factor authentication
Downtime monitoring
While you can't use all features on a local testing environment, Jetpack is great for running live WordPress blogs. It's a prime example of a quality, single plugin that serves a multitude of purposes.
You can download the free version of Jetpack to take advantage of brute-force protection, downtime monitoring, and email support features. However, there are also premium plans that offer advanced capabilities. The plans range from less than $9 (backup plan) to $99 per month (complete package).
If you're working with a starter site or individual blog, we recommend the security plan for $24 per month. It includes daily automated backups, SEO tools, automated malware scanning, and more.
💰 BUY JETPACK SECURITY $24/MONTH
2. WP Forms
Contact forms are helpful assets to add to your blog to make it easy for readers to get in touch with you. With a well designed contact form you can collect visitor information to use for target marketing.
WP Forms is a powerful contact form plugin:

It includes a user-friendly drag-and-drop form builder that lets you create complex forms in a matter of minutes. After you install and activate the plugin, you can quickly customize your contact forms with ease directly from your dashboard.
WP Forms' features include:
Responsive forms that work for any device and screen size
Pre-built templates and designs
Easy to embed options to add forms anywhere on your site, including sidebars and widgets
Survey, registration, and payment forms
While you can download the free version, if you want to use all the forms features, we suggest purchasing a premium plan. The Basic plan ($39.50/year) grants you access to unlimited forms and templates. This is recommended if you are only working with one site. However, if you want to do a little more, you might consider the Plus plan ($99/month) or Pro plan ($199).
💰 BUY WP FORMS PREMIUM $39/YEAR
3. WP Rocket
The more content you have your blog, the longer it can take your pages to load. This is especially true if you're using a lot of high-quality images with large file sizes.
Sites with slow loading times cannot only hurt the User Experience (UX), it can also negatively impact your SEO. Site speed is a top factor considered by Google. Therefore, it's essential to make speed optimization a priority.
To do this, we recommend using a caching plugin such as WP Rocket:

WP Rocket can help accelerate the load time of your blog pages through 'cache preloading.' It also helps with file compression.
WP Rocket's features include:
Page and browser caching
Database optimization
Sitemap preloading
Lazyload
Pricing for WP Rocket starts at $49 per year. With this plan, you can get a year of support and updates for one site. If you have multiple sites or blogs, you can also choose the Plus plan for $99.
4. UpdraftPlus
As we mentioned earlier, you want to make sure your blog data and files are safeguarded. While security plugins can help minimize your risk, no site is ever 100 percent safe. Whether due to a server crash, security breach, compatibility issue, or something else, in the event something happens to your site, it's helpful to know you have a backup of your WordPress blog to restore.
With more than two million active installations, UpdraftPlus is one of the most popular WordPress backup plugins:

With UpdraftPlus, you can create a backup of your blog and safely store it to the cloud or locally to your computer. You can schedule your backups or perform them on-demand. You can also backup the entire site or choose specific files.
UpdraftPlus' features include:
Manual and automated backups
Remote storage options (Google Drive, Dropbox, Amazon S3, etc.)
Encrypted database backups
Backup reports
Restoration and migration
There is a free version that lets you use some of these features. However, considering the importance of backups, we recommend upgrading to the personal plan, which starts at $70 and then drops to $42/year. After all, you can't put a price on peace of mind.
💰 BUY UPDRAFTPLUS $70 + $42/YEAR
5. MonsterInsights
Some of the best WordPress plugins for blogs are the ones that let you gain deeper insights into your audiences' behavior. Tracking your blog's traffic presents you with the opportunity to better understand your visitors.
Analytics tools give you meaningful insights that you can leverage to make more informed marketing decisions. For example, tailoring your content can help you increase engagement and conversions.
To track your blog traffic, we recommend using the MonsterInsights plugin:

MonsterInsights is the Google Analytics dashboard plugin that offers you a way to stay on top of visitor traffic. It provides real-time stats on an array of information. This includes:
Devices your audience uses
Conversion rates and revenue reports
Audience demographics, including age and gender
Pageviews, session duration, and bounce rates
MonsterInsights' features include:
Universal tracking
Page-level analytics
Affiliate link and ad tracking
Another benefit is that you can easily integrate it with some of the other essential WordPress plugins for bloggers we've included in this list, such as WP Forms and Yoast SEO. You can download MonsterInsights for free and connect it with your Google Analytics account too.
If you want to take advantage of the full suite of features offered by the MonsterInsights plugin, you might consider upgrading to a premium plan. Plans start at $199 per year.
💰 BUY MONSTERINSIGHTS $199/YEAR
6. Revive Old Post
Part of running a successful blog is regularly sharing content — not just on the blog itself, but on social platforms as well. Doing so lets you keep your audience engaged, your social accounts active, and can even help you drive traffic to your blog. Plus, social media can make your content discoverable among new audiences.
However, life gets busy. Trying to manually share your content on a regular basis isn't an efficient method. A better option is to use the Revive Old Post plugin:

This plugin lets you automatically share blog posts across social media channels. You can create a schedule to share new content as it's published. You can also breathe new life into your older posts to keep them relevant.
Revive Old Post's features include:
Custom post scheduling
Automatic sharing to major social networks
Optimized hashtags
Click tracking
If you use the free version of Revive Old Post, you can only share your content on Facebook and Twitter. However, Revive Old Post premium plans start at $75 yearly or $225 for a lifetime licence, and let you share with many other channels, such as LinkedIn and Instagram. This plan is effective if you have one personal site, such as a blog.
They also offer plans for businesses and marketers for $149 and $299 a year or lifetime licenses for $447 and $897 respectively.
💰 BUY REVIVE OLD POST $75/YEAR
7. OptinMonster
When it comes to growing your audience and boosting conversions, few methods are more tried-and-true than email newsletters and campaigns. By building a robust email and subscriber list, you can tailor your promotions and offers to drive maximum engagement and results.
Of course, you want your traffic to be return visitors. This becomes more likely if they subscribe to your email list. To make growing your email list easier, we suggest adding opt-in forms to your WordPress blog. This is an easy way to capture visitor information and use it as a lead-generation tool.
This is why we recommend using the OptinMonster plugin:

With OptinMonster, you can choose from a collection of beautiful templates and multiple form types or you can design your own from scratch. You can personalize them based on behavior automation and audience targeting and segmentation. This helps you deliver the right offers to the right people at the right time.
OptinMonster's features include:
Drap-and-drop builder
Lead-capture forms
A/B testing
Advanced traffic redirection
Analytics and insights
Onsite retargeting and personalization
As with most WordPress plugins, OptinMonster has a free version. However, for just $14 per month, you can leverage the advanced features that let you kick your opt-in forms and email newsletters up a notch.
8. Yoast SEO
One of the most important yet challenging aspects of running a successful blog is mastering SEO. Unfortunately, there's really no shortcut you can take to land your blog on the first page of search engine results. It's an ongoing process that involves a lot of moving parts.
However, plugins such as Yoast SEO make optimizing your blog content (for both users and search engines) easier and more manageable:

With a five-star rating and over five million active installations, Yoast SEO is the number one SEO WordPress plugin. It adds a section to your WordPress editor where you can choose a keyword and properly align your content in accordance with SEO best practices.
This plugin provides suggestions for ways to improve the content and format of your posts. Yoast reminds you to tackle certain aspects of SEO that you might otherwise overlook or forget to do, such as adding metadata. It gives you helpful insights and notifies you of issues such as duplicate content, missing alt tags, etc.
Yoast SEO's features include:
Advanced XML sitemaps
Keyword optimization
Meta tags
Readability scores
Social integration
Canonical URLs
You can download and use the basic features of Yoast SEO for free. However, to truly get the most from it, it's best to upgrade to the premium version. This enables you to use features such as optimizing for synonyms and similar keyword phrases, get automatic internal linking suggestions, and preview how your content will appear on social networks. For one site, it starts at $99 per month.
💰 BUY YOAST SEO PREMIUM $99/YEAR
9. Social Media Share Buttons & Social Sharing Icons
Social media is a powerful marketing medium for bloggers. It can help you promote your blog content, drive traffic to your site, and expand your reach.
We've already mentioned how Revive Old Post can make it easy to share posts from your site to your social channels. However, it's also a good idea to add social icons throughout your blog so readers can share your content with their own followers.
That's where the Social Media Share Buttons & Social Sharing Icons plugin comes in:

This UltimatelySocial plugin lets you customize and add social icons anywhere on your blog. It includes dozens of social networks and platforms, such as Facebook, Instagram, Twitter, and more.
UltimatelySocial's features include:
Over 200 design options
Floating, sticky, or pop-up icons
Share and follower counts
Custom icons
Mouse-over and animation effects
Mobile-friendly and responsive design
The free plugin gives you 16 icon designs to choose from. However, if you buy the UtlimatelySocial premium plugin for $29, you gain access to the entirety of the collection, including more design styles, pop-up options, and social networks to integrate it with.
It should be noted that support and updates are limited to six months unless you renew your subscription. However, you can still keep using the full functionality of the plugin without renewing.
As a blogger, one of the biggest headaches you can face is dealing with spam content. While you want and likely encourage your readers to leave comments and interact with the forms on your site, sometimes robots and harmful accounts can infiltrate them with inappropriate or irrelevant content. Not only does this pose a security threat, but it also just simply doesn't look good.
To prevent your comments section from becoming inundated with contaminated content, we recommend using the Akismet plugin:

If you're looking for the best free WordPress plugins for bloggers, Akismet should be on your radar. With over five million active installations, this spam-filtering plugin makes it easy to moderate and eliminate unwanted comments from your blog. It does all the heavy lifting for you, so you don't need to manually assess and approve each comment.
Akismet's features include:
Easy backup and restoration
Spam status history reports
Spam blockers
While Akismet is a free standalone plugin, for just $10 a month, you can get the Plus plan for advanced support and stats.
Best Practices for Using WordPress Plugins on Your Blog 🥇
We've already discussed the many ways you can use WordPress plugins to boost your blog. However, while plugins are the backbone of an engaging, dynamic blog, they can also be a weakness.
If not carefully chosen and properly maintained, plugins can cause disruptions to your blog. They can introduce security vulnerabilities, slow down your site, and cause compatibility issues that lead to elements (or even the entire blog) to break. The good news is that there are some best practices you can follow to increase the likelihood of your plugins continuing to work for you, rather than against you.
First, it's crucial to be selective about the plugins you add to your blog. Think quality over quantity. Too many poor plugins can slow your site down. It's better to have a handful of strong, multipurpose plugins than a high number of thin, poorly maintained ones. Plus, the fewer you have, the easier they are to manage.
When browsing plugins, it's recommended you check the ratings, reviews, and the number of active installations. Thousands of active installations and four or five-star ratings are a good indicator that this plugin is safe to use.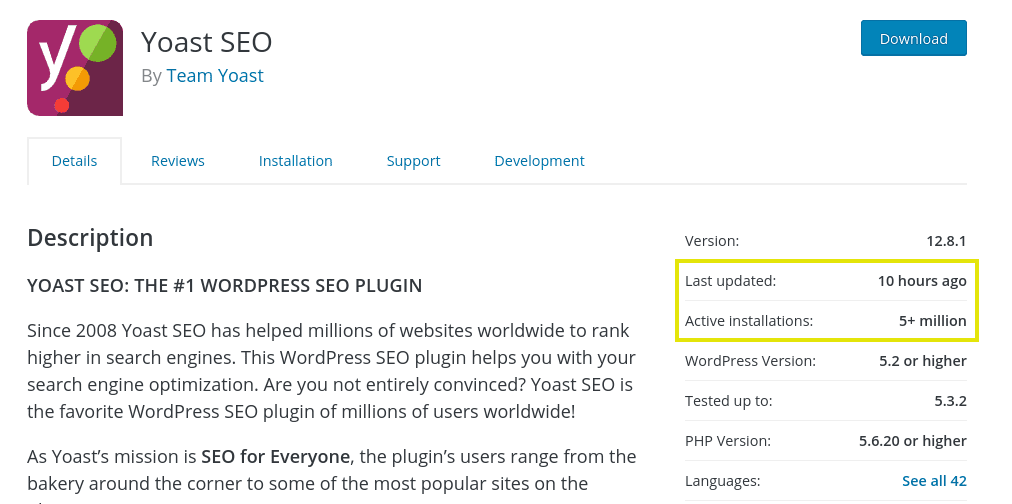 You might also consider checking the developer's support and documentation. Ideally, you should only pick plugins that are actively updated (try to avoid ones that haven't been updated in at least six months).
After you pick and install plugins, keep them updated at all times. Outdated plugins can cause security vulnerabilities and compatibility issues. Finally, make it a habit to delete any inactive or unused plugins from your WordPress site.
Wrapping Up 🏁
Starting and running your first WordPress blog can be intimidating. Fortunately, there are plenty of plugins that can take an otherwise basic and bland blog and turn it into a dynamic, unique, and fully functioning one.
In this article, we discussed ten of the must-have WordPress plugins for bloggers. Although the full list of extensions you need will vary depending on the type of blog you have, this list serves as a solid starting point to handle the essential daily tasks on your WordPress site.
Do you have any questions about using WordPress plugins for blogs? Let us know in the comments section below!
Image credit: Steve Johnson.