Tables serve many purposes in web content. However, they're historically difficult to create in WordPress. If you don't know any HTML or CSS, trying to showcase data or share your pricing structure with visitors may quickly become frustrating.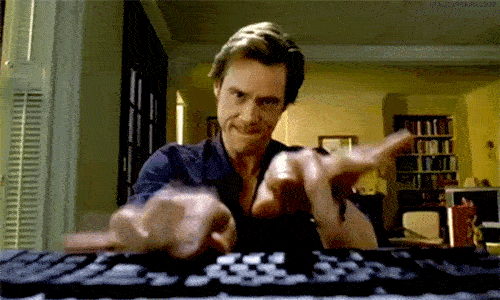 Fortunately, developers have solved this problem by creating a wide variety of WordPress table plugins. These handy tools enable you to organize content, compare pricing options, and display all kinds of information in sleek charts without touching a line of code.
In this post, we'll discuss the many uses and benefits of tables in WordPress. Then we'll explore 16 plugins you can use to create them, as well as a couple of alternative methods. Let's get cracking!
In This Article 👀
Why You May Want to Use Tables on Your WordPress Site 📈
Generally speaking, tables are used to concisely compare data. They're made up of columns and rows and may include statistics, features, and a wide range of other information. You may want to consider using one if you have a lot of details you want to convey in a streamlined manner.
📊 Like other charts and graphs, tables can provide a visual component that helps explain key concepts to your users. #WordPress
Click To Tweet
This is especially useful if you're writing an informative post and want to quickly and clearly share data related to your subject matter. Take the example below, in which the Pew Research Center examines social media usage as it relates to education level: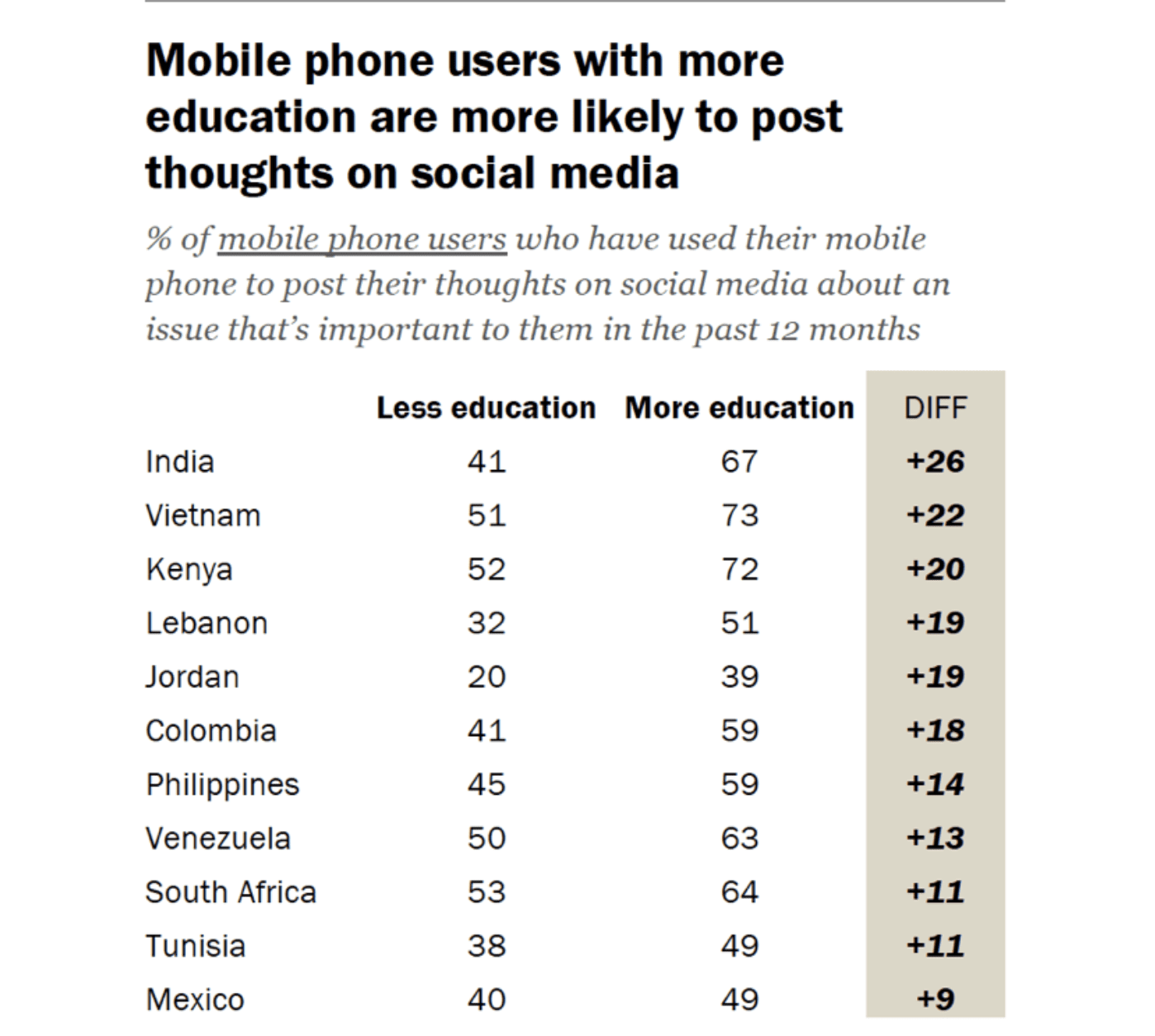 Rather than explaining their findings in paragraphs, the authors of the study created a table so readers can quickly compare results across countries. This is much easier than backtracking to reference earlier statements and trying to remember the relevant statistics.
However, even if you don't publish data-heavy material, tables can be quite helpful. For instance, online retailers and bloggers who have large volumes of products or posts can use them to organize their archives for easy browsing: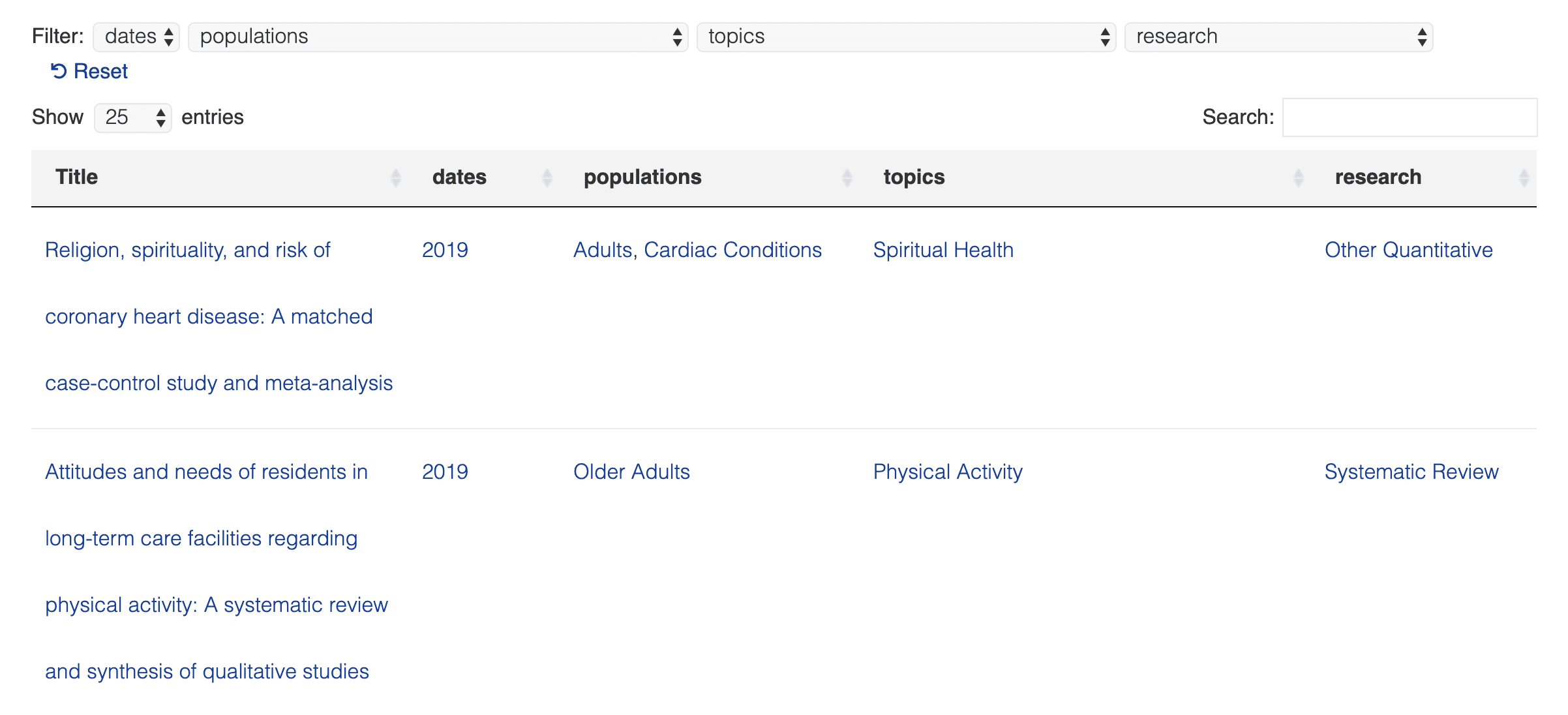 The table above shows articles in RT Wise Owl's database of recreational therapy literature. Visitors looking for more information in this field can easily search for key terms to find posts related to their interests. Alternatively, they can quickly skim the titles or research methods.
Another use for tables that's quite popular in the world of WordPress is for showcasing tiered pricing structures. If you offer products or services at multiple levels, a pricing table is an easy way to help your potential customers compare features and costs across your plans: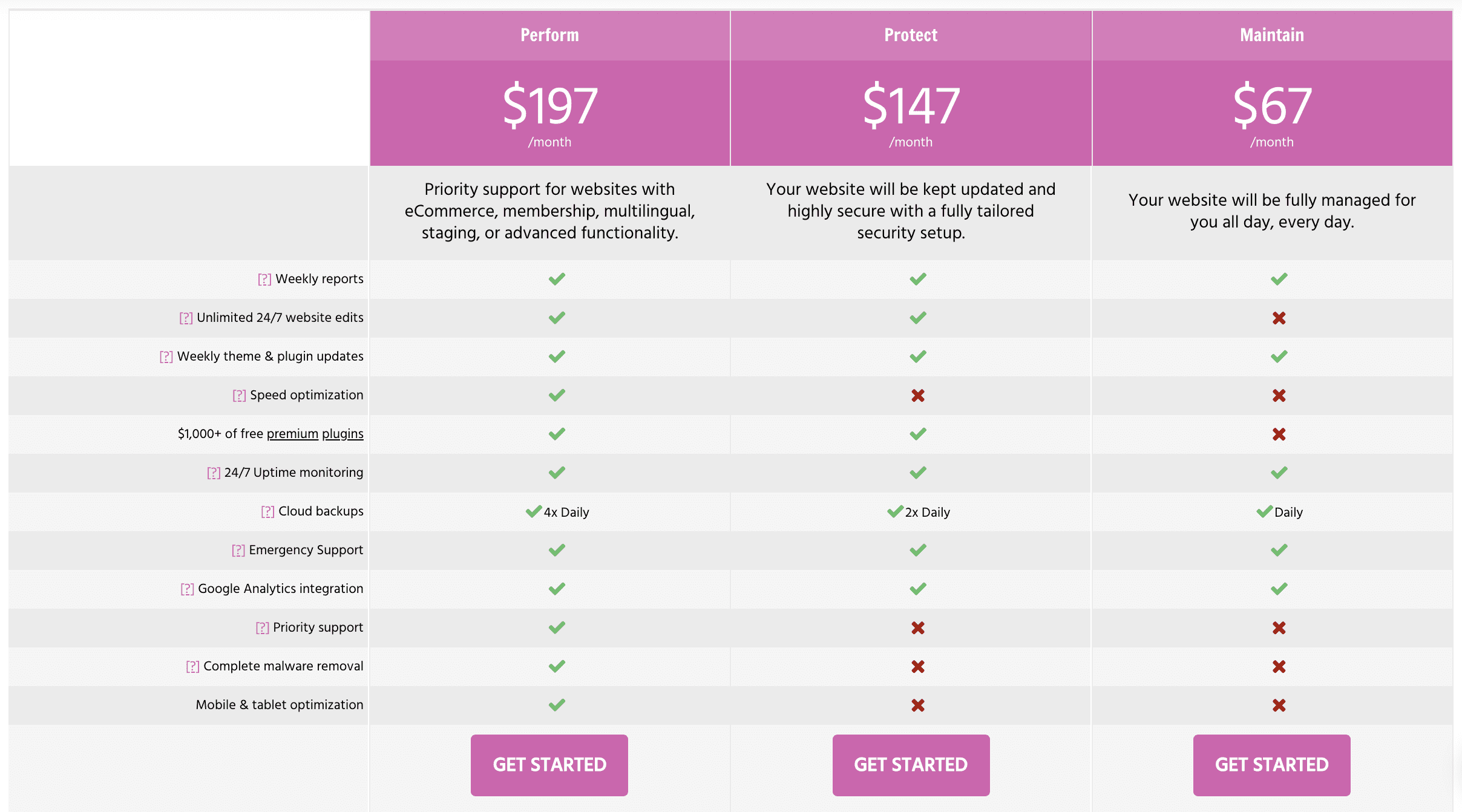 Take our pricing table above. Anyone who comes to WP Buffs looking for WordPress maintenance services can quickly see that in order to take advantage of our Priority Support and Malware Removal features, they'll need a Perform package.
An Introduction to WordPress Table Plugins and Why They Matter 🔌
If you're new to WordPress, it may seem strange that there would be so many tools available for creating data tables. After all, word processors and other apps such as Google Docs or Microsoft Excel enable users to create charts and graphs with the click of a button.
However, before the Block Editor, it wasn't easy to create more complex layouts such as tables, columns, and side-by-side media and text. In fact, the only way to accomplish these formats was by using HTML and CSS to code them in the text editor: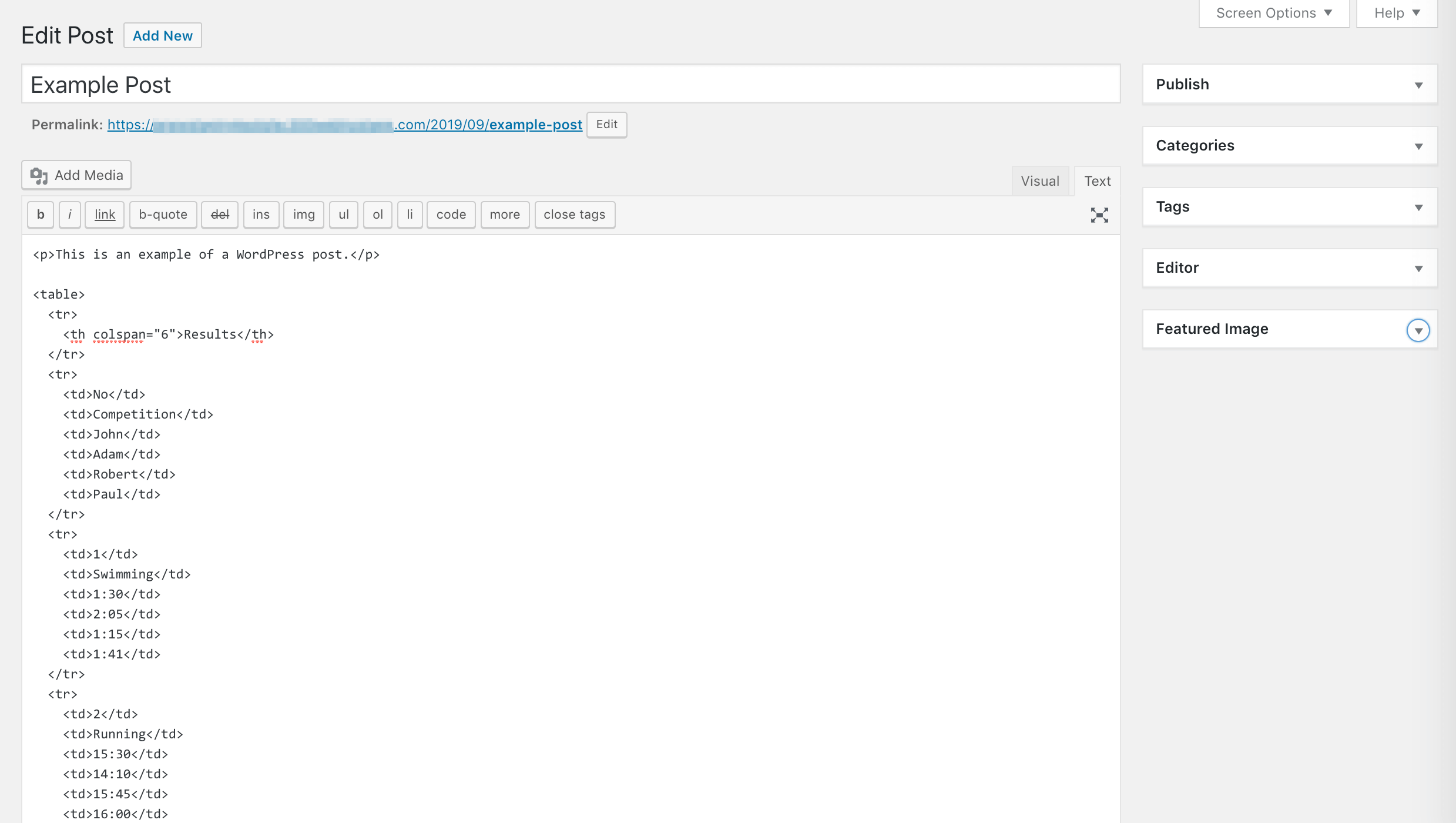 Given that WordPress is meant to be user-friendly even for those with no development experience, this was a problem. Plus, as you can see, the HTML could get quite lengthy. As in many similar situations, developers compensated by building plugins that could add tables to posts and pages without the need for custom coding.
Although the Block Editor is more beginner-friendly than its predecessor (more on that later), WordPress table plugins still have their advantages. They often provide advanced styling options and templates. Some even automatically generate tables without requiring you to manually input data.
While you may be able to create a table without a WordPress plugin, you might miss out on some excellent advanced features and functionality if you do. Streamlining your publishing experience may even be reason enough for you to invest in one of the premium products listed below.
16 WordPress Table Plugins to Display Information On Your Site 📋
There are many WordPress table plugins on the market. Some of them are made for specific purposes, such as displaying pricing options or products, while others are more versatile. Below you'll find 16 of the best, which you can peruse to find the option that meets your needs.
1. WooCommerce Product Table by Barn2 Media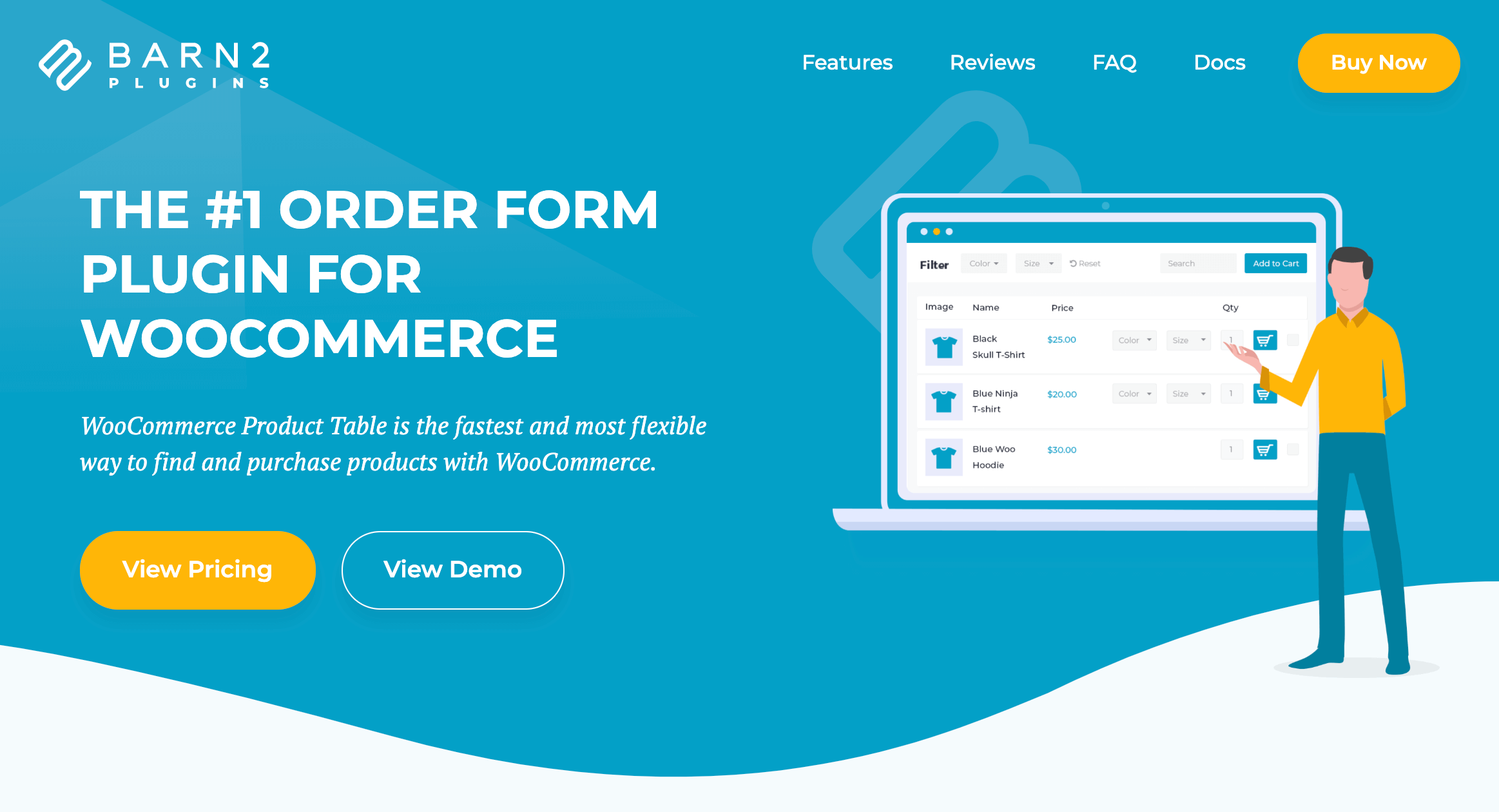 Barn2 Media's WooCommerce Product Table creates a table of every item of merchandise on your site without requiring you to input data on a settings page. It uses shortcodes to display this information on a page of your choosing. You can also tweak the columns included to show the features you consider most important: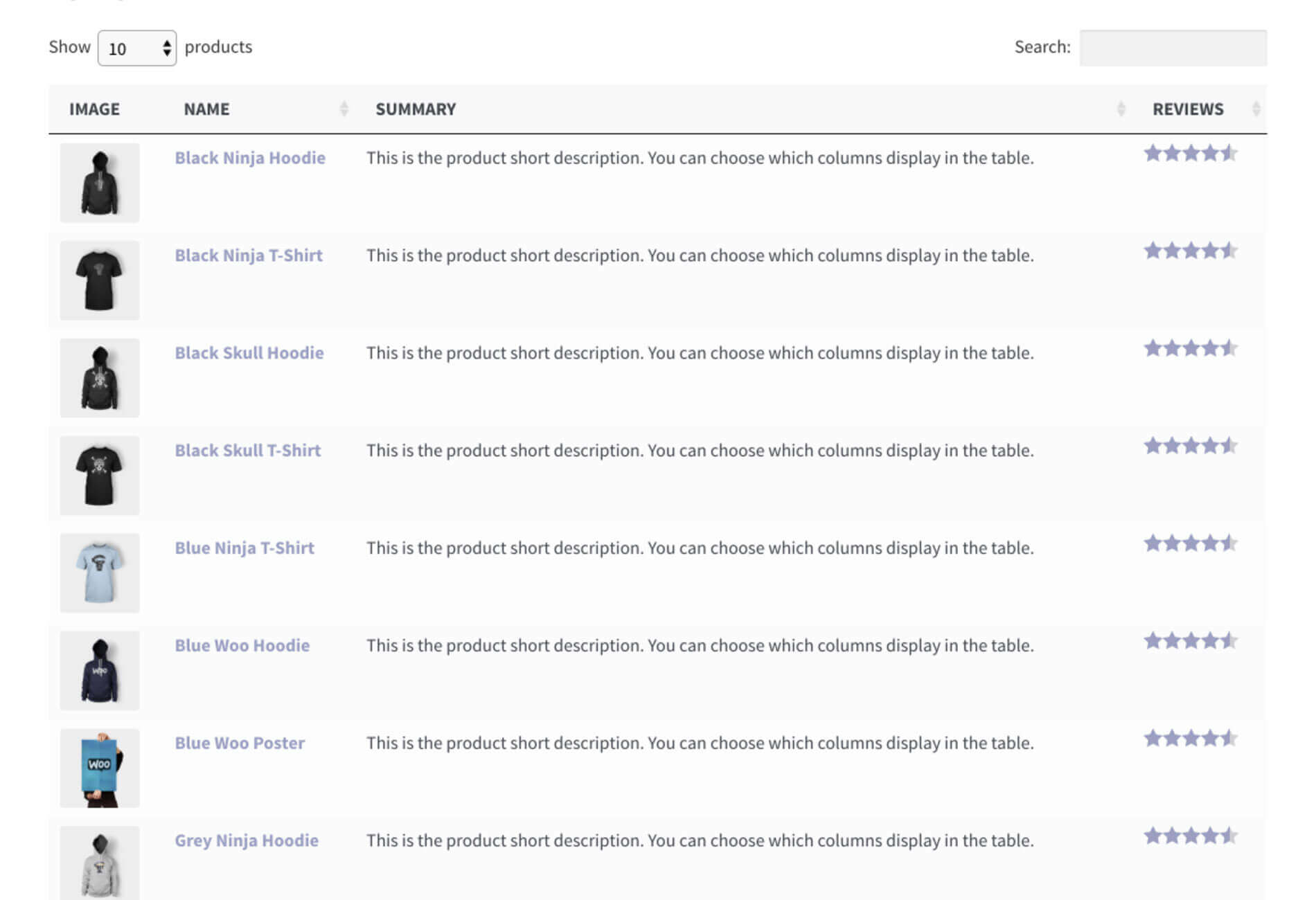 One you might consider including is an Add to Cart button, which you can pair with variation and quantity selectors to turn your product table in a working order form. This is especially helpful to customers who want to purchase a large number of items quickly.
Other features include:
Search, sort, and filter functionality so users can quickly find what they're looking for
The ability to display an unlimited number of products – perfect for large online retailers
Custom field columns, so you can personalize your table to share your products' unique qualities
Integration with Barn2's Quick View plugin for high-quality lightbox displays
Both annual and lifetime licenses are available for WooCommerce Product Table. You can pay $99 per year, or a one-time cost of $299 for use on a single site. If you think you'll be using this plugin for more than three years, the lifetime license will save you a significant chunk of change in the long run.
Buy WooCommerce Product Table for $299
2. Posts Table Pro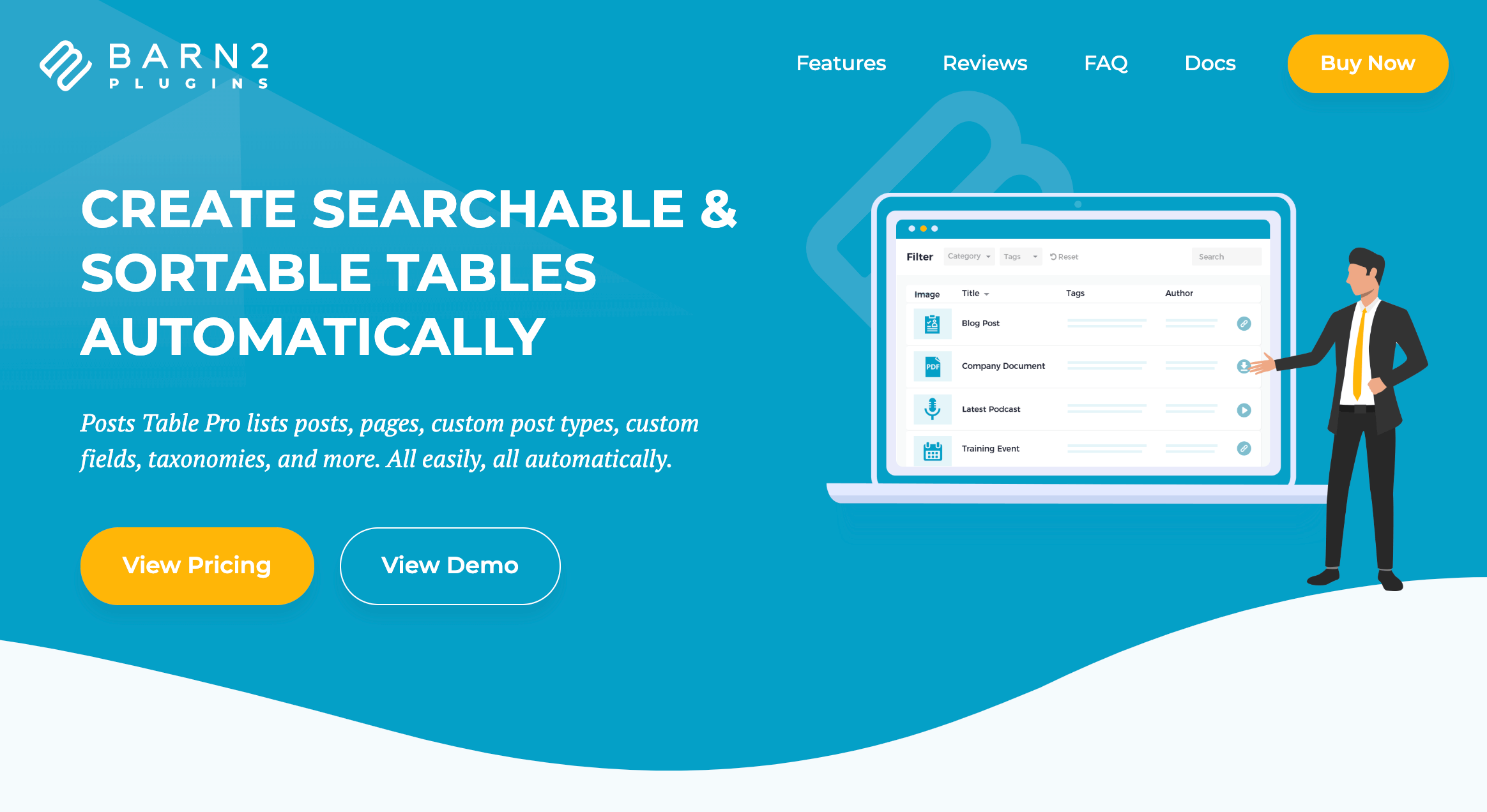 Along with their WooCommerce Product Table plugin, Barn2's Posts Table Pro is one of the easiest WordPress table plugins to use. Adding it to your site automatically creates a database of every post you've published. You can display it anywhere you like using a shortcode, and adjust the columns to feature key information: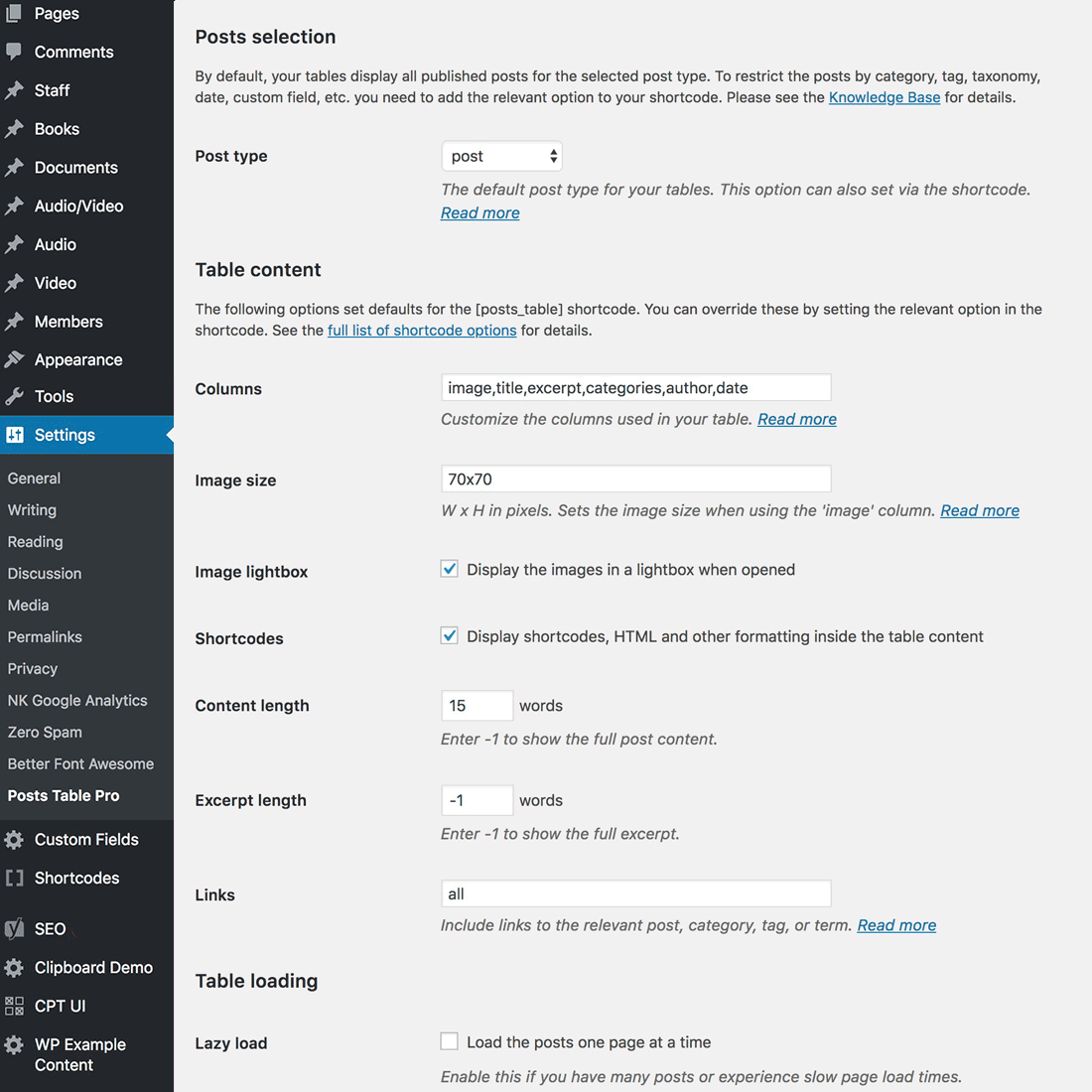 This plugin is ideal for established bloggers, news sites, and other websites that already contain large volumes of written content. It creates a complete and easy-to-read table your users can quickly search to find what they need. Additionally, it can help you:
Display lists of custom post types or pages
Embed audio or video files in your table
Create columns based off of custom fields or taxonomies
Enable search, sort, and filter for easy navigation
A bit more affordable than its WooCommerce Product Table counterpart, a single site license for Posts Table Pro starts at $65 per year. You can purchase a lifetime license instead for $195.
3. Go Pricing

As its name suggests, Go Pricing is primarily geared towards creating pricing tables. If you offer multiple service plans, displaying your fees this way enables potential customers to easily assess which is the best package for their needs: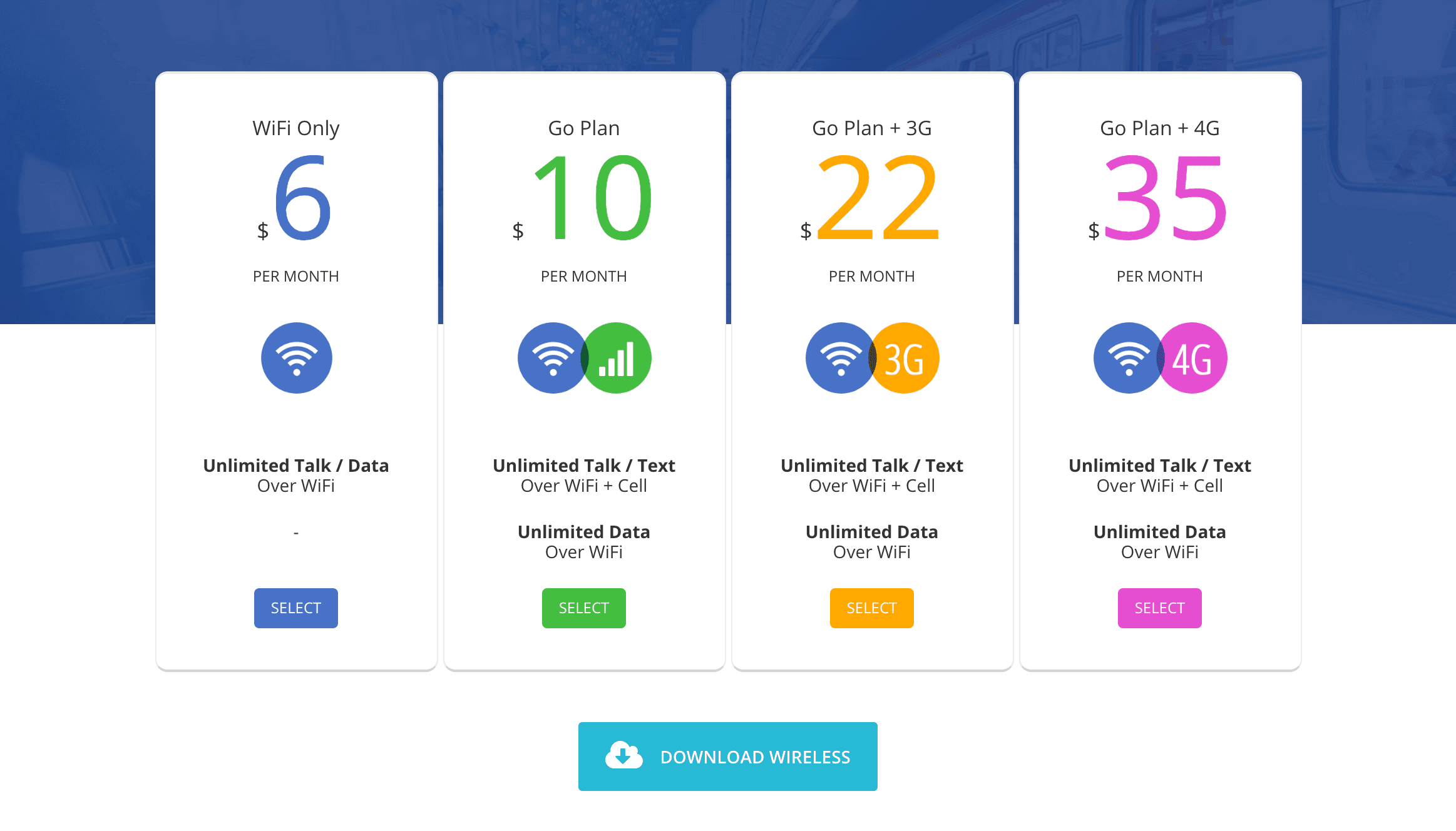 However, Go Pricing is adaptable. You can also use it to create team member profiles or other comparison tables. Regardless of what you choose to create with it, there are a few key features that will help you do it well:
Mobile responsiveness so users can clearly read your tables on any device
Support for multiple media types, including images, videos, and maps
Column animations for adding visual interest to your site
Customization options that include access to Google Fonts and Font Awesome icons
You can purchase Go Pricing on Code Canyon for $27. There are also two premium add-ons available. The Yet Skin provides advanced demos and styling options – you can purchase it for just $15. The Clip add-on enables you to build tables faster by saving rows and columns for reuse, and is priced at $10.
4. League Table

If you're looking for something more generic, League Table may be your answer. This plugin is a better solution for data tables if you need to share statistics or other general comparative information: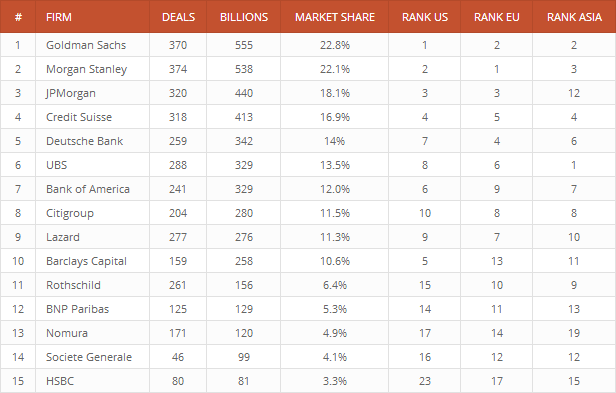 Don't let any of that fool you, however. League Table is highly versatile, so you can adapt it for a variety of purposes. It also includes an impressive number of customization options, with 105 different settings available for each table. Other features include:
An embedded spreadsheet editor so you can copy data directly from Microsoft Excel or Google Sheets
Manual column sorting enabling users to view table content in a way that makes the most sense to them
Cells properties, including mathematical formulas, cell highlighting, and custom code
Multisite and multilingual compatibility for use across networks and languages
League Table licenses are $23 and include all future updates and six months of support. You'll find it on Code Canyon.
5. CSS3 Responsive WordPress Compare Pricing Tables

For those looking to create pricing tables, CSS3 Responsive WordPress Compare Pricing Tables is a decent alternative to Go Pricing. You can count on it to provide clean, modern styling to your service tier descriptions on desktop and mobile devices: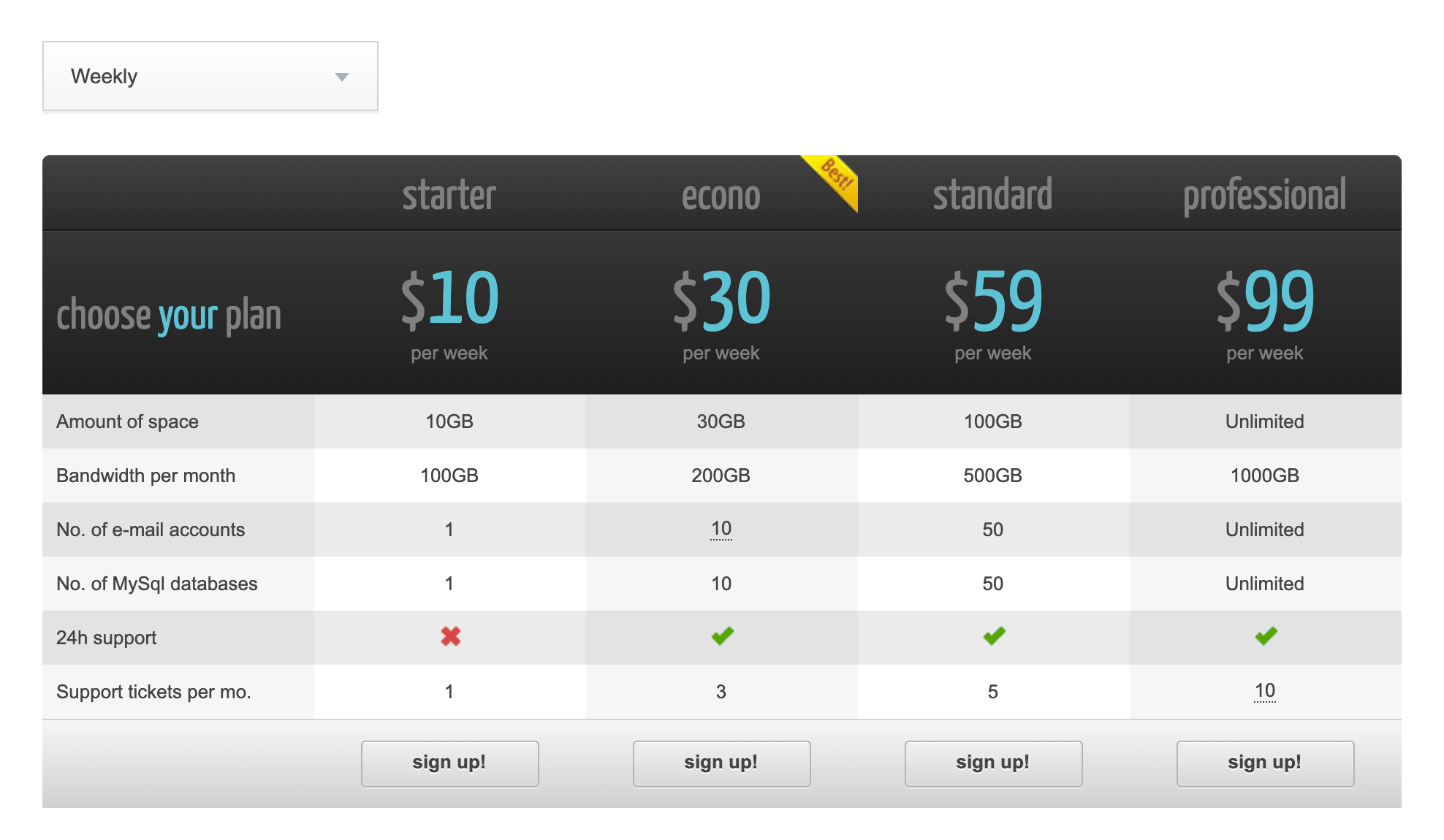 Customization is at the top of the pros list for this plugin. You have more options than you could ever dream of when it comes to creating the perfect pricing table to match your site's design. It includes 20 color variations, 60 ribbons (like the yellow one in the image above), adjustable dimensions, and more.
Plus, you'll be able to take advantage of this tool's other useful features, such as:
Adding an unlimited number of columns and rows per table, and unlimited tables per site
Building your tables with live admin configuration
Hiding specific rows or columns from users via the admin panel
Creating sliding columns, expandable rows, and hover states
Although it's geared towards pricing tables, you can certainly adapt this plugin for use in other roles. A simple license purchase of $20 grants you lifetime usage and updates, as well as six months of support.
Buy CSS3 Responsive Tables for $20
6. Visualizer Charts and Graphs

ThemeIsle's Visualizer* is a standout option among WordPress table plugins. Perfect for users who incorporate a lot of visual data in their content, this tool enables you to create a wide variety of charts and graphs, including basic data tables.
Its easy-to-use templates streamline table and chart creation. Plus, you can easily save them for reuse in other posts or pages down the line: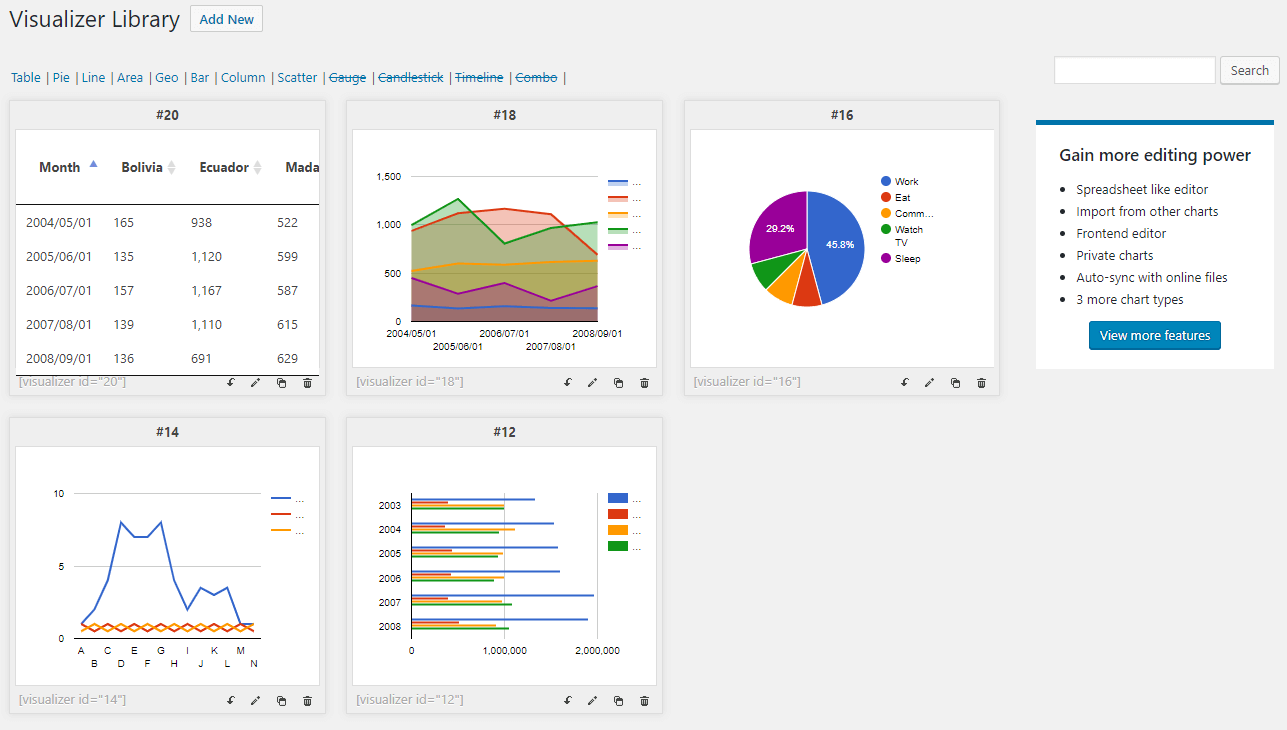 Any chart created with Visualizer can be quickly inserted through the use of simple, easy to remember shortcodes. Additionally, with this plugin you can:
Use the built-in WordPress table editor to tweak data directly in your post or page
Import data from CSV files to quickly construct tables, charts, and graphs
Create interactive charts to keep readers engaged
Synchronize your tables with Google Sheets to automatically update them when new data is added
Visualizer is available in three different licenses for one, three, or 30 sites. Pricing starts at $59 per year. If you want to try it before you buy it, you can check out the live demo* or download the free version from the WordPress Plugin Directory.
Buy Visualizer Charts and Graphs for $59*
7. Ninja Tables

Ninja Tables is a bit of a jack of all trades. It can be used to create sortable data tables, product catalogs, and post archives. You'll handle all the details from the convenient WordPress table editor in your dashboard: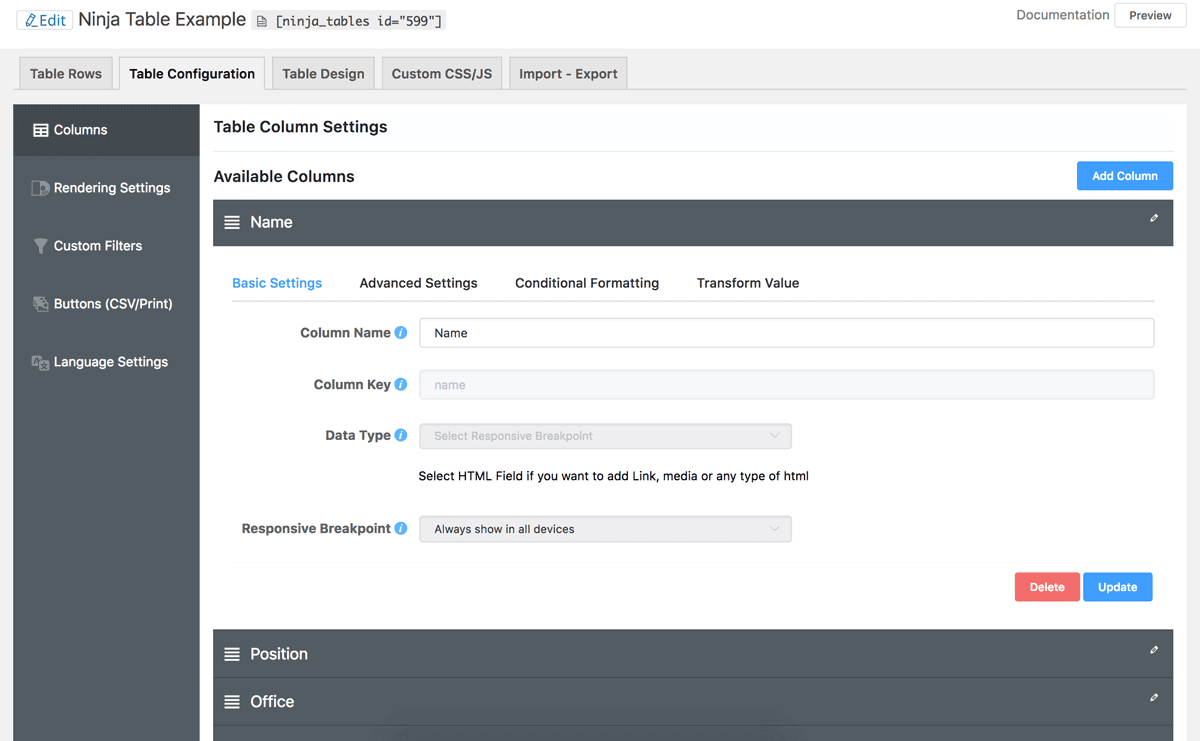 Ease of use is a top priority with this tool. Drag-and-drop editing makes rearranging your columns and rows painless. You can add conditional formatting to highlight cells you want to draw special attention to as well. Plus, you'll also be able to:
Add images and other media
Import data from Google Sheets
Integrate with WooCommerce and WP Fluent Form
Apply sorting options so users can find what they need
A single site license runs for just $49 per year. You can also check out the free version in the Plugin Directory, but keep in mind that its feature set is a little more limited.
8. Easy Pricing Tables

With so many WordPress table plugins to choose from, it can be difficult to determine what makes one different from all the others. Easy Pricing Tables stands out by living up to its name and providing a fast and simple method for displaying your services via your admin dashboard: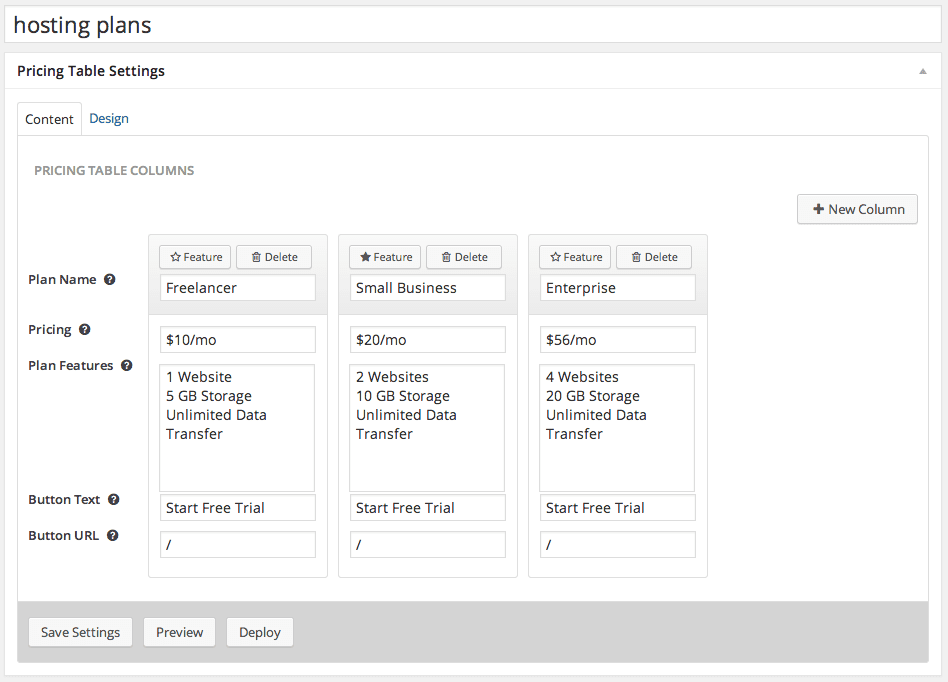 The editing interface is easy to pick up – simply click on New Column to add another plan and edit the fields to include the relevant information. Easy Pricing Table also adds a block to your WordPress installation so that you can quickly publish your pricing table via the Block Editor with just a few clicks.
Additionally, this plugin enables you to:
Style your pricing tables with ten customizable templates
Integrate it with WooCommerce or Easy Digital Downloads*
Start the checkout process right from your pricing table with Stripe integration
Add a toggle to display multiple pricing methods (e.g., monthly and yearly plans)
In order to take full advantage of Easy Pricing Table's features, you'll need at least a $59-per-year Business plan. However, you can also purchase a Personal plan for $29 per year, or get by with the free version.
Buy Easy Pricing Tables for $29
9. WooCommerce Tiered Price Table

There are several WordPress table plugins in this post that focus on pricing tables, but this one is a little different. Rather than creating different tiers for various services or Software as a Service (SaaS) products, this plugin enables you to set different prices for single items based on the quantity a customer is purchasing: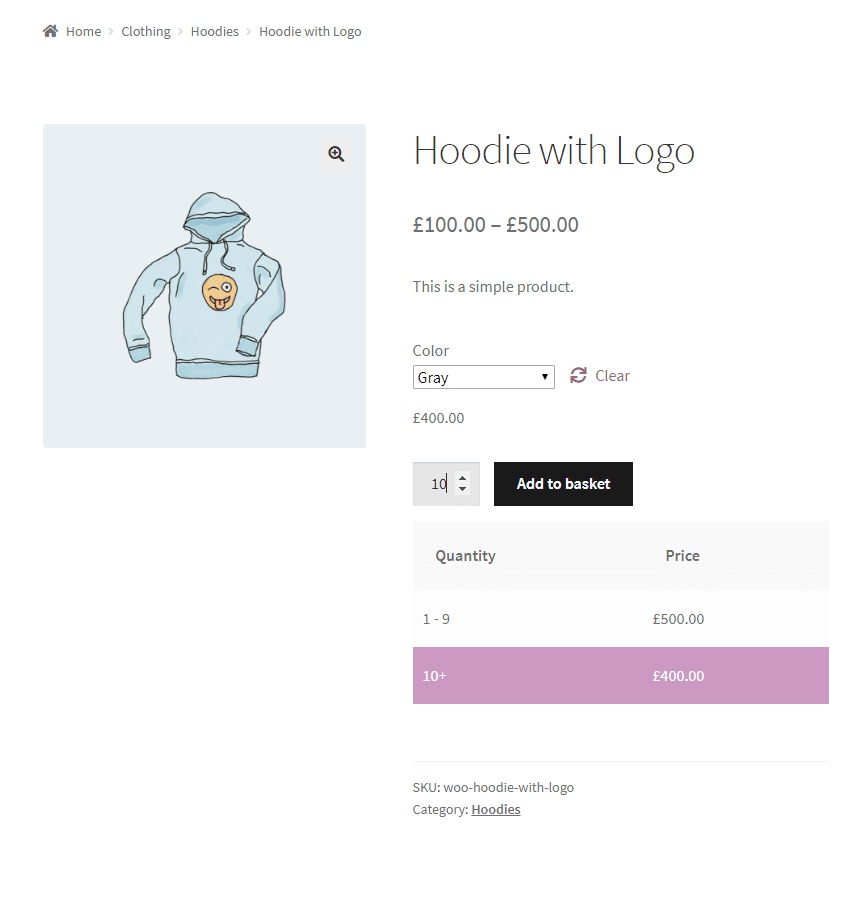 This is especially helpful for retailers who sell wholesale or get a lot of bulk orders. You can use WooCommerce Tiered Price Table to add a simple chart to your product page that details different pricing levels for larger orders, including variations.
This plugin isn't terribly flashy, with just a few key features:
Fixed or percentage-based bulk discounts
Shows your customers their discount so they feel like their getting a good deal
Customization options for changing the column headings and selection color
The ability to hide the table while keeping the pricing options intact
This official WooCommerce extension is available for $79 per year. There's also a free version available for download in the WordPress Plugin Directory.
Buy WooCommerce Tiered Price Table $79
10. Woo Product Table (Supsystic)

One of the greatest advantages of using a table over a product category page is that customers can easily search, sort, and filter items for streamlined browsing. Woo Product Table can help you provide a smoother shopping experience by showcasing your merchandise's key features: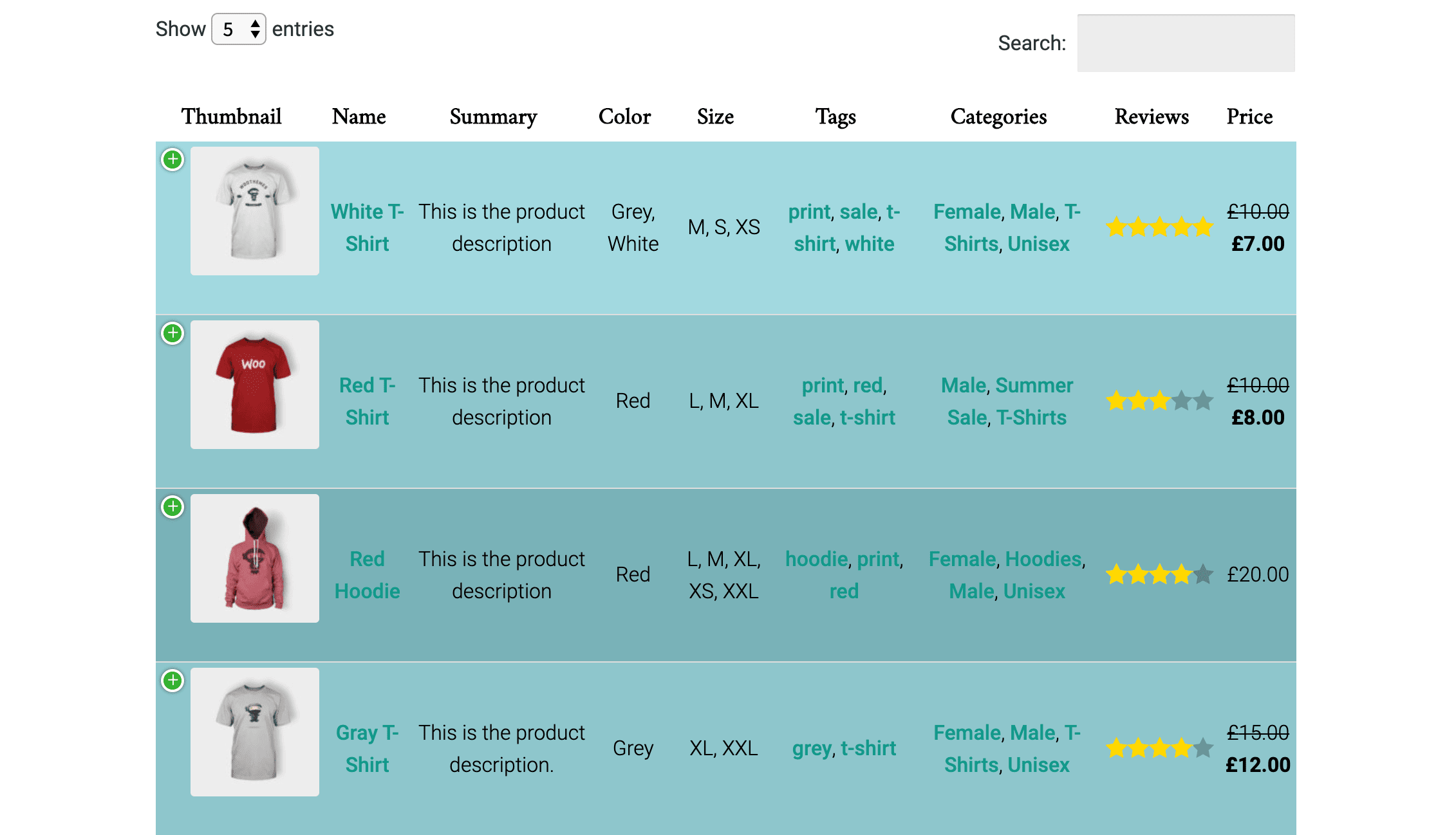 In addition to the navigational functions already mentioned, this plugin provides:
Quantity and variation selectors as well as Add to Cart buttons for faster checkout
Complete control over what data appears in your table
Shortcodes for adding your product listings to your site
Responsive table design for landing sales on mobile devices
A one-time purchase of $49 will grant you a license to use this plugin. The five-site license is $99, and you can add Woo Product Table to unlimited sites for $199.
11. WP Table Builder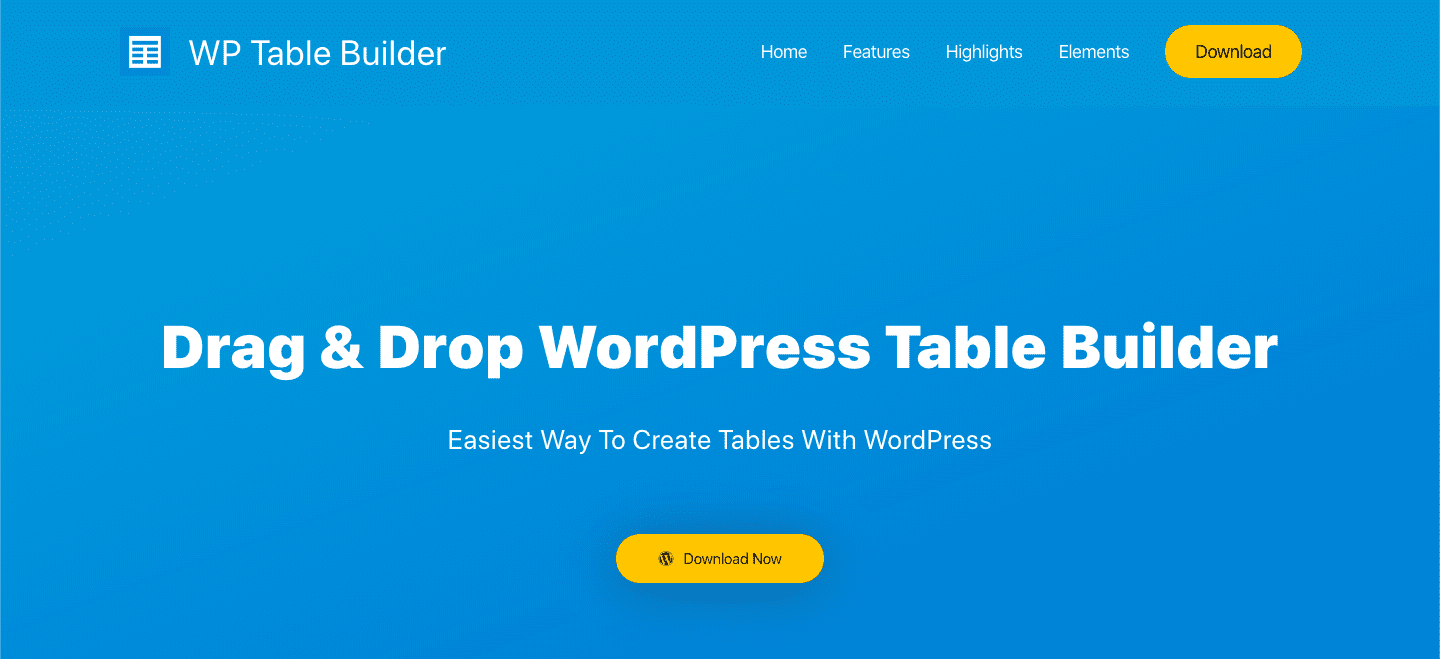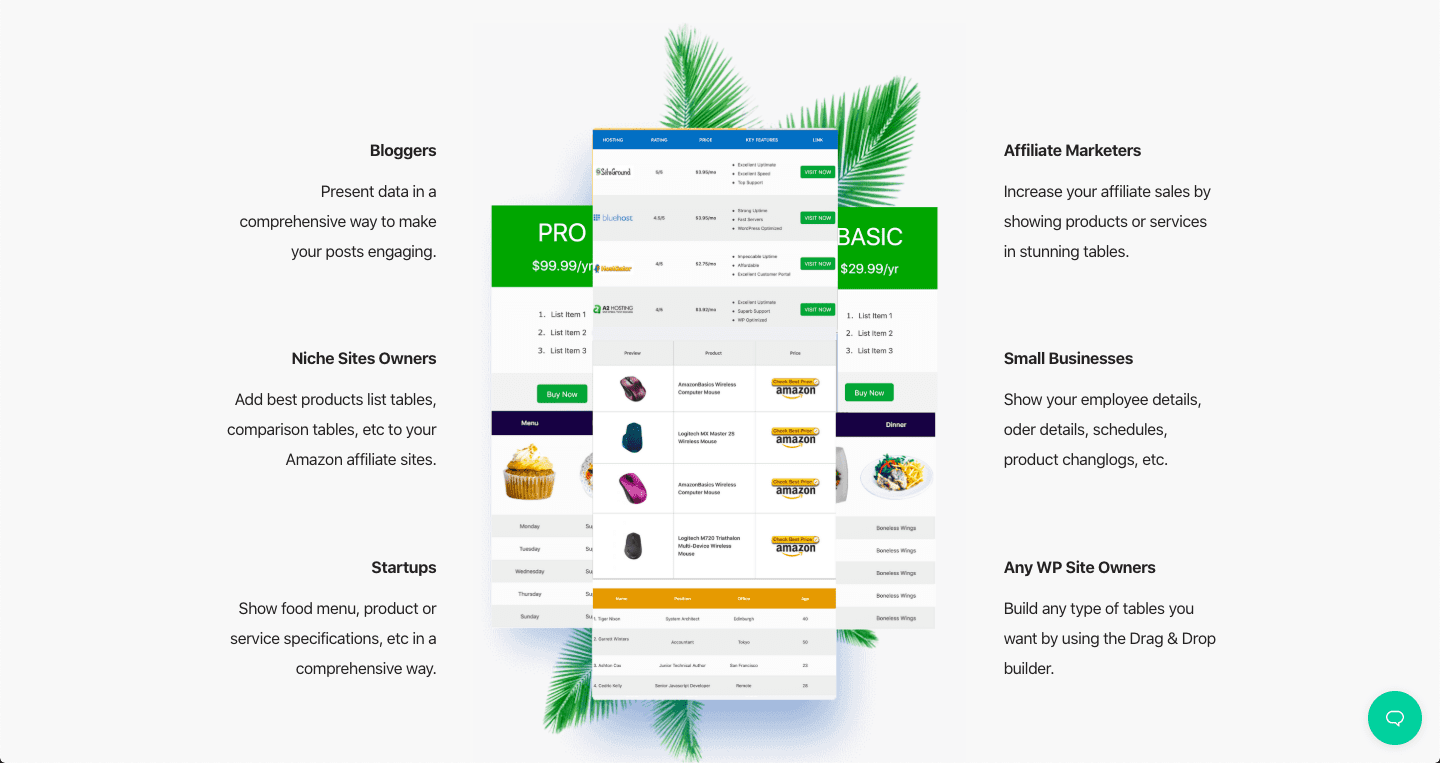 12. WooCommerce Product Table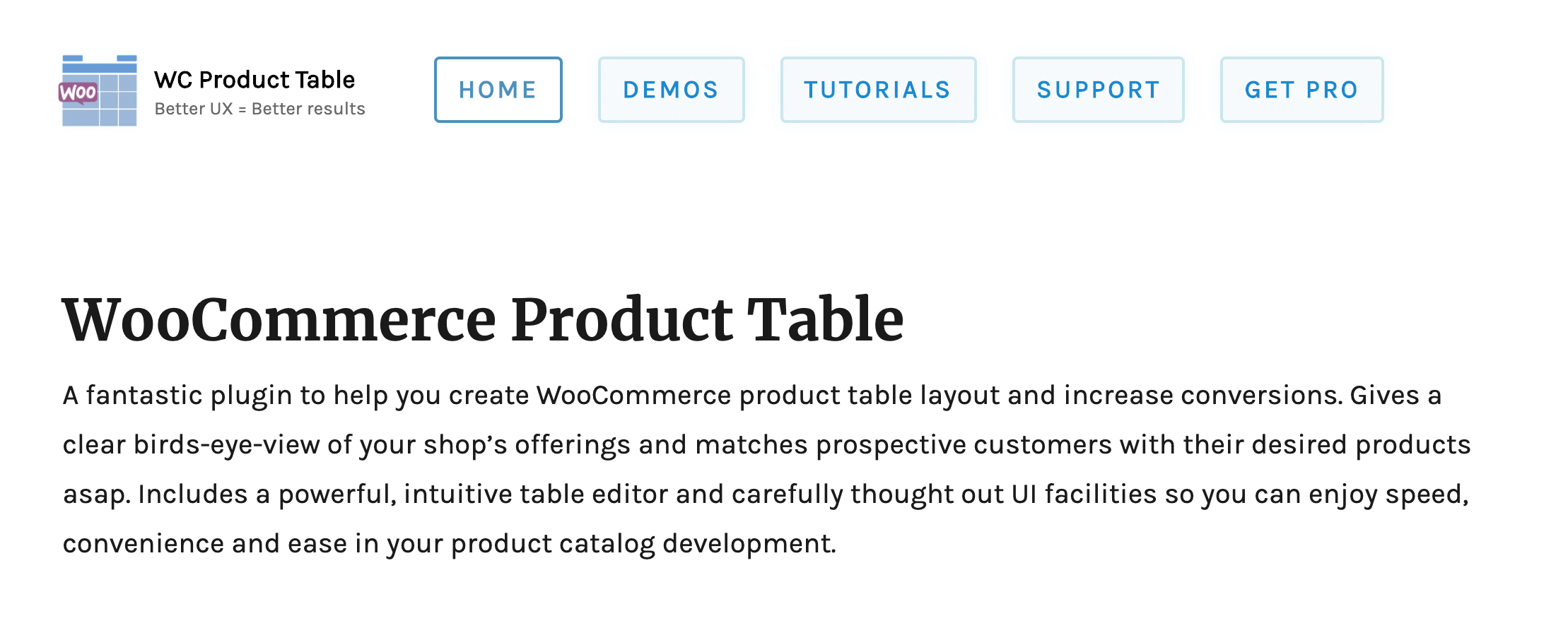 There's a reason there are so many plugins in this list dedicated specifically to creating product tables. Adding this feature to your online store gives your customers a simplified shopping experience standard product pages simply can't provide. Easier browsing and checkout processes may encourage more sales, too.
WooCommerce Product Table is yet another option for online retailers to consider if they want to create digital catalogs or order forms: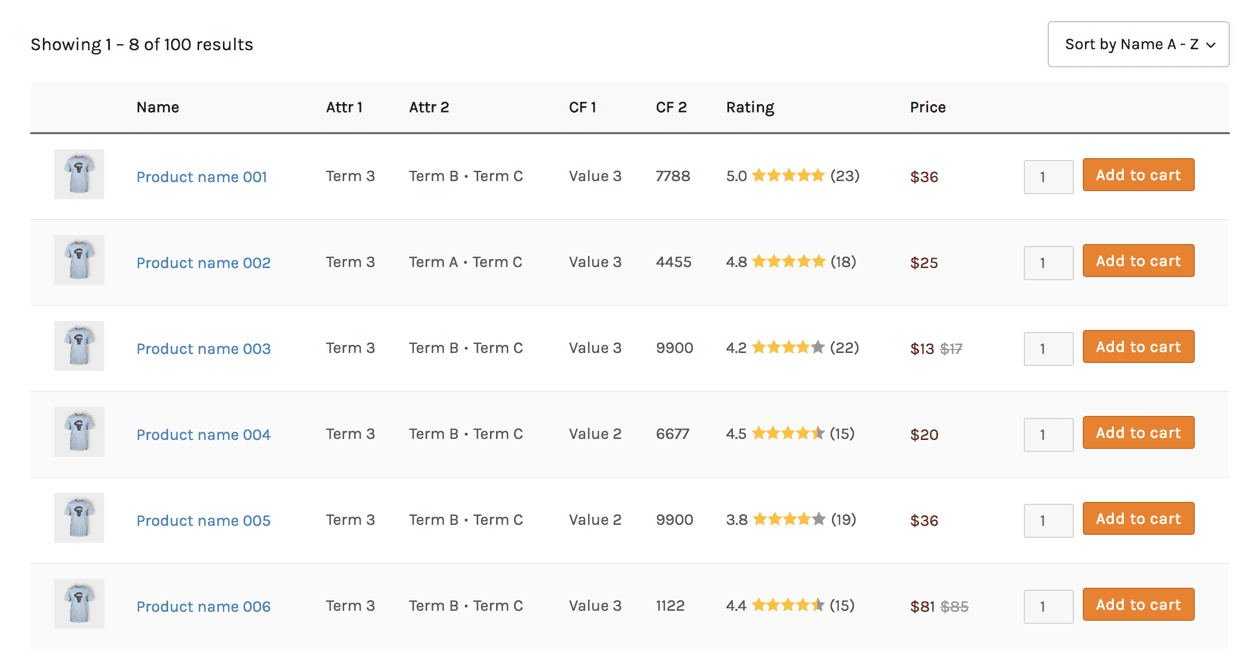 This plugin comes with several top-notch features, such as:
An archive override function that replaces the default WooCommerce product archive with your product table
Variation tables that show each version of your product as a separate item
Add to Cart checkboxes that enable customers to select multiple products for purchase simultaneously
Download buttons for fast access to digital products
WooCommerce Product Table Pro licenses cost $42 per year. There's also WooCommerce Product Table Lite, which you can download from the Plugin Directory for free.
Buy WooCommerce Product Table for $42
13. Data Tables Generator

Data Tables Generator is unique for a few reasons. For starters, it's geared specifically towards organizing and displaying data, while most of the other plugins on this list have other primary purposes. It supports cell formats including currencies, percentages, and dates as well as formulas for mathematic calculations: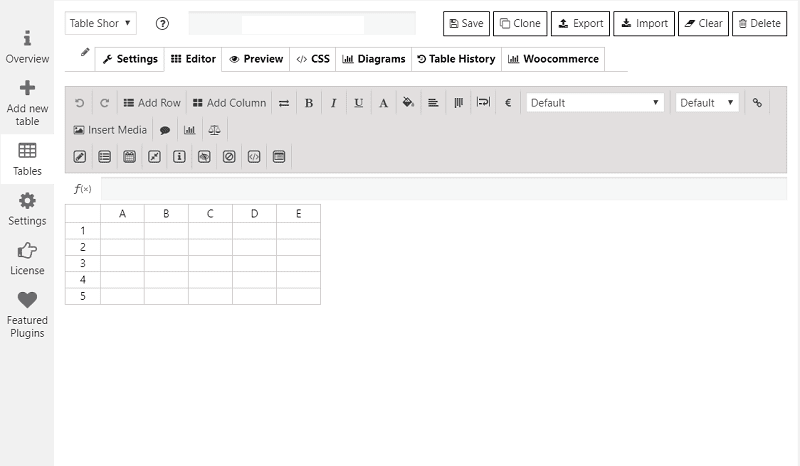 However, there are a few other features Data Tables Generator provides that may make it more suitable than other options for specific use cases. For instance, you can:
Enable front end table editing for users
Auto-update tables from Google Sheets
Use role restriction to limit table editing
View table histories to audit them for errors
If you post studies or other research on your website, you may want to consider adding this plugin to your arsenal. Science and math-related publishers may also find it useful. Although there is a free version available, you'll need to purchase a license for $39 to take full advantage of its capabilities.
Supsystic also offers a plugin bundle that starts at just $69 and includes 14 unique tools. Note that it does not include their Woo Product Table plugin, which we examined earlier in this post.
Buy Data Tables Generator for $39
14. Pricing Table

Supsystic's third table plugin is designed to help you effortlessly display your service plans. Pricing Table includes 40 highly customizable templates you can use to showcase your available offers: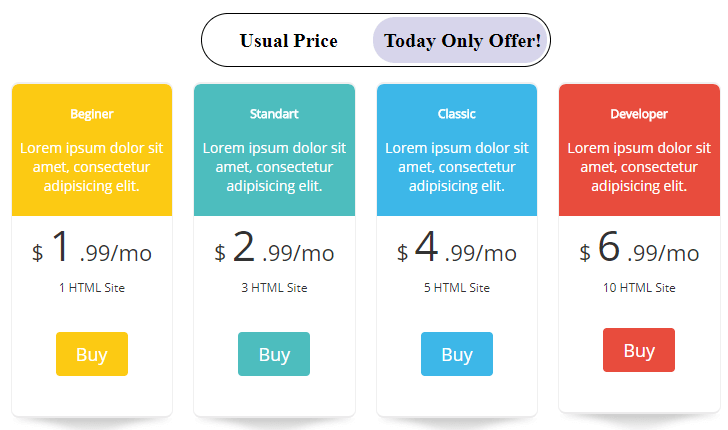 Although it may seem that working from a template might limit your creative capabilities, you can modify fonts, colors, and badges to make your pricing tables your own. Additionally, this plugin provides:
Mobile responsive design so potential customers can view and purchase plans on their mobile devices
Hover animations for creating more interesting and engaging tables
A CSS editor for custom code so you'll have full control over your tables' appearances
Image and video support for incorporating visual representations of your products or services
Like Data Tables Generator, Pricing Table licenses start at $39. There's also a free version in the WordPress Plugin Directory, or you can purchase it as part of the Supsystic plugin bundle for $69 and up.
15. ARPrice

ARPrice's visual editor makes creating engaging pricing tables or team member profiles a piece of cake. You can reuse ones you've already made throughout your site, or create several using the plugin's 300 high-quality templates: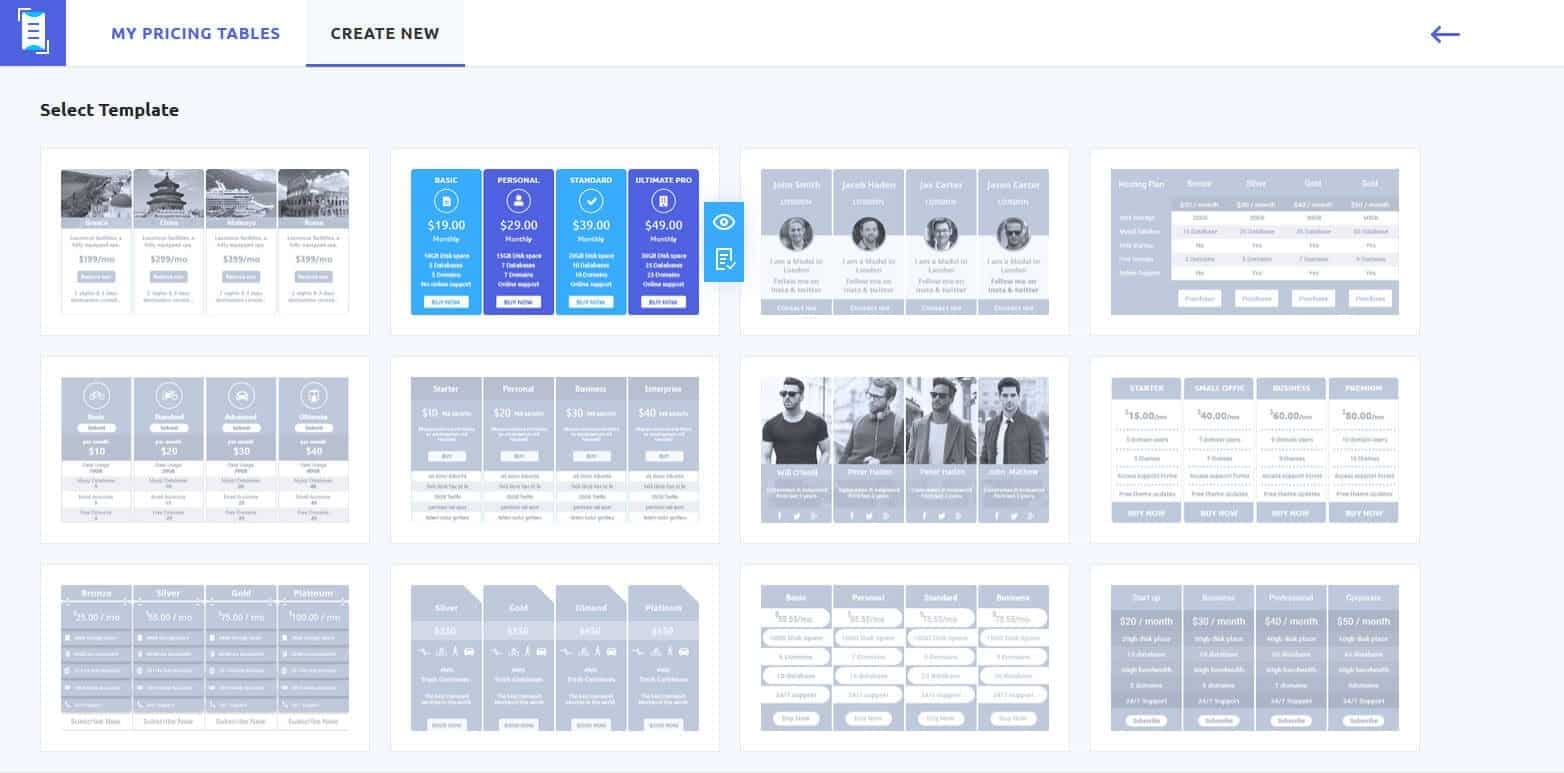 As it's optimized for performance, you don't have to worry about ARPrice slowing your site down. It has an 85 percent performance grade and a page speed score of 91 percent. The tables you make with it are also responsive for easy viewing on mobile devices.
What's more, this inexpensive plugin offers a long list of premium features, including:
Built-in analytics and behavior tracking so you can see how many users visit and click on your plans, as well as which options they prefer
Over 3,000 icons, 900 Google Fonts, resizable ribbons, and button styles for advanced customization of your chosen template
A PayPal Buy Now button that encourages sales, speeds up the checkout process, and reassures customers with a familiar payment gateway
Animation transitions and hover effects for a dynamic pricing page that gets your potential customers' attention
A free version of ARPrice is available with limited features. However, the premium version is just $25 and includes six months of support from the developer. Considering the cost of some of the other WordPress table plugins we've mentioned and the extent of this one's features, that's a steal.
16. TablePress

With over 800,000 active installations, TablePress is by far the favorite solution for those wishing to add tables to their WordPress sites. It's also one of the simplest, making it ideal for beginners. Although it doesn't include tons of customization options and fancy animations, its ease of use and clean design keep users coming back: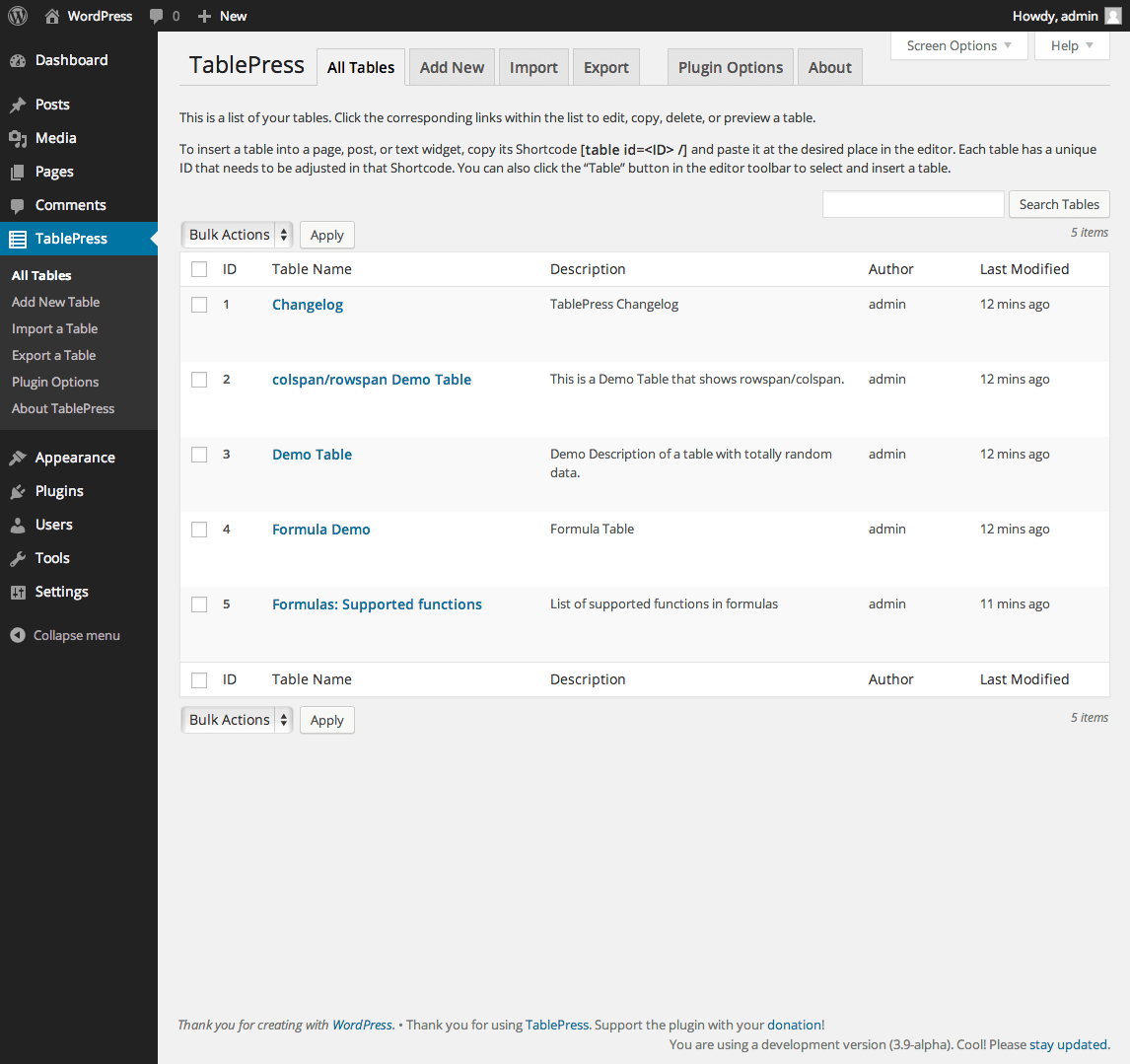 By no means as flashy as ARPrice or Visualizer, TablePress focuses on the basics of clean, readable data tables. Features include:
Shortcodes for displaying your tables in posts, pages, or text widgets
Row highlighting and alternating background colors to improve readability
Support for mathematical formulas
CSV file importing for speedy table creation
TablePress is 100 percent free. You can even download its 'premium' extensions at no cost, although the developer does encourage donations to help with upkeep and support.
17. Posts Table with Search & Sort

If Posts Table Pro piqued your interest but the price tag scared you off, you might want to consider its cost-free sibling, Posts Table with Search & Sort. Developed by Barn2 Media, this is version provides roughly the same functionality. Your posts will be automatically listed in a searchable, sortable table that you can display with a shortcode: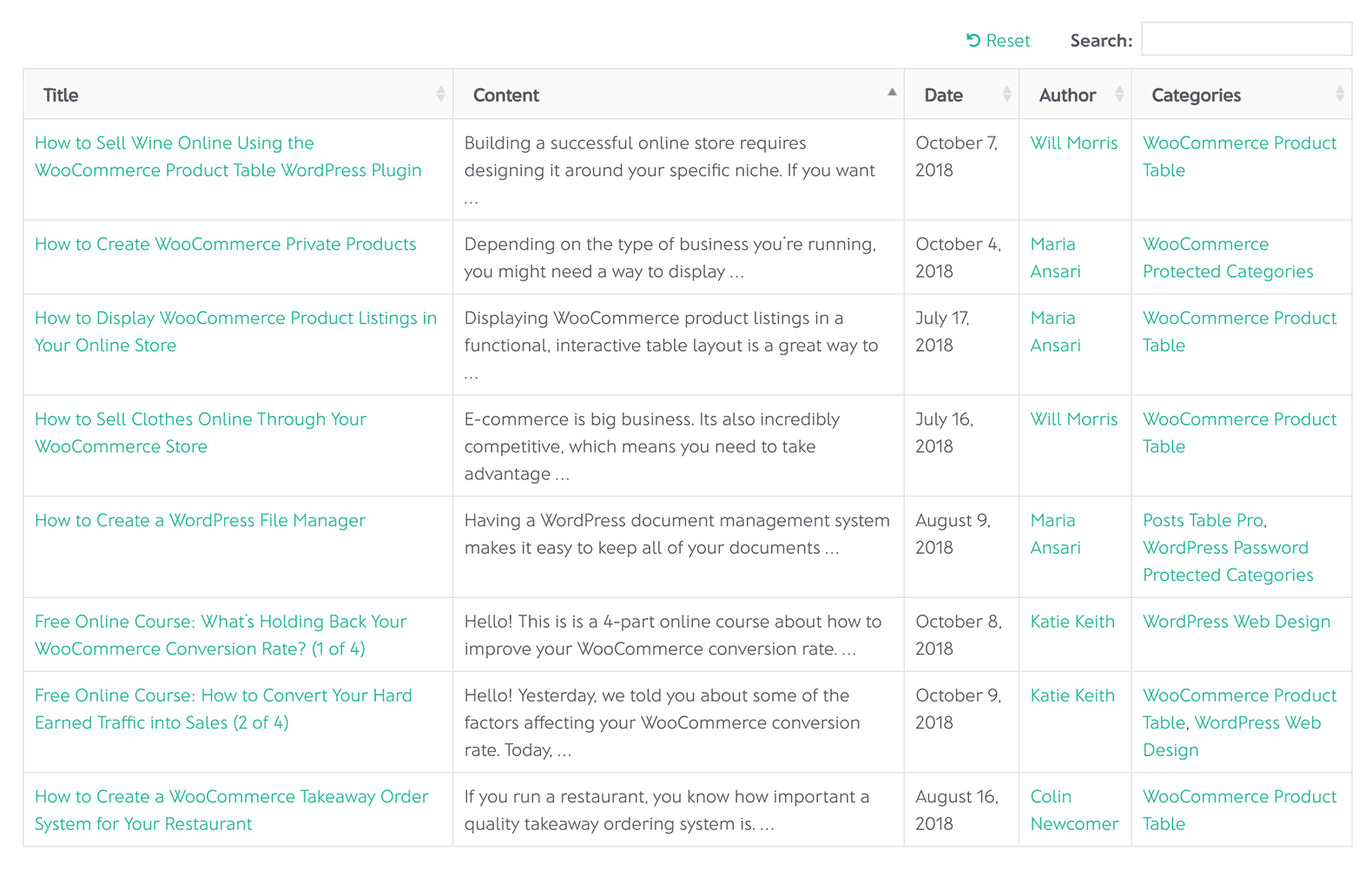 The most significant difference between Posts Table with Search & Sort and its premium version is that the former does not support custom post types or pages. You also can't rename the column headings, include images, or add custom fields and taxonomies to the table.
There are many things you can do with this plugin, however, including:
Include columns for post ID, title, author, category, tags, and date
Control the length of the content displayed in each column
Enable search, sort, and filter functionality so readers can easily navigate your table
Translate your content to reach an international audience
This plugin is completely free to download and install on your WordPress site.
Get Posts Table with Search and Sort for FREE
How to Create a Table to Your WordPress Site Without a Plugin (HTML) 🚫
As we briefly touched on earlier in this post, you can create tables in WordPress without a plugin. The most straightforward method for accomplishing this is by using the Block Editor. In any post or page, add a new block by click on the plus (+) icon.
You'll find the Table block under Formatting: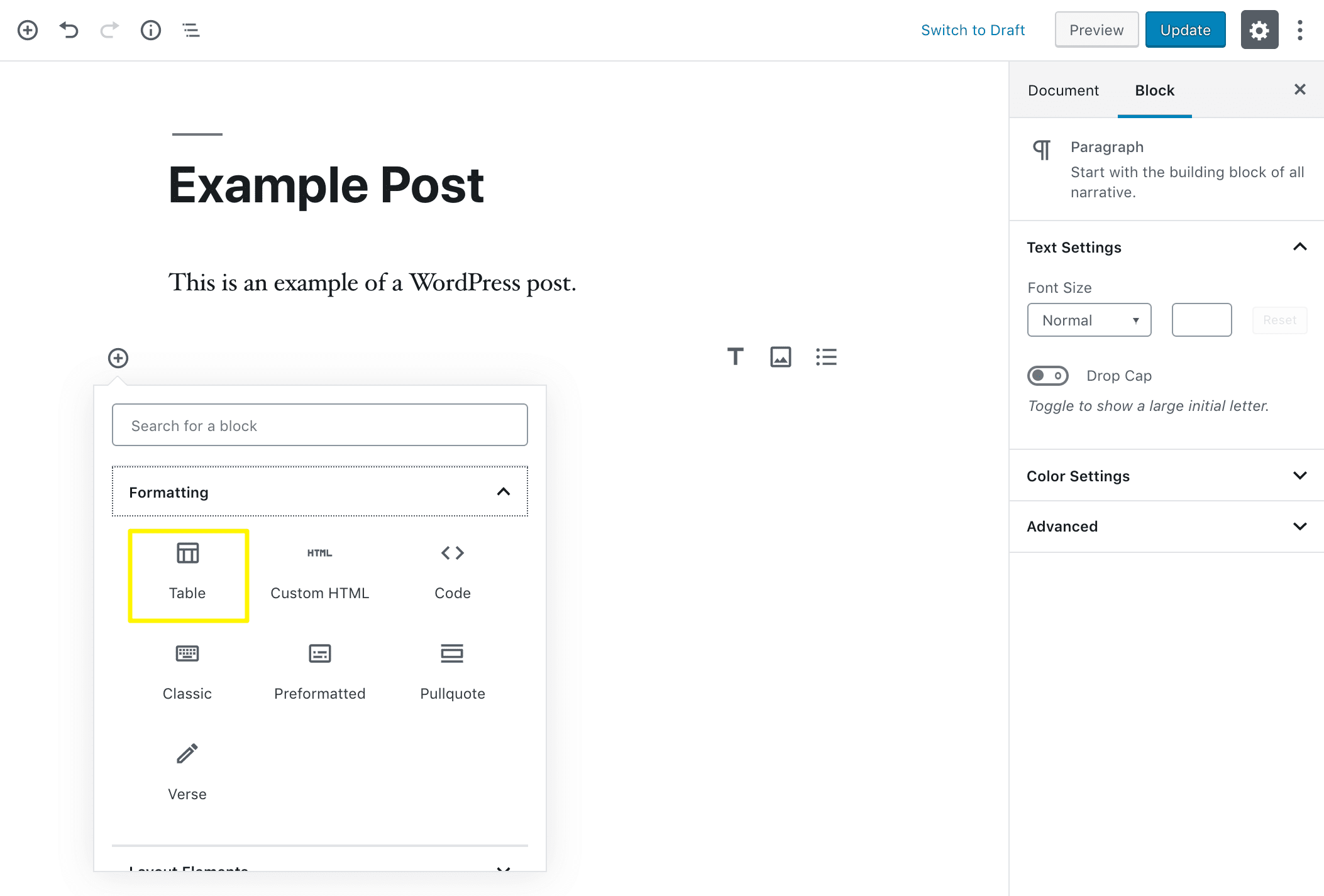 When you add it, you'll first need to set the number of columns and rows you need to display your data: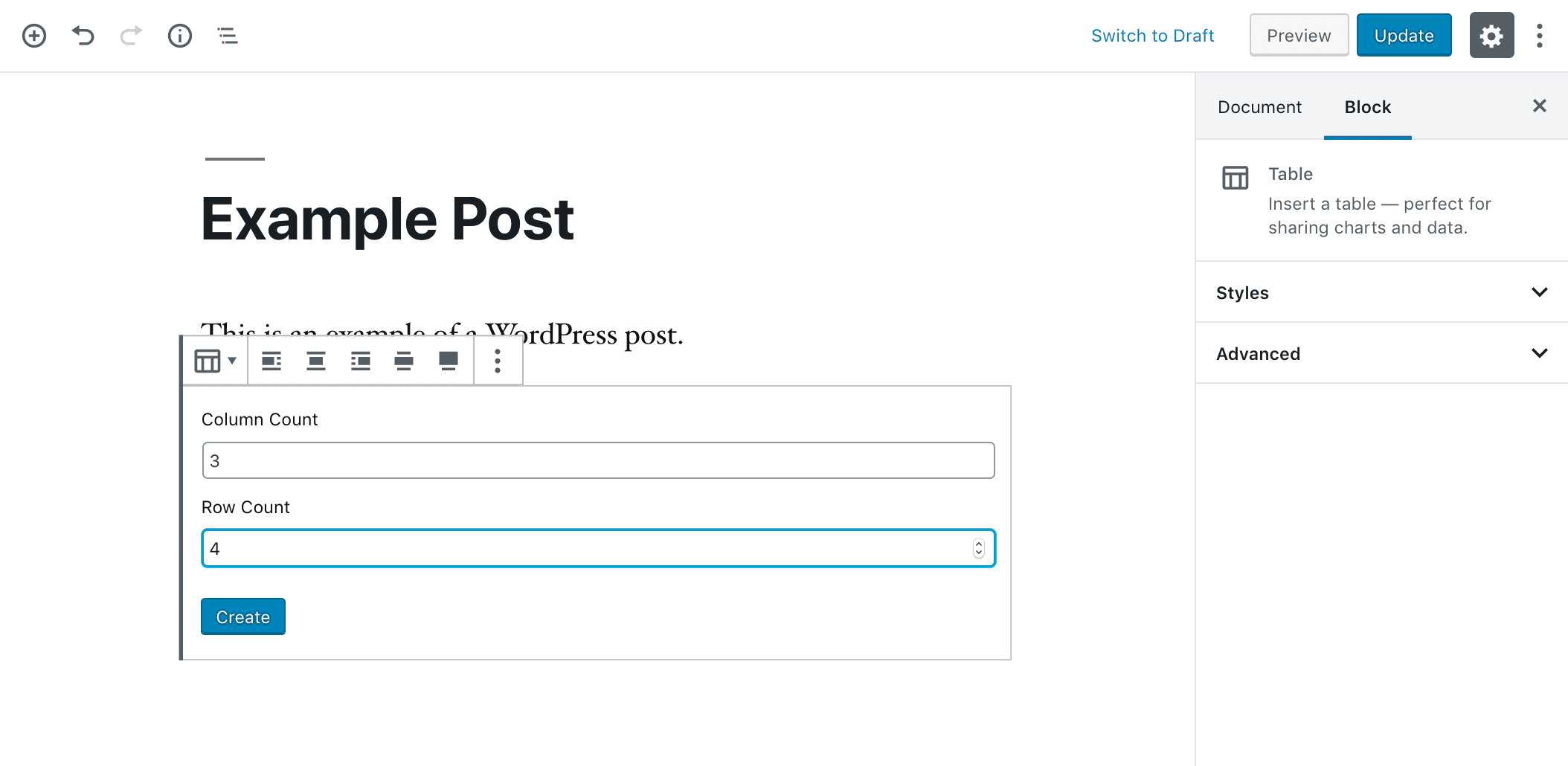 Click on the Create button to generate your table. You can then edit your columns and rows directly in your post or page: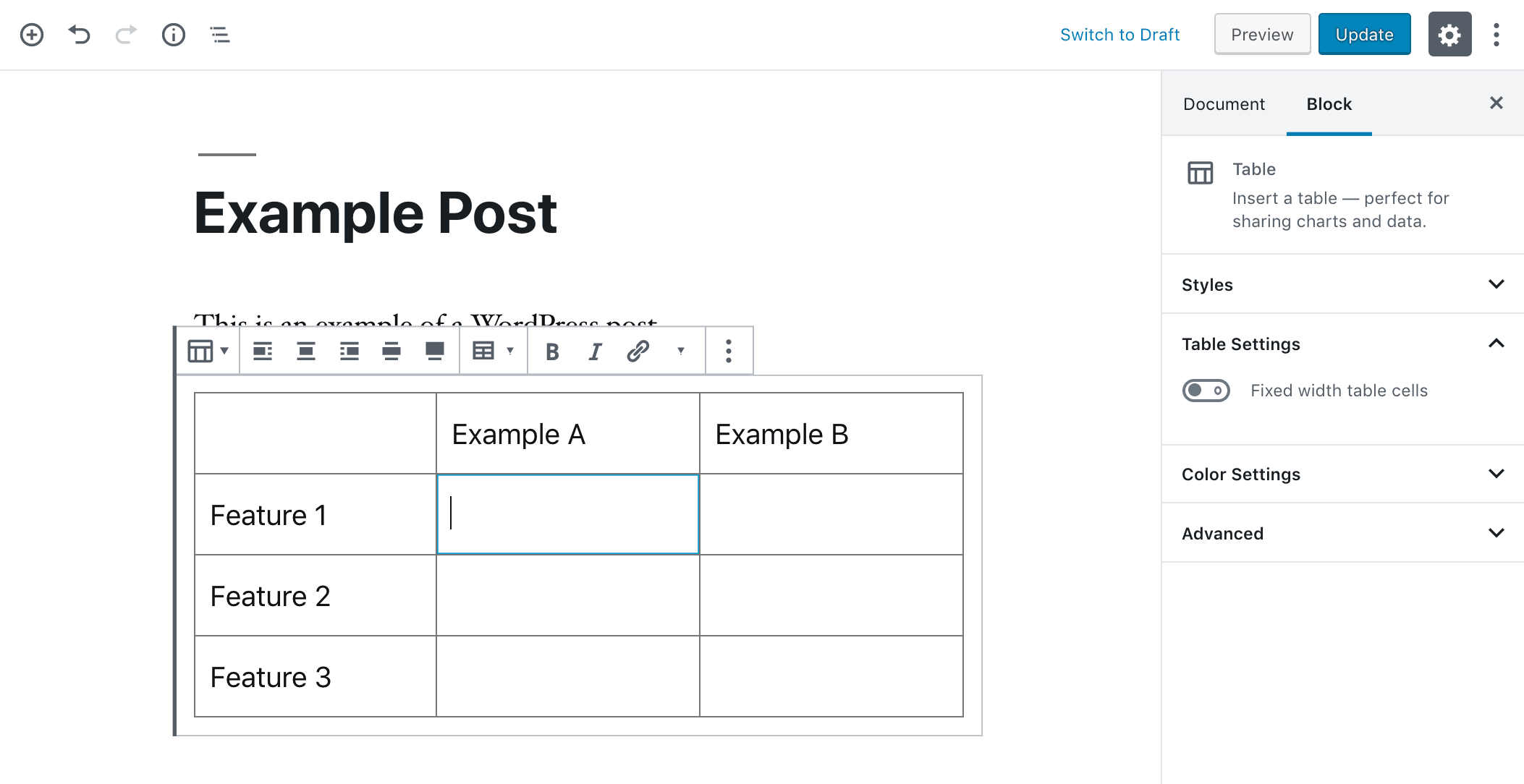 ✋ Although it's very fast and easy to use, the Table block comes with a couple of drawbacks. #WordPress
Click To Tweet
Namely, it doesn't offer the level of styling and customization provided by some of the plugins we listed. It's also not useful if you want to include video or audio files in your tables.
Another alternative to a plugin would be using a WordPress table HTML generator. HTML Tables Generator is one such tool. It enables you to visually edit a table on a third-party site, then loads the HTML and CSS for it so that you can paste into your content: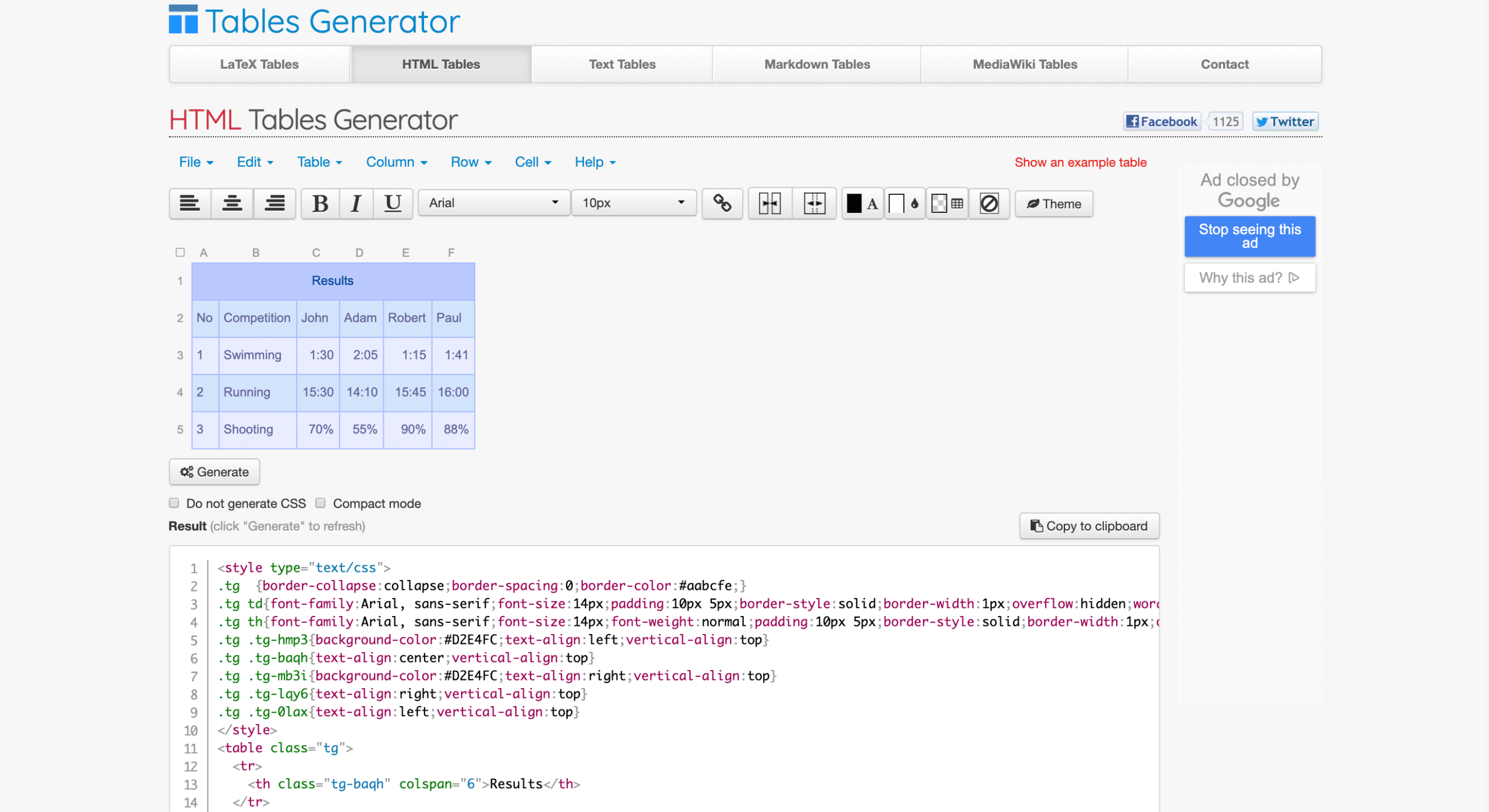 Like the Table block, this platform isn't useful for displaying complex media files such as audio or video. You're also stuck with its default styling unless you're able to replace it with CSS of your own.
If you need a quick, no-frills table for some basic data comparison, either of these tools will get the job done. However, if you want to display a large volume of information or create an attractive pricing table, you'll probably be better off with a WordPress table plugin.
Wrapping Up 🏁
WordPress table plugins are a headache saver when it comes to displaying data on your website. Instead of having to worry about custom HTML and CSS, you can quickly input the information you want to share and generate a chart in seconds.
You have an abundance of options when it comes to WordPress table generators. Barn2 Media's WooCommerce Product Table and Posts Table Pro enable easy content organization, while Go Pricing shares key information with your future customers. Visualizer* offers a more flexible solution, with a variety of chart and graph templates.
However, crafting quality tables won't get you far if your site isn't in top-notch condition. That's where WP Buffs comes in. We provide high-quality WordPress support and maintenance to ensure your content is secure and optimized. Check out our pricing table today!
Want to give your feedback or join the conversation? Add your comments 🐦 on Twitter.