Everyone has used URLs, but few have put much thought into what it takes to craft a high-quality URL.
To get the most out of your WordPress site, however, you will need to spend time on your URLs (which are referred to as permalinks in the WordPress ecosystem). Like a lot of design-related considerations for your website, WordPress permalinks are something that most people don't notice…until you do something silly.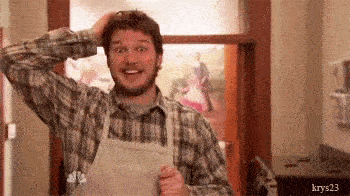 When WordPress permalinks aren't working, then the user notices big time. Changing WordPress permalinks becomes more of a big deal.
WordPress Permalinks, however, are more than just a contributing factor to your website's user experience. They have an impact on SEO and how high search engines rank your websites when people search for terms relevant to your site.
In this article, we will cover everything you need to know about your WordPress site's permalinks, including its basic structure and how they are created. We'll also talk about why they're important (spoiler: they help guide users, as well as search engines). Finally, if you have some lackluster permalinks in use, we will show you how to change your permalinks safely.
Our team at WP Buffs is dedicated to helping
website owners
,
agency partners
, and
freelancer partners
manage their WordPress sites 24/7 and configure permalinks. Whether you need us to manage 1 website or support 1000 client sites, we've got your back.
In This Article 🤔
What is a Permalink? 🔗
A permalink (which is a portmanteau of permanent hyperlink) is just a fancy word for the URL people use to access different parts of your WordPress site.
What's confusing, however, is that permalinks aren't necessarily permanent. You should avoid frequent changes, but there are certainly times when changing it is a good idea.
The Structure of WordPress Permalinks
A permalink consists of two parts:
Your website's domain name (e.g., example.com)
The slug, which is the second portion and generally describes the content the user will find on the page (e.g. /about-me)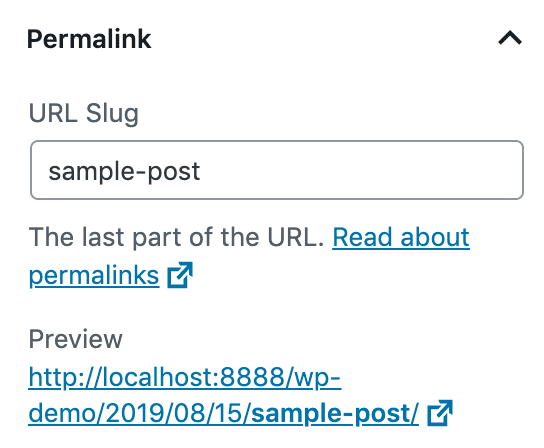 So, a full permalink looks something like example.com/about-me.
Why Permalinks Matter ❓
There are several reasons why permalinks are so important. Things like navigation, organization, user perception and the impact it has on SEO all matter here. Let's unpack that a little.
Navigation and Organization
Permalinks tell your users where your content lives on the internet. With the permalink, they can return to the post at a later date or share the post with somebody else.
Furthermore, the permalink is a unique entity, which means that it can help you identify and organize your content. Such organization spills over to the front-end — done well, your user should be able to look at your permalink and get an idea of how your website is structured and where they would need to go if they wanted to find content on other topics on your website.
User Perception
One of the pieces of information visitors use to determine if the website they are looking at is of interest is the URL. Therefore, what you include (or do not include) in your permalinks may impact whether a visitor stays on the page or bounces off immediately. In some instances, the user may not even click on your link based on the URL. For example, users scrolling through search engine results will look at the title and the URLs of the websites returned. They open only the ones that seem to be of interest to them at that point.
Impact on SEO
While a website's URL seems to be a minor factor when search engines rank results, it is nevertheless a factor. Yes, the authority of the domain matters, but keyword use in the URL itself also seems to matter as well. It goes without saying that careful use of keywords in your URL should increase your SEO rankings and drive more traffic to your WordPress website.
Changing WordPress Permalinks Settings to be Custom 🧱
Given the impact that permalinks have on user perception and SEO, you might consider changing permalinks in WordPress to take advantage of these factors in driving user visits. Instead of including just the date and the title of your post, you might consider including a tag and a category (especially if these are keywords relevant to your website).
By default, WordPress creates permalinks using the following structure:
Your Domain Name + Year When the Post was Published + Month When the Post was Published + Title of the Post
However, you can easily change the default structure WordPress uses when generating your permalinks (and, as a matter of fact, many users do this before they even launch their websites).
You can change the permalink structure of your pages via the WordPress Dashboard by going to Settings > Permalinks. WordPress provides you with several options, which are shown below: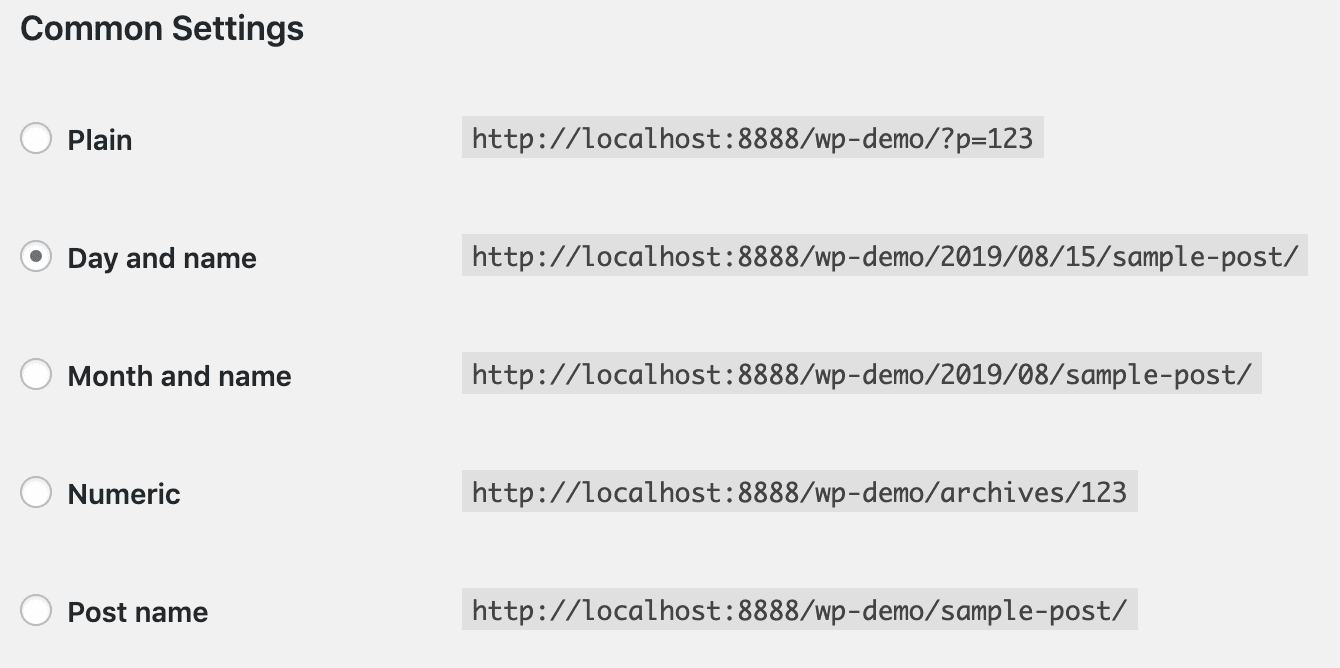 As we mentioned, the default permalink structure features the publishing date and the name of the post. If the date on which you publish the post is not super important, you might consider removing it from the permalink and including something else instead.
📊 Here's a fast fact for ya. Did you know the default #WordPress permalink structure features the publishing date and the name of the post? If you didn't, now you do!
Click To Tweet
However, if none of the standard options provided work for you, you can define WordPress custom permalinks. WordPress offers placeholders for the following pieces of information:
Year
Month
Date
Hour
Minute
Second
Post ID
Post Name
Category
Author


You can also make changes to your base URL to include a predetermined value for your categories and tags. For example, let's say that your permalink is as follows:
http://your-domain.com/your-category-base/your-tag
Using the Category base and Tag base fields, you can change your-category-base and your-tag, respectively.

By setting your category and tag bases, you can embed keywords in your permalinks without manually changing each post as you create them.
Changing WordPress Permalinks Step-by-Step (Without Breaking Links) 📋
In the previous sections, we talked a bit about permalinks and how you can customize its structure when setting up your WordPress site. But, what if you already have a bunch of content and you need to reset by changing permalinks in WordPress? What do you do with those permalinks?
Changing permalinks in WordPress comes down to a few simple settings. BUT how to change permalinks in WordPress without breaking links or setting off a cascading chain of effect is a much more challenging thing to do. After all, the actual steps you need to take are:
Open up the post
Edit the permalink displayed
Save
In the following sections, we will discuss what happens when you make a change to your permalink, as well as cover how you can make changes safely and preserve the integrity of your website's links.
Why Change or Reset Permalinks?
First, let's cover the downside of resetting WordPress permalinks.
Changing WordPress permalinks can negatively impact your search rankings, break any existing links external sites might be used to funnel traffic to your site, and break existing links you might be using on your site that lead visitors to that page. All of these problems can be managed, however, and we will cover what you need to do for these issues. Even if you need to reset permalinks in WordPress.
With that said, why might you consider changing your permalinks? Well, there are several upsides that might offset the downsides:
Your existing posts use an older page structure that is not user-friendly. For example, if you got started with an older version of WordPress, your URLs might include your Post ID. URLs with Post IDs are not easy for people to remember and cannot be used for easy reference at a later date.
Your existing posts use a permalink structure that offers you no SEO advantages.
You want to rebrand your site and you want your URLs to reflect your new branding.
How to Change Multiple Permalinks Safely
If you are changing the permalinks for your WordPress site en masse, there are three main steps you need to tackle:
Back up your site.
Change your permalinks.
Set up redirection.
Let's take a closer look at each step.
Step 1: Back Up Your WordPress Site
The first thing you should do when making major changes to your site is to back it up. Only when you have created a backup and stored it safely should you proceed.
Step 2: Change Your Permalinks
If you want to change the permalink for all of your content, you can do so by updating the permalink structure using the WordPress dashboard. We covered how to do this in a previous section, but you should know that this action does two things. It:
Changes the permalinks used for your existing pages and posts in WordPress
Changes the custom URL structure so that any future content you create will be saved with the proper permalink format
Step 3: Set Up Redirection So You Don't See WordPress 404 Errors After Changing Permalinks
Every user would see a WordPress 404 error after changing permalinks if you just stopped at step two. Why is this?
Every reference, regardless of whether it is on your website or somebody else's website, is now incorrect and all of the links are broken. If a search engine indexed your site using your old URLs, those links are broken as well. Once you have changed the permalinks for all of your WordPress posts and pages, anyone who uses an old link will see an HTTP 404 Page Not Found error message.
To prevent users from being unable to find your content, you will need to set up redirects for your content. The specific redirect you want to use is HTTP 301, which indicates that these are permanent redirects.
There are two ways to set up redirection. You can manually add these redirects to your WordPress sites' .htaccess file. The format for each redirection is as follows:
Redirect 301 /your-former-post-url.html /your-new-post-url.html
Alternatively, you can use a plugin to help with the process of adding redirects to the file (we review a couple of options you can use later on in this article).
WordPress permalinks not working? Keep reading.
Changing WordPress Permalinks on Individual Posts
WordPress allows you to change permalinks on a case-by-case basis. This is a much simpler process, simply because you aren't managing multiple posts simultaneously. To do this, all you have to do is:
Open up the WordPress page or post for which you want to change the permalink.
Edit the permalink.
Save the page or post.
Finally, you will need to set up redirection for your post. For single posts, you can manually add the redirection to the WordPress permalinks .htaccess file, but if you have a plugin for mass changes, you can use it instead.
WordPress Permalinks Plugins 🔌
As with every other WordPress process, there are a variety of plugins designed to help. Some plugins offer just a bit more than the standard WordPress installation when it comes to automating custom permalink structures, while others are powerful options that also check for broken links (allowing you to stay on top of these so your users never see broken links) and set up redirection whenever you update a post.
The following sections feature some permalink-related WordPress plugins that we think you may find useful.
1. Permalink Manager Pro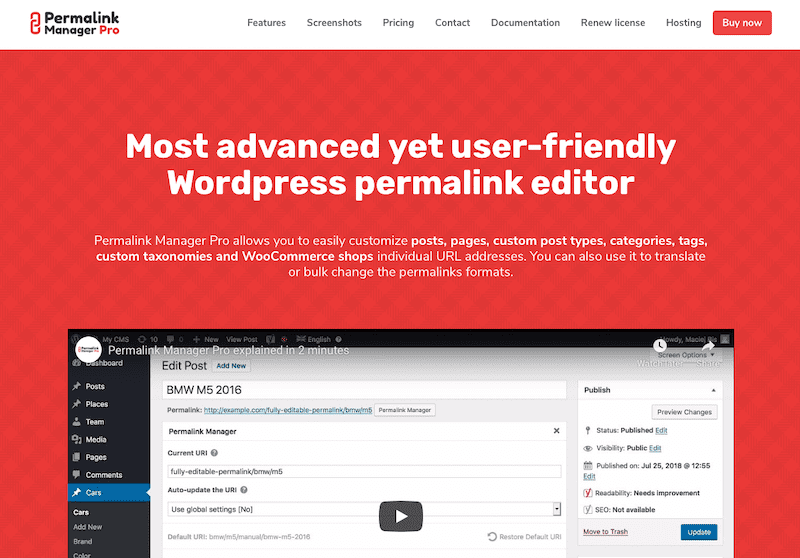 Permalink Manager Pro is a plugin that helps users control the permalinks for all their posts, pages, and custom post type elements. In addition to handling permalinks, this plugin also helps users generate redirects for pages whose URLs have changed. You'll also get multi-language support, allowing you to translate permalinks, the ability to set the type of redirection used (e.g., 301 vs. 302), and a bulk editor to mass change permalinks.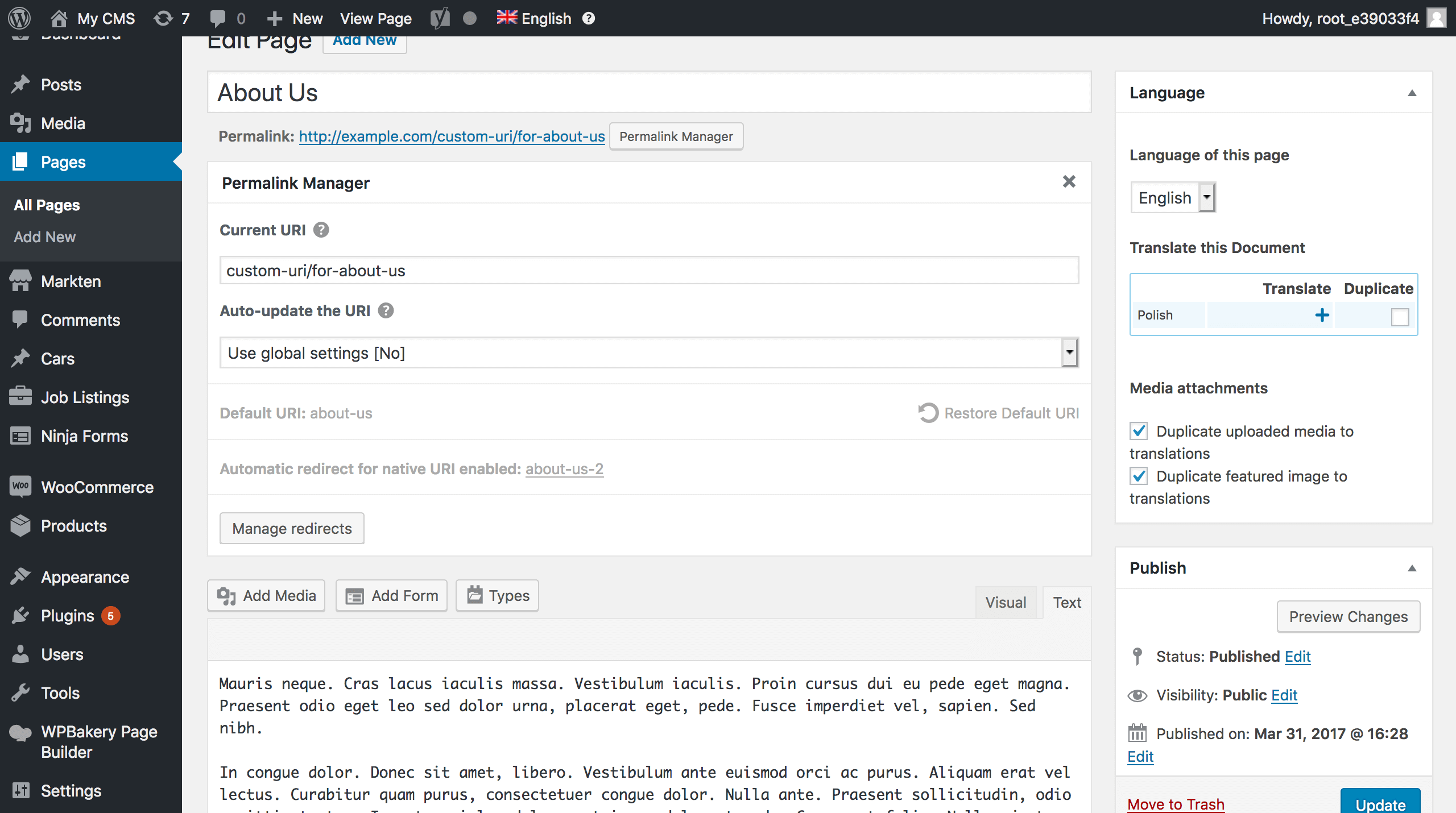 Permalink Manager Pro works well with other plugins, such as WooCommerce, Yoast SEO, and more.
Maciej Bis is a Warsaw, Poland-based WordPress developer who specializes in developing tailored plugins and themes from scratch, though he also assists clients with all things WordPress (e.g., server migrations, maintenance, and so on). His best-known creation, however, is Permalink Manager Pro.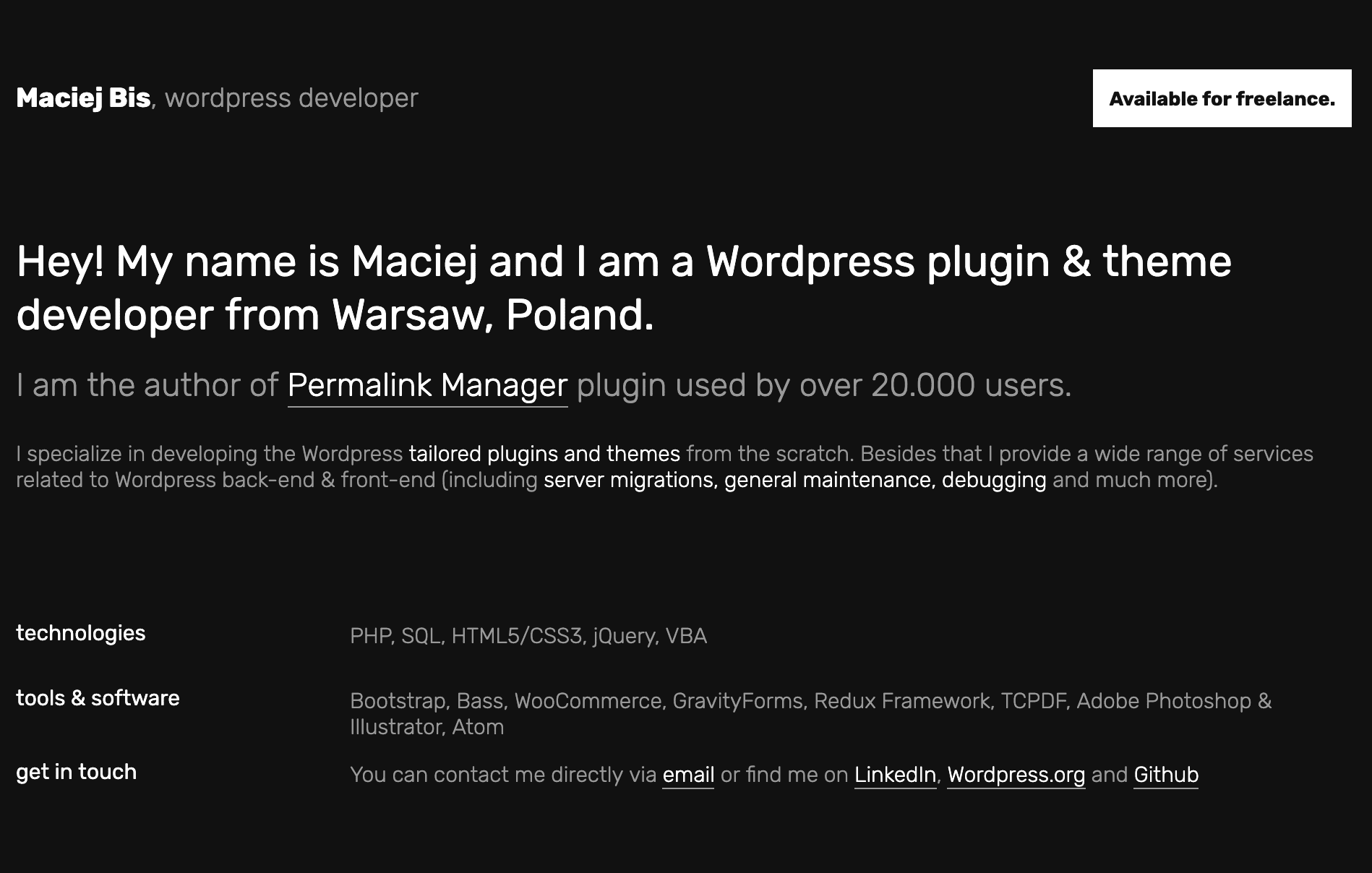 2. Custom Permalinks
Sami Ahmed Siddiqui is a full-stack developer with over six years of experience.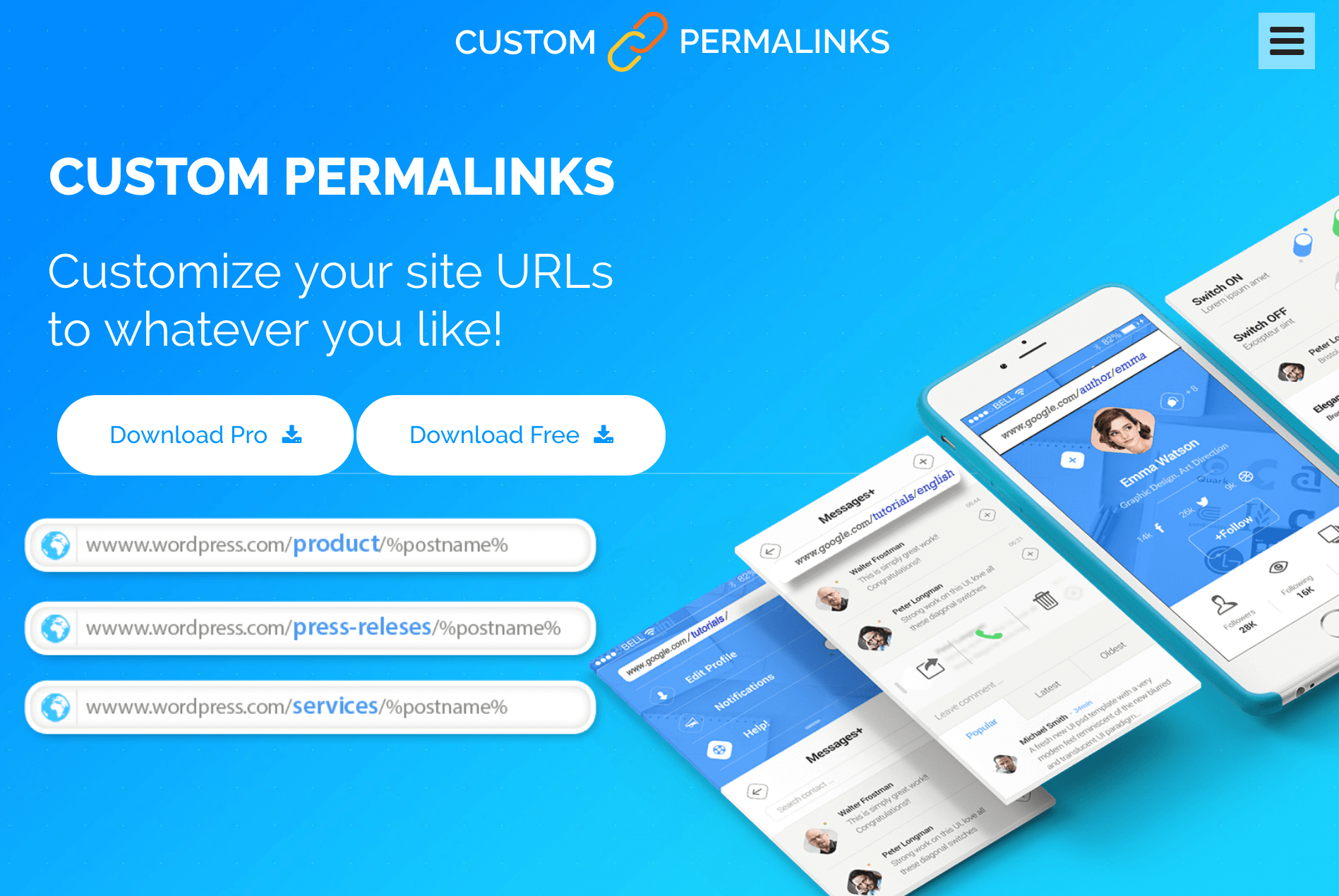 One of his biggest contributions to the WordPress ecosystem is the Custom Permalinks WordPress plugin, which allows you to:
Set a fully-custom URL for any post, page, tag, or category
Set up redirects from old permalinks to new ones
Note, however, that Custom Permalinks is designed to work with individual post, page, tag, or category, not mass changes.
3. Permalinks Customizer
If all you're looking for is something that offers you a bit more than what WordPress ships with when it comes to permalinks customization, but you don't want something super extensive, consider Permalinks Customizer. Permalinks Customizer is an open-source project led by Aliya Yasir and Sami Ahmed Siddiqui (who work under the umbrella Yas Global).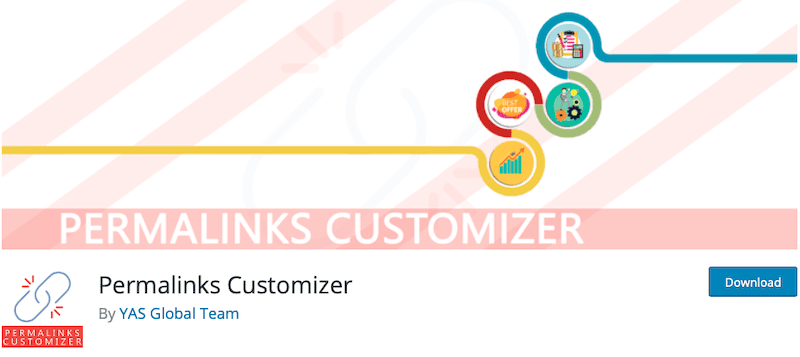 Permalinks Customizer is a plugin that allows you to set different permalink structures based on post type or the taxonomy of your choice. For example, all of your blog posts can include the term blog (e.g., example.com/blog/post-title), which differentiates it from your news pages (which can be found at a URL like example.com/news/news-title).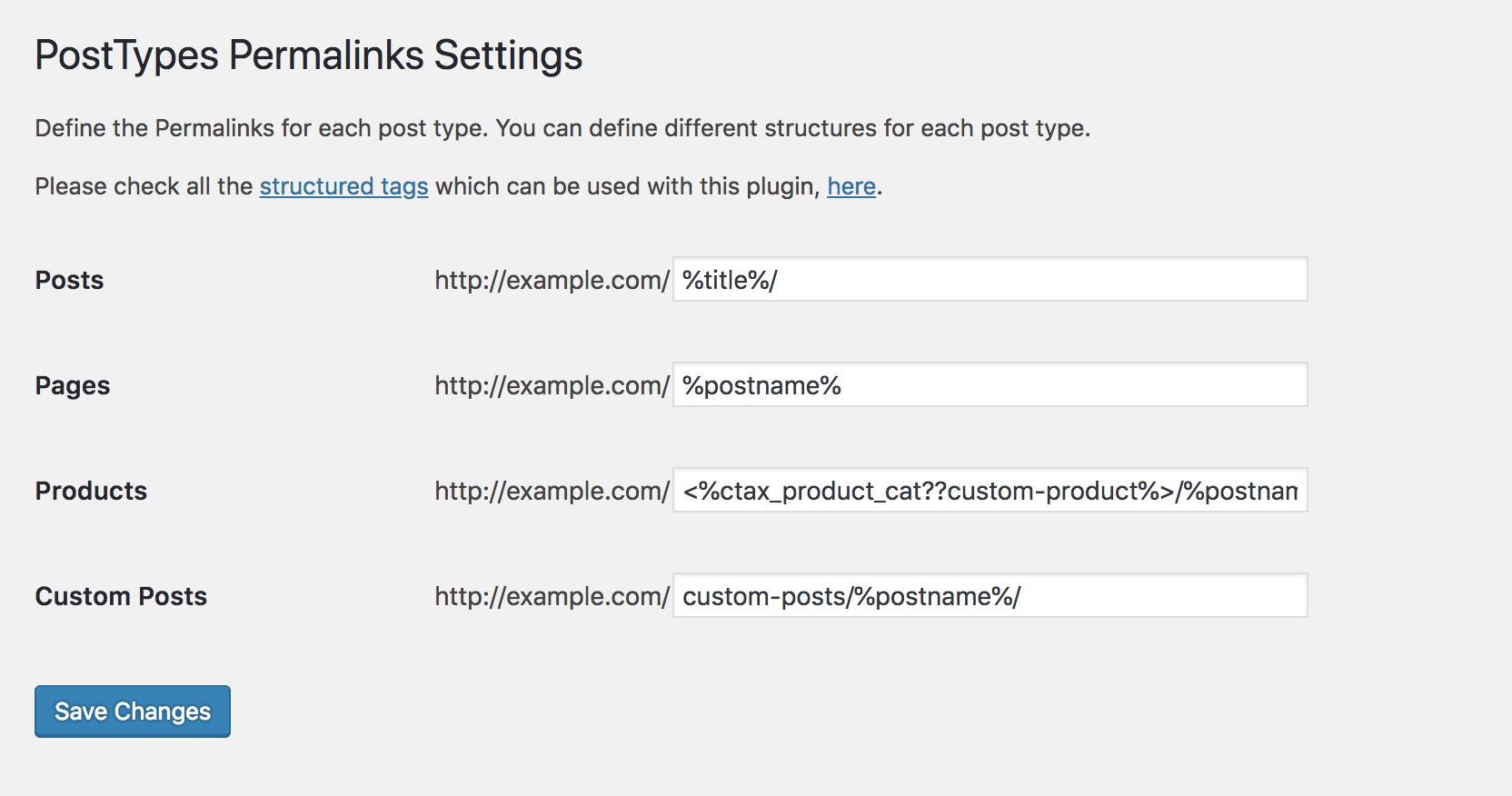 Permalinks Customizer will automatically create redirects anytime you update a post, page, or category.
Fixing SEO-Related Issues Due to Permalink Changes ⚒️
We mentioned briefly that changing your permalinks leads to the breaking of all your existing links. You can mitigate some of the issues this causes by setting up HTTP 301 redirects, but if at all possible, you will want search engines to update their indexes with your new permalinks.
Not only does this allow you to update your rankings based on your new URL keywords, but according to Pathfinder SEO, you also minimize the amount of redirection that needs to happen, speeding up the page load speeds for your visitors.
One resource search engines can use to figure out how your website is structured is your XML sitemap. In addition to listing all of your posts and pages and where they can be found, the sitemap can indicate how frequently a specific page is updated and when it was last updated.
Plugins to Generate Sitemaps
There are several plugins available that can help you generate informative sitemaps that assist search engines in updating their indexes of your site. Furthermore, some of these plugins have features that automatically let the search engines know that you have made changes and need your site to be reindexed.
SEOPress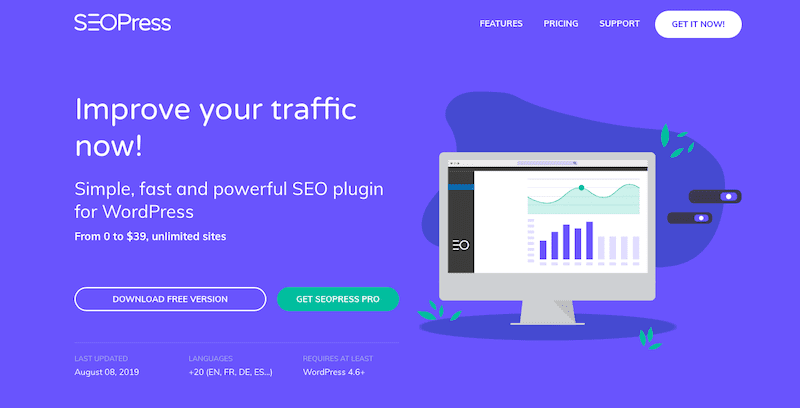 SEO Press* is, as its website proclaims, a powerful SEO plugin for WordPress that can act as an all-in-one resource for optimizing websites for search engines. As you might suspect already, it's got a fantastic sitemap feature as well, which you can use to easily create a sitemap in WordPress.
It also handles all the other standard (and not-so-standard) SEO features like Open Graph, meta info, .htaccess editing, 404 monitoring, and more.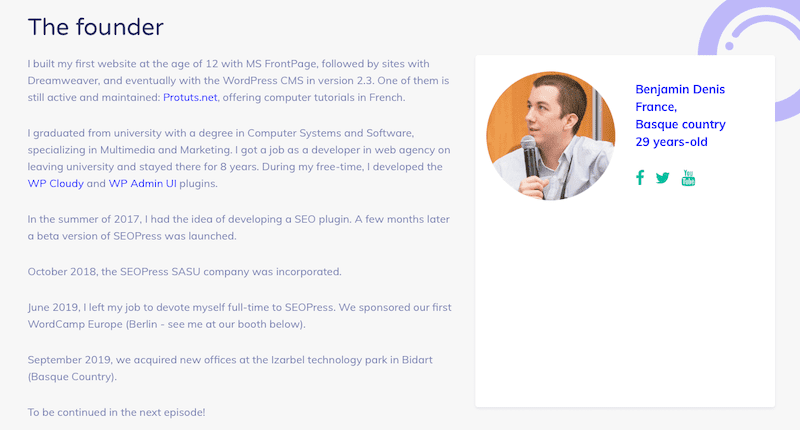 This plugin was created by Benjamin Denis, a web developer based in France. The plugin launched in 2017 and his company was incorporated in March 2018. Though relatively new, SEOPress has made a real mark in the WordPress space. It's definitely one to watch.
Google XML Sitemaps
Based in Stuttgart, Germany Arne Brachhold is an IT manager for Daimler/Mercedes Benz who also develops a variety of Android apps.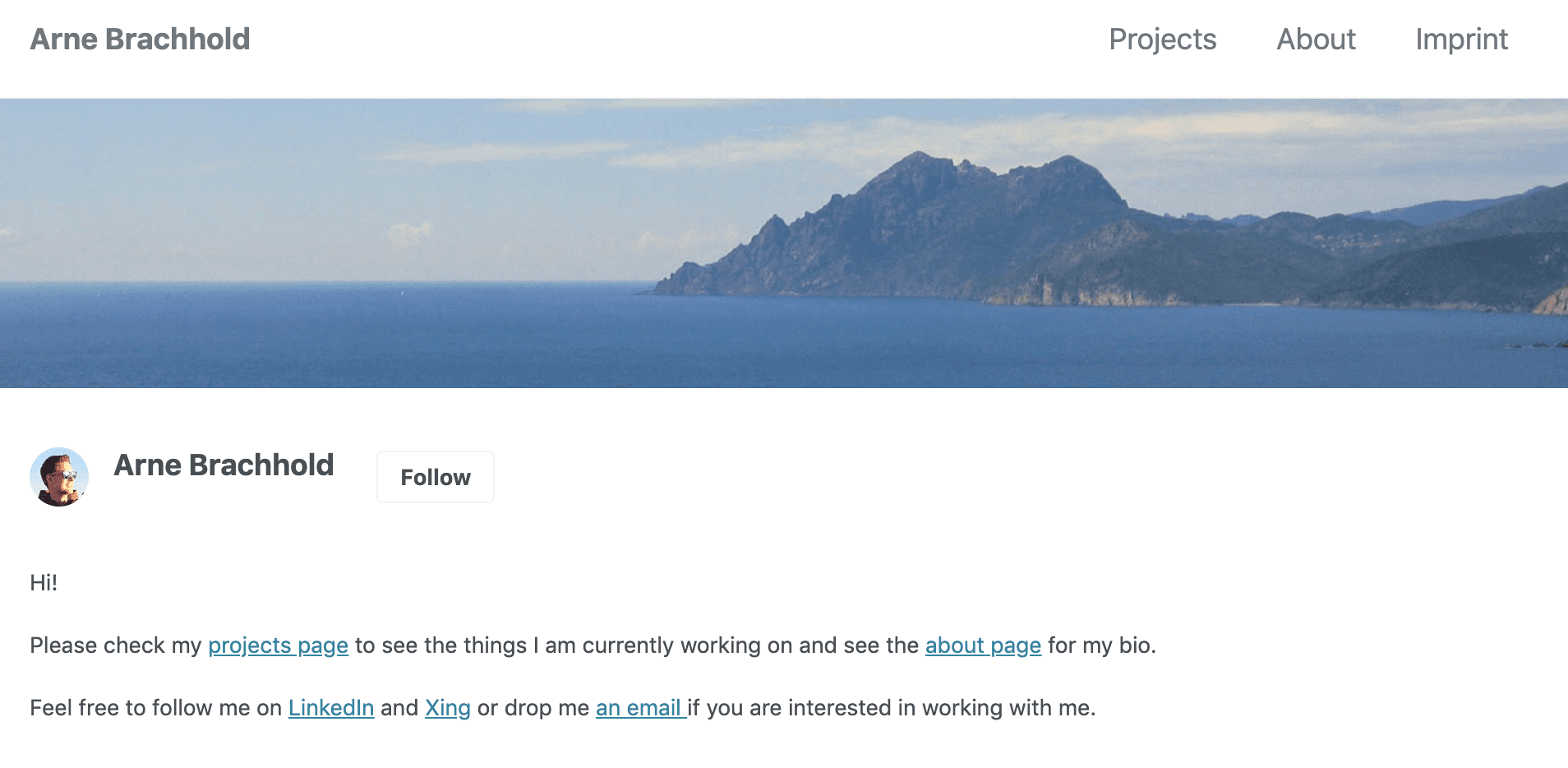 In 2005, Brachhold developed Google XML Sitemaps, which allows users to create complete XML sitemaps of their WordPress sites with ease. The plugin supports the many kinds of pages WordPress generates, and it notifies major search engines every time you create and post new content.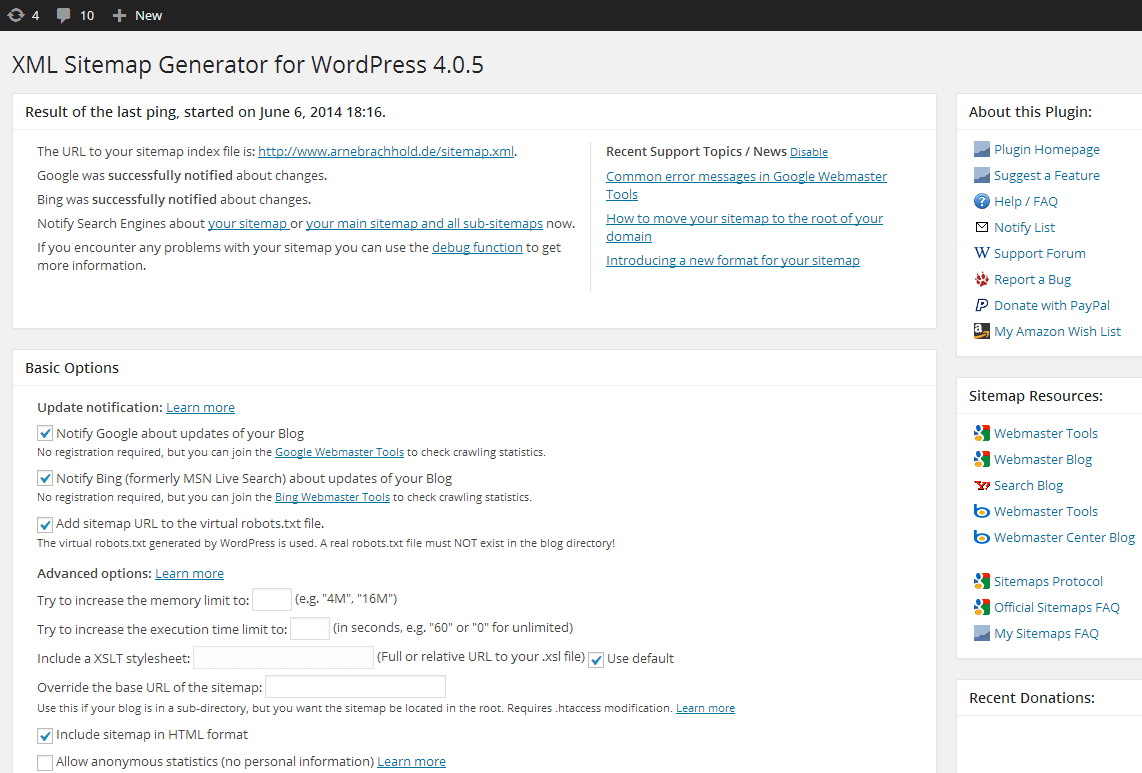 Simple Sitemap
David Gwyer, the founder of WPGO Plugins, has over 20 years of programming experience, with the most recent ten years spent developing WordPress plugins and themes. One of the plugins he has developed is Simple Sitemap.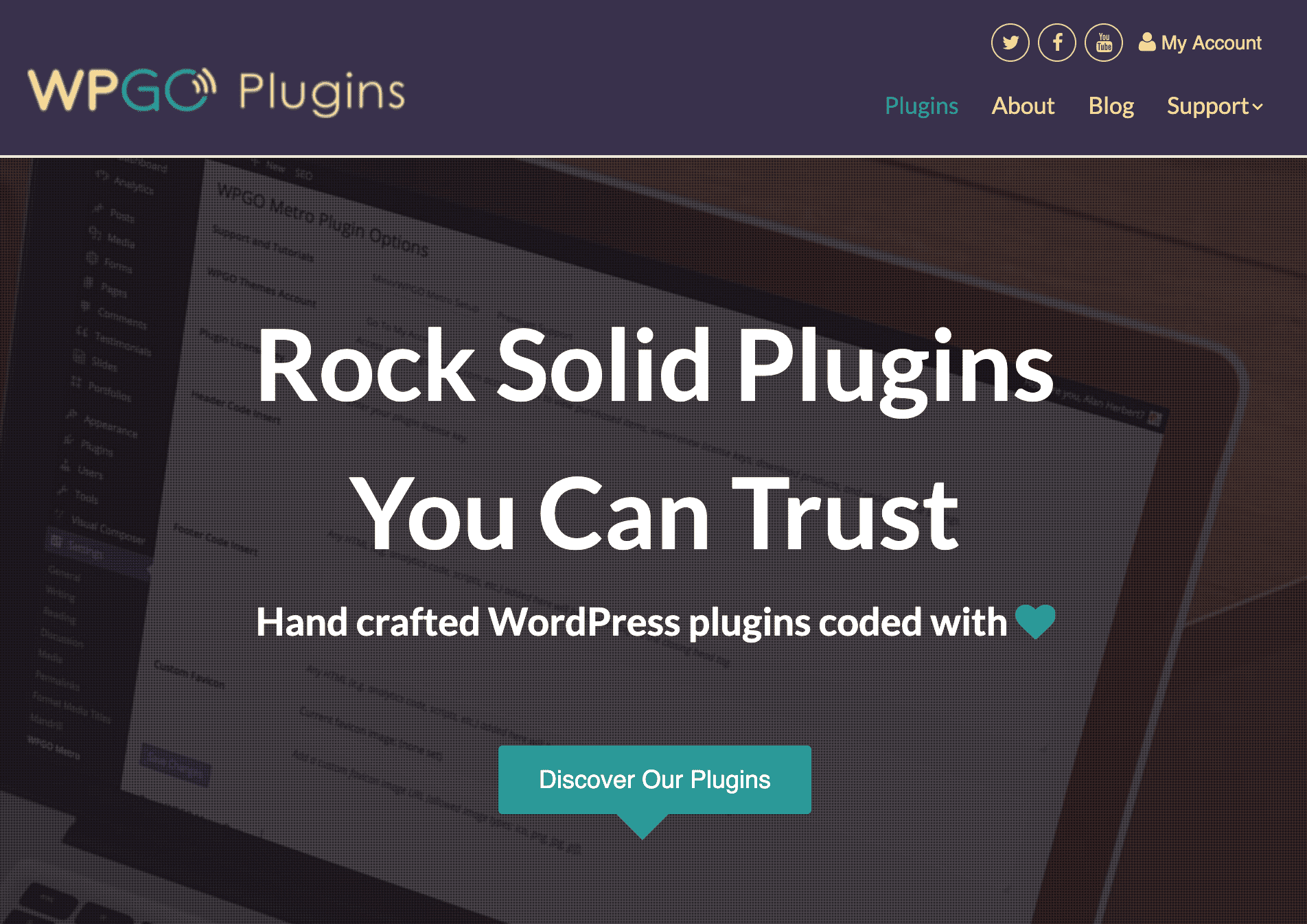 Simple Sitemap is an HTML-based sitemap that allows you to build and preview your sitemap directly in the WordPress post editor. Simple Sitemap will automatically generate an HTML sitemap of your content, straight out of the box — you do not need to do any coding or setup.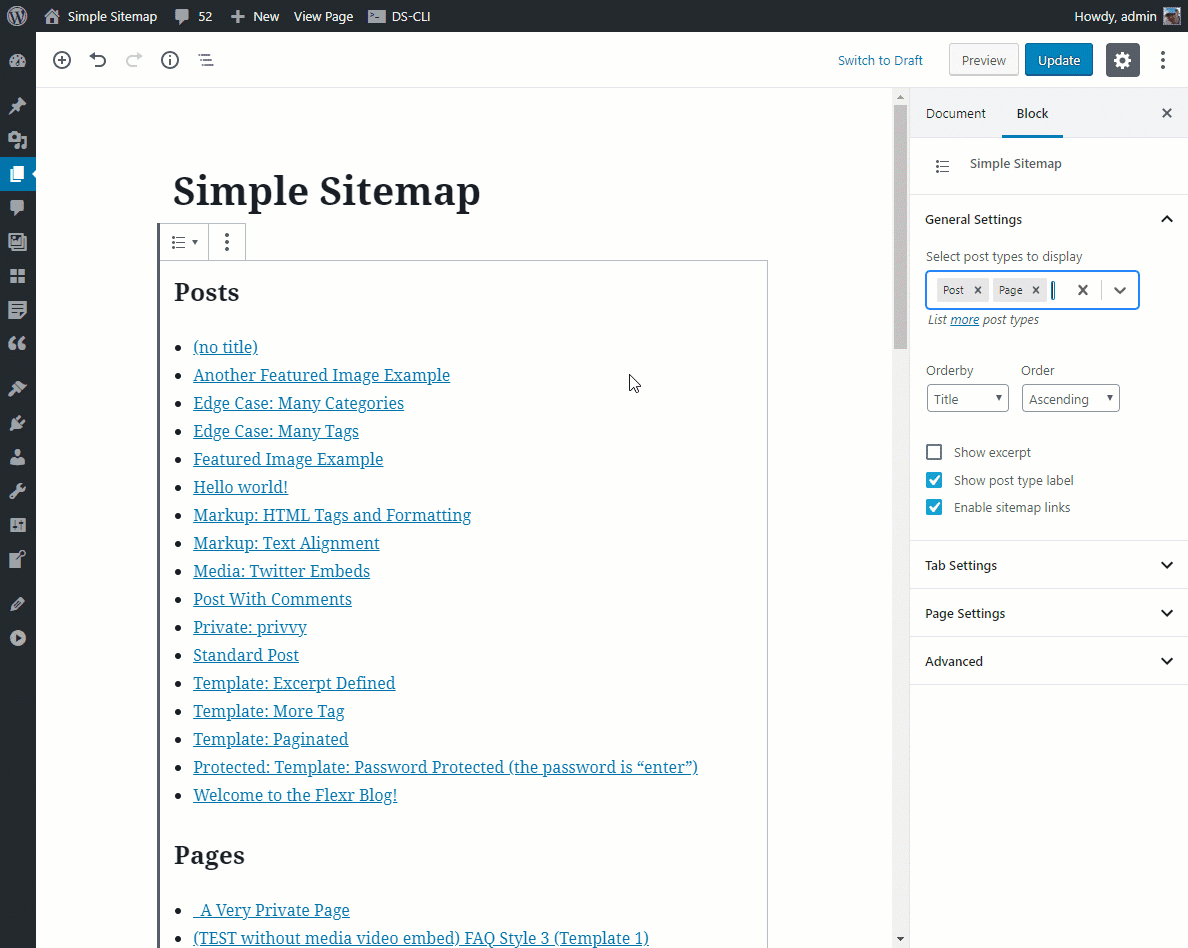 Those who need more in terms of features and configuration options, especially ultra-granular control over what is included in the sitemap, can opt for Simple Sitemap Pro.
Yoast SEO
Yoast focuses on one thing: SEO. They put out one of the most popular SEO plugins for WordPress, and the company writes many blog posts and offers online courses on this topic. Yoast is located in Wijchen, Netherlands, though its remote team features staff members located all around the world.

Yoast SEO is not, strictly speaking, a plugin for generating sitemaps. Rather, it is a tool for improving the SEO of your WordPress site. Because one way to drastically improve your website's SEO is to include a sitemap to aid crawlers, Yoast SEO features robust XML sitemap generation features (including one-push functionality).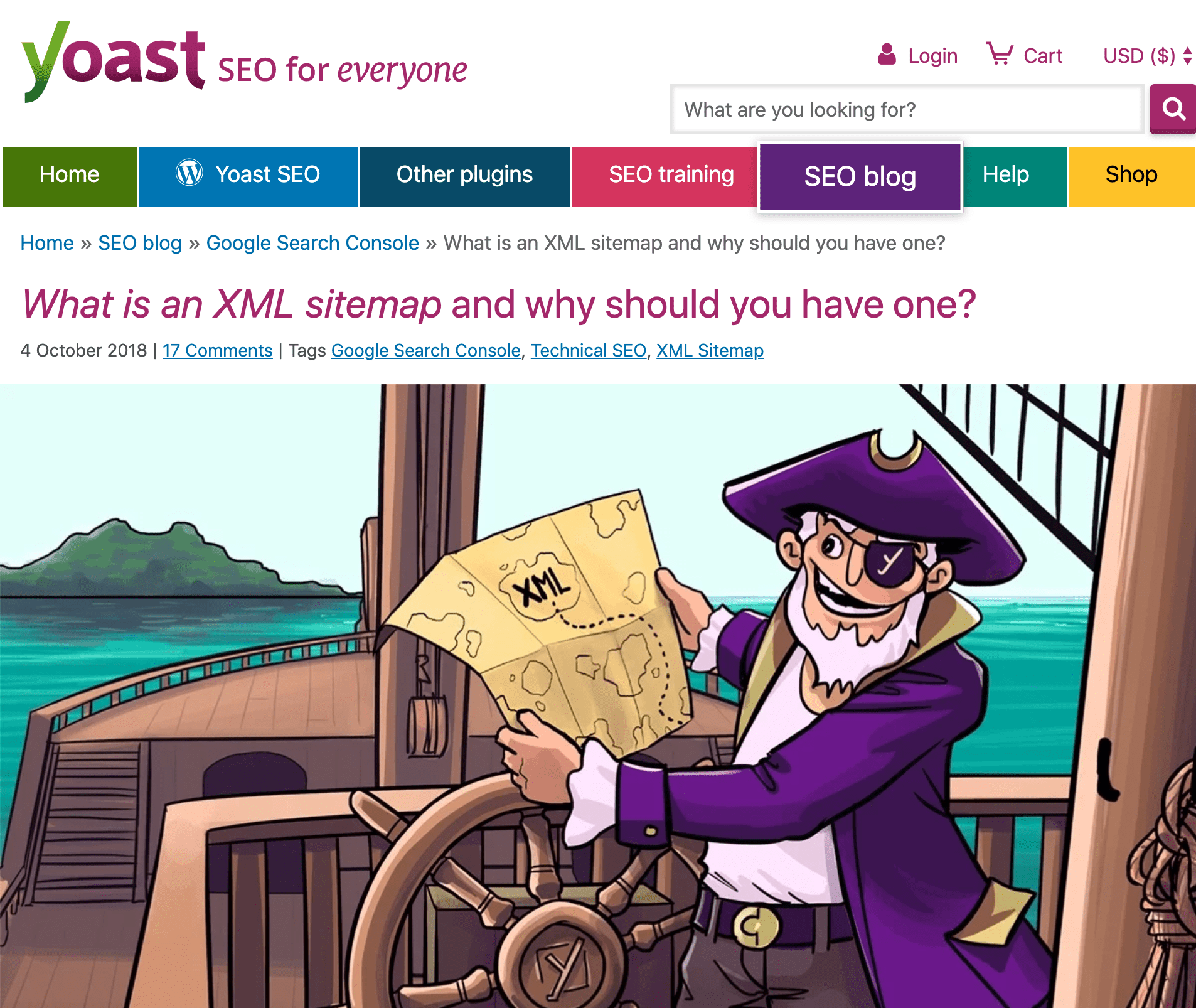 You'll definitely want to check out when Joost de Valk was on the WPMRR Podcast:
Manual Reindexing ↘️
Sitemaps are useful for providing search engines with the information they need to properly index your site. However, if your site has already been indexed and you want the search engine to update its data sooner, rather than later, you can request manual reindexing.
Plugins to Manage Redirection
We mentioned in a section above that you will need to do something about redirection every time you change a permalink, otherwise visitors (both humans and search engine bots) will see HTTP 404 Page Not Found errors and be unable to view your content.
There are two ways to set up redirection so that users working with your old permalink can still find your content at its new address:
Manually adding the redirect to the WordPress permalinks .htaccess file
Using a plugin to automate the addition of redirects to the .htaccess file
☝️ Nerd alert! There are 2 ways to set up site URL redirection in #WordPress: manually adding it in .htaccess or using a plugin. Do you know how to do that? If not this article tells you how!
Click To Tweet
Because the former option can become tedious, especially when working with a large batch of permalink changes, we recommend employing the assistance of a plugin for this process. Some plugins attempt to update the .htaccess file on your behalf, while others implement alternative ways for generating and using redirects.
The following is a list of plugins you might consider and use.
301 Redirects – Easy Redirect Manager
301 Redirects helps you create and manage the 301 and 302 redirects for your WordPress site (a 301 redirect indicates the page has permanently moved, while a 302 redirect indicates that the page move is temporary). 301 Redirects is easy to install and configure, and you can use it for both new sites or for repairing links after you reorganize your existing WordPress content.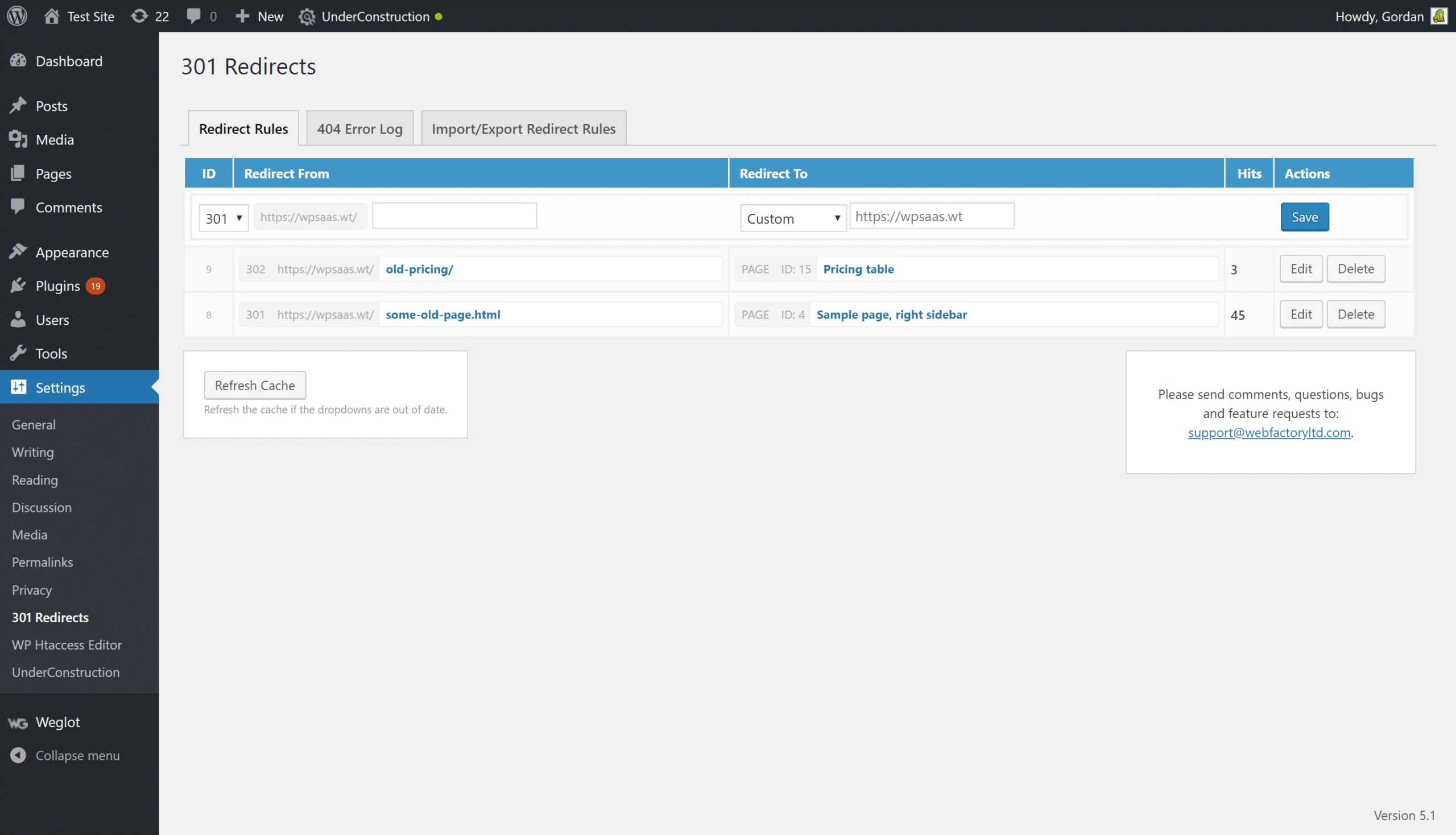 301 Redirects is put out by Croatia-based WebFactory, a company founded in August 2009 that has since released 150+ plugins and make 50,000+ sales to over 1 million users. Today, WebFactory employs nine people to support its customers.
Redirection
John Godley is a London-based developer who is a Code Wrangler at Automattic. He is also the author of several WordPress plugins, including Redirection, which is used by over 1 million websites.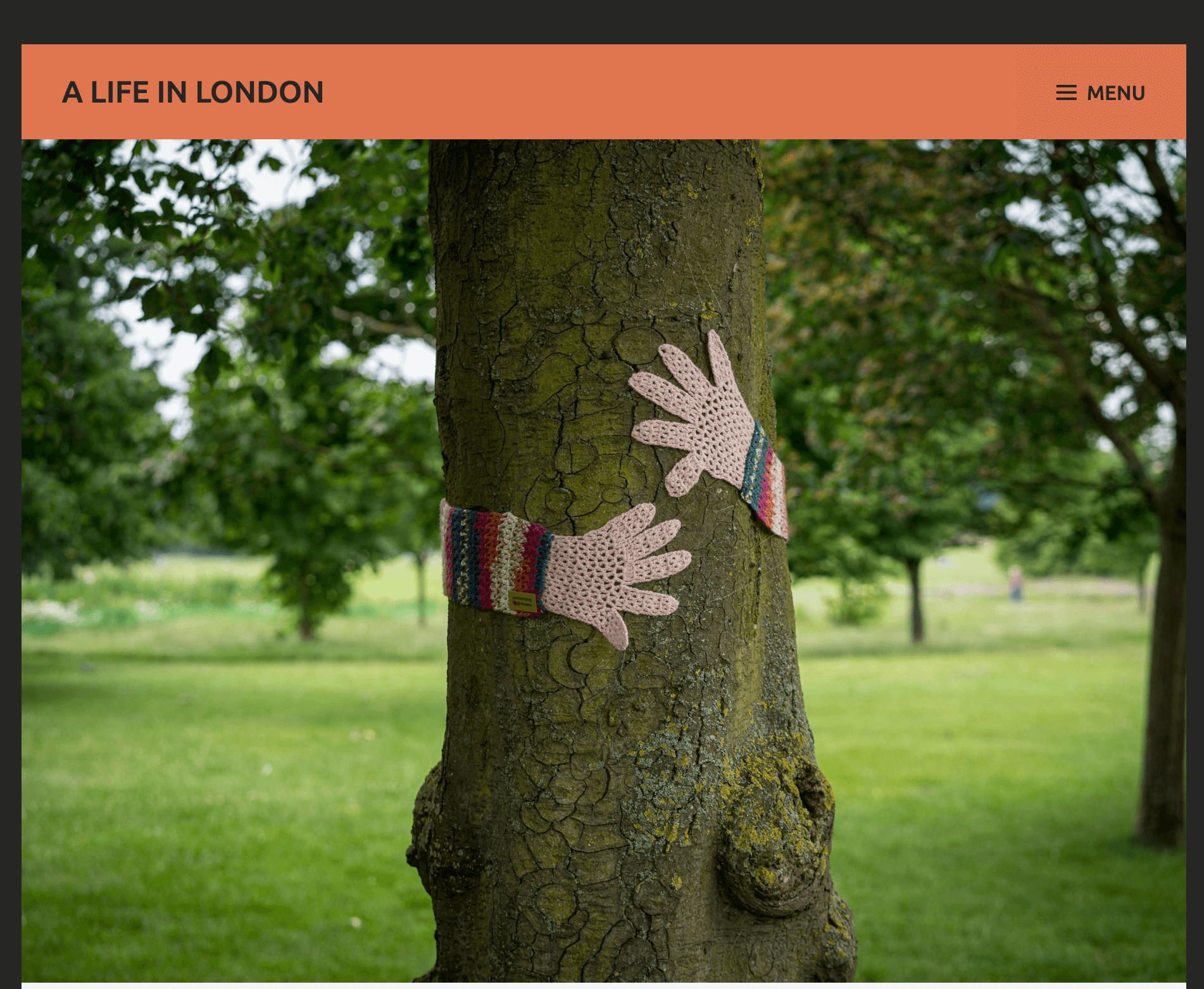 Redirection allows you to manage your 301 redirects and track any 404 errors you might see so that you can improve both your users' experience with your site and your search engine rankings. Every time you change a post URL, Redirection automatically sets up a redirect (without the use of the .htaccess file).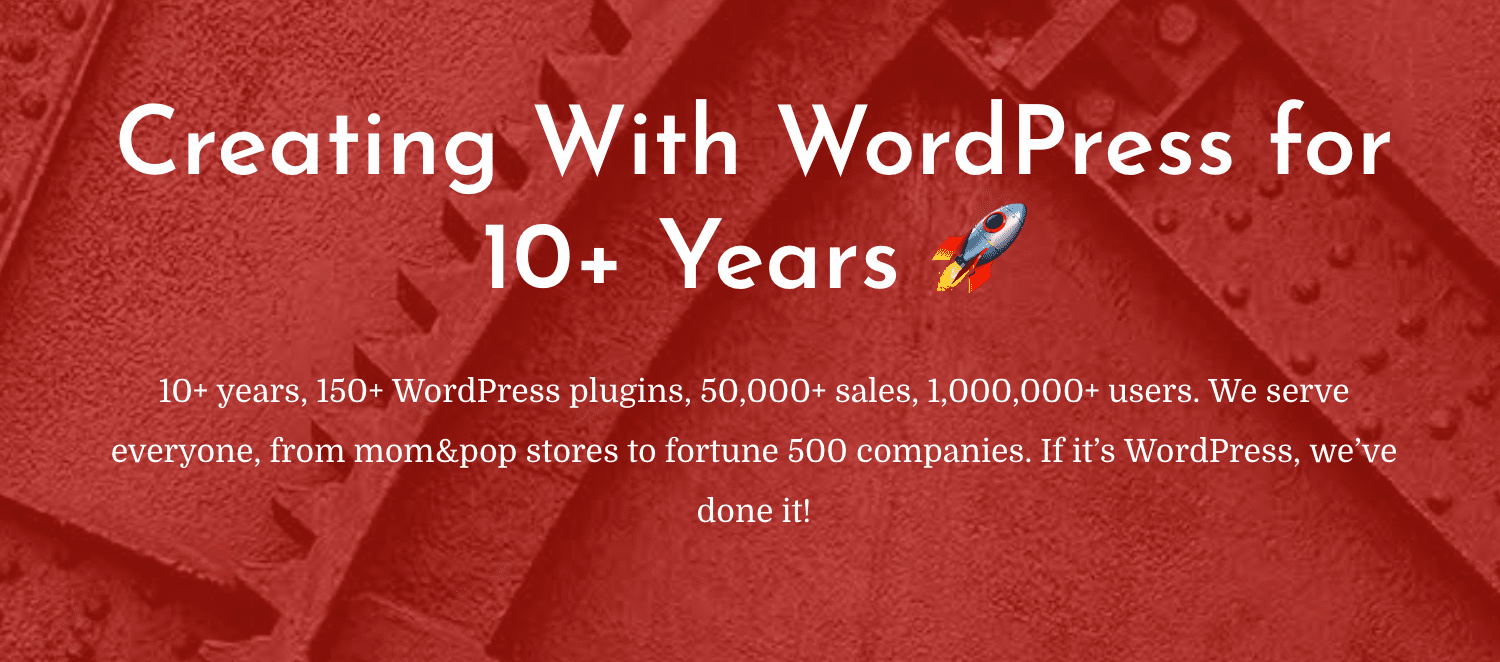 Simple 301 Redirects
As its name implies, Simple 301 Redirects offers you an easy way of redirecting visitor requests from one page to another. Though you still have to manually set up redirects by providing the source location and the destination location, the plugin strives to make the process somewhat easier by not requiring you to work from the .htaccess file.

Simple 301 Redirects is the brainchild of Burlington, VT-based Scott Nelle, a principal software developer for Alley Interactive. Nelle has been building WordPress sites since 2006.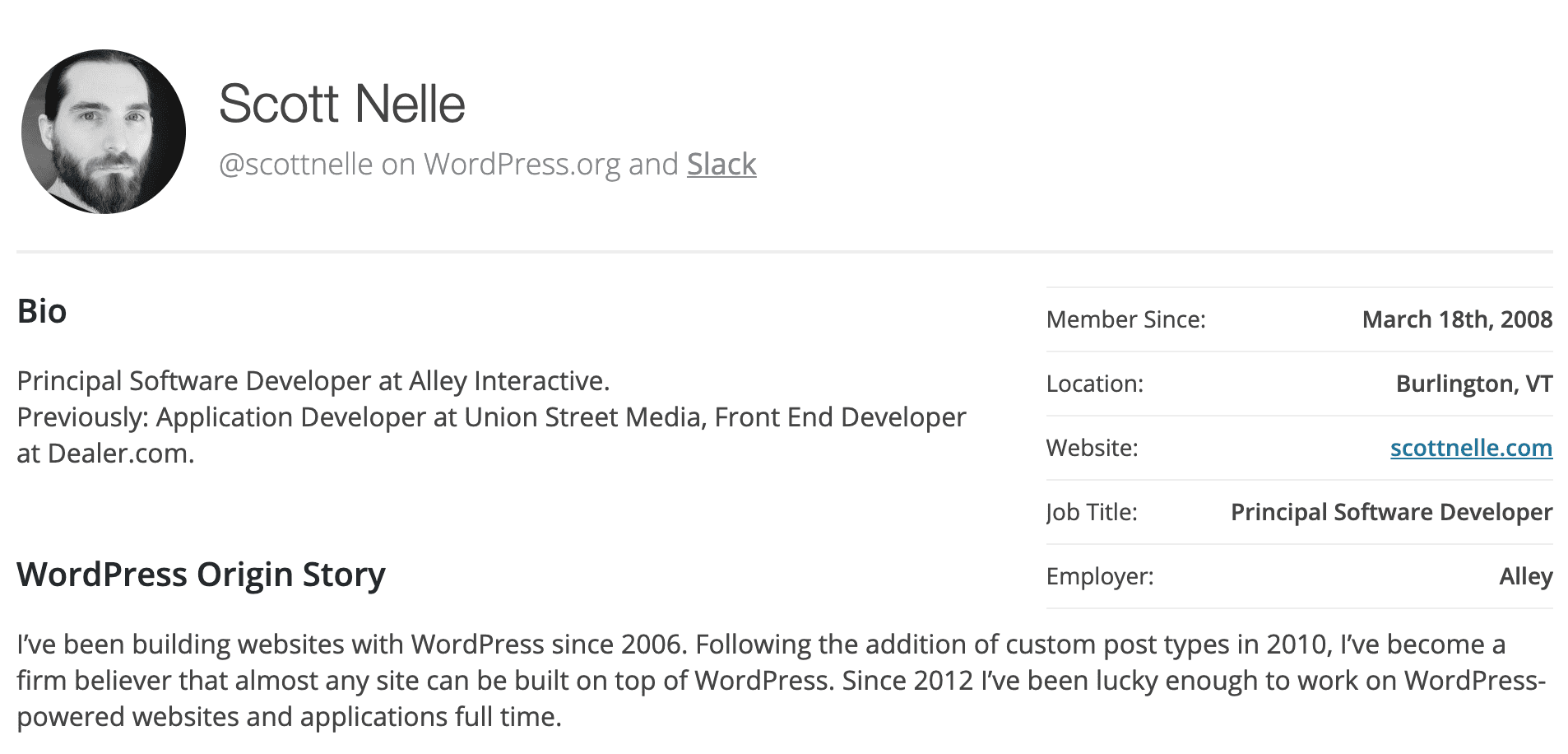 Troubleshooting Issues Regarding WordPress Permalinks .htaccess 🔨
If you have made changes to your permalinks, and your permalinks are not working, there are several things you can try to fix the problem. The most commonly-seen issue after changing permalinks is the 'HTTP 404 Page Not Found' error, so that will be our primary focus.
First, go to Settings > Permalinks. Scroll to the bottom of the page and click Save Changes. This should update your permalink settings and force your WordPress instance to flush your rewrite rules. It is possible that, in the process of making changes to your permalinks, your configuration file got out of sync. By flushing your rewrite rules, you are attempting to correct this.
If you are still seeing problems, you will need to review your .htaccess file. First, have you added the necessary redirects? If not, you will need to do so. You can manually add in the redirects, or you can seek the assistance of a plugin to help generate the plugins that send users using old permalinks to the location where you content now lives.
Errors When You Haven't Changed Permalinks
If you are seeing errors or are unable to reach your website when you have not made any changes to your permalinks, here are some troubleshooting steps you can try.
If you aren't able to reach your website as a whole, check the status of your web server. Many web hosts post status updates online, so check to see if there is an outage that is affecting your visitors' ability to reach your site. (You can also check other pages of your site to see if only one page has been affected or if all pages have been affected — large-scale issues indicate that a server-side issue is more likely).
If your web hosting situation is normal, consider any plugins or themes that you have updated or installed recently. If you think that a newly-installed or newly-updated theme might be contributing to your problem, consider disabling all but the basic WordPress theme, and reintroduce themes and plugins one at a time until you see the page load issue. You will be able to seek assistance with regards to the specific theme or plugin causing page load issues for your WordPress site at this point.
Remember, it is also possible that an update to the WordPress core can cause permalink issues, especially if a plugin that attempts to handle permalinks on your behalf conflicts with updates Automattic makes to WordPress.
If all else fails, you can restore your WordPress site from a backup (remember when we mentioned that the first thing you should do before making changes to your permalinks is to make a backup copy of your site?). But, this should be a method of last resort.
Moving Your WordPress website
If you have recently moved your site and you are now seeing HTTP 404 Page Not Found errors, consider the new structure of your permalinks. For example, you might be using the same web server and domain name, but if you move your site to a subdirectory, then all of your old permalinks are now invalid since your new permalinks will include the subdirectory name in the domain name portion.
Alternatively, you might be using a subdomain name now; if that's the case, all of your permalinks will need to be updated to include the subdomain portion of the domain name.
Wrapping Up 🍣
Permalinks are important, and you should pay attention to the way that your WordPress sites generate permalinks. Not only are they valuable clues for gaining visitors, but they are also a huge factor in your search engine rankings. Well-defined permalinks provide clues as to what is on your site and whether your content is what the visitor or the search engine is seeking.
With that said, working with permalinks can be a process that is fraught with peril. Even the smallest mistakes will break your links, stranding your visitors and leaving them frustrated. To that end, we provide you with recommended processes for safely changing your permalinks, as well as plugin options you can use to aid with this process. Or, you can have us take care of it for you! WP Buffs care plans handle the details of website management for you so you can focus on other aspects of your business.
Want to give your feedback or join the conversation? Add your comments 🐦 on Twitter.