With countless blogs, podcasts, and online courses dedicated to the subject of WordPress, you'd think that would be more than enough to keep your WordPress skills in tip-top shape. What more could you possibly need to know to work effectively with this content management system?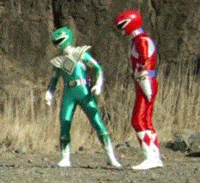 If you haven't added WordPress news outlets to your list of WordPress resources yet, it's time to get them on there. The following post contains 16 of the best WordPress news sources for developers (as well as a couple of bonuses at the end of this post).
Check them out!
Best WordPress News Sources for Developers 📰
Watching for WordPress news is a lot like watching for Google search algorithm updates. You know they're coming and you hope they won't drastically affect your work too much.
By proactively watching for news on WordPress, you can save yourself the anguish, surprise, or frustration when a vulnerability is detected in a popular plugin or when WordPress pushes a completely new editor out to its users.
📰 When was the last time #WordPress exploded with news? Gutenberg? What will happen next is determined by how good your source is. Boom!
Click To Tweet
While a lot of this news is useful for staying up-to-date on what's going on with the CMS, there are times when WordPress media outlets publish something you need to take action on too — so it's important to keep a watchful eye on your chosen news sources.
Now, some of the WordPress news outlets on the following list may look a little familiar. That's because WordPress blogs and podcasts that cover design and development tips, tools, and interviews occasionally dip into news territory.
After all, all of this information is going to help you do your job better in WordPress, so why not bring it into one place?
In addition, many of the WordPress tools you know and trust have taken it upon themselves to be the dedicated source for news related to their particular niche. So, don't be surprised if your preferred web hosting company, security plugin, or theme developer appears on this list.
1. WordPress.org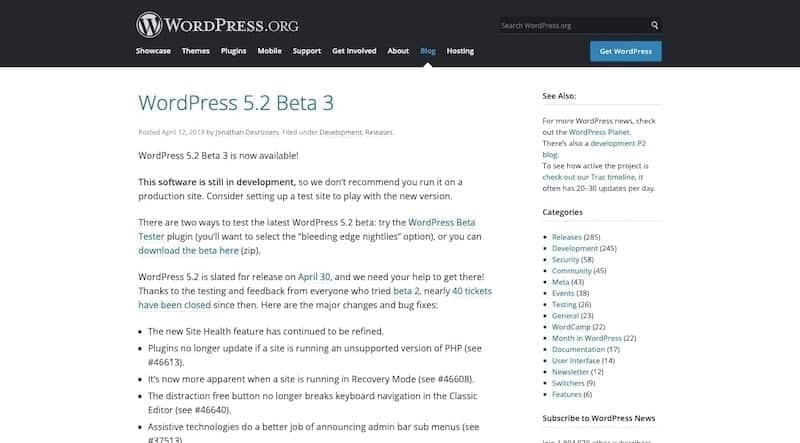 The WordPress.org blog is less of a blog and more a series of posts announcing details about WordPress core updates. There are also monthly highlight posts that detail the biggest news on WordPress.
Here are some examples:
WordPress 5.2 Beta 3 – A post to announce that the beta version of WordPress 5.2 is available for testing in staging environments.
Minimum PHP Version update – Letting users know that a new version of WordPress is coming soon and it requires a new minimum PHP version.
The Month in WordPress: March 2019 – Monthly WordPress news post highlights the new WordPress version, Gutenberg updates, and talks of a blocks plugin repository.
2. WordPress Tavern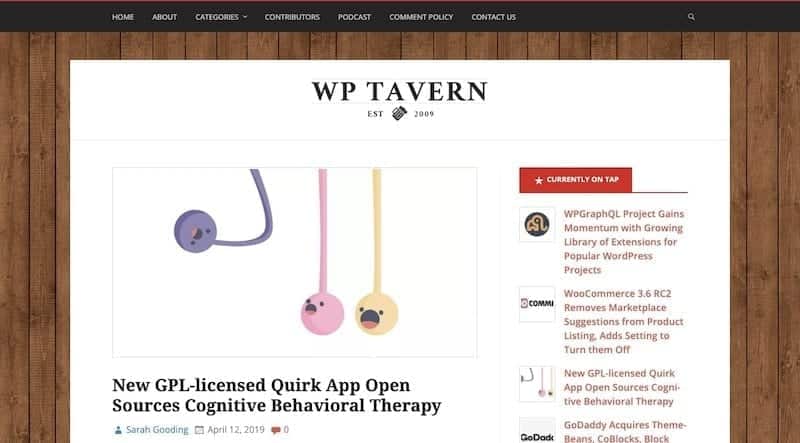 WordPress Tavern is a WordPress blog, news source, and the owner of the WordPress Weekly podcast. Needless to say, WP Tavern is fully entrenched in all things WordPress. With a dedicated section for news, it keeps readers in the loop on anything and everything going on with their WordPress tools (both inside and outside the platform).
Here are some examples:
We actually had a chance to talk with Rich Tabor of CoBlocks on the WPMRR podcast above the GoDaddy acquisition and how he came to that decision.
3. PostStatus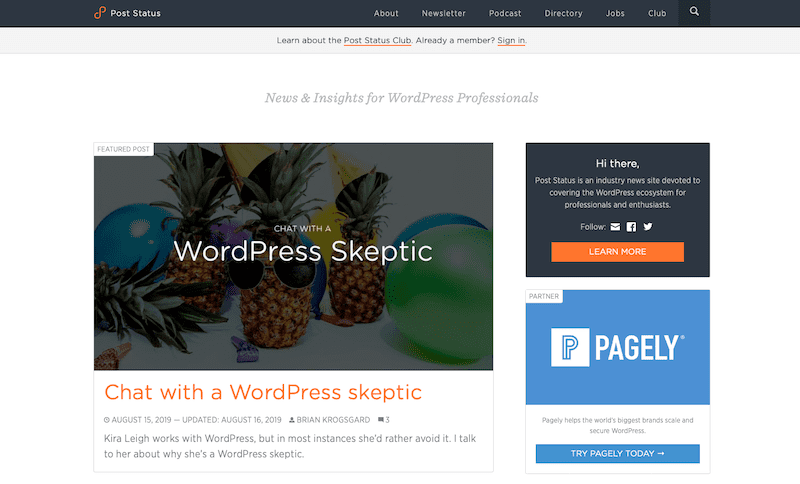 PostStatus is a WordPress news resource that stands above many of its competitors. The focus here is top-of-the-line industry analysis but there are many other perks and features for those who sign up for the Post Status Club.
There's an awesome Slack group where all the big business professionals in the WordPress space gather. And with an informative newsletter and podcast, PostStatus really covers all bases for keeping you informed and engaged. They even have a job board if you're looking for a job or if you're a company looking to hire.
This is a site we can recommend personally. In fact, we're members: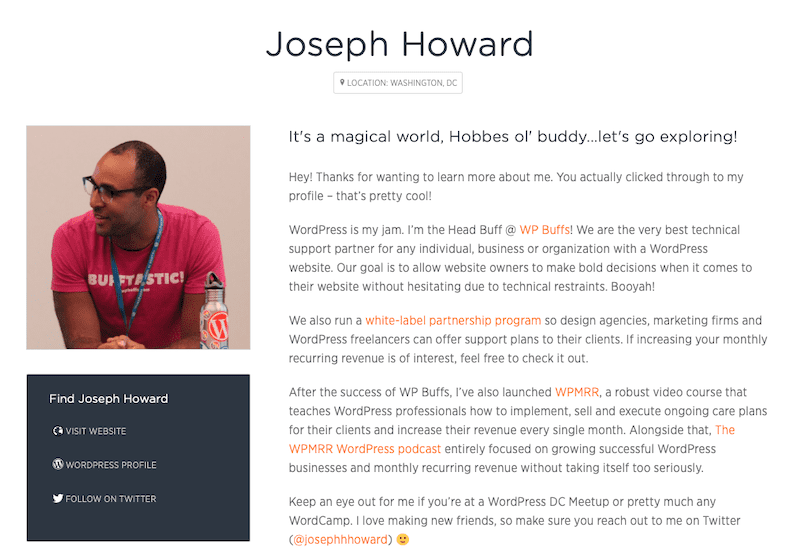 And WP Buffs has a presence there, too: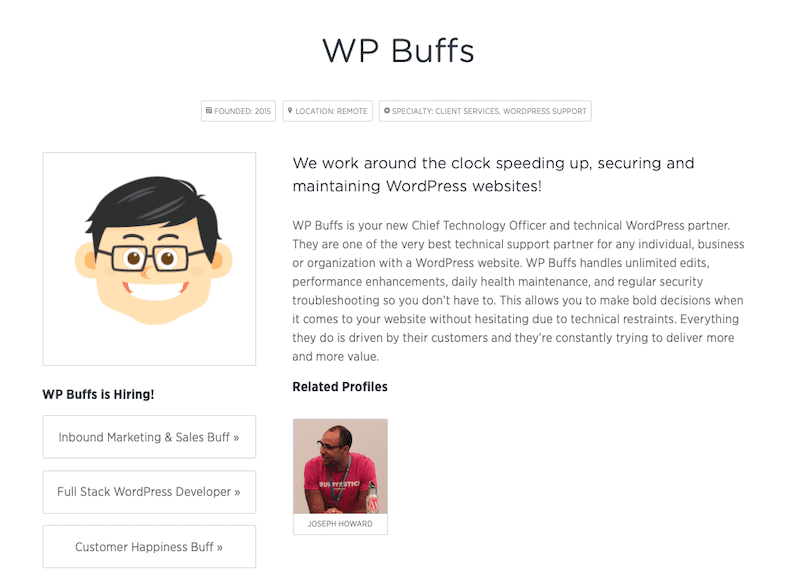 It shouldn't be a surprise then how PostStatus has inspired us in a number of ways. For instance, we did a whole podcast episode based on one of their articles about Automattic acquiring Tumblr, which our very own Joe was eager to share on Twitter:
Here are some examples of recent news stories from the site:
4. WP Feedback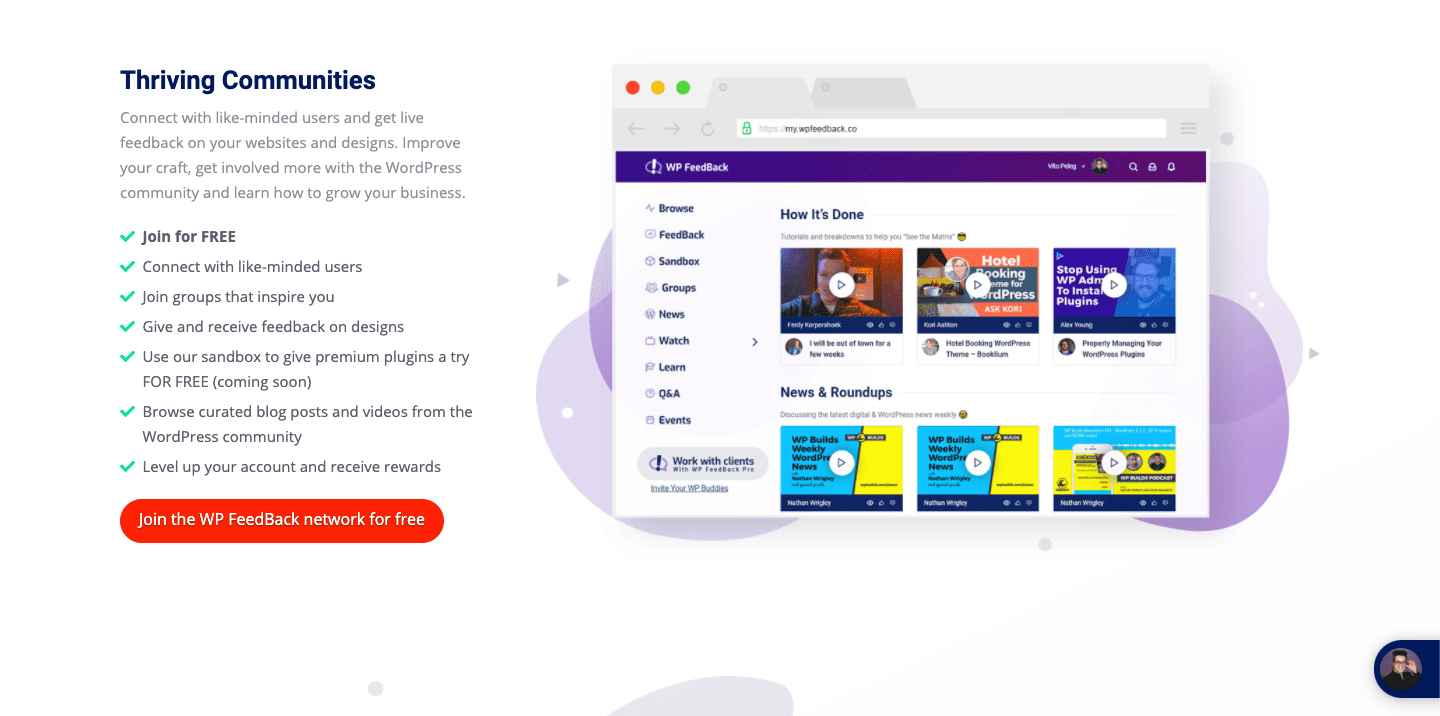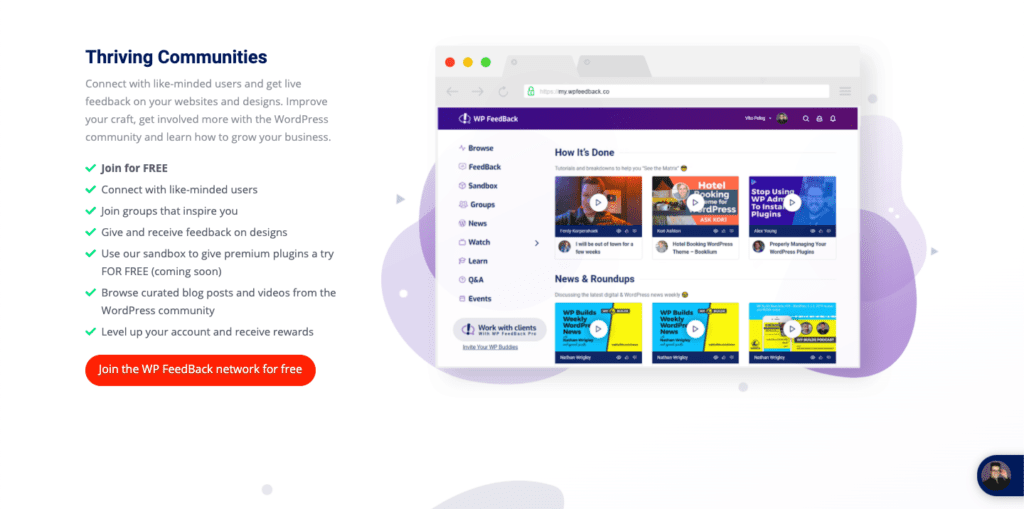 WP FeedBack has recently launched a new platform filled with communities where you can get live feedback on your websites from professionals for free! Improve your skills, grow your business and become part of a community with like-minded people. Think of this as a social media and news aggregator, dedicated to the WordPress community. Cool, eh?
They don't just have development news and WordPress news, there are also channels for growing your business, SEO & Marketing, Product Makers and an area for Plugin and Theme help.
Here are some examples:
5. Gutenberg Times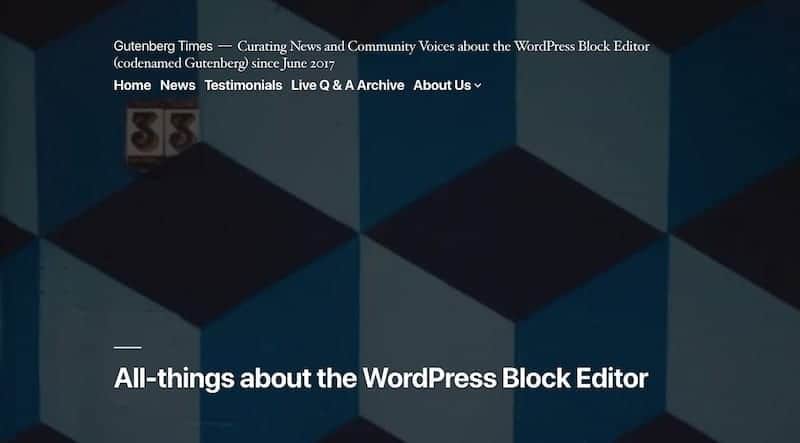 Gutenberg Times is an online publication that's been reporting on all things Gutenberg since June of 2017. Considering how much the WordPress editor has evolved since it was originally announced, and all of the changes that continue to happen to it (as well as surrounding it), this is a much needed resource for Gutenberg news.
Here are some examples:
6. Search Engine Journal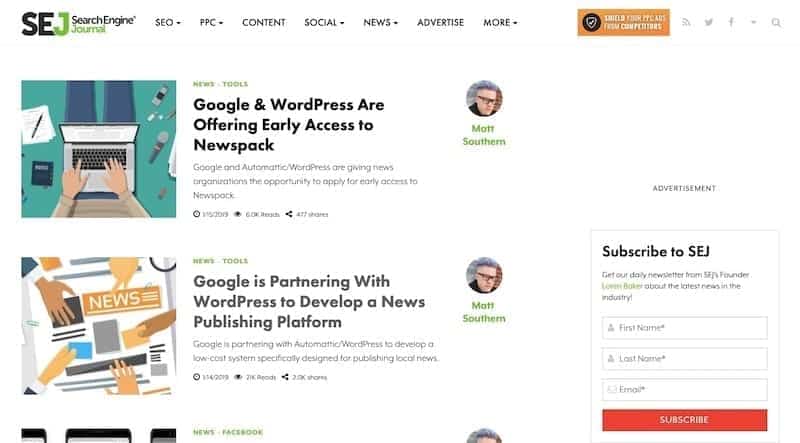 Search Engine Journal is the news source for all things SEO. This website regularly publishes SEO tips, guides, and tools, though it does occasionally dabble in WordPress news topics when they intersect with search marketing.
Here are some examples:
7. Sucuri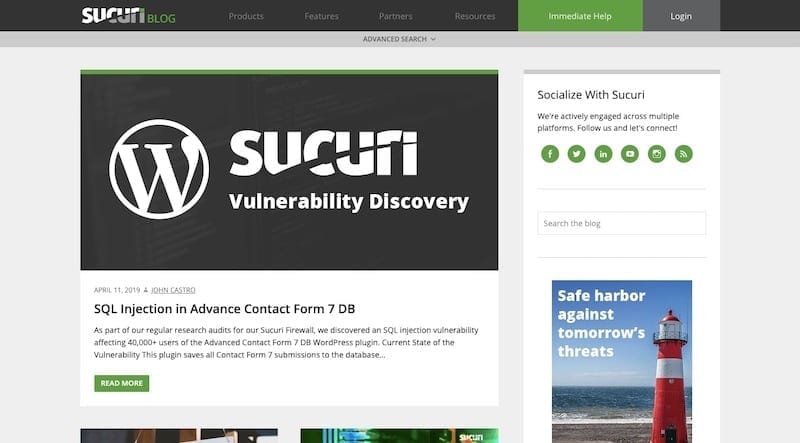 Sucuri is a leader in website security, so it's no surprise that its blog would be chock full of news stories that directly pertain to vulnerabilities in WordPress or that would otherwise affect WordPress websites. If you'd prefer your news source to be strictly dedicated to delivering news instead of mixing with tips, tutorials, and other educational content, this is a good one to have on your list.
Here are some examples:
8. Ma.tt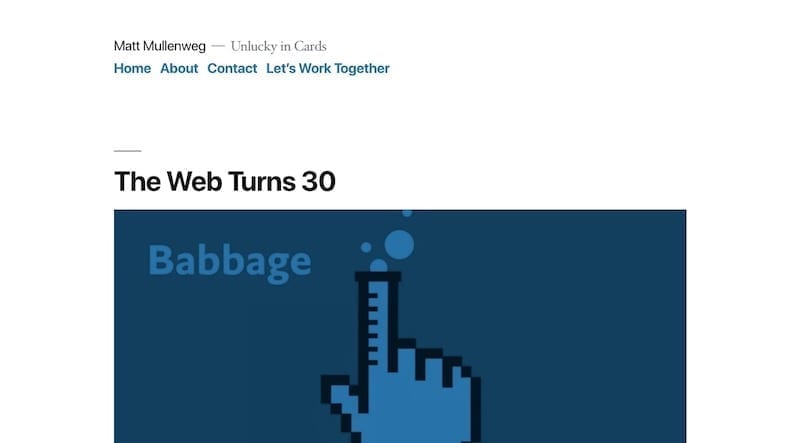 Matt Mullenweg, the founder of WordPress, has a blog where he shares insights into what's happening with WordPress behind the scenes along with his own personal musings on all kinds of stuff (life, productivity, books, etc.) Since the man knows WordPress better than anyone, you can bet that the news on WordPress he shares is highly valuable.
Here are some examples:
9. Wordfence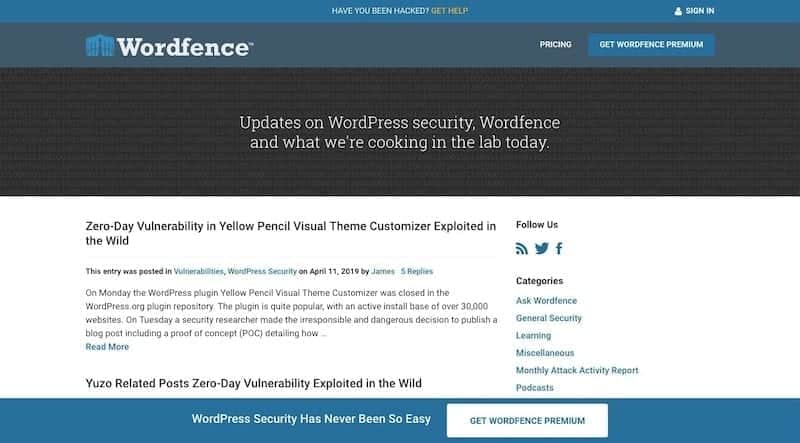 Another blog dedicated 100% to web security news, Wordfence strictly reports on issues with WordPress. What's more, Wordfence provides regular updates on detected vulnerabilities to keep users up-to-date with what's happening. The blog has also begun to publish podcast episodes for Wordfence, which go into deeper detail of recent WordPress exploits they've reported on.
Here are some examples:
10. WPBeginner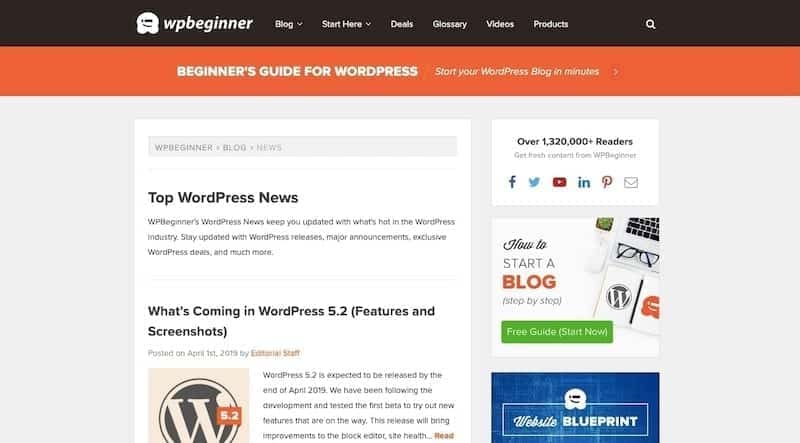 WPBeginner is, of course, one of the leaders in WordPress tutorials. But did you know that it occasionally publishes WordPress news stories, too? To be fair, a lot of WPBeginner's news ties back to their company or a plugin developed by them. That said, with popular products like OptinMonster and WPForms under their belt, this news is worth watching for.
Here are some examples:
11. Kinsta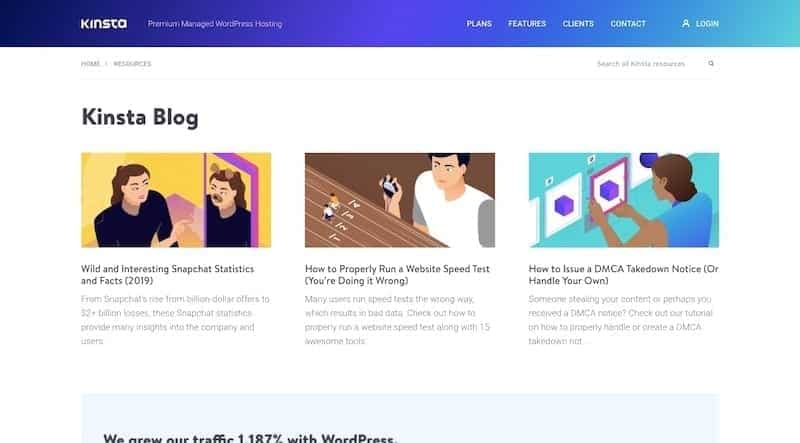 Kinsta* is a managed WordPress hosting company that knows a thing or two about security, performance, and the importance of partnering with a reliable hosting solution. The company also happens to have a great blog full of useful tutorials, tips, and interviews. Additionally, Kinsta occasionally publishes news that's highly valuable for WordPress developers to have.
Here are some examples:
12. Liquid Web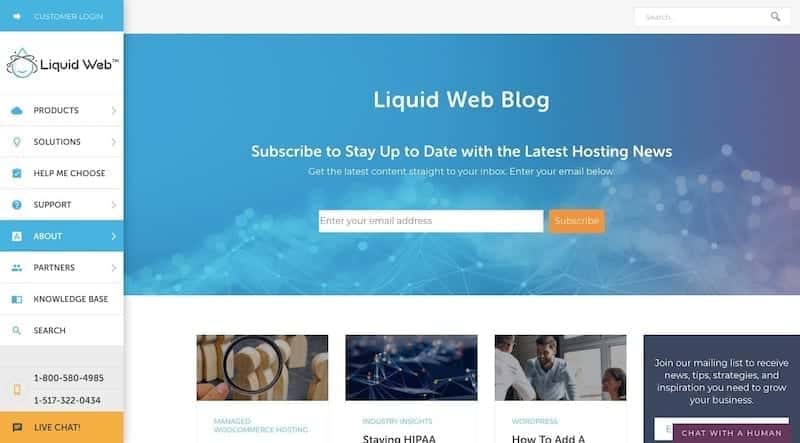 Liquid Web* is a web hosting company that, in addition to its diverse set of products, is well-known for its managed WordPress and WooCommerce hosting. Its blog is well-organized and contains educational content, customer spotlights, press releases, as well as relevant news for developers (and not just those that work with WordPress).
Here are some examples:
If you don't already know Chris Lema of Liquid Web, it's time to meet him! Listen to this awesome WPMRR WordPress podcast for just a taste of his knowledge.
13. WPLift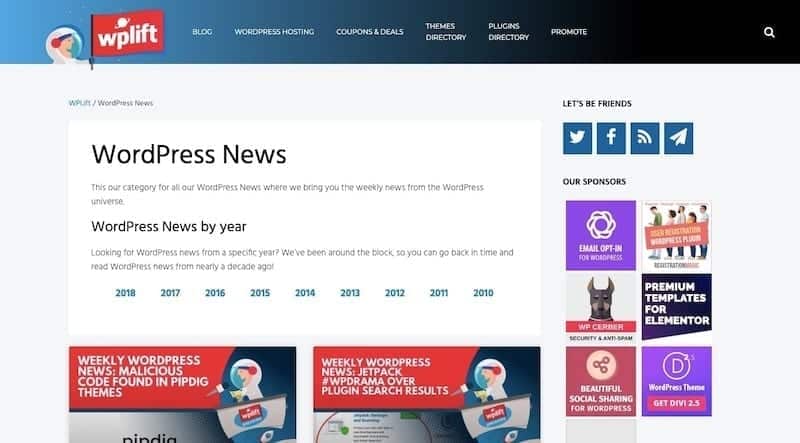 WPLift has a lot going on. In addition to publishing general WordPress tips and tutorials, it also has a repository for themes and plugins, web hosting recommendations, coupons developers can use to purchase a new WordPress product. Its news section is similar in breadth as it doesn't just tackle one kind of topic, instead of aiming to be an all-in-one news source for WordPress.
Here are some examples:
14. WPShout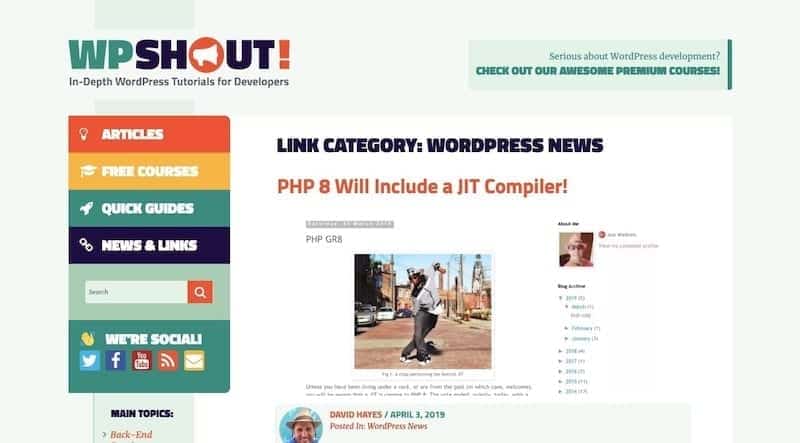 WPShout is generally a place web developers would go to get high-quality tutorials for WordPress. It's news section, however, is a hand-picked selection of WordPress stories from around the web. Each aggregated post comes with a personalized introduction from WPShout so expect to unpack more from these stories than what the original post gives you.
Here are some examples:
15. BobWP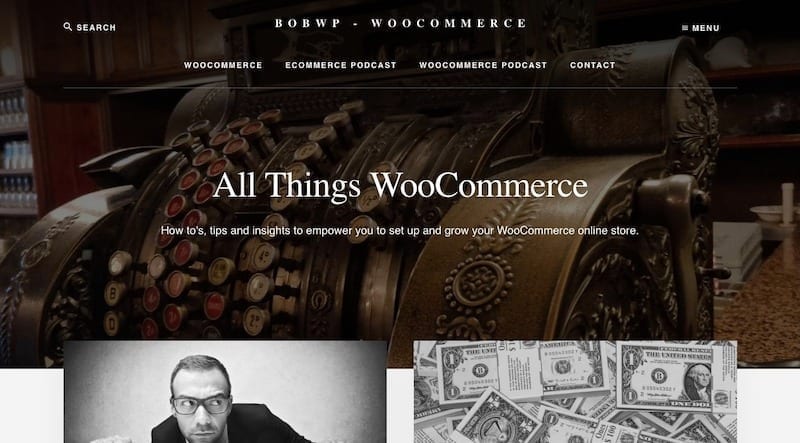 Bob Dunn — A.K.A. "BobWP" — is a well-known WordPress blogger and podcaster. While his audio content on WordPress and WooCommerce gets him a lot of attention, his BobWP blog publishes extensive amounts of content (mostly how-tos) on the topic of WooCommerce. Every now and again, you'll catch some news and resources as well.
Here are some examples:
Speaking of Bob Dunn, this WPMRR WordPress podcast captures his true wisdom.
16. ManageWP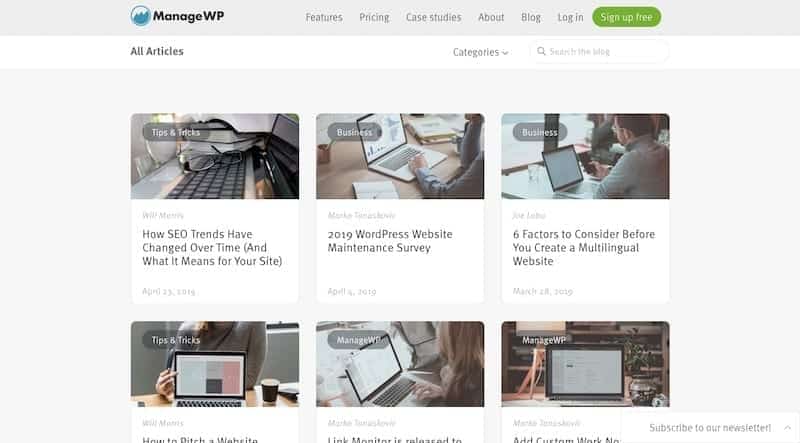 ManageWP, a leading multi-site management solution for WordPress, publishes new content regularly to its blog. While a lot of the posts you'll find here teach you how to accomplish more with WordPress (especially in terms of maintenance), you'll also find the occasional post on what's happening with WordPress and ManageWP.
Here are some examples:
17. World of WordPress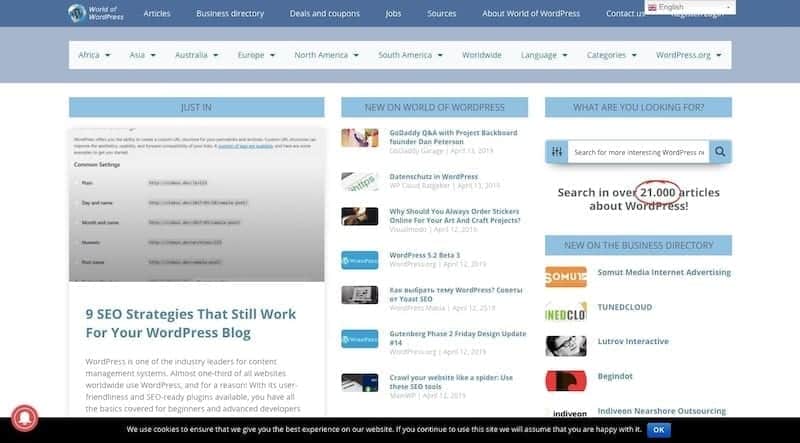 World of WordPress is a repository of WordPress news collected from all around the web and in a number of languages. Sources include many of the WordPress media sites listed here as well as others that focus on more traditional web design topics.
If you'd prefer to save yourself the trouble of having to hunt down news stories from a variety of WordPress resources, and you don't want to have to build your own WordPress RSS Feed, use World of WordPress to provide you with the latest and greatest.
18. The WP Weekly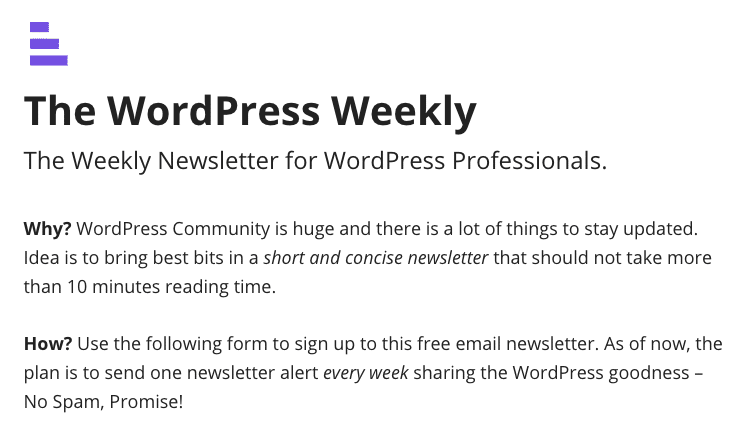 The WordPress community is huge; there's no doubt about it. And there's so much to stay updated with.
The WP Weekly wants to distill all the week's most important inn news so it takes you no more than 10 minutes to read. This weekly newsletter brings you the best bits in a short and concise email.
The newsletter is cureated by Davinder Singh Kainth. He's a creative who loves to create online spaces powered by WordPress. He's been in the ecosystem for 15+ years focused on creating websites, digital products, courses and more.
A Couple Other News Resources for WordPress 🆕
As you can see from the list above, there are a lot of great places to go for news on WordPress. One thing to keep in mind, though, is that you can also find news specific to your preferred:
Web host
WordPress theme
WordPress plugin
Third-party extension
On their own company blogs.
If you're deeply attached to a particular theme or plugin, don't forget to tune into its blog for the latest news. This way, you'll never be surprised by significant changes introduced by a future update or a new incompatibility with something else you're using on your site.
Here are a couple of examples:
Theme Developer Blogs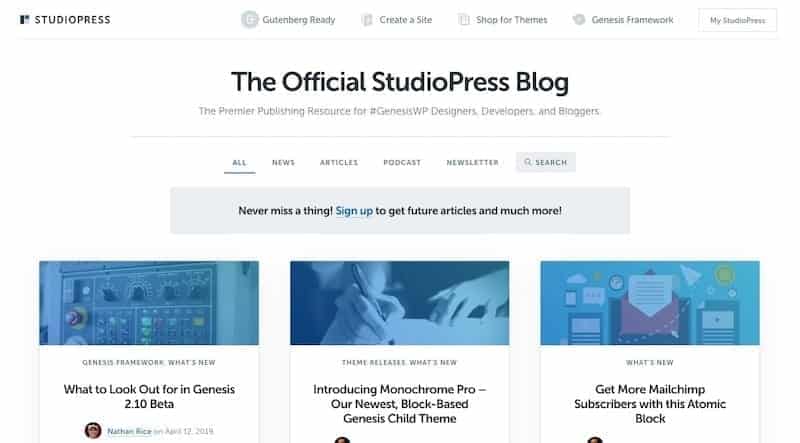 This example from the StudioPress blog* gives you an idea of what a theme developer's blog might focus on if they're continually working to improve their products. If you rely on a framework or package of themes, and you know the developer provides regular support for its products as StudioPress does, this blog should be a must-go destination for you.
Plugin Developer Blogs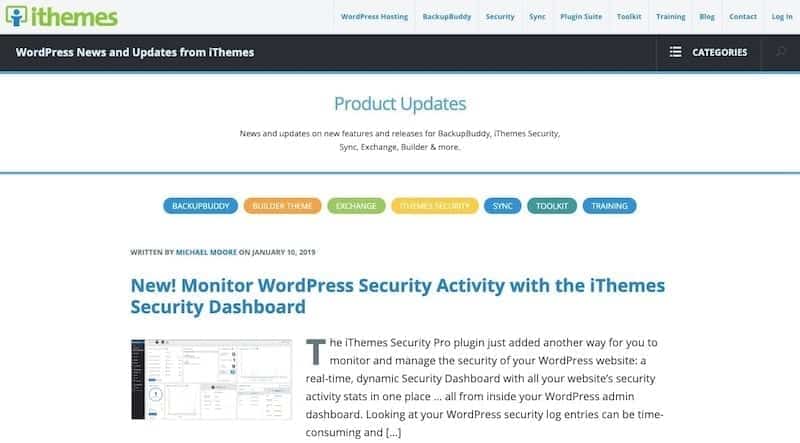 The same applies to plugin developers — especially if they manage one of the leading plugins in the WordPress repository or have a family of popular plugins under their umbrella. The iThemes*news center is a great example of this. Here, you'll find news related to all of their security, backup, and management products.
Wrapping Up 🎁
As a WordPress developer, it's important to be well-informed on things like coding standards, web design trends, and WordPress plugins and themes that are worthy of use.
However, if you really want to do your job well, you have to be just as well-informed about what's happening to the software and companies that power the WordPress ecosystem. The only way to do that is to find the right WordPress news sources that report on these topics regularly and with great authority.
And if you ever need more hands-on help with your own WordPress sites, be sure to check out our care plans.
Want to give your feedback or join the conversation? Add your comments 🐦 on Twitter.