In the early days of website creation, you could more or less leave your website alone after building it. That's because websites functioned more like online brochures.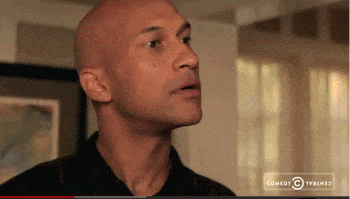 Websites have since evolved into much more complex, advanced platforms with functionality that was unimaginable twenty years ago. As marketing tools,
they are capable of increasing leads and moving prospects down your sales funnel toward becoming loyal customers
. Because of this increased complexity, websites need more maintenance, especially in terms of
website security
, updates, and
speed
. WordPress.org recommends the following monthly
site maintenance
focuses:
Website security: It's crucial to secure your data and your clients' data, especially since hackers love targeting WordPress websites.
Website speed: Fast page loading time is a critical aspect of a good user experience. Most users abandon websites that take longer than 3 seconds to load.
SEO: In order to rank in relevant searches, you need to regularly seek out and fix SEO issues on your website.
All of these site maintenance tasks are influenced by the specific mix of WordPress themes and plugins that you use, as well as the current WordPress software version that runs your website.
🧪 Every #WordPress website offers a unique mix of these elements, which adds a layer of complication to regular site maintenance — there is no one "right" way to solve a given problem.
Click To Tweet
And to be sure, there will
always
be opportunities to improve your website. Some changes are a matter of styling and tweaking your design, while others relate to core maintenance issues. Depending on the company,
your web host will be able to help you with some of these monthly maintenance tasks
. But, inevitably, there will be a gap between their basic service offering and everything else you should be touching on each month. Not to mention issues that come up when you're not planning for them. This is why
figuring out who wins the WordPress hosting vs maintenance companies debate is so important
. For all the essentials that you want to make sure not to miss (or don't know how to handle), working with a WordPress maintenance company is the best solution. Let's first consider the fundamental differences in WordPress hosting vs maintenance companies.
What Do Website Hosting Providers Do? 🙋
In a nutshell,
website hosting offers a service that allows individuals and organizations to post their websites online
. This service is provided by a web hosting service provider, often referred to as a web host. What the host does is store the data for your website — as in your entire website — on a server. So,
when someone wants to access the site, all they have to do is type your domain in the browser, and the server will connect them to the site
. In addition to offering host plans, many web hosts also provide several
value-added features
. These often include a
free domain
,
FTP access
to allow you to upload files from your computer to the web server, and
email accounts
created using your domain name for a more professional look (such as: yourname@yourwebsite.com). Just look at some of the "Essential Features" offered by Siteground: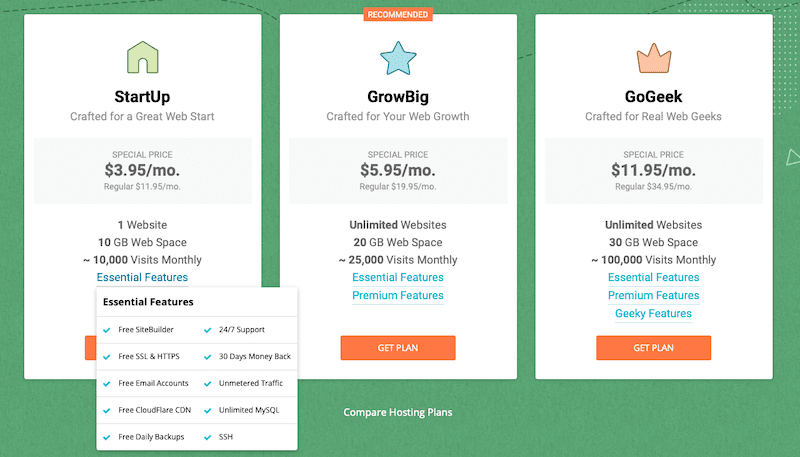 A web host — at least a good one — will also provide customer support.
This is often overlooked when people are shopping around for a cheap hosting service, but it shouldn't be. Poor customer service can cost you and your business dearly. Website problems can quickly push away potential clients and impact your brand. To be sure that you end up with a quality web host, read reviews to identify which ones are reputable and quick-responding.
Managed WordPress Hosting
Nowadays, many web hosts have started specifically offering WordPress support services via managed WordPress hosting
.
This is because most websites that rely on hosting plans run on WordPress, which
powers 33% of the internet
. These WordPress managed hosting services are
basically concierge services
where the host manages many important technical aspects of running a WordPress site such as security, speed, WordPress updates, daily backups, ensuring website uptime, and scalability.
What Do Website Maintenance Providers Do? 🔧
In many ways, website maintenance services are
similar to managed WordPress hosting
. They also take care of the technical aspects of your website, including daily backups (of both database and core), page speed optimization,
performance monitoring
, and security and hacking prevention — including
malware scanning
, cleaning, and removal. The primary difference is that a website maintenance provider is
entirely
dedicated to ensuring your site runs optimally, while a
managed web host
provides those services as an add-on to their core product.
Why You Should Get a Website Maintenance Provider 🤔
Popular website hosting companies
offer add-on services
that — at first glance — are similar to those of a website maintenance provider. Considering both at-a-glance can make it seem like focusing only on a managed WordPress hosting plan saves both time and money. However, considering the difference between managed WordPress hosting vs maintenance companies is significant. One of the
primary differences
between the two is the human factor. While managed WordPress hosting services can take care of daily backups, updates, and security, most of these things can be automated anyway. Of course, there are some aspects of these services that
can't be automated
; they include editing site content, changing banners, headers or footers, and update landing pages. What's
not included
in most packages offered by WordPress hosting services are any custom development, including:
Additionally, a WordPress maintenance company can offer
more personalized solutions
, like helping you build a new website or subdomains as your business grows. Another significant advantage to working with a website maintenance provider is that they will be
forthcoming about regular updates
when changes occur. Though many of these changes, such as updating a plugin, are automated, it's crucial for you to stay abreast of what's happening with your website. Regular updates will let you know when plugins were installed/updated, when there were downtimes, the number of page views, and even sales generated if you have a WooCommerce store. In an attempt to compete with website maintenance services, some popular hosting companies like
GoDaddy
 are
now offering a weekly report feature
. However, these offerings are usually limited to the most premium plans.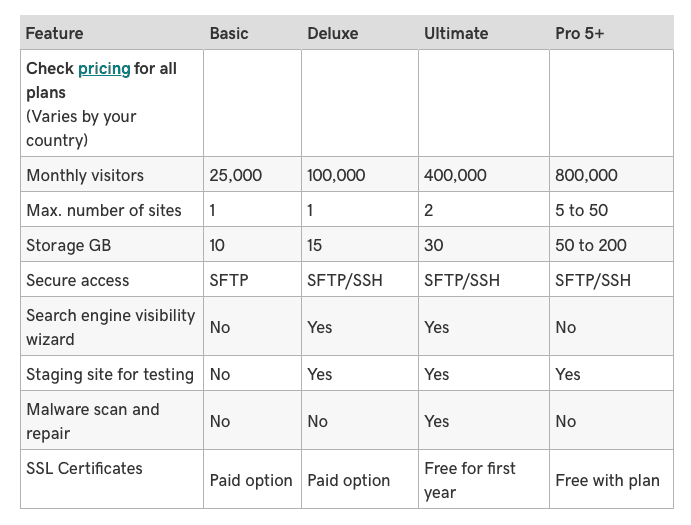 LiquidWeb*
 offers this now as well. A website maintenance company will also provide you with
more options for backing up your website
. Most managed WordPress hosting plans offer automatic daily backups of your site with a
one-click restore
, but storage is limited to 30 days – 90 days for premium managed WordPress hosting plans. Meanwhile,
with maintenance services, such as WP Buffs, your site is backed up four times a day, and that data is stored in three different locations
— including the cloud, in case the server crashes. You can also choose to save your backups in Europe or the United States, depending on your needs.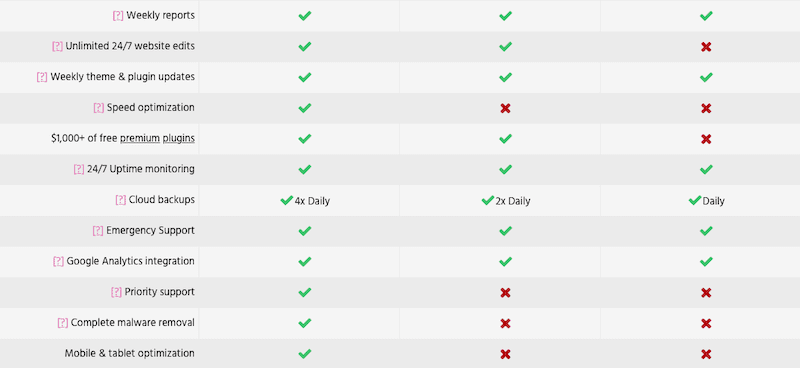 Scoring well on Google PageSpeed Insights, Pingdom, and
GTMetrix tests
are important for your website, as you don't want potential clients clicking away because it's taken too long to load your site.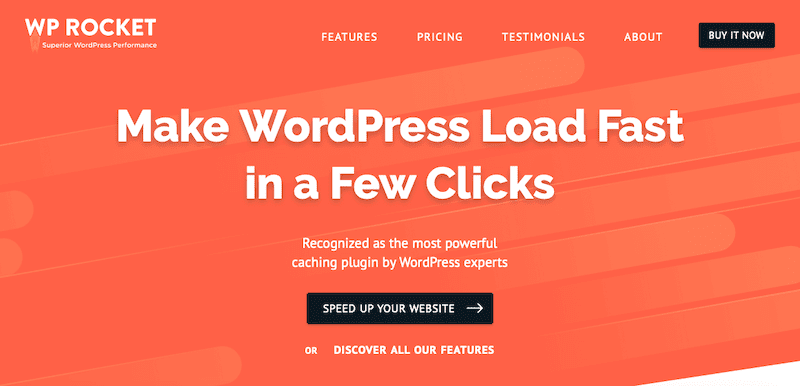 Of course, at the end of the day,
communication and support from a website maintenance service team makes all the difference
in the world. By working with a team that understands your needs and desires, instead of a business that's mostly focused on hosting, you can be confident that your website is in good hands. Part of this is the 24/7 customer support that goes beyond server issues.
Having a team that cares about your success, at your fingertips, at any time of the day can make the difference
between a product launch going smoothly and crashing down around you. Another plus about working with a maintenance service such as WP Buffs is that it allows you to develop a little side hustle if you're a freelancer or own a design agency. WP Buffs offers a
white label support service
that you can provide to your clients.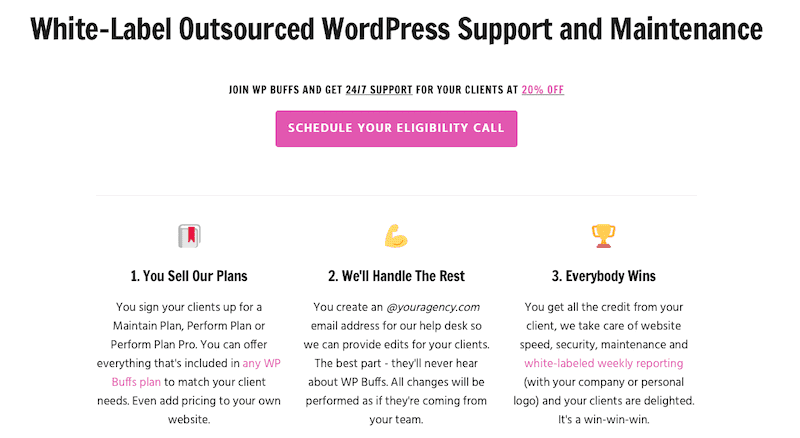 Whichever web host you choose to work with,
a website maintenance company can help strengthen its offerings
. If you're looking for recommendations, WPBuffs works with
SiteGround*
, Anchor,
Pressable*
,
WPEngine*
,
Kinsta*
, and so many more
web hosts
.
What WordPress Maintenance Does Not Include ⛔
Though a website maintenance plan can make a huge difference for you and your business, it's not a silver bullet.
One of the biggest hurdles companies face is the increased expense of having both a hosting plan and a maintenance plan.
Even if you're not using a managed WordPress plan, which is considerably more expensive than a standard shared hosting plan, the costs can add up.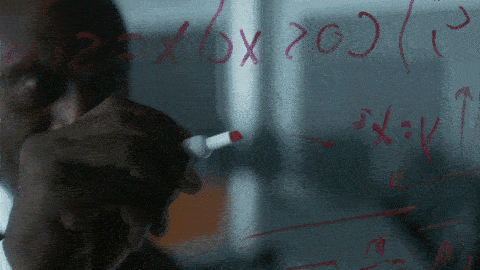 However, the long-term price of having a slow, vulnerable, or outdated website is significantly more.
If your website doesn't work the way it's supposed to, you're likely losing out on conversions.
WordPress maintenance doesn't typically include content creation, though credits for web design changes are often included or offered at a discount to customers. This creates additional utility outside of regular maintenance tasks.
It's easier to request additional website help from a company you already trust versus going out on your own to vet a WordPress developer for a one-off project.
WordPress Hosting vs Maintenance Companies: Where Do You Stand? 🎯
Websites are far from the static pages they used to be. In many cases, they are now powerful — and essential — marketing tools. With this increased functionality comes the need for more regular upkeep.
Though some hosting services have recognized this need and are attempting to meet it at a fundamental level, such plans have far too many shortcomings to be considered as standalone solutions.
By relying on a website maintenance service that is entirely dedicated to ensuring that your website is running optimally and meets your evolving needs, you can be confident that your online presence will be impactful. Ultimately, however, what will work best for your website, business, and budget will determine where you stand on the WordPress hosting vs maintenance companies debate.
Wrapping Up 🍬
So, what have you decided? Is a WordPress hosting company something that will work best for your situation? Or do you find the services offered by WordPress maintenance companies more appealing? Hopefully, this article will have given you sufficient information to
come to a decision that works for your business
. Should you decide to opt for the maintenance route, you can learn more about
what care package is best for you
and your business by
talking to the experts
 here at WP Buffs! Or check out this article if you want to read more about
WordPress support services
.
Want to give your feedback or join the conversation? Add your comments 🐦 on Twitter!