At this point in time, there aren't many people who haven't at least heard the word, "WordPress." After all, it is the simplest, most popular way to create your own website — from the ground, up.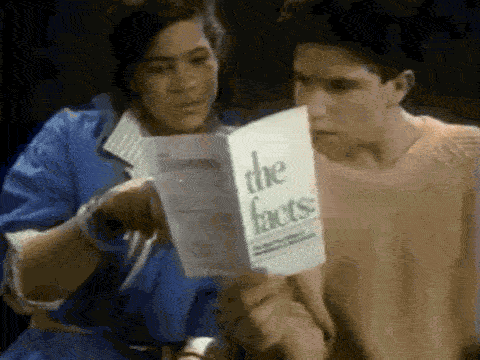 What those outside the WordPress community may
not
know is that it was created and introduced in 2003 by
Matt Mullenweg
and
Mike Little
, when then existing blog software b2/cafelog was discontinued by its developers. WordPress is based on b2/cafelog but has undergone significant improvements since it's inception that makes it a completely different program today.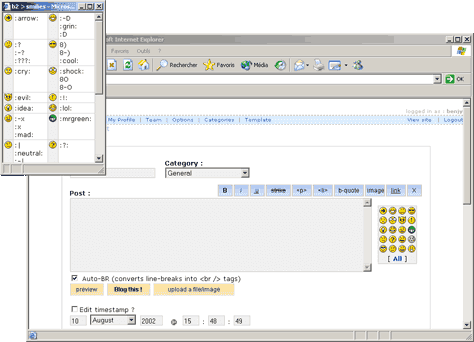 As of this article's publication,
WordPress has gone on to become the largest, most popular website builder in the world
. WordPress attracts users both with and without coding experience. So, what is WordPress? Let's start by defining the difference between WordPress.org and WordPress.com.
WordPress.org vs WordPress.com: What's the Difference?
Before delving deeper into the answer to "What is WordPress?" let's clear the air a bit. If you're brand new to the platform, it's important to address understandable first-timer confusion: there's a big difference between WordPress.com and WordPress.org.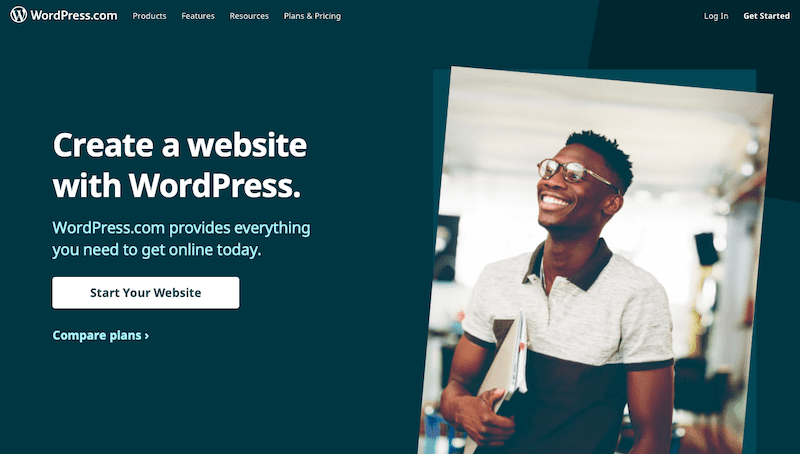 WordPress.org
refers to the open-source content management system (CMS) software that will be discussed in this article, while
WordPress.com
is
another
popular blogging platform powered by
Automattic
, the company behind WordPress.org. While WordPress.com uses the WordPress.org core code, that is where their similarities end. For one, WordPress.com is fully for-profit, while WordPress.org is free to use. Technically, there is a free WordPress.com plan (which many new bloggers opt to use) but you can also sign up for
paid plans
that expand functionality and handle some of the technical backend details of launching a new website.
📣 Back to the Basics #WordPress: Did you know? You don't have to take it upon yourself to set up #hosting or install #themes and #plugins when using WordPress.com. Boom! 💪 Click To Tweet
Compared to the flexibility WordPress.org offers, WordPress.com can be limiting. For instance, custom themes and monetization
aren't
allowed when using WordPress.com on a free plan. On the other hand, WordPress.org is
self-hosted
. You have to set up everything yourself. If your hosting options are limited (like if you're a startup using Amazon Web Services), you'll have to install the database yourself! Using WordPress.org software allows you to customize your site fully, but conversely, this also means that you
have to take care of site maintenance,
creating backups
, installing themes, and plugins, and of course, finding your own web host.
What is WordPress?
The most simple answer to the question, "What is WordPress?" is this:
WordPress is the most commonly-used open-source content management system available today.
Let's break down that sentence with a bit more detail: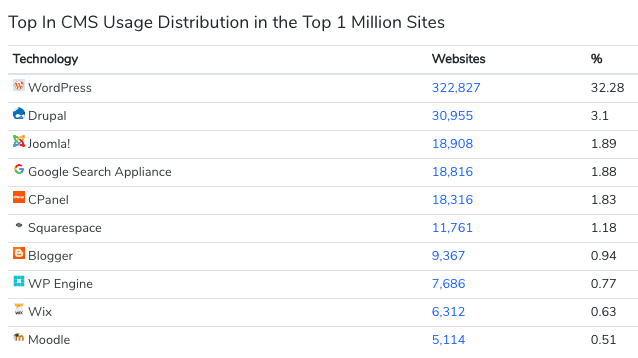 "Open-source": Open-source programs, such as WordPress, refer to programs whose source codes are made available for use or modification by their developers. These types of programs are usually developed as part of a collaborative public effort and as a result, are free to download and use.
"Content management system (CMS)": A system used to create, manage, edit, organize and publish content online. A CMS handles anything to do with a website's content, providing a simple user interface to make updates for users that do not know a line of code.
WordPress vs Other Content Management Systems
The three most popular CMS used today are WordPress, Drupal, and Joomla. All together, they make up
69% of the CMS market
, according to W3Techs. All three options are open-source and free to use. However, if you're planning to use WordPress for blogging, you'll probably consider it alongside the three other most popular blogging platforms: Blogger, Wix, and Squarespace. These tools differ from WordPress in that they're managed platforms. As with WordPress.com, when you use them, you don't have to concern yourself with the technical details of managing a website. With most of these options, there are basic free options, but if you desire more advanced features, you have to pay a monthly fee. In answering the question, "What is WordPress?" it helps to learn the basics about the most popular WordPress alternatives:
Joomla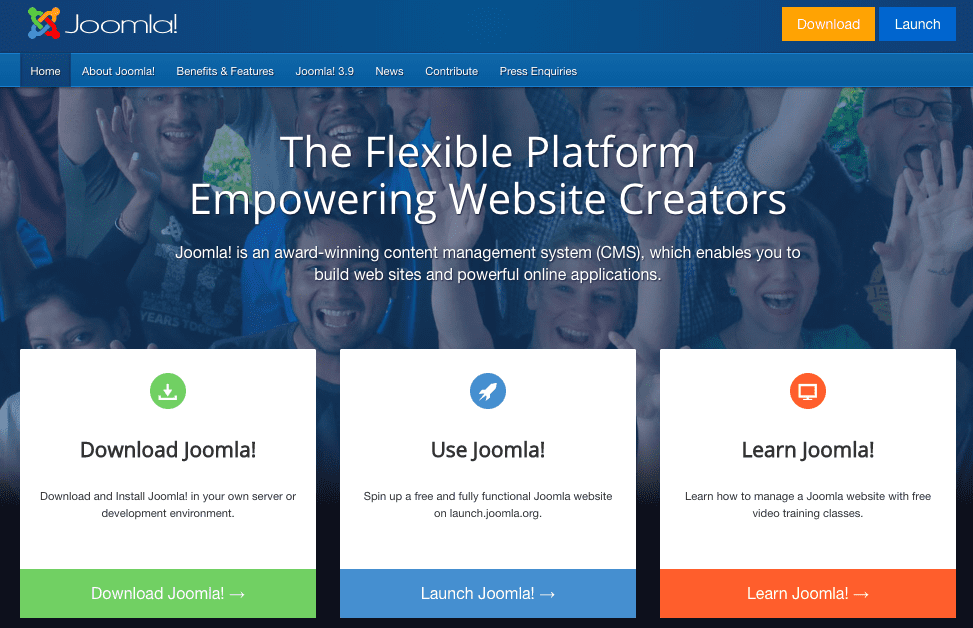 Joomla
is the second most popular CMS worldwide, with a 5.6% share of all CMS used. It was launched in 2005 as an offshoot of the Mambo web CMS project. Unlike WordPress, which extends functionality through the use of plugins, Joomla's core code is enough for
all
CMS functions, and its admin area is considered to be very user-friendly. However, Joomla has limited extensions compared to WordPress, and because the core code is more comprehensive, the installation process takes longer than WordPress. Joomla is ideal for creating social networking or e-commerce websites. Some popular brands that use Joomla include IKEA and Harvard University.
Drupal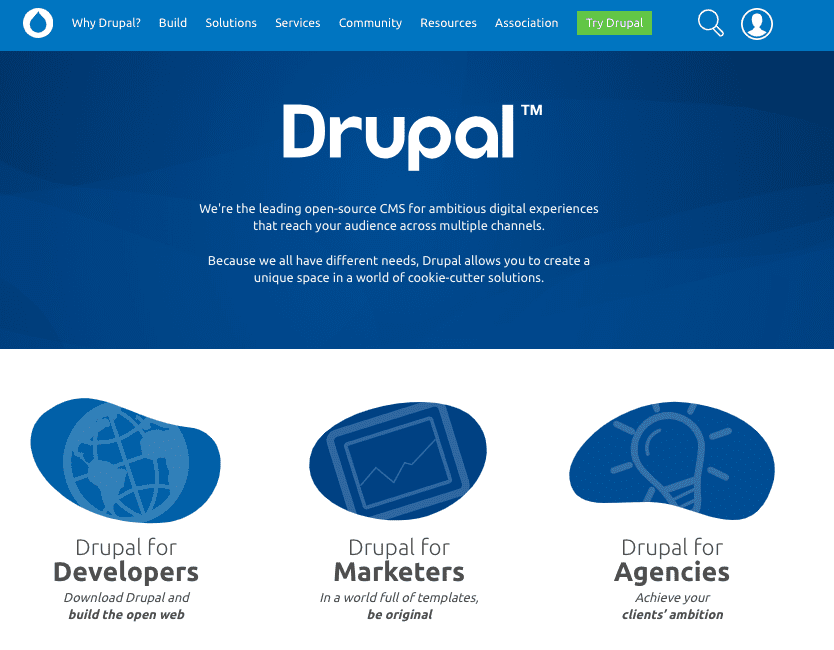 Drupal
is the third most popular CMS worldwide, with a 3.6% share of all CMSes. It is the oldest CMS and was launched in 2001. Compared to WordPress and Joomla, Drupal is more comprehensive and its core code is smaller, but it's not for beginners — you'll need a background in web development to understand how to properly use it. Drupal is popular among larger websites, especially government websites with high-security standards.
Blogger

Blogger
is a free service owned by Google that allows you to set-up a simple website in minutes under the .blogspot.com subdomain (you can also use a custom domain). Like WordPress, Blogger features a what you see is what you get (WYSIWYG) and HTML post editor. However, it is limited in functionality and customization options. Blogger allows you to create and manage multiple blogs under one Google account, and powers about 800,000 websites worldwide.
Wix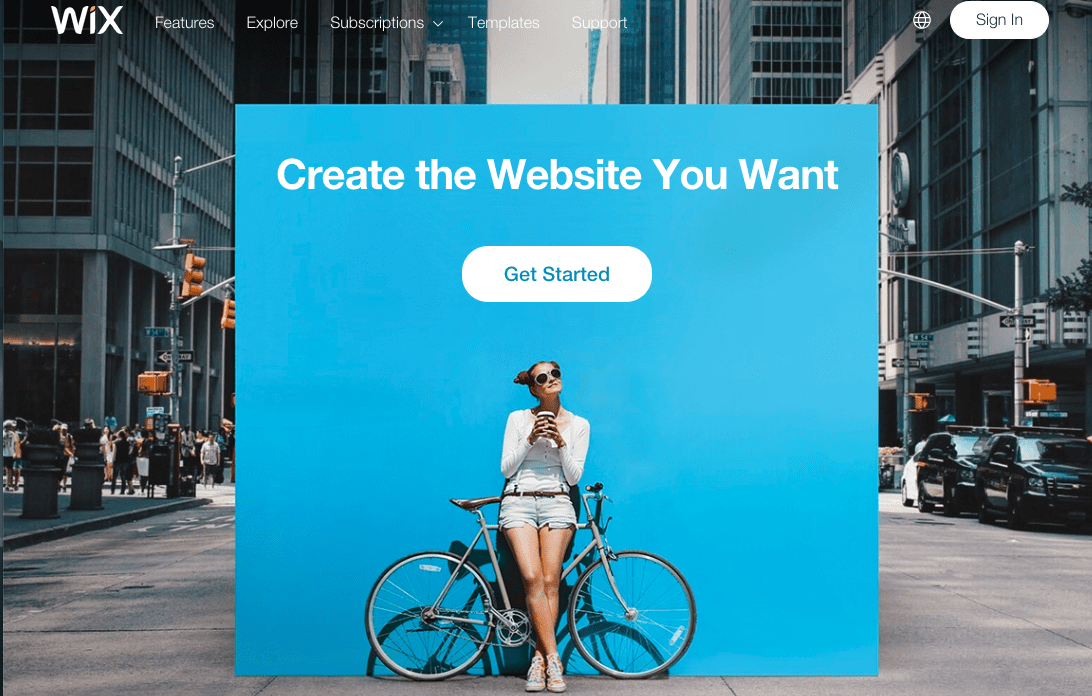 Wix
is a one-stop, self-contained website building tool. Users host their website under the .wix.com subdomain (or use a custom domain). Like WordPress, Wix also offers many themes and add-ons, which extend website functionality — but WordPress still offers a greater bulk of options. The difference between
Wix and WordPress
(.org) is that Wix offers
paid plans
that grant customers 24/7 access to customer support (which can be very useful for a new blogger). Using Wix, you won't have as much freedom as on WordPress — your design and extension options are limited to what Wix provides through their website. Also, if Wix believes that you're violating their terms of service in any way, they could take your site offline.
Squarespace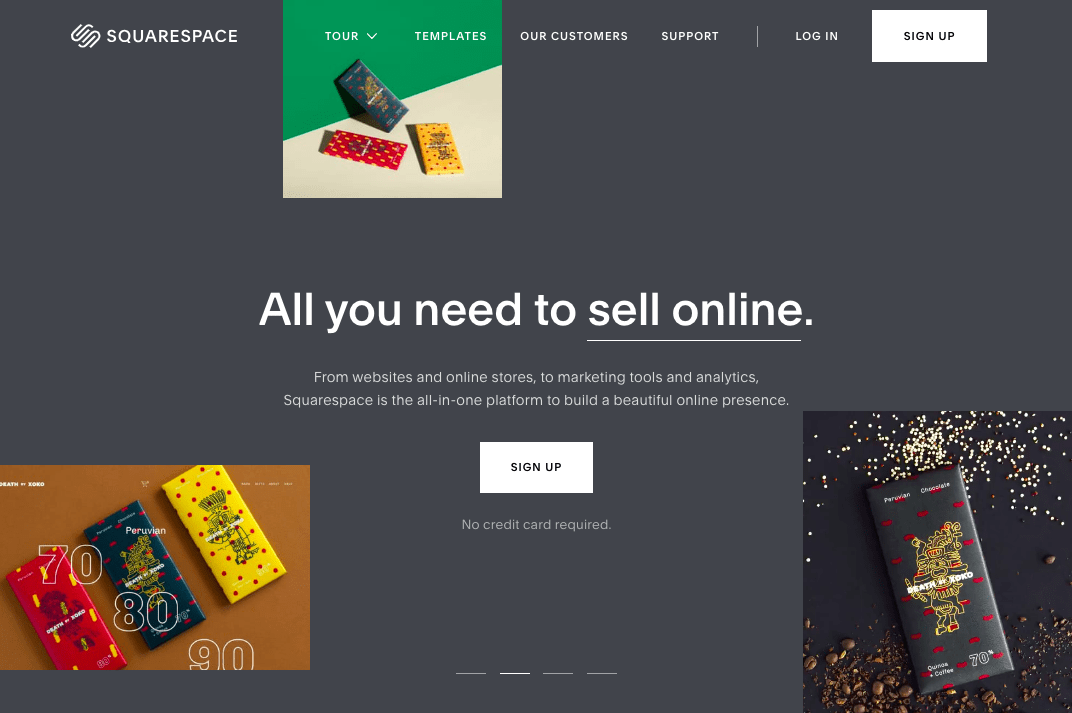 Many people think that
Squarespace
is a newer website building tool, but it's actually been around almost as long as WordPress. Squarespace was founded in 2003 but it wasn't until 2014 that it was able to raise enough venture capital to move forward in its current capacity. Since then, Squarespace has added many new features: e-commerce tools, domain services, analytics, and drag-and-drop features. It's also become famous for its minimalist design aesthetic. However, much like some of the other website building tools mentioned here, Squarespace does not give you as much freedom on the backend (and in terms of customization) as WordPress does. Squarespace provides new users with a two-week free trial, then if you like the service, you will have to subscribe to one of their
paid plans
.
What is WordPress Used For?
In a nutshell, WordPress can be used to build just about any kind of website. From personal blogs, portfolio sites, news sites, forums, membership sites, and e-commerce sites — the sky's the limit with WordPress.
Why Use WordPress?
We're so glad you asked! Here are some of the reasons why WP Buffs swears by it:
1. WordPress is Easy-to-Use & Learn
One of the main reasons why WordPress is so popular is because it takes a lot of the guesswork out of creating a website. It may look intimidating at first, but once you start playing around with it, you'll realize how easy it is to learn. Because of the possibility of becoming overwhelmed a guided study is recommended for new WordPress users. Check out the
best WordPress online
courses
available today.
2. WordPress is Flexible & Customizable
One of the best features of WordPress is that it's easily extensible. Users can customize their website with thousands of plugins, themes, add-ons, and widgets at their disposal — with great paid and free options. With these various extensions, users can build many different kinds of websites using the WordPress core code.
3. WordPress is Secure (For the Most Part)
Though WordPress is secure enough to be used by one-third of the internet, it's
not without its issues
, according to WPMU DEV. As the most-used CMS in the world, it's a favorite target for hackers.
🎯 Since #WordPress is the most-used CMS in the world, it's, unfortunately, a favorite target for #hackers. But a good security plan can mitigate this. #YouneedtheWPBuffs
Click To Tweet
To address the latest security threats and concerns, WordPress developers release frequent updates and patches. There are plenty of plugins,
services
, and
security best practices
that you can employ to protect your WordPress website from the worst hacking possibilities.
4. WordPress is SEO-friendly
WordPress is built with clean code, making it fairly SEO-friendly out-of-the-box. WordPress supports the use of metadata, tags, categories, and SEO-friendly URLs. SEO plugins (like
speed optimization plugins
) extend this basic SEO-friendliness.
5. WordPress is Scalable
WordPress can power both small and large websites, alike. There's no need to worry about what to do if your business starts small and grows big — WordPress can handle your website's needs throughout its lifespan.
6. WordPress Has a Large & Supportive Community
Since it's powered by open-source software, WordPress does
not
offer 24/7 support like many managed websites. However, what it lacks in customer support, WordPress makes up for in contributors: developers that work on improving the WordPress core (users and bloggers among them). Due to its large user base, there are plenty of great sources for WordPress advice, such as
forums
, blogs, tutorials, and even Facebook groups. The WordPress community also holds events, such as WordCamps, which allow you to meet and learn from fellow WordPress enthusiasts and experts.
7. WordPress is Free to Use
Since WordPress is open-source, it is
free
to use. What could be better?
Who Uses WordPress?
WordPress is used by individuals, businesses, and everyone else in between! It is even used to power some government websites. Some of the most popular websites that use WordPress include: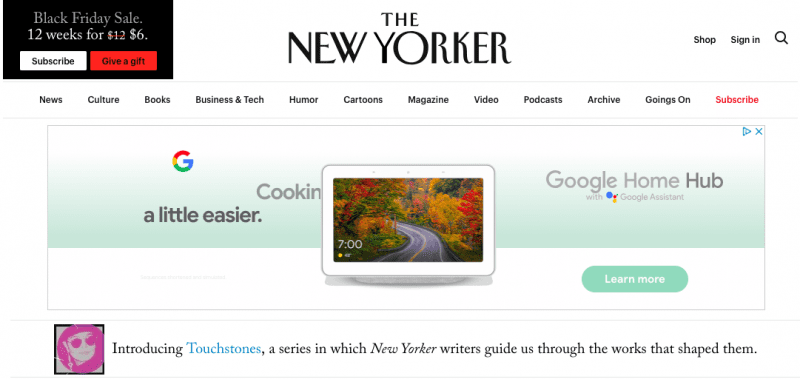 How Does WordPress Work?
WordPress can be accessed three ways:
The front-end interface website visitors see.
The admin area (or dashboard), which is accessible when you log into WordPress as an administrator or with another level of access.
WordPress files on your web server (including the WordPress core, plugin files, theme files, and CSS code) can be accessed via FTP.
According to ArtBees Themes, WordPress
functions on three levels
:
It provides an easy interface (known as the dashboard) for users to manage their content database.
It creates queries for the database, receives queried information, and publishes page content with data as requested by the browser.
It allows the extension of design and functionality using themes, plugins, and other add-ons, given that they are compatible with PHP code.
The Languages of WordPress
WordPress needs two components to work on your web server:
PHP
and
MySQL
. PHP is the language WordPress is written in. It is a server-side language, which means it runs on your web server before the page is sent to the browser. PHP is used in adding and extracting information from a database. From there, the retrieved information is put into an HTML page. MySQL is a relational database management system. MySQL is where WordPress data is created, updated, edited, stored, read, and deleted. TL:DR;
WordPress stores all content in the MySQL database.
How the content is presented depends on the specific theme design you use.
How to Start Using WordPress
Before you start configuring WordPress, you should have already decided:
What kind of website you want to create (blog, portfolio, e-commerce website, etc.)
What to name your website, so you can choose a domain name
Once that's done, you're ready to start using WordPress. There are two ways to move forward from here:
Download the WordPress software from WordPress.org, install it on your computer, and test it out.
Pay for web hosting (we recommend Kinsta for their performance WordPress hosting or Siteground for budget needs). Then, once you sign up, most hosting providers provide free one-click WordPress installations so you don't have to worry about the technical details behind installing a database.
Once you've completed basic WordPress setup, you can start installing themes and plugins. If you're not sure where to start, consider WPMU DEV's list of the
most essential plugins
.
The Elements of WordPress
While trying to understand the answer to "what is WordPress?" you'll likely come across a number of new terms you haven't heard before. Here are some essential WordPress vocabulary words to add to your lexicon:
Dashboard: You can access this administrative area by adding the "/wp-admin" suffix to your website's URL. Accessing the WordPress dashboard is also known as working on the "backend" of your website.
Themes: Themes are what determine the look and feel of your website. Themes consist of many files, including PHP, HTML, CSS, and Javascript — all working together. Themes can be classified as either parent or child themes. A parent theme includes original theme files, while a child theme allows users to modify website appearance without affecting website functionality. If you need it, here are more details on how to install your WordPress theme.
Plugins: Plugins are what makes WordPress different from other blogging platforms, responsible for extending the functionality of your website.
Posts: Posts are the articles that you write on your website. Besides the blog posts you're likely familiar with, there are also several types of custom posts that you can create within WordPress. Built-in post types include posts, pages, and attachments. You can use custom post types to create and manage content, like portfolio items, podcast episodes, and media libraries.
Media: WordPress allows you to upload and use various types of media, such as photos, videos, and audio files.
Widgets: Widgets involve self-contained areas on a WordPress website that perform specific functions (like within a blog sidebar or columns in your footer). Many people confuse widgets and plugins. Here's the deal: widgets are not a type of plugin or a separate extension for WordPress. Widgets are sometimes included in plugins, and plugins can sometimes consist entirely of a widget.
User roles: WordPress allows several people to work on one website, and user roles restrict/give permission as to what specific website areas a given user can edit. The most common user roles include administrator, editor, author, contributor, and subscriber. An administrator is the most permissive user role. When you sign up and create a new WordPress website, you immediately become the administrator and have full access to all components of the website. A subscriber is the most restrictive user role, having no editing capabilities.
A Polarizing New WordPress Feature: Gutenberg

WordPress may be the most-used CMS in the world today and may be well-loved by the community, but it's not without its challenges. For one, WordPress users lament its lack of a visual editor and the fact that you can't duplicate posts. There are plugins that you can install to address these issues, but in 2017, Matt Mullenweg
announced
 Automattic was working on an update to the visual editor to be included in WordPress 5.0's core code — called
Gutenberg
. Gutenberg is
WordPress' new take on the visual editor
, named after Johannes Gutenberg, the inventor of the printing press. Gutenberg was created with functionality similar to Medium in mind, allowing users to edit content in small blocks that you can drag-and-drop to change as needed. It provides a notably different user experience than the old editor, which required knowledge of shortcodes or HTML for full customization. When Gutenberg was announced and opened up for beta testing, it was met with mixed reactions. One of the common complaints from users was that Gutenberg made WordPress more complicated and clunky. The latest topic of backlash centers around Gutenberg's incomplete accessibility. Gutenberg is
available for download
as a plugin if you want to test it out. Matt Mullenweg has previously been quoted saying that he was hoping to get 100,000 installs to get feedback on the plugin, but as of this writing, there are 600,000+ active installs. It seems fair to claim that more and more people are accepting the impending arrival of Gutenberg, and that the plugin's developers have worked out many of its earliest-known kinks.
Making Money from WordPress
One of the benefits of a self-hosted WordPress.org website is the ability to monetize (the same can't be said for a free WordPress.com website). Here are some of the most popular ways to monetize your WordPress website:
Sell themes and plugins. Many WordPress themes and plugins are free, but if you build one with premium functionality, you can make money by selling it. WordPress themes are commonly sold on Themeforest (now Envato), Creative Market or WP Eden. The most popular market for selling WordPress plugins is CodeCanyon (also part of Envato).
Create content such as ebooks, sponsored articles, and online courses. If you go the latter route, there are many WordPress plugins that allow you to create membership websites, according to isitwp, to give a select group of people (like paid subscribers) exclusive access to your content.
Become an affiliate and promote WordPress products, such as themes, plugins, add-ons, managed WordPress hosting, and books.
Sell paid advertisements through ad networks like Google or by inviting businesses to put a badge on your sidebar.
Seek donations. Some websites offer helpful content for free and monetize by asking people that they've helped for donations.
Provide WordPress technical support (once you become a WordPress expert).
Sell your WordPress website. Eventually, you can sell your WordPress website for quite a bit of money, depending on how popular it is, how long it's been around, and the content associated with it. You can list a website for sale on a marketplace like Flippa.
An Introduction to the WordPress Community
The WordPress community is composed of many different individuals brought together by their shared love of WordPress. Community members are enthusiastic and passionate about WordPress and are very willing to share what they've learned with newbies — in most cases, even outside of a transactional relationship.
💬 The #WordPress community organizes several events, but the hallmark events are #WordCamps, which are organized year-round and in various countries around the world. Basically, you need WordCamps in your life!
Click To Tweet
WordCamps
are non-profit events that the local WordPress community organizes. WordCamp brings together WordPress experts and novices alike, to speak about certain hot topics and to help users get their questions answered (like "What is WordPress?"!). These events are also a great way to find new partnerships and even job opportunities.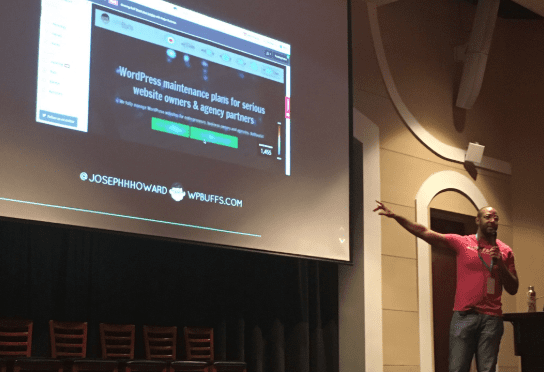 WordCamp tickets start around $40 for two days. Check out
WordCamp Central
to see if there are any upcoming WordCamp events near you.
Quick facts
: In the United States, WordCamp US is the most popular WordCamp, followed by WordCamp Miami. WordCamp Europe is the most popular global WordCamp. WordCamp US and WordCamp Europe move to different cities every year. WordCamps were born out of
WordPress meetups
. If you get overwhelmed by crowds, you may want to start your introduction to the WordPress community by attending a local meetup. Check out
Meetup
or the
WordPress community page
to see if there are any events near you.
If you can't make it to in-person WordPress events, you can opt to learn more about "What is WordPress?" via online conferences and meetups. A recent example is
WooSesh
, which was free and all about WooCommerce (a plugin that extends WordPress to include e-commerce functionality). Another is Zac Gordon's
Javascript for WordPress Conference
.
Wrapping Up
By now, you should have a basic answer to the question, "What is WordPress?" Of course, now that you've been properly introduced, there's so much more to learn! This article represents just the tip of the iceberg. Now's the time to fully explore WordPress. Read tutorials. And don't be afraid to experiment!
Want to give your feedback or join the conversation? Add your comments 
🐦 on Twitter
.