According to data from BuiltWith, around 6% of the world's top one million websites use the WooCommerce e-commerce platform in 2021. That's over 4 million sites. But that's not all — per this infographic from barn2, a whopping 94% of WordPress e-commerce websites run the WooCommerce plugin!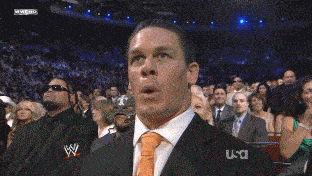 Clearly, WooCommerce is doing something right to assert such dominance over other WordPress e-commerce plugins. It helps that WooCommerce is free, open-source software that's flexible, customizable, and user-friendly for even the least tech-savvy individuals. But there's much more to WooCommerce than that.
In this post, we'll explain why you should add a WordPress WooCommerce theme to your storefront and tell you how to choose the best one for your business. We'll also share our list of 21 of the best WooCommerce themes (free and premium) that are guaranteed to grab attention and generate sales.
Ready to build a successful e-commerce site? Great – we're here to help! Keep reading.
Why Use WooCommerce-Compatible Themes? 🤔
WordPress themes alter the look of your site — think images, templates, and stylesheets —and can provide a more intuitive user experience. WordPress WooCommerce themes take that a step further and provide an ecommerce-first approach to designing and building out product pages, shopping carts, and payment services among other ecommerce functions.
WordPress experts will love WooCommerce's range of options and flexibility. Less tech-savvy users may find the complexity of WooCommerce overwhelming at first, but we at WPBuffs can always help edit, update, and maintain your new WooCommerce site.
Aside from making your site look aesthetically pleasing, building your WordPress site with a WooCommerce-compatible theme comes with many other benefits:
Lower overhead for WordPress DIY'ers: WooCommerce is a free, open-source plugin. Sure, you'll still be on the hook for domain and hosting fees plus any premium plugins but you can keep costs low by opting for cheap or free WooCommerce themes.
Simple to install: Fortunately, you don't need to be fluent in coding to add WooCommerce themes. Maintenance will take a little more technical know-how; newbies can look at our guide to WooCommerce for Beginners and then reach out to our dedicated team of WP pros for additional guidance.
Optimization: The best WooCommerce themes lay the foundation for optimizing your page for SEO and speed. Not only will this make it easier for customers to find your site, it will also make them less prone to bouncing from slow load times.
Customizable: You can customize and scale your WooCommerce WP theme with add-ons that will enhance your product pages, shopping cart, and overall user experience. You can also include things like coupon banners, blogs, and social media plugins.
TL;DR: WooCommerce themes provide a balance of style and substance that will help your site stand out while lending you the tools to help your e-commerce store succeed.
How to Choose WooCommerce-Compatible Themes 🔍
There are thousands of WooCommerce-compatible themes available. As compelling as it may be to pick the first thing that catches your eye and be done with it, it pays to be discerning when choosing the best WooCommerce theme for your WordPress site.
The right WooCommerce theme will bring customers, their friends, and their friends' friends flocking to your page to make purchases. Alternatively, an ill-fitting WooCommerce theme will result in an unpleasant UX…and crickets, who have no buying power whatsoever.
To make the process of choosing a theme less overwhelming, here's a handy checklist of essential WooCommerce theme features:
✅Compatibility: First and foremost, make sure it's a WooCommerce-compatible theme — especially if you're spending money on it.
✅Layout: Think about what best suits your business in regards to layout, color schemes, cart and checkout functionality, in-site search, and more.
✅ Responsiveness: More than half of global web traffic comes from mobile phones. Look for a responsive theme that looks good on both desktop and mobile.
✅ Performance: A loaded, clunky theme will result in long load times and impatient customers who'll bounce. Keep it simple for the best user experience.
✅ Customization: If it's important to make your WooCommerce theme yours, find one that provides a wealth of customization options. Bear in mind that this may cost extra.
✅ Support & Updates: In the event of things going FUBAR, it helps to pick a WooCommerce theme that provides attentive customer support. Meanwhile, a theme with regular updates means you'll be less prone to security flaws and other bugs.
And if you're needing help with mobile responsiveness, performance, customization, support and updates for your WooCommerce site, then we've got you covered!
Now that you've developed a sense of your ideal WooCommerce theme it's time to dive into the sea of myriad options…
… or, you can save yourself a lot of time and hassle by browsing our 21 item list for the best WooCommerce themes we've vetted and curated, just for you!
The 21 Best WooCommerce Themes for 2021 🏆
In compiling our list, we took the key criteria from our handy checklist into consideration. Our choices include a mix of free and premium WooCommerce themes so anyone will be able to find what they're looking for, regardless of budget or niche.
We've divided our list into three main categories:
Best free WooCommerce themes
Best premium WooCommerce themes
Best Divi WooCommerce themes.
Best Free WooCommerce Themes
Don't have the bandwidth to spring for a premium WooCommerce theme? Check out our favorite free WooCommerce themes. Saving money doesn't mean sacrificing performance or functionality with any of these themes:
1. Astra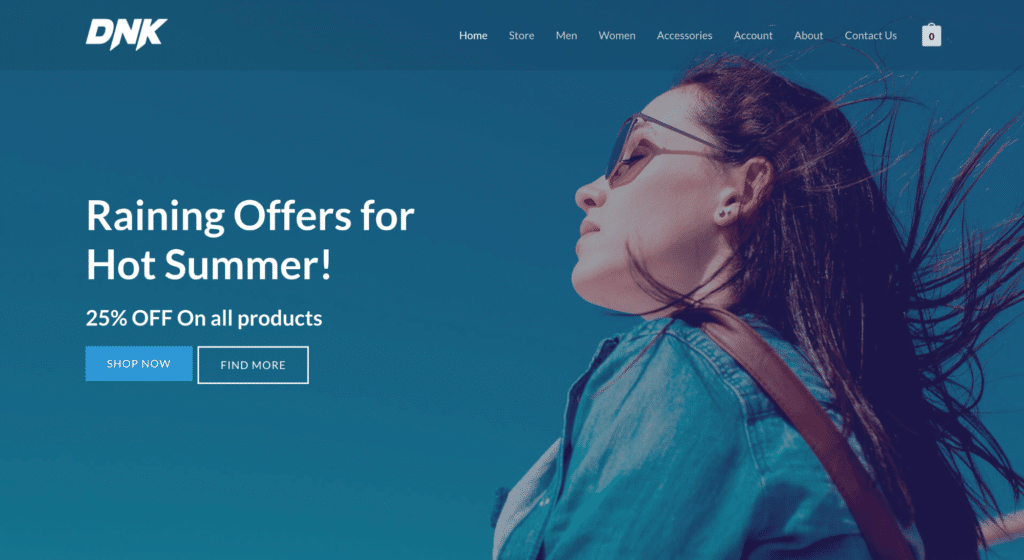 Astra excels in optimizing for performance. Think half-second load times, responsive font sizes, and Vanilla JavaScript — all at under 50KB of space. More than 150 ready-to-import websites are at your disposal and can be enhanced with Gutenberg, Elementor, and more.
For such an ultralight theme Astra is quite feature-rich, even before factoring in premium upgrades. Add social media widgets, choose from over 700 Google fonts, and customize multiple layouts including product pages, carts pages, container settings, and much more.
2. Neve Shop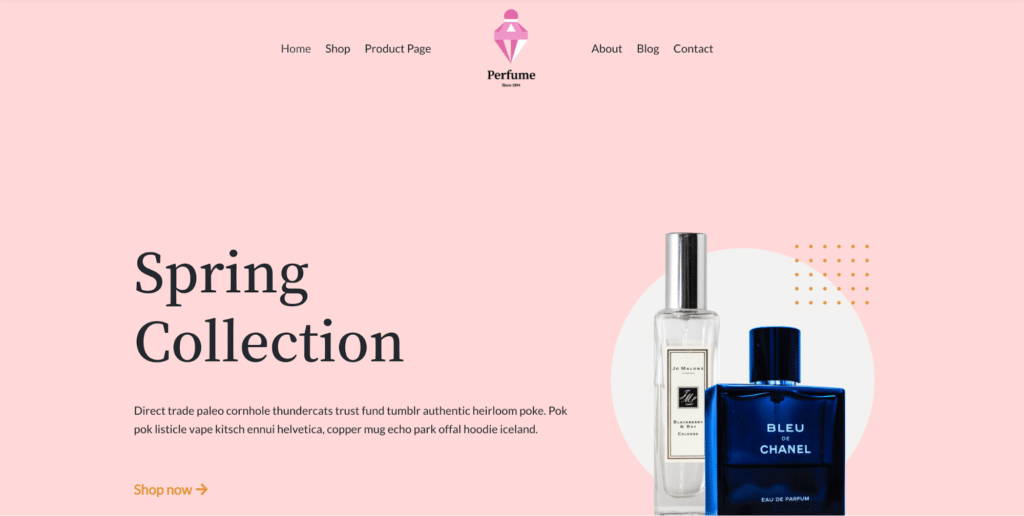 Neve Shop by Themeisle* takes a mobile-first approach with its lightweight build, AMP-compatibility, and responsive adaptability. It boasts load times under a second and an install size as little as 28KB. For as small and light as this Neve Shop is, it offers quite a lot.
Integration with Gutenberg, Elementor, and other page builders makes customizing templates dead simple. Other outstanding features in Neve Shop include SEO-friendly markup, accessibility optimization, and 1-click rollback should you need to reverse an update.
3. OceanWP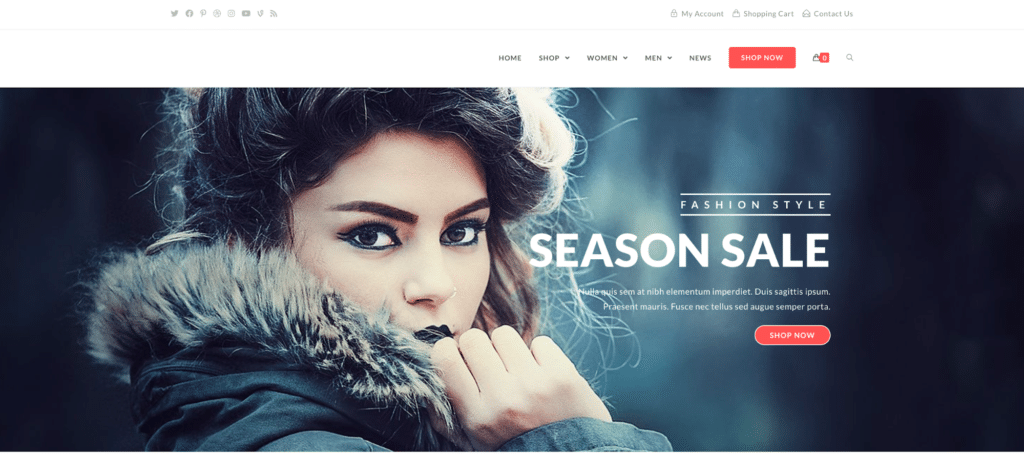 OceanWP has over three million downloads and counting. One reason why? Building an e-commerce site with OceanWP is as easy as importing one of its many sleek demo templates with the click of a button. (Note that select templates are only available with a premium plan.)
With full WooCommerce integration, responsive layouts, and a built-in SEO base, OceanWP satisfies the needs of both rookie and veteran site owners. Plus, it's compatible with drag-and-drop page builders plus a range of premium plug-ins to truly make your site yours.
4. Botiga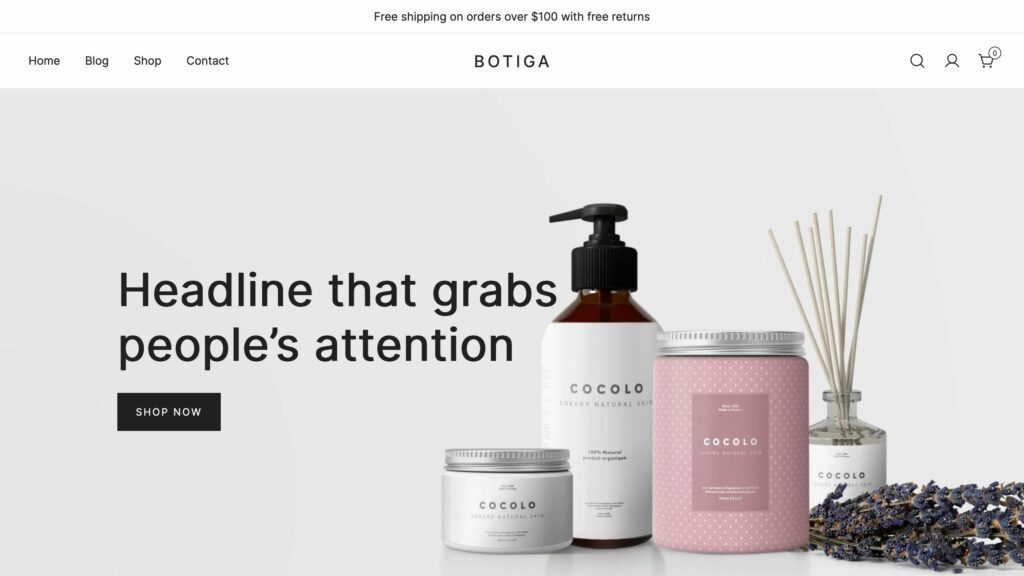 Botiga is a simple yet sophisticated e-commerce theme that can help you showcase your products in a clean and effective manner. This free theme offers a ton of customization features, including a collection of header and listing styles, product galleries, and over six blog archive layouts.
The extensive collection of options makes it easy to personalize your site's checkout and cart layouts. You can also enhance the UX for your shoppers by using features such as product search, recommendations, and filters. With all of that in mind, Botiga is a beginner-friendly option that's both functional and straightforward.
5. Storefront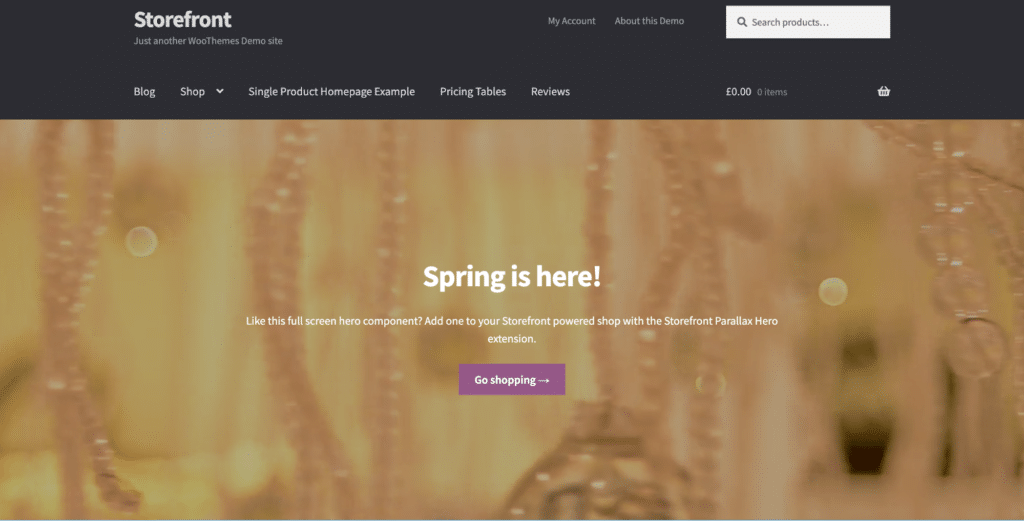 The Storefront theme is one of WooCommerce's free flagship themes. Built and maintained by WooCommece developers, it features deep WooCommerce integration and regular version updates so compatibility with the platform will never be an issue.
Storefront has a basic, responsive interface that's easy to personalize — great for anyone who wants to get a polished site up and running in no time. There are also premium child themes tailored to several industries that add customization options and plug-ins.
6. Woostify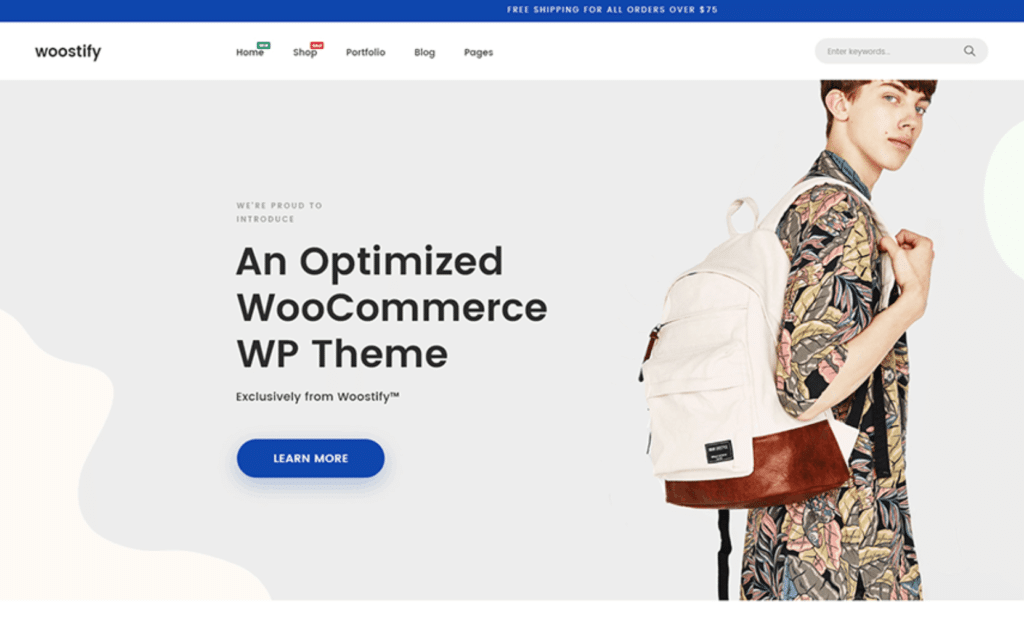 With Woostify, you have the power to customize your e-commerce site with ease. Choose from multiple layouts for product page styles, multi-step checkouts, and shopping carts. Woostify also has multi-vendor compatibility, product wishlist plugins, and multilingual support.
Woositify comes in at under 30KB for fast load times and page speeds. As a completely WooCommerce-integrated theme, there's no need to worry about anything breaking in Woostify upon major WooCommerce updates.
7. Idyllic Free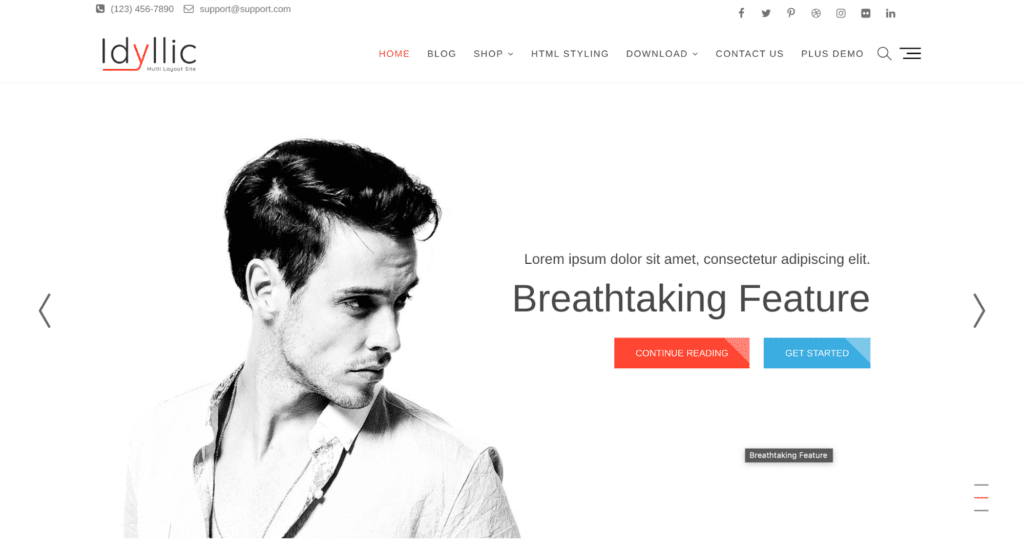 Idyllic Free from Theme Freesia is a minimalist theme that's fully compatible with WooCommerce. It's optimized for various browsers and devices so it looks good and loads quickly, no matter how or where you view it.
Setup is easy — especially if you choose one-click demo import. You can also add plugins to enhance your e-commerce site, including Polylang (polylingual support), Jetpack, Contact Form 7, and more.
Best Premium WooCommerce Themes
If you have the budget to build a more feature-rich e-commerce site, take a look at our choices for the best premium WooCommerce themes. The options below include more varied plugins, a broader range of templates, and priority customer support among other amenities:
8. Shoptimizer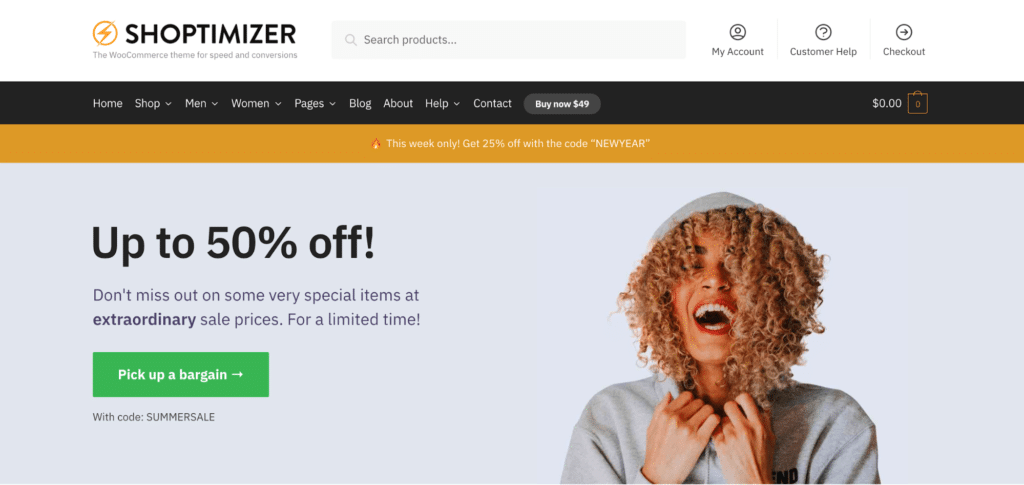 Shoptimizer by Commerce Gurus includes an array of features without sacrificing performance. Faster than most other WooCommerce themes out there, Shoptimizer boasts speed grades over 90% from Google, GTMetrix, and Lighthouse.
Conversion is another core component of Shoptimizer. Add offer bars, countdown timers, CTA headers, and much more to motivate customers to buy. Other noteworthy features include auto-complete search bars, mega menu support, and optimization for screen readers.
9. Hestia Pro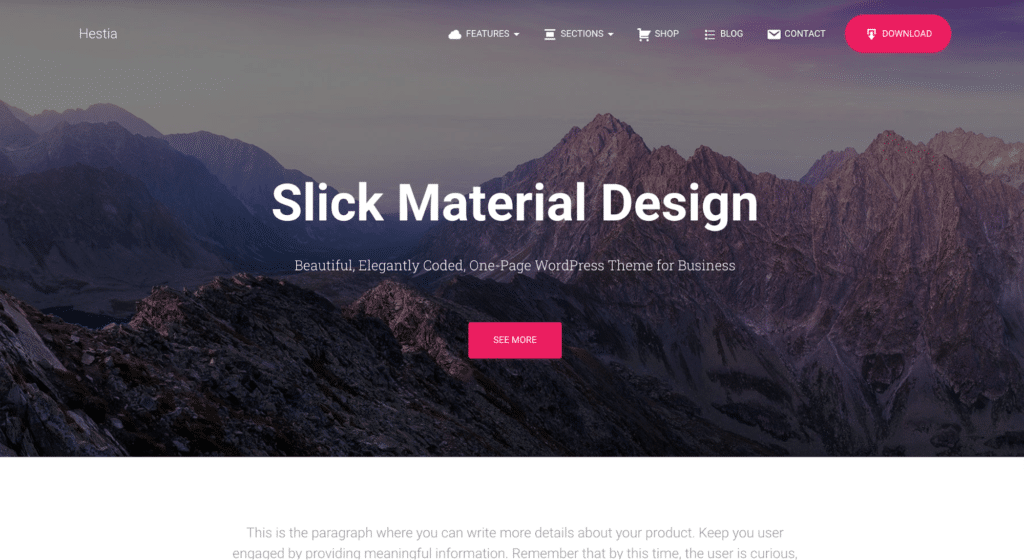 Hestia Pro from Themeisle is billed as a modern, multipurpose theme. However, its enhanced WooCommerce compatibility makes it perfect for e-commerce sites. Plus, it integrates with Elementor, Gutenberg, and many other page builders so you can customize as you see fit.
Its SEO-ready structure will give your e-commerce store a prominent Google presence, making it easy for potential shoppers to find you. Additional plugins aid with minification and language translations for a quick, accessible user experience.
10. Zuka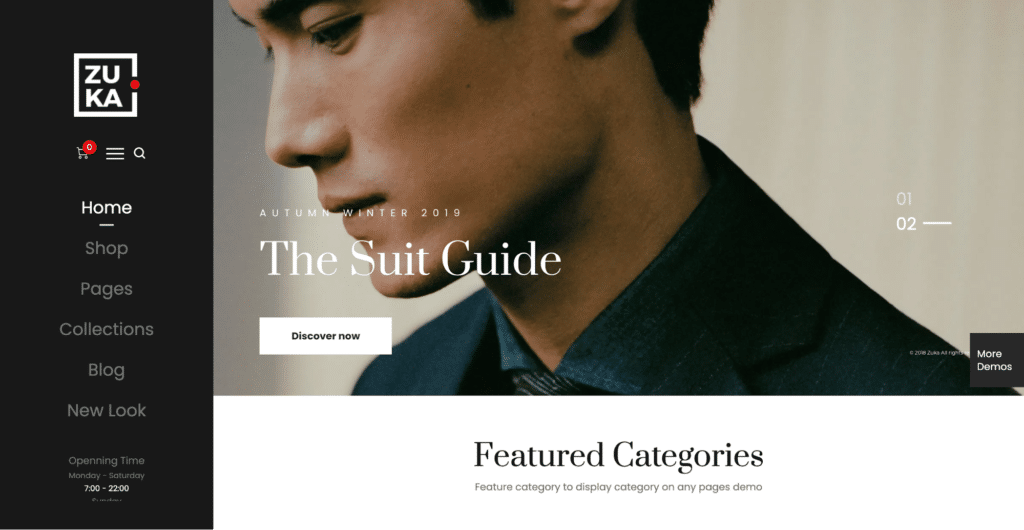 Zuka is a clean-and-modern WooCommerce theme that would suit a variety of online retail industries, from fashion to electronics. It has a fully responsive layout and features 10 ready-made demo pages you can import with just one click.
Add Google Maps integration, social icons, testimonials, plus other plug-ins and widgets to tailor Zuka to your site's needs. Should anything go awry, you'll be backed by 24/7 professional customer support.
11. Overline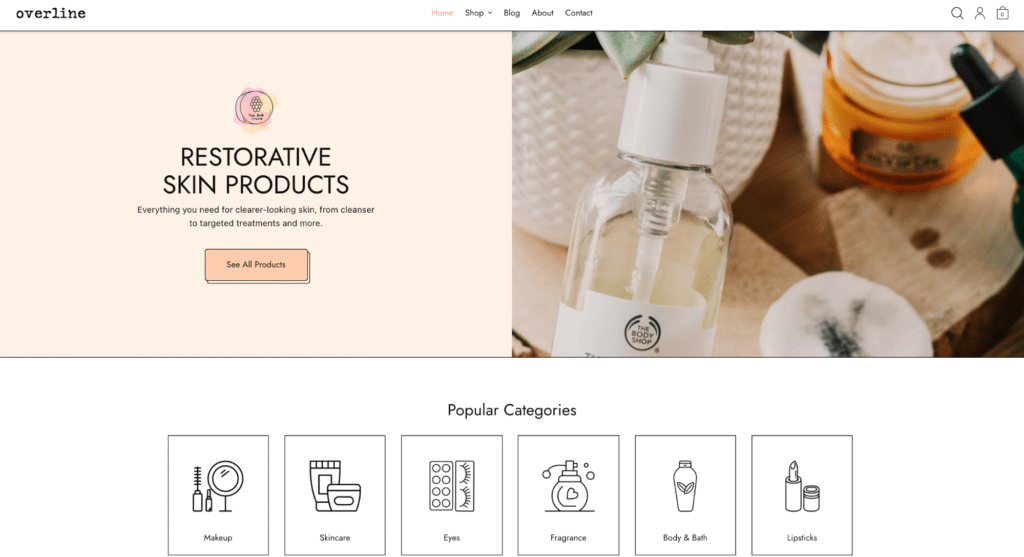 Overline is a premium WooCommerce theme from Fuel Themes designed for beauty brands and influencers. It's powered by Gutenberg for easy customization of key elements. Its responsive layout suits all devices, but it's especially made with mobile browsing in mind.
AJAX's presence can be detected in Overline's add-to-cart buttons and product search. Meanwhile, Overline's Retina-ready design will make your WordPress store look crisp on even the most advanced displays.
12. Matthew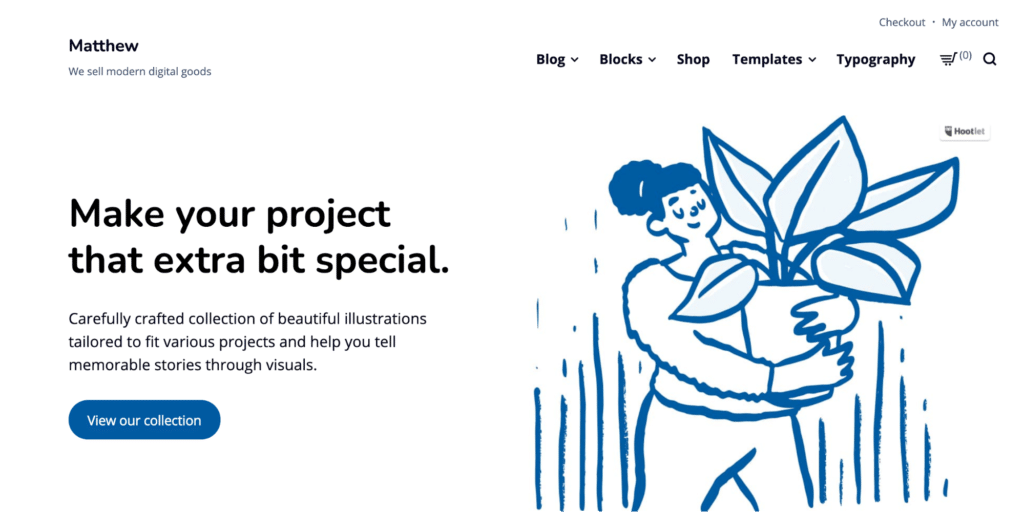 Matthew from Themes Harbor is a Gutenberg-powered WooCommerce theme with a bloat-free, minimal design for peak performance and load times. It's suitable for selling either physical goods or services.
Matthew features a responsive layout, search engine-friendly code, and built-in localization tools. Customize Matthew with fonts and color schemes to match your brand's aesthetic — no third-party page builder required.
13. Rey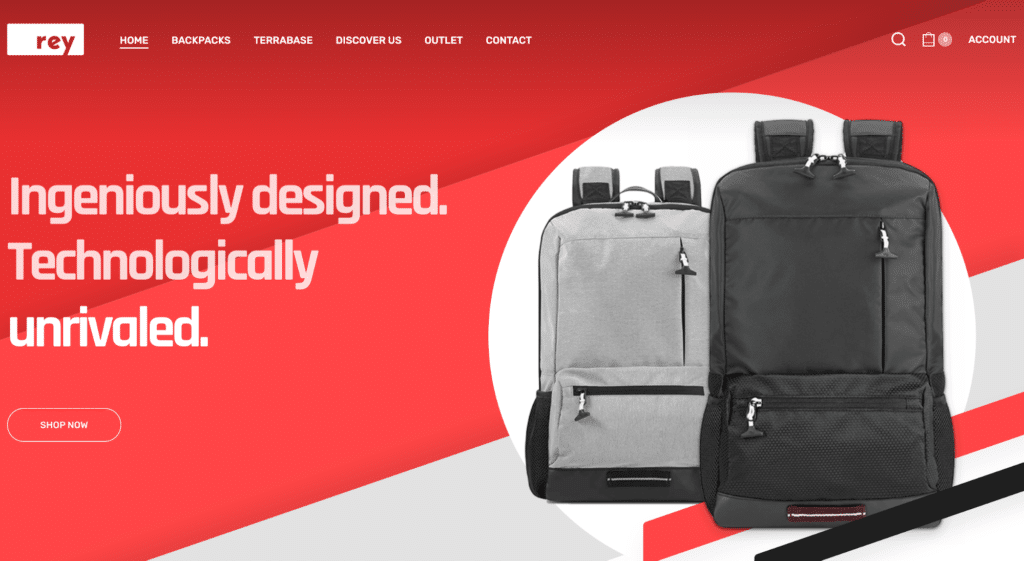 Rey is a modular, feature-rich premium WooCommerce theme. Customize everything from product grids and page layouts to image galleries and product variations. AJAX search, filters, and navigation will help your customers find just what they want in no time.
If your e-commerce store uses Elementor, Rey plays nicely with that, too. Add entrance animations, tabs, and other touches to make your site stand out. Plus, integration with Google and Adobe fonts will eliminate any potential performance hiccups.
14. Shoppe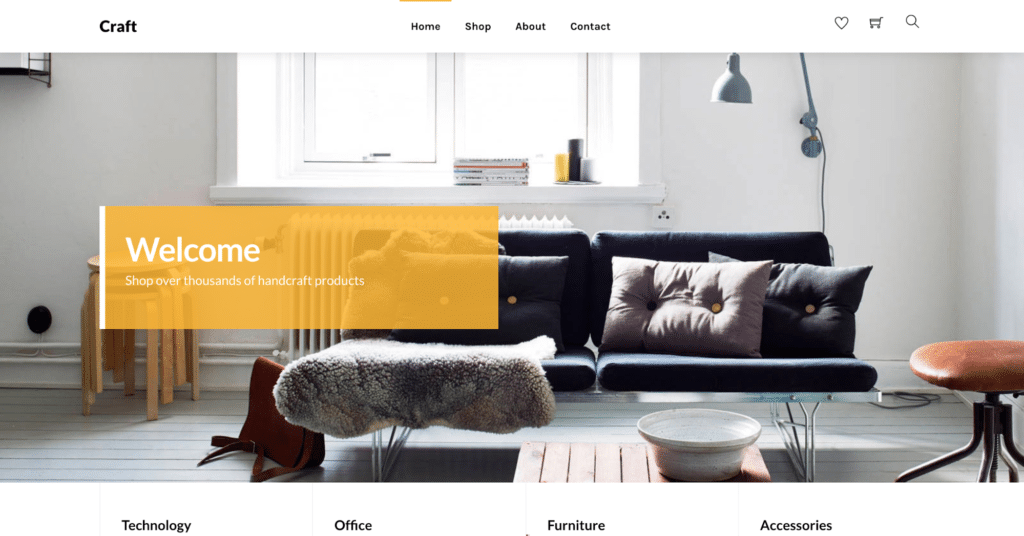 Shoppe from Themify boasts a variety of layout options, supported plugins, and theme skins. The Themify Builder makes customizing your e-commerce site a breeze. Simply drag and drop the features you want. Check the live preview to make sure everything is its rightful place.
This multi-purpose WooCommerce theme comes with a bevy of retail features like AJAX shopping cart and product share buttons. Add Themify plugins such as a store locator widget or an announcement bar to boost ongoing promotions (and help convert sales).
Best Divi WooCommerce Themes
Elegant Themes' flagship Divi Builder began as a WordPress theme with a built-in page builder. It's evolved into a premium WooCommerce-compatible plugin with its own selection of child themes. Check out the best Elegant Themes WooCommerce themes to use with Divi:
15. Divi Ecommerce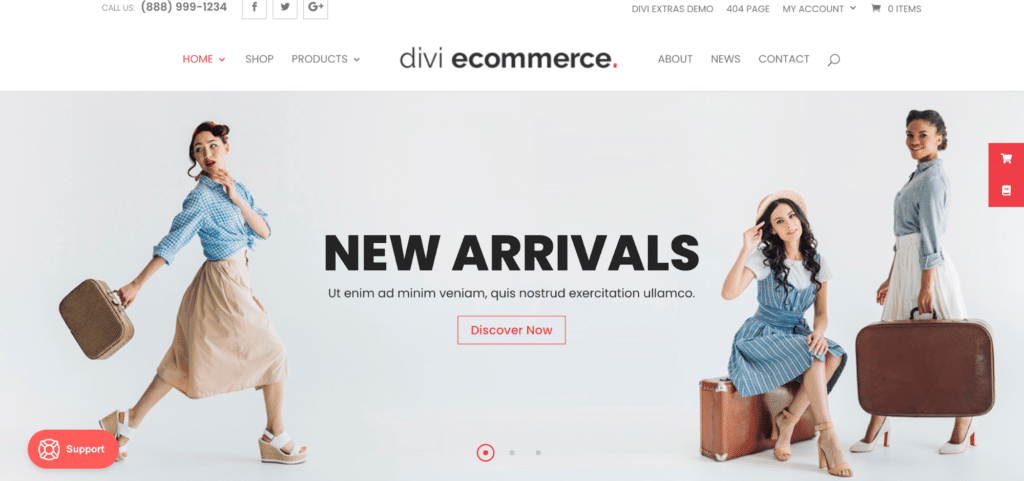 Divi Commerce is fully-integrated with WooCommerce and designed for a range of industries. It includes two ready-made storefront home pages with custom-designed sidebars plus ready-made WooCommerce cart and checkout pages so you can start selling in no time.
Other features of Divi Commerce include conversion components such as countdown clocks, integrated site search and navigation, and code-free customization so anyone can create the perfect layout for their WordPress store.
16. DiviShop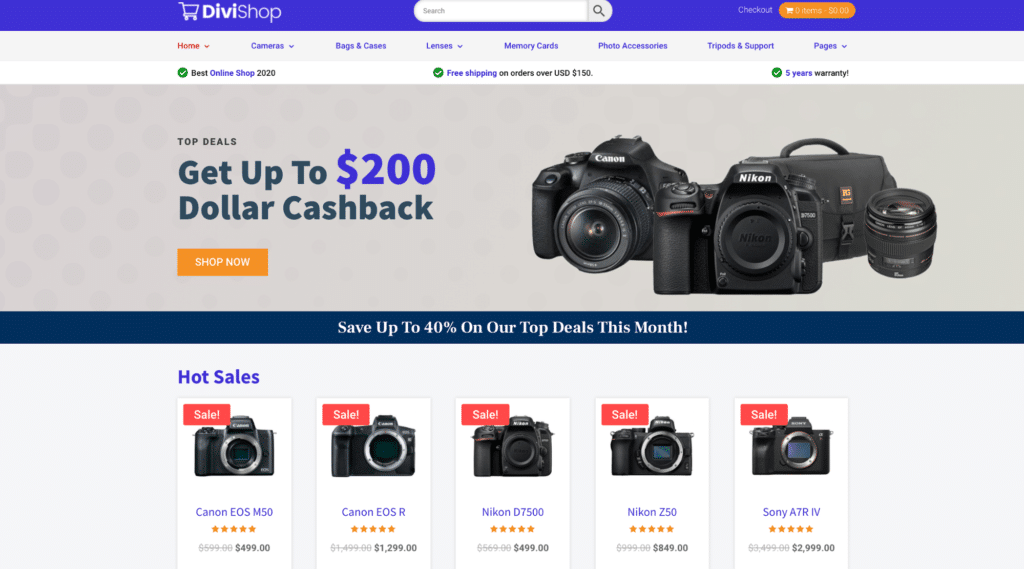 DiviShop may present a bit of a learning curve for beginners but it provides a full suite of features to get your e-commerce shop off the ground. Gain the trust of your shoppers thanks to DiviShop's customizable checkout pages where you can add testimonials and trust seals.
Build up your site's product pages with detailed descriptions, user reviews, and related items. DiviShop also allows you to generate email opt-in forms so customers can receive news about upcoming sales and other store events.
17. Divi Handmade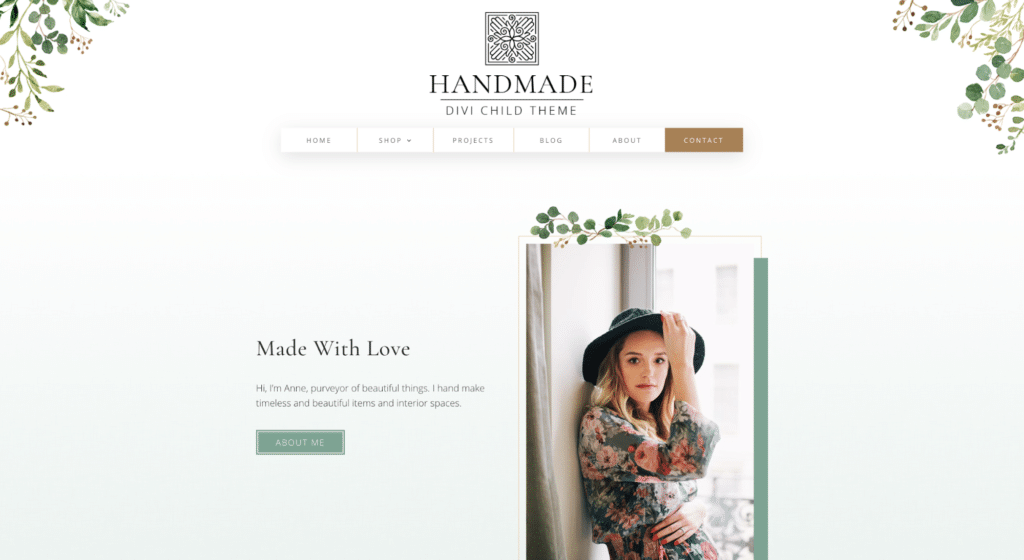 The Divi Handmade child theme invokes the feeling of popular DIY-centric storefronts, which makes it perfect for crafters and gift shops. Its straightforward product page template has room for a photo, title, description, customer reviews, and related items.
Divi Handmade also includes portfolio and blog layouts to keep your customers abreast of your latest creations. This Elegant Themes WooCommerce theme makes for a comprehensive experience that will get shoppers interested in what you're selling.
18. Divi Fashion Theme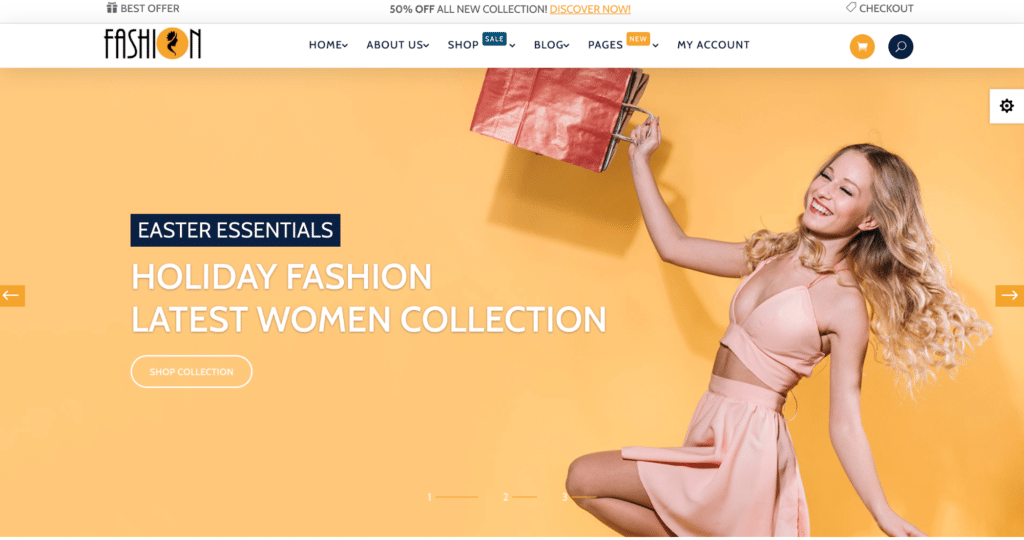 Divi Fashion Theme may be hailed as a WooCommerce theme for online clothing stores but it can really suit any aesthetically-forward business. This responsive theme comes with over 30 creative section designs, five home pages, and three product page layouts.
Setup is easy, too. Automatic plugin installation and one-click demo import means you can have the Divi Fashion Theme up and running on your site almost immediately.
19. Divi Circuit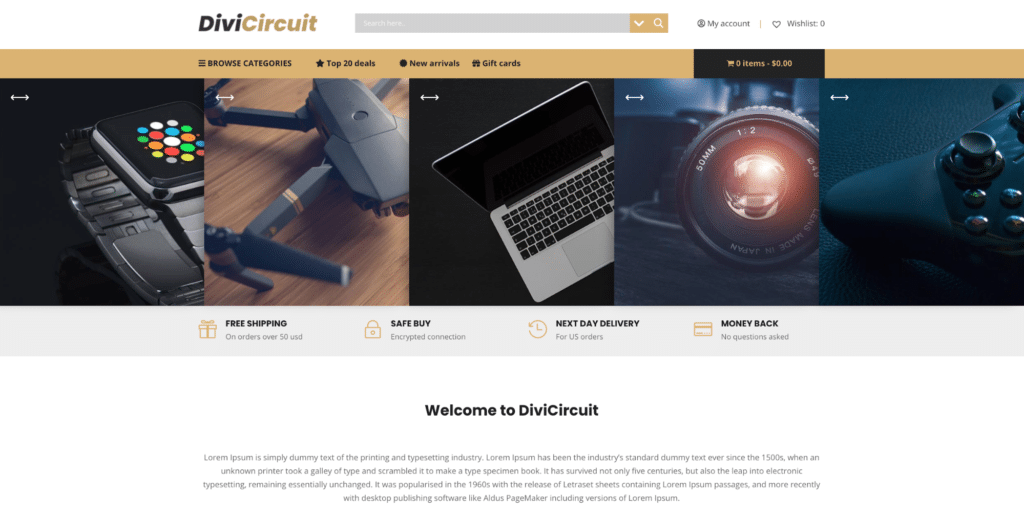 The versatile Divi Circuit theme can be used for just about any product niche you can think of, from clothing and accessories to photography and luxury goods. It's fully compatible with the latest versions of Divi (from v4.6), WordPress (from v5.5), and WooCommerce (from v4.5).
With Divi Circuit, you can customize everything from 404 pages to animated headers. It's also fully responsive, optimized for search engines, equipped with advanced AJAX search, and free of any bloat for quick performance and load times.
20. Divi Cart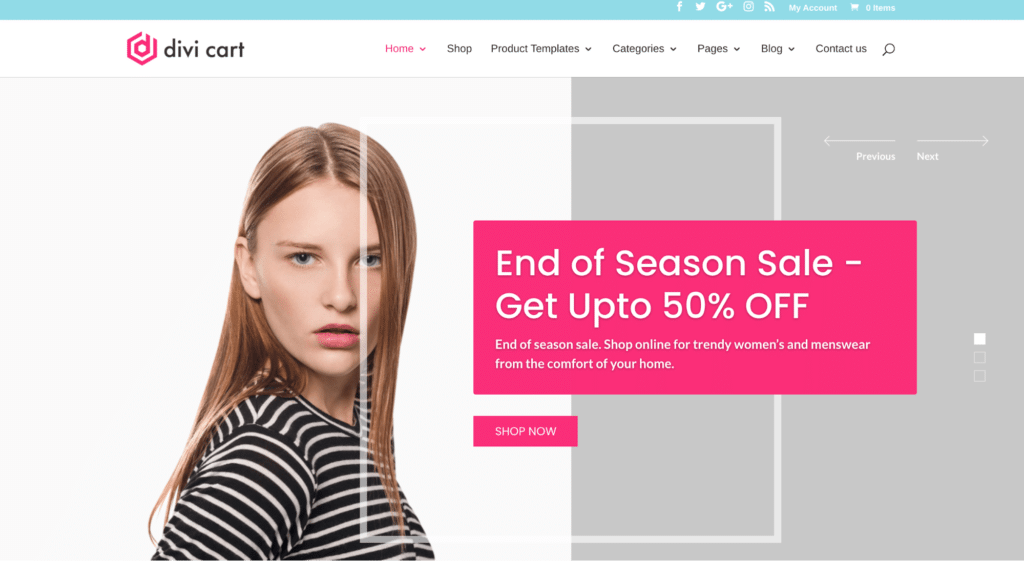 Divi Cart brings forth five stylish WooCommerce-ready landing pages and product page layouts. Other e-commerce features include multiple sale sections, site search with price range and category filters, and a secondary menu that hosts social media buttons and a cart icon.
If your business likes to provide relevant blog content, Divi Cart has you covered with 20 blog post and page layouts that you can tailor to match the vibe of your store.
21. Divi Photography eCommerce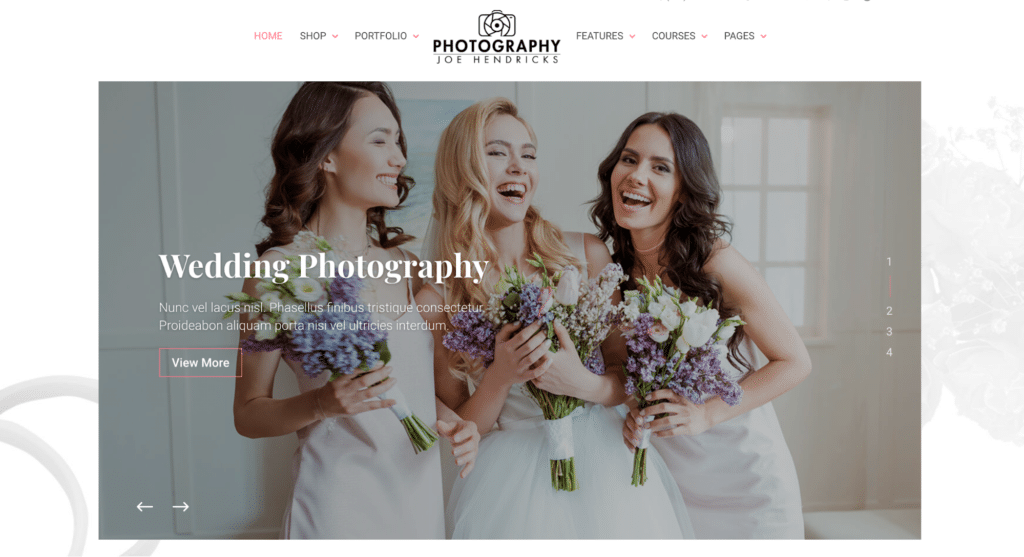 Divi Photography eCommerce is a WooCommerce-compatible theme made especially for photographers who want to promote their business. Set up product pages, checkout pages, user accounts, and on-site booking information.
Customers can browse through photos via sliders and carousels. This theme also includes four portfolio layouts, custom blog styles, light & dark mode options, and more than 300 photography icons. With 100-plus custom designs and layouts, you're bound to find something you like.
Frequently Asked Questions ❓
What's the difference between a WordPress plug-in and WooCommerce extension?
The WooCommerce Plugin is a WordPress plugin, but a WooCommerce extension is an additional a plugin that adds more functionality to the WooCommerce plugin. 
Do WooCommerce WordPress themes require a lot of maintenance?
To ensure you're providing the best experience for your shoppers in terms of usability and security, regular WooCommerce theme maintenance is crucial. If you lack the time and/or tech know-how, we provide an array of services to keep your WordPress site running smoothly.
Wrapping Up 🎁
Attracting customers to your online store goes beyond spreading the word on social media and telling your family and friends. If your e-commerce site is clunky, dull, and not SEO-friendly, getting traffic from Google will be very hard to come by – let alone customer conversions. Fortunately, WooCommerce WordPress themes give your site the tools you need to provide an enjoyable user experience and ultimately drive sales.
To recap:
WooCommerce themes do more than make your e-commerce site look good — they also improve searchability and overall UX so customers are compelled to return.
Picking the best WordPress theme for e-commerce goes beyond aesthetics. Think about the needs of your business. Pick a theme that best aligns with your product and mission.
Regardless of budget or niche, there's a suitable WooCommerce theme for your storefront. With so much variety, we found it useful to showcase the best ones.
Also, we at WP Buffs can help keep your WooCommerce optimized for speed and security – it's what we do best! Check out our 24/7 WordPress Care Plans and Maintenance Packages for supporting and updating your WordPress e-commerce site.
Need further convincing? Read this testimonial from one of our customers who is proud to report 0 security issues since WP Buffs began maintaining her WooCommerce store.